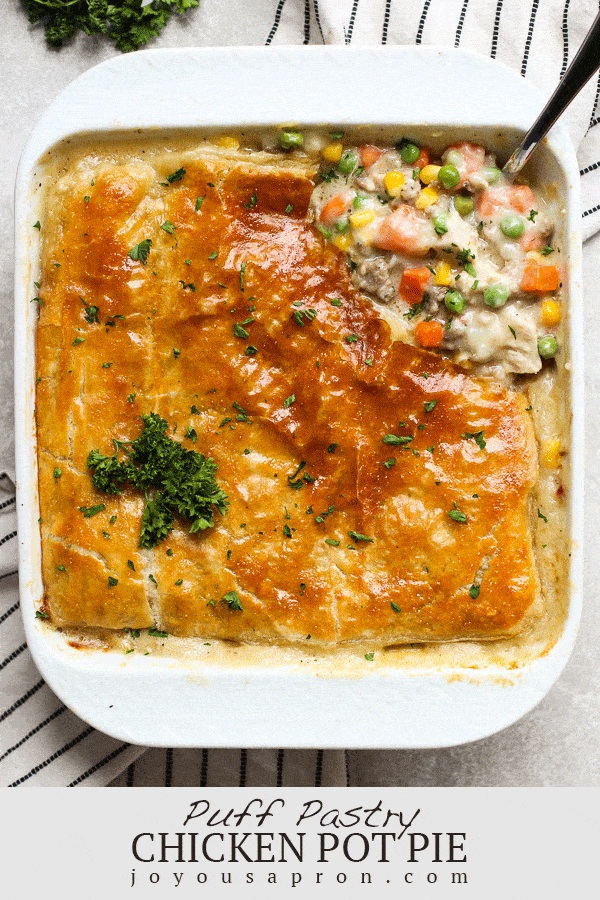 This post may contain Amazon or other affiliate links. As an Amazon Associate I earn from qualifying purchases at no additional cost to you.
Watch out, people! Comfort food just got even better. Flaky puff pastry layered on top of a creamy, flavorful chicken pot pie filling. This twist takes the classic chicken pot pie is a whole new (and way more fun and yummy) level.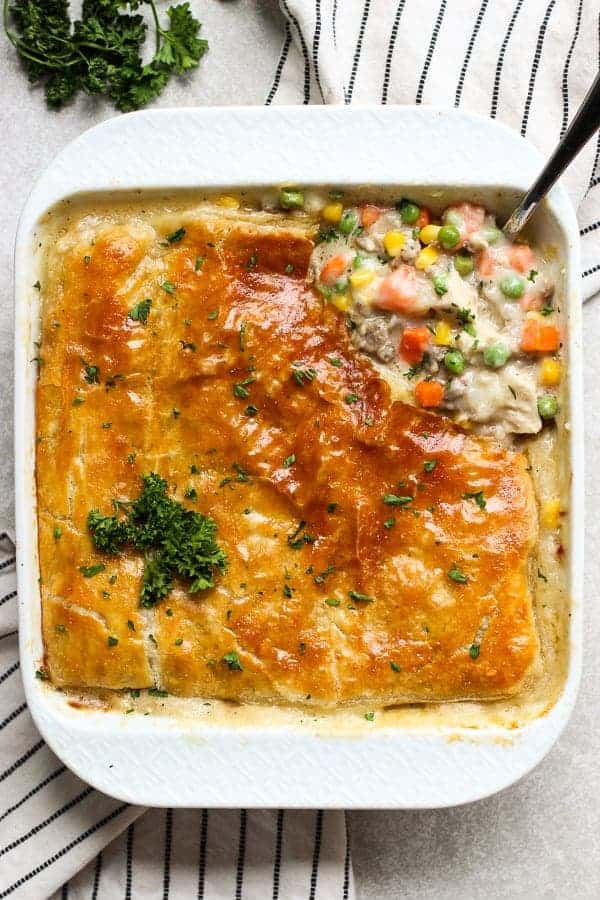 With Fall just around the corner, I am so ready to dive into all the cozy and comforting food recipes that gives us all the warm and fuzzies as the weather gets cooler.
I always get super excited when a seasonal change is about to happen. And you get to experience it with me because foods tie so closely with seasonal changes.
I have already started diving into some of my Fall comfort food favorites such as Lemon Chicken and Rice Soup, Beef Stew, Cheesy Tomato Chicken Spaghetti, and Enchilada Chicken Casserole because I simply cannot wait.
And not only is this Puff Pastry Chicken Pot Pie the perfect Fall and winter comfort food, we always get plenty of leftovers and it takes us a few days to completely finish it.
Not having to cook every day is a saving grace for me!
Secret to a good Puff Pastry Chicken Pot Pie
To make a legit chicken pot pie, the filling has to be creamy and filled with great flavors. And oh you betcha we did that.
There are many ways to achieve that. Good sauce is like good gravy or good soups…use a good stock and chances are you will be able to get good quality sauces.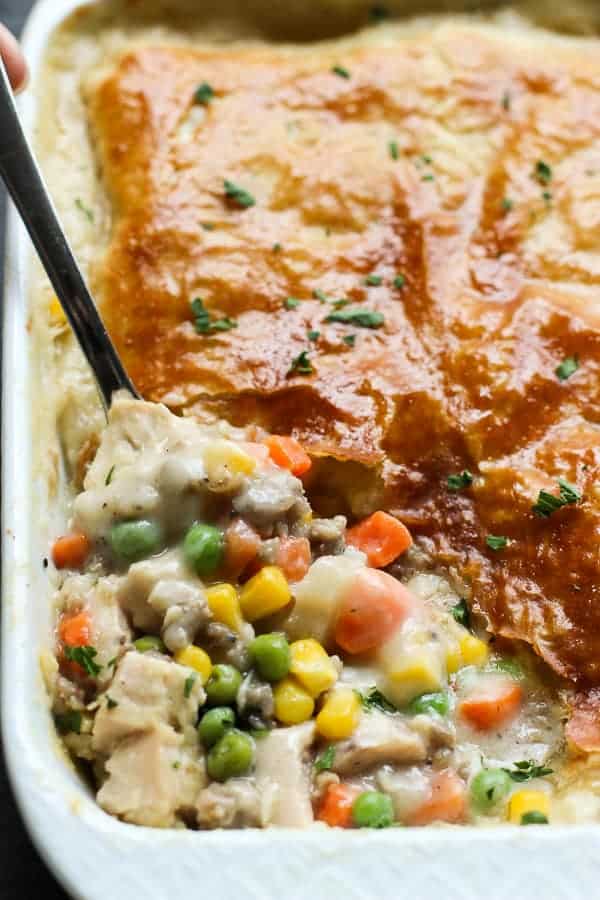 The complicated way to do this is to boil a bone-in chicken and cook it down until we get flavorful stock. Or roast a chicken and get the juices and incorporate it into the sauce.
The short-cut way, however, is what we are doing today. We are using ground sausage, getting some flavor from there, and using a good quality store bought gravy along with good chicken broth. This will make the filling super flavorful and delicious.
I find that using store-bought stock alone, which a lot of chicken pot pie recipes call for, will not yield as flavorful of a sauce.
How to make Puff Pastry Chicken Pot Pie
There are two parts to this dish:
Chicken Pot Pie filling – that requires cooking the mixture in a pot
Puff Pastry – that requires buying pre-made puff pastry sheets from the store! 😉
Chicken pot pie filling is made out of cooked chicken, sausage, milk, gravy, chicken broth, flour, butter and some veggies. Cook them in a pot and once filling is ready, pour it into a 8″ or 9″ square casserole dish.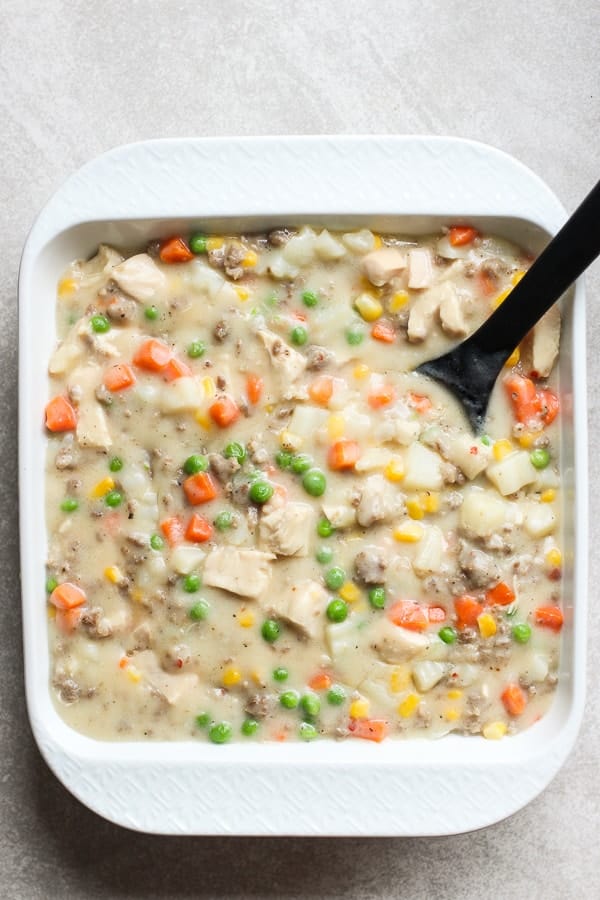 Then gently place the puff pastry sheet on top of the filling, folding the sides and edges.
Brush egg wash onto the top of puff pastry before baking, to create a nice shine to the top.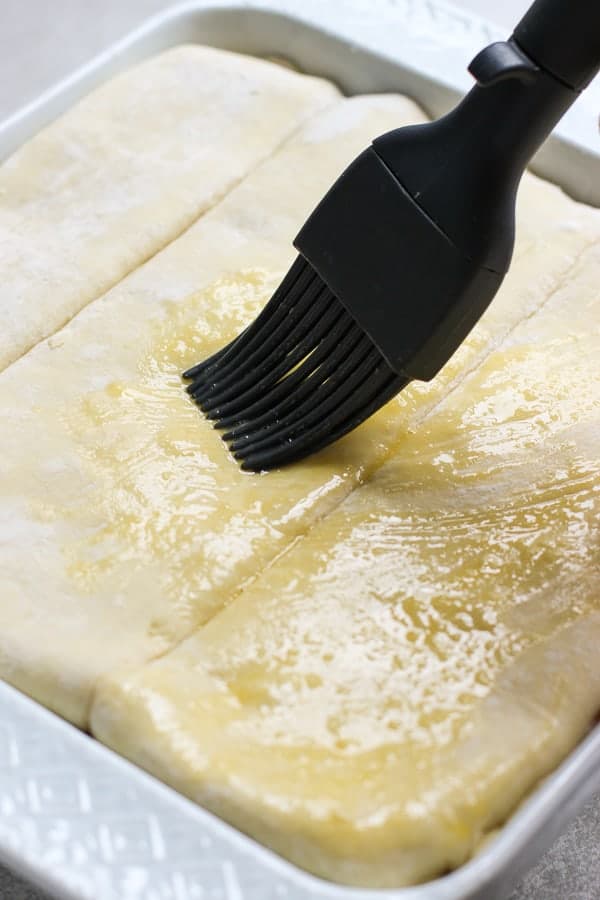 And that's it! Creamy and flavorful chicken pot pie filling topped with flaky and light puff pastry crust.
It's the ultimate comfort food slash easy weeknight dinner slash go-to dinner dish.
What type of puff pastry sheet to use
Pepperidge Farm puff pastry sheets can be found in most grocery stores across the U.S. and they are really delicious and bakes very well. Each box comes in two ~9″ square sheets and works perfectly for this recipe.
What type of chicken to use
Here are some easy options to prepare the chicken:
Rotisserie chicken – this is the most convenient option. Grab a ready made rotisserie chicken from the store and shred/cut it up.
Baked chicken – bake 2-3 chicken breast (with a drizzle of olive oil and some salt) in the oven at 350 degrees F for 30 minutes, then cut it into pieces
Cut up leftover chicken meat you have at hand!
What type of gravy to use
I use this Heinz Homestyle Chicken Gravy and it works great for this recipe. It helps thicken the sauce further and gives it a lot of flavor.
If you have leftover homemade gravy from a holiday dinner, totally use that, even if it is turkey gravy.
How to store and serve Puff Pastry Chicken Pot Pie
This recipe makes a lot of chicken pot pie. It makes two 9″ square casserole worth of Puff Pastry Chicken Pot Pie. Each casserole serves about 6 servings.
So yeah, a whole of chicken pot pie.
I typically make one casserole dish of Puff Pastry Chicken Pot Pie with half of the filling. Then I store the other half of the filling in a container in the freezer. This will give you another set of fresh pie whenever you are ready to bake it.
As for the leftover Puff Pastry Chicken Pot Pie that is already baked, simple store it in the refrigerator and microwave to heat it up.
If you have time, you can even place an aluminum foil over the leftover and bake it to heat it up. It will take longer to reheat, but you will have a crustier, flakier puff pastry dough.
Definitely place aluminum foil over it to make sure puff pastry don't get burned or over cooked.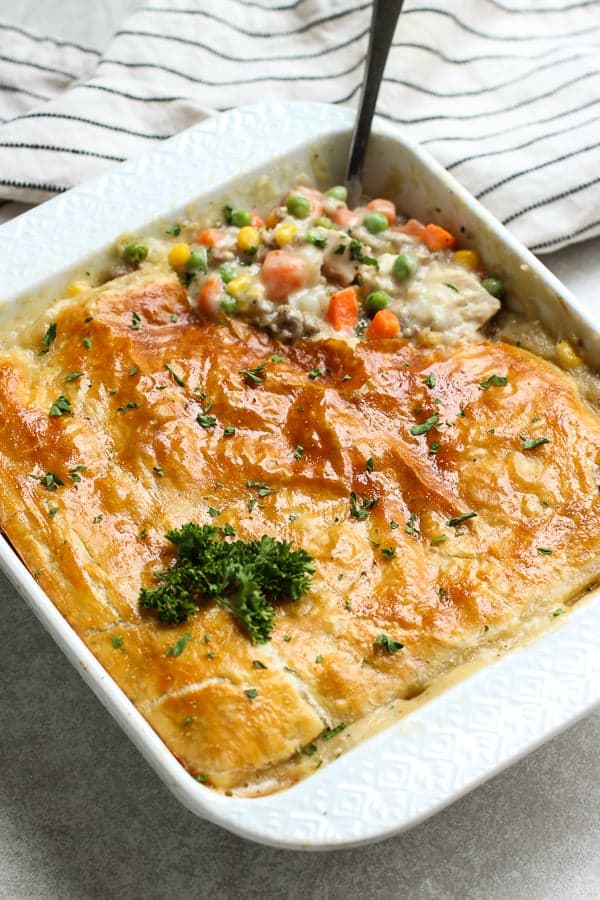 We love this Puff Pastry Chicken Pot Pie recipe. So convenient. So yum. Simply irresistible.
Now excuse me while I go stuff my face.
DID YOU ENJOY THIS RECIPE? Please comment below and give us a 5-star rating! This will help others find this recipe on Google and Pinterest! We very much appreciate your help! 🤍
More Chicken Recipes
More Hearty Comfort Food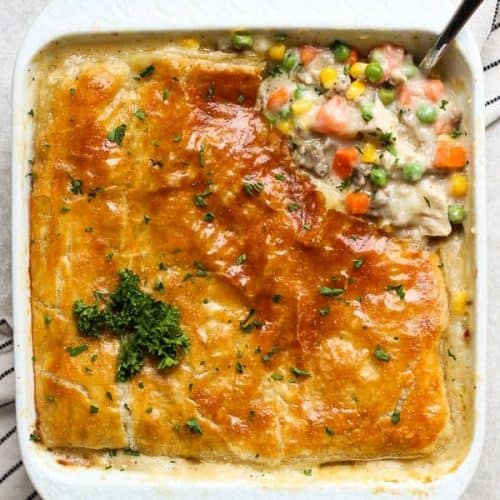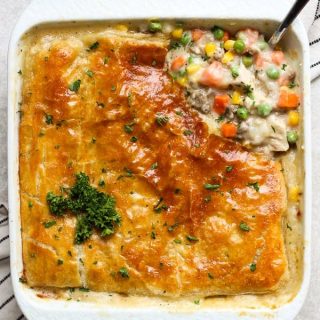 Puff Pastry Chicken Pot Pie
Creamy comforting chicken pot pie filling topped with a layer of light and fluffy puff pastry. Comfort food for an easy weeknight dinner!
Print
Pin
Ingredients
2

square puff pastry sheets

1

egg
Chicken Pot Pie Filling
1

lbs

ground sausage

4

cups

diced/shredded cooked chicken

1/2

cup

butter

1/2

cup

flour

2

cups

chicken broth

12

oz

chicken gravy

1 1/2

cups

2% milk

16

oz

frozen mixed vegetable

2

cups

frozen diced hash brown (home fries)

salt

to taste

black pepper

to taste
Instructions
Pre heat oven to 400 degrees.

Heat up a large pot and brown ground sausage until done.

Add butter and flour. Stir constantly to mix well. Once the mixture bubbles/comes to a boil, add milk, gravy and chicken broth. Stir and bring to a boil.

Add cooked chicken, frozen veggies and hash browns. Stir to combine and bring to boil again. Add salt and pepper to taste. Remove from heat.

Bring half of mixture to a square casserole dish, and the other half to another square casserole dish.

Place a puff pastry sheet (refrdigerated, not frozen) on each casserole dish. Tuck in the sides and corners of the dough.

Crack an egg and beat egg to create egg wash. Brush egg wash onto the top of the puff pastry sheet.

Bake for 25-30 minutes, or until the top of the puff pastry is brown and puff pastry is completely cooked.

Let it cool for 10 minutes. Serve and enjoy!
Nutrition
Calories:
599
kcal
|
Carbohydrates:
37
g
|
Protein:
25
g
|
Fat:
39
g
|
Saturated Fat:
14
g
|
Polyunsaturated Fat:
5
g
|
Monounsaturated Fat:
17
g
|
Trans Fat:
1
g
|
Cholesterol:
101
mg
|
Sodium:
855
mg
|
Potassium:
492
mg
|
Fiber:
3
g
|
Sugar:
2
g
|
Vitamin A:
2351
IU
|
Vitamin C:
10
mg
|
Calcium:
69
mg
|
Iron:
3
mg