Cherry Tomato and Basil Pasta with Chicken
Cherry Tomato Basil Pasta, one of my all-time favorite dishes. It combines some of my favorite ingredients – cherry tomatoes, fresh basil and parmesan cheese.
If I have to describe this dish in three words it would be: light, flavorful and brilliant.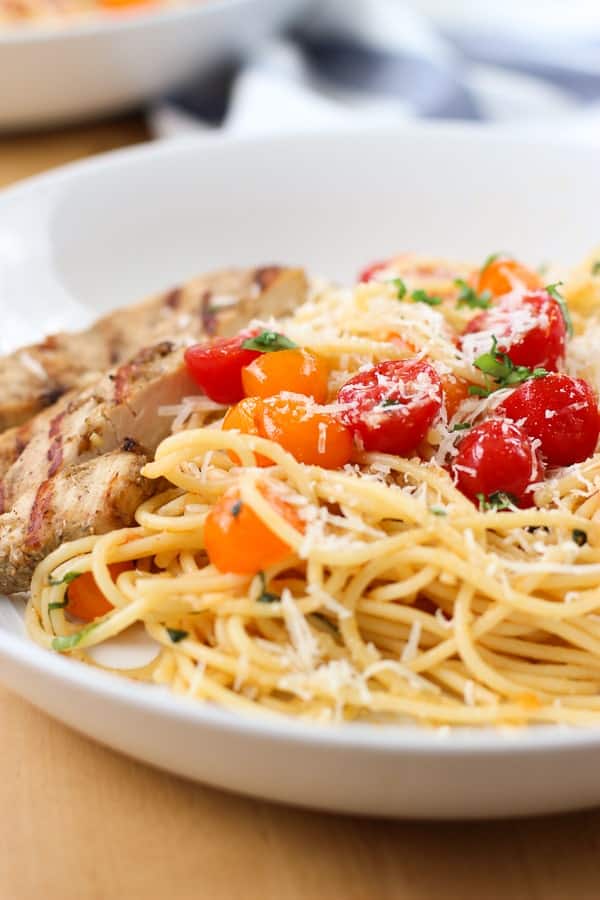 The Story behind this Cherry Tomato Basil Pasta Recipe
I can call this brilliant without sounding like I'm full of myself because this is inspired by Ina Garten's Summer Garden Pasta. Over the years, I have tweaked the recipe slightly and added some seriously well-flavored protein to it, but the real magic of uniting the vastly contrasting flavors and textures is all Ina.
She has the best recipes, and I want to be her when I grow up.
Let's just say every time I make this, I am constantly in awe at the beauty of flavors and how this dish comes together so perfectly.
I can eat this pasta dish for days, for every meal, especially whenever the weather starts getting warmer. Like now. 🙂
I first had this at my dear friend Allie's house. Allie had me over for dinner all the time when I lived in Memphis. I would go straight to her house for dinner after work, and let me tell you, having a home cooked meal ready right after a long day is like heaven sent.
We ate good food, we laughed, we talked about everything. Once Allie served this amazing pasta dish she got from Ina's recipe collection. And oh my yum. Well, I have been making it consistently for years ever since.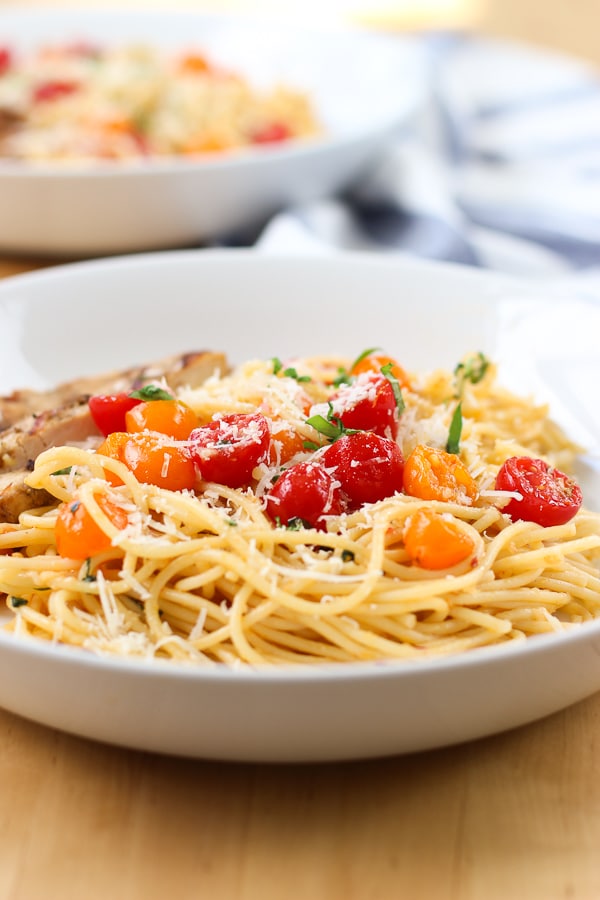 When John and I got married, I started adding grilled chicken to it because my husband likes his meat. Left to my own device, I can probably be a part-time vegetarian. As for the hubby? Probably not. 🙂
Because of thatI started testing out different grilled/pan-fried chicken recipes to add to this dish, and sometimes I would also add fresh cubed mozzarella cheese to bring up the protein level.
To make this beautiful dish, start a few hours early by combining cherry tomatoes (pick good, super sweet ones!), olive oil, minced garlic, fresh basil and just a little bit of salt and red pepper flakes to a large bowl.
Use a large bowl because you will eventually throw all the pasta into the bowl. Let it sit for 3-4 hours for the flavors to combine. I will say though, the 'sit' time is ideal but if you don't have time, it is perfectly fine without the "sit" time.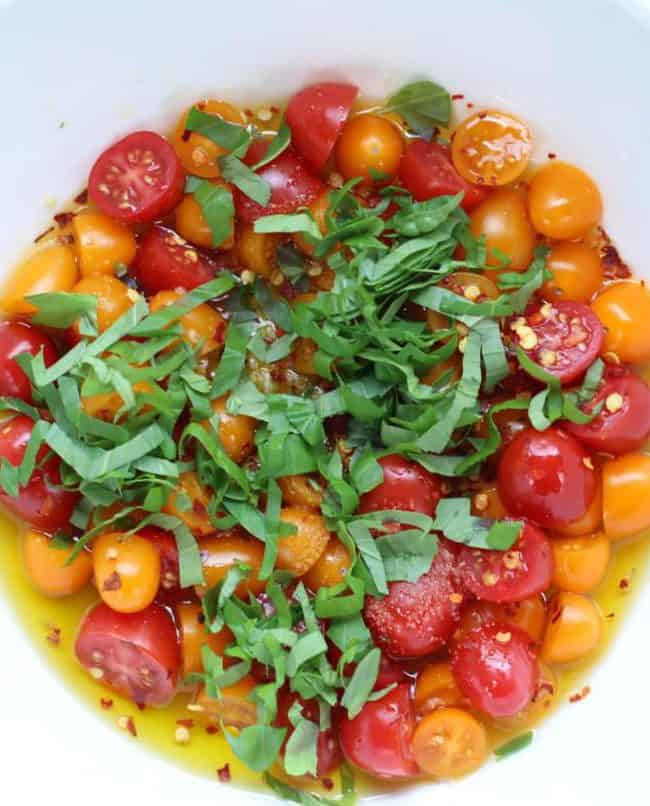 My favorite pasta to use for this recipe is thin spaghetti. Add water and some olive oil into the pot and boil the thin spaghetti al dente. Then drain the excess water and throw it into the large bowl with the yummy cherry tomatoes mixture.
Add fresh grated parmesan cheese to the pasta and toss with a pair of tongs. Use the fresh parmesan you find in the refrigerated section, not the non-refridgerated ones. Fresh parmesan will really make this recipe what it is meant to be!
I have so much love for cherry tomatoes it is not even funny. Last night I actually had cherry tomatoes and Baked Cream Cheese Wontons for dinner.
Random, and yes slightly on the lighter side, but it works when it is two of your favorite things. And if you eat a ton of both. 😉
Well, these cherry tomatoes combined with the garlic, parmesan cheese and basil is just plain brilliant. BRILLIANT. It's simple, but so flavorful and delicious you cannot stop eating it.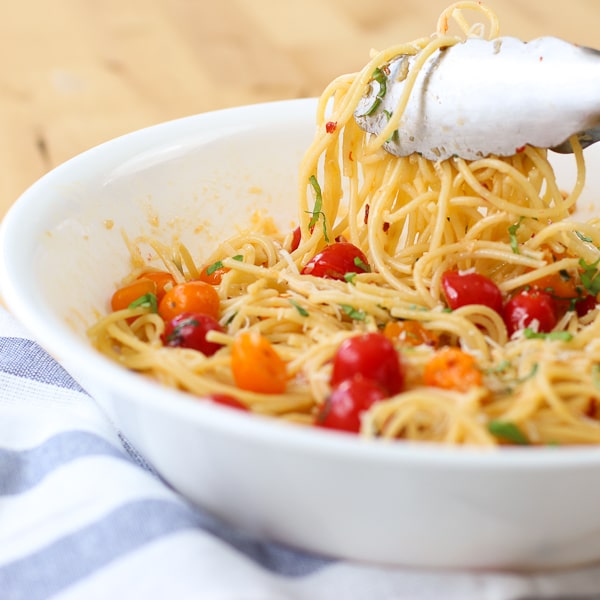 We can just stop there, and it will be fantastically good. But let's not do that today. Especially if you want to serve this as a main course and want more protein added to it.
We have tried many different types of chicken with this. I have used the baked chicken recipe from my Creamy Sun-dried Tomato Pasta with Chicken dish and it is fantastic. My recent favorite (and what is photographed here) is using my Lemon Balsamic Grilled (or Pan-Fried) Chicken recipe.
The citrus flavors combined with so many gorgeous, pantry-friendly herbs (oregano, basil, thyme etc) compliment the pasta so very well.
Do keep in mind that this Lemon Balsamic Chicken recipe will need to be marinated for a few hours. I typically marinate the chicken the same time I put together the cherry tomato mixture since the mixture needs to sit for a couple of hours.
Once chicken is done, add to the pasta. Also add some cubed mozzarella if desired, but this is completely optional. Garnish with additional basil and parmesan. And there you go…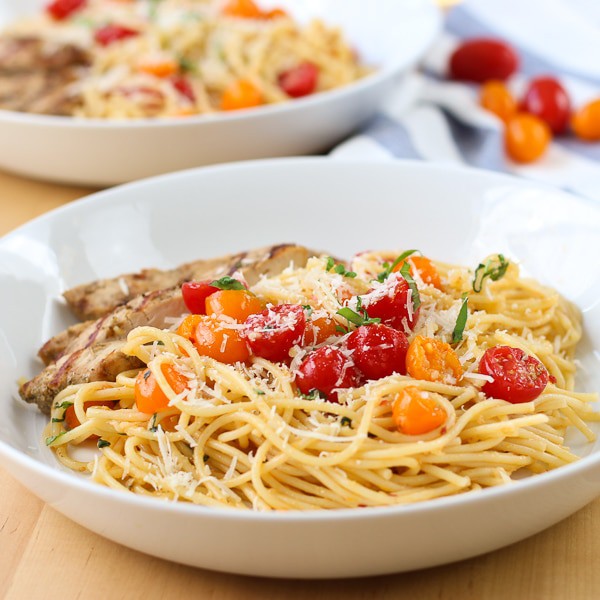 Yumminess OVERLOAD!
One of my favorite things about this dish is you can serve it lukewarm, cold, or warm. Because of that, it makes incredible no-heating-required leftovers (although I still heat up the chicken), and also a great party dish as you can let it sit out for hours.
So what do you think? Ready to dig in and pasta it up?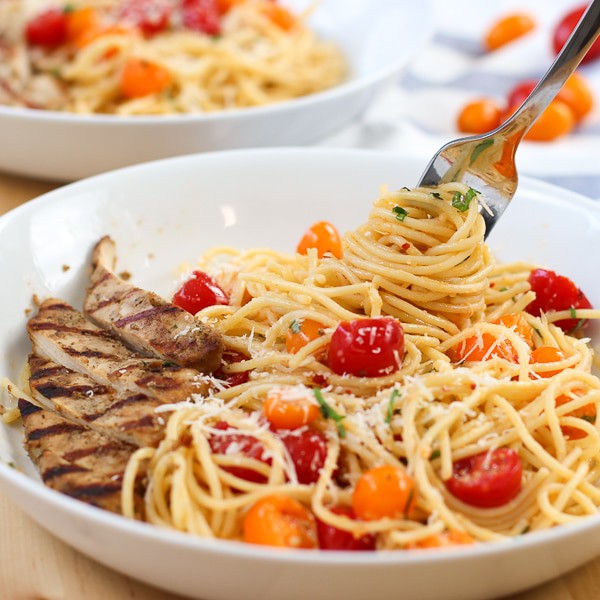 If you make this recipe, PLEASE let me know how it goes in the comment box below, and share pictures of your creations on instagram by tagging #joyousapron! I WANNA SEE!! And while you are there, don't forget to follow me!
More Pasta Recipes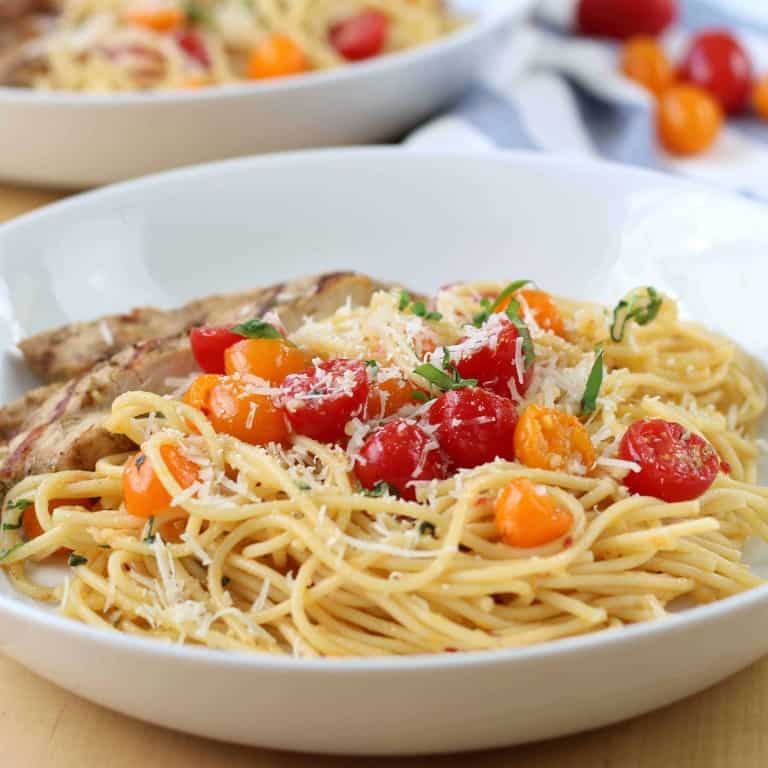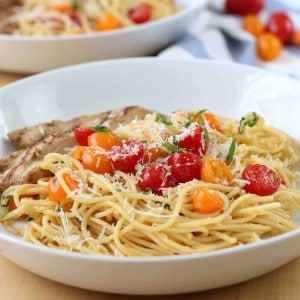 Cherry Tomato and Basil Pasta with Chicken
Thin spaghetti is tossed in a light, super flavorful and delicious cherry tomato and basil sauce, then combined with a citrusy grilled/pan-fried chicken. Healthy and YUM!
Print
Pin
Ingredients
Cherry Tomato and Basil Pasta
8

oz

thin spaghetti

8

oz

cherry tomatoes

halved

2

tbsp

extra virgin olive oil

20

small/medium

basil leaves

julienned

1 – 1 1/2

tbsp

garlic

minced

1/2 – 1

tsp

red pepper flakes

1

tsp

salt

1/3

cup

parmesan

shredded

2

tbsp

parmesan

shredded, for garnish

5-7

small/medium

basil leaves

julienned, for garnish
Chicken
3

pieces

Lemon Balsamic Chicken
Instructions
Combine cherry tomatoes, olive oil, minced garlic, fresh basil and just a salt and red pepper flakes to a large bowl. Let it sit for a few hours or up to overnight.

Bring spaghetti noodles to a boil in a large pot according to package instructions. Drain and set aside.

Add pasta to cherry tomato mixture, then add parmesan cheese. Toss to combine.

Garnish pasta with more parmesan cheese and fresh basil. Serve with chicken strips. Enjoy!
Notes
Chicken and pasta can be cooked simultaneously.
Nutrition
Calories:
450
kcal
|
Carbohydrates:
63
g
|
Protein:
17
g
|
Fat:
15
g
|
Saturated Fat:
4
g
|
Polyunsaturated Fat:
2
g
|
Monounsaturated Fat:
8
g
|
Cholesterol:
11
mg
|
Sodium:
1038
mg
|
Potassium:
420
mg
|
Fiber:
4
g
|
Sugar:
4
g
|
Vitamin A:
1220
IU
|
Vitamin C:
21
mg
|
Calcium:
226
mg
|
Iron:
2
mg