Cherry Tomato Pasta with Chicken
Cherry Tomato Pasta, one of my all-time favorite dishes. It combines some of my favorite ingredients – cherry tomatoes, fresh basil, , garlic, parmesan cheese, and some cooked chicken or rotisserie chicken for the extra protein.
If I have to describe this dish in three words it would be: light, flavorful and scrumptious.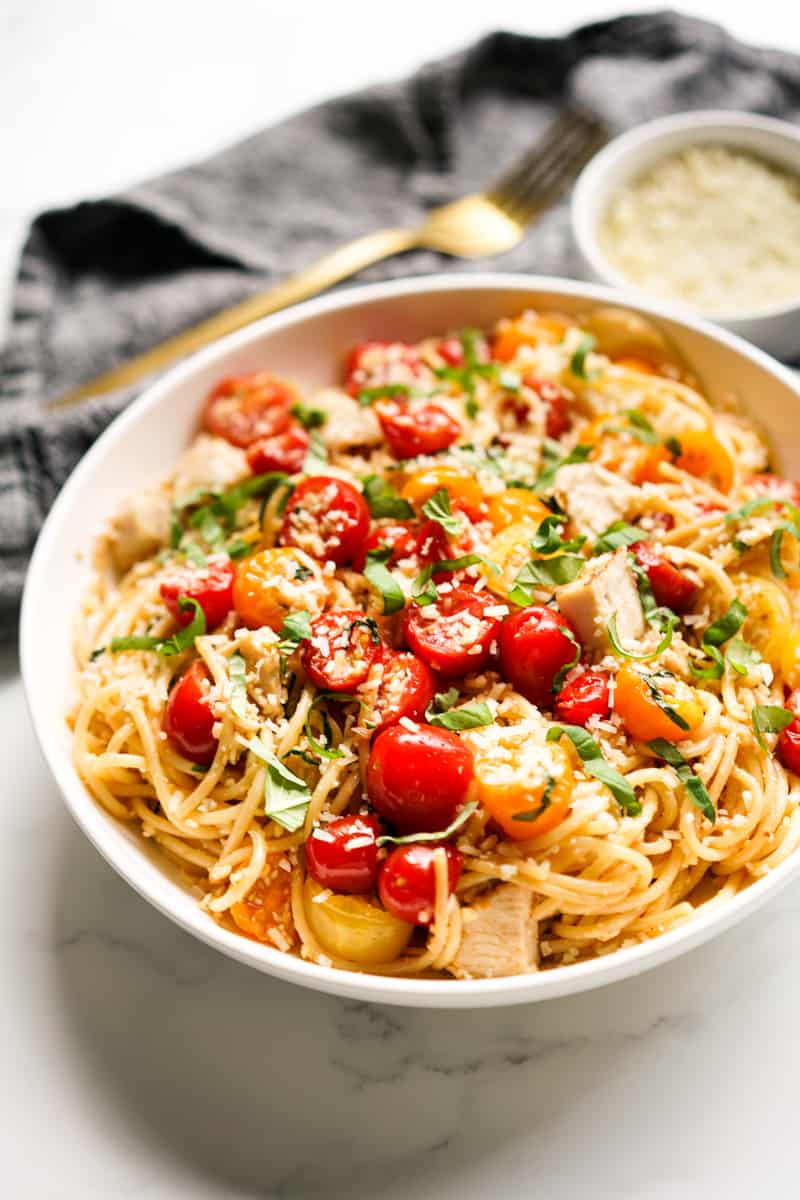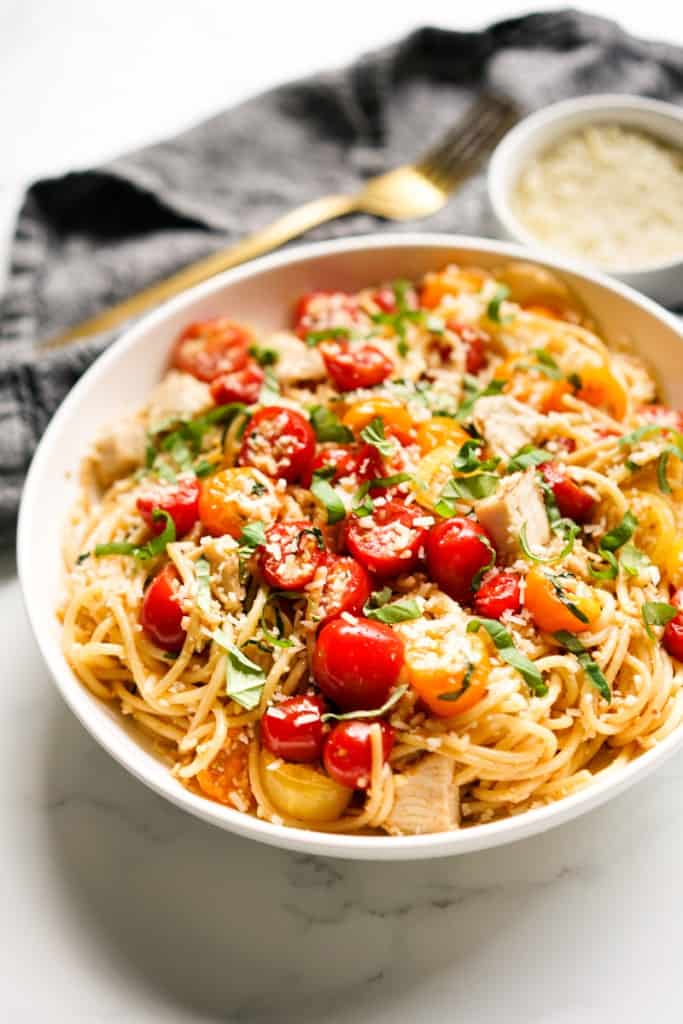 If you love pasta, here are some of my other favorites from the blog: Roasted Tomato Pasta with Basil and Parmesan, Tomato Basil Gnocchi, Baked Ziti and Smoked Salmon Pasta.
A Cherry Tomato Chicken Pasta Recipe
This cherry tomato pasta with chicken recipe is inspired by Ina Garten's Summer Garden Pasta. Over the years, I have tweaked the recipe slightly, but the real magic of uniting the vastly contrasting flavors and textures is all Ina.
She has the best recipes, and I want to be her when I grow up.
Let's just say every time I make this, I am constantly in awe at the beauty of flavors and how this cherry tomato pasta dish comes together so perfectly.
This cherry tomato pasta dish is not super 'saucy', so it is light and fresh with bites of basil and garlic. The flavor-bursting tomatoes combined with chewy pasta, juicy chicken and fresh parmesan bring a mouthful of flavors and a variety of textures.
I can seriously eat cherry tomato pasta for days, for every meal, especially whenever the weather starts getting warmer. And I don't really say that about most things, no matter how much I like them.
It is delicious, satisfying yet not heavy so you won't feel uncomfortably full.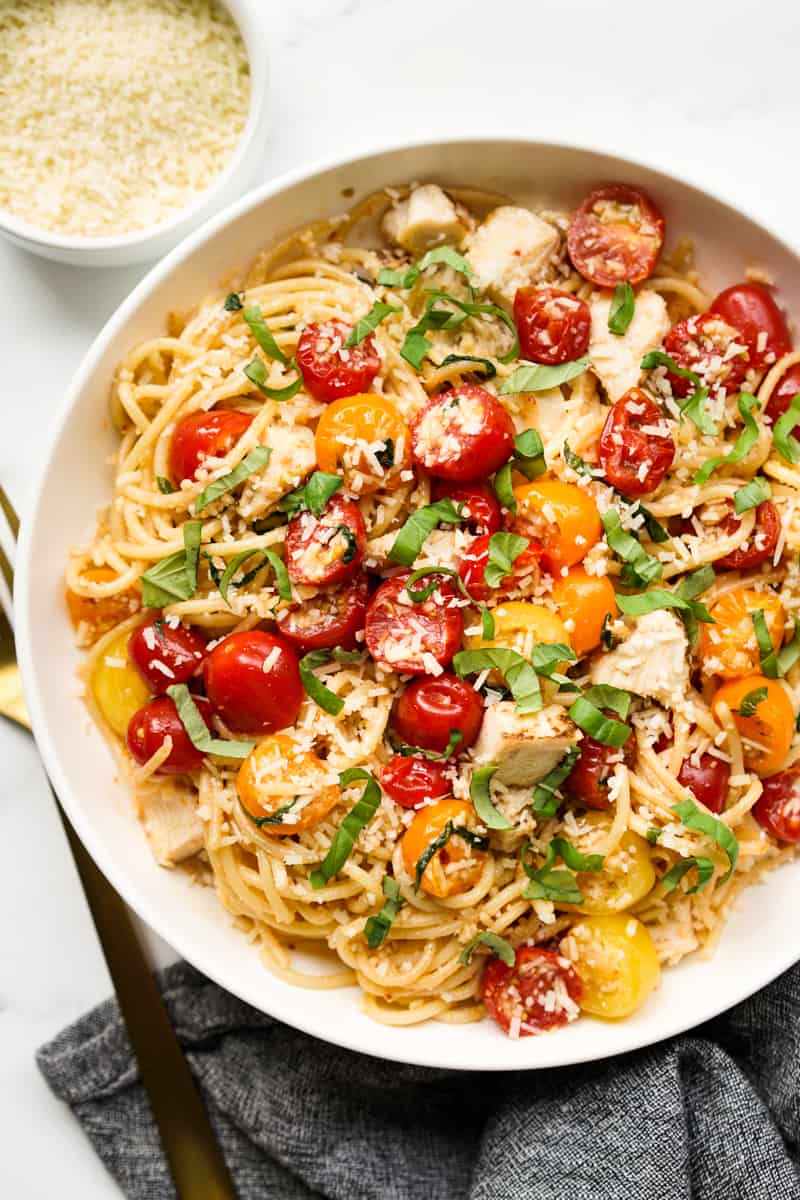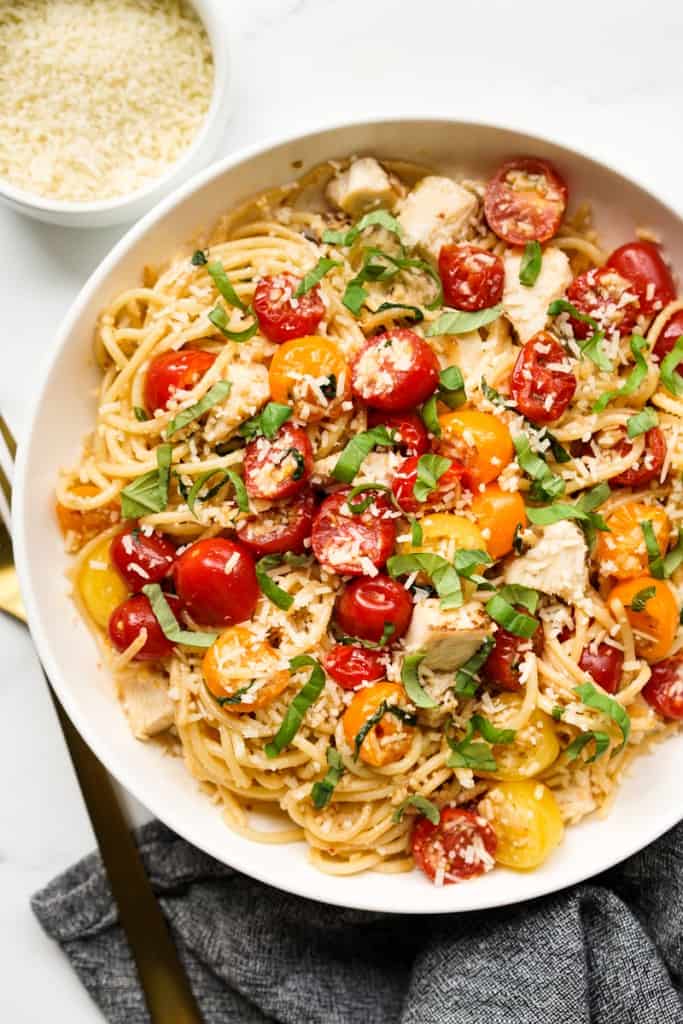 I love making cherry tomato chicken pasta especially in the warm spring and summer months. It keeps well as leftovers, and can be served warm, room temperature or even like a salad cold off the fridge.
Ingredients
Here are the key ingredients you will need to make this Cherry Tomato Pasta recipe:
cherry tomatoes – any small tomatoes such as grape tomatoes work great as well. Half cherry tomatoes for best texture and taste.
spaghetti pasta – any long pasta such as linguini, bucatini or angel hair works as well.
olive oil – use good quality olive oil for best taste.
fresh basil – do not substitute with dried basil, it is just not the same!
parmesan – use good quality parmesan! This can really make or break this dish, especially because we are using a large amounts of it.
red pepper flakes – using a small pinch of it to give our pasta a soft kick and some additional flavors. Because we are using a small amount, it is very mild in flavor. However, if you do not want any level of spice at all, simply omit this.
cooked chicken – leftover chicken of any sort, ready-cooked chicken from the store or shredded rotisserie chicken are great adds to cherry tomato pasta. To make chicken from scratch, this Lemon Balsamic Chicken complements this pasta dish very well. If you prefer a vegetarian version, simply omit chicken.
How to make it
Make Cherry Tomato Mixture
To make this beautiful cherry tomato pasta, you will want to start a few hours early by combining cherry tomatoes (pick good, super sweet ones!), olive oil, minced garlic, fresh basil and just a little bit of salt and red pepper flakes to a large bowl.
This is such an important step because as the cherry tomatoes sits in the olive oil and garlic mixture, it will
soaks up all the flavors from the spices
releases liquids so that there is more moisture in the cherry tomato mixture.
I have tried skipping this step and the end results is just now the same. At the first least, let is sit for 1 hour (2-3 hours is the best) before tossing pasta in the mixture.
Use a large bowl because you will eventually throw all the pasta into the bowl.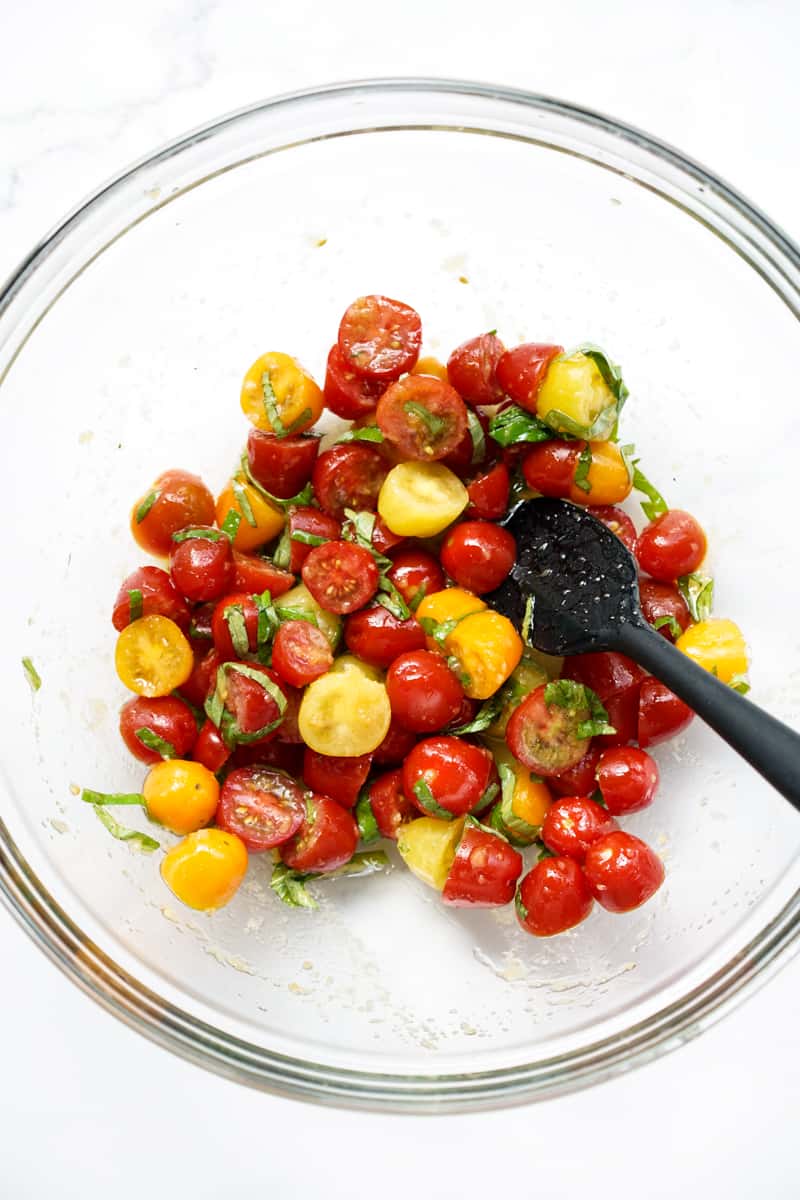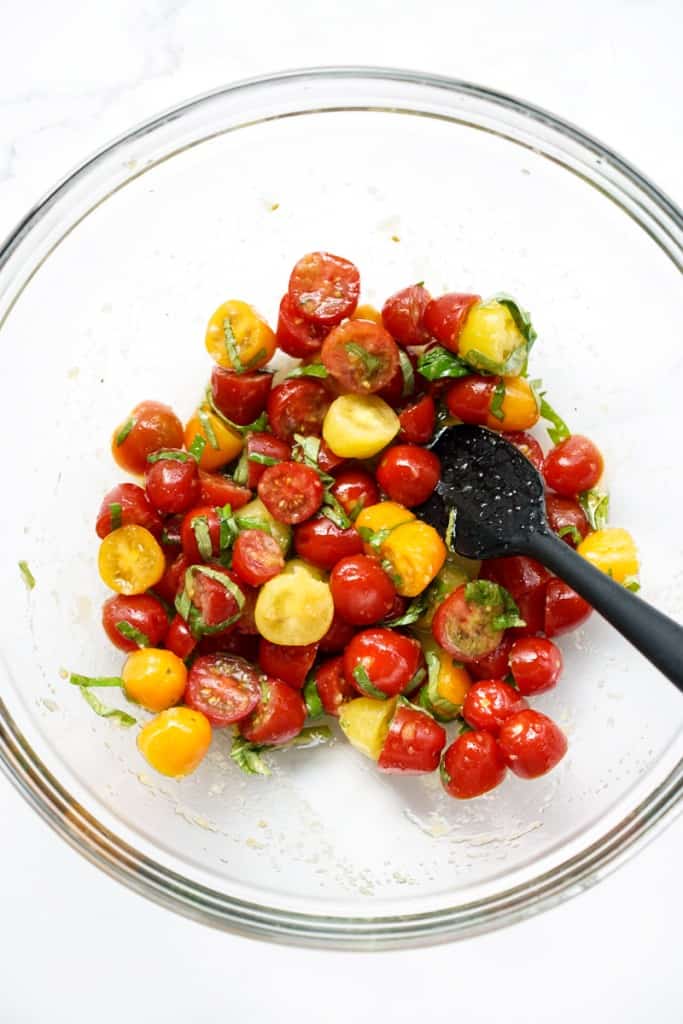 Boil Pasta
Next, let's boil some pasta for our cherry tomato pasta.
My favorite pasta to use is spaghetti. However, linguini, angel hair or any long pasta can be used as well.
Add water and a pinch of salt into the pot and boil the spaghetti al dente according to package instructions.
Drain the excess water and add pasta into the large bowl with the yummy cherry tomatoes mixture.
Bring it all together!
Give spaghetti and cherry tomato a toss using a pair of tongs, combining them together.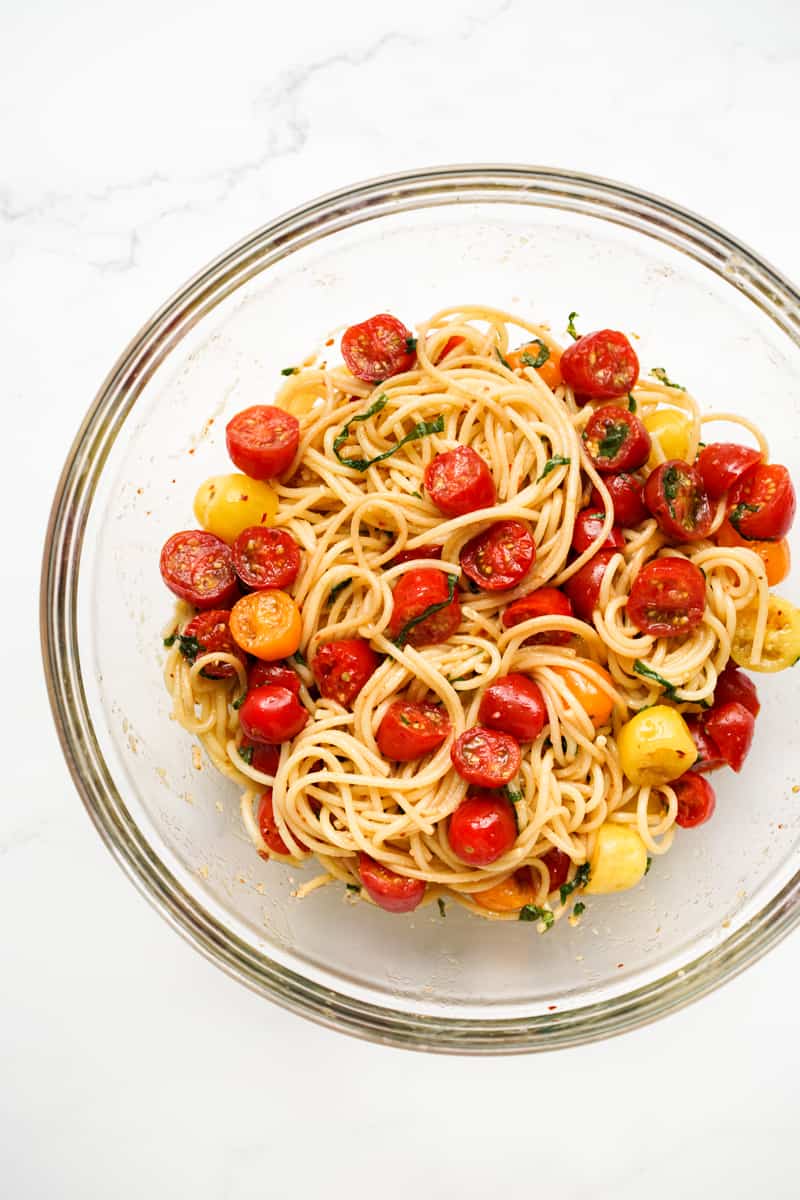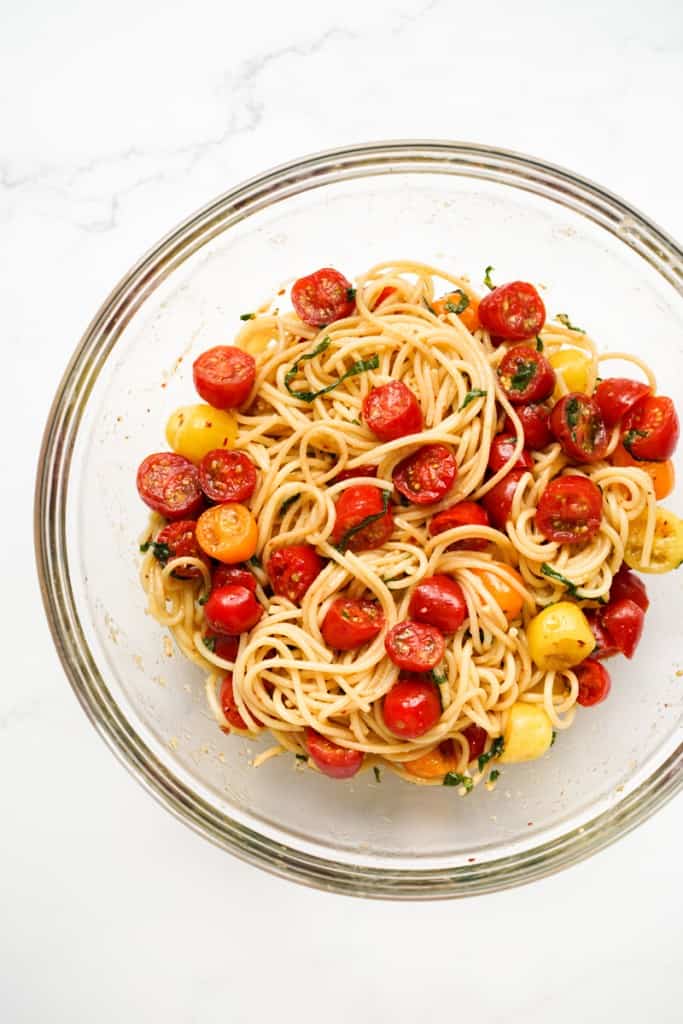 Add parmesan cheese….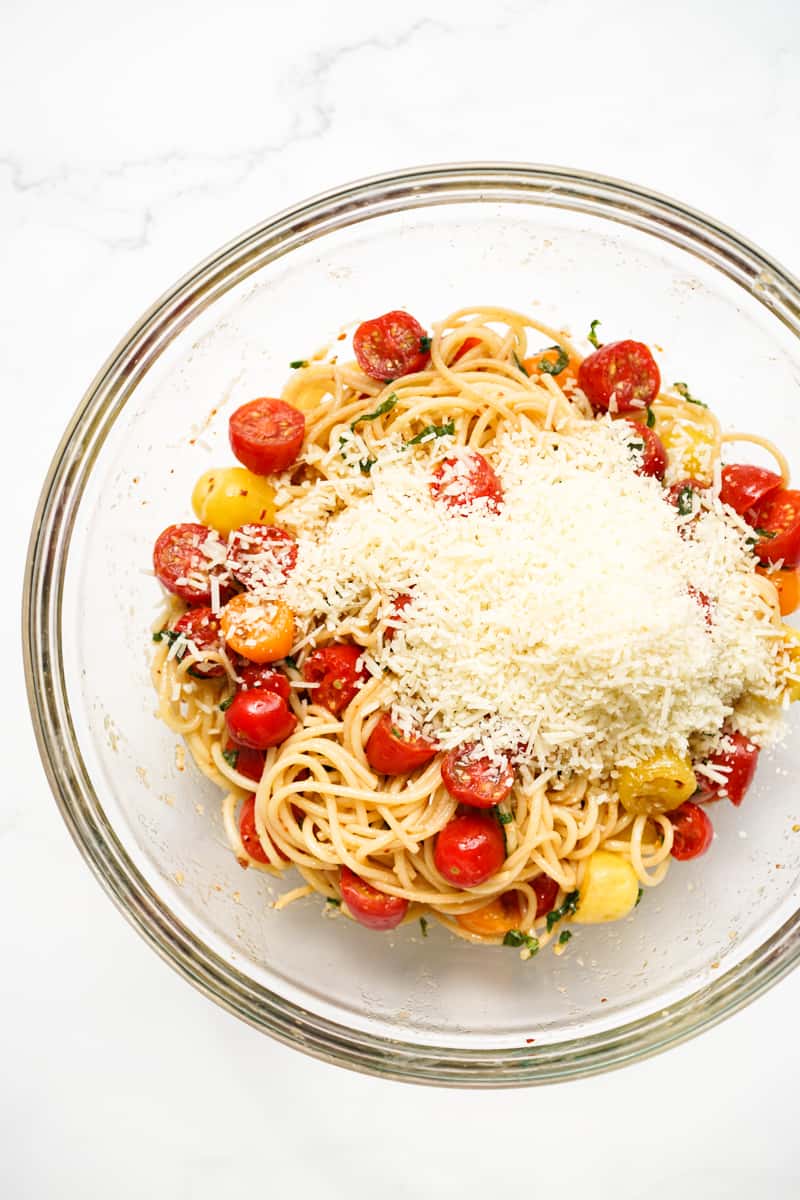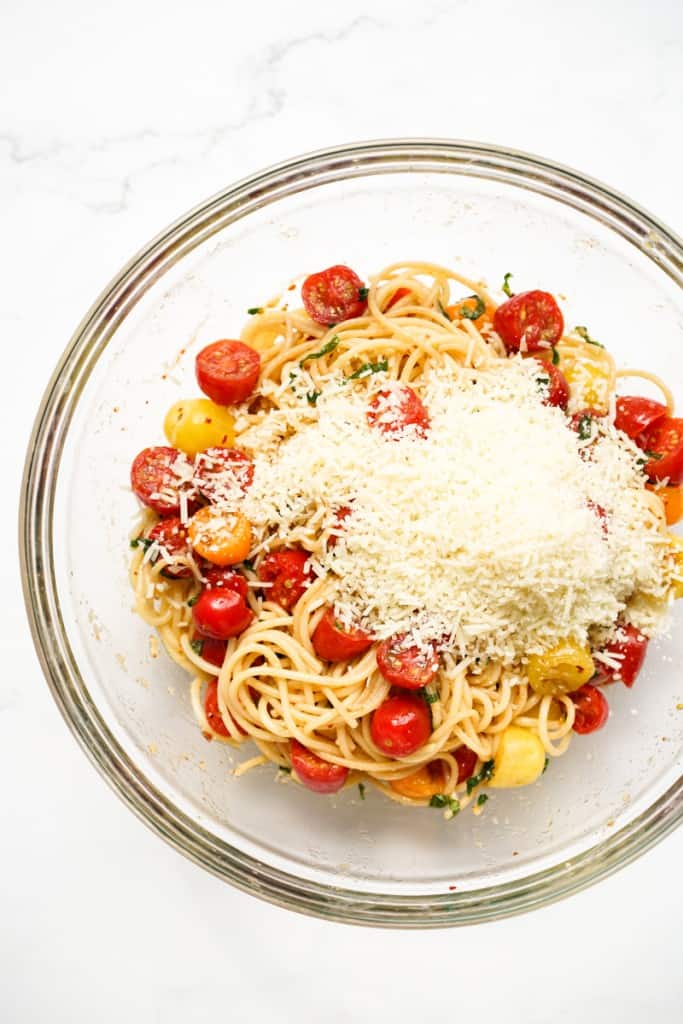 Use tongs to give it another toss so that cherry tomato pasta is evenly coated in parmesan.
Then add cooked chicken in there…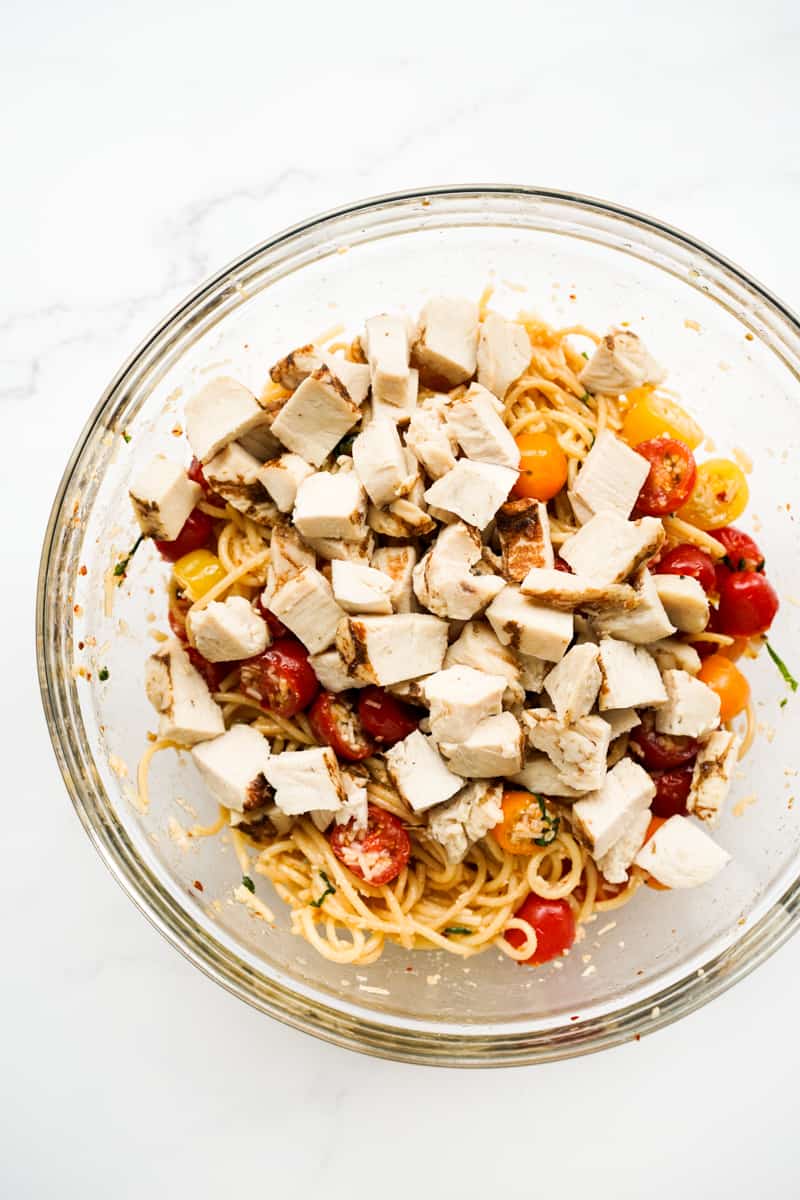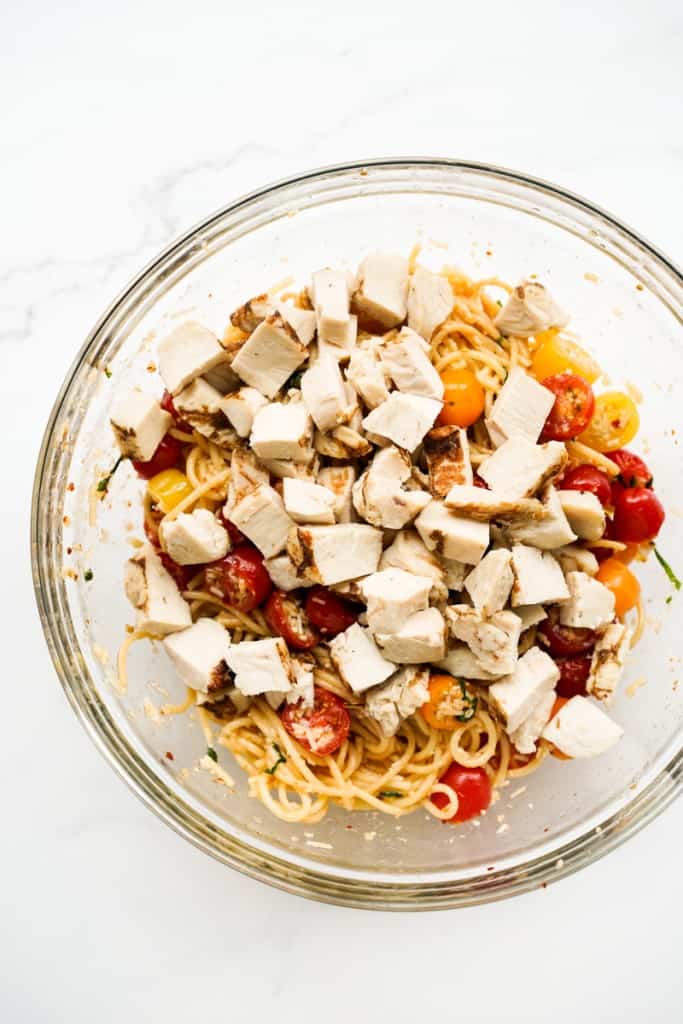 And toss one last time!
At this point, I'm usually grabbing my fork and digging into that big bowl of cherry tomato pasta because I CANNOT WAIT.
These cherry tomatoes combined with the garlic, parmesan cheese, and fresh basil just bring about the most delicious flavors.
After sitting in the olive oil mixture for a few hours, cherry tomatoes also produce beautiful juices that coat each strand of pasta, giving amazing flavors to every bite of the spaghetti.
Yumminess OVERLOAD!
One of my favorite things about cherry tomato pasta is you can serve it lukewarm, cold, or warm.
Because of that, it makes incredible no-heating-required leftovers, and also a great party dish as you can let it sit out for hours and it will still taste fabulous.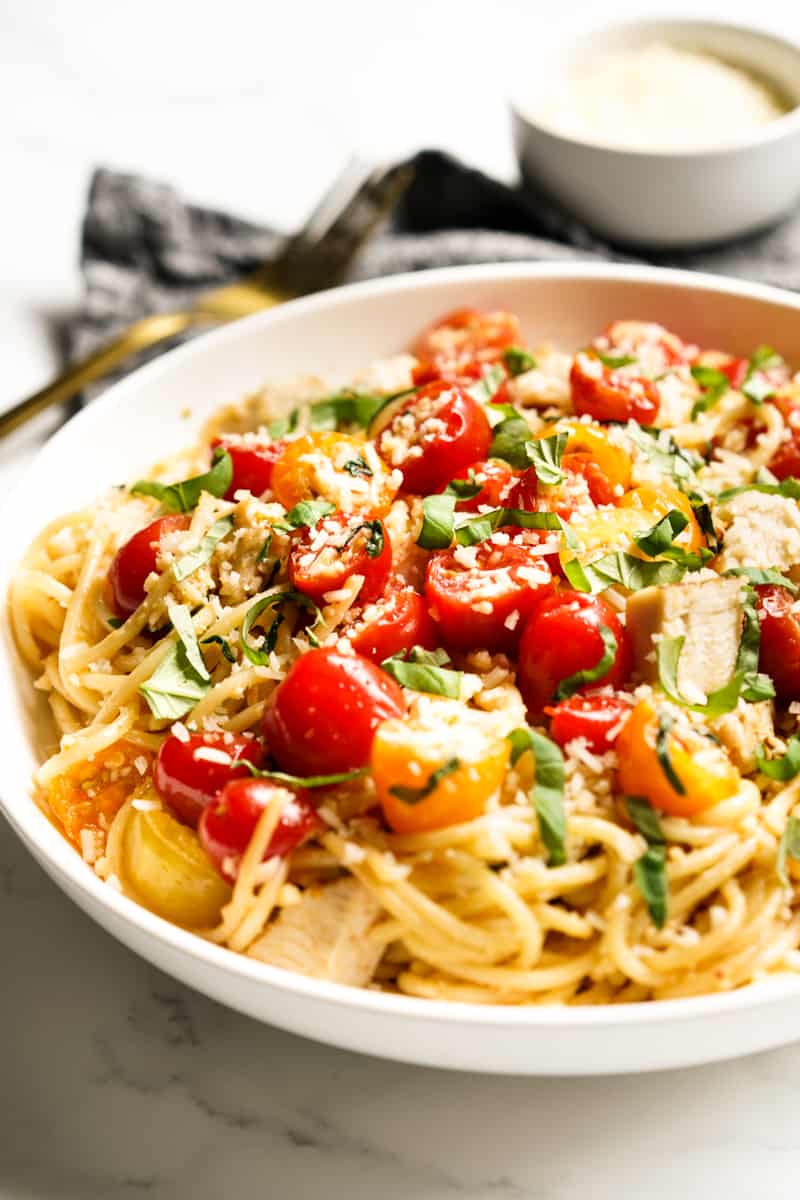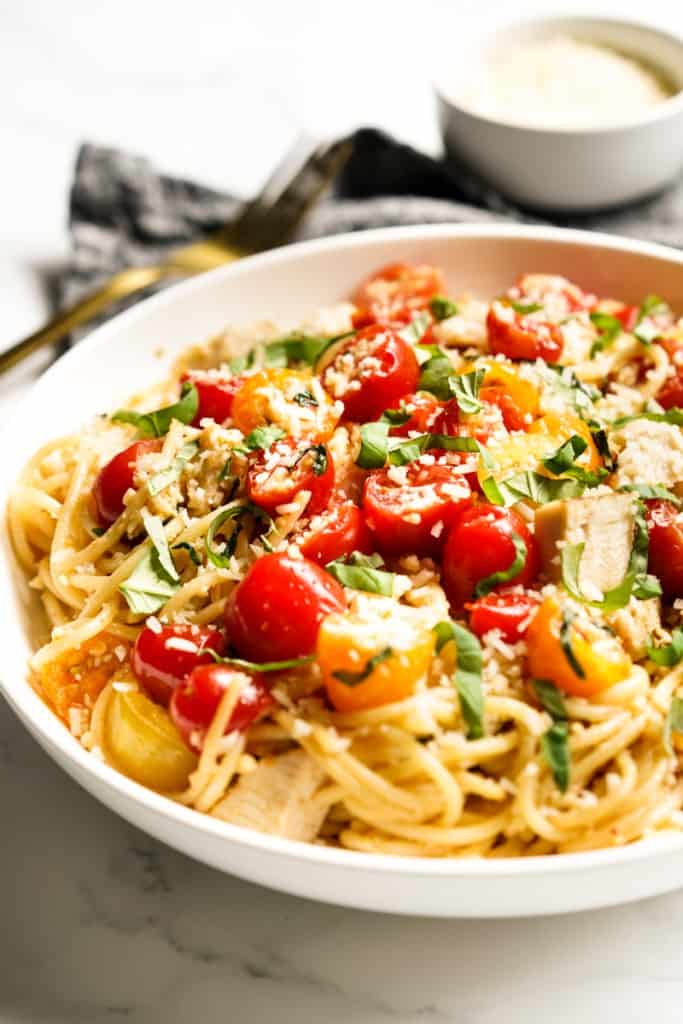 So what do you think? Ready to dig in and pasta it up?
Storage and Reheating Instructions
Store Cherry Tomato Pasta in air tight container in refrigerator for up to 5 days.
It is so easy to reheat cherry tomato pasta, and so many ways to do it! You can reheat it fully or even just partially in the microwave, because this pasta dish serves really well warm or lukewarm.
If you want to eat it more like a salad, it actually serves really well cold, without reheating as well.
Frequently Asked Questions
What type of cooked chicken can I use?
– Frozen or refrigerated cooked grilled chicken is what I typically use. Bring it to a defrost and slice it in smaller pieces before adding them to pasta.
– Shredded rotisserie chicken
– Any leftover chicken! This is a great way to use up whatever you have in your fridge.
Can I use dried basil?
I highly recommend using fresh basil because fresh basil brings a lot of amazing flavors to this dish that dried basil cannot.
Can I rinse pasta with cold water after it is cooked?
I recommend not doing that because that will rinse off the starch on the pasta which will help the juices and sauces stick to the pasta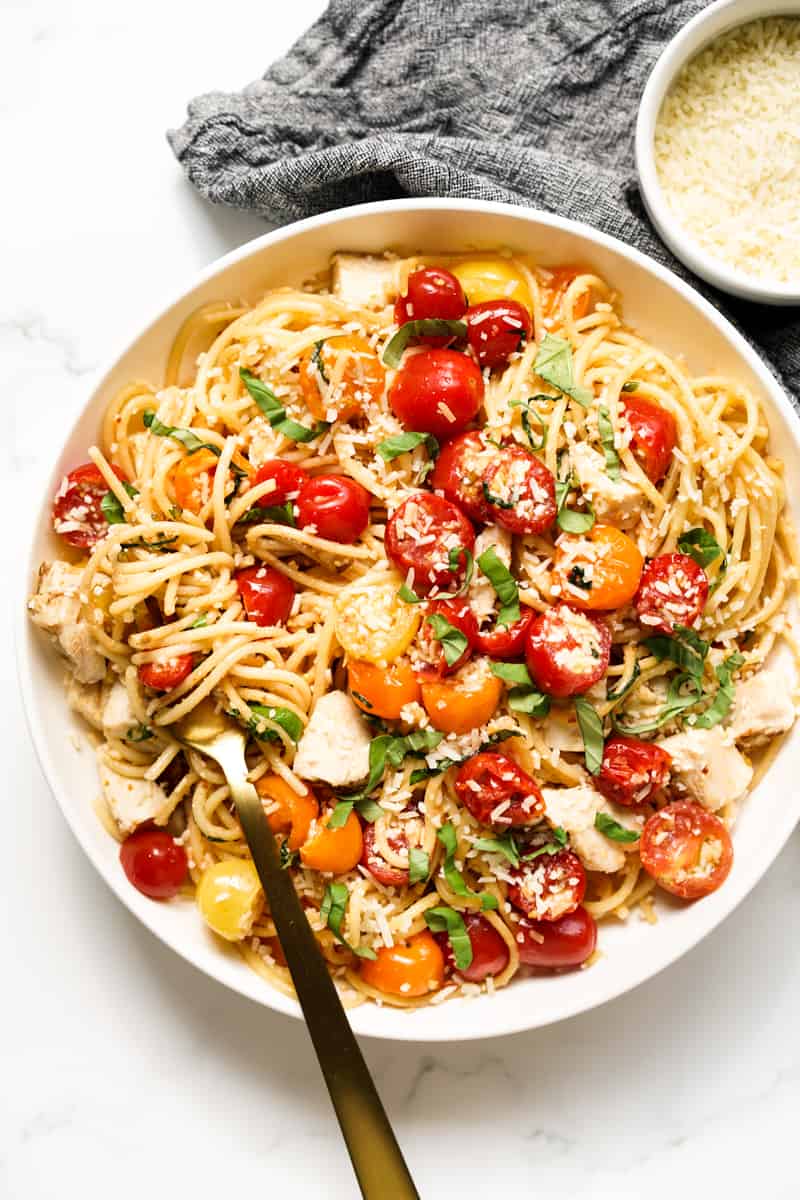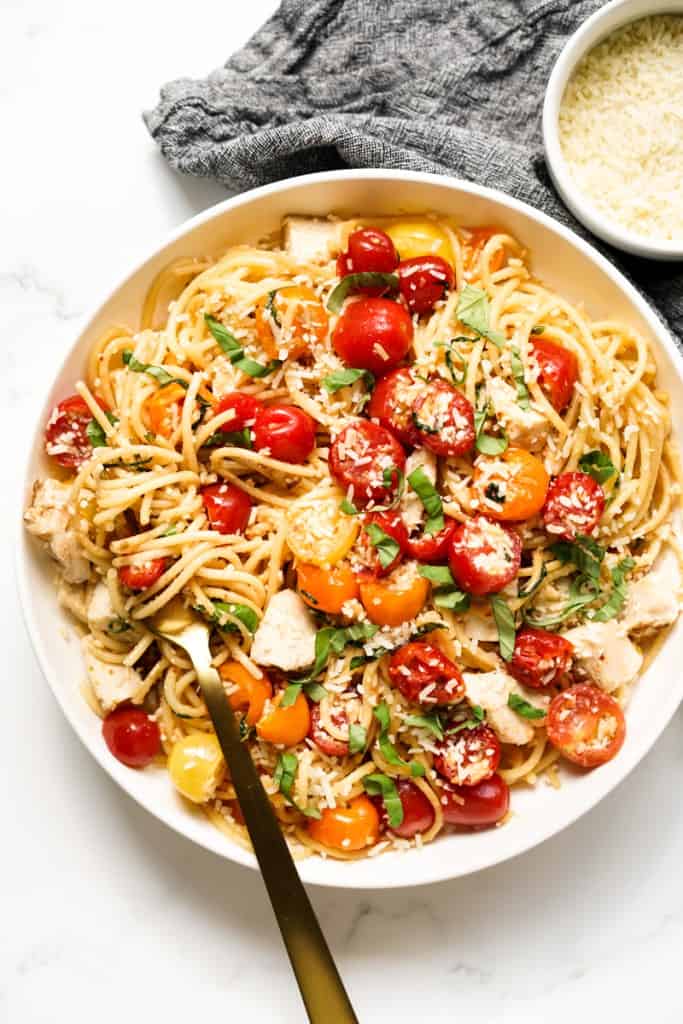 DID YOU ENJOY THIS RECIPE? Please comment below and give us a 5-star rating! This will help others find this recipe on Google and Pinterest. We very much appreciate your help! 🤍
More Pasta Recipes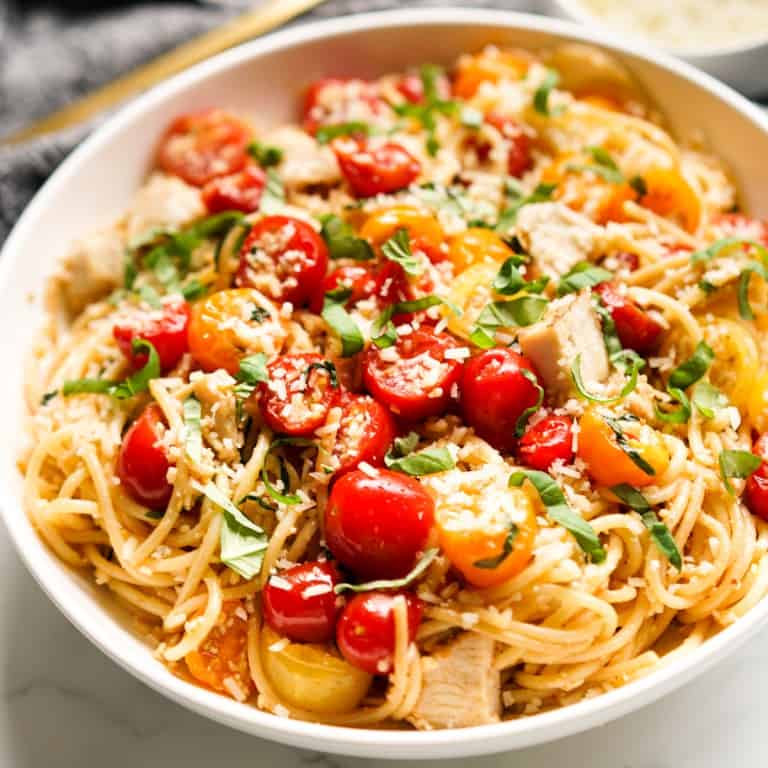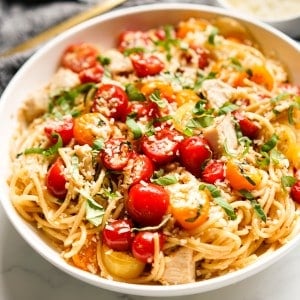 Cherry Tomato Pasta with Chicken
Light, fresh and flavorful, spaghetti pasta is tossed in a cherry tomato mixture infused with fresh basil and garlic flavors, combined with juicy chicken and parmesan cheese. So delicious!
Print
Pin
Ingredients
12

oz

cherry tomatoes

halved

2

tbsp

extra virgin olive oil

20-25

basil leaves

julienned

1 1/2

tbsp

garlic

minced

1/2

tsp

red pepper flakes

1

tsp

salt

8

oz

thin spaghetti

1/2

cup

parmesan

grated

2

cups

cooked chicken
Instructions
Combine cherry tomatoes, olive oil, minced garlic, fresh basil, salt and red pepper flakes to a large bowl. Cover with cling wrap. Let it sit for a 2-3 hours or up to overnight.

Bring spaghetti noodles to a boil in a large pot according to package instructions. Drain and set aside.

Add spaghetti to cherry tomato mixture, toss to combine. Add parmesan cheese, toss to combine again. Lastly, add chicken. Toss to combine.
Nutrition
Calories:
612
kcal
|
Carbohydrates:
63
g
|
Protein:
41
g
|
Fat:
21
g
|
Saturated Fat:
6
g
|
Polyunsaturated Fat:
3
g
|
Monounsaturated Fat:
11
g
|
Cholesterol:
81
mg
|
Sodium:
1136
mg
|
Potassium:
676
mg
|
Fiber:
3
g
|
Sugar:
5
g
|
Vitamin A:
963
IU
|
Vitamin C:
28
mg
|
Calcium:
251
mg
|
Iron:
3
mg