This post may contain Amazon or other affiliate links. As an Amazon Associate I earn from qualifying purchases at no additional cost to you.
If there is one bread to make, it is this. No kneading. No bread machine or mixer necessary. 4 ingredients only. Say hello to the incredible No Knead Cranberry Bread!
It's like a bread that just makes itself (and make itself super yummy, I might add), with a teeny tiny effort on your part. It sounds almost too good to be true. And it truly is.
The things you need besides the ingredients it calls for – 1) time, 2) a dutch oven with a lid, 3) parchment paper and 4) a bread-loving and patient heart.
One of my favorite things in the world is the smell of fresh bread. Just like the smell of coffee, when the the smell of fresh bread fills my home, it makes my stomach and my heart happy.
That is why one of my favorite breakfasts is fresh baked goods along with a cup of coffee. Because bread + coffee = the way to my heart/lots of love and joy.
Okay – back to the topic at hand. This No-Knead Cranberry Bread.
How it all began
I was first introduced to the concept of making bread the "no-knead" way by none other than my mom. My mom loves herself some freshly baked bread, or just bread in general. If breads were to give her all the nutrition she needs to survive, she will probably eat bread all day, every day!
I might be putting words in her mouth on that last sentence 😉 , but the point I'm trying to make is – she really, really loves bread. Like a lot a lot.
When she and my dad visited us last October, she made these no-knead breads based on a technique she learned from the internet. I will admit I was skeptical at first, but then it tasted so good I wanted to make some myself after she left.
So I consulted the internet. Because duh, the internet knows everything.
The basis of this recipe is inspired by this New York Times recipe. I have made some modification, but the basic technique is all them. It is a genius invention…one that I will treasure forever. Because it simplifies bread-making and makes it so accessible to everyone!
No Knead Cranberry Bread Tips and Tricks
Give yourself about 24 hours between starting the bread-making process and actually consuming the bread.
The good news is, in that 24 hours, you actually do work in the kitchen for 10-15 minutes or so. The rest of the time is just passive time letting the bread do its thing.
Also, while tempting to do, do not cut short the waiting time.
After mixing well bread flour, instant yeast, salt, dried cranberries and water in a large bowl, you want to cover the bowl with a cloth, and let it rise the full 18 hours it calls for. I usually start this process late afternoon so I can work with the dough in the morning.
18 hours later, some parts might look a little dry, and that is okay. After baking you will not even notice the dryness. The dough typically dries up a bit after sitting in dryer air (especially in the winter).
Dough will still be sticky but grab it anyway (wash your hands later 😉 ) and transfer the dough to a parchment paper, and shape the dough into a ball-shape (doesn't have to be perfect), then transfer the parchment paper and dough into a dutch oven.
Cover dutch oven with cloth, and let it rise again, but this time only for 2 hours. Again, do not short cut the rising process! Let that bread do its thing. 🙂
And yes, after that it is finally ready to go into the oven. The rising has completed.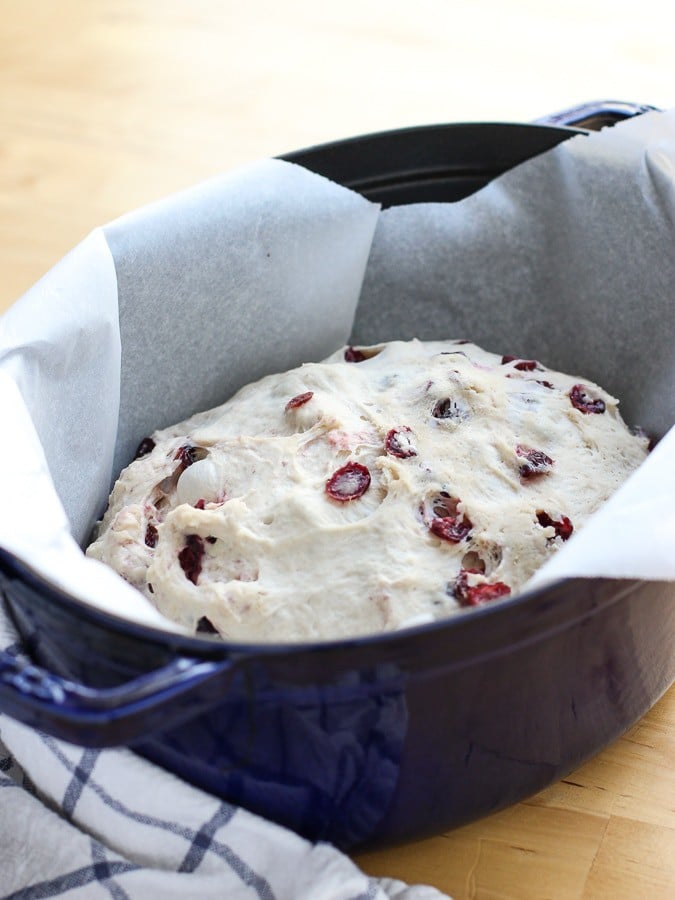 Why it's great!
What I love about about this recipe is it is so versatile. It's the perfect festive, holiday bread. It's also perfect with some butter melted on it to be consumed anytime of the day.
It's perfect with peanut butter and jelly. It's perfect for breakfast served with a side of scrambled eggs. It's perfect to be made into a turkey sandwich.
The possibilities are endless, my friend.
It's is definitely best served warm, and eaten right out of the oven…after it cools for a while. Yes, let the bread cool for about 15 minutes after removing it from the oven.
How to save leftovers
Store airtight in a ziplock bag, and I highly recommend consuming it within 1-2 days. Since there are no preservatives (which is a GOOD thing), it will need to be stored in the fridge after the second day if it is not consumed by then.
Kick off your holiday festivity to some No-Knead Cranberry Bread. You'll love it and you'll want it in your life forever!
If you make this recipe PLEASE let me know how it goes in the comment box below, and share pictures of your creations on instagram by tagging #joyousapron! And while you are there, don't forget to follow me!
Other Bread Recipes
No-Knead Cranberry Bread
No-kneading required and so easy! Crusty on the outside, and soft on the inside, the No-Knead Cranberry bread is festive and perfect for the holidays, but is also great for any day! Highly recommend serving warm with butter! Or spread some peanut butter and jelly on it, or make a sandwich with it!
Print
Pin
Ingredients
3

cups

bread flour

1 1/4

tsp

salt

1/2

tsp

instant yeast

1

cup

dried cranberries

1 1/2

cups

water
Instructions
In a large bowl, bring together bread flour, salt and instant yeast. Mix well, then add dried cranberries and water.

Mix well again, and shape it into a ball-like shape. Dough will be sticky and may be slightly lumpy – and that is ok!

Cover with a cloth and let dough rise for 18 hours.

Bring dough to the middle of a large sheet of parchment paper. Gently mold dough into a shape of a ball. Lift up parchment paper (with dough on it) and put it into a dutch oven.

Let it rise for another 2 hours.

Pre-heat oven to 450 degrees. Bake bread covered with lid for 30 minutes. Then uncover lid and bake for another 15 minutes.

Cool bread for 15 minutes. Serve and enjoy!