Nothing screams summer more than this fresh, light and flavorful Bruschetta Pasta Salad! Think Tomato Bruschetta in pasta salad form, where cherry tomatoes, fresh basil, pasta, shaved parmesan, and toasted bread are tossed in the best balsamic vinegar dressing ever. Oh so yum!
This post is sponsored by my friends at BRIANNAS Fine Salad Dressings! I absolutely love their dressings! As usual, all opinions and texts are mine.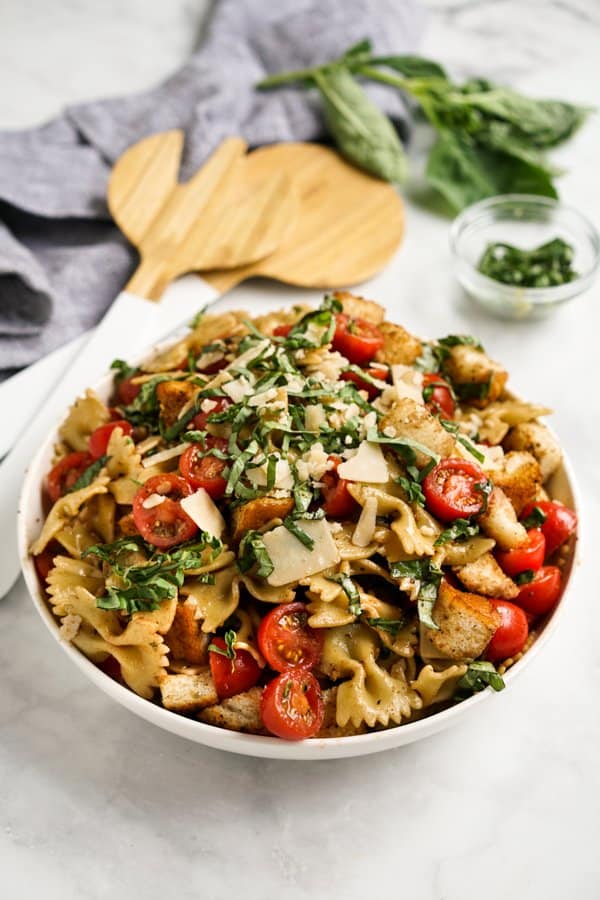 Bruschetta Pasta Salad: A Summer Staple
Pasta salads are some of my favorite food items for the summer. And this Bruschetta Pasta Salad has solidified itself as Summer 2021 most eaten item! Ha!
I've been eating this Bruschetta Pasta Salad for lunch, as a side for dinner, and you bet I'm planning on getting this to all the cookouts and gatherings this summer.
When tomatoes are in season (RIGHT NOW!), they are juicy, sweet and so flavorful…it's a shame not to take advantage of the season!
They are also almost always cheaper…so yeah, there are multiple reasons to eat all the tomatoes right now if you are a tomato-lover like me!
And then there's that Avocado Oil Balsamic Vinaigrette. Insert drooling emoji, please. Allow me a few minutes to talk about my obsession with BRIANNAS brand new product.
It is tangy, slightly sweet, infused with flavorful herbs, and absolutely perfect for this Bruschetta Pasta Salad.
The flavors and textures in this pasta salad come together like a dream. I seriously could eat this bruschetta pasta salad all summer long!
Ingredients
Let's talk about some of the key ingredients for this Bruschetta Pasta Salad.
I included very minimal ingredients in this dish and all of them play an important part bringing flavors and textures to our bruschetta pasta salad. In other words, avoid skipping them because the dish will taste different if you do!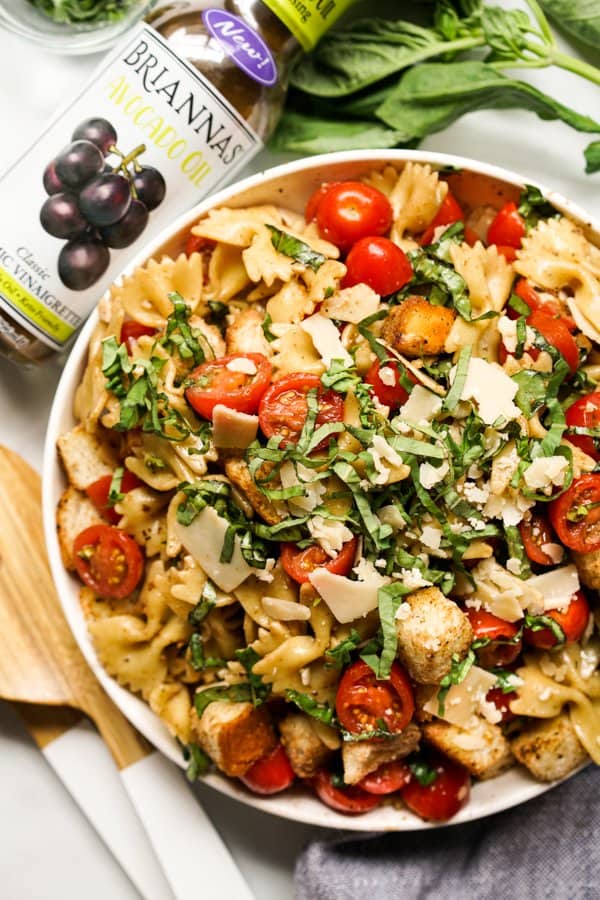 Cherry tomatoes – I love using cherry tomatoes (instead of tomatoes) in bruschetta pasta salad. Cherry tomatoes are firmer, has more intense sweeter flavors, and has less liquid versus regular tomatoes. I find that because they produce less liquid, they keep well overnight and also works better if the dish will sit out for a little while during cookouts or parties.
Fresh basil – I love me some fresh basil! One of my favorite herbs to eat obsessively during the summer! Avoid using dried basil in place of fresh – they don't work as well in this recipe!
Pasta – I use bow-tie pasta but you can use any pasta you like! For a healthier take, try whole wheat pasta.
Parmesan – I use shaved fresh parmesan cheese because it's thin enough to not overpower the pasta salad but also substantial enough that I can bite into and taste its sharp flavors. Yum!
Minced garlic – use fresh as it brings an added layer of flavor to bruschetta pasta salad! Avoid using garlic powder. Yes, fresh is a theme here… 😉
Bread – I like to cube French bread or ciabatta and pan-sear it in olive oil and salt to make them crispy. Dryer bread actually works better for this. If you want a quicker option, use store-bought croutons. Nothing will replace the taste and texture of homemade toasted bread, but croutons work pretty well in a pinch.
BRIANNAS Avocado Oil Balsamic Vinaigrette – this ties everything together and also bring out the sweetness in the tomatoes. I love that this vinaigrette uses avocado oil. It tastes no different to me than using olive oil based vinaigrette and is so good for you!
Confession: these are actually some of my favorite summer ingredients and I'm just giddy happy I get to combine them together and eat them ALL AT ONCE. ❤️
How to make Bruschetta Pasta Salad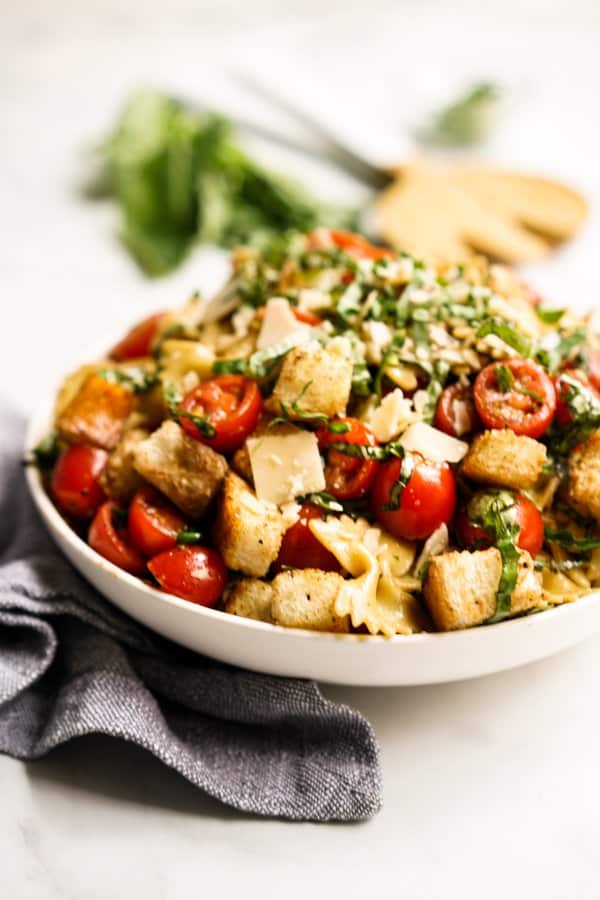 One of the beautiful things about Bruschetta Pasta Salad recipe is that you can make it "from-scratch" (i.e. more complicated, true-homemade kinda way), or do a short cut version of it and get everything together under 20 minutes!
The big difference comes down to toasting the bread yourself ("from scratch" way), or using store-bought croutons (the easy way).
I am a food nerd. So when I have the time, I totally prefer toasting the bread myself. It's as simple as cubing French bread (or any kind of bread) and searing them under medium heat in olive oil and salt until they are nice and crunchy.
Check out these beauties…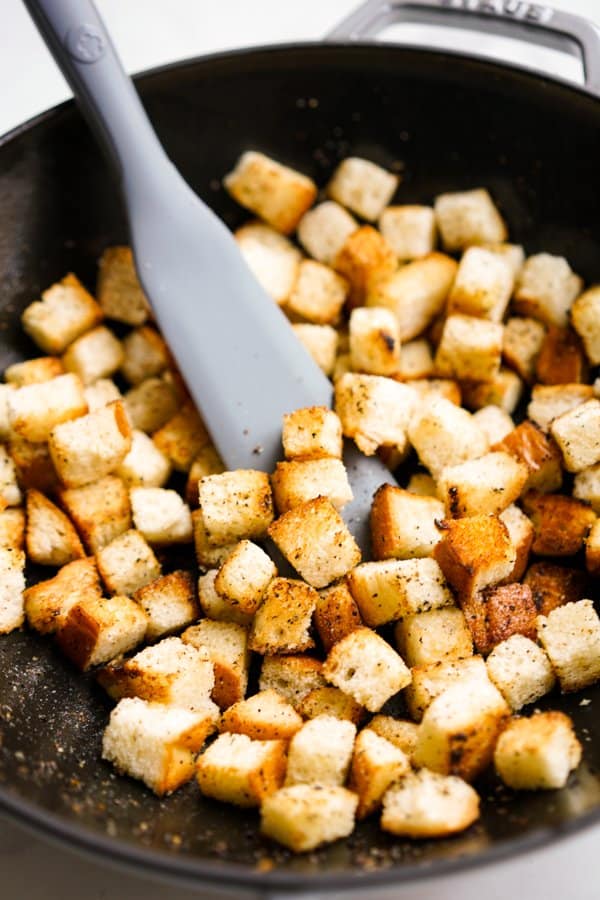 The end product should be slightly golden brown and very crispy!
And let me tell you, these things are crazy addictive. I always make extra so that I can munch on some of these toasted bread while I prepare the rest of the Bruschetta Salad. It is one of my favorite things to snack on.
Those darn carbs – can't live with them, can't live without them!
Once that is done, there are two things you need to do and you will be well on your way to enjoy this epic Bruschetta Pasta Salad:
Boil pasta (according to package instructions)
Combine the other ingredients
That's it!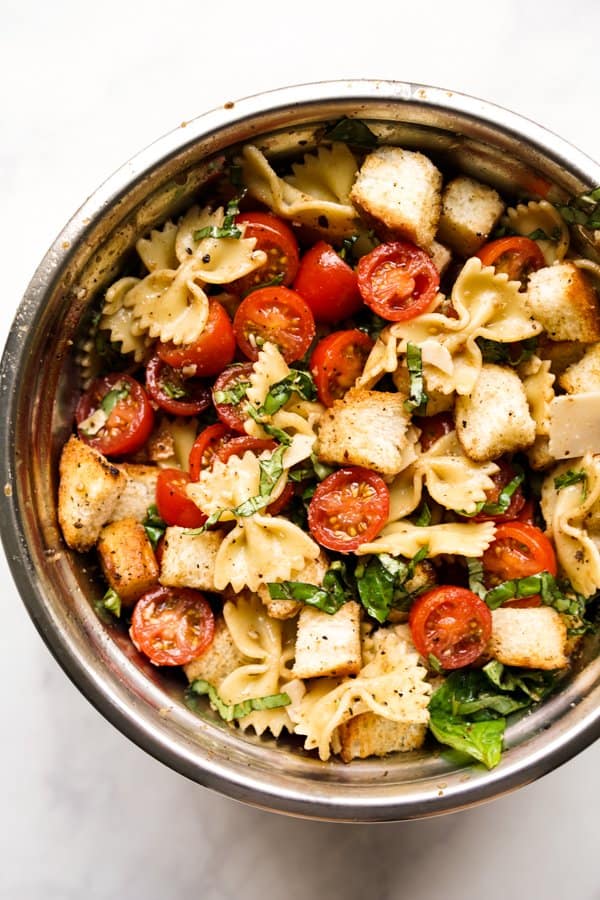 When combining the ingredients, I typically like to bring cherry tomatoes, fresh basil, garlic and the Avocado Oil Balsamic Vinaigrette to the bowl first and toss them up. And then I add the toasted bread or croutons, and shaved parmesan.
I do it this way so that the bread will not get soggy. It needs a little bit of the dressing on it, but I don't want to soak the bread in dressing. And the parmesan can stand on its own without being drench in the dressing either, thank you very much.
So there you go, that is why I'm fussy like that and only mix together the bread and parmesan at the end. It honestly can be toss right in with the other ingredients if you prefer. It's just how I like it and I humbly think it tastes the best that way. 😉
One other quirk to point out: If you are a big fresh basil and parmesan person like I am, garnish with even more fresh basil and parmesan. But if you are not, ignore that and happily go and enjoy the glorious Bruschetta Pasta Salad.
The truth is, here's how we roll around here: if you really like any ingredient, indulge yourself and add more! ❤️
Ladies and gentlemen, prepare to fall in love with this Bruschetta Pasta Salad.
Frequently Asked Questions
How do keep this as leftovers?
The best way to keep this as leftovers is to store everything in the refrigerator except for the toasted bread. If possible, store toasted bread separately in an airtight container in room temperature, preferably prior to tossing it in dressing, and consume within 3 days. This is the best way to keep the bread nice and crispy! It will turn soft if you store it in the fridge. Same goes for croutons. It is also best to consume the rest of the refrigerated items within 2-3 days.
Can I this make ahead?
Yes but for best results, only toss ingredients in dressing when ready to serve, especially the toasted bread or croutons. To make ahead, I would prep all the ingredients ahead of time, and toss it in dressing when it is ready. Store all the ingredients except for toasted bread in the refrigerator for up to 24 hours before serving.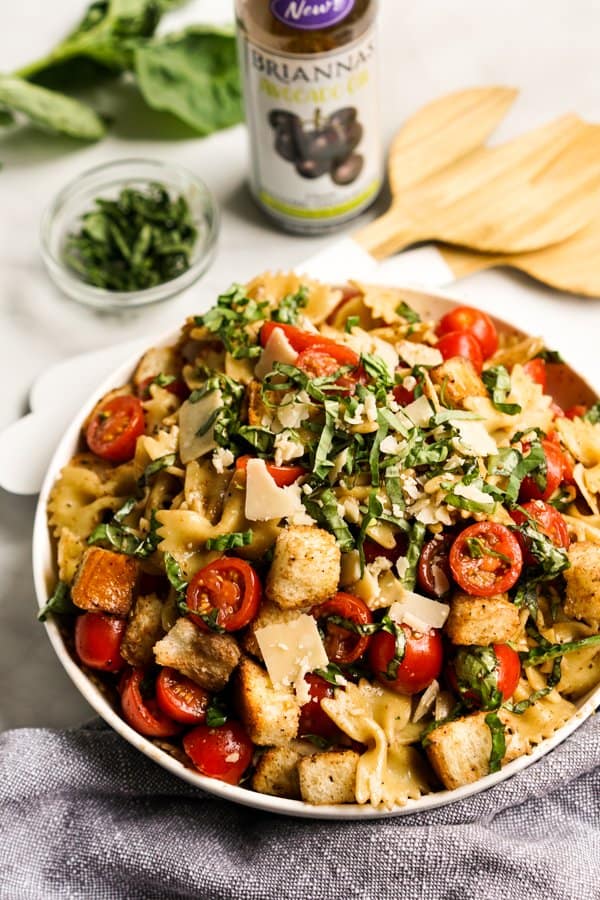 As you can see, Bruschetta is no longer just an appetizer served on a piece of toast! Bruschetta pasta salad is actually a thing, and very much the real deal!
If you love Bruschetta, you are going to love Bruschetta in pasta salad form even more!
Disclaimer: this is not an authentic Italian recipe and is purely born out of my love for Bruschetta and pasta salads (love both, why not combine it!)…but it is indeed delicious and I strongly felt like the world needs a little piece of bruschetta pasta salad.
I hope you enjoy this fun twist to the Italian classic as much as I do! ❤️
More Salad Recipes:
DID YOU ENJOY THIS RECIPE? Please comment below and give us a 5-star rating! This will help others find this recipe on Google and Pinterest. We very much appreciate your help! 🤍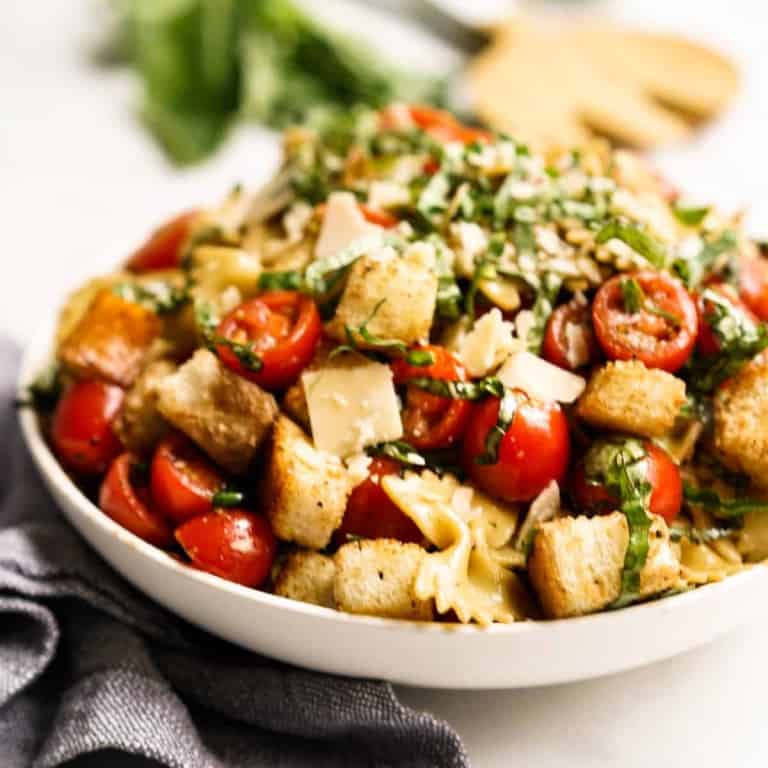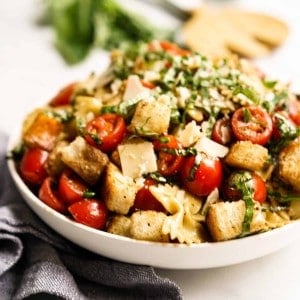 Bruschetta Pasta Salad
Tomato Bruschetta in pasta salad form! Cherry tomatoes, basil, balsamic vinaigrette, parmesan, toasted bread and pasta is tossed together to make this light, refreshing summer side dish.
Print
Pin
Ingredients
2

cups

bread

cubed, dry

1

tbsp

olive oil

1/4

tsp

salt

4

oz

bow tie pasta

16

oz

cherry tomatoes

halved

1

clove

garlic

minced

1

cup

fresh basil

chopped, more for garnish

1/2

cup

BRIANNAS Avocado Oil Balsamic Vinaigrette

or to taste

1/2

cup

parmesan

shaved, more for garnish
Instructions
Heat skillet with olive oil under medium heat. When skillet is hot, add cubed bread and salt, and stir continuously until they are light golden brown and crispy. Remove from heat and set aside. Alternatively, skip this step and use store-bought croutons.

Bring water to boil in a pot, and cook bow tie pasta according to package instructions. Remove from heat, strain to remove water, then set aside.

In a large bowl, bring together pasta, cherry tomatoes, garlic, fresh basil and BRIANNAS Avocado Oil Balsamic Vinaigrette. Toss to combine.

Add parmesan and toasted cube bread/croutons. Toss to combine again.

Optional: garnish with more basil and parmesan if desired.
Nutrition
Calories:
605
kcal
|
Carbohydrates:
58
g
|
Protein:
15
g
|
Fat:
34
g
|
Saturated Fat:
6
g
|
Polyunsaturated Fat:
2
g
|
Monounsaturated Fat:
3
g
|
Trans Fat:
1
g
|
Cholesterol:
6
mg
|
Sodium:
736
mg
|
Potassium:
372
mg
|
Fiber:
5
g
|
Sugar:
9
g
|
Vitamin A:
647
IU
|
Vitamin C:
18
mg
|
Calcium:
228
mg
|
Iron:
4
mg