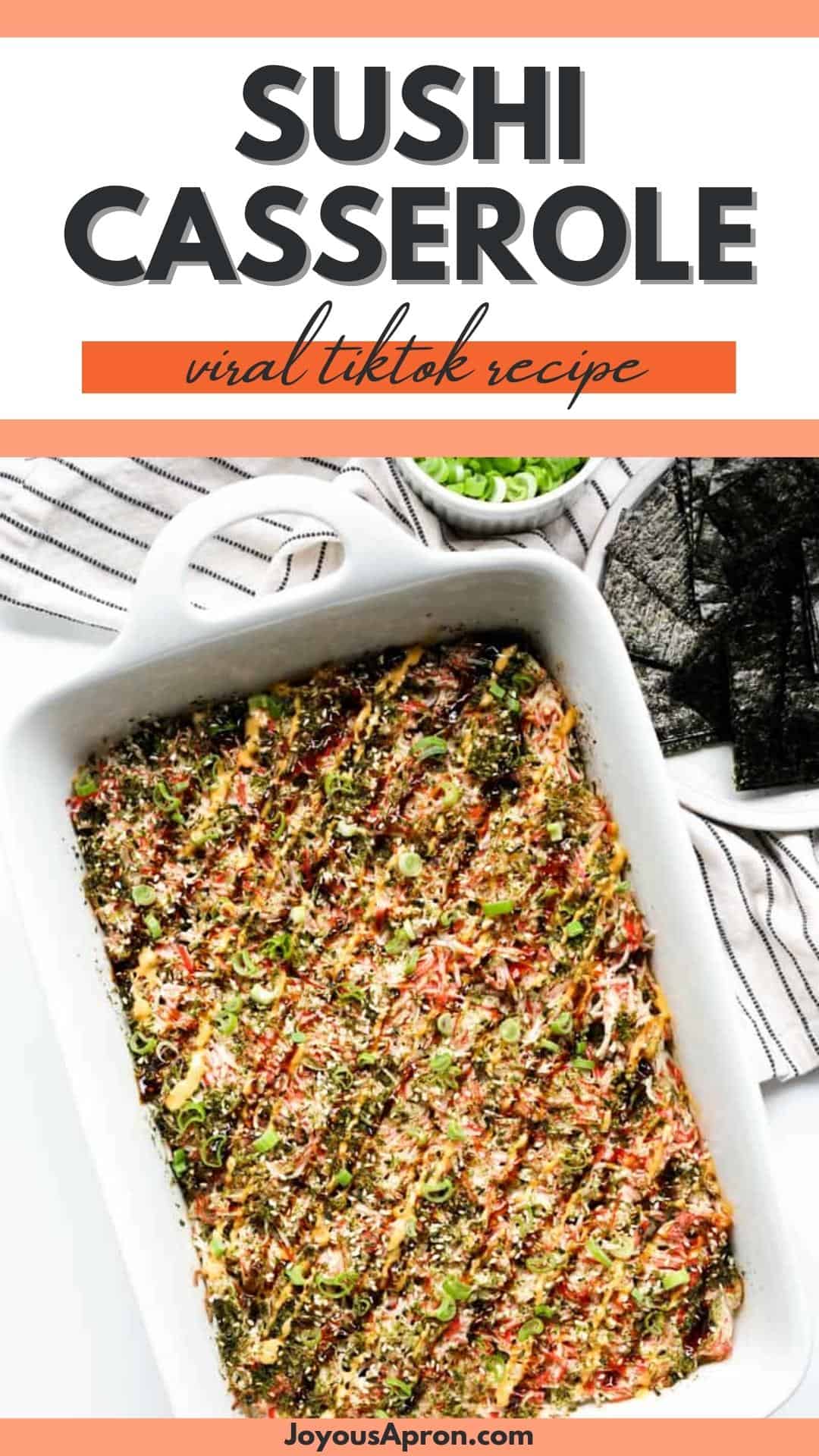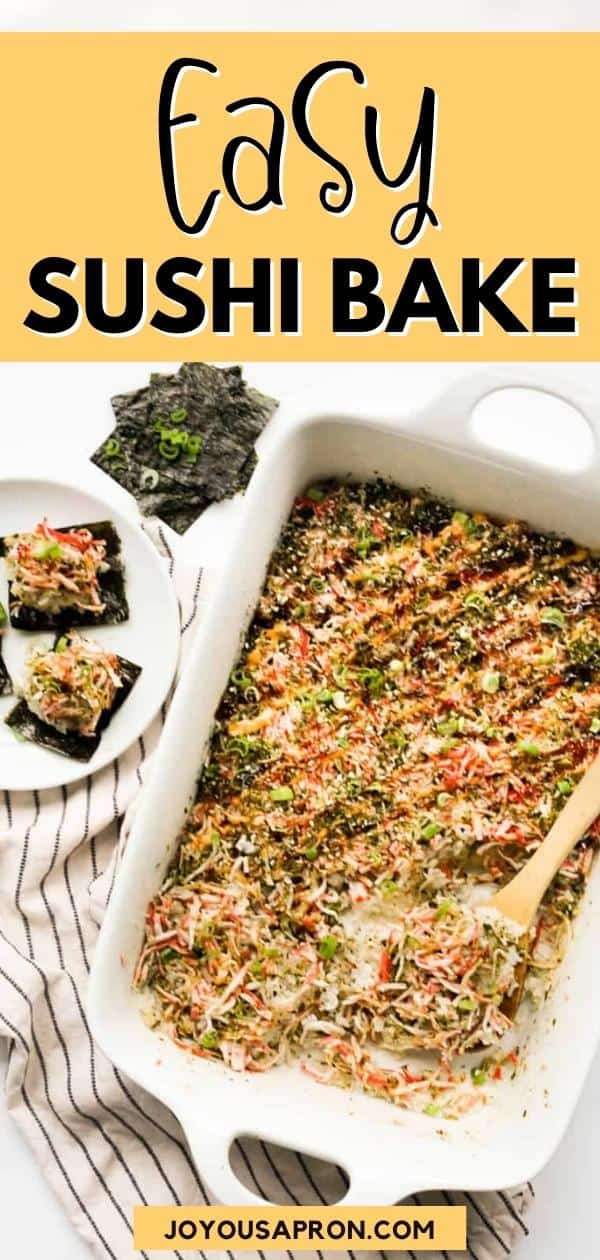 Sushi Bake is a deconstructed sushi recipe where all your favorite sushi ingredients are layered in a casserole then baked in the oven. It that has recently become a wildly popular TikTok phenomenon…and I totally get why! It's so easy to make (much easier than traditional rolled up sushi), crazy delicious, and taste just like sushi!
If you are craving for sushi and don't want to spend the money on sushi, but want something quick that you can make at home…sushi bake is the answer!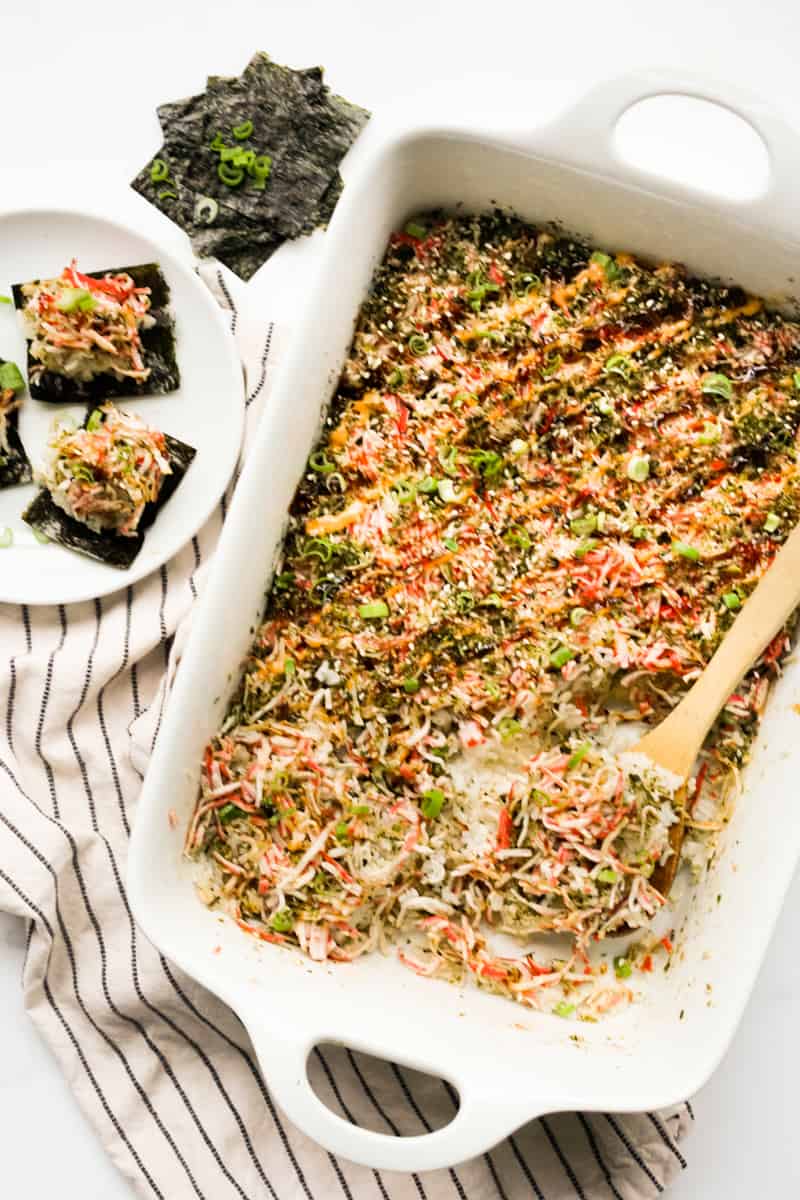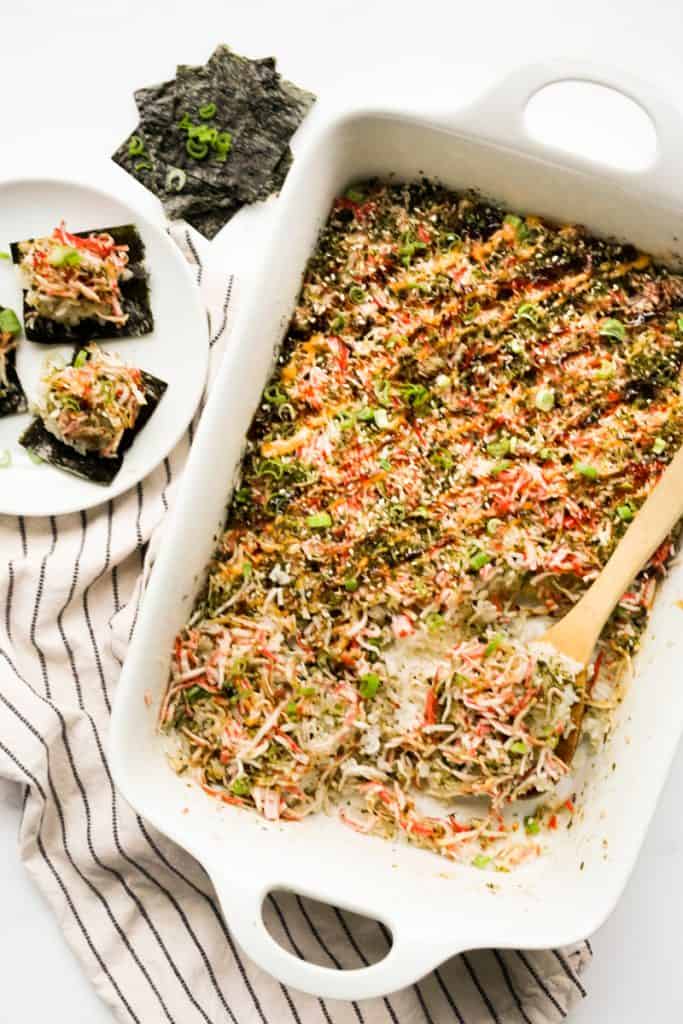 What is Sushi Bake or Sushi Casserole
When I first saw Sushi Bake on TikTok and Instagram, I was instantly excited to try it. But what I did not expect is that sushi bake actually taste exactly like regular sushi, and it tastes AMAZING.
Sushi bake (or sometimes called Sushi Casserole) encompasses all the components of sushi, just put together in a much easier, more user-friendly method.
We all know the most labor intensive part of sushi is rolling them perfectly in those lovely rolls. Well, similar to my Baked Salmon Sushi Bowl, we're ditching that, and baking our sushi in a casserole dish instead! Hello, sushi casserole!
There are so many different ingredients and ways to make sushi bake. This version of sushi bake is pretty much a deconstructed Californian roll, where we layer sushi rice, imitation crab mix tossed in Japanese mayo, and furikake (rice seasoning made with spices, seaweed and sesame seeds).
After that, the sushi bake it garnished with green onions, and drizzle with sriracha mayo and unagi sauce (thick savory sweet soy) to top it off!
To eat it, grab a spoonful of rice along with that creamy crab mix and sauce, top with sliced avocados, and wrap everything in pieces of crunchy nori (seaweed).
Then sit back and enjoy the way the flavors and textures of sushi bake come together like magic.
It is creamy, crunchy, sticky, savory, sweet, tangy, and slightly zesty. SO MUCH GOING ON. SO MUCH TO LOVE.
I'm a big fan of sushi bake. BIG, BIG fan.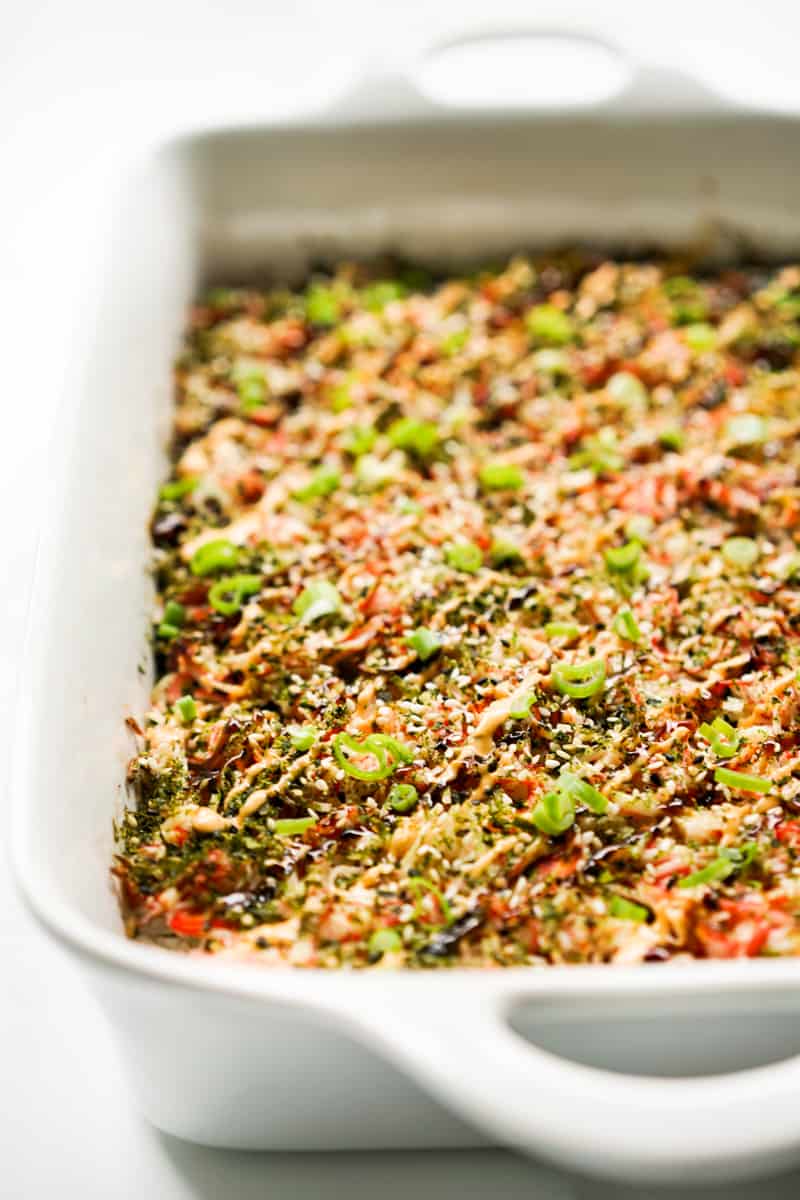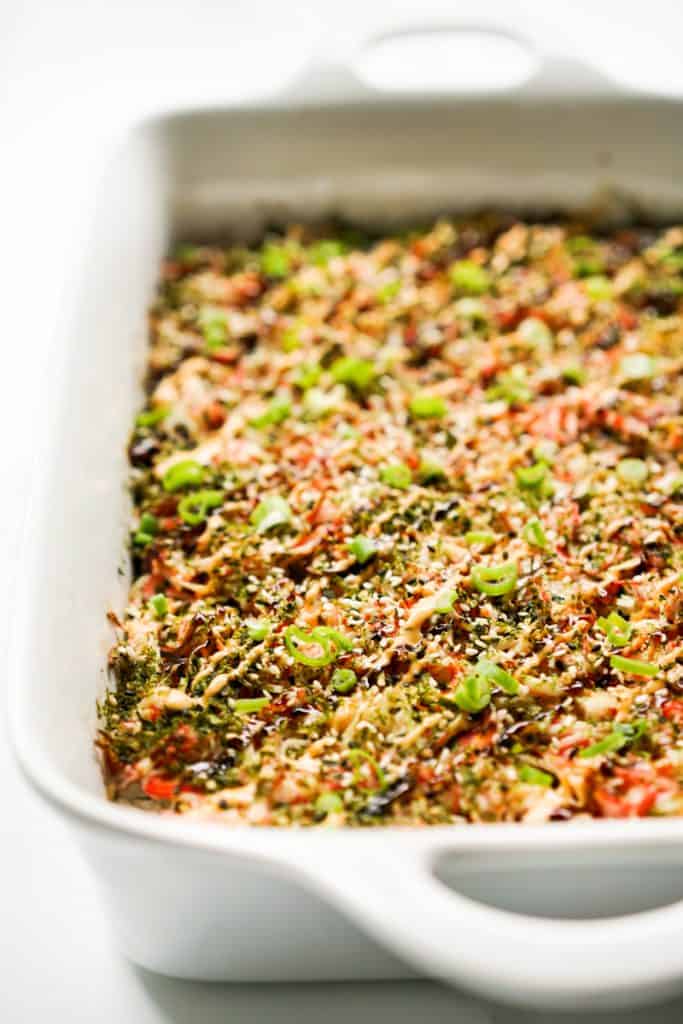 Ingredients
I want to spend some time talking about the ingredients in the sushi bake, because it may sound intimidating if you are not familiar with them.
But it truly doesn't have to be! It feels intimidating, but believe me, it is not at all! It's pretty straightforward, and the affiliate links will take you to pictures of them and even ways to purchase them online!
Here's what you need for this sushi bake recipe:
short-grain rice – the best type of rice to use for sushi is short-grain rice. Sometimes you may even find bags of rice that is labelled sushi rice (that works as well).
imitation crab meat – it's actually not crab but is made with fish! I typically find them in the freezer section and they come in rectangular strips with one side of it being bright red in color, and the other side is white. If frozen, make sure to defrost it completely before use. See below for picture.
Japanese mayo – you can use regular mayo but Japanese mayo is preferred. Japanese mayo is more custard-y because egg yolks are used (vs. eggs in regular mayo), and also has a touch of vinegar in it.
Rice vinegar – can be substituted with white vinegar. Rice vinegar is used for both the crab mixture and sushi rice. For seasoning the sushi rice, sushi vinegar can be used as well. Sushi vinegar comes already seasoned with sugar and salt.
Furikake – a Japanese rice seasoning that contains spices, seaweed pieces and sesame seeds. Brings lots of yummy flavors to your sushi bake.
Sriracha mayo – a tad spicy, used a lot as toppings for sushi and poke bowls. You can also make your own using this recipe.
Unagi sauce – a thick sweet soy sauce that is used as topping on sushi. Or you can make your own! There's no unagi (eel) in it, it's commonly used served with unagi/eel.
Salt
Nori sheets – sheets of seaweed use to roll sushi.
You can find most of these ingredients in the regular grocery store. Short grain rice, furikake and unagi sauce can be found in Asian grocery stores. Trader Joe's recently started carrying furikake.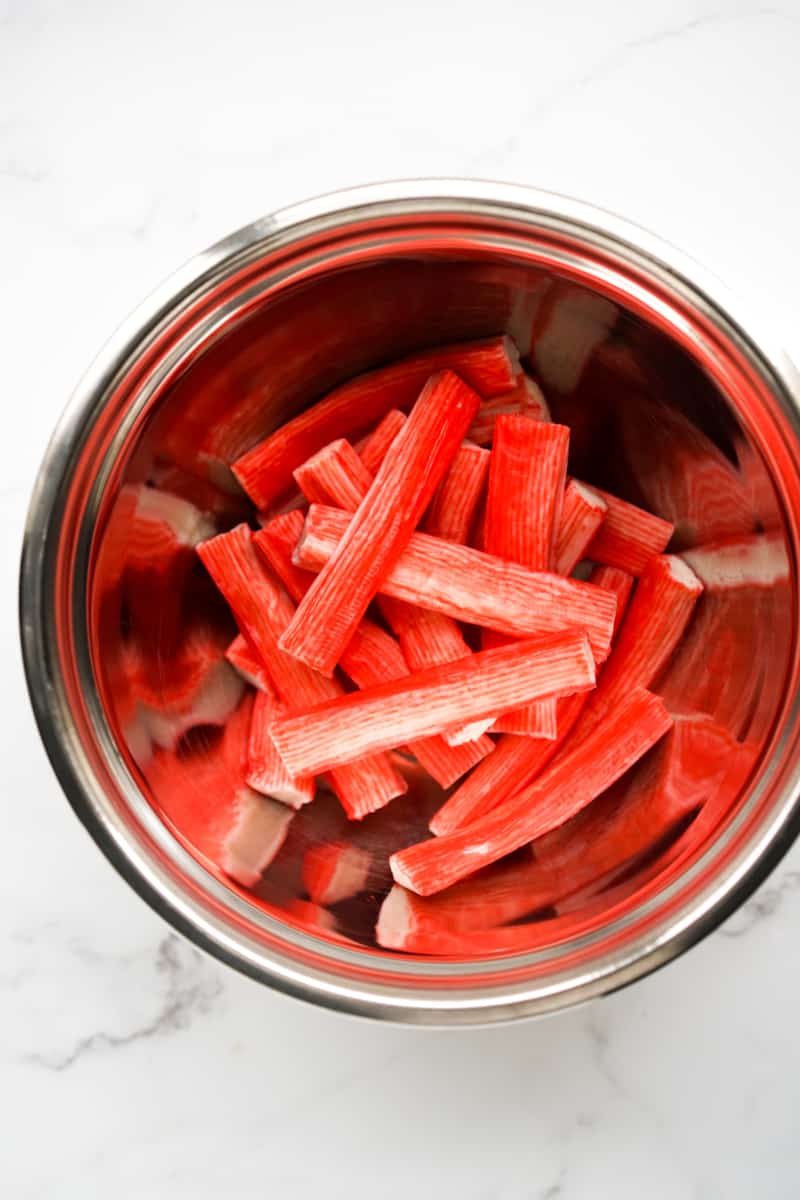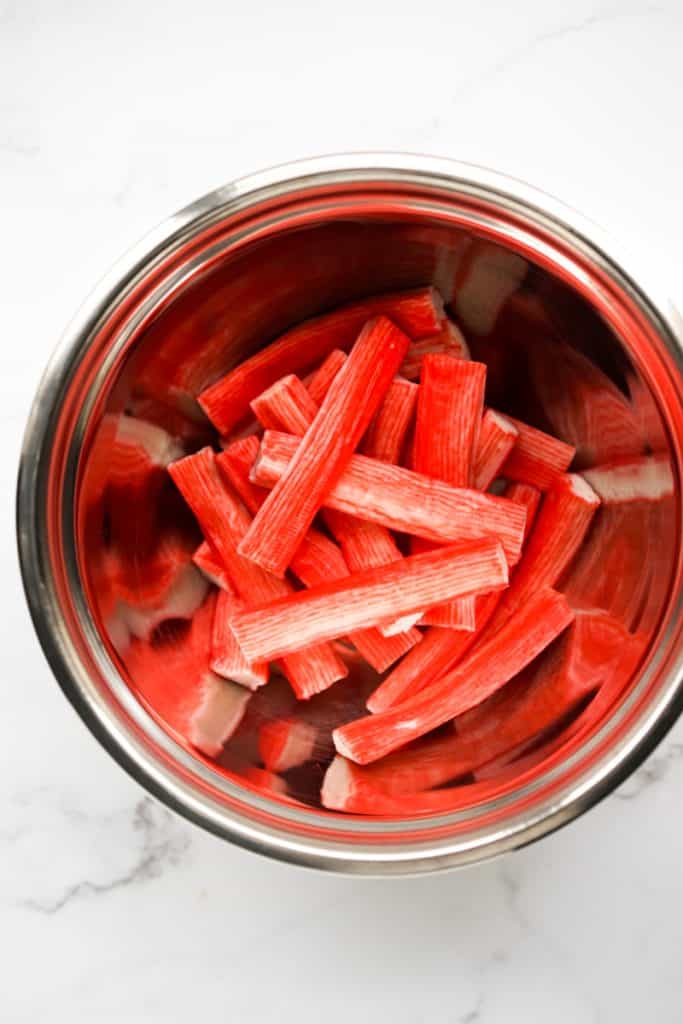 How to make sushi bake
Step 1: Cook sushi rice
Cook short grain rice in rice cooker or on stovetop:
stovetop: add rice and water to a pot with a tight lid (2 cups rice; ~3 cups water), bring to a boil, then reduce heat to low and cook for 20 minutes. Do not open the lid while rice is cooking. After 20 minutes, turn off the heat, and let rice sit for 5 minutes.
rice cooker: following rice cooker instructions. Also use rice to water ratio of 2:3.
When rice is done, add rice vinegar, granulated sugar and salt to rice while it is warm, stir to combine. Alternatively, you can use sushi vinegar as well. Sushi vinegar comes already seasoned with sugar and salt.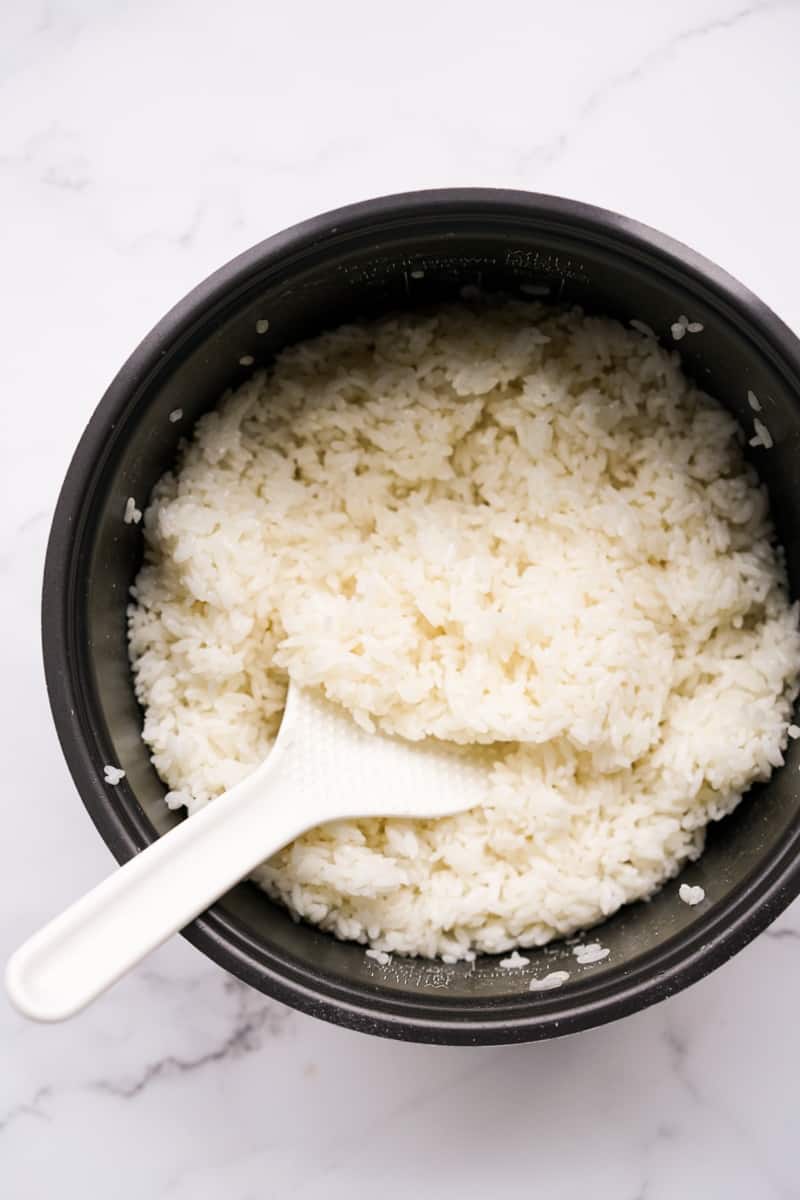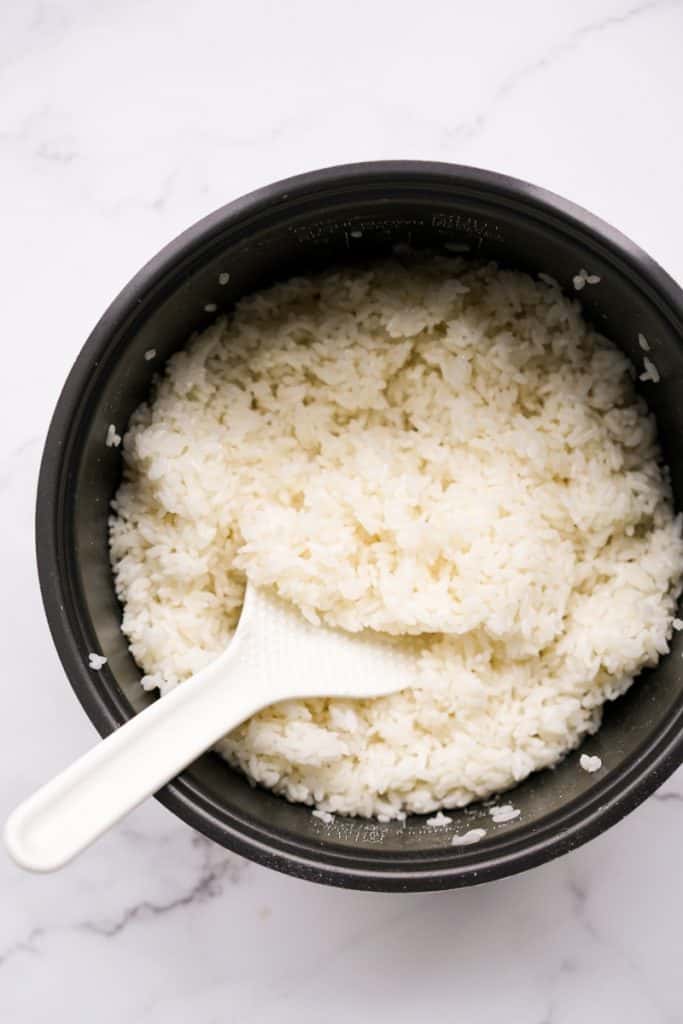 Step 2: Make imitation crab mixture
Cut each imitation crab stick into 3 smaller pieces, then bring crab sticks, Japanese mayo, rice vinegar, and salt to a medium mixing bowl. Mix to combine.
Step 3: Layer casserole
Once all the ingredients for our layers are ready, let's layer the sushi bake!
Start by by greasing a 9′ x 13′ casserole dish.
Spread sushi rice out in the casserole dish. This will be the bottom layer of the sushi bake. Use a spatula to flatten and slightly pack the rice.
Then top rice with furikake seasoning.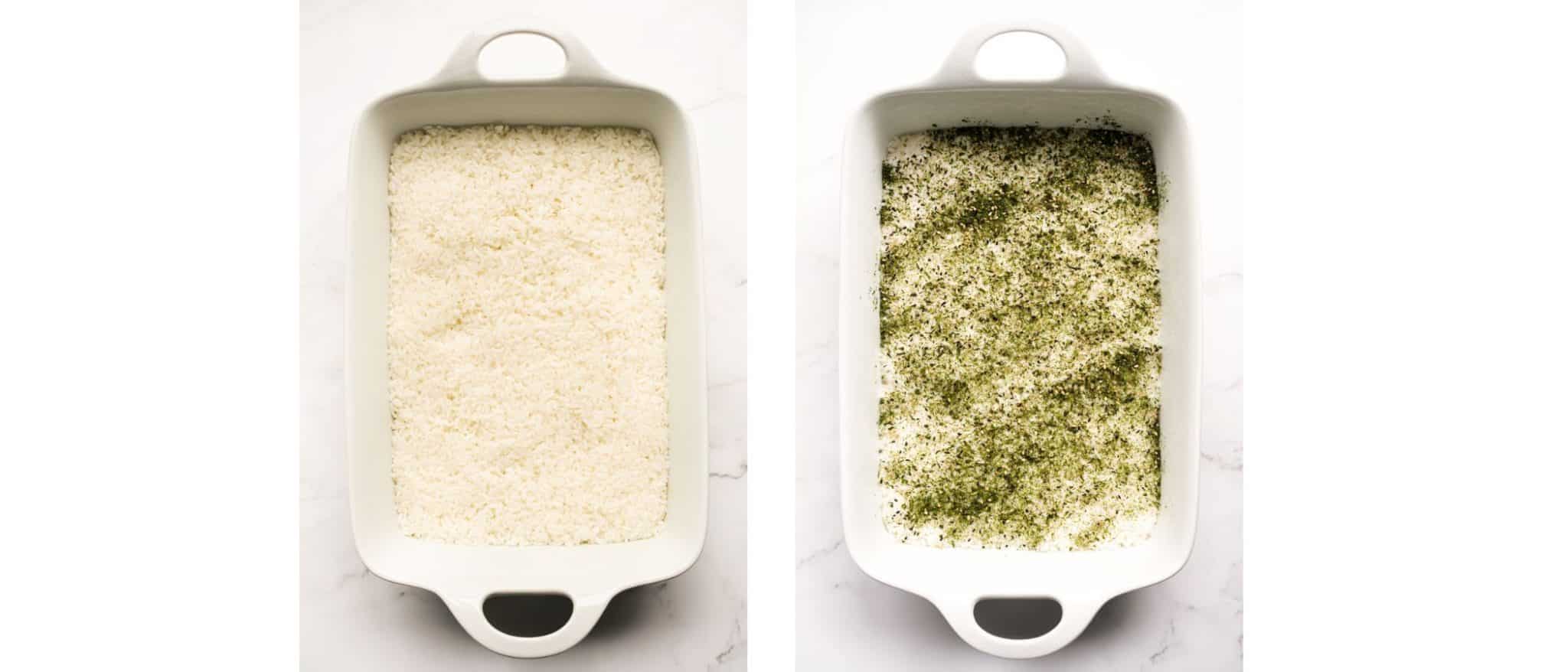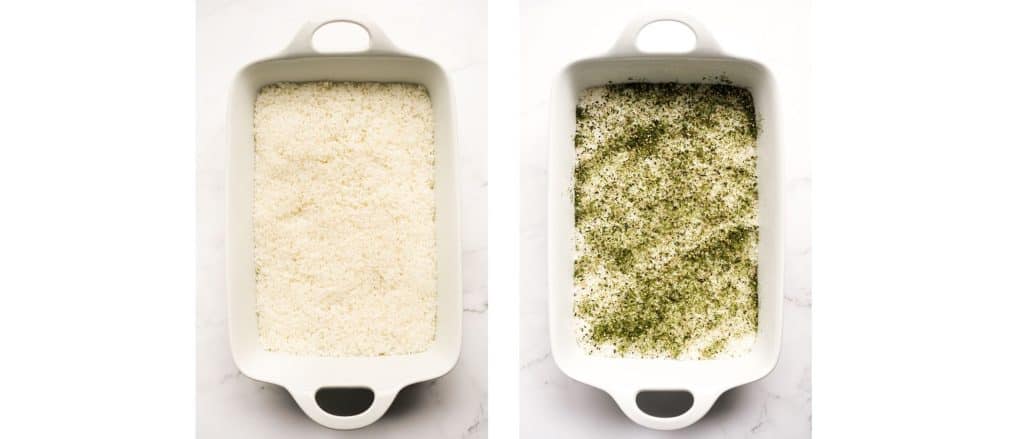 Next spread imitation crab mixture to the top of the furikake, followed by another layer of furikake.
Step 4: Bake
Bake sushi casserole bake in the oven for 20 minutes at 400℉.
When it is done, drizzle sushi bake with unagi sauce and sriracha mayo, and garnish with chopped green onions.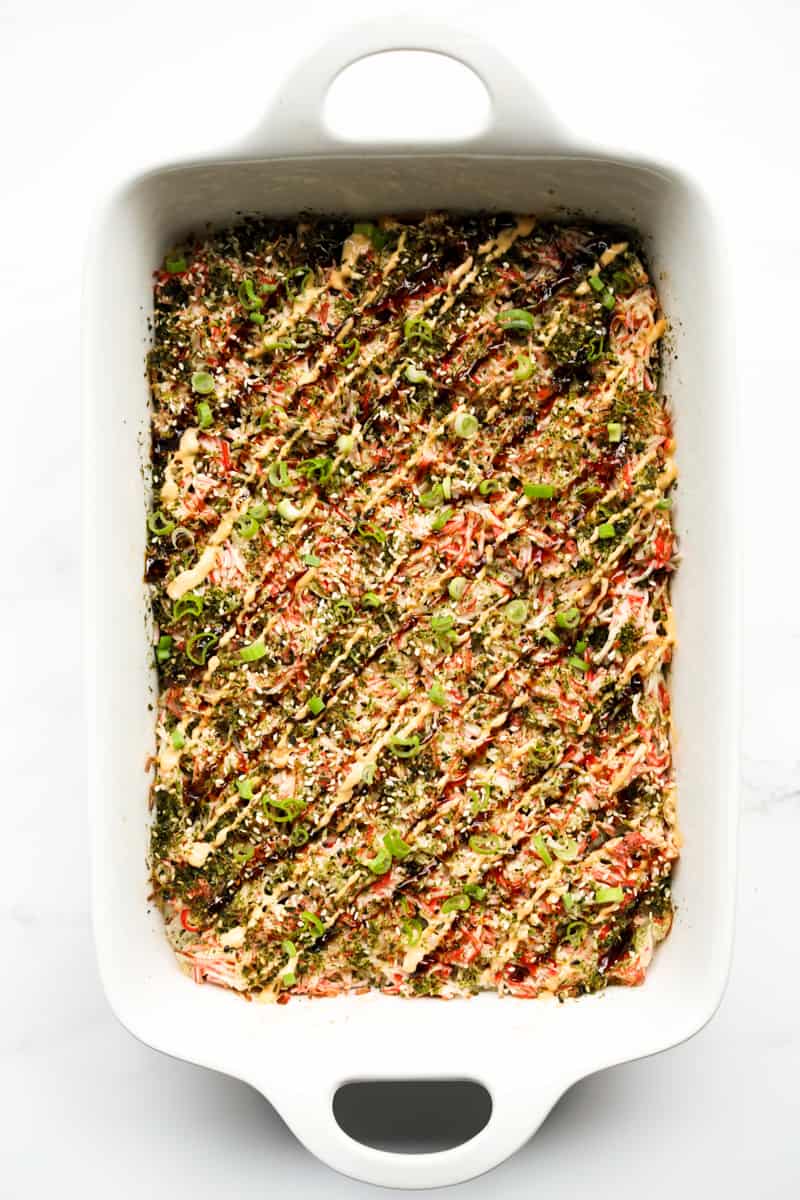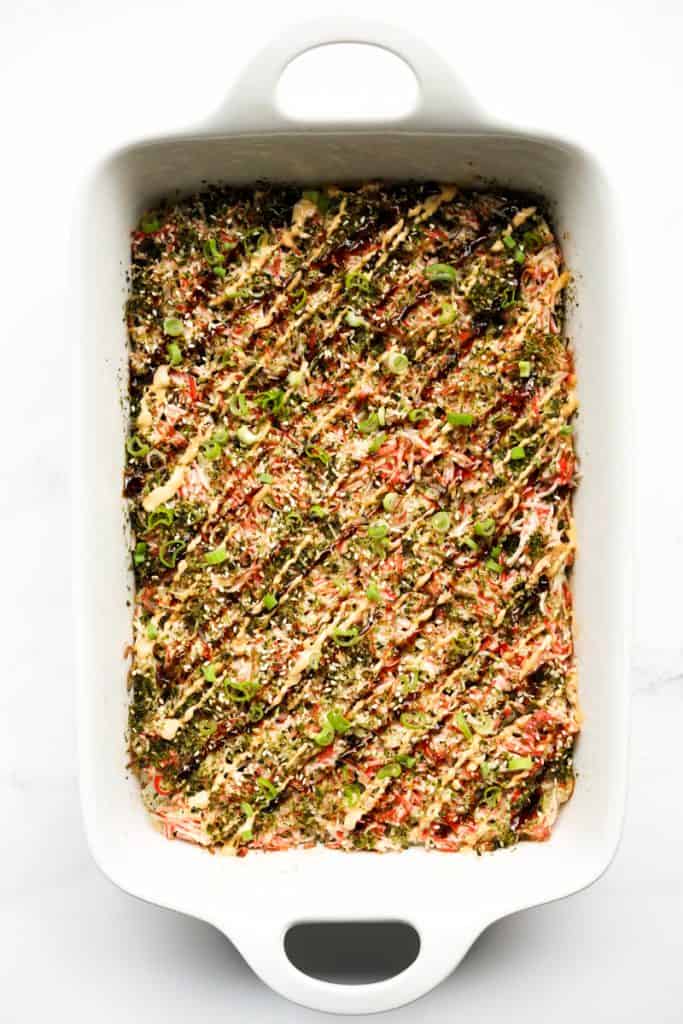 Sriracha mayo is mildly spicy. If you don't want it spicy, you can omit sriracha mayo.
How to serve and eat sushi bake
Now comes the truly fun part – let's eat some sushi bake!
I like to cut my nori (seaweed sheets) into smaller pieces – it will serve as the 'wrapping' for the rice mixture.
Grab a spoonful of rice with all the yumminess on top, and place it in the middle of the nori. Add a slice of avocado, and wrap it up and pop it into your mouth!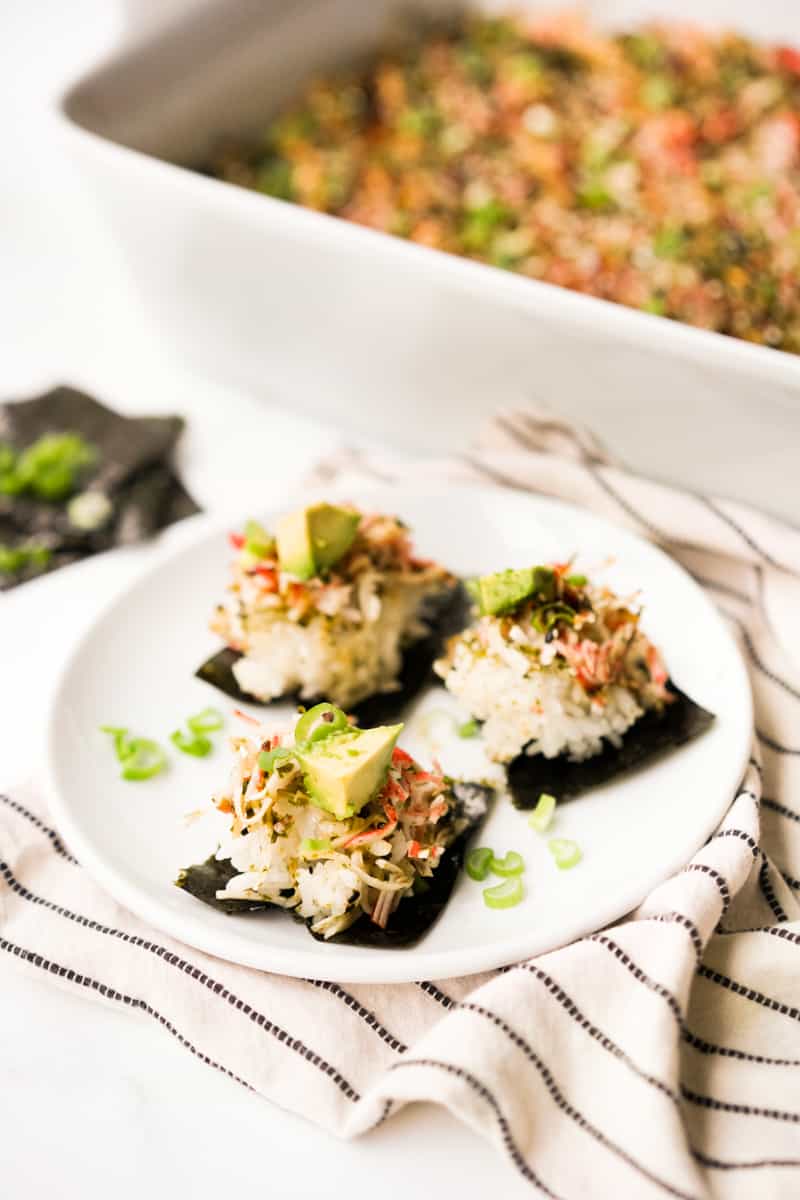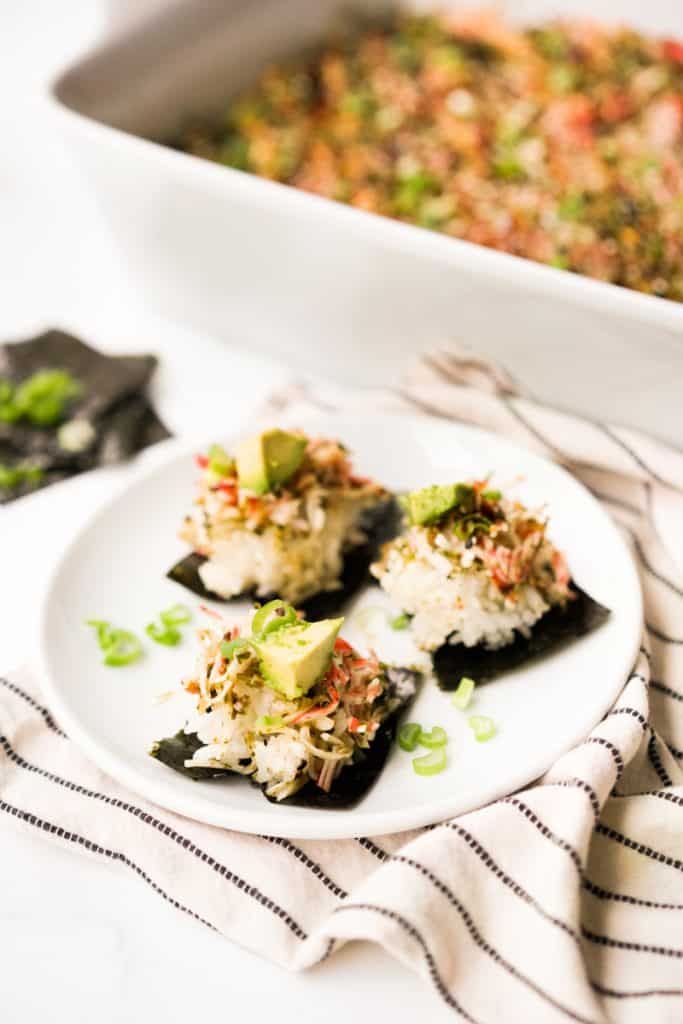 If you are as big of a sauce fan as I am, add another dollop or two of sriracha mayo or unagi sauce to the top.
When you bite into these lovely sushi bake wrapped in nori, you are going to get a mouthful of sticky seasoned rice with creamy crab mix, the delicious flavors of the imitation crab sticks, along with sweet, savory and spicy from the sauces.
Also, not forgetting that delightful crunch from the seaweed, and burst of freshness from the green onions.
It's a party in the mouth!
I'm seriously ADDICTED to sushi bake and its deliciousness, and I CANNOT GET ENOUGH OF IT.
Variations and Topping Ideas
Okay there are so many ways you can make your sushi bake. This method I'm showing you is seriously just the tip of the iceberg.
Here are a few other ideas!
protein: instead of imitation grab, substitute with canned tuna, canned salmon, (real) crab meat, or even raw salmon. If using raw salmon, make sure to cut into small pieces so it cooks thoroughly. You may need a longer bake time if salmon isn't cooked through.
sauces: mayo, wasabi, sriracha, or sweet chili sauce can be used in addition or in place of unagi sauce and sriracha mayo. You can also dip your sushi in soy sauce when serving.
toppings: sliced cucumber, shredded carrots, cilantro, fried onions can be used in place or in addition to sliced avocados and green onions.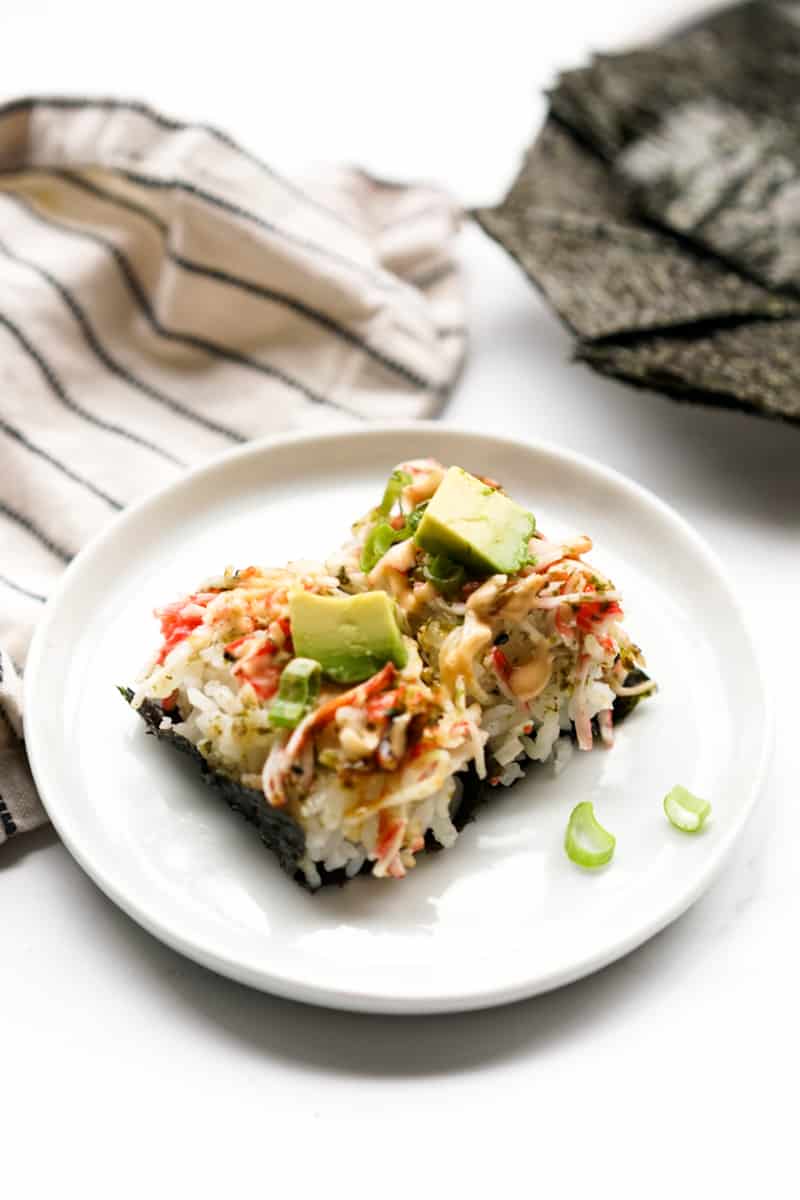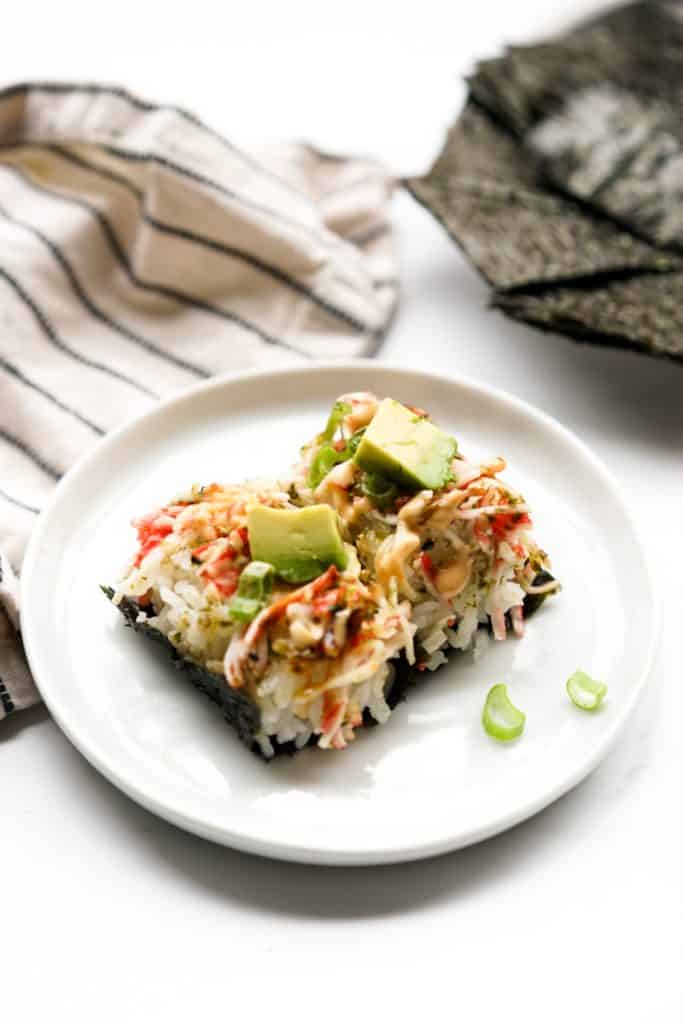 How to serve it
Sushi bake makes the perfect potluck dish or as a main dish for dinner. It is actually fairly straight forward to make, and taste good warm or in room temperature.
Here are some of my favorite items that compliments sushi bake well:
Pickled ginger (grab it from the grocery stores)
Green tea
Frequently Asked Questions
How do you reheat sushi bake?
Simply drizzle a few drops of water on top of your sushi bake and microwave for 60-120 seconds (depending on how large your leftovers are). If rice is hard when you bite into it, it needs to be reheated longer. Rice should be soft when fully heated through.
Can I use other rice instead of short grain rice?
Yes you can, but it will taste less like sushi rice. Short grain rice has a stickier texture and works the best. Avoid long grain rice. Medium grain works better than long grain but not as well as short grain. Jasmine, basmati etc are considered long grain rice.
Can I substitute imitation crab with something else?
Yes! Canned tuna, canned salmon or real crab meat work great too. See 'Variations and Topping Ideas' section for more ideas.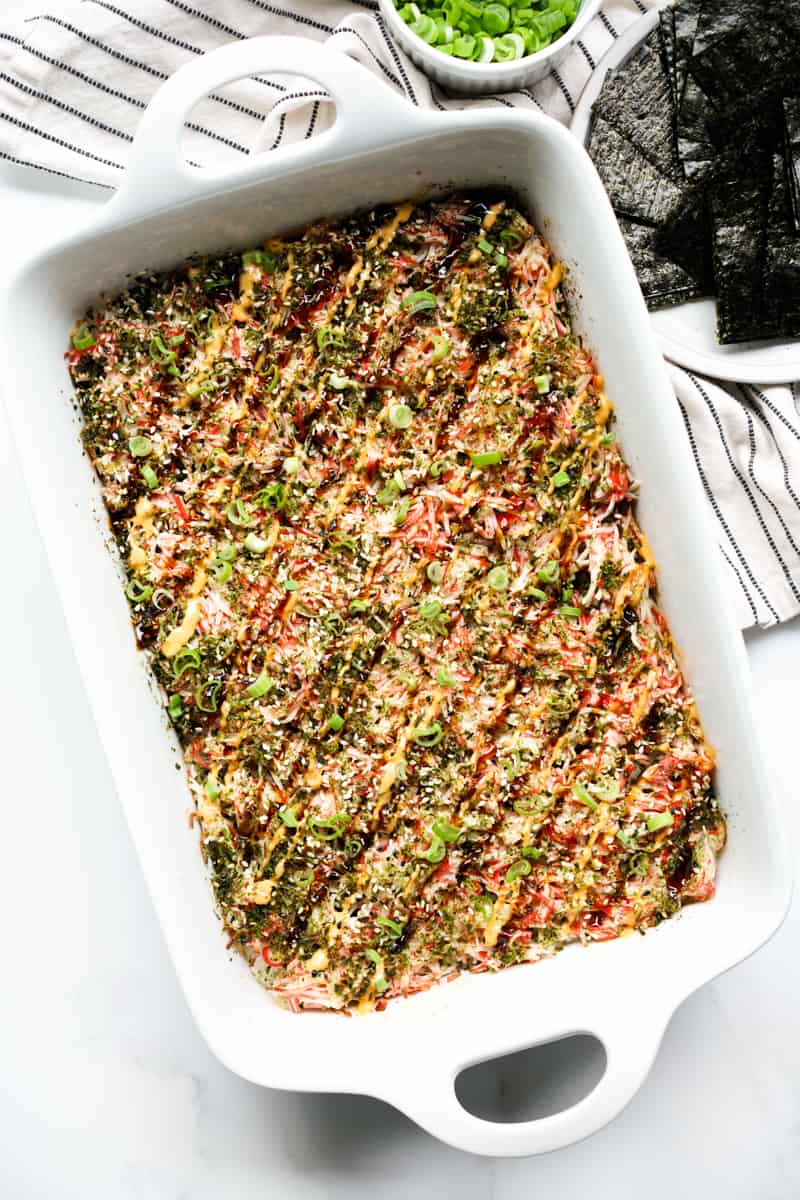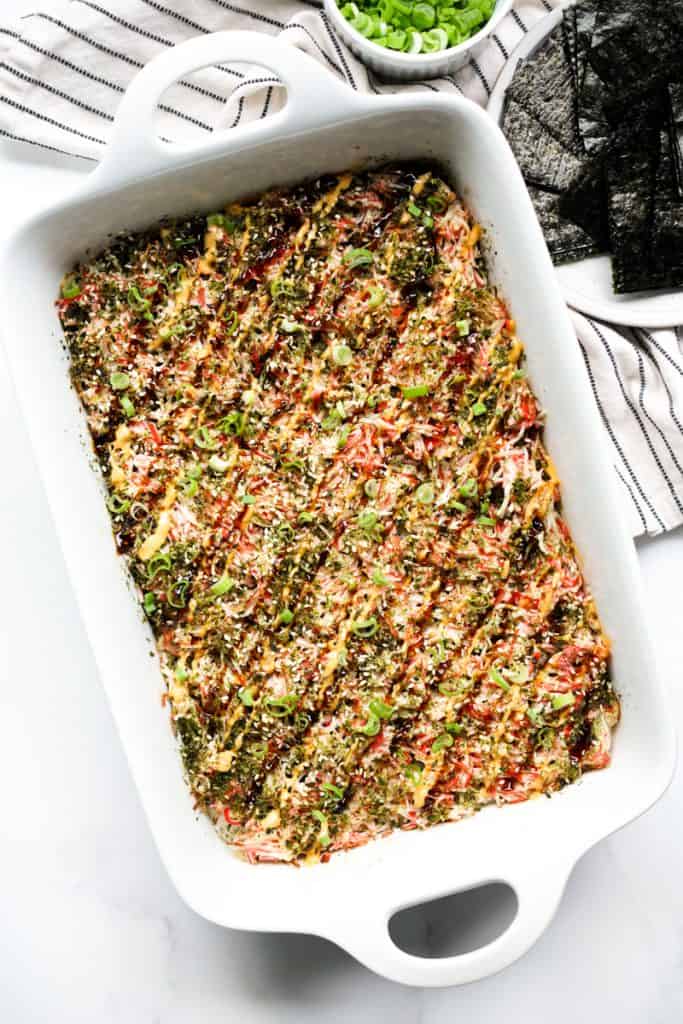 Okay folks, I hope you fall in love with this delicious and easy sushi bake recipe as much as I did! Until next time!
DID YOU ENJOY THIS RECIPE? Please comment below and give us a 5-star rating! This will help others find this recipe on Google and Pinterest. We very much appreciate your help! 🤍
Other Asian Inspired Recipes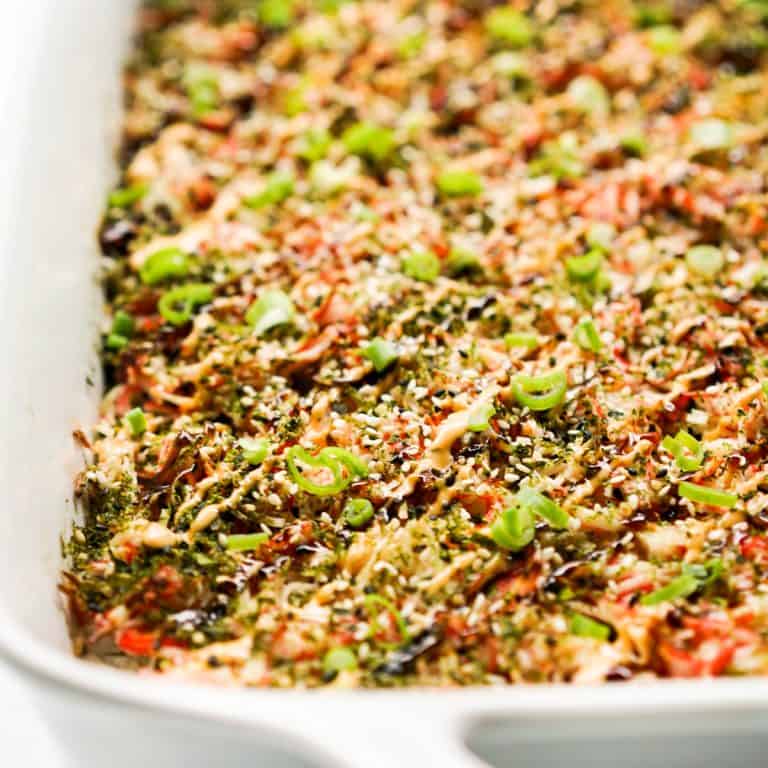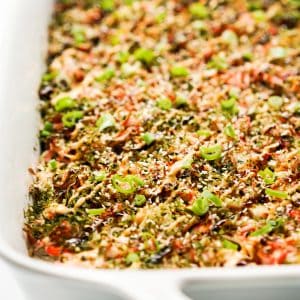 Sushi Bake
A deconstructed sushi recipe oven baked in a casserole! Sushi rice, imitation crab mix, furikake, unagi sauce, and sriracha mayo are layered onto a casserole and baked in the oven. Served wrapped in nori seaweed.
Print
Pin
Ingredients
Sushi Rice
2

cups

short grain rice

or sushi rice

3

cups

water

1/4

cup

rice vinegar

2

tbsp

granulated sugar

1/2

tsp

salt
Imitation Crab Mix
20

sticks

imitation crab meat

1/2

cup

Japanese mayo

2

tbsp

vinegar

1/2

tsp

salt
Other Toppings
1/4

cup

furikake

or more as needed

2

tbsp

sriracha mayo

2

tbsp

unagi sauce

1/4

cup

green onions

chopped

1

avocado

sliced

6

sheets

nori
Instructions
Cook rice in rice cooker or stovetop. For rice cooker, follow rice cooker instructions. For stovetop, bring rice and water to boil in a pot with a tight lid. Reduce to low heat and cook for 20 minutes. Do not lift lid while rice is cooking. When rice is done, turn off the heat, and let rice sit for 5 minutes.

Combine cooked rice with rice vinegar, sugar and salt while rice is still warm. Mix to combine.

Cut imitation crab meat sticks into smaller pieces. In a large bowl, combine and mix crab meat, Japanese mayo, rice vinegar, and salt. Use fork to fluff crab meat until they break apart into smaller strings.

Grease a large 9' x 13' baking dish. Spread rice out onto the bottom of casserole. Use a spoon or spatula to flatten and pack rice together. Sprinkle the top of the rice with 2 tbsp of furikake.

Next, spread with imitation crab mixture. Then top crab mixture with the rest of the furikake (~2 tbsp).

Bake sushi bake for 20 minutes.

Remove from oven, and drizzle with unagi sauce and sriracha mayo. Sprinkle with chopped green onions.

Serve with seaweed, avocados, and leftover sauces. Enjoy!
Nutrition
Calories:
611
kcal
|
Carbohydrates:
91
g
|
Protein:
12
g
|
Fat:
22
g
|
Saturated Fat:
3
g
|
Polyunsaturated Fat:
9
g
|
Monounsaturated Fat:
7
g
|
Trans Fat:
0.03
g
|
Cholesterol:
20
mg
|
Sodium:
1233
mg
|
Potassium:
362
mg
|
Fiber:
10
g
|
Sugar:
13
g
|
Vitamin A:
406
IU
|
Vitamin C:
5
mg
|
Calcium:
175
mg
|
Iron:
7
mg