This post may contain Amazon or other affiliate links. As an Amazon Associate I earn from qualifying purchases at no additional cost to you.
Let's talk about a chicken soup recipe for your body, mind and soul…Lemon Chicken and Rice Soup! It comforts, it satisfies. It has a simple yet absolutely gorgeous flavor, and it makes me want to jump into soup season like WHEEE!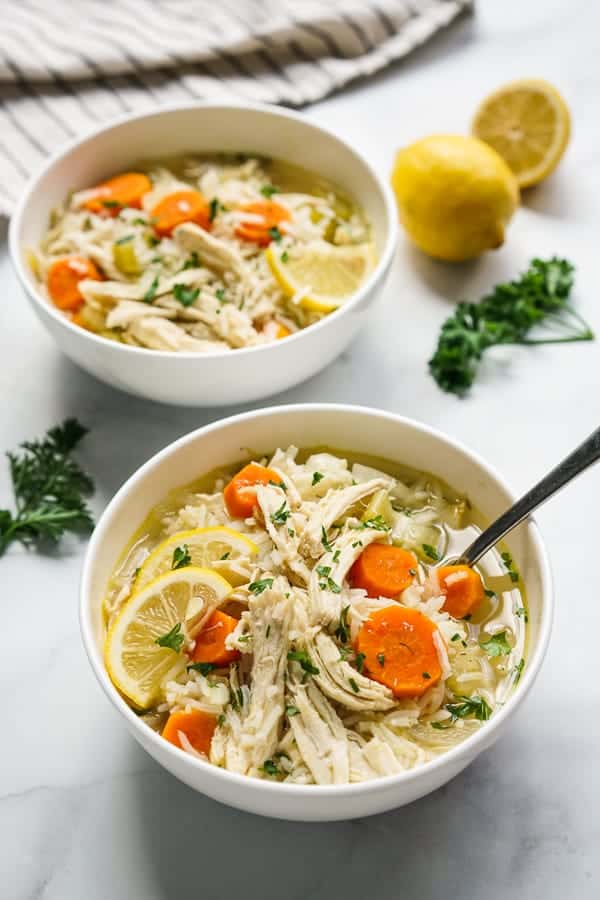 One of my favorite soups to order at Greek/Mediterranean restaurants is the Greek Lemon Chicken soup, or also called the Avgolemono soup.
Since discovering it, when I am not ordering Avgolemono soup from restaurants, I make my own version of Lemon Chicken and Rice at home.
This recipe is definitely inspired by Avgolemono soup. While I cannot promise authenticity, I promise deliciousness!
It is the perfected-over-the-years, tweaked-to-my-liking Lemon Chicken and Rice Soup that I come to know, love, and I've decided now the world (aka you 🙂 ) needs a piece of this gem.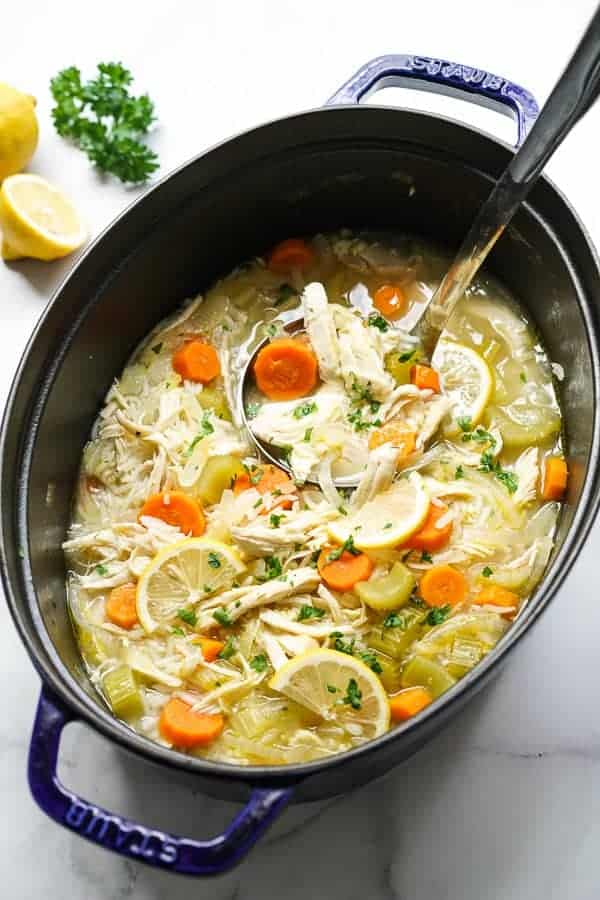 Why it's so delicious!
The heart of a good soup is a good broth. I like to use chicken bone broth because it gives a deep, hearty chicken flavor to the soup, but feel free to use regular chicken broth as that will work as well.
For this Lemon Chicken and Rice Soup recipe, chicken bone broth is infused and cooked with garlic, bay leaves and dill, and combined with tender shredded chicken breast, celery, carrots and onions.
And of course, lemon juice. Freshly squeezed lemon juice brings this light citrusy flavor that ties everything together.
This recipe serves approximately 4 people as a main course dish, and 6-8 people as a side, and you can use a dutch oven or a pot to make this soup.
The beauty of this soup (one of the many) is being able to conveniently incorporate veggies into it. The veggies give it flavor, texture, and are, of course, good for you.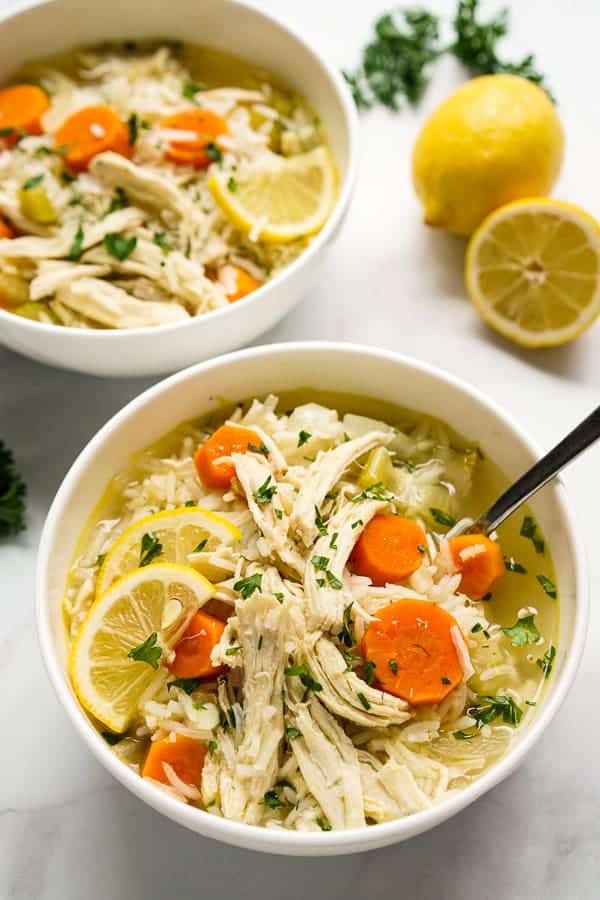 All the other reasons…
Okay sure it's delicious, but here are all the other reasons why we are loving this these days!
Takes 30 minutes to make! A.k.a. perfect for a quick meal
One pot meal – because who doesn't love that on a busy day?
Uses fresh and healthy ingredients
Perfect as the weather cools down!
How to make Lemon Chicken and Rice Soup
Always chop and prep vegetables before you begin cooking. When ready, heat up pot or dutch oven (here is my favorite dutch oven that I use all the time!) with olive oil, then add minced garlic and onions. Sauté till you can smell the garlic and onion, but avoid burning them.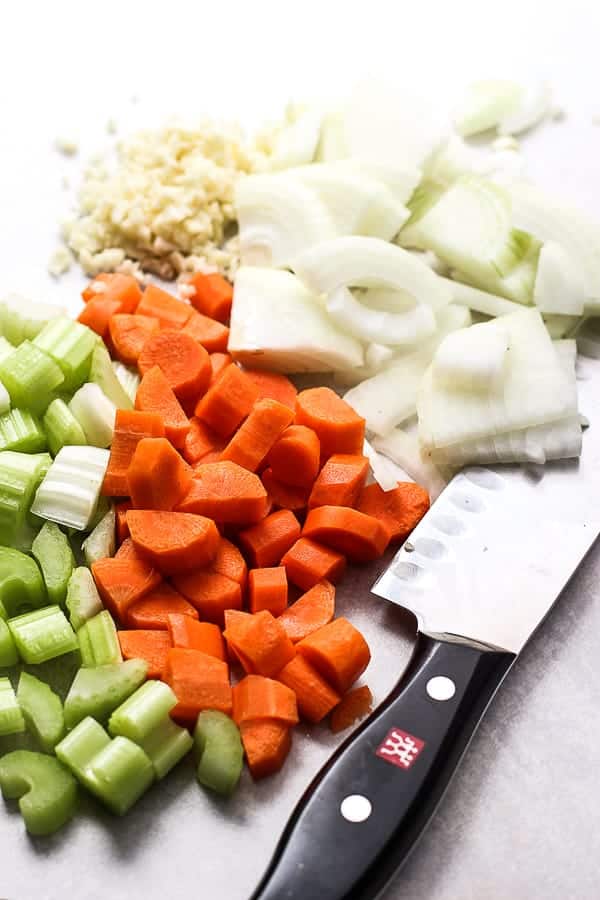 The idea is to infuse the oil with flavors from the garlic and onion, and subsequently the soup.
Next add carrots and celery. Saute for a minute or so, then add chicken bone broth, bay leaves, dill and lemon juice.
Bring to a boil, add chicken breast (cut into two pieces for quicker cooking) and basmati rice.
I like the texture of basmati rice, because I think it goes well with soup, but feel free to use another type of rice.
Bring soup to a boil again, then cook for 10-12 minutes. Once chicken is cooked, bring it out and shred the chicken.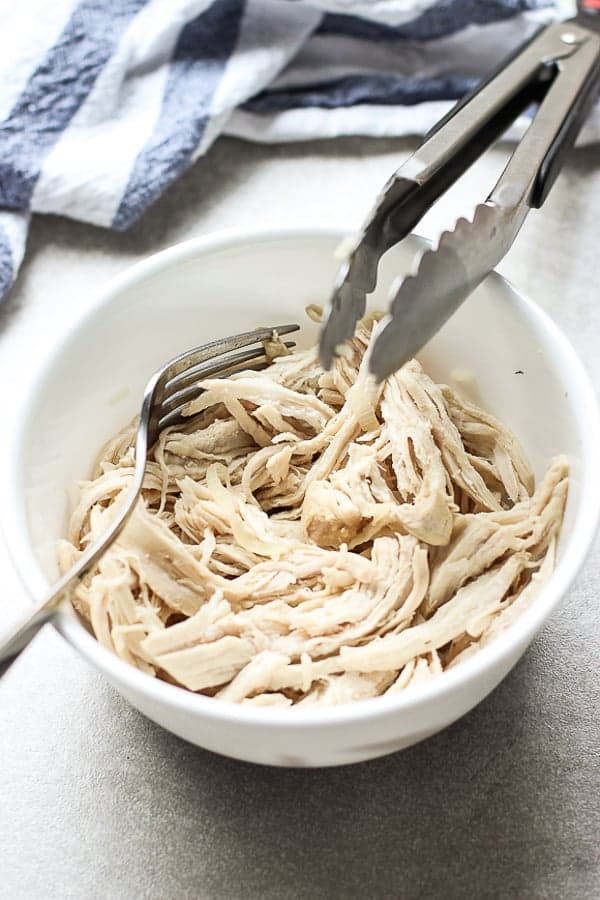 Add shredded chicken back to the pot. Add salt and pepper to taste. Then remove from heat and serve.
Yummy yummy, come to my tummy!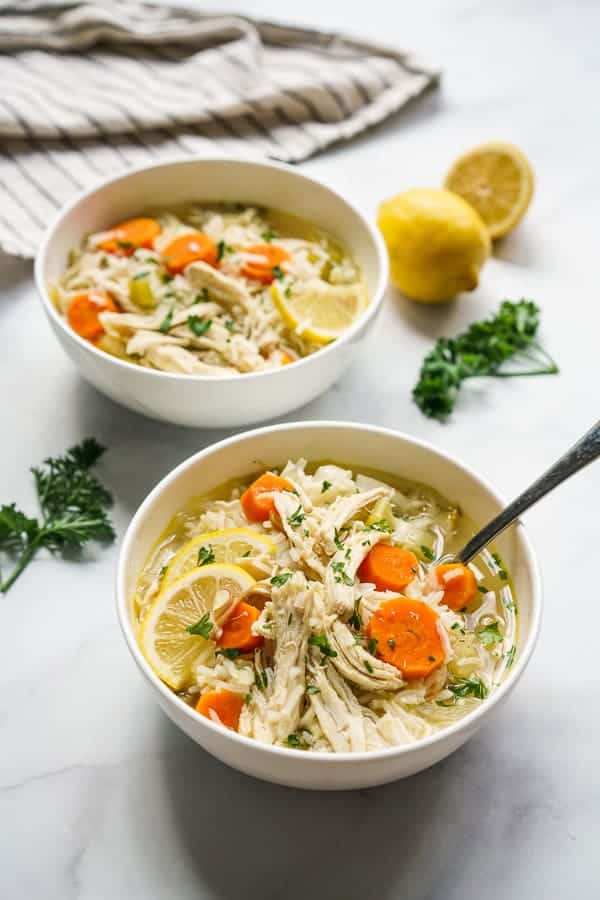 There is something soothing and comforting about chicken soups. When it is cold or rainy outside, I love to curl up on my coach, pull some blankets over me, and eating a warm bowl of soup.
Now that Fall is officially here (yes, finally!), I'm just going gaga over soups and stews.
Serve this with some warm bread. Lunch/light dinner PERFECTION! It makes for fantastic leftovers as well. I usually send my husband packing with this for lunch at work the next day.
Don't miss this soupy goodness! Grab a spoon and dig in!
Tip and Tricks
Use good broth! Good soups, especially good clear soups, is made out of good quality broth!
Do not overcook rice! Remove from heat promptly after cooking is done.
Use precook chicken to speed up the process! If you are press for time, add rotisserie chicken or pre cooked chicken at the end.
Add salt at the end to open up the flavors. You will be surprise how much more flavorful it gets with a tiny pinch of salt added! If you want to add even more flavor, add chicken bouillon as desired.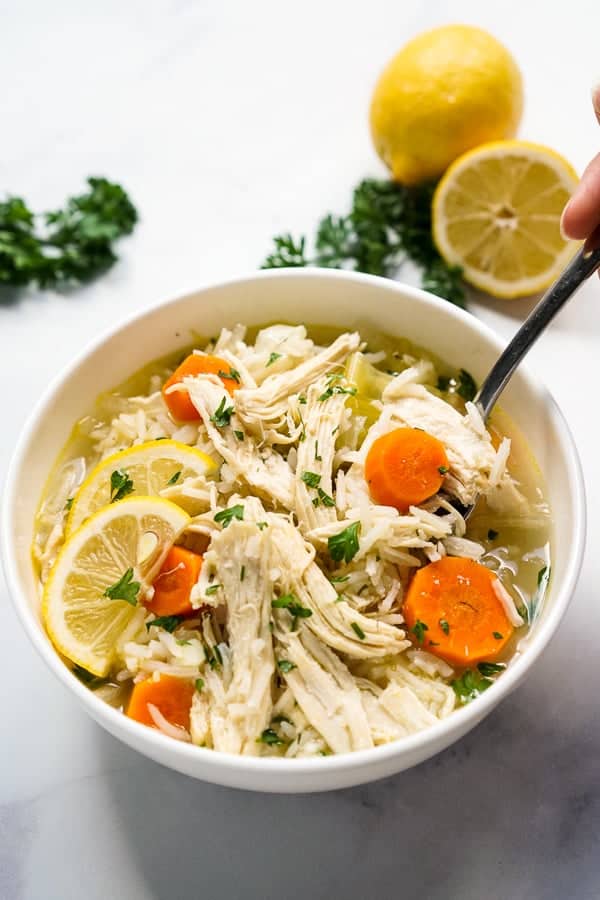 DID YOU ENJOY THIS RECIPE? Please comment below and give us a 5-star rating! This will help others find this recipe on Google and Pinterest! We very much appreciate your help! 🤍
Other Soup Recipes
Other Rice Recipes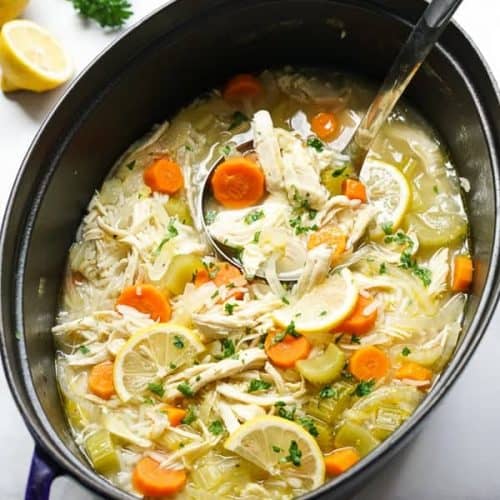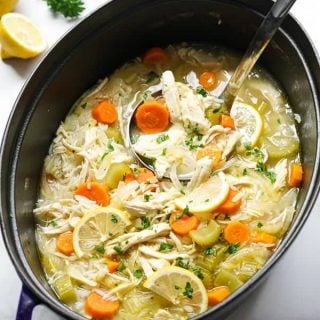 Lemon Chicken and Rice Soup
Chicken bone broth infused with herbs, cooked with chicken, rice, lemon juice and lots of veggies. Comfort food for the soul!
Print
Pin
Ingredients
6

cups

chicken broth / chicken bone broth

1-2

tbsp

minced garlic

1/2

large

onion

or 1 small/medium onion

1

cup

celery

sliced

1

cup

carrots

sliced

2

bay leaves

2

tsp

dill

2

tbsp

lemon juice

2/3

cup

basmati rice

1

large

chicken breast

cut into two pieces

1/2

tbsp

olive oil

salt

to taste

black pepper

to taste

chicken bouillon

optional
Instructions
Prep the ingredients by cutting carrots and celery, mixing garlic, slicing onions, cutting chicken breast into two pieces, and juicing lemon.

Add olive oil to dutch oven or pot and heat it. Add garlic and onions. Sauté under medium high heat for 1-2 minutes until you can smell the garlic and onions. Avoid burning them.

Add carrots and celery to pot, saute for 1-2 minutes.

Add chicken bone broth, bay leaves, dill and lemon juice. Bring to a boil.

Add chicken breast (cut into two pieces) and rice. Bring to boil, and cook for 10-12 minutes, or until chicken is cooked.

Remove and shred chicken. Then bring shredded chicken back into the soup.

Remove bay leaves (if you cannot find it, don't worry about it!). Add salt and pepper to taste. Salt is used here to open up flavors – so if the soup isn't very flavorful at this point, salt will help! Optional: Add chicken bouillon to taste for even more flavor!

Remove from heat. Serve and enjoy!
Nutrition
Calories:
240
kcal
|
Carbohydrates:
33
g
|
Protein:
17
g
|
Fat:
4
g
|
Saturated Fat:
1
g
|
Cholesterol:
36
mg
|
Sodium:
1691
mg
|
Potassium:
722
mg
|
Fiber:
2
g
|
Sugar:
3
g
|
Vitamin A:
5476
IU
|
Vitamin C:
33
mg
|
Calcium:
61
mg
|
Iron:
1
mg