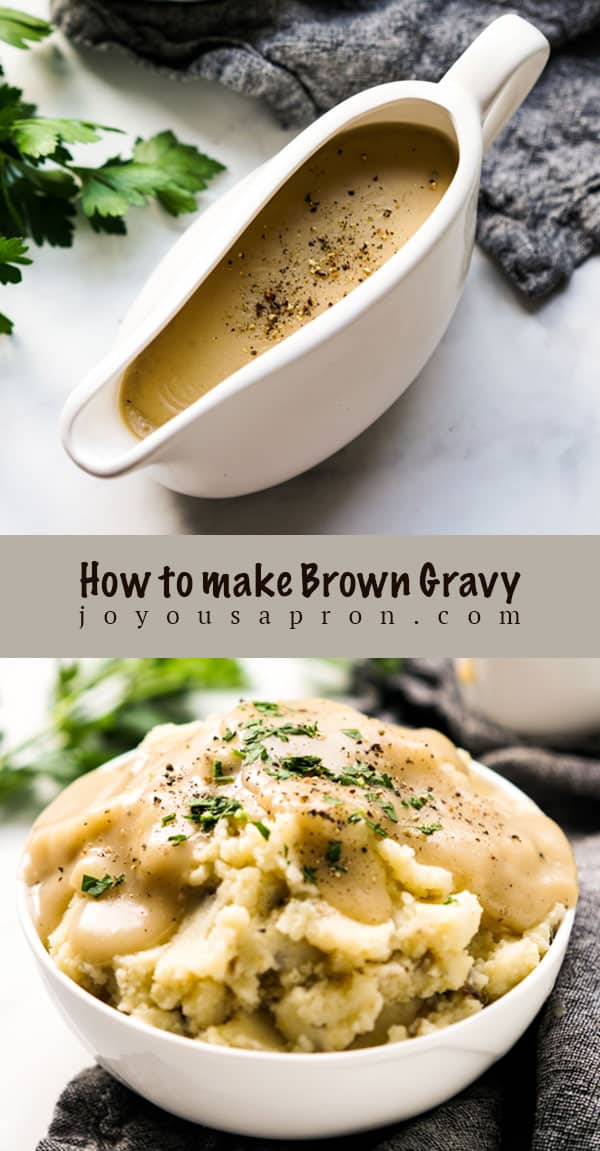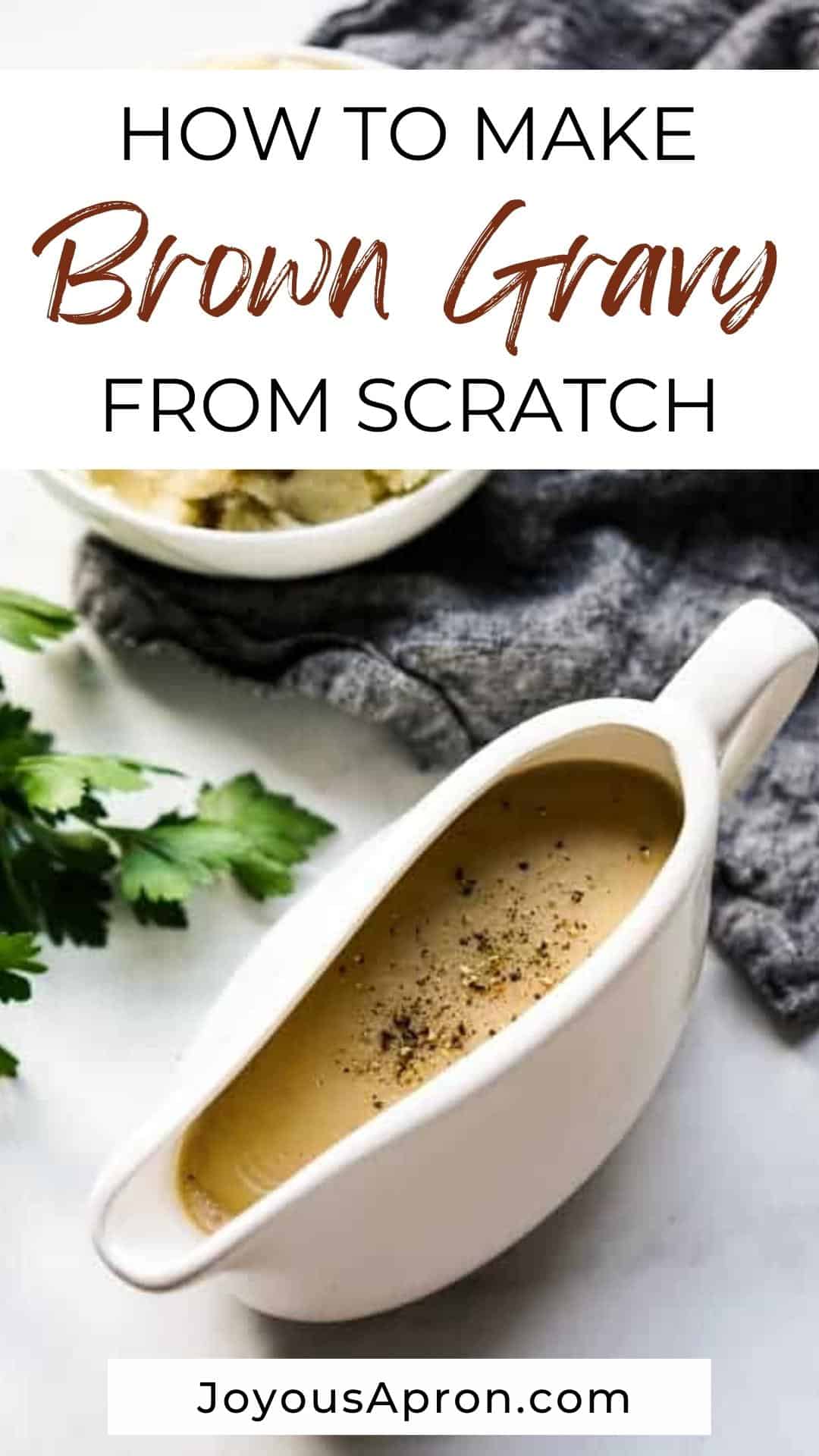 Believe it or not, making homemade gravy is easier than you think! If you are wondering how to make gravy from scratch…you came to the right place… and are in for a pleasant surprise!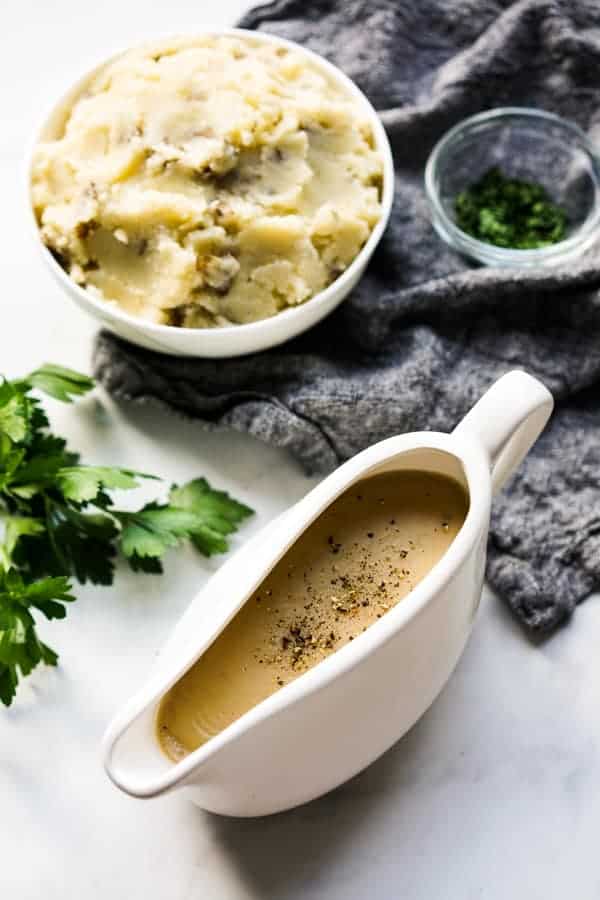 Easy Homemade Gravy
As we approach the Thanksgiving and Christmas holiday season, I feel the need to share this ridiculously easy and delicious homemade gravy recipe with you, so you can smother it all over your Turkey and Ham!
If you are one of those people who thinks making yummy gravy from scratch is a hard task, I am making it my mission to change your mind! 😉
Here's what we are looking at: 15 minutes, 7 ingredients, 1 pot.
Yep. You heard me right. That is all you need to make that luscious, creamy gravy from scratch that is you smother on turkey, ham, mashed potatoes and stuffing and every else in between!
I'm making this homemade gravy without drippings, and I will show you that you can actually make truly flavorful gravy without drippings.
The best part about making gravy without drippings is that you can make this it ahead of time! Which offers such flexibility when you are cooking a huge holiday meal.
If you decide you really want those drippings in there, no worries, I got you covered as well!
While my no-dripping gravy is seriously da bomb, gravy with drippings is actually super yummy and has a lot of depth in flavor.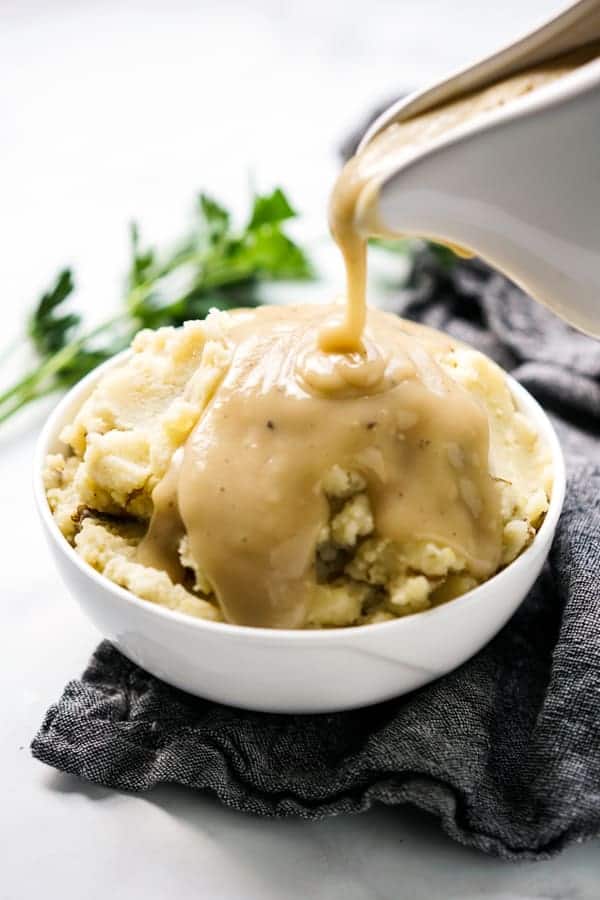 If I am cooking for a lot of people and need to cook ahead, I go with no drippings. But if I have lots of time and want a more gourmet gravy, I like those drippings in there.
So in a nutshell, everything you need to know about making the best, easiest homemade gravy ever is here!
Ingredients for Gravy
Here's what goes into making this easy and tasty brown gravy:
Salted butter (or drippings)
Flour
Chicken stock
Chicken bouillon
Worcestershire sauce
Salt & pepper to taste
How to make brown gravy from scratch
To make homemade gravy, start by melting butter in a pot under medium low heat. Then add flour and whisk to combine.
Very quickly, add chicken stock, chicken bouillon and a little bit of Worcestershire sauce.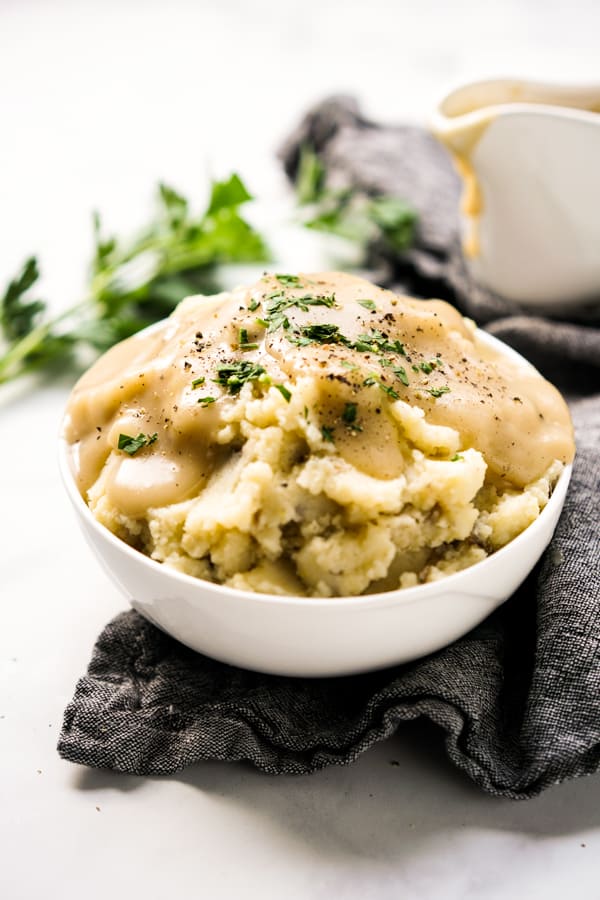 Chicken bouillon is used to add more flavor to the gravy. Worcestershire also opens up the flavors of the gravy while giving it a brown-ish color. A little bit of Worcestershire goes a long way in bringing up the flavor profile of the gravy.
Whisk continuously though the whole process! Bring to a boil and once gravy thickens to your liking, remove from heat and serve.
Tips and Tricks
A few things to take notes when you are making homemade gravy from scratch:
I know I am repeating myself, but using a whisk to whisk continuously throughout the cooking process is so important to smooth out gravy!
Adjust consistency by adding more chicken stock to make gravy thinner and flour to make gravy thicker
Add salt to open up flavors (if needed)
How to make gravy using drippings
If you have drippings on hand feel free to use it instead of butter! Drippings usually carry incredible a lot of flavor and is always yummy in gravy (if you have it).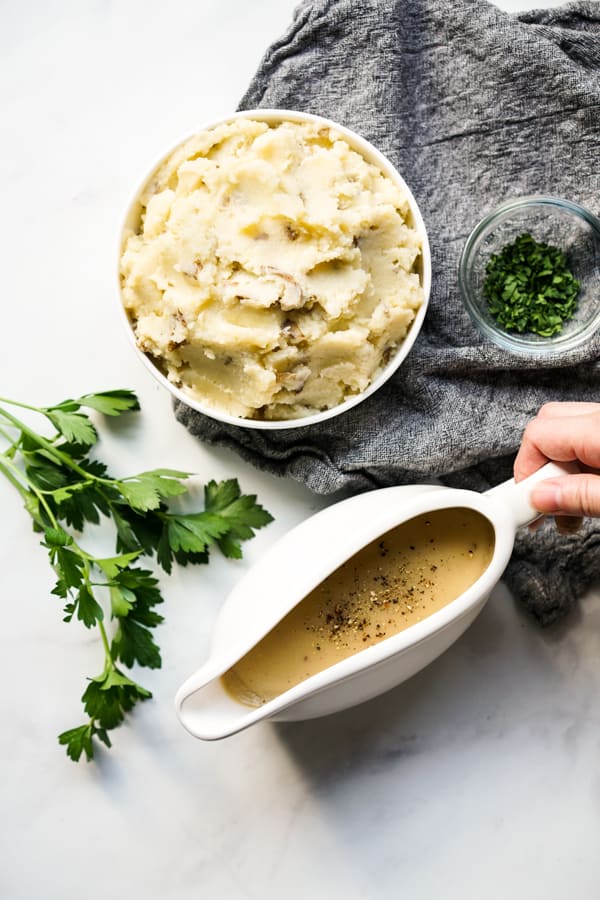 You may need less chicken bouillon if using dripping. Start by adding only half of a bouillon, taste and then add more if needed.
Make Ahead Gravy
Gravy is one of those sides that you can totally make ahead for your Thanksgiving and Christmas meals, especially if you do not plan to use drippings to make it.
Refrigerate or freeze gravy in an airtight container if you are making ahead.
When reheating homemade gravy, defrost completely if frozen, then heat it in a pot under meat low heat until gravy is boiling. Add more chicken stock to thin out gravy if needed.
If you are on the fence whether to buy store bought gravy or make it from scratch…you should TOTALLY MAKE IT!
Gravy tastes so much better when they are made from scratch, it calls for pantry friendly ingredients, and is so quick and easy to make!
Don't be intimidated by the word "from scratch", because it is definitely not as hard as it sounds!
What to serve with gravy
Here are some yummy recipes to serve with homemade gravy: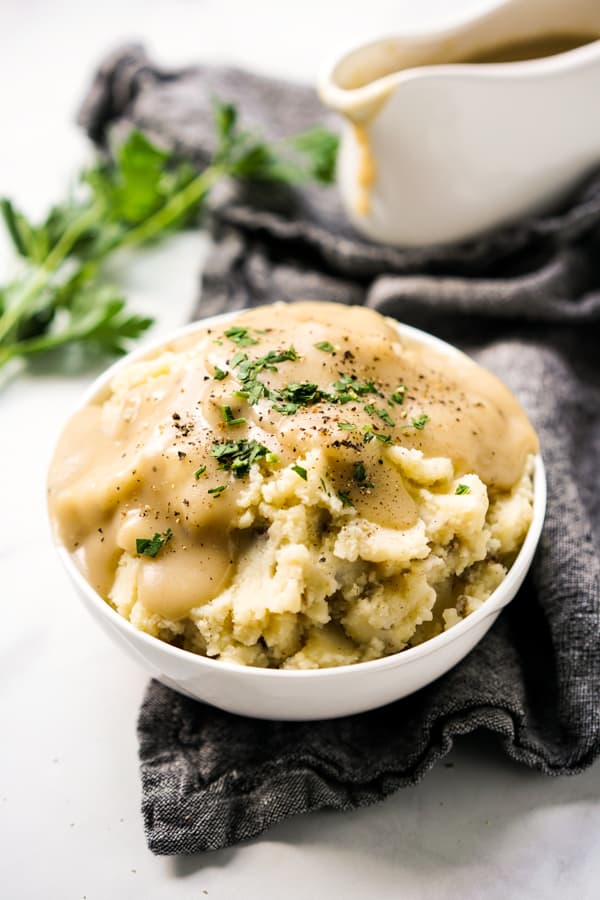 If you were on the fence and trying to figure out how to make gravy from scratch, I hope this helps you take the plunge on homemade gravy…because they are truly the best!
DID YOU ENJOY THIS RECIPE? Please comment below and give us a 5-star rating! This will help others find this recipe on Google and Pinterest. We very much appreciate your help! 🤍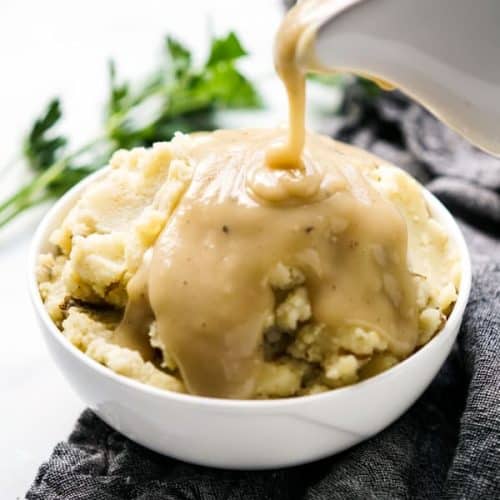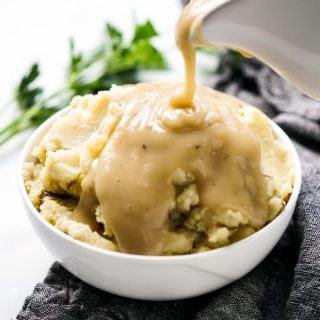 How to make gravy from scratch
Easy homemade brown gravy made from scratch (using drippings or without drippings)! Perfect for the holidays or dinner any day!
Print
Pin
Ingredients
6

tbsp

salted butter

5

tbsp

all purpose flour

1 1/2

cup

chicken stock

1

chicken bouillon

1

tsp

Worcestershire sauce

salt

to taste

black pepper

to taste
Instructions
In a pot, melt butter on medium heat. Once butter is melted (not brown or burned), add flour.

Use a whisk to whisk flour and butter, then slowly add chicken stock to pot while whisking. Add chicken bouillon and Worcestershire sauce.

Bring to a boil, then let it simmer under medium low heat for 3-5 minutes, or until gravy thickens to desired thickness. Add more chicken stock to thin out gravy, or more flour to thicken if needed.

Taste gravy, and add salt and black pepper to taste.

Pour into gravy boat and serve! Enjoy!
Notes
To make gravy with drippings, substitute drippings for salted butter. Start with just half of a chicken bouillon and add more if needed. Salt may not be necessary as well.
Nutrition
Calories:
74
kcal
|
Carbohydrates:
4
g
|
Protein:
1
g
|
Fat:
6
g
|
Saturated Fat:
4
g
|
Cholesterol:
16
mg
|
Sodium:
147
mg
|
Potassium:
39
mg
|
Fiber:
1
g
|
Sugar:
1
g
|
Vitamin A:
177
IU
|
Calcium:
3
mg
|
Iron:
1
mg