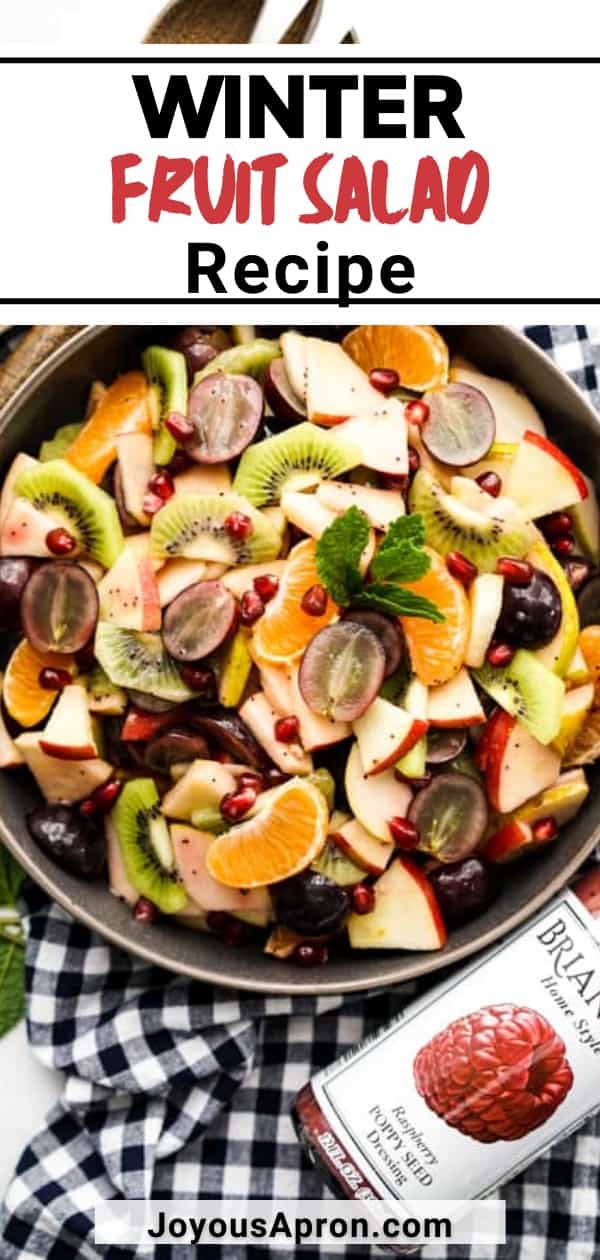 Craving some delicious fresh fruits this winter? Winter Fruit Salad combines some of your favorite fruits available during the winter months – apples, pears, mandarin oranges, pomegranate, grapes and kiwi, and toss them together along with an irresistible raspberry poppyseed dressing.
This is a sponsored post written by me on behalf of BRIANNAS Fine Salad Dressings. All opinions and texts are mine.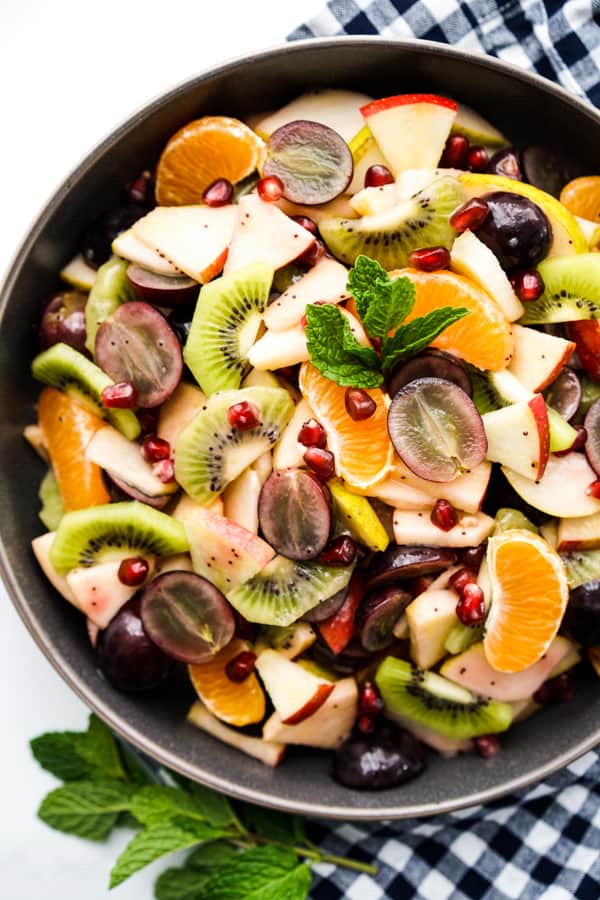 Eating salad during the winter…
Fruit salads are not just for the hot summer days…
Fruits are often associated with the warmer climate, but I'm here to champion those lovely fruits available during the winter months…because they are delicious and so underrated!
You are truly missing out if you are not indulging in fruits available during the winter months.
Winter Fruit Salad is a must, especially after you get done stuffing yourself with sweets and casseroles during the holiday months!
Here's why I think you'll love …
Beautiful combination of flavors and textures! You've got the sweetness from the grapes and kiwi, tanginess from the citrus, and crunch from apples and pears. The Raspberry Poppyseed Dressing provides some tanginess, creaminess and sweetness to tie it all together. It's a party in your mouth!
No cooking required. Just cut up your fruits and toss them together in the delicious dressing.
So easy to make. This takes less than 15 minutes to throw together!
Healthy and light. Looking for something fresh and good for you? This is totally that…and more!
Super versatile. Use a different fruit combination, use more or less of the fruits you like or do not like…make this your own!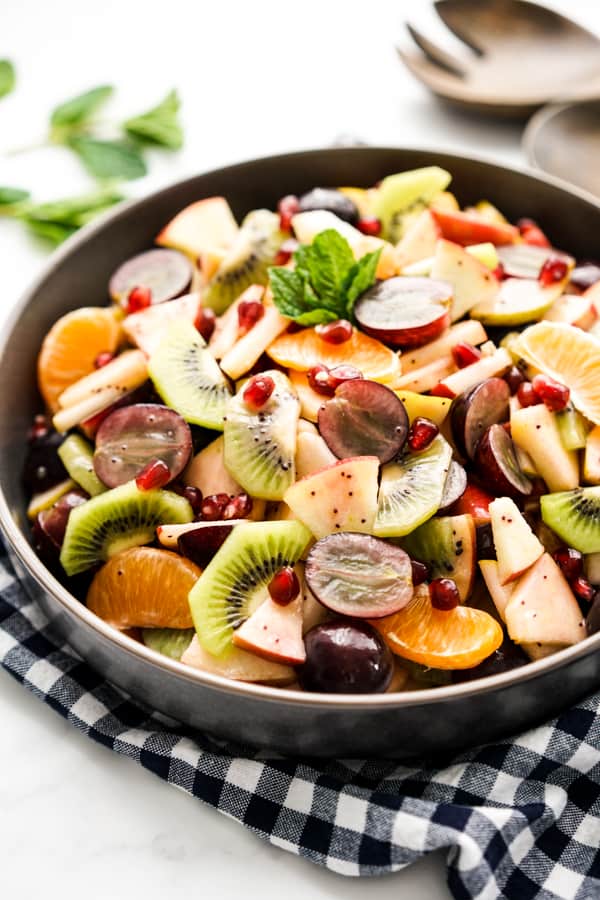 How to make this delicious fruit salad
Ingredients
First up, gather up the necessary ingredients!
Apple – slice them thinly so that they are easier to eat
Pear – also thinly sliced
Mandarin oranges – Or any other citrus! I used fresh ones but if needed, use the canned/jarred ones. Those are very yummy in this salad as well!
Grapes – I like to half them so they are easy to eat
Pomegranate – this can be pretty seasonal and sometimes they can be hard to find after the holidays. You can omit this if you cannot find it, but I love the nice touch of color it gives to the dish. I find that a little touch of pomegranate can turn this simple everyday dish into a more 'holiday' dish.
Kiwis – thinly sliced. I love the sweetness kiwi brings to this dish
BRIANNAS Raspberry Poppyseed Dressing – this dressing is MADE for fruit salads! I absolutely love the tangy sweet creaminess it brings to the salad.
I get my BRIANNAS dressing from my local grocery store. You will most likely be able to find it at a store near you too, but if you need some help, locate them using the BRIANNAS' store locator.
Or even better, have them ship to directly your door from BRIANNAS online store HERE!
I'm all about shipping everything to my front door these days. 😉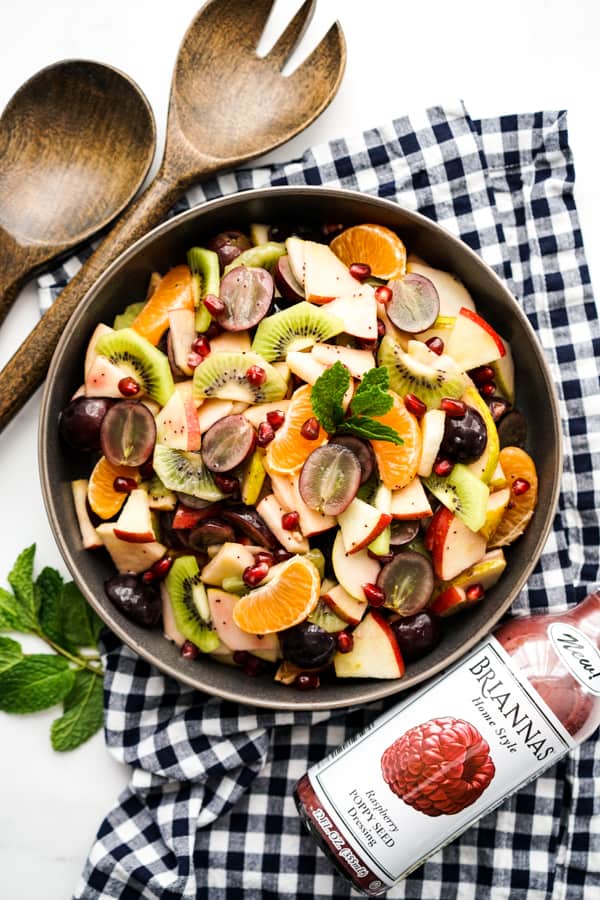 Let's Get it Started!
Once the ingredients are gather, start chopping up the fruits and adding them into a big bowl.
And this right here – the chopping up of the fruits, is the most work you will do when it comes to making this Winter Fruit Salad. 😉
Use a big bowl so that it will be easier to toss the fruits in dressing without squishing them.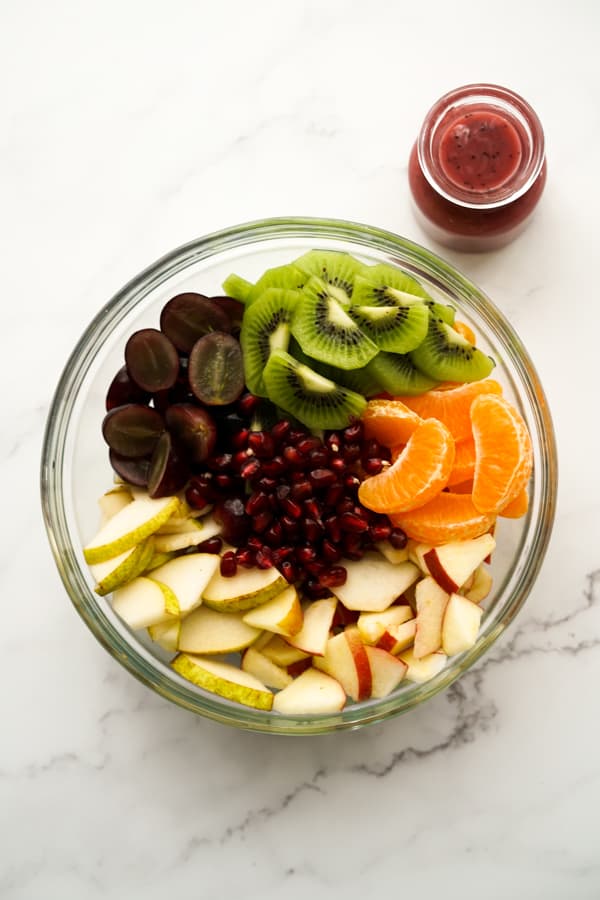 Drizzle the Raspberry Poppyseed Dressing all over the fruits.
I like to keep my dressing fairly light. Enough to enhance and bring out the flavors of the fruits without overpowering them.
You can definitely add more or less dressing per your desire. My advice is to use my suggested amount, toss it up, taste it, and then only add more as you desire.
You can always add more, but once you add the dressing, you can't take it out! 😉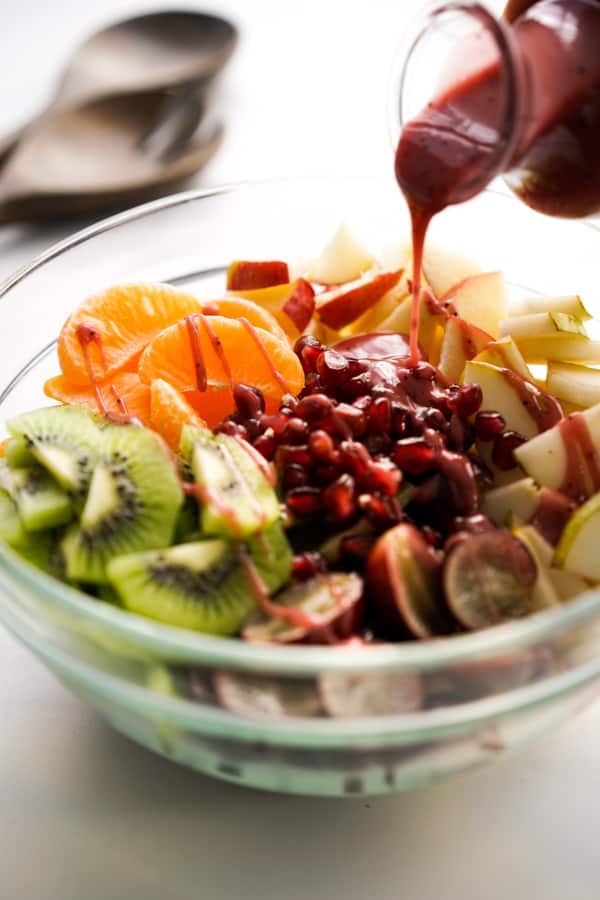 Once the fruits are nicely tossed in dressing, transfer them to a serving bowl and serve.
Or if you must, grab a fork, and dig into the mixing bowl! (No judgement here, I promise)
This Winter Fruit Salad is not just a salad and side dish for our household, it is a snack, the thing we munch on while we are waiting for dinner, and it makes the best little treat in lunchboxes. When I crave for desserts but do not want to indulge in a ton of sugar, this always hits the spot as well.
Variations
Never feel like you are stuck with the exact ingredients I lay out in the recipe! This is a fruit salad that can be made with any fruit.
Here are other fruits that are typically available during the winter months that I also like to use:
Other citrus such as grapefruits, blood oranges, clementine etc.
Banana
Cranberries
Persimmons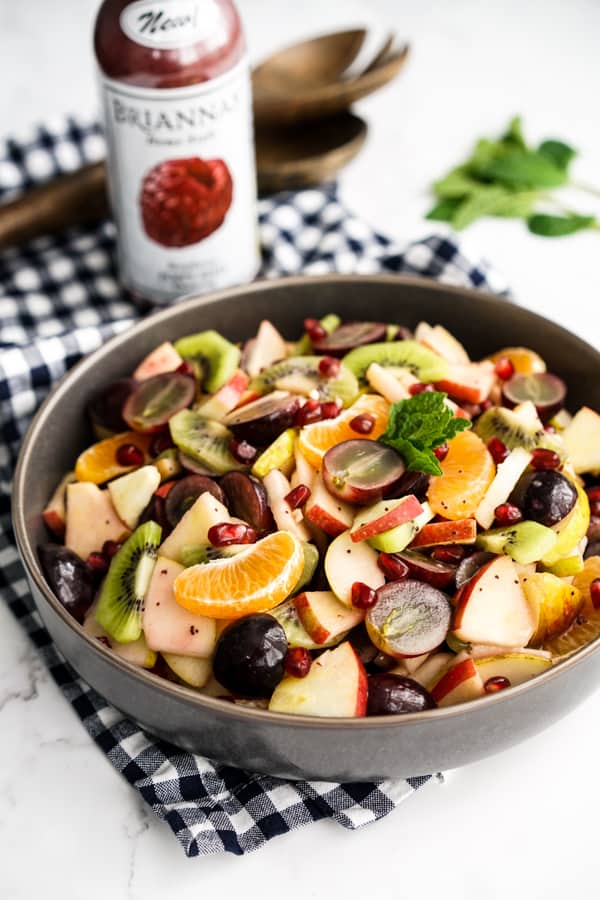 Frequently Asked Questions
Does this keep well as leftovers?
It is definitely best served fresh. But if it is not heavily drenched in dressing, it keeps pretty well for 1-2 days in the refrigerator. Fruits will be soggy after a while if too much dressing is added.
What does the Raspberry Poppyseed Dressing taste like?
It is a creamy and sweet dressing made with raspberries, onions and poppyseeds. It's not super heavy with a slight tanginess from the raspberries. It is also gluten free and vegan. Just like all BRIANNAS' dressings, it is very good and made with high quality ingredients, and I think it goes especially well with any fruit salads!
Can I use summer fruits or other fruits with this?
Absolutely! This is a very versatile recipe and you can use any fruit you like with this.
Other Salad Recipes
If you like this Winter Fruit Salad, you might enjoy some of these as well!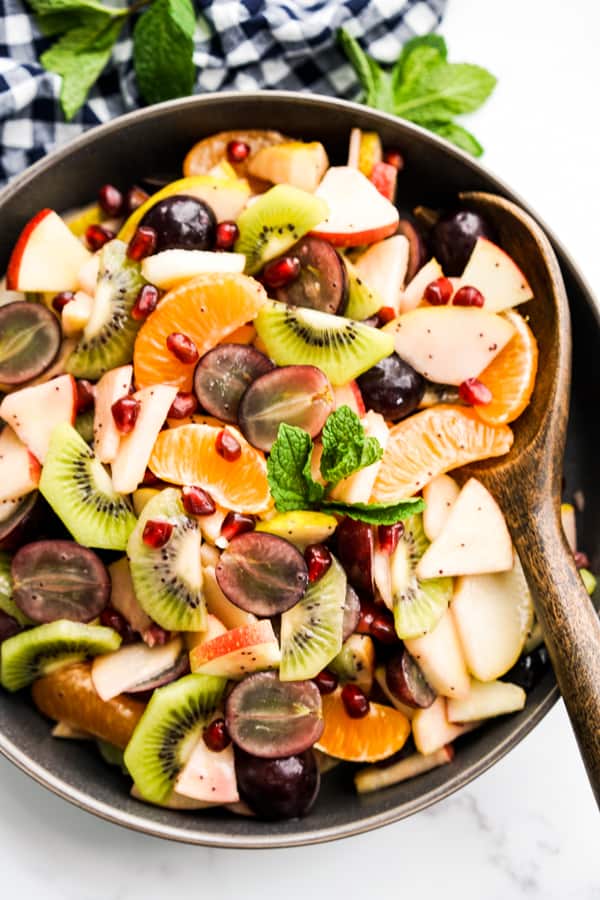 DID YOU ENJOY THIS RECIPE? Please comment below and give us a 5-star rating! This will help others find this recipe on Google and Pinterest. We very much appreciate your help! 🤍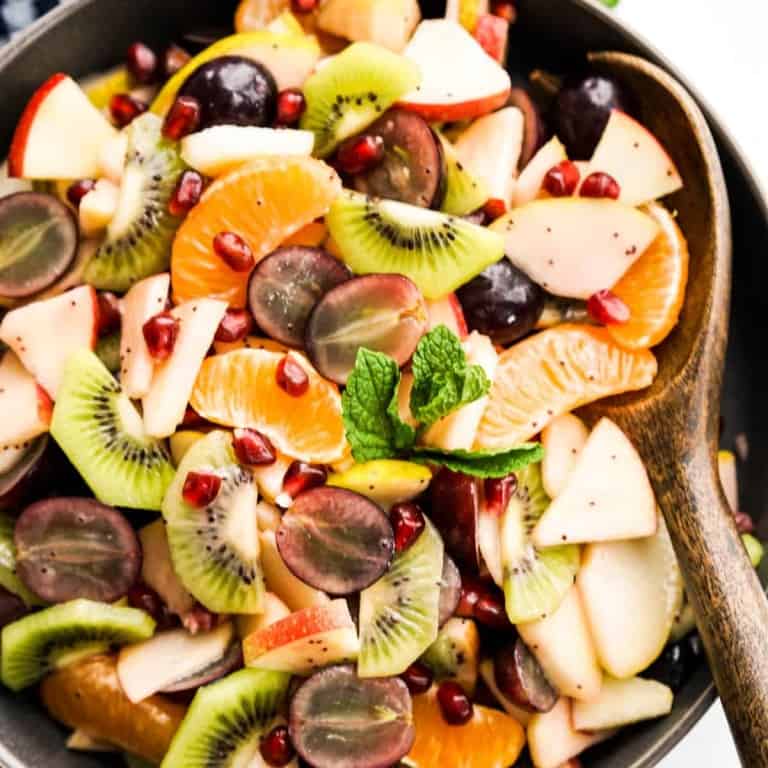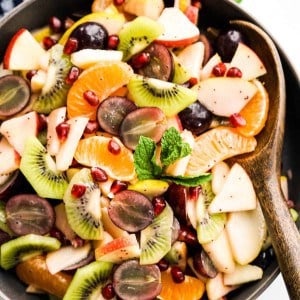 Winter Fruit Salad
Light and delicious fruit salad recipe loaded with Winter fruits. Apples, pears, grapes, pomegranate, mandarin oranges, and kiwi tossed in a sweet and creamy Raspberry Poppyseed Dressing.
Print
Pin
Ingredients
1

apple

thinly sliced

1

pear

thinly sliced

2

cups

grapes

halved

1/2

cup

pomegranate

2

mandarin oranges

peeled and separated into wedges

2

kiwi

peeled and thinly sliced

3

tbsp

BRIANNAS Raspberry Poppyseed Dressing
Instructions
Peel and slice all fruits. Bring everything into a big bowl.

Drizzle fruits with Raspberry Poppyseed Dressing. Gently toss it without squishing the fruits.
Nutrition
Calories:
155
kcal
|
Carbohydrates:
32
g
|
Protein:
2
g
|
Fat:
4
g
|
Saturated Fat:
1
g
|
Polyunsaturated Fat:
1
g
|
Monounsaturated Fat:
1
g
|
Sodium:
59
mg
|
Potassium:
353
mg
|
Fiber:
4
g
|
Sugar:
24
g
|
Vitamin A:
283
IU
|
Vitamin C:
42
mg
|
Calcium:
33
mg
|
Iron:
1
mg