Spinach Artichoke Stuffed Chicken
Spinach Artichoke Stuffed Chicken is such a hearty, tasty and elegant chicken recipe. Oven-baked chicken breast is seared first to lock in the seasonings, and stuffed with a creamy and cheesy spinach artichoke filling that is reminiscent of the ever popular spinach artichoke dip.
It's the kinda dish you will impress people with…without much effort on your part, because it's actually really easy to make!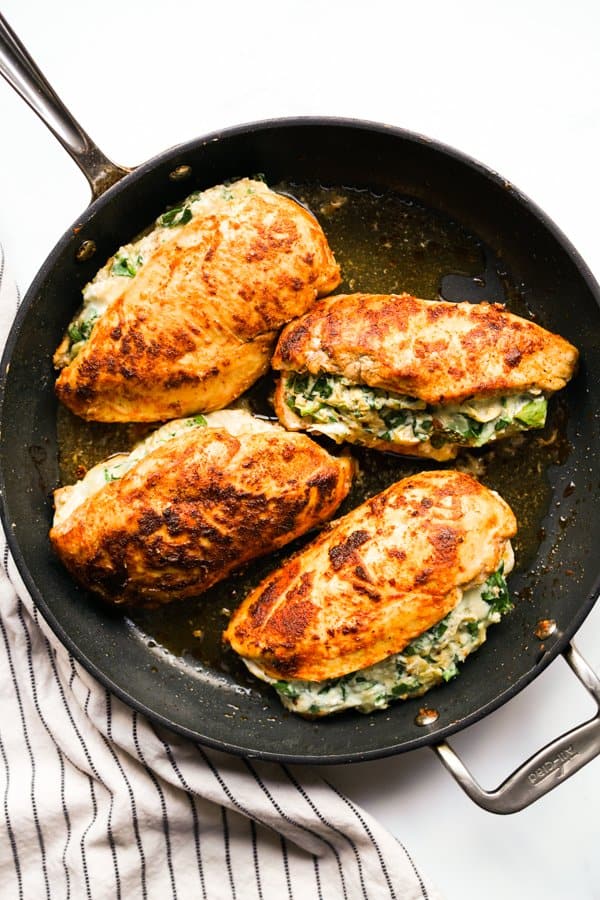 An Easy Spinach Artichoke Chicken Recipe
It's a beautiful thing when you combine creamy spinach artichoke with seared chicken.
It's a hearty meal that is comforting and filling, and filled with lots of amazing flavors and textures in every single bite.
And obviously, there's spinach and artichoke in there, so it's got to be slightly healthy and a balance diet, right? I mean, never mind the cheese and sour cream…
Now, here's the thing. For the longest time, whenever I see that a recipe has things stuffed in meat, I somehow assume it's gotta be a complicated process. But I'm here to burst that myth and tell you it is SO not so!
This recipe takes 45 minutes to make from start to finish, and 30 minutes of that happens in the oven. So you are actually looking at a quick 15 minute of prep time.
I'm here to prove it once and for all that this fancy-looking dish is actually very doable…and so tasty you will be so glad you stuffed that chicken breast!
And will be stuffing more chicken breast from hence forth!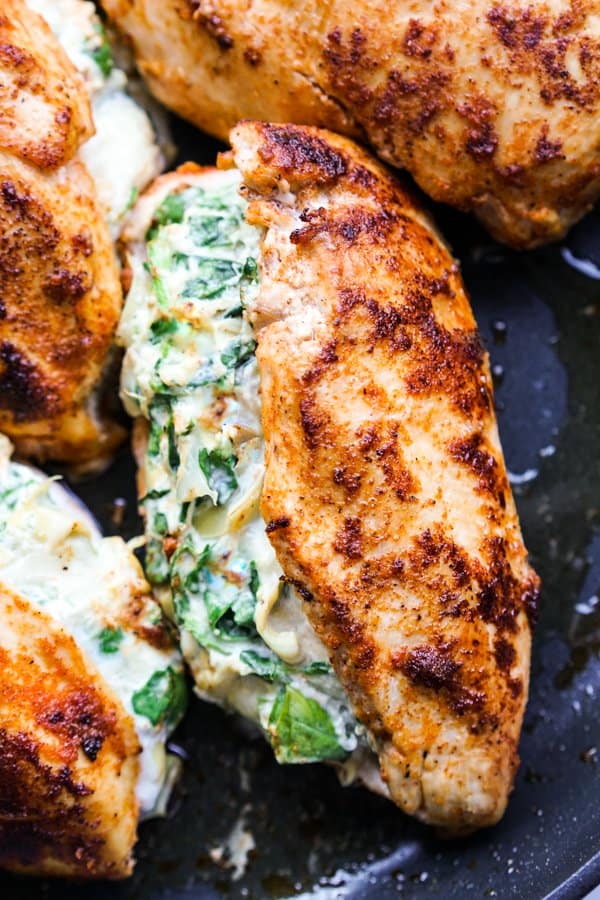 Also, if you are looking for more easy chicken recipes that looks like it takes way more effort to make than it really is, check these out as well: Creamy Spinach Chicken and Skillet Chicken Parmesan – my two personal favorites. 🙂
Ingredients
Gather up these ingredients!
Chicken breast – use boneless, skinless chicken breast so that it's easier to stuff it with the spinach, artichoke and cheese mixture.
Paprika – used to season the chicken
Garlic powder – also to season chicken
Onion powder – also to season chicken
Cream cheese – softened so that it's easier to mix everything up
Sour cream – greek yogurt can be used in place of sour cream
Mozzarella cheese – shredded
Spinach – I prefer to use fresh because it's hard to get rid of all the water that comes with frozen spinach. If you are using frozen spinach, make sure to really get all the water out.
Artichoke – use canned but peel it and dap it with a paper towel to remove moisture. You can use fresh artichoke if you have easy access to it, you'll have to boil it first (which is more work, also the reason I use the canned ones). You can also grill the artichokes – check out this Grilled Artichoke recipe for instructions.
Garlic cloves – minced
Parmesan cheese – grated
Salt & black pepper – use to season chicken and also incorporate into the spinach and artichoke mixture.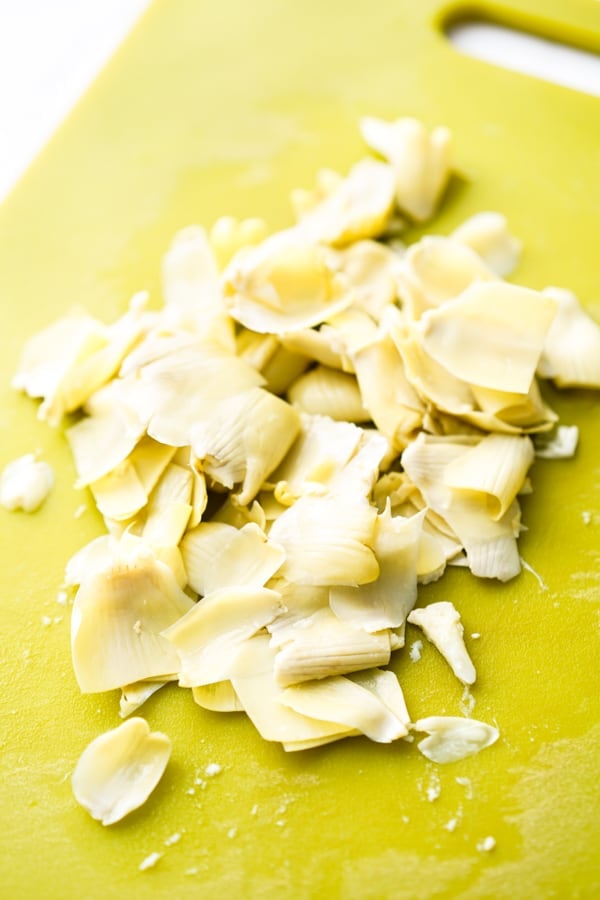 Equipment
In terms of equipment, you'll need a cast iron skillet that you'll eventually bring to the oven to bake with the chicken, or an oven safe skillet (this is the one I use and love).
If you don't have those types of skillets, simply transfer Spinach Artichoke Stuffed Chicken to a 9″ x 13″ casserole dish to bake after searing it on a frying pan.
How to make Spinach Artichoke Stuffed Chicken
Step 1: Make creamy spinach artichoke filling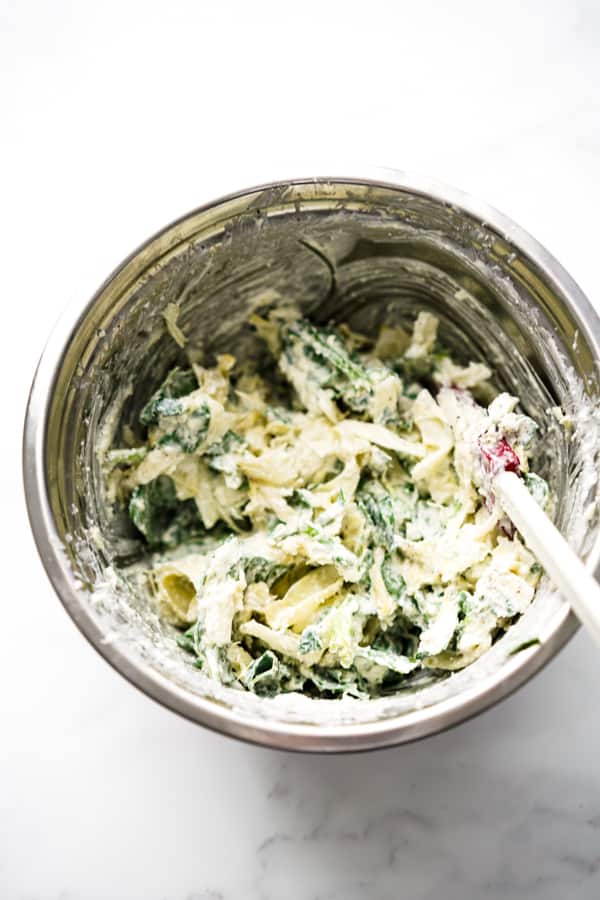 We are basically making a thicker Spinach Artichoke Dip.
Since we are stuffing it into the chicken breast, to avoid it from spilling out, I like to add more spinach, artichoke and cheese than I typically would to a regular Spinach Artichoke Dip.
Bring all ingredients (cream cheese, sour cream, mozzarella cheese, spinach, artichoke, garlic, parmesan, black pepper, and salt) into a large bowl and combine.
Use fresh spinach and pat dry artichoke so there is minimal access moisture. It may look like a lot of spinach at first, but after mixing it in, it will shrink.
At the end, the spinach and artichoke cheese filling should be nice and thick.
Step 2: Season and sear chicken breast
Mix together seasoning in a small bowl (garlic powder, onion powder, paprika, salt and black pepper), and then sprinkle both sides of chicken breast with seasoning.
There should be enough seasoning to coat four large chicken breast on both sides.
Next, heat skillet with vegetable oil and pan fry chicken breast for a couple of minutes on both sides until they are golden brown. They do not have to be cooked through.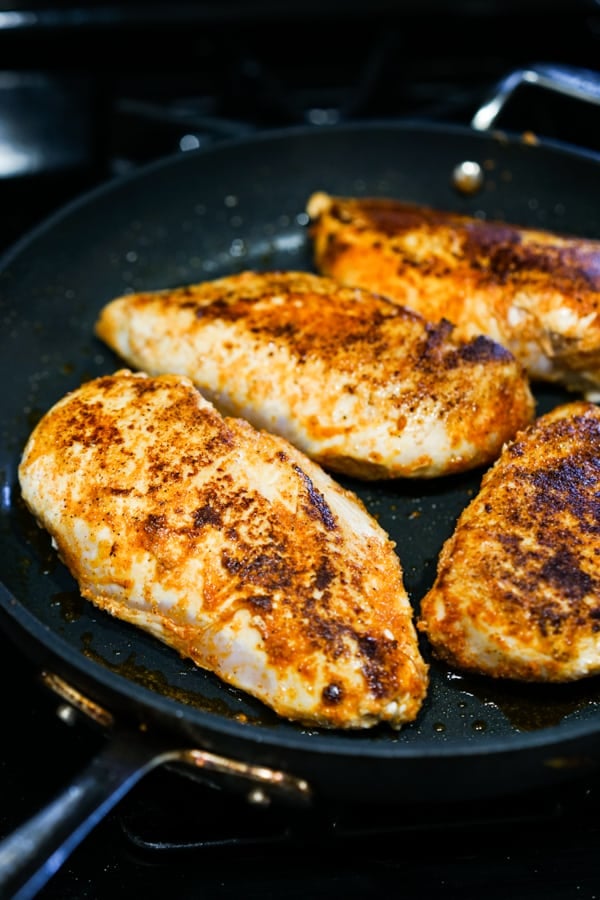 Step 3: Stuff that chicken!
Then remove chicken breast and slit each of them lengthwise about 3/4 of the way through, but do not cut it into half.
Then stuff each chicken with 2-3 tbsp of spinach artichoke filling. Do not over stuff the chicken or the filling will spill out after baking.
Place chicken back onto the skillet if your skillet can go into the oven.
If not, place chicken on a 9′ x 13′ rectangular casserole dish.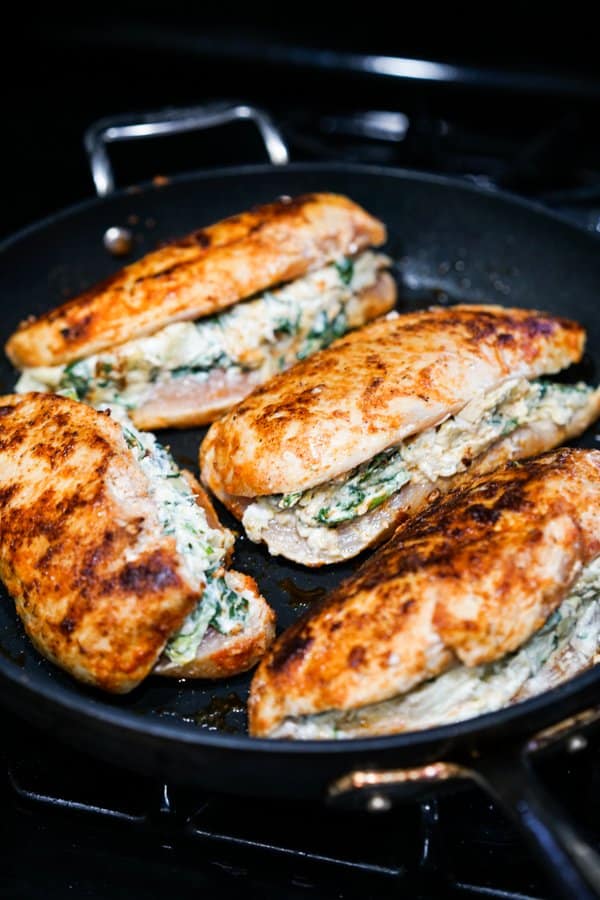 Step 4: Bake it
Because this is a stuffed chicken, it will need to be cooked slightly longer than regular chicken breast (even though this has been lightly seared).
Bake it in the oven for about 30 minute at 350℉, and then double check using a meat thermometer that chicken is fully cooked (thickest part of the chicken should reach 165℉).
Oven baking the chicken ensures that it is cooked evenly, and also allows you to walk away while it cooks in the oven until it is ready.
The goal is to bake it for just enough time until it is cooked. At the end, chicken breast should still be juicy and moist. Baking it for too longer will dry it out.
Finally, here comes the good part…
Serve and thoroughly enjoy that flavorful juicy chicken stuffed with a creamy, cheesy filling loaded with spinach and artichoke. It really is the ultimate comfort food.
What to serve with Stuffed Spinach Artichoke Chicken
This delicious stuffed chicken recipe is made for dinner parties, and it goes incredibly well with some of these side dishes:
Some healthier than others, but nonetheless. ALL are delicious! 🙂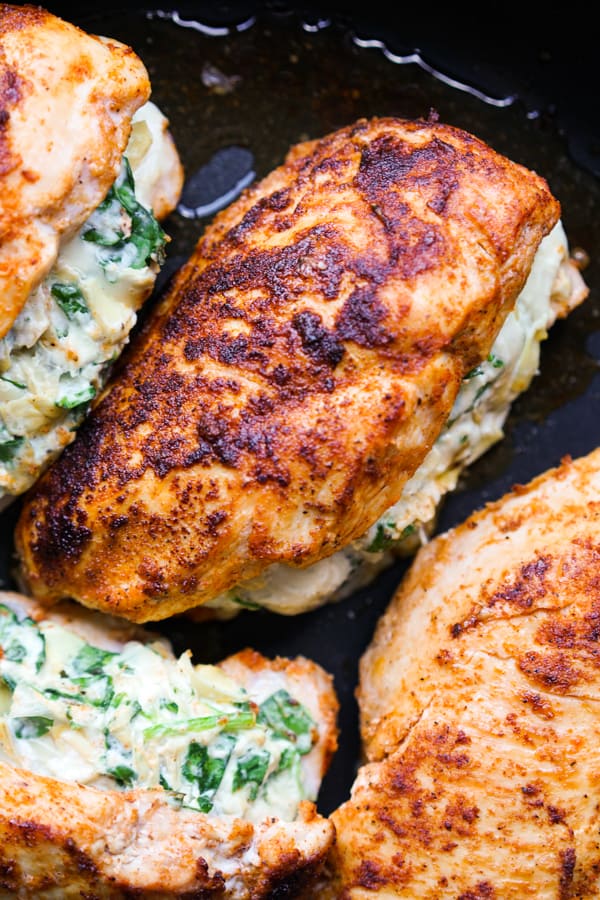 Frequently Asked Questions
Can I make this with chicken thighs?
Yes! You can use boneless and skinless chicken thighs or chicken breast. I recommend using boneless because it's just much easier to stuff without the bones. Chicken thighs are usually smaller in pieces so you can probably stuff up to 6-7 pieces of chicken thighs with the amount of spinach artichoke filling this recipe calls for.
Can I slit the chicken before panfrying it?
Absolutely. If that's easier to do, slit chicken lengthwise, pan fry, and then remove chicken from skillet and stuff the chicken breast with the filling. I would not recommend stuffing chicken before panfrying because in my experience, it's hard to keep the filling secured in the chicken when you panfry.
After baking, why does the spinach artichoke filling spill out of the chicken?
That happens when the filling has too much moisture. To avoid that, use fresh spinach, peel and pat dry artichokes before adding to the mixture. Also, do not overstuff the chicken!
DID YOU ENJOY THIS RECIPE? Please comment below and give us a 5-star rating! This will help others find this recipe on Google and Pinterest. We very much appreciate your help! 🤍
More Chicken Recipes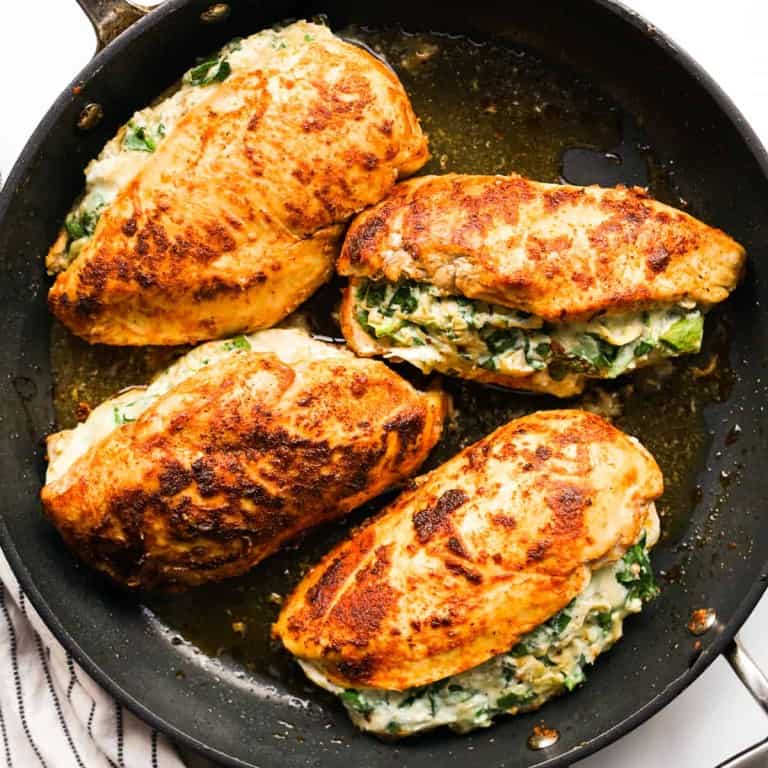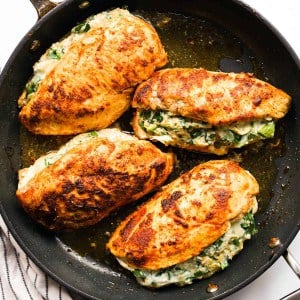 Easy Spinach Artichoke Stuffed Chicken
Easy oven baked chicken recipe stuffed with creamy and cheesy spinach artichoke dip. Such a hearty and delicious comfort food.
Print
Pin
Ingredients
4

chicken breast

boneless, skinless

1

tsp

paprika

2

tsp

garlic powder

1

tsp

onion powder

1/2

tsp

salt

1/4

tsp

black pepper

1-2

tsp

vegetable oil
Spinach Artichoke Mixture
2

ounce

cream cheese

softened

2

tbsp

sour cream

1-2

cloves

garlic

minced

1

cup

spinach

fresh, packed

4

oz

artichoke

canned, peeled

1/2

cup

mozzarella

shredded

2

tbsp

parmesan cheese

grated

1/4

tsp

salt

1/4

tsp

black pepper
Instructions
In a small bowl, combine seasoning for chicken – paprika, garlic powder, onion powder, salt and black pepper.

Pat dry chicken breast and sprinkle seasoning all over on both sides.

Add vegetable oil to skillet, bring to on medium high heat.

Once skillet is heated, sear chicken breast for a couple of minutes on both sides until both sides are golden brown.

Remove chicken breast from skillet. Slit chicken breast lengthwise 3/4 of the way through (avoid cutting chicken into two pieces).

In a large bowl, combine all spinach and artichoke mixture ingredients. Mix to combine. (See Note 1) Mixture should be chunky and thick.

Stuff each piece of chicken breast with 2-3 tbsp of spinach artichoke mixture. Do not overstuff – it will spill out when baking if it's too full.

Bring chicken back to oven safe skillet. If skillet cannot be heated in the oven, bring chicken to a large casserole dish.

Bake chicken for 30 minutes, or until it is cooked through. If checking with a meat thermometer, the thickest part of the chicken should reach 165℉ to be considered fully cooked.

Remove chicken from oven. Serve and enjoy!
Notes
Note 1: Pat dry artichoke and make sure it is dry before adding to mixture. If using frozen spinach, make sure to pat dry to remove excess water. It will look like there is a lot of spinach, but once combined with the other ingredients, it will shrink.
Nutrition
Calories:
339
kcal
|
Carbohydrates:
6
g
|
Protein:
43
g
|
Fat:
15
g
|
Saturated Fat:
7
g
|
Polyunsaturated Fat:
2
g
|
Monounsaturated Fat:
4
g
|
Trans Fat:
1
g
|
Cholesterol:
140
mg
|
Sodium:
845
mg
|
Potassium:
849
mg
|
Fiber:
2
g
|
Sugar:
1
g
|
Vitamin A:
1140
IU
|
Vitamin C:
9
mg
|
Calcium:
155
mg
|
Iron:
1
mg