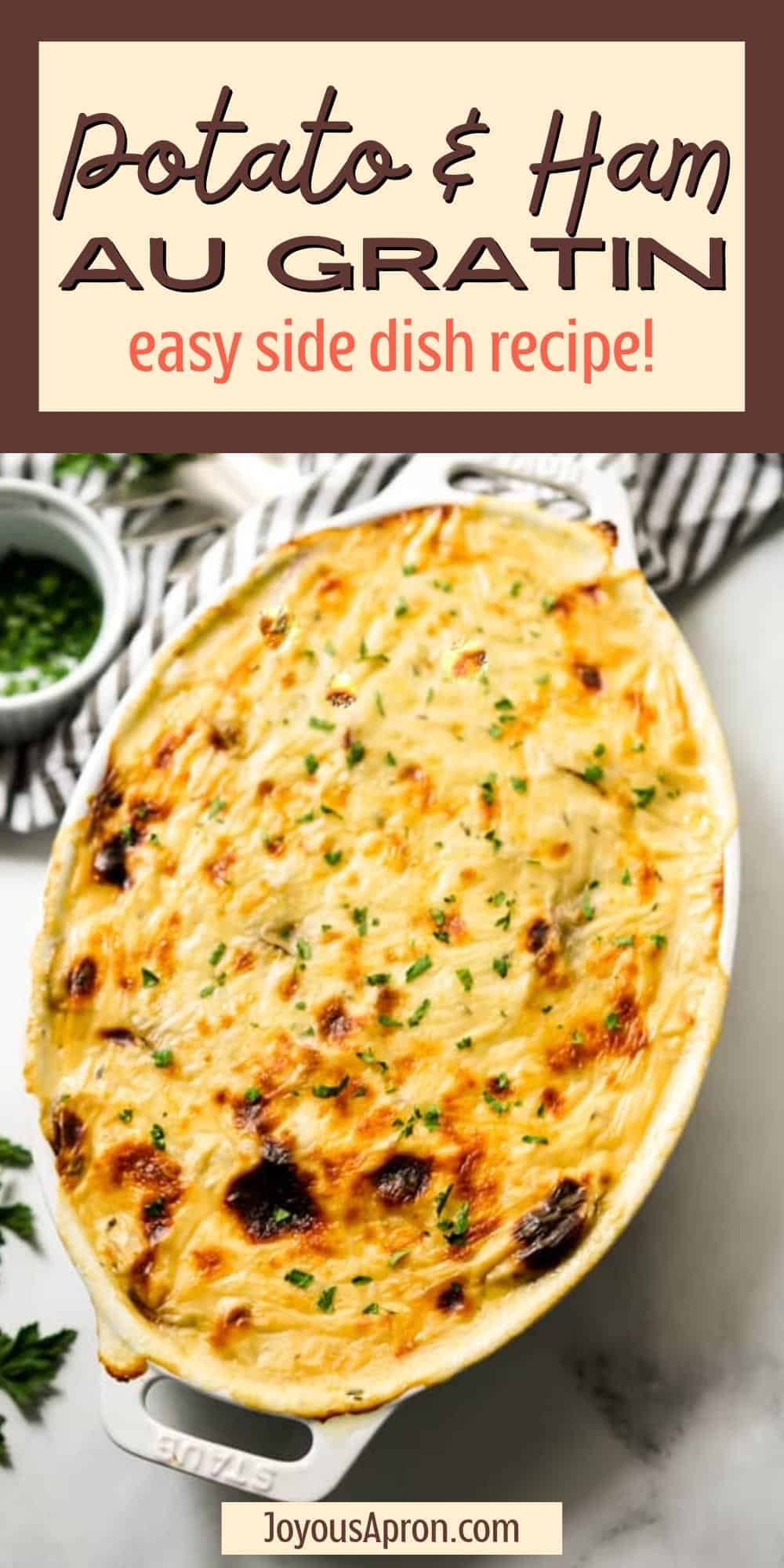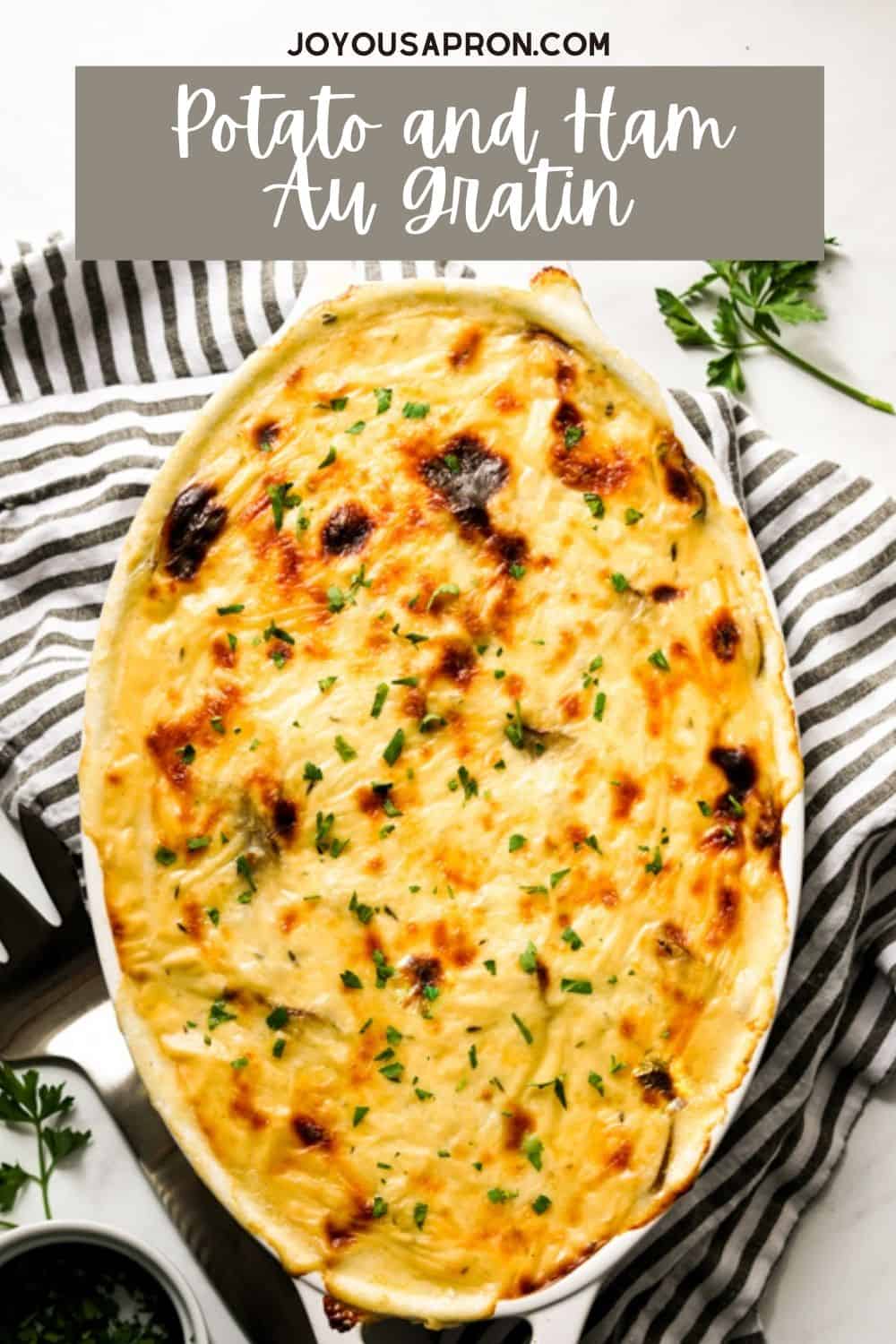 Ham and Potato Au Gratin is a cheese lovers' dream. Soft scalloped potato covered with rich and creamy herb infused cheesy sauce, layered with slices of ham….and I want to swim in that cheese sauce.
This layered potato and ham casserole makes the perfect Thanksgiving or Christmas potato side dish. With ham in there, we also enjoy potato and ham au gratin by itself as a main dish for dinner as well. It is cozy, cheesy and always loved by many.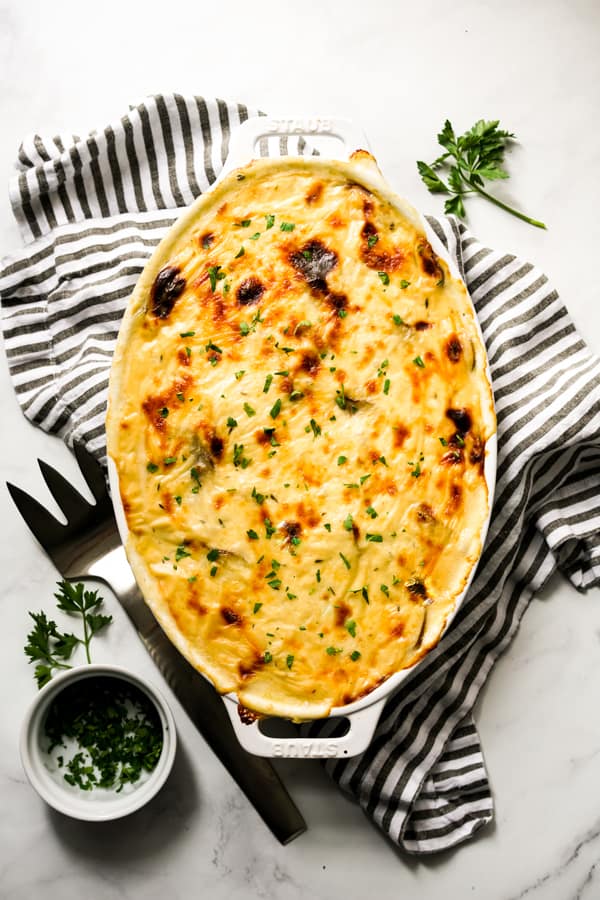 Preparing for your holiday dinner? We got you covered! Here are some of our favorites to round up your menu: Dutch Oven Herb Butter Turkey Breast, Gravy From Scratch, Mascarpone Mashed Potatoes, Cinnamon Brown Sugar Mashed Sweet Potatoes, Apple Stuffing, Honey Butter Rolls, Garlic Honey Roasted Carrots, Cranberry Baked Brie, and Easy Pumpkin Pie.
What is Au Gratin
Au Gratin is a French method of cooking, and it typically involves cheese or breadcrumbs.
It usually consist of layers of sliced potatoes (or other veggies), cream, butter and cheese. It is then baked in the oven until the topped is crusty and golden brown. Truly luxurious and an indulgence.
There are many variations and modifications of the classic potato au gratin recipe, and here is one of them!
I love making this potato and ham gratin recipe, especially when I have leftover ham at hand. Ham provides amazing flavor and texture to this dish, and makes it very yummy.
It alternates between layers of soft potatoes and ham, coated in creamy and rich cheese sauce, then topped with more cheese that is golden brown and crusty after baking in the oven.
I did not incorporate breadcrumbs into my ham and potato au gratin, but if you want to you can definitely add it to the top for that extra texture.
Potato au gratin with ham
There are so many reasons why this potato and ham au gratin recipe is awesome and you should totally make it!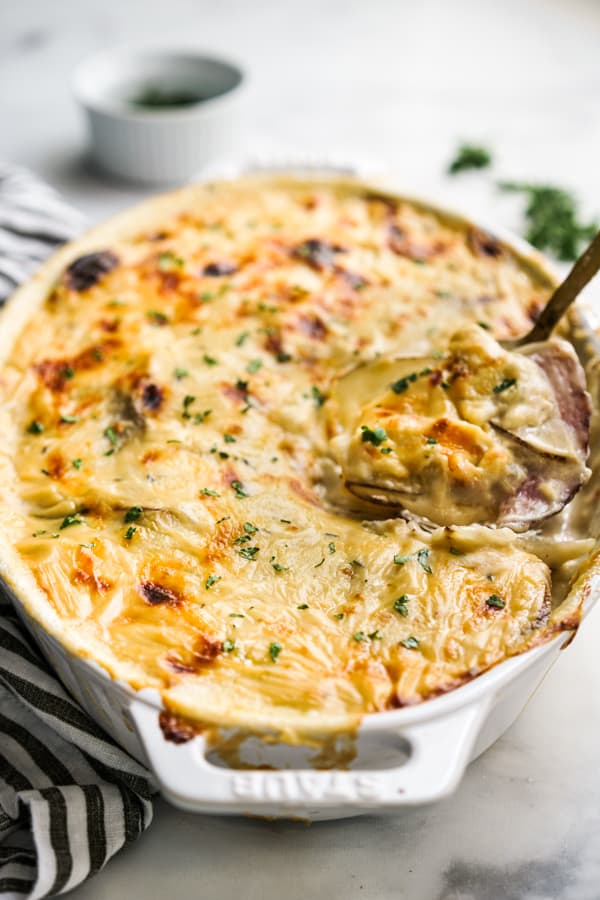 Delicious, melt-in-your-mouth, indulgent and luxurious. Need I say more? I love the layers of potato and ham in a bubbly casserole dish.
I like that I can make this ham and potato au gratin into a one-pan meal, instead of just serving potatoes as a side. Ham also provide another layer of flavor to the sauce and the dish.
Potato and ham au gratin is perfect for feeding a lot of people at dinner parties, holidays, or family gatherings.
It keeps and reheats incredibly well and is easy to make ahead.
There is a Cheesy Scalloped Potato recipe on the blog which is very similar to this, but I would say this potato and ham au gratin is a slightly cheesy, creamier and richer version of that scalloped potato recipe.
Ingredients
The beauty of ham and potato au gratin is that it actually is way simpler than it looks. It takes some time to bake for the potatoes to turn soft and tender, but with a little patience, it is totally worth it.
To make our ham and potato au gratin, we start with pretty staple, pantry-friendly ingredients:
russet potatoes – other potatoes can be used as well. Sliced int thin 1/8-inch thick slices to create to make 'scalloped' potatoes. If the potatoes are too thick, it will take longer to bake and soften.
White, yellow or sweet onions
Salted butter
Garlic – use fresh, not garlic powder
All-purpose flour
Half and half
Milk – 2% milk or whole milk…because we want to make this creamy!
Shredded cheese – I use mozzarella and cheddar, but feel free to use other cheeses that melts easily, such as Colby jack, Swiss, etc.
Cooked ham – perfect use for leftover ham! If you are looking for a ham recipe, check out Pineapple Baked Ham.
Salt – important seasoning to open up the flavors in the cheese sauce
Thyme – if I have fresh at hand I use fresh, but dried thyme works as well.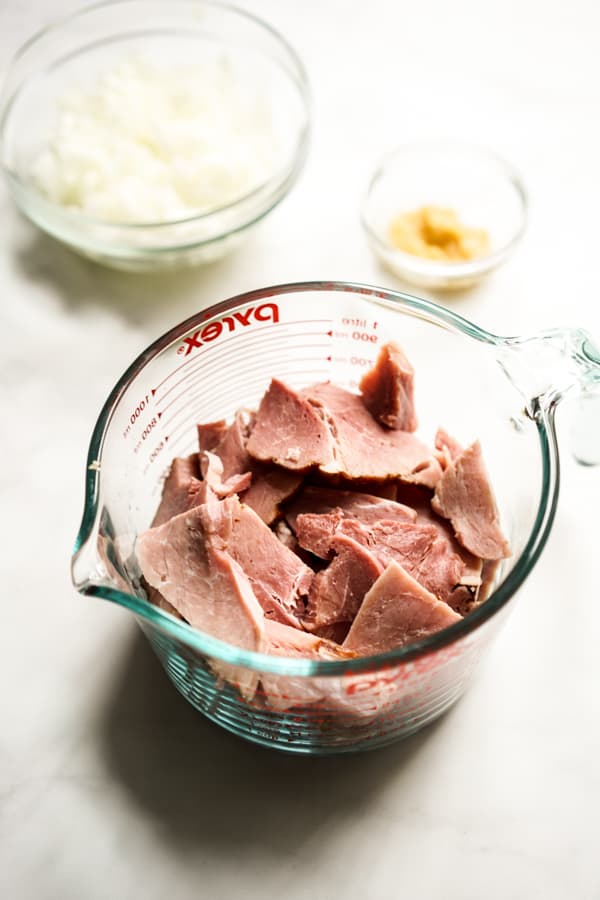 How to Make Ham and Potato au Gratin
To make ham and potato au gratin, you will need a 12″ oval casserole dish. That is the smallest casserole dish that would comfortably fit all the ham, potatoes and cheese sauce.
Whenever I use the 12″ oval baking dish, it is filled to the brim which yields a nice and thick Potato and Ham au Gratin. That also means this is the smallest dish I would use. If you go any smaller, the potatoes and ham would just spill over.
You can go as large as a 9″x13″ rectangular baking dish. If you use this size, you'll get a thinner layer and you can also reduce the cook time slightly.
(All the details on how to bake it using different size casserole dishes are captured in the recipe card below.)
Here's a quick overview on how you make this delicious cheesy ham and potato au gratin recipe:
Prepare Potatoes
Wash and slice potato. I highly recommend using a mandolin – it makes slicing the potatoes a whole lot easier.
Potatoes should be ~ 1/8 inch thick. If it's sliced too thick potatoes will take longer to cook and softened.
We are not peeling the potatoes which makes this process go a lot faster!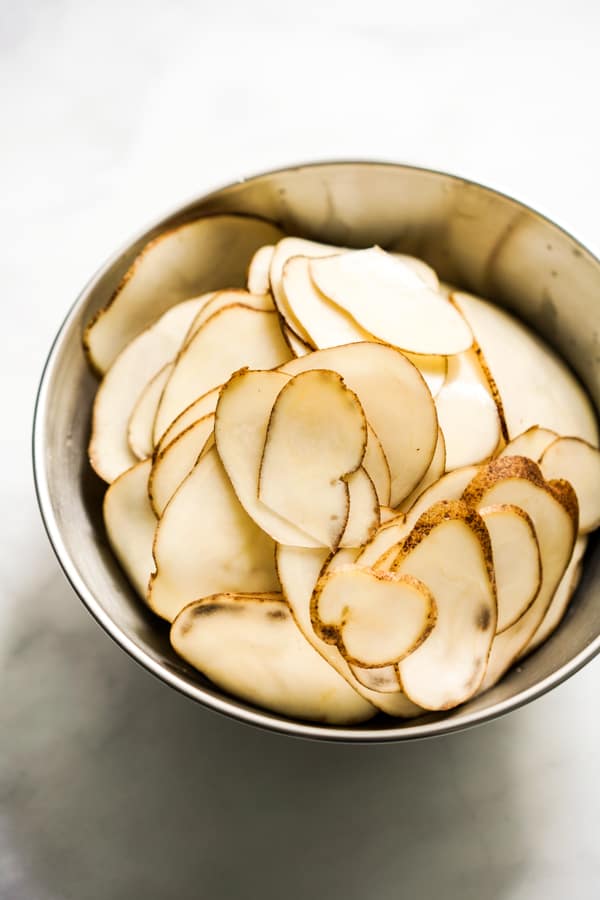 Make cheese sauce
In a pot on the stove top, combine cheese sauce ingredients together to make that velvety and creamy cheese sauce found in the potato and ham au gratin (a.k.a my favorite part of the dish).
Make sure to use a whisk to stir the sauce continuously so that the clumps are removed and nothing gets burned or stuck to the bottom of the pot.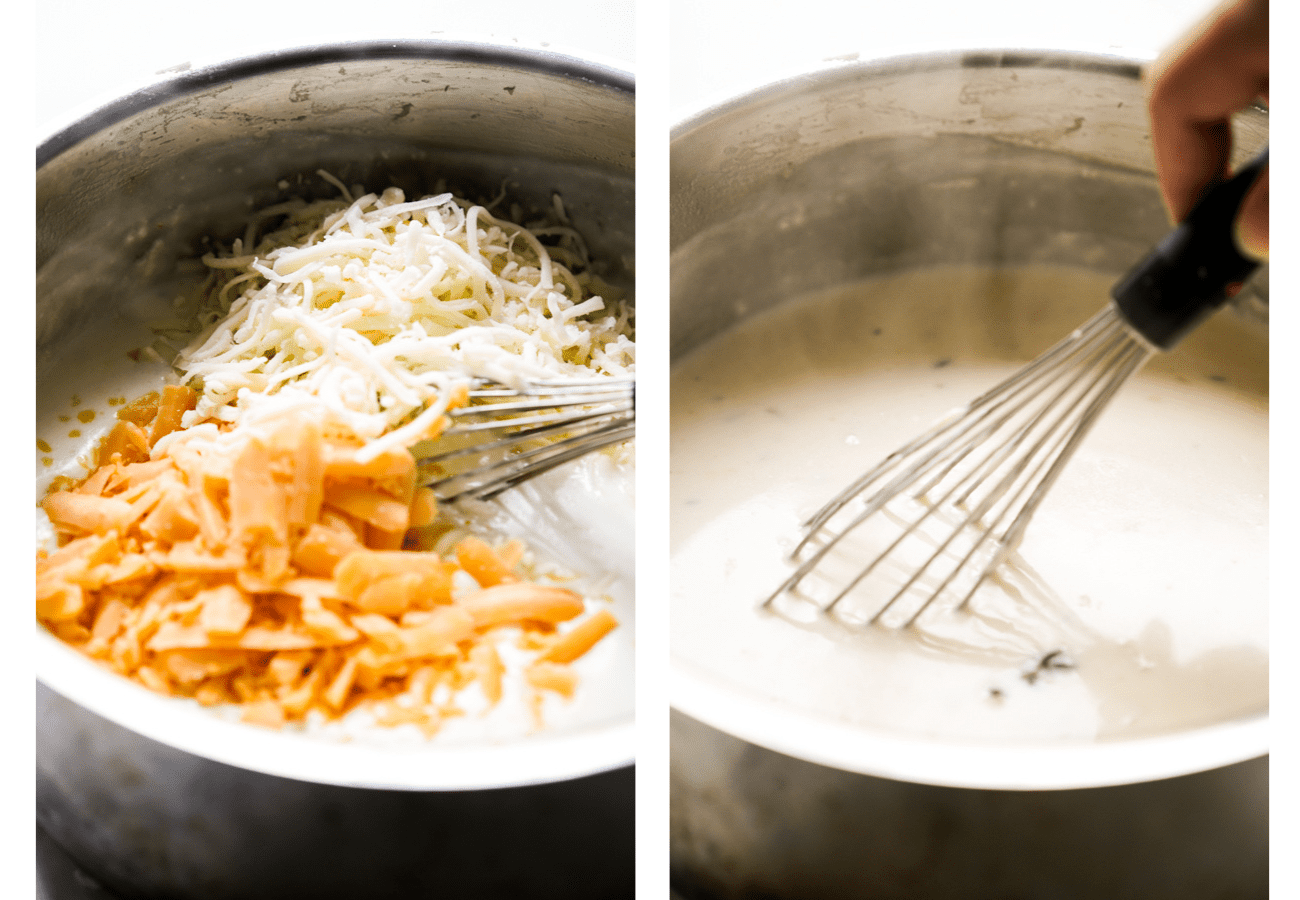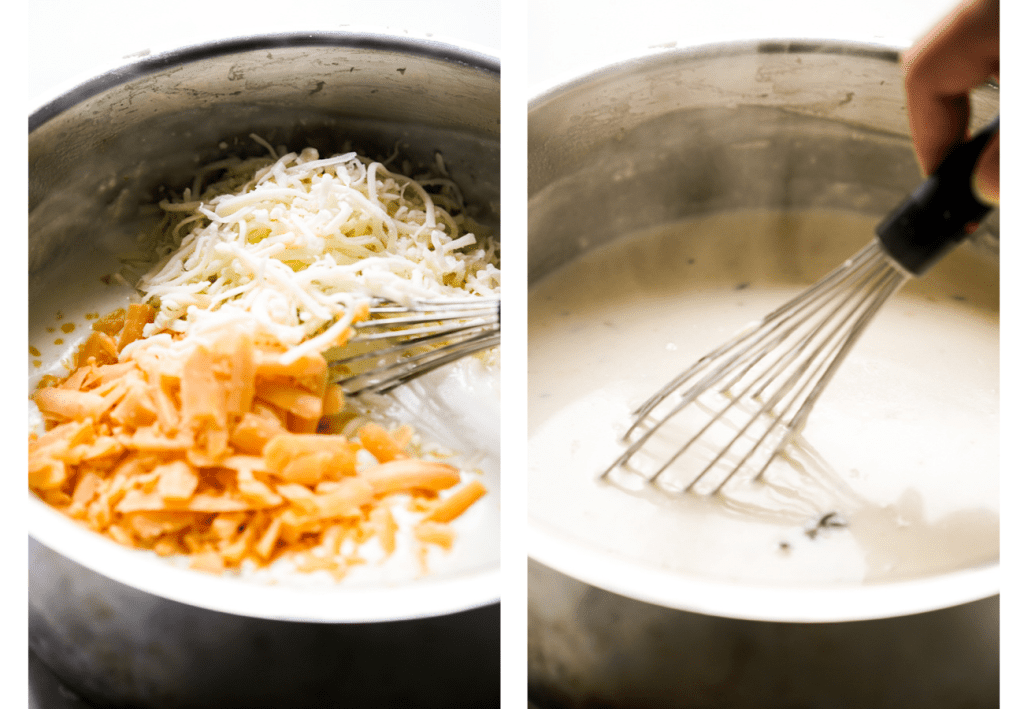 Layer ham and potatoes in casserole
Grease casserole baking dish then add a thin layer of cheese sauce to the bottom of the dish. Next, layer with potato, cheese sauce, ham, and then repeat.
I do a totally of two set of potato/cheese sauce/ham layers, then top it with a final layer of potato and cheese sauce, then sprinkled with shredded cheese on top.
When layering the potatoes, make sure to do a thin layer of potatoes so that most of the potatoes are in contact with the cheese sauce. This is important because this will ensure potatoes cooked and are soft.
If potatoes doesn't have liquid coated around them, it will take a lot longer to soften.
Making sure your potatoes are softened in your ham and potato au gratin is SUPER important!
If you have access potatoes, don't worry about it. Do not pile on the potatoes in your potato and ham au gratin just for the sake of using up all the sliced potatoes.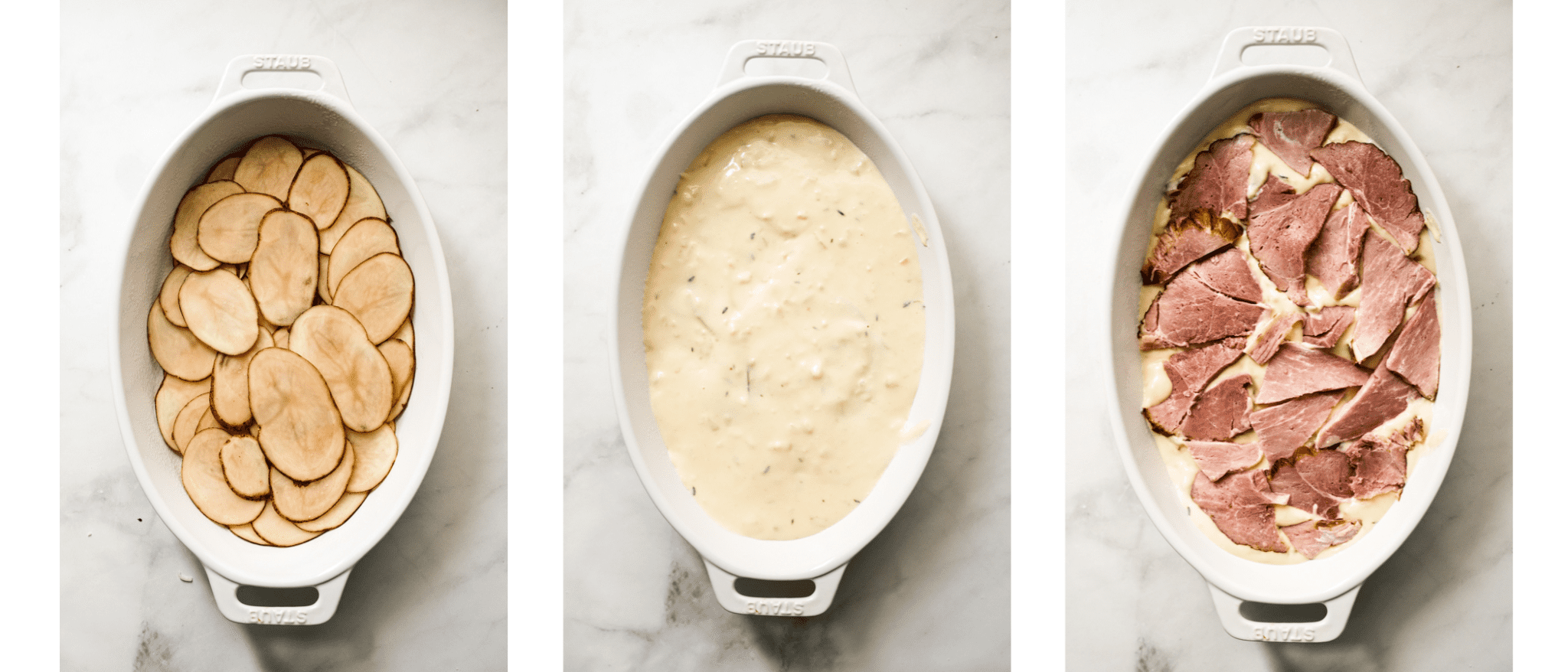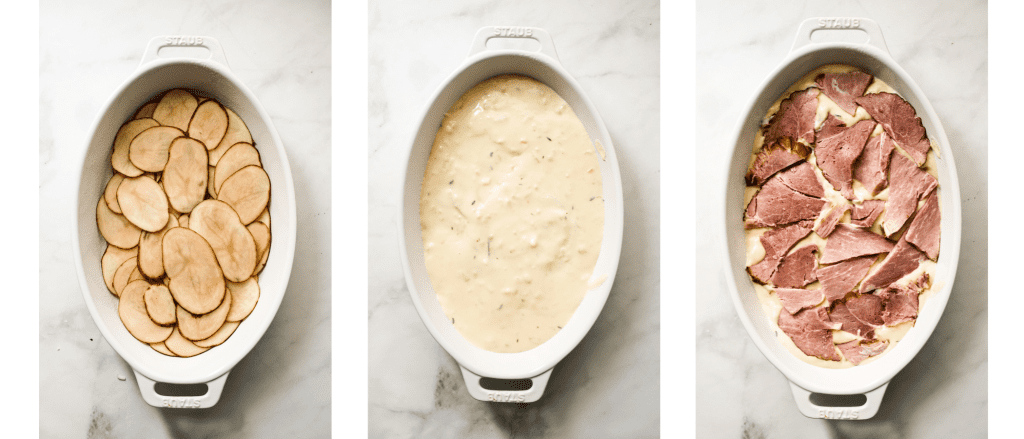 Bake
Last and definitely not least, it's time to bake our ham and potato au gratin.
It takes a little while to bake because potatoes take some time to become soft and tender. But trust me, it is worth every minute of waiting! 🙂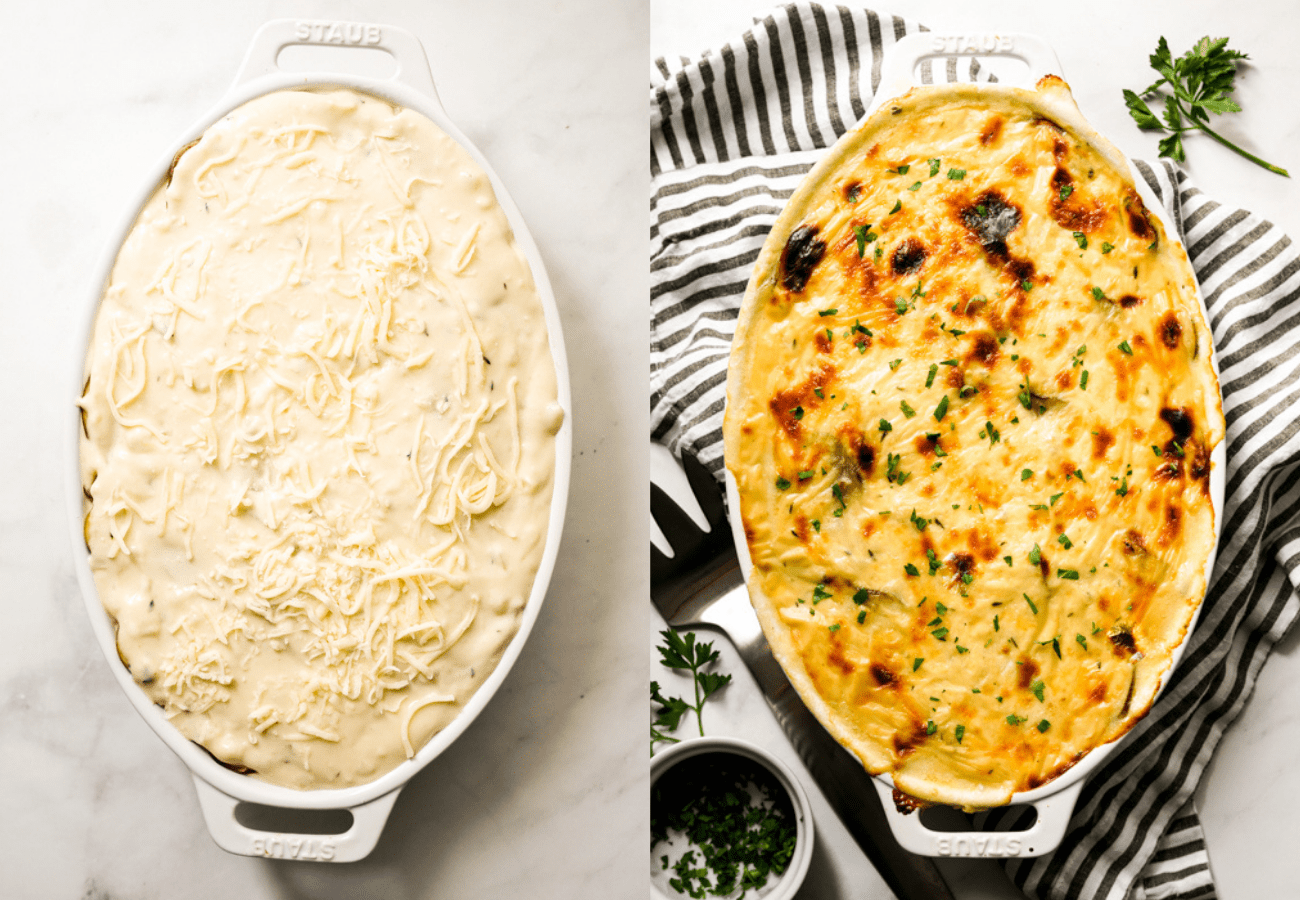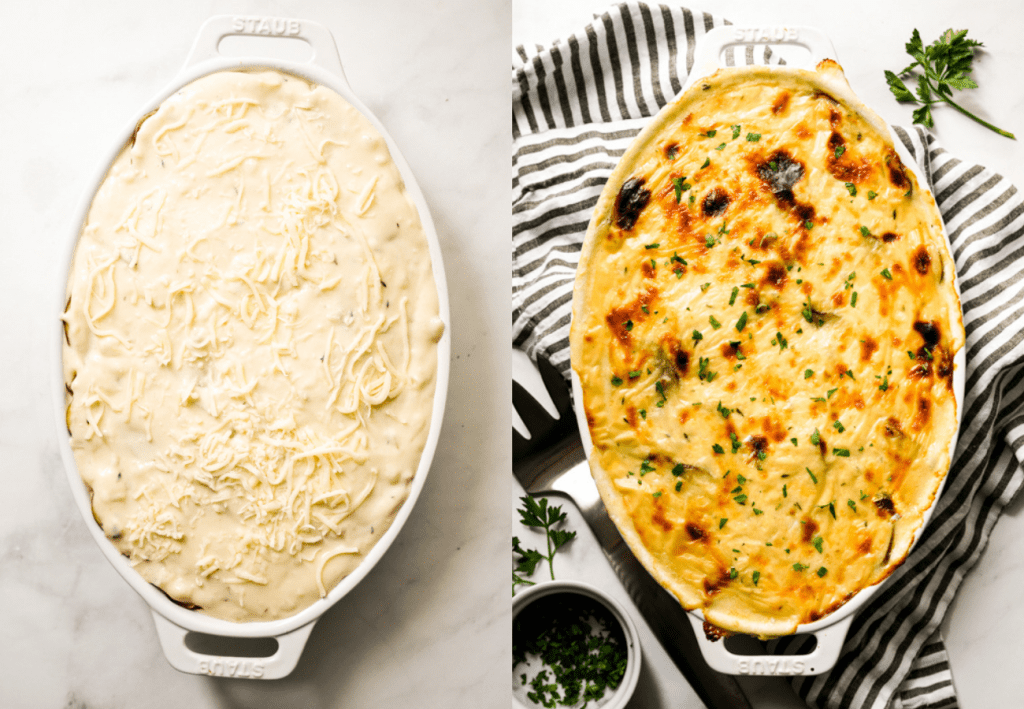 When you remove your ham and potato au gratin from the oven, it should be bubbly and making that glorious bubbling sound.
It is a dreamy, cheesy dish of tender scalloped potatoes, juicy ham, smothered with the best cheese sauce. The layers of ham and potatoes are simply divine. And I especially love the crusty brown cheese top.
So delicious your knees will weaken just a little at the taste of it.
Tips and Tricks
Potatoes should be sliced into about the same size so they cook evenly.
Make sure each layer of potatoes are covered well with cheese sauce. To do so, every potato layer should be fairly thin because you want most of the potatoes to be in contact with the cheese sauce in order for them to bake thoroughly and soften. It is okay if there are leftover potatoes at the end. It's better to not layer them too thick.
This potato and ham au gratin dish might need slightly more or less than 1.5 hour in the oven depending on thickness of potatoes, the way it is coated in the sauce etc. Check for doneness by piercing a knife into the middle of the dish. If potatoes are tender, then it is done. If not, bake it for slightly longer.
You can use anywhere between a 12′ oval dish and a 9′ x 13′ rectangular casserole dish. I filled my 12′ oval dish up to the brink so I don't think any smaller dish will work. The 9′ x 13′ dish will yield a thinner Potato and Ham au Gratin. Because of that, you may not need the whole 1.5 hours cook time so check at the 1 hour 15 minute mark to see if it is cooked.
If you still need to continue baking after 1.5 hour, loosely cover with foil so that the tops do not burn. If at anytime (even before the 1.5 hour mark) the tops look burned, go ahead and cover the baking dish.
When baking potato and ham au gratin, place a large baking sheet at the bottom of the casserole dish in case cheese sauce drips.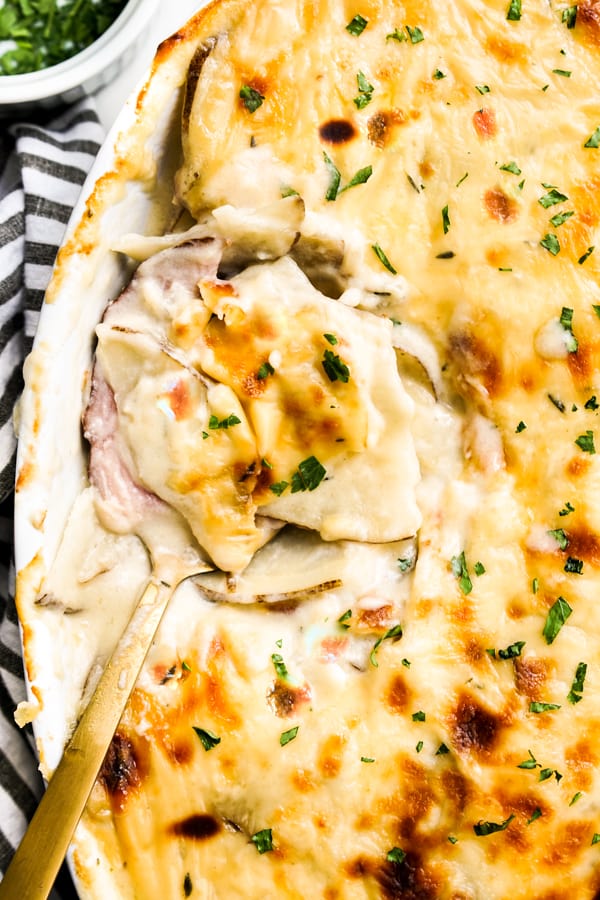 Reheating Instructions
To reheat potato and ham au gratin, cover casserole with aluminum foil and bake for 45 minutes to 1 hour at 350 ℉, or until dish is completely warm.
Frequently Asked Questions
Can I make this without ham?
You can omit ham and add slightly more potatoes (additional 0.25-0.5 lbs), or just use the same amount of potatoes and it will be coated with plenty of cheese sauce! Cook time should be about the same.
Can I use different cheeses?
Absolutely, any cheese that melts easily works well, such as Swiss, Colby Jack etc.
Can I make this ahead?
Yes! Absolutely. Make it ahead, refrigerate, and bring it out from the refrigerator for about 30 minutes before baking so it will be less cold. Cover with aluminum foil and bake for 45 minutes to 1 hour at 350 ℉, or until dish is completely warm.
Can I freeze this?
Absolutely! Make sure to cover it tightly before storing in freezer. Bring it to a complete defrost overnight before reheating. For reheating, follow instructions above.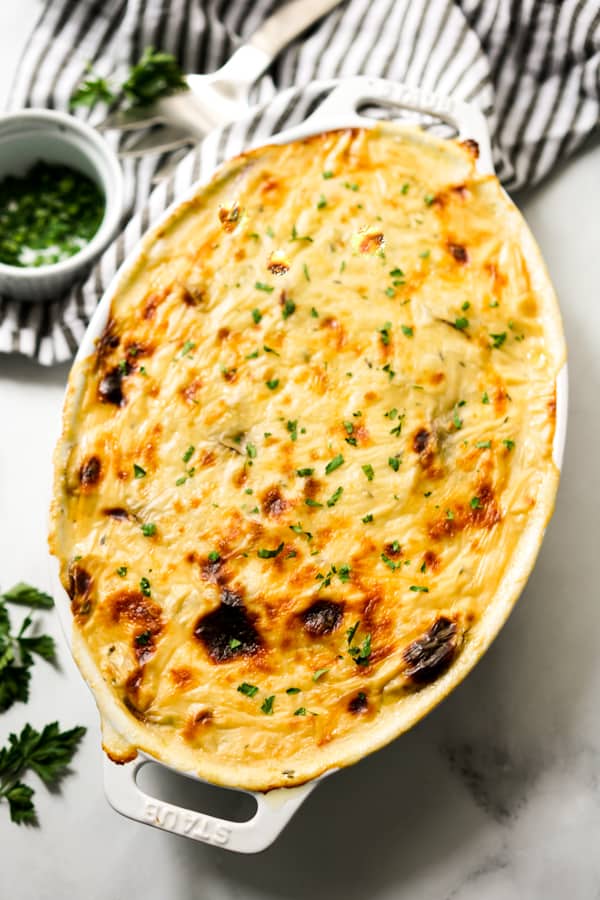 DID YOU ENJOY THIS RECIPE? Please comment below and give us a 5-star rating! This will help others find this recipe on Google and Pinterest. We very much appreciate your help! 🤍
Other Potato Dishes
We love potatoes! Enjoy some of our favorites: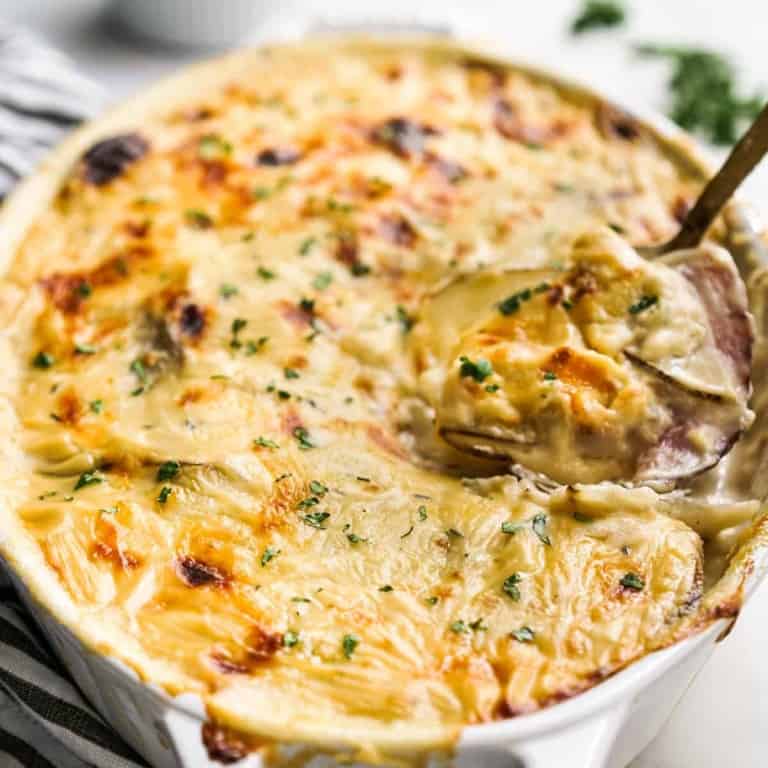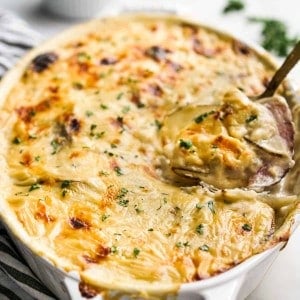 Potato and Ham Au Gratin
Creamy and rich cheesy potatoes layered with ham slices, oven baked to perfection! This delicious comfort food potato dish is perfect for the holidays!
Print
Pin
Ingredients
1

lbs

russet potatoes

sliced thinly, ~1/8 inch thick

2

tbsp

butter

1/2

white onion, or sweet or yellow onion

diced

4-6

cloves

garlic

minced

1/3

cup

all purpose flour

1 1/2

cup

half and half

1

cup

2% milk

1

cup

chicken broth

2

sprig

thyme

1

cup

cheddar cheese

1 1/2

cup

mozzarella cheese

1

tsp

salt

3

cups

ham

sliced
Instructions
Scrub and clean potatoes, then thinly slice potatoes into 1/8 inch thin slices. No need to peel potatoes. Set aside.

Pre-heat oven to 350 degrees F.

In a medium pot under medium heat, add butter. Once butter is melted, add diced onions and minced garlic. Sauté for 1-2 minute or until they are soft. Stir continuously. Avoid over-browning them.

Add flour and stir to combine. Once combined, add half and half, milk, chicken broth, thyme (see Note 1) and salt. Stir and bring to a boil. Continue stirring and cook for a minute or two, or until sauce thickens.

Turn off heat and add 1 cup of shredded cheddar and 1 cup of shredded mozzarella. Stir to combine. Remove thyme stems.

Taste to see if sauce is to your liking. Add more salt if necessary to open up the flavors even more. Remove from heat.

Grease a 12' oval dish or 9' x 13' rectangular dish. Add a very thin layer of cheese sauce to the bottom of the casserole dish.

Add 1/3 of the potatoes to casserole, spread the remaining 1/3 of the cheese sauce onto potatoes, then spread 1/2 of the ham onto the top of the cheese sauce. Avoid overlapping ham. (See Note 2)

Repeat Step 8 to create the second layer of potato/cheese sauce/ham. Then for the last layer, add the last 1/3 of the potatoes and the last 1/3 of cheese sauce. No ham in this last layer. Sprinkle the top with 1/2 cup of shredded mozzarella.

Place oven rack at the middle of the oven and place potato dish on the rack. For the second rack, place it at the bottom of the oven, and then place a cookie sheet on it to catch any drippings from the potato dish. Bake uncovered for 1 hour 30 minutes, or until potatoes are tender when you pierce the middle with a knife or fork. (See Note 3) If potatoes are still not tender, continue baking covered with aluminum foil until they are tender. At any point, even before the 1 hour 30 minute mark, if the top looks burned or over browned, cover with foil.

Remove and let it rest for 15 minutes. Serve and enjoy!
Notes
Note 1: If using dried thyme instead of fresh thyme, use 2 tsp of dried thyme.
Note 2: When layering the potatoes, be sure that most potatoes are covered with cheese sauce. Even though recipe calls of layering 1/3 of the potatoes in each layer (that is a general guideline), avoid doing a very thick layer of potatoes and have lots of potato slices not covered in sauce. Sauce will help cook the potatoes and make it tender. So adjust the amount of potatoes in each layer accordingly. It is okay if there are leftover potatoes at the end. It's better to not layer them too thick in each layer, and have some leftovers.
Note 3: If using a rectangular 9′ x 13′ dish, Potato and Ham au Gratin will be thinner than using a 12′ oval dish, and thus may require less cook time. Check at the 1 hour 15 minute mark to see if it is cook.
Nutrition
Calories:
279
kcal
|
Carbohydrates:
13
g
|
Protein:
16
g
|
Fat:
18
g
|
Saturated Fat:
9
g
|
Polyunsaturated Fat:
1
g
|
Monounsaturated Fat:
6
g
|
Trans Fat:
0.1
g
|
Cholesterol:
60
mg
|
Sodium:
876
mg
|
Potassium:
363
mg
|
Fiber:
1
g
|
Sugar:
3
g
|
Vitamin A:
383
IU
|
Vitamin C:
3
mg
|
Calcium:
206
mg
|
Iron:
1
mg