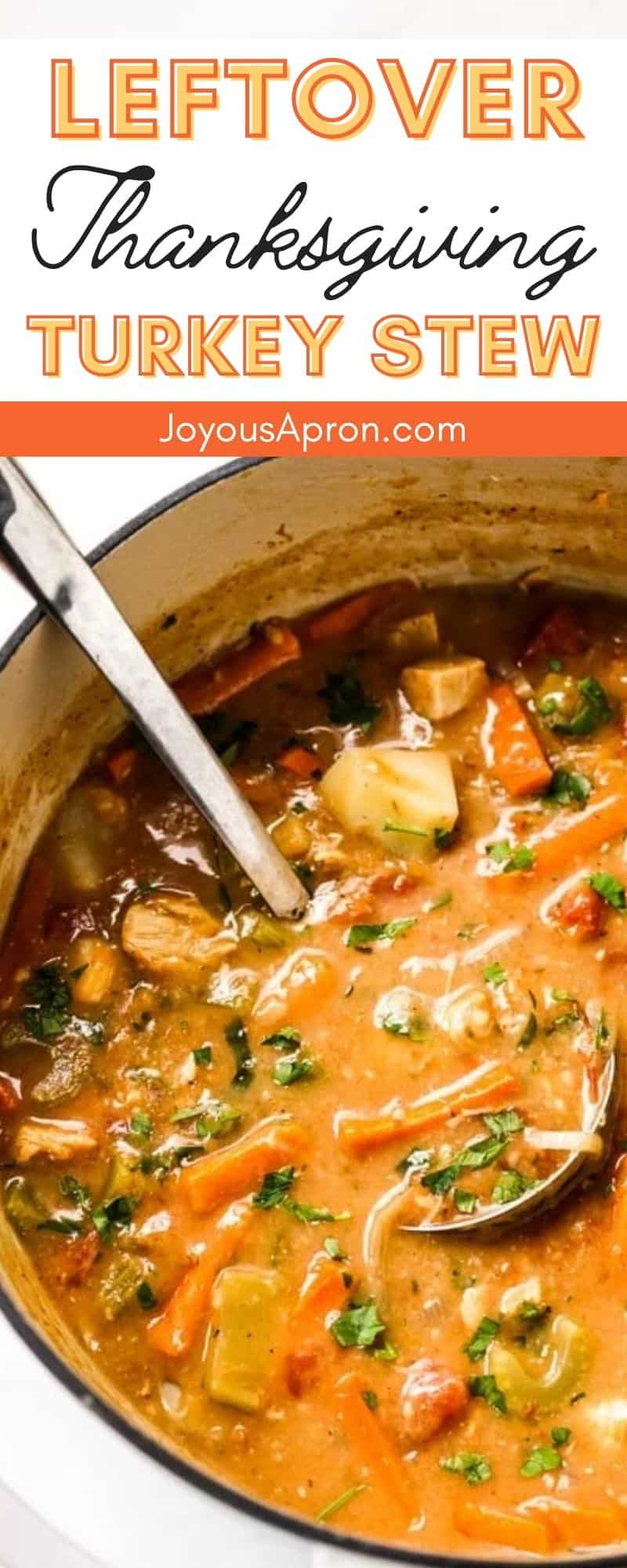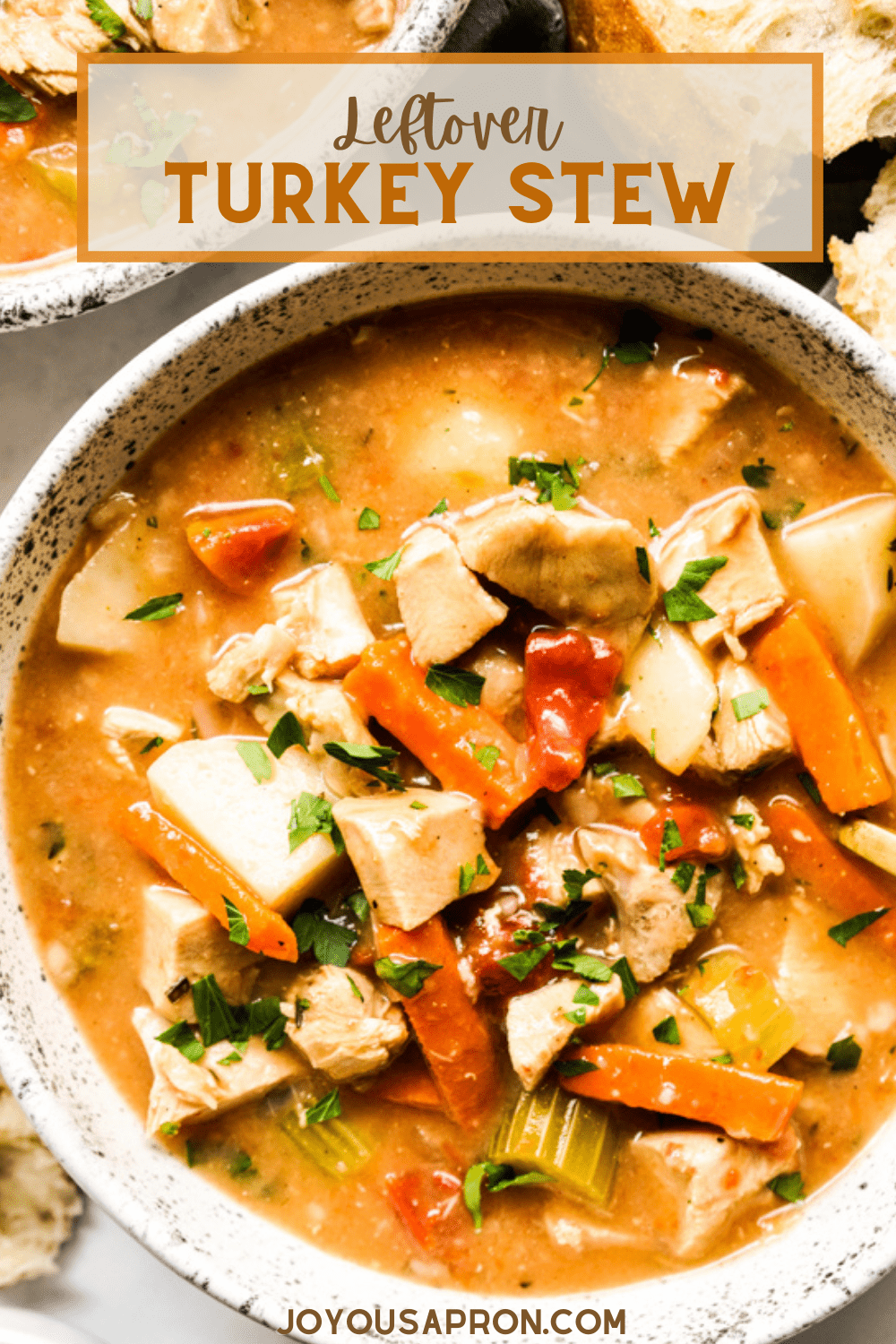 This cozy and comforting Turkey Stew is exactly what you need after Thanksgiving! Convert your leftover turkey into this simple, ready-under-25-minutes chunky stew combined with carrots, celery, tomatoes and potatoes.
Highly recommend serving Turkey Stew with some crusty bread on the side, or dipping them into the stew and letting it soak up the delicious flavors of the broth…yum!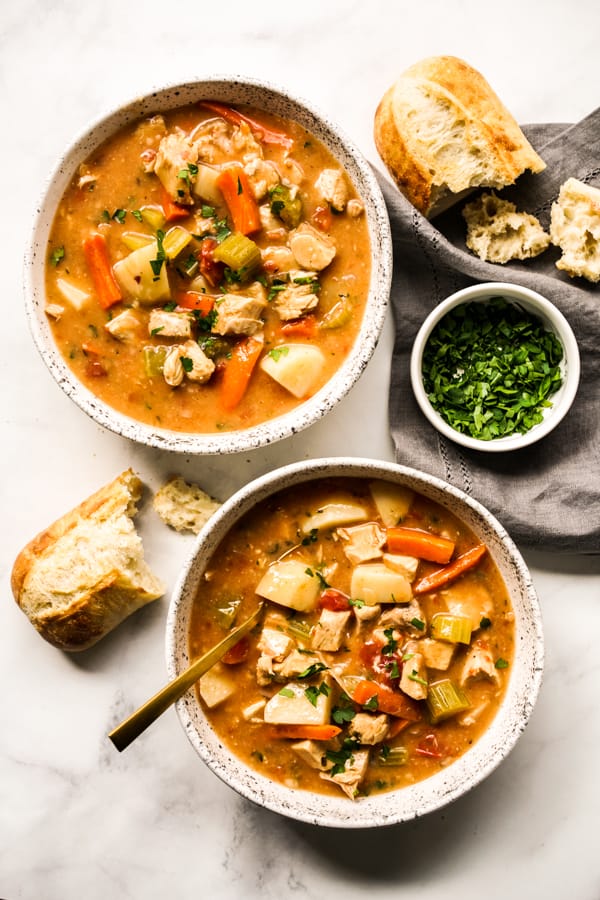 Leftover Thanksgiving Turkey Stew
When Thanksgiving comes to a wrap, we always have so much leftover turkey we could feed a village.
We will eat it for days with mashed potatoes, stuffing and cranberry sauce (or whatever is left), or make a whole lot of sandwiches out of it.
And after Day 3, I am so ready for something different… but I am also not ready to throw that dang turkey away because I spent way too much money on it!
Enters…TURKEY STEW, ladies and gentlemen!
This Turkey Stew recipe is the perfect way to use up those leftover turkey while enjoying something new, cozy and comforting.
Besides, it's cold outside and after eating heavy for Thanksgiving, a bowl of cozy warm soup just sounds so good.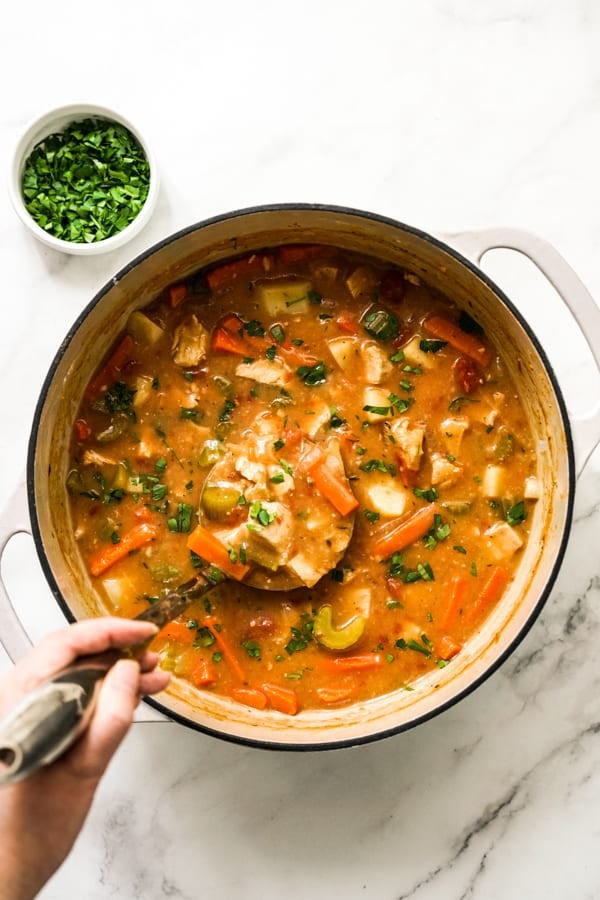 If you are not a soup person, here's another one of my favorite ways to transform leftover turkey – this Turkey Salad with dried cranberries! Perfect in sandwiches, on salads, with crackers, or as a snack by itself.
So here's what you can expect from this delicious Leftover Turkey Stew:
Ready under 25 minutes! I mean who wants to spend too much time in the kitchen after Thanksgiving? Right right?
So flavorful. I always pack on the flavor. Bland soups are just not worth the time! Expect yummy flavors in this Turkey Stew.
Perfect use of leftovers. And I am not just talking turkey here. This is also the perfect way to use up leftover veggies and herbs, or even other meats you have lying around!
It's good for you! Yes yes yes healthy and yum! It IS possible!
Cold weather comfort food. It's chilly outside and sometimes soups just make everything (body, mind, soul) feel better.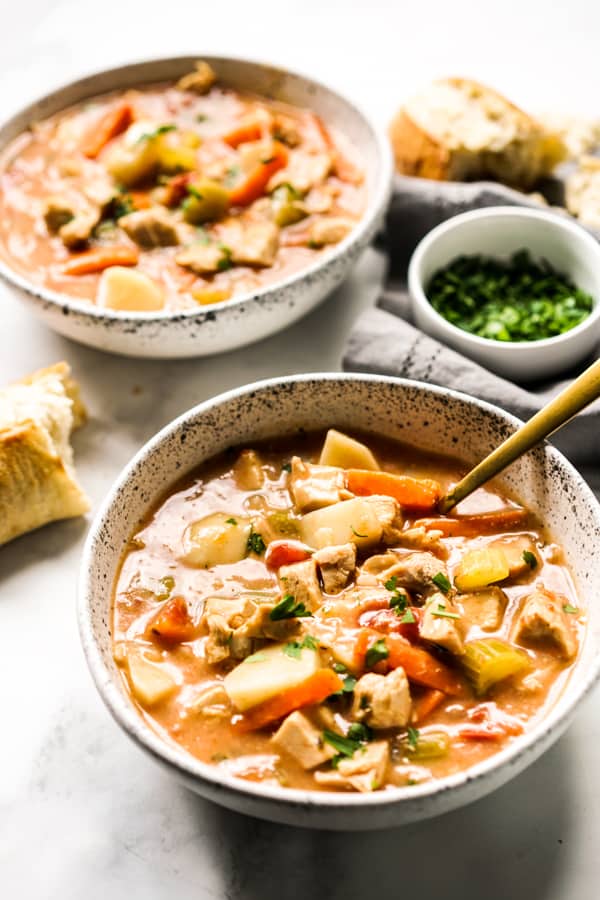 Ingredients
Primarily made with pantry friendly ingredients and leftovers, here's what you will need to make leftover Turkey Stew:
Leftover cooked turkey – dice or shred it.
White, yellow or sweet onions
Garlic cloves
Carrot – slice or dice, just try to keep them the same size
Celery – slice into 1-inch pieces
Potatoes – cube into small 1-inch pieces. Try to keep them the same size
Thyme – if you have fresh thyme use that, if not, dried thyme is fine
Bay leaf
Chicken broth – or turkey broth
Diced tomatoes – drain liquid from the can
All-purpose flour
Salt and black pepper – to open up the flavors! Salt is used not just to add saltiness, but it helps bring out the flavors in the soup. So avoid skipping it!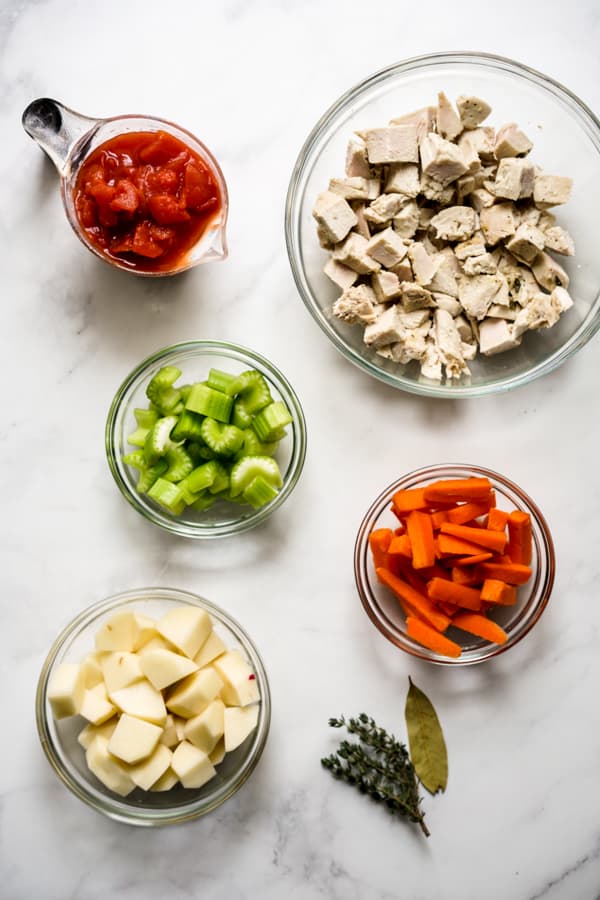 How to make Turkey Stew
And now that we've got the ingredients, let's make some Turkey Stew!
Quick overview on how to get it ready…it's truly is so easy. One pot is all you need.
Chop and prep all ingredients.
Sear ingredients (primarily onions, garlic and veggies) and then add liquid, herbs and then lastly cooked turkey into a Dutch oven (use one that is 6 qt or larger). You can use a large pot as well.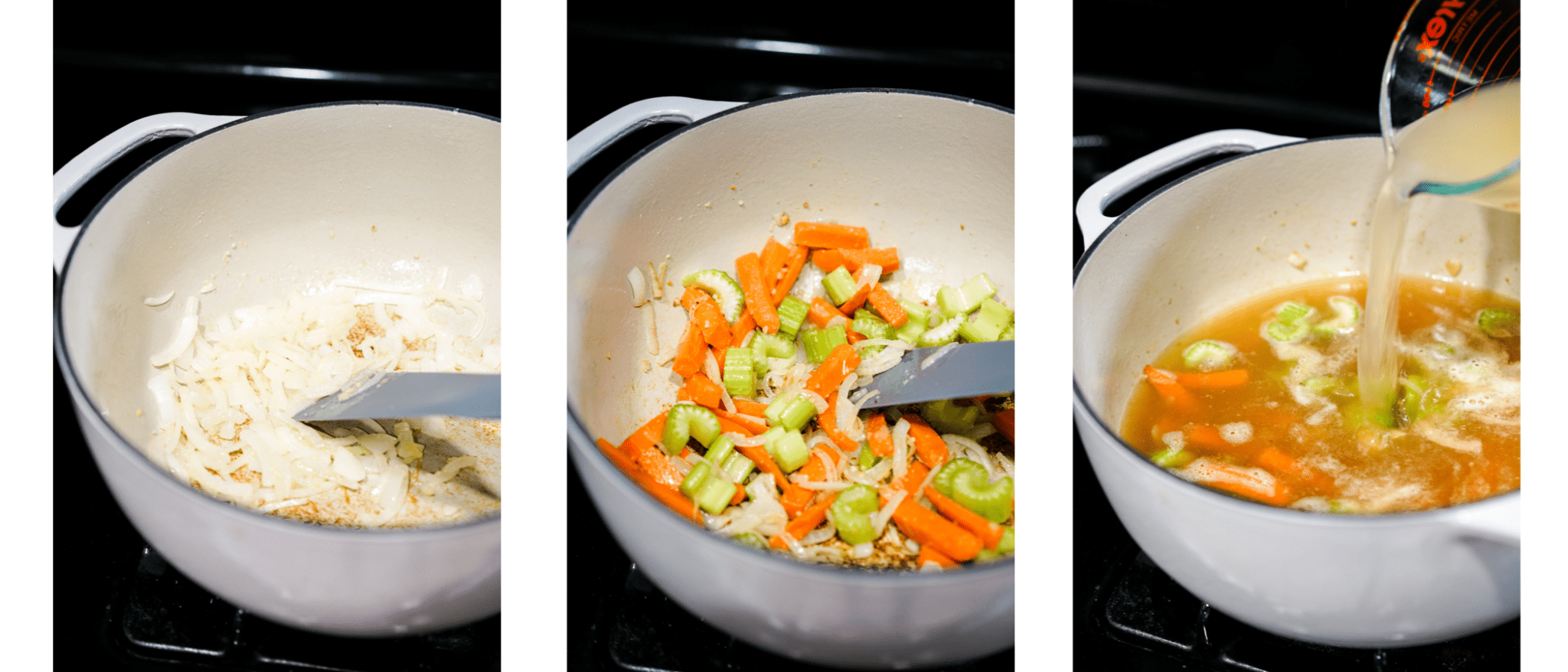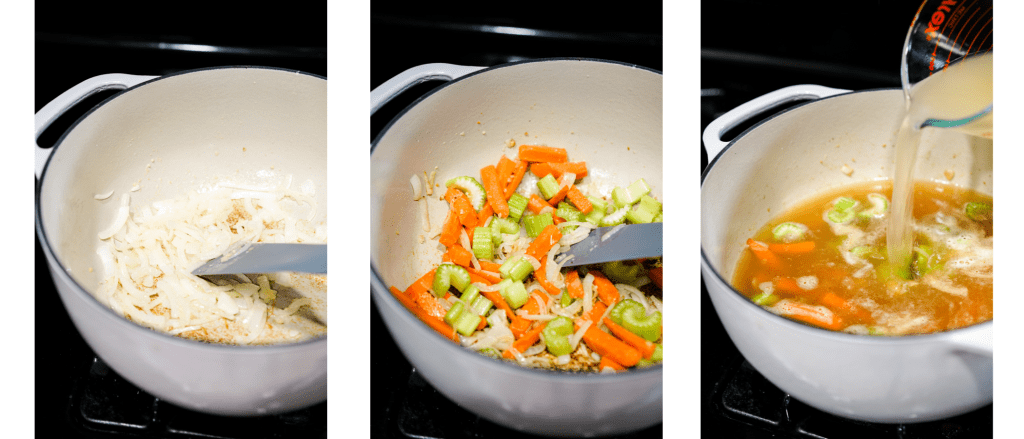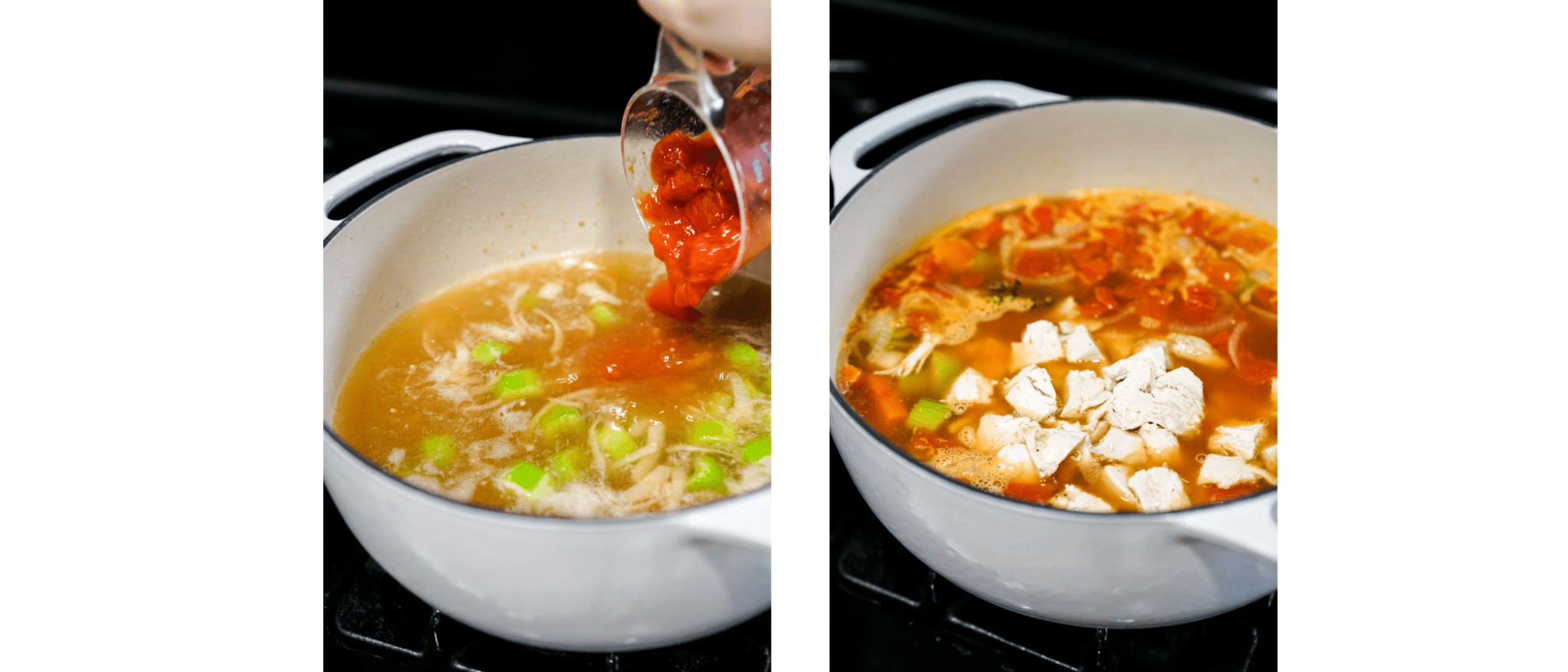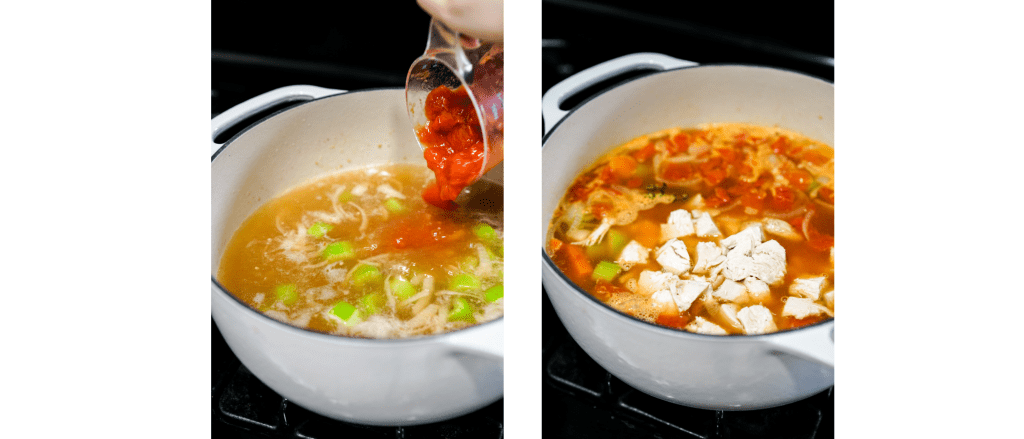 3. Thicken the broth. Then garnish and serve!
That's it!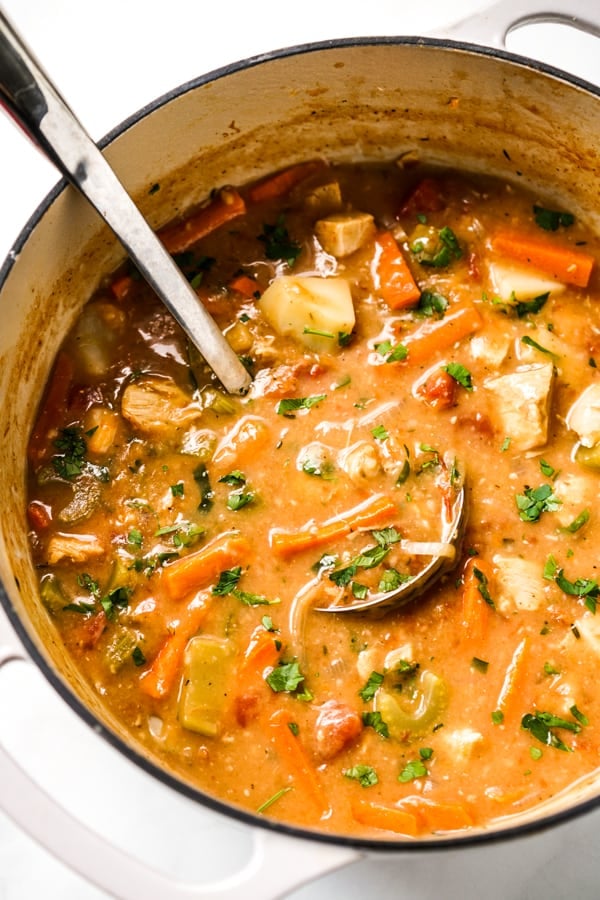 What we have here: chunky Turkey Stew combined with potatoes, carrots, celery and tomatoes. It is hearty, warm and the ultimate healthy comfort food.
I love serving this soup with crusty bread.
Not just on the side, but dunk it in there and let the bread absorb the deliciousness of the soup.
Other ways to serve leftover Turkey Stew: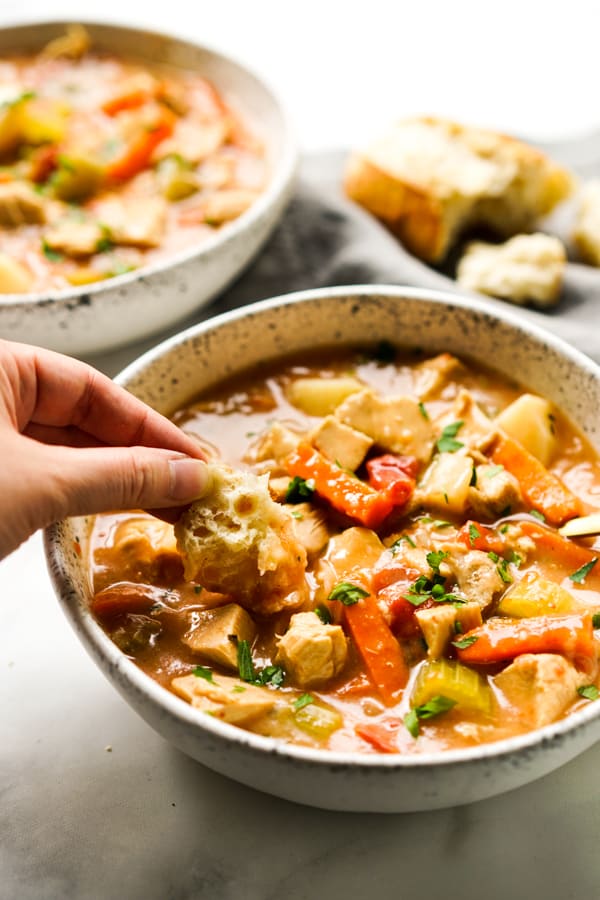 Variations and Modifications
Turkey Stew is one of those leftover type recipe that is highly versatile recipe! It's a great way to clean out the fridge!
Here are other ingredients you can add to this Leftover Turkey Stew:
Other veggies to use: bell peppers, sweet potatoes, broccoli, green beans, corn, peas, etc
Other herbs to use: rosemary, parsley, poultry seasoning etc
Feel free to add other protein you have at hand such as ham or chicken.
Want even more flavor, add a bit of chicken bouillon in there! Can be a game changer!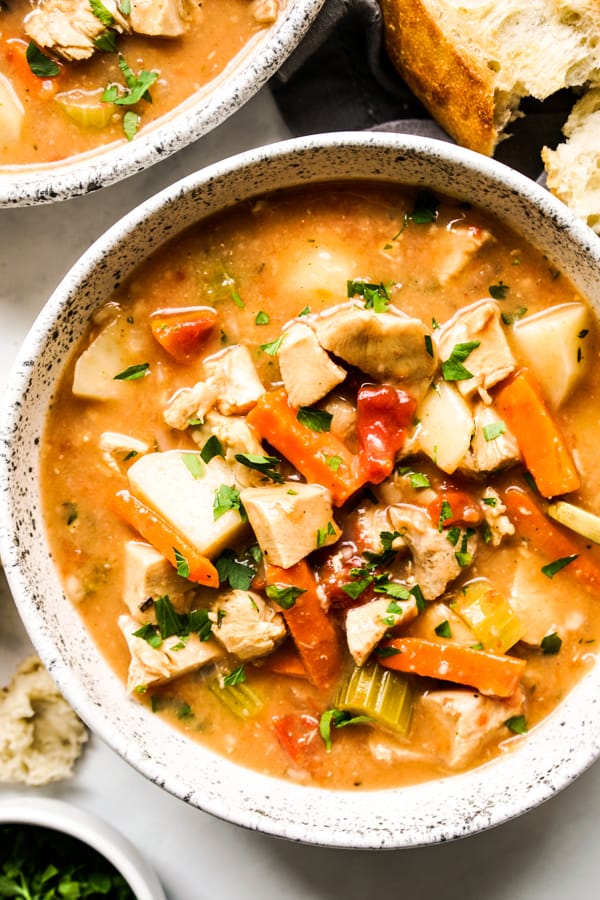 Tips and Tricks
When thickening the Turkey Stew, remove some of the broth into a cup and then add flour to the broth in the cup. Whisk well to remove as much flour clumps as possible (see photograph below), then more the broth back into the pot. If you add flour directly into the stew, it will not dissolve well.
Do not overcook the turkey! I add turkey last because turkey is already cook and dries easily.
Salt is used to open up flavors so remember to taste at the end and add salt to make it more flavorful! Salt doesn't just add saltiness, a little bit of it can change the flavors of the stew.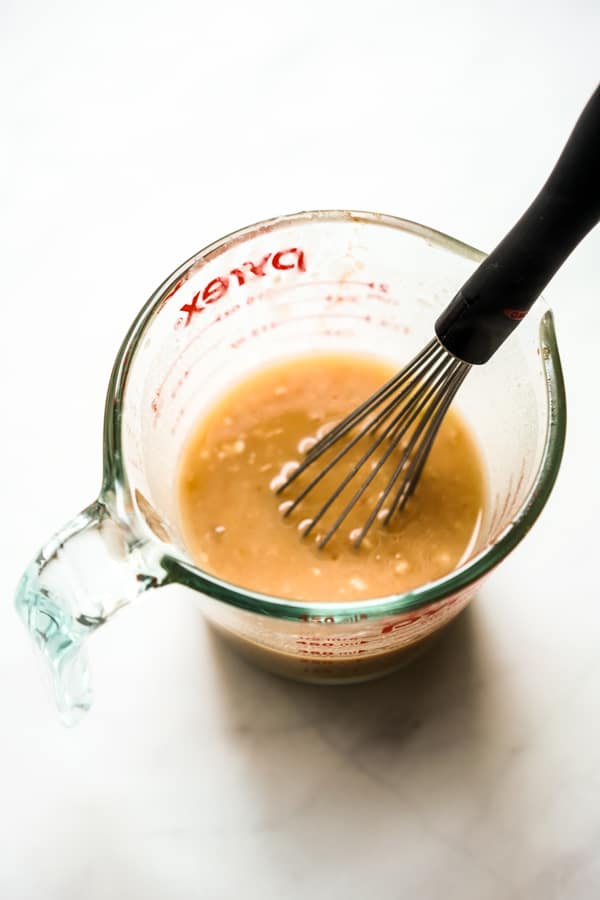 Frequently Asked Questions
Can I freeze this Turkey Stew?
Absolutely! It freeze really well in an airtight container. When ready to eat, bring it to the refrigerator and let it thaw overnight. Then microwave to heat it up!
Can I use ground turkey?
Yes! Since ground turkey is raw, sear ground turkey after searing garlic and onions. Once it is no longer pink, proceed t add the other veggies, broth, and herbs.
More Soups and Stews!
DID YOU ENJOY THIS RECIPE? Please comment below and give us a 5-star rating! This will help others find this recipe on Google and Pinterest. We very much appreciate your help! 🤍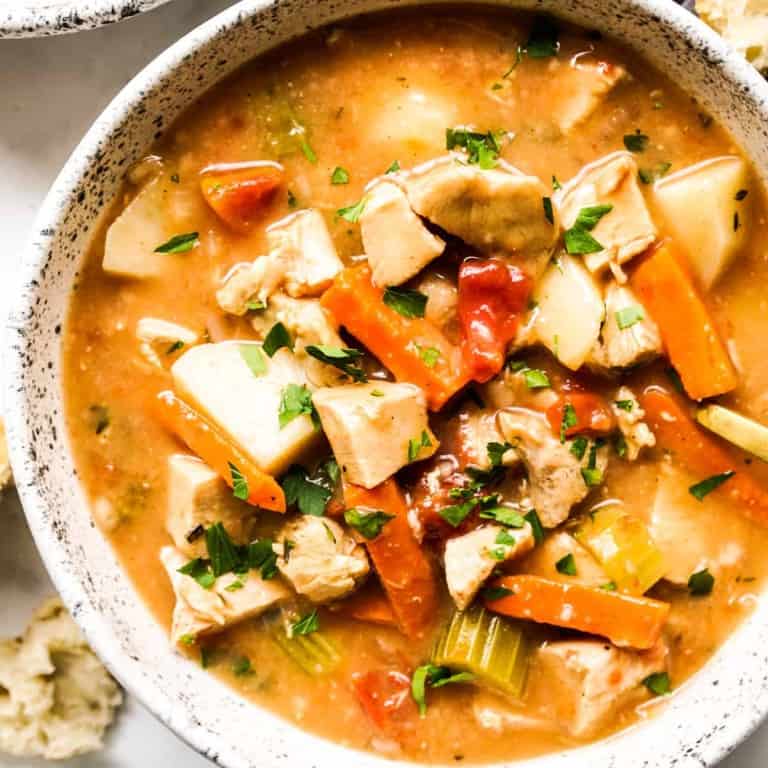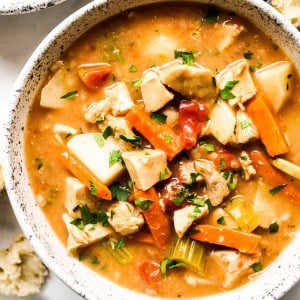 Turkey Stew
Convert leftover turkey into this cozy and chunky turkey stew! Combined with carrots, celery, tomatoes and potatoes for a healthy, warm and hearty meal.
Print
Pin
Ingredients
1

tsp

olive oil

1/2

white onion

or yellow or sweet onion, diced

3

cloves

garlic

minced

1

cup

carrots

sliced

1

cup

celery

sliced

6

cups

chicken broth

or turkey broth

16

oz

diced tomatoes

drained

2

red potatoes

1-inch cubed

2

sprig

fresh thyme

or dried thyme

1

bay leaf

4

cups

turkey

cooked, diced

1/4

cup

all purpose flour

salt

to taste

black pepper

to taste

parsley

optional, garnish
Instructions
Prepare/cut all the ingredients.

Heat Dutch oven or pot (at least 6 qt) under medium heat and add olive oil. Once oil is heated, add onions and garlic. Saute until golden brown and fragrant.

Add carrot and celery. Saute for one minute. Then add chicken broth, diced tomatoes, potatoes, thyme and bay leaf. Bring to a boil, lower heat to medium low, and cook for 10 minutes or until potatoes are soft.

Add turkey to stew. Stir to mix well.

Bring 1 cup of broth from the pot into a cup. Add flour to cup. Use a whisk or a fork to mix flour into the broth until flour is mostly dissolved. Add it back into the stew.

Bring heat to medium high, stir to mix well and let stew come to a boil again. Let it cook for a few minutes while soup thickens. Add salt and pepper to taste.

Once soup is thickened, remove form heat.

Garnish with parsley. Serve and enjoy!
Nutrition
Calories:
211
kcal
|
Carbohydrates:
24
g
|
Protein:
18
g
|
Fat:
5
g
|
Saturated Fat:
1
g
|
Polyunsaturated Fat:
1
g
|
Monounsaturated Fat:
2
g
|
Trans Fat:
1
g
|
Cholesterol:
48
mg
|
Sodium:
1371
mg
|
Potassium:
945
mg
|
Fiber:
3
g
|
Sugar:
4
g
|
Vitamin A:
3794
IU
|
Vitamin C:
33
mg
|
Calcium:
75
mg
|
Iron:
3
mg