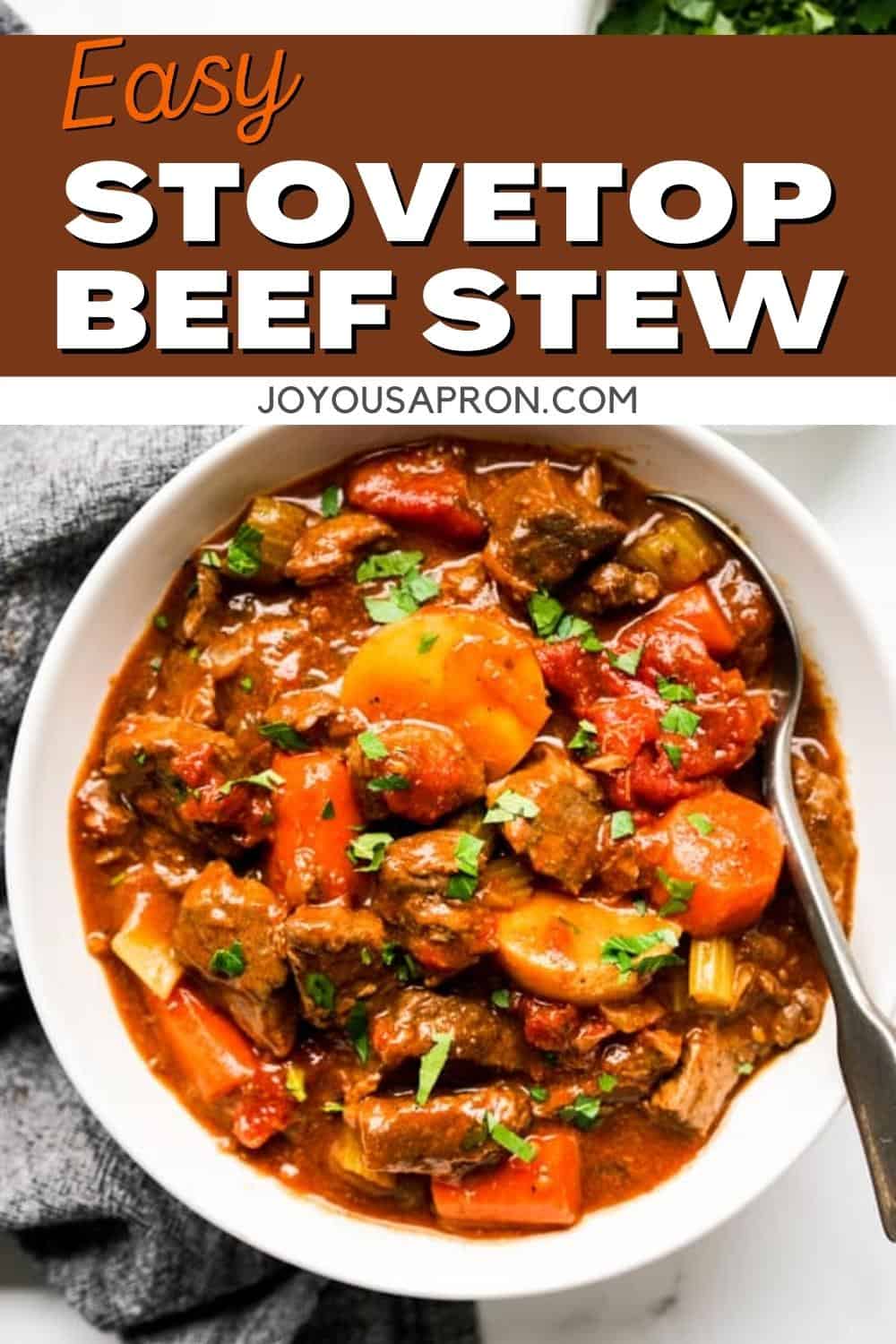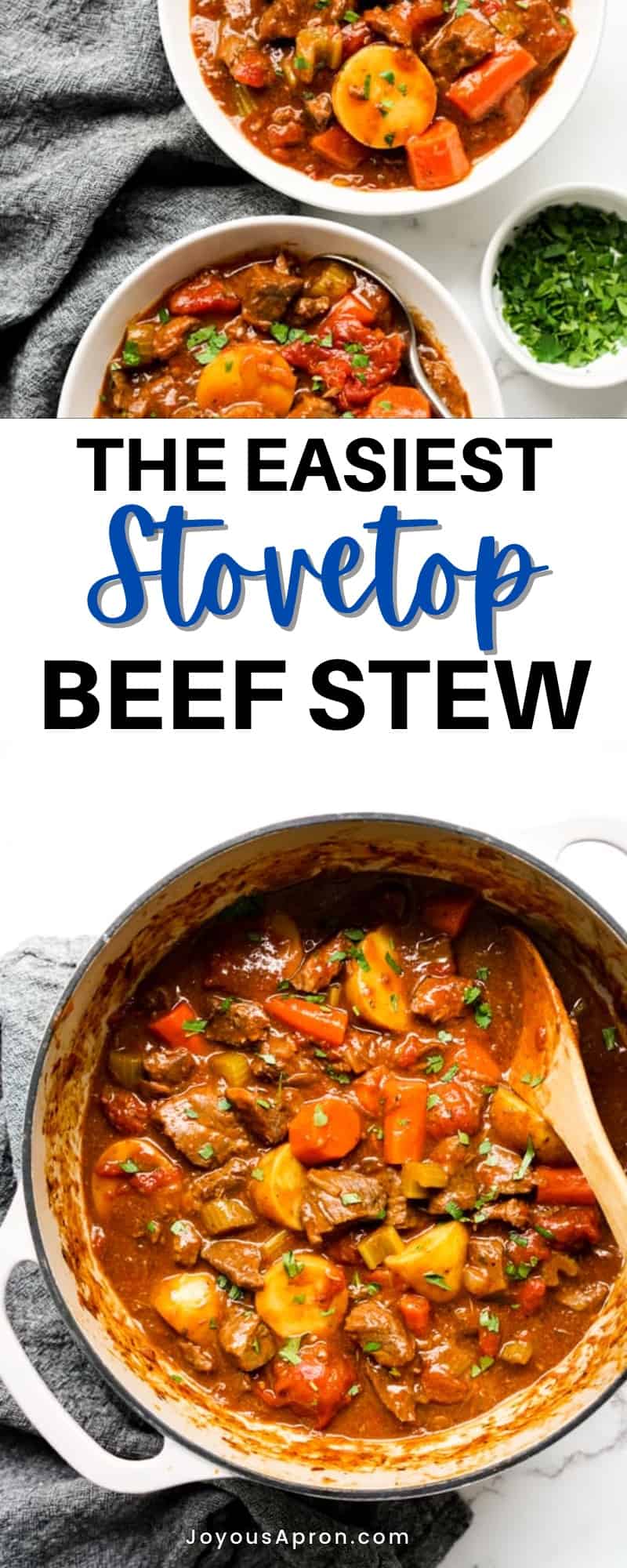 This easy Stovetop Beef Stew is the only beef stew recipe you will ever need! Tender, fall-apart beef stew, cooked slowly on the stove using a Dutch oven or a regular pot, flavored with red wine, fresh herbs and beef stocks, combined with tomatoes, potatoes, carrots and celery.
It doesn't get cozier than this on a cold winter day!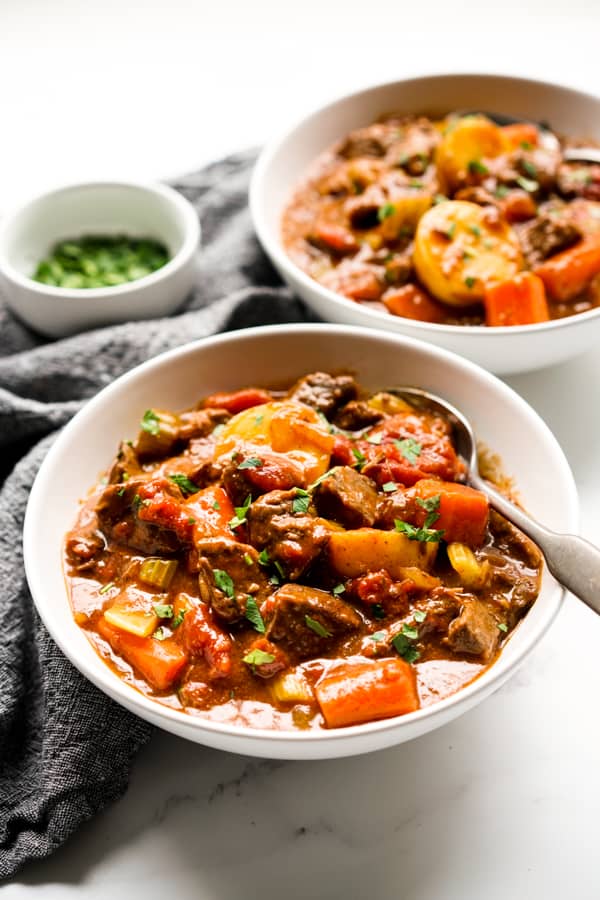 Hearty and cozy comfort food
Beef stew is such a classic dish. Almost everyone have had it at some point, and everyone has their own little twist to it.
I like to make mine using simple ingredients and with minimal effort, while bringing on maximum flavor.
I'm going to let you in on a little secret. The ingredient that makes this dish what it is wine. A solid, fairly dry, light to medium-bodied red wine.
Just one cup of it will bring your stew a deep, gorgeous flavor hard to achieve any other way.
This recipe reminds me a lot of my Red Wine Braised Beef Short Ribs recipe. The flavors are very similar – deep, bold, complex, simply amazing.
I adore this recipe. You will too, I promise.
Beef stew on the stove top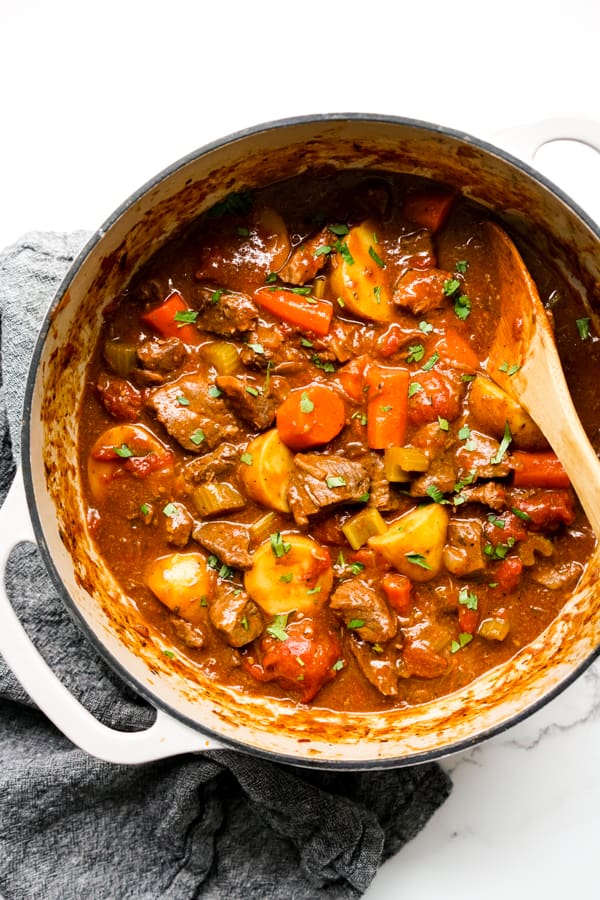 My favorite way to make beef stew?
Hands down. On the stovetop, using a Dutch oven. Or use a regular pot if you don't have a Dutch oven.
But basically, ALWAYS make beef stew on the stove top. I think it yields the tastiest product.
When cooking beef stew on the stove, we will be able to gently sear the meat, bringing out the flavors and also locking the juices in.
We will also get to simmer the liquid until it is nice and thick in a controlled manner. Adjust the heat up and down as you see fit to get it to the perfect consistency.
While the liquid simmers, the fibers of the meat will be slowly broken down and it will yield super tender, juicy pieces of beef stew that is soaked in that heavenly red wine and herb flavor combo.
You can adjust the heat, check on it easily, and stop cooking once the meat is tender (or cook longer if it is not).
Ingredients
My goal is to keep this recipe as easy as possible, yet bring about maximum flavors. Every ingredients serve a purpose in bringing something unique (and yummy!) to the dish.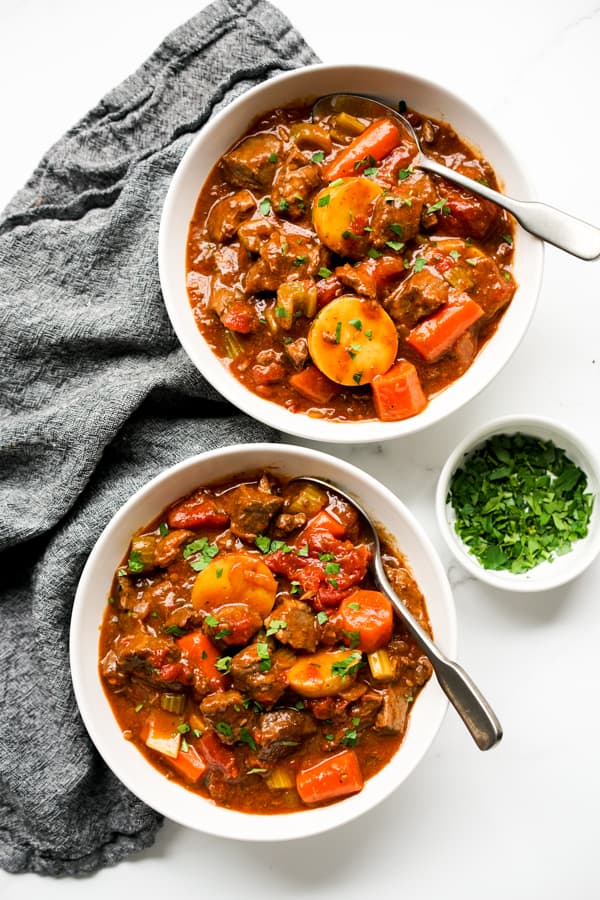 Here are the ingredients you will need:
Beef chuck – slice cross grain into 1 1/2-inch cubes, or get ready-sliced stew meat for convenience.
Beef broth – use good quality broth. It makes a big difference!
Red wine – dry red wine works best, such as Pinot Noir, Merlot, or Cabernet Sauvignon. When cooking with wine, the rule is to not use wine that you would not drink. Don't spend a lot of money on expensive wine, but don't use super cheap, or even worse, old wine. Unfortunately, the cooking of wine does not take away its badly quality!
Garlic cloves – avoid substituting with garlic powder. It's just not the same!
Thyme – Fresh thyme brings the best flavors but dried thyme works as well.
Bay leaf – another important spice to add lots of great flavors.
Smoked paprika – gives it a nice smoky flavor. Regular paprika works as well.
Canned tomatoes – I love adding tomatoes to my stew. For the longest time I didn't, and boy I was missing out. Tomatoes bring another layer of flavor that enhances this dish. After making this with tomatoes once, I made I promise to myself that I will forever make my beef stew with tomatoes.
Carrots – use stalks of carrots, cut into 1-2 inch pieces. Cut into good size pieces because it will be cooked for a little while and you don't want the carrots to get too soggy.
Potatoes – use gold potatoes or red potatoes. I like to avoid russet potatoes because it breaks apart more easily and is grainy in texture.
Onions – use white, sweet or yellow onions. Avoid red onions. I like to dice them so you don't taste large pieces of them. Using onions for the flavor more than the texture.
Salt & black pepper – salt is very important, not just to add saltiness, but to open up the flavors.
Sugar – just a touch of it to balance out the flavors.
Cornstarch – used to thicken the stew.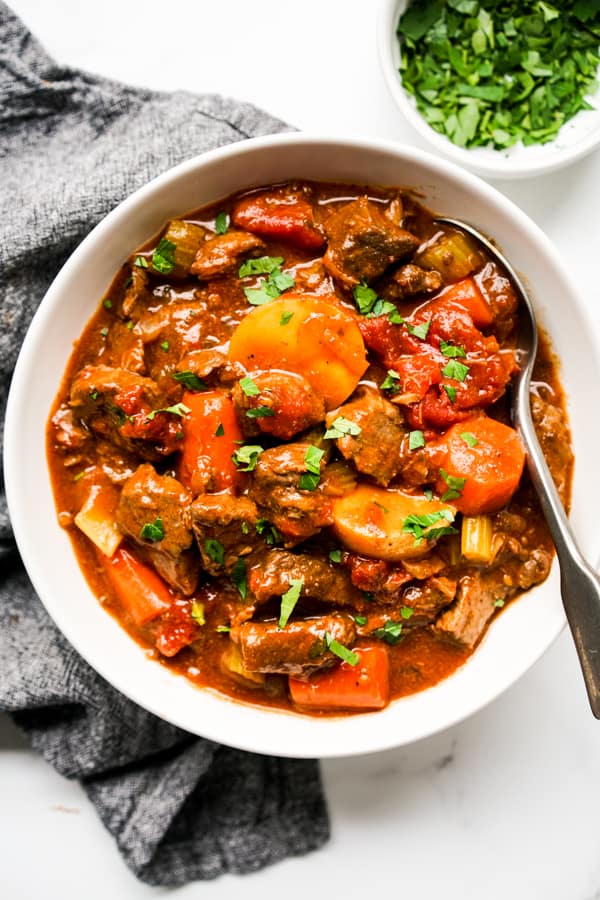 How to make beef stew on the stove
It's time to make this delicious stew!
First, sprinkle beef chuck cubes with salt and black pepper.
This is an important step because when it sears, the salt and black pepper will stick to the meat.
This way the flavors will not just be in the broth, but also in the meat itself!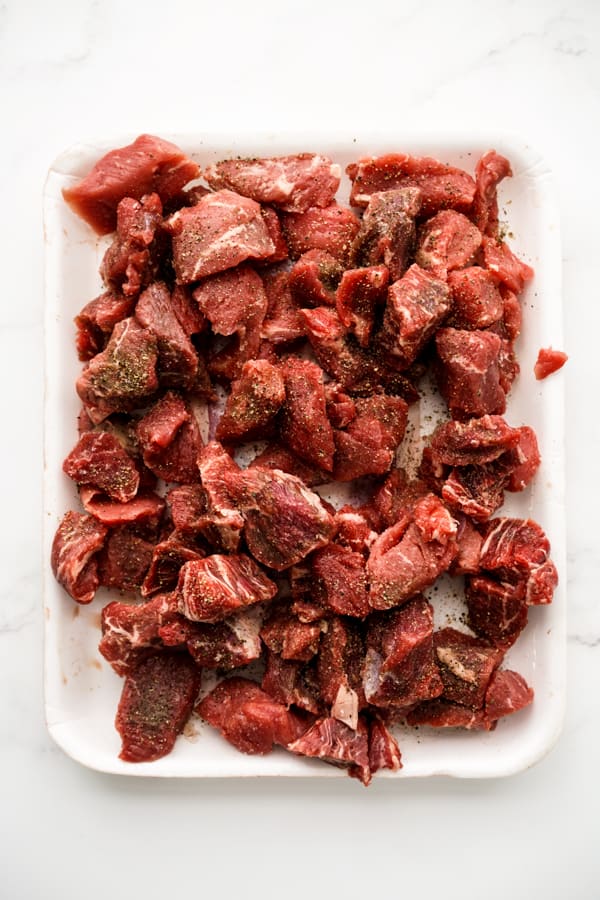 Heat Dutch oven with vegetable oil, then sear beef chucks on all sides until they are browned.
You do not need to cook the beef completely. We are just searing it to lock in those delicious juices and to bring flavor to the meat by sealing in the salt and pepper.
Next, add beef broth, red wine, garlic, and all the herbs and spices (smoked paprika, bay leaf, and fresh thyme) into the Dutch oven.
Bring to a boil, cover, and let it cook slowly on medium low heat for 90 minutes.
This is when we are slowly breaking down the fibers of the meat, making them really tender and yummy!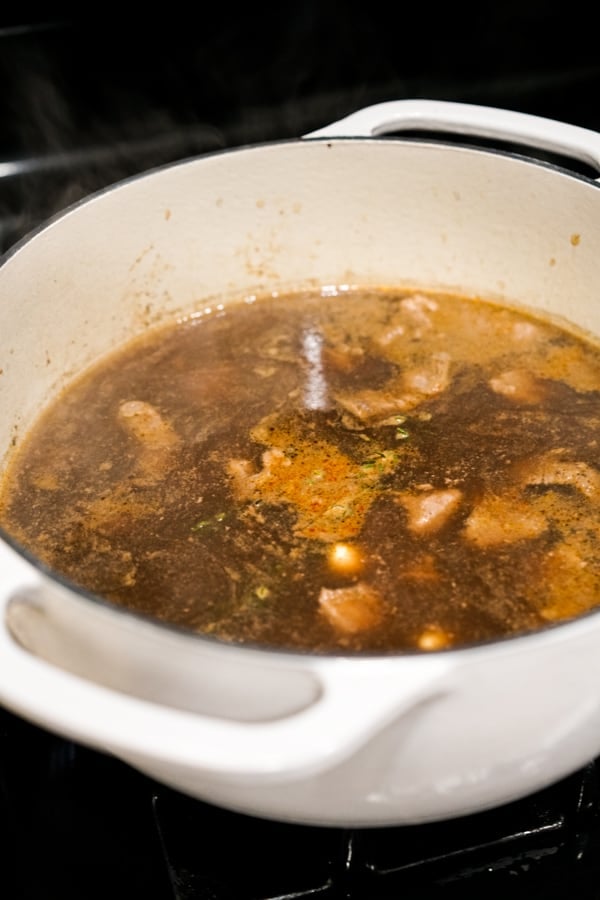 Once that is done, you will find that there will be significantly less liquid.
Add canned whole tomatoes, along with the liquid, and a pinch of sugar.
Then use a spatula to break apart those tomatoes.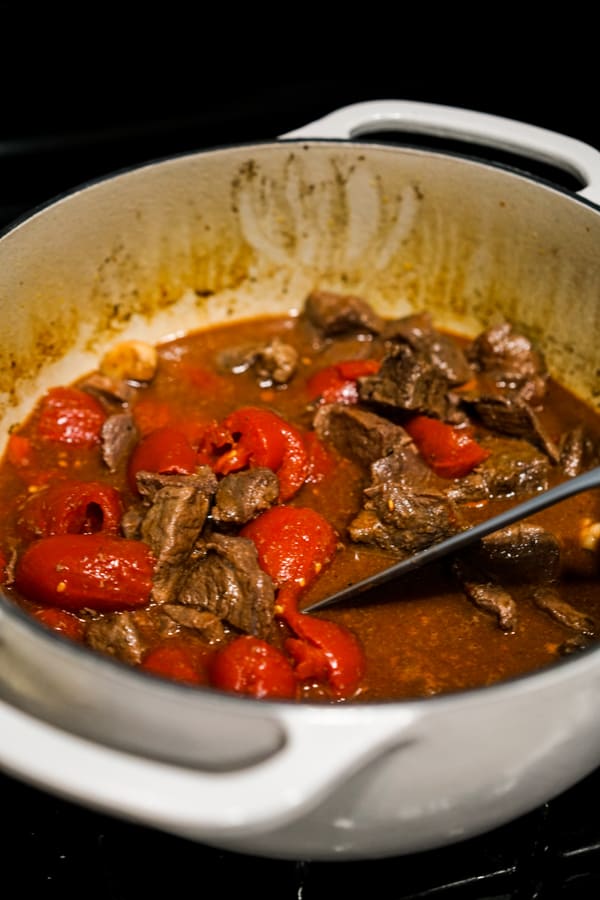 Next, add the rest of the vegetables:
carrots
onions
potatoes
celery
The reason why we are only adding the vegetables now is because we do not want to cook them as long as we would the beef chucks as they will become soggy if overcooked.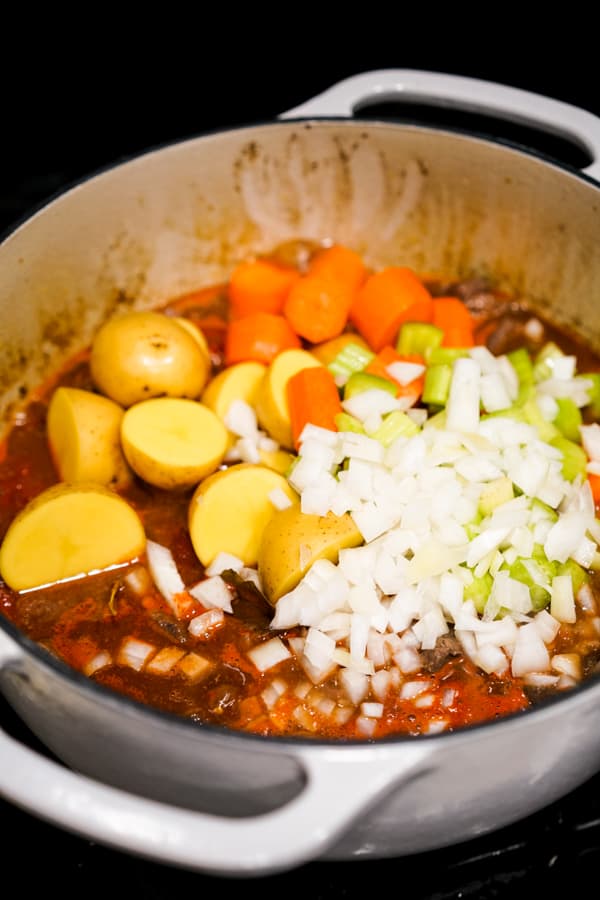 Stir, then add water to submerge most of the items in the pot.
Bring to a boil, then cover and let it cook under medium low heat for 45 minutes, or until beef is tender.
We are close to being done…but in order to get a chunky, thick Beef Stew, we will need to thicken the broth.
To thicken the broth, combine cornstarch and a few tablespoons of water in a small bowl. Mix to dissolve cornstarch, then pour cornstarch mixture into the Dutch oven.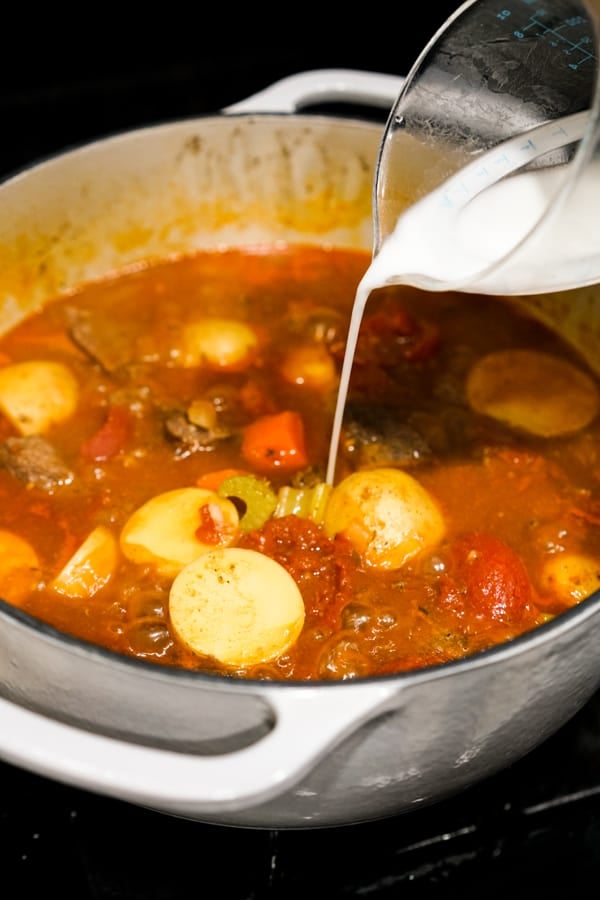 Bring to a boil (again) and let it simmer for 5-10 minutes, or until Beef Stew is thick and chunky.
Feel free to add more cornstarch/water mixture if you like your stew even thicker.
Get ready to experience tender meat infused in deep, gorgeous flavors of red wine and herbs, combined with potatoes, tomatoes, carrots and celery.
It is everything you would dream of a solid Beef Stew would be…and much much more!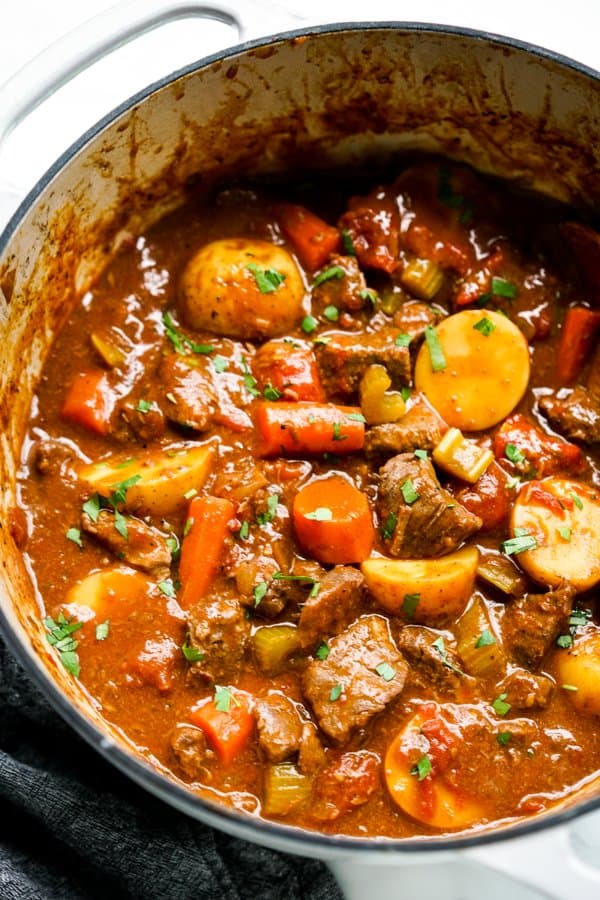 Don't forget to…. (Tips and Tricks)
Season beef chuck with salt and black pepper, and then sear them before cooking in liquid
Lower the heat to medium low when cooking the stew…you don't want to burn it!
Add water to stew if pot is looking dry, especially during the first 90 minutes of cooking
Add vegetables later (last 45 minutes of cooking) so that veggies do not get soggy
Thicken Beef Stew using a cornstarch/water mixture. Do not add cornstarch directly into hot stew – cornstarch will have a hard time dissolving.
Taste at the end and add salt if needed! Salt helps open up flavors, not just to add saltiness to the dish.
Frequently Asked Questions
What type of red wine should I use?
A dry red wine works the best, such as Pinot Noir, Merlot, or Cabernet Sauvignon. Cook with the type of wine you would want to drink. Don't spend a lot of money on expensive wine, but don't use super cheap, or even worse, old wine. Remember: the cooking of wine removes the alcohol content but if the quality isn't great, it doesn't take away its badly quality. I know, it's unfortunate.
How do I make this without red wine?
Simply replace the cup of red wine with beef broth. Add a cube of beef bouillon to add more flavor if you'd like.
What is the best way to reheat?
This recipe keeps really well as leftovers and reheat very easily…in the microwave! That's right, simply reheat in the microwave whenever you are ready to eat. Beef should still be nice and tender, and the flavors are often even better after a few days!
How do I make this in the slow cooker?
It's not my favorite way to cook it, but this is helpful if you need to leave it to cook and leave the house. First, sear beef chuck on the stovetop first. Then transfer beef, along with all the other ingredients, into the slow cooker and cook on high for 4-5 hours or low for 7-8 hours. Thicken by adding cornstarch and water mixture, then cover, and let it cook on high for another 30 minutes.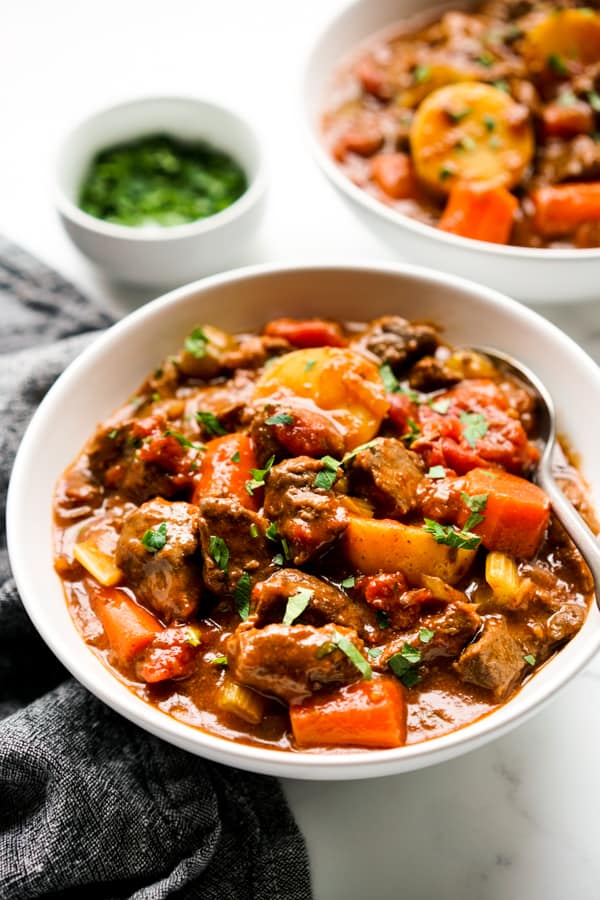 Pro tip: serve this with warm, fresh, crusty bread, and take this yum thing to the next level.
I stand by what I said from the very beginning. Beef Stew on the stovetop is the way to make the best kind of beef stew.
I've tried many methods…and this is still by far my favorite!
Other soup and stew recipes
Other Beef Recipes
DID YOU ENJOY THIS RECIPE? Please comment below and give us a 5-star rating! This will help others find this recipe on Google and Pinterest. We very much appreciate your help! 🤍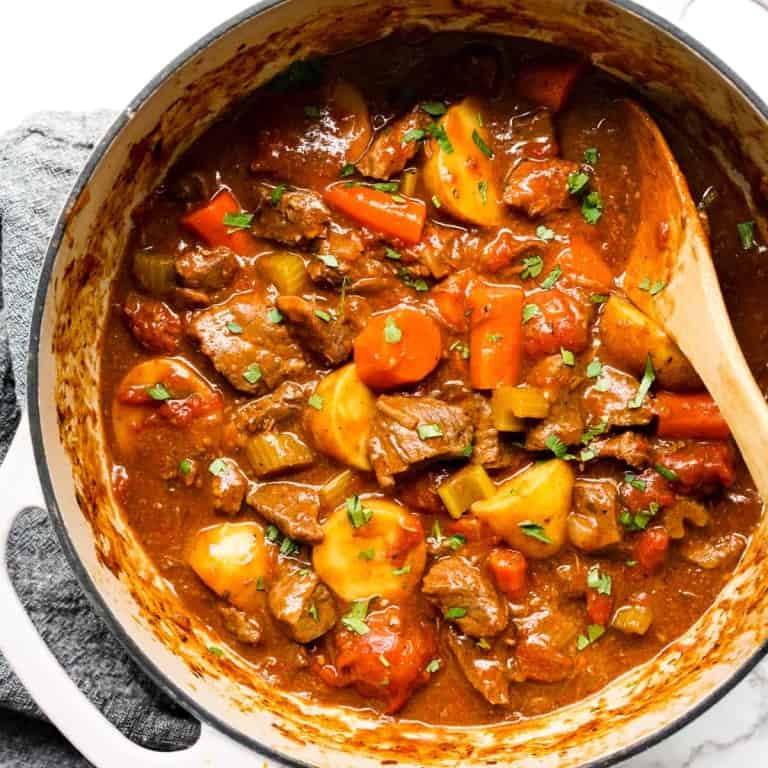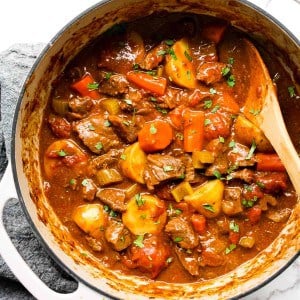 Easy Stovetop Beef Stew
Easy beef stew recipe made on the stovetop! Tender, melt-in-your-mouth beef chucks simmered in a red wine based herb sauce, combined with tomatoes, carrots, potatoes and celery. It's the ultimate comfort food for the Fall and winter!
Print
Pin
Ingredients
2

lbs

beef chuck

~ 1 1/2-inch cubed

1/2

tbsp

vegetable oil

salt

pepper

4-5

cloves

garlic

28

ounce

canned whole tomatoes

2

stalks

carrots

1-2 inch slices

1

lbs

gold or red potatoes

~1 1/2-inch cubes

1/2

large

sweet onions

sliced

1

large

stalk celery

1/2 inch slices

4

cups

beef broth

1

cup

red wine

pinot noir, cabernet, or merlot

1

bay leaf

1-2

sprig

fresh thyme

or 1 tsp dried thyme

1/2

tsp

smoked paprika

1/2

tbsp

sugar

1

tbsp

corn starch

more if needed
Instructions
Sprinkle cubed beef chunk generously with salt and black pepper.

Heat dutch oven with vegetable oil. Once oil is heated, bring beef to dutch oven to sear. Turn beef to make sure all sides are seared well. Do this in batches if you have a small Dutch oven so that beef do not overlap each other when searing.

Bring all seared beef back to the Dutch oven. Add beef broth, garlic, red wine, bay leaf, thyme, and smoked paprika. Bring to boil.

After coming to a boil, cover, bring Dutch oven to medium low heat and simmer for 90 minutes. Check at the 45 minute mark on dryness. If liquid level looks very low, add 1/2 cup of water at a time. (see Note 1)

Add 1 can of whole tomatoes (do not drain) and sugar. Break tomatoes into halves and stir.

Add potatoes, onions, carrots and celery. Stir. Add water until most of the items are submerged in liquid (Note 2).

Bring to a boil. Cover, and then take it to medium low heat and simmer for another 45 minutes, or until beef is tender (easily break apart with a fork).

Combine cornflour with 3 tbsp of water in a small bowl. Stir to dissolve corn starch and then pour it back to the pot (see Note 3). Bring to boil and let it simmer for another 10 minutes.

Taste, add more salt to open up the flavors if needed.
Notes
Note 1: Check every now and then during the 90 minutes to make sure pot isn't completely dry. Add water as needed.
Note 2: There's no need to submerge everything completely in the water but do make sure most of it is submerged for the vegetables to cook and soften.
Note 3: Do not add cornstarch directly into the hot liquid – it will not dissolved!
This recipe was originally published on Oct 17, 2017, and revised and updated on Feb 2, 2021.
Nutrition
Calories:
423
kcal
|
Carbohydrates:
25
g
|
Protein:
34
g
|
Fat:
18
g
|
Saturated Fat:
8
g
|
Polyunsaturated Fat:
2
g
|
Monounsaturated Fat:
9
g
|
Trans Fat:
1
g
|
Cholesterol:
104
mg
|
Sodium:
1110
mg
|
Potassium:
1257
mg
|
Fiber:
3
g
|
Sugar:
6
g
|
Vitamin A:
328
IU
|
Vitamin C:
29
mg
|
Calcium:
100
mg
|
Iron:
6
mg