You HAVE to try this delicious Pork Milanese recipe! There's something magical about pork chops coated in a thin and crispy layer of breadcrumbs and parmesan that is juicy and flavorful on the insides.
The best part is – this is ready under 30 minutes!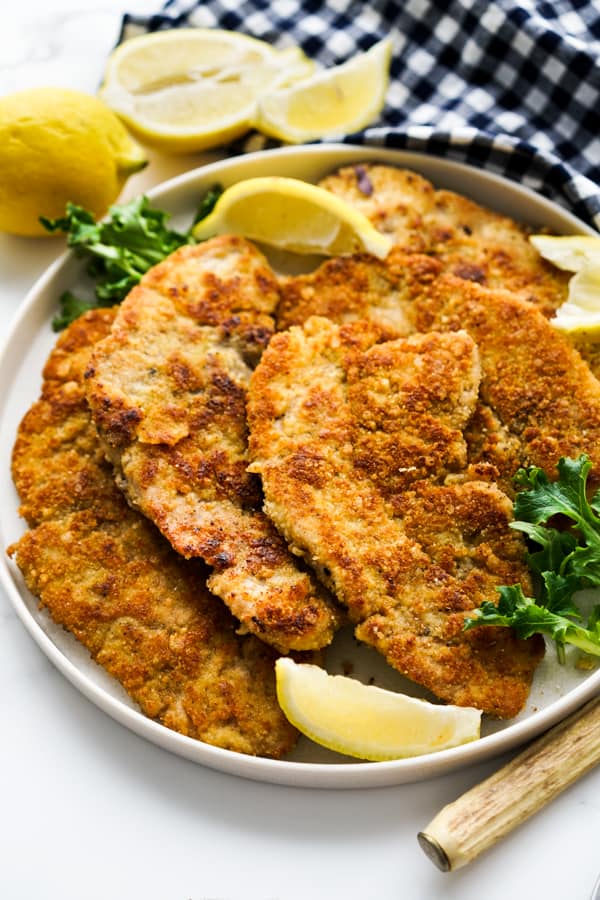 Want more delicious Italian/ Italian inspired dishes? Check these out: Chicken and Spinach Manicotti, Skillet Chicken Parmesan, The Best Spaghetti and Meat Sauce, Lasagna with Béchamel Sauce.
What is Pork Milanese
Pork Milanese is a dish in Italian cuisine. Milanese simply means coating something in egg mixture and seasoned breadcrumbs, and then pan frying it.
Veal Milanese is the more traditional Milanese dish, and Pork Chop Milanese is basically the pork version of it. I like making pork Milanese because pork chops are much easier to find (and cheaper) compared to veal.
I also like using pork cutlets, which are thinly sliced pork chops, when making Pork Milanese. This way you get a lot more crispy breading and flavors in every single bite!
Ingredients
One of the many things I love about Pork Chop Milanese is how simple yet delicious it is.
Made with simple and pantry-friendly ingredients, every one of these ingredients plays a crucial role in bringing amazing flavors and textures:
Pork cutlets or pork chops – if using thick pork chops, slice into half lengthwise or pound it with a meat pounder.
Breadcrumbs
Parmesan cheese – grated. If you have block parmesan cheese, a quick way to grate it is to cut it into smaller pieces and then pulse it in the food processor.
Eggs – used to glue the breading to the pork chops / pork cutlets.
All purpose flour
Oregano – dried oregano works just fine
Basil – dried basil works just fine
Salt
Black pepper
Cooking oil – you can use olive oil, vegetable oil, canola oil, avocado oil…whatever you have at hand is fine!
Salted butter – this will bring some yummy flavors to the pork. Unsalted butter will be less flavorful.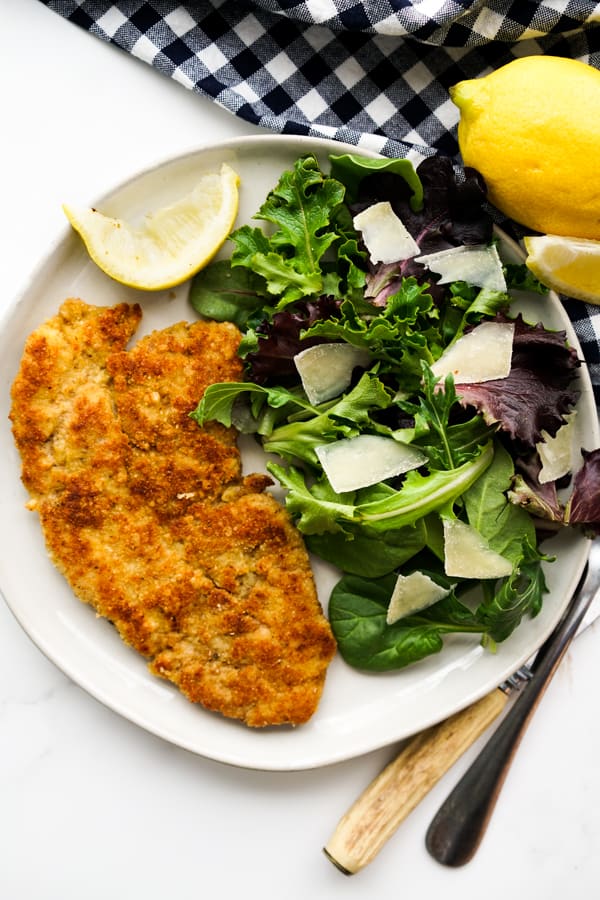 How to Make Pork Chop Milanese
Step 1: Prepare Pork Chop or Pork Cutlets
When making Pork Milanese, I like to select pork cutlets (thinly sliced pork chops) for this recipe. If you are using a thick slice of pork chops, slice it into half lengthwise, and/or slide it into a plastic bag and pound them using a meat pounder to flatten it.
Once they are nice and thin, pat dry pork cutlets to remove access moisture.
Then sprinkle both sides of the pork chops with salt and black pepper. This will bring flavors into the Pork Milanese when seared.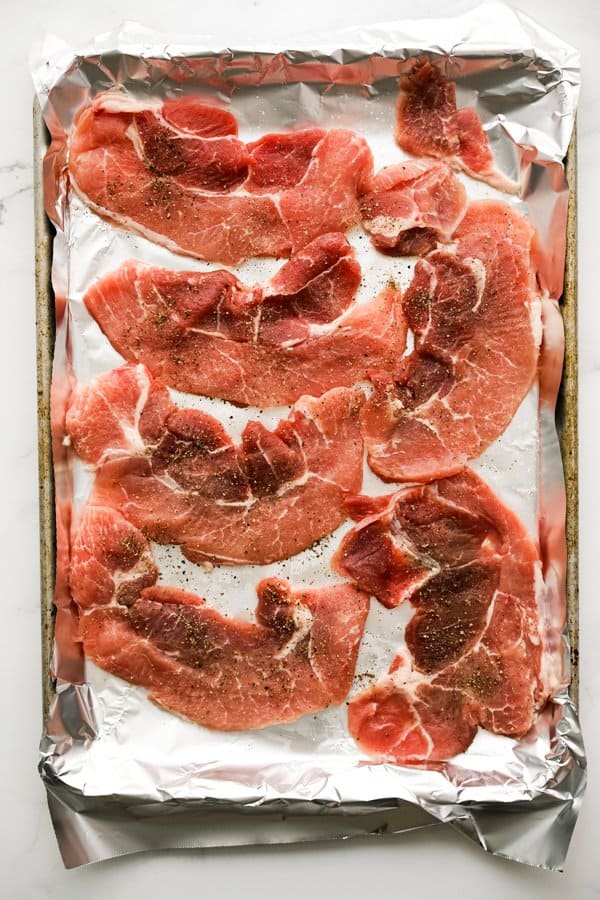 Prepare three separate bowls to make the breading for Pork Milanese: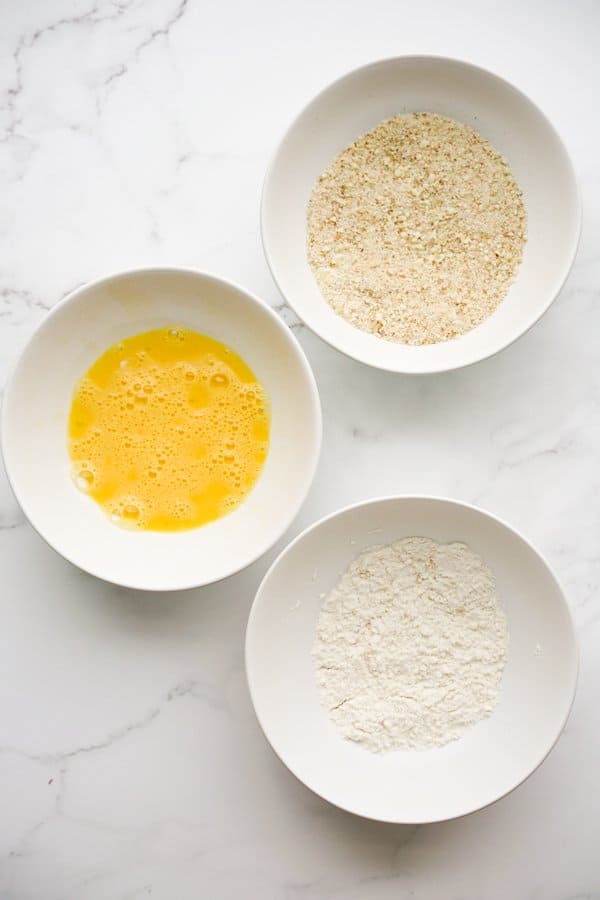 Flour mixture
Egg Mixture – whisk two eggs
Breadcrumb mixture – breadcrumbs, parmesan cheese, dried oregano and dried basil.
Here's how to bread the pork cutlets:
First, coat pork chops on both sides with flour mixture.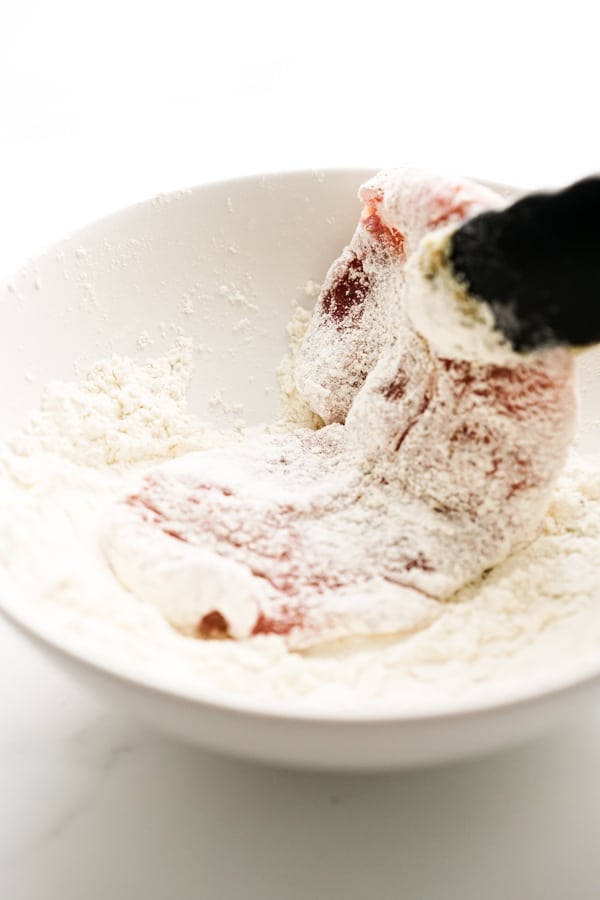 Secondly, coat it in egg mixture.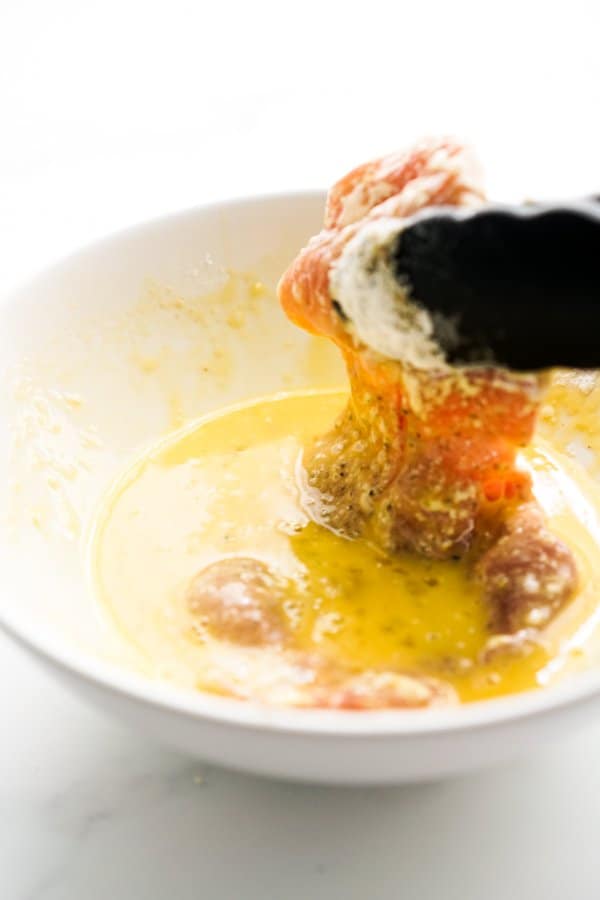 Last but not least, coat it in the breading mixture.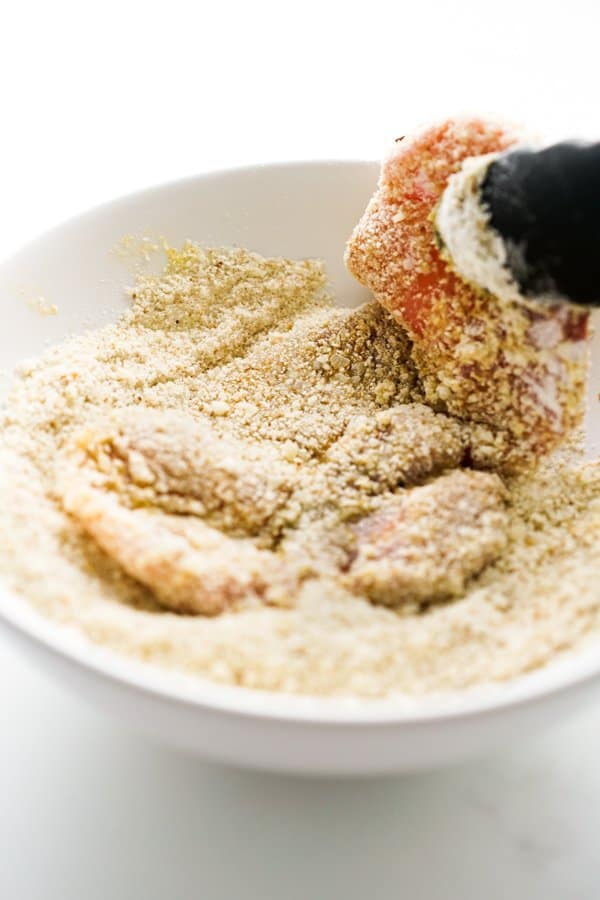 Step 2: Pan fry pork cutlets
Once all the pork cutlets are coated, prepare the skillet by adding cooking oil and salted butter to it. We are using butter to give it some additional flavor that only butter can bring. 🙂
Then, heat skillet under medium heat.
Wait until skillet is heated, then sear pork chops on one side for 2-3 minutes. Avoid adding pork to lukewarm oil – oil should be hot and bubbly when you add the pork to it.
When the bottom of the pork cutlet is golden brown, flip, and sear the other side.
Pork is done when internal temperature reaches 145℉. You can test that out using a meat thermometer. Once pork it done, remove promptly from heat.
If pork sits in the skillet for too long, it will be overcooked and tough. You will want to avoid that!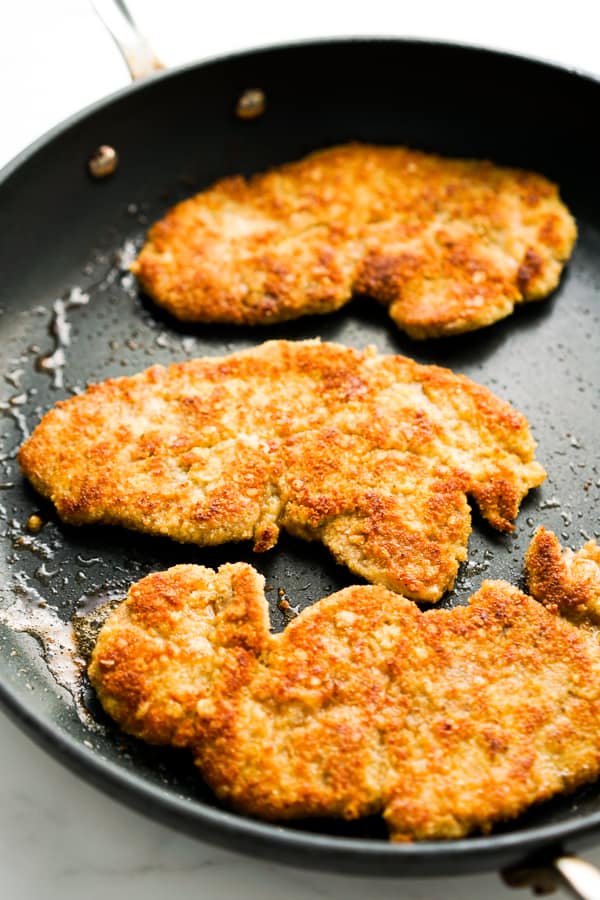 Pork Milanese should be crispy and golden brown on the outside, and still juicy and tender on the inside.
I also like to squeeze a little bit of lemon juice to it to give it a bite of freshness and open up the flavors even more!
Pork Chop Milanese is so very delicious! A quick and easy Italian dish that everyone will love. 🧡
Tips and Tricks
Make sure pork chops are completely defrosted and pat dry to remove access moisture before breading pork.
Wait until oil in skillet is hot before adding pork to skillet to sear it.
When skillet gets too hot during cooking, feel free to lower heat slightly so that pork chops will not be burnt before the insides are cooked.
When cooking pork cutlets, they should not overlap on the skillet. Cook in two batches if needed.
Avoid overcooking Pork Milanese – remove promptly once internal temperature reaches 145℉. Don't leave pork cutlets on the hot skillet as it will continue cooking. Overcooked pork will no longer be juicy and tender.
What to serve with Pork Milanese
So many ways to serve this delicious pork recipe!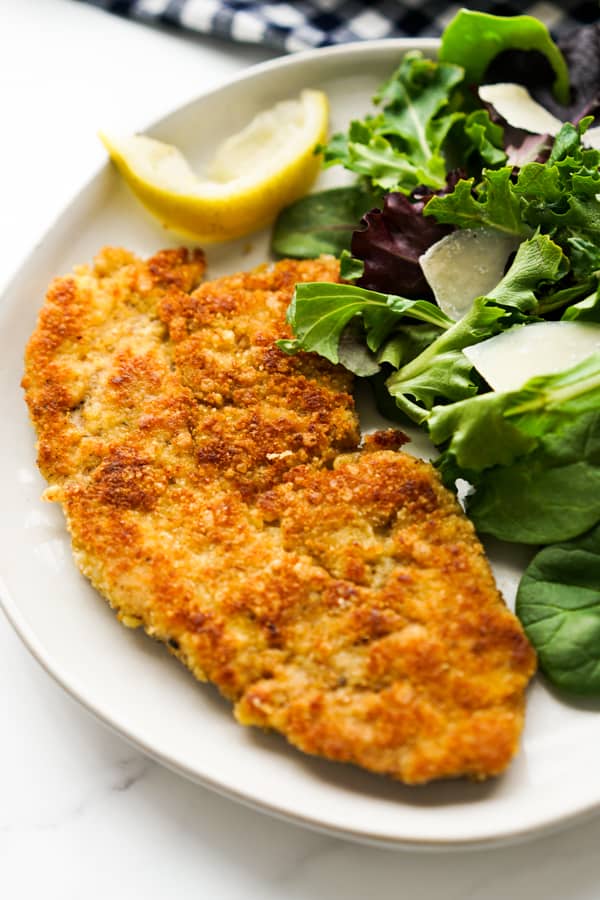 Frequently Asked Questions
Can I use bone-in pork chops?
Yes! Bone-in meat provides actually has more flavor. I would still encourage using a thin slice of (bone-in) meat. Do keep in mind that with bone-in pork chops, it will be harder to slice into half lengthwise.
What is the best way to reheat this?
Reheat in the oven or on a skillet so that Pork Milanese will remain crispy. Pork will no longer be crispy if reheated in the microwave
What other herbs can I use for the breadcrumb mixture?
Thyme, rosemary, parsley or Italian seasoning works great as well.
DID YOU ENJOY THIS RECIPE? Please comment below and give us a 5-star rating! This will help others find this recipe on Google and Pinterest. We very much appreciate your help! 🤍
Other Easy Dinner Recipes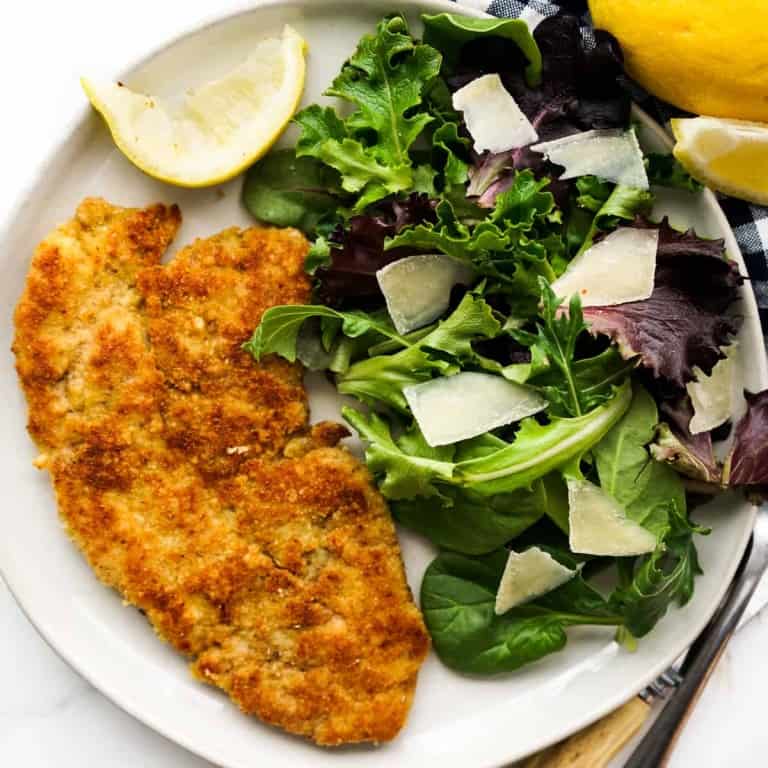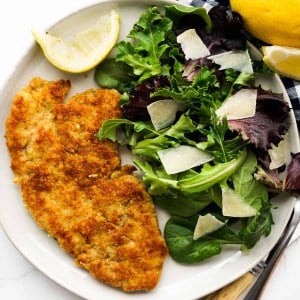 Pork Milanese
An Italian recipe! Pork cutlets coated in crispy parmesan breadcrumbs on the outside, and tender and juicy on the inside. A delicious meal ready under 30 minutes!
Print
Pin
Ingredients
1-1.5

lbs

pork cutlets

thinly sliced

salt

black pepper

1/3

cup

all purpose flour

2

large eggs

1/2

cup

breadcrumbs

1/3

cup

parmesan cheese

grated

1

tsp

dried oregano

1

tsp

dried basil

1-2 tsp

tsp

cooking

1

tbsp

salted butter

1

lemon

wedges, optional
Instructions
Pat dry pork cutlets (See Note 1) and season both sides with salt and black pepper.

Prepare 3 separate bowls of breading mixture. First bowl: all purpose flour. Second bowl: whisked eggs. Third bowl: mix together breadcrumbs, oregano and basil.

Dip pork cutlet one at a time into flour mixture, then egg mixture, and then breadcrumb mixture. Make sure to coat well on both sides. Repeat until all cutlets are coated.

Heat skillet under medium heat. Add cooking oil. Once oil is heated, sear pork on one side for 2-3 minutes, or until golden brown, flip, and sear the other side until it is cooked. Lower heat as needed if/when the skillet is too hot. Internal temperature should be at least 145°F when pork is cooked. Remove from heat promptly. (See Note 2)

Serve with lemon wedges and enjoy!
Notes
Note 1: if using thick pork chops, slice it thinly (1/4 inch thick) lengthwise and/or pound it with a meat pounder to flatten it.
Note 2: Pork cutlets should NOT overlap on the skillet. Cook in two batches if needed.
Nutrition
Calories:
275
kcal
|
Carbohydrates:
17
g
|
Protein:
28
g
|
Fat:
10
g
|
Saturated Fat:
4
g
|
Polyunsaturated Fat:
1
g
|
Monounsaturated Fat:
4
g
|
Trans Fat:
0.1
g
|
Cholesterol:
136
mg
|
Sodium:
739
mg
|
Potassium:
458
mg
|
Fiber:
2
g
|
Sugar:
1
g
|
Vitamin A:
232
IU
|
Vitamin C:
11
mg
|
Calcium:
134
mg
|
Iron:
2
mg