Easy Garlic Parmesan Asparagus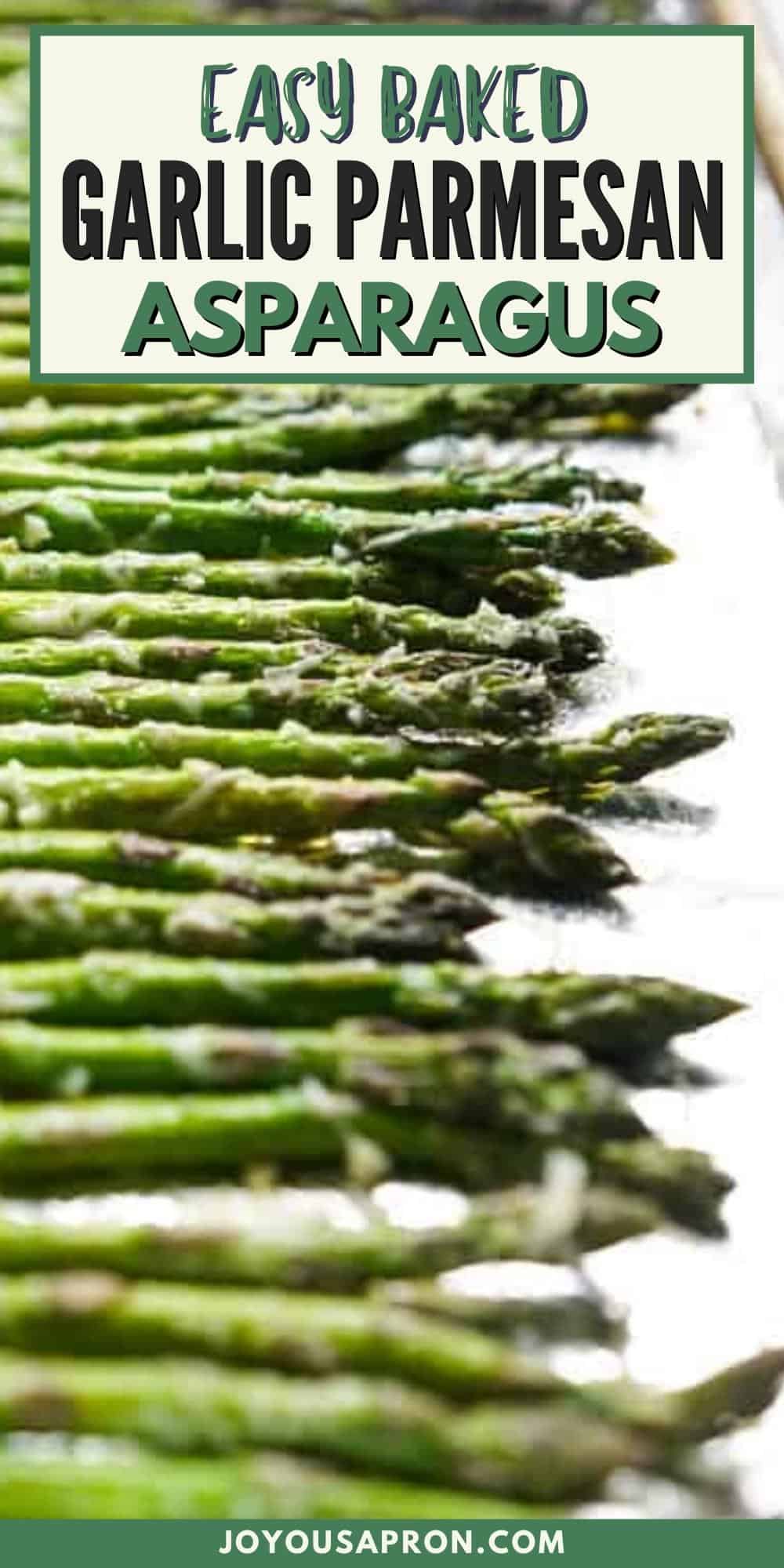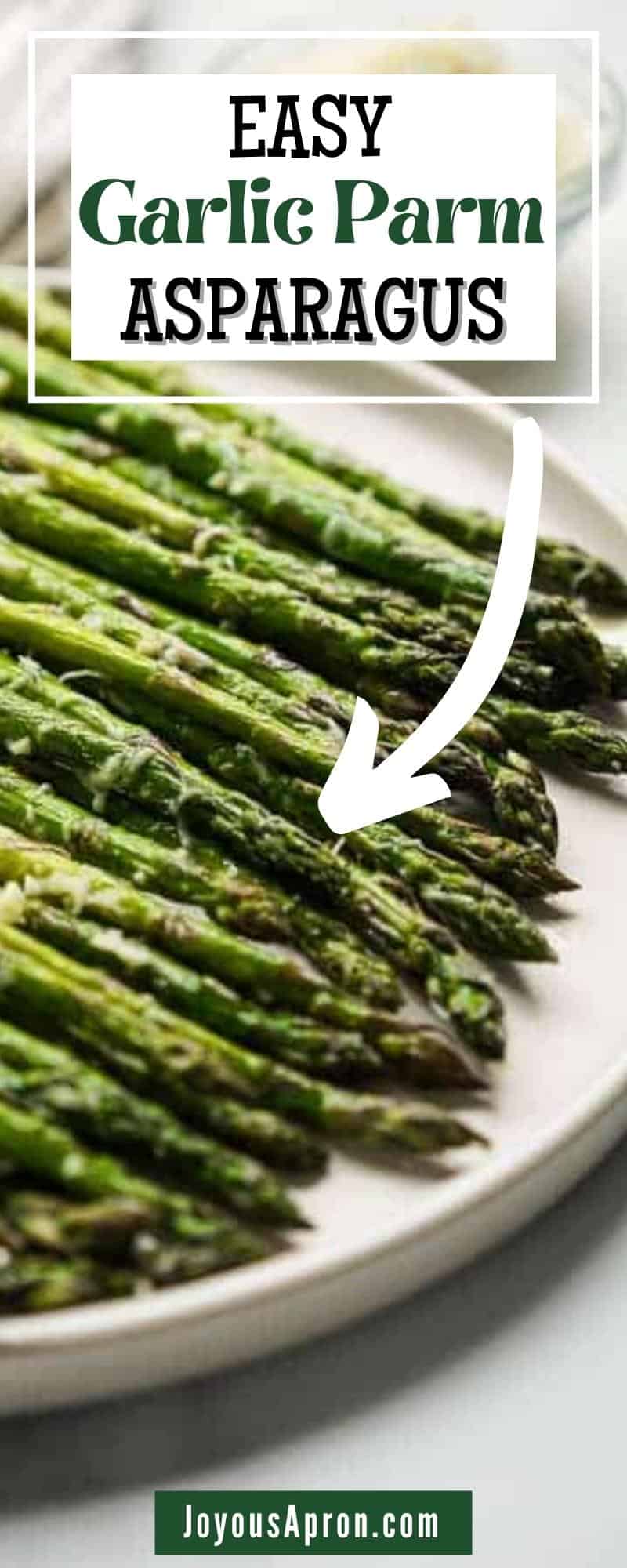 This Easy Baked Garlic Parmesan Asparagus is the only oven roasted asparagus recipe you will ever need! Asparagus, topped with minced garlic and freshly grated parmesan, perfectly roasted in the oven.
So yum, only 5 ingredients, and ready under 15 minutes!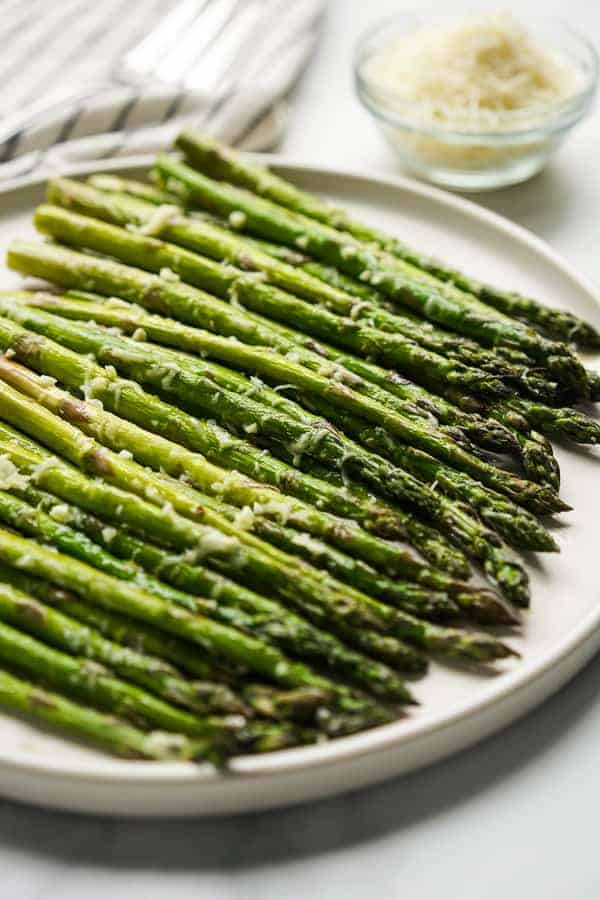 Looking for more healthy, simple yet tasty vegetable side dishes? Check out some of my other favorites: Garlic Sautéed Spinach, Roasted Whole Carrots, and Roasted Lemon Garlic Broccoli.
An Easy Asparagus Side Dish
Asparagus is one of those love-it or hate-it vegetables. But I'm telling you, once you coat it in fresh minced garlic and grated parmesan, baked them in the oven, it's such a game changer.
If you love as asparagus, you will love this Baked Garlic Parmesan Asparagus.
If you don't, this may just be the recipe that changes your mind!
The truth is, when cooked well, asparagus makes a delicious, lovely vegetable dish.
When cooking asparagus, the worse thing you can do is overcook it. It has a slightly bitter aftertaste, so if you overcook it, the bitter taste will increase (no clue why) and it will turn soggy and slightly sour.
The way to go about asparagus is to cook it quickly and compliment it with lots of yummy ingredients.
In this Roasted Garlic Parmesan Asparagus recipe, we are baking it for only 7-10 minutes in the oven, and topping it with lots of shredded parmesan and garlicky goodness.
This Garlic Parmesan Asparagus recipe is super simple, but it is a must-share because not only is it delicious, hello? ~5 minutes prep time, 7-10 minutes oven time!
Nobody should be keeping food secrets like that to themselves!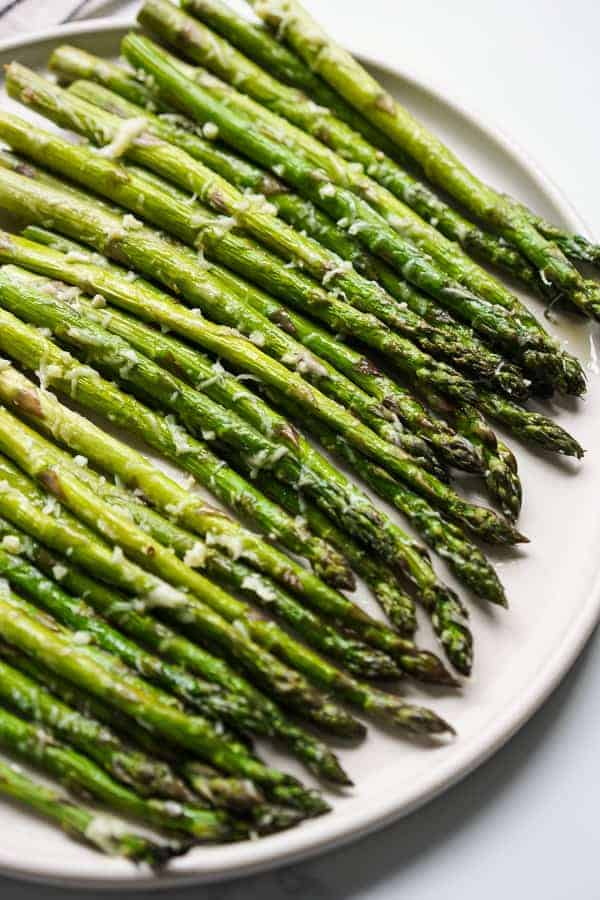 Ingredient Notes
Garlic Parmesan Asparagus calls for 5 simple, pantry-friendly ingredients. The name itself kinda give away most of the ingredients, but nonetheless, here they are 🙂
asparagus – fresh asparagus works best for this. I would avoid frozen or canned. They can be found year round in the grocery stores, but their peak season is Spring. You will most likely find asparagus being the freshest and least inexpensive during Spring time.
garlic – use fresh garlic, and avoid garlic powder. The flavors are just not the same
parmesan – grate a block of parmesan cheese so that it is in fine, little pieces. Or get ready-grated parmesan. I prefer the refrigerated grated parmesan, vs the non-refrigerated ones.
olive oil – or your favorite cooking oil
salt – use to open up the flavors and adding a bit of saltiness to Garlic Parmesan Asparagus
How to make Baked Garlic Parmesan Asparagus
Let's make this delicious and oh-so-easy Parmesan Garlic Asparagus dish!
Step 1: Wash and cut asparagus
Make sure to clean your asparagus (or any vegetable) before cutting and cooking them.
I typically cut an inch off the stems of the bottom of the asparagus. This is usually the "toughest" part of the vegetable because it has a lot of fiber (a bit too much for easy chewing).
It is not necessary but I do think asparagus tastes better this way.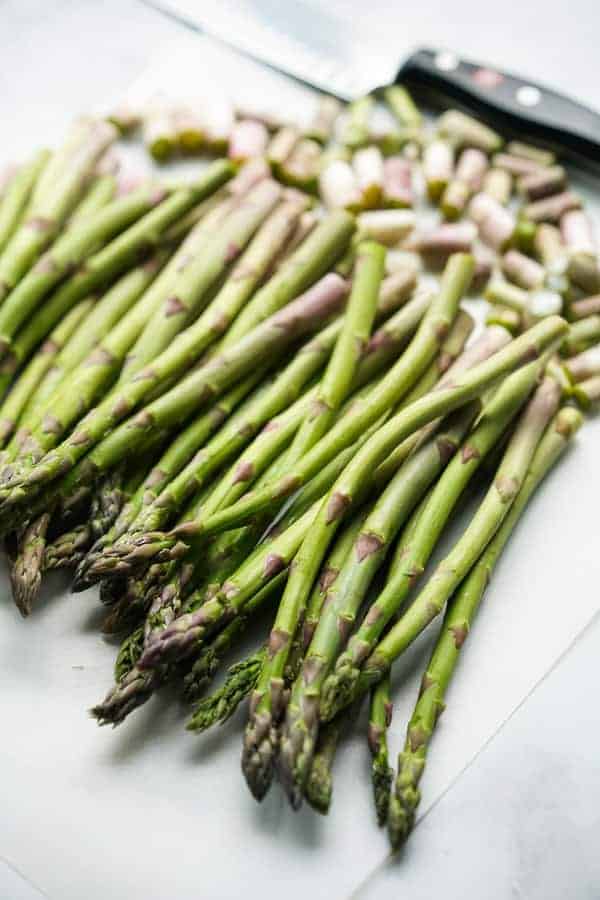 Step 2: Prepare garlic and parmesan
Next, grate some parmesan cheese. I love fresh parmesan blocks. You can also use ready-shredded or grated fresh parmesan also that is found in the refrigerated section.
I would say avoid the non-refrigerated shredded parmesan because the flavor from those is quite different and definitely not as good as the fresh ones.
And then mince a few cloves of garlic. If you like your dishes more garlicky, use more!
Avoid using garlic powder or even ready minced garlic.
Step 3: Toss asparagus in seasonings
To coat asparagus with seasonings, I lay asparagus down on a baking sheet lined with aluminum foil or parchment paper (for easy cleanup).
Add olive oil, minced garlic and parmesan cheese onto asparagus, then use your hands or a spatula and to toss and evenly coat asparagus.
Then spread them out
They can be placed closely right next to each other, but avoid overlapping them on top of each other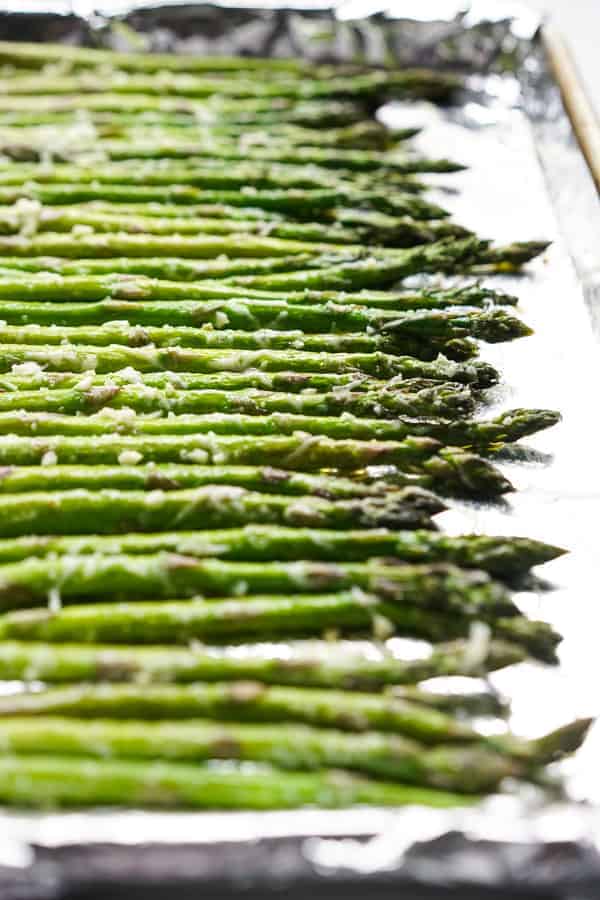 Step 4: Bake asparagus
Bake Garlic Parmesan Asparagus in the oven for 7-10 minutes. Thinner asparagus will require shorter bake time than thicker ones, and if you like it crispy cook it closer to the 7 minute mark.
If you are unsure, check for doneness at 7 minutes and then go from there.
Step 5: Serve!
When it is done baking, I like to sprinkle some salt all over to taste.
The parmesan does give it a component of saltiness, but I a bit more salt to bring out the flavors even more.
That's pretty much it, guys! An Easy Garlic Parmesan Asparagus recipe that is crispy, soft and loaded with amazing flavors.
With Easter coming soon, this is also the perfect side for your Easter brunch. Healthy, delicious and not to mention, so easy to make!
Asparagus is also in season in Spring when Easter typically falls – so you will find them at its peak during this time…so more reasons to make some of this delicious Garlic Parmesan Asparagus!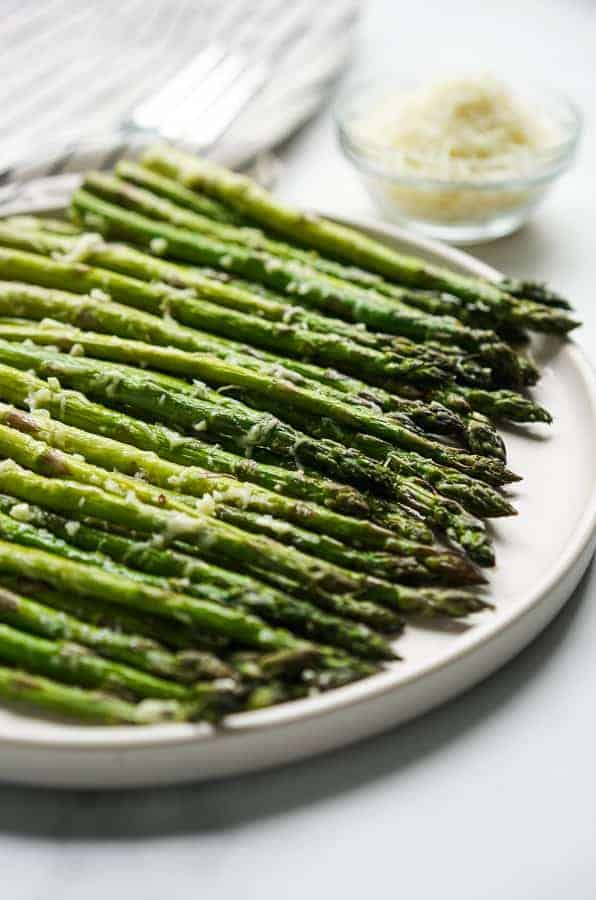 Air Fryer Instructions
Yes! This Garlic Parmesan Asparagus recipe can also be cooked in the air fryer.
To do so, instead of baking in the oven, cook asparagus in the air fryer for 7-8 minutes at 425℉.
Recipe Notes
A few things to keep in mind when you make Garlic Parmesan Asparagus:
Remove the bottom stems of the asparagus as it's often though and hard to bite into.
Line baking sheet with aluminum foil or parchment paper for easier cleanup!
Asparagus can vary quite a bit in size, so check at the 7-minute mark and roast asparagus for longer if needed. If you like your asparagus softer, bake it longer as well.
Don't forget to add salt at the end to taste. Salt will open up the flavors and make the dish a lot more flavorful (it's not just to add saltiness to the dish).
Frequently Asked Questions
What other seasonings or ingredient can I add to Garlic Parmesan Asparagus?
I really like some lemon juice on this as well! Really opens up the flavors. You can also add an herb of your liking: thyme, dill, parsley, Italian seasoning, etc.
How do I make asparagus crispier?
Right before bringing asparagus to the oven, spray cooking oil on the tops of asparagus. Moving the oven rack closer to the top of the oven will also make asparagus crisper, but you would want to check on it to avoid burning the asparagus. Another option is to broil it for 1-2 minutes at the end. Again, you want to make sure you don't burn the asparagus if you do this.
How do I reheat this?
To reheat Parmesan Garlic Asparagus, microwave it, or bake asparagus in the toaster oven or oven. Baking will retain the crispy texture.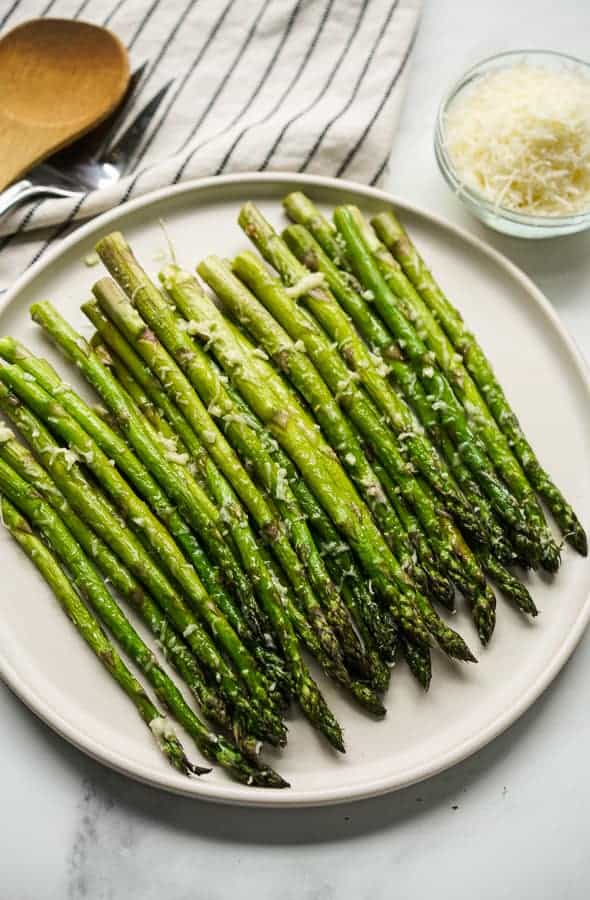 Other asparagus recipes!
If you love cooking with asparagus, check out some of these recipes with asparagus:
DID YOU ENJOY THIS RECIPE? Please comment below and give us a 5-star rating! This will help others find this recipe on Google and Pinterest. We very much appreciate your help! 🤍
Other Side Dish Recipes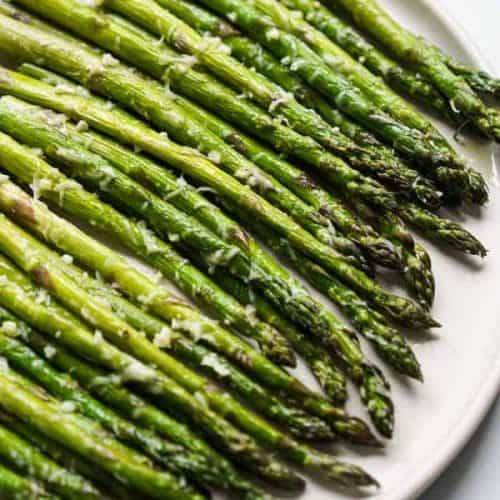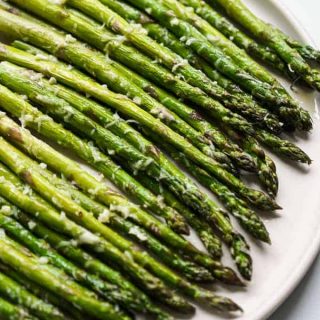 Easy Baked Garlic Parmesan Asparagus
Oven baked asparagus tossed in garlic and fresh shredded parmesan cheese. Delicious, healthy and so easy to make! The perfect side for your everyday dinner or holiday meal!
Print
Pin
Ingredients
1/2

lbs

asparagus

1 1/2

tbsp

extra virgin olive oil

3-5

cloves

garlic

minced

1/3

cup

parmesan cheese

shredded

salt

to taste
Instructions
Pre-heat oven at 400 degrees F

Wash and cut ends of the asparagus

Mix garlic and olive oil in a small bowl

Line asparagus on baking sheet lined with aluminum foil or parchment paper. Place asparagus on baking sheet.

Add olive oil, minced garlic and parmesan cheese onto asparagus, then use your hands or a spatula and to toss and evenly coat asparagus.

Spread asparagus. They can touch but avoid overlapping. Use two baking sheets if needed.

Bake in the oven for 7-10 minutes, depending on the thickness of asparagus. Check at the 7-minute mark and then add additional time if needed. Cook for longer if you like it less crunchy.

Remove from oven and sprinkle with some salt to taste if needed.
Nutrition
Calories:
94
kcal
|
Carbohydrates:
3
g
|
Protein:
4
g
|
Fat:
7
g
|
Saturated Fat:
2
g
|
Polyunsaturated Fat:
1
g
|
Monounsaturated Fat:
4
g
|
Cholesterol:
6
mg
|
Sodium:
145
mg
|
Potassium:
131
mg
|
Fiber:
1
g
|
Sugar:
1
g
|
Vitamin A:
494
IU
|
Vitamin C:
4
mg
|
Calcium:
116
mg
|
Iron:
1
mg