This post may contain Amazon or other affiliate links. As an Amazon Associate I earn from qualifying purchases at no additional cost to you.
Okay DANG. This Easy Garlic Parmesan Asparagus is da bomb. Whatever your relationship status is with asparagus, I highly recommend giving this a try.
Asparagus, topped with minced garlic and freshly grated parmesan, perfectly roasted in the oven. So yum, only 5 ingredients, and it takes only ~15 minutes to make!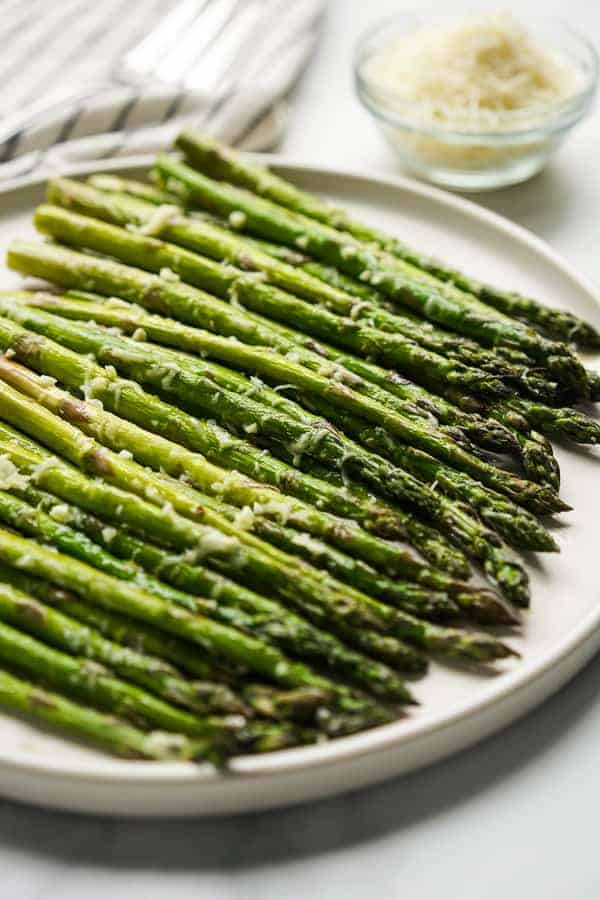 OH YES YES YES.
Yummy, easy, the perfect side for your everyday dinner, or even Easter Sunday/any holiday! It always make me look like I put in a ton of effort, but I really didn't…ha!
The secret behind the deliciousness
I was never the kid who hated vegetables. We have veggies on the dinner table daily, and we were told we need to eat them because they are part of a balanced diet.
No questions asked. No opinions heard.
So honestly I don't know if I have always liked them or I was just trained to eat them, and then eventually came to like (most of) them. Nurture versus nature? Who knows! But let's not go there. This is after all, a food blog. 🙂
Asparagus is one of those love-it or hate-it vegetables. Kids especially have a hard time with them.
But the truth is, it is such a versatile vegetable. There are so many ways to cook it, and many ways to make it taste super delicious.
When cooking asparagus, the worse thing you can do is overcook it. It has a slightly bitter aftertaste, so if you overcook it, the bitter taste will increase (no clue why) and it will turn soggy and slightly sour.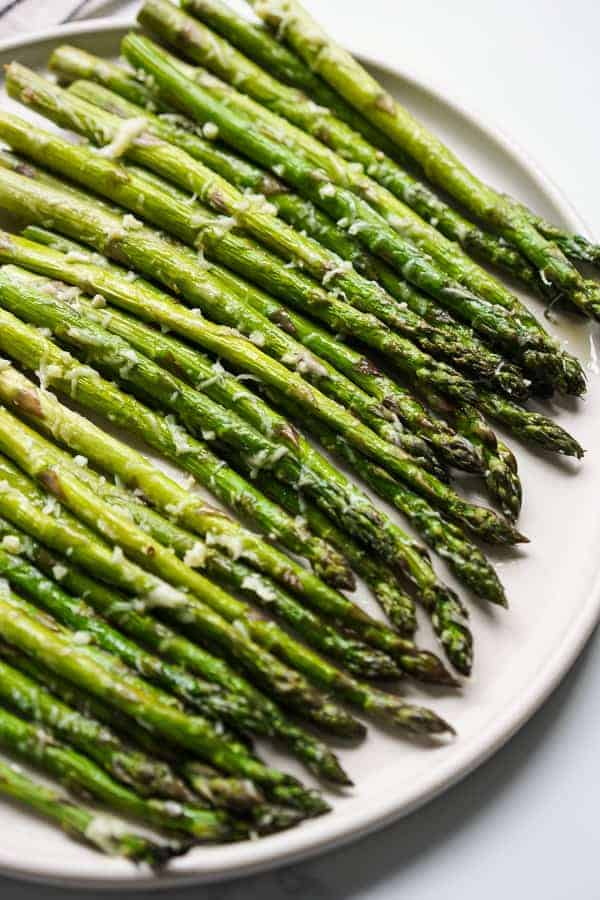 The way to go about asparagus is to cook it quickly and compliment it with lots of yummy ingredients.
In this case, we are baking it for only 7-10 minutes in the oven, and topping it with lots of shredded parmesan and garlicky goodness.
This recipe is super simple, but it is a must-share because not only is it delicious, hello? ~5 minutes prep time, 7-10 minutes oven time! Nobody should be keeping food secrets like that to themselves!
How to make Easy Garlic Parmesan Asparagus
First, I typically cut an inch off the stems of the asparagus. This is usually the "toughest" part of the vegetable because it has a lot of fiber (a bit too much for easy chewing).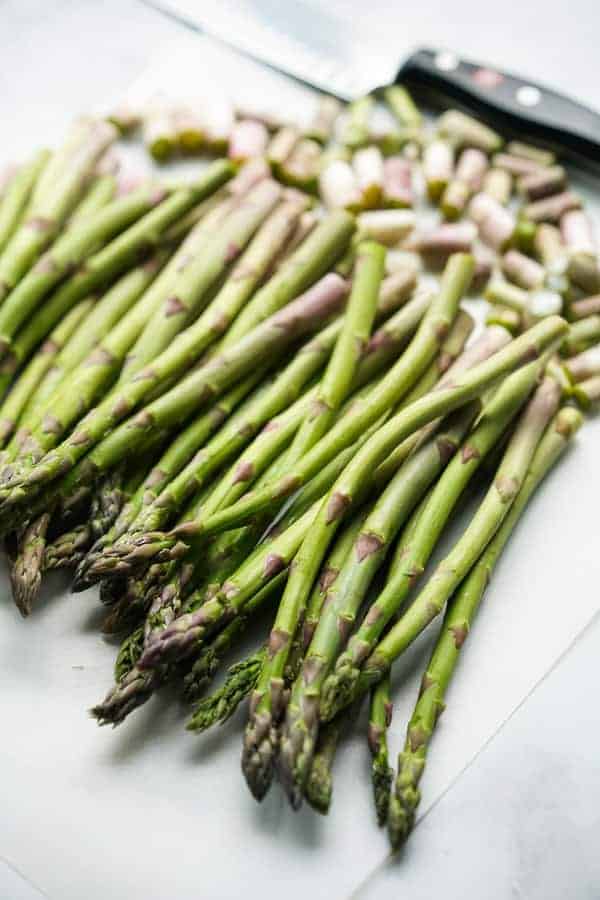 Next, grate some parmesan cheese. I love fresh parmesan blocks. You can also use shredded fresh parmesan also that is found in the refrigerated section.
I would say avoid the non-refrigerated shredded parmesan because the flavor from those is quite different and definitely not as good as the fresh ones.
And then mince a few cloves of garlic. If you like your dishes more garlicky, use more!
Avoid using garlic powder or even ready minced garlic.
Next, bring asparagus to a baking sheet lined with parchment paper for easy clean up.
Add olive oil, minced garlic and parmesan cheese onto asparagus, then use your hands or a spatula and to toss and evenly coat asparagus.
Spread out the asparagus on the baking sheet. You can overlap some of the asparagus but try not to overcrowd it.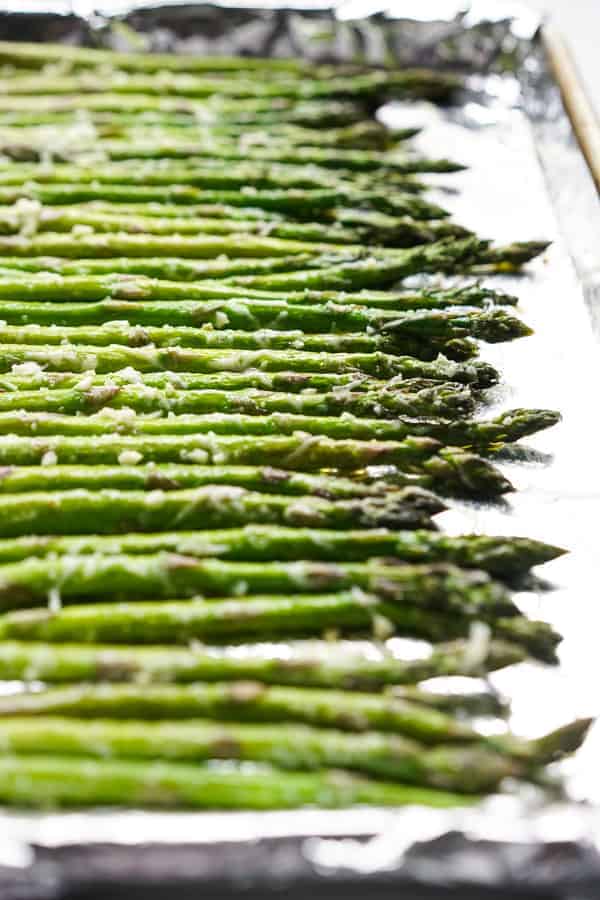 Bake in the oven for 7-10 minutes. Thinner asparagus will require shorter bake time than thicker ones, and if you like it crispy cook it closer to the 7 minute mark.
If you are unsure, check for doneness at 7 minutes and then go from there.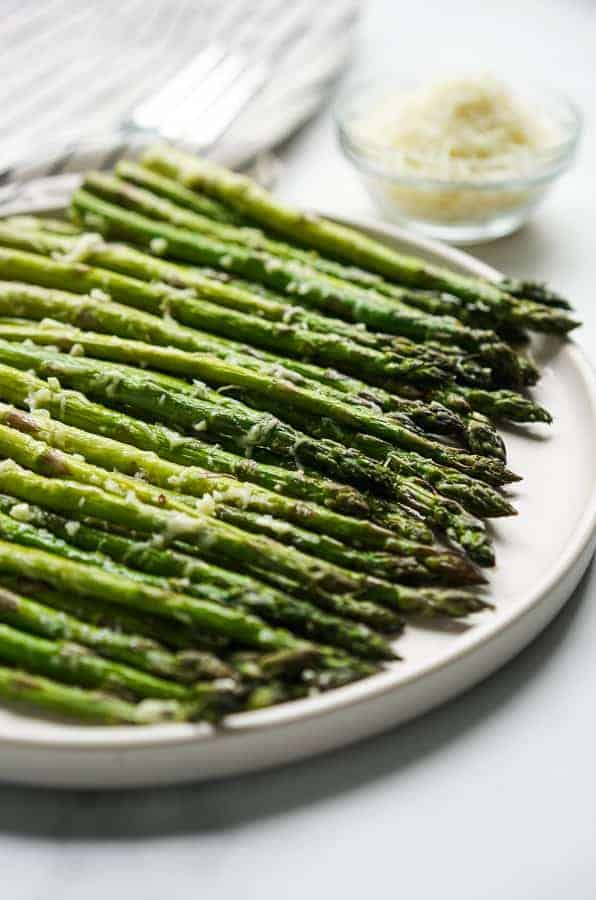 Last but definitely not least, I like to sprinkle some salt all over. The parmesan does give it a component of saltiness, but I a bit more salt to bring out the flavors even more.
That's pretty much it, guys! It goes perfectly with any meat or seafood dish.
With Easter coming soon, this is also the perfect side for your Easter brunch. Healthy, delicious and not to mention, so easy to make!
Give it a try! And leave a comment below to let me know what you think!
Love this recipe? Comment below and give us a 5-star rating! Also, take a picture of your creation and tag me on Instagram, because I WANNA SEE!!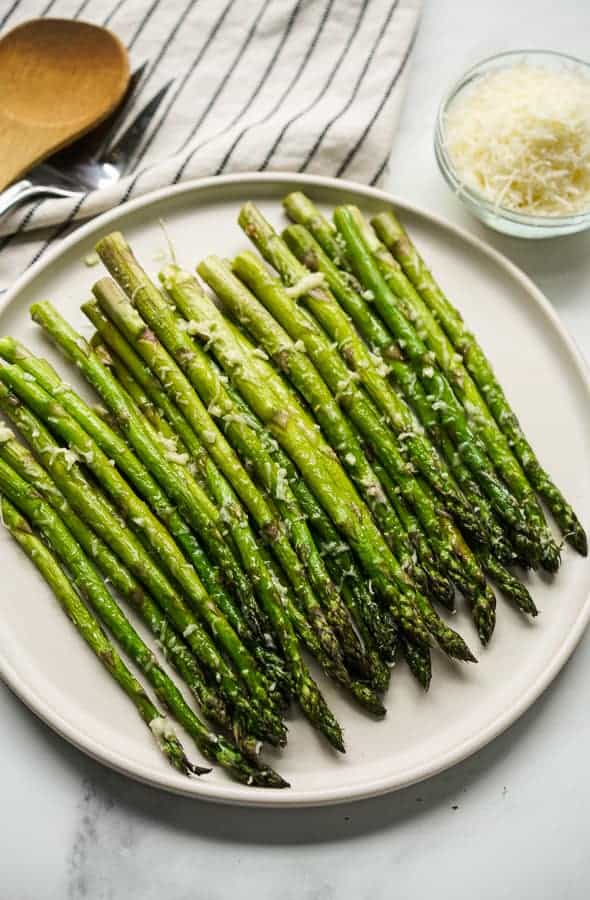 Another asparagus recipe!
Because I do love my asparagus. This one is so good, you guys! One of my all-time favorite way to incorporate asparagus with protein. And guess what? Only 30 minutes from start to finish. YES!!
Chicken and Asparagus Stir Fry
Other Veggie Recipes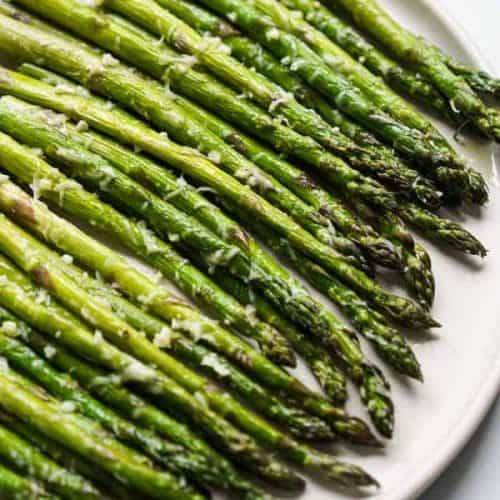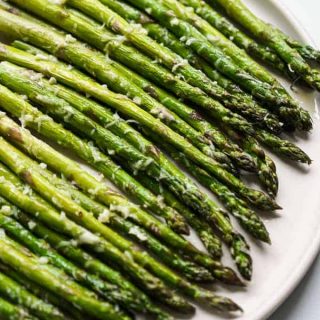 Easy Garlic Parmesan Asparagus
Asparagus, topped with lots of fragrant garlic and fresh shredded parmesan cheese, perfectly roasted in the oven. Delicious, healthy and so easy to make! The perfect side for your everyday dinner or holiday meal!
Print
Pin
Ingredients
1/2

lbs

asparagus

3-5

cloves

garlic

minced

1 1/2

tbsp

extra virgin olive oil

1/3

cup

shredded parmesan cheese

packed

salt

to taste
Instructions
Pre-heat oven at 400 degrees F

Wash and cut ends of the asparagus

Mix garlic and olive oil in a small bowl

Line asparagus on baking sheet lined with parchment paper. Place asparagus on baking sheet.

Add olive oil, minced garlic and parmesan cheese onto asparagus, then use your hands or a spatula and to toss and evenly coat asparagus.

Spread aspragus out and avoid overlapping. Use two baking sheets if needed.

Bake in the oven for 7-10 minutes, depending on the thickness of asparagus. Check at the 7-minute mark and then add additional time if needed. Cook for longer if you like it less crunchy.

Remove from oven and sprinkle with some salt to taste if needed.