Mexican Chicken Casserole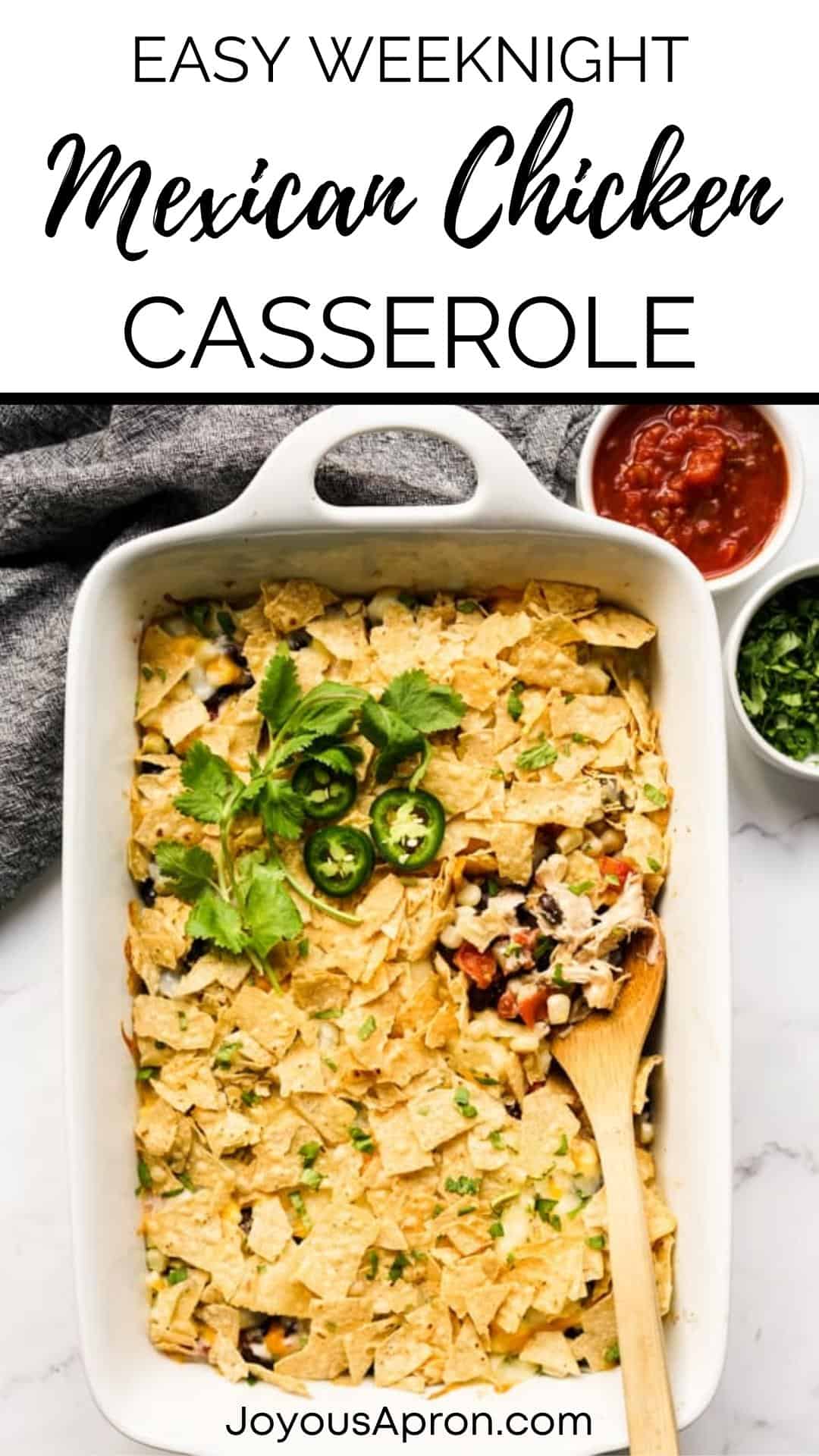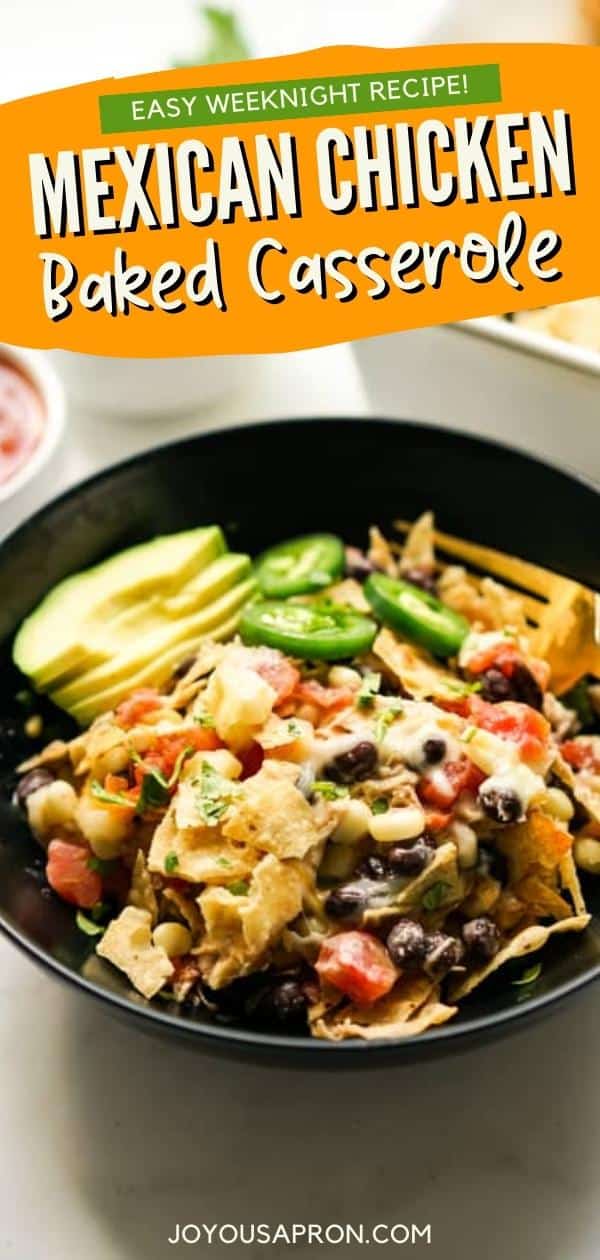 This easy and delicious Mexican Chicken Casserole makes a satisfying dinner any day! Chicken, black beans, corn, tomatoes, cheese and tortilla chips are layered in a casserole, infused with Mexican inspired spices, then oven baked until the cheese melts and the flavors merge together. Yummy!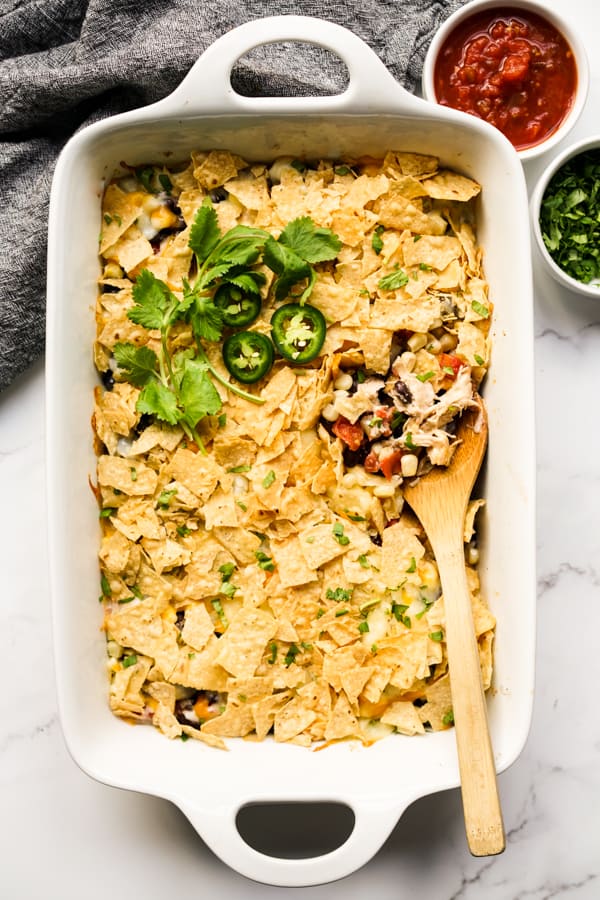 Similar to Chicken Enchilada Casserole or Slow Cooker Chicken Taco Soup, we are bringing together familiar Mexican seasonings, spices and ingredients and combining it into an easy one plate meal.
It's great for busy nights, for meal preps, for when you want lots of leftovers!
While this Mexican Chicken Casserole is not an authentic Mexican dish, it combines lots of flavors and ingredients that will remind you of tacos, enchiladas and your favorite Mexican/ Tex-Mex meal.
We make this whenever we are craving those gorgeous Mexican flavors, yet we want something quick that we can whip together, and something super easy to eat.
Just layer the ingredients and send it into the oven.
Then scoop it out into one plate, add your toppings and sauces and eat your heart out!
I cannot tell you how many times this made dinner (and life) so much more pleasant on busy days!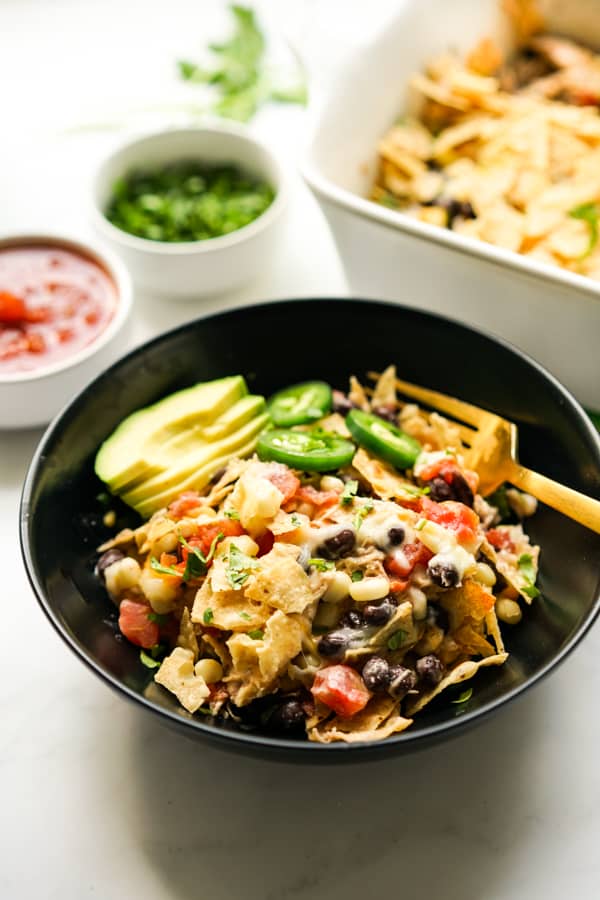 Ingredients
It is also made with pantry-friendly ingredients!
You will likely already have most of these ingredients in your pantry or fridge!
Chicken breast – I use boneless, skinless chicken breast. You can also use chicken thighs. If you want to make this even simpler, shred up store-bought rotisserie chicken and skip the cooking-the-chicken step!
Sour cream – responsible for making the dish creamy, but still not too overly heavy. It also has a fairly neutral and not over powering flavor.
Ground cumin – important seasoning to bring about all the yummy flavors that remind you of Mexican food
Paprika – smoked paprika works great too
Garlic powder – no need to use fresh garlic, this is much easier and works just as well for a recipe this!
Onion powder – no need to chop up fresh onions!
Rotel – basically canned tomatoes and green chilies. If you like spicer, use 'hot' Rotel, if not stick to 'mild'!
Black beans – I use canned – make sure to drain it first!
Corn – frozen or canned works great! Drain the liquid if using canned corn.
Cheese – I like using Colby jack, Monterey jack, Mexican blend, cheddar, or a mixture!
Tortilla chips – crush it up. I always prefer to use low salt or no salt tortilla chips. You can also use flavored tortilla chips like Doritos.
How to make Mexican Chicken Casserole
Step 1: Cook and season chicken
Start by boiling chicken breast in water in a pot. Once it is done use two forks and shred chicken.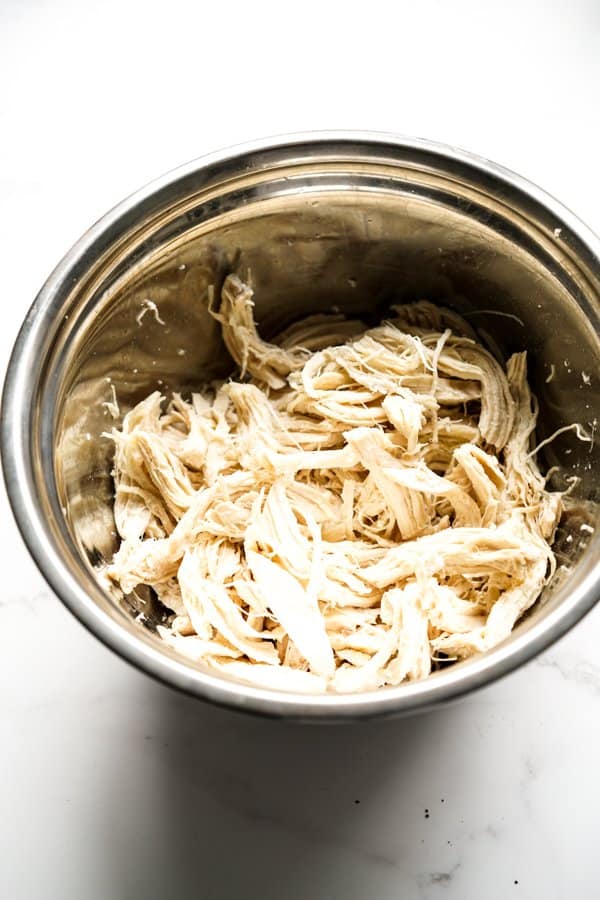 Alternatively, you can also purchase a store-bought rotisserie chicken and shred it up. Or if you have leftover cooked chicken, shred it up and use it!
Combine chicken with sour cream, garlic powder, cumin, paprika, onion powder and salt, so that the chicken itself is creamy and flavorful.
No bland chicken business here!!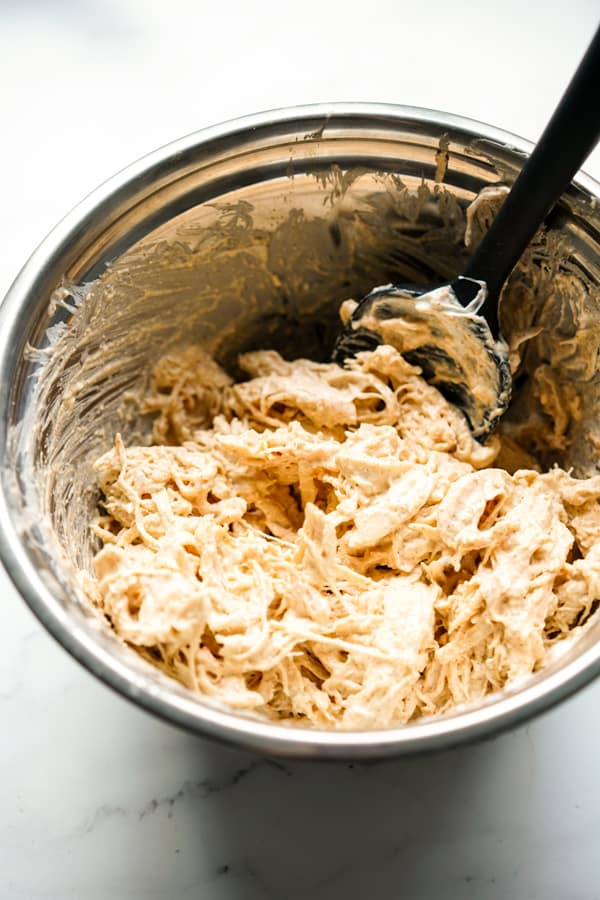 Step 2: Layer Casserole
Grease a 9′ x 13′ rectangular casserole dish with cooking oil spray, and then it's time to layer!
Start by bringing the creamy chicken to the bottom of the casserole dish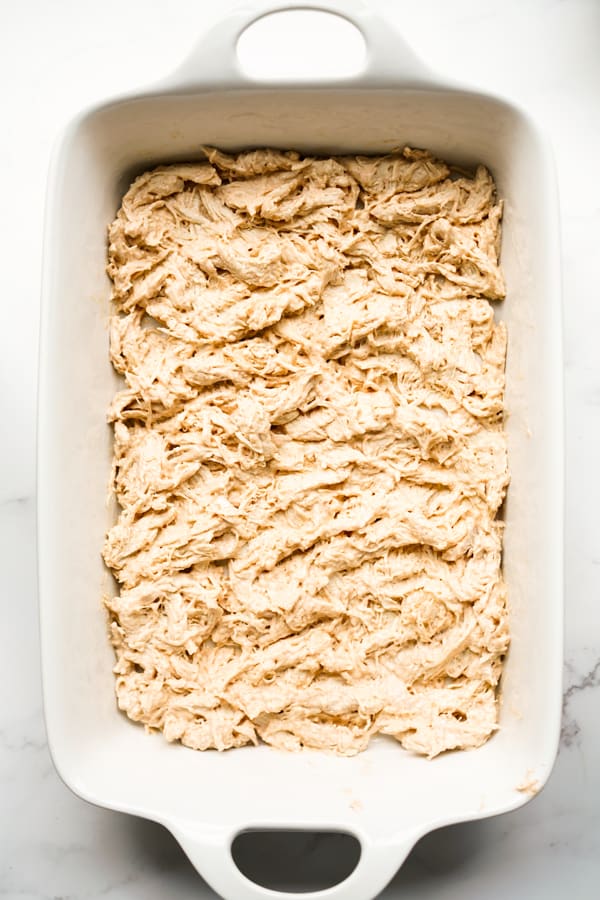 Next, add Rotel (tomatoes and green chilies). Be sure to drain access water.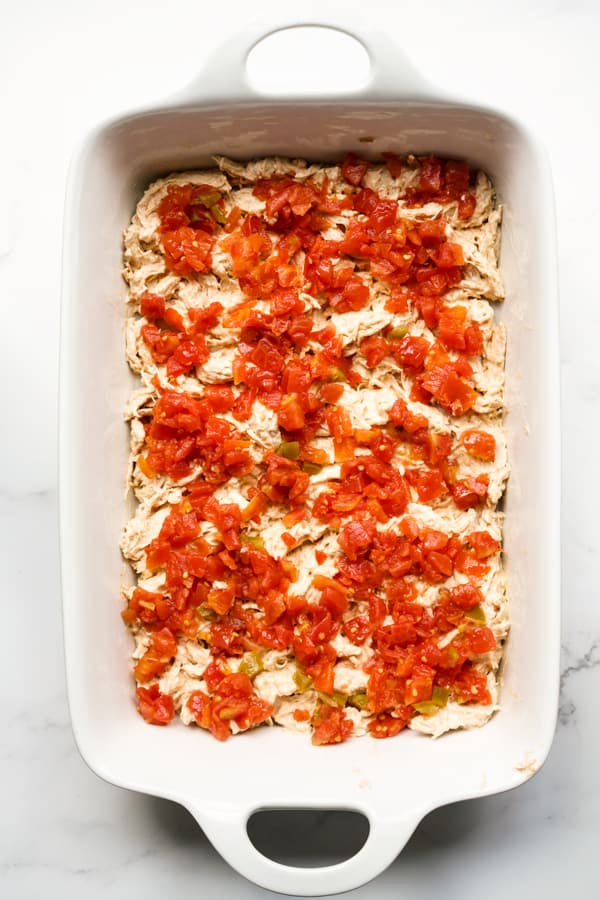 After that: black beans…
(also be sure to drain access water)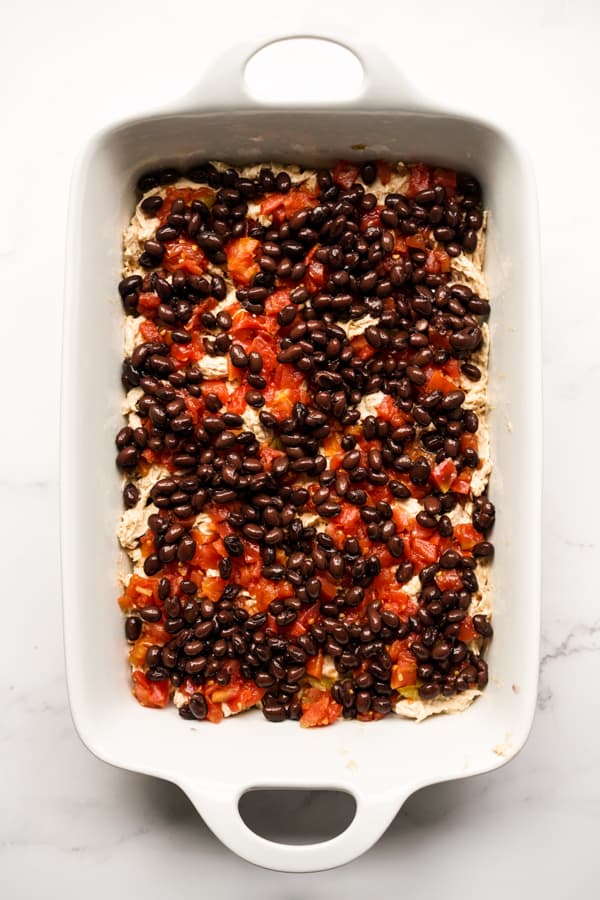 Corn…
(Yup. Drain access water if using canned corn. I used frozen corn here.)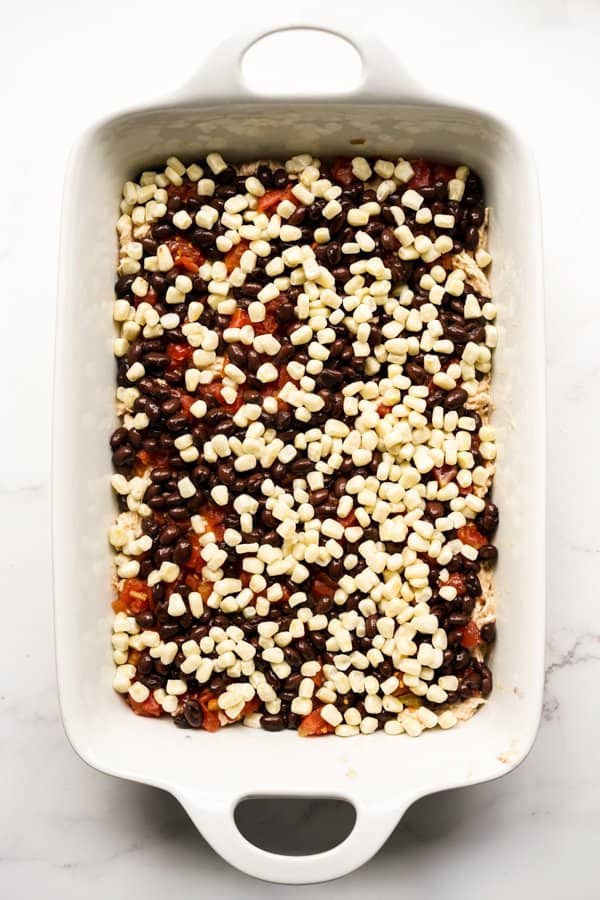 Cheese.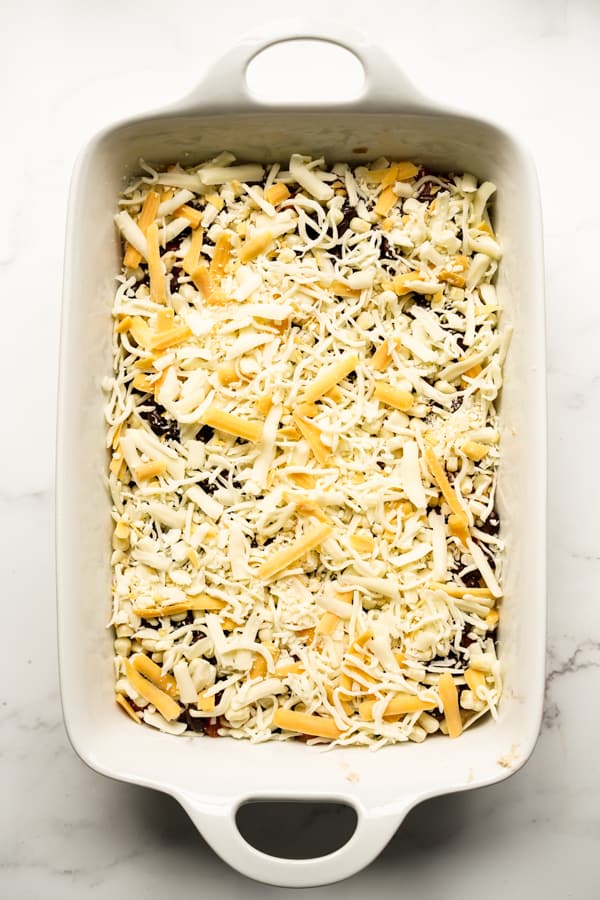 Last but definitely not the least, crushed tortilla chips!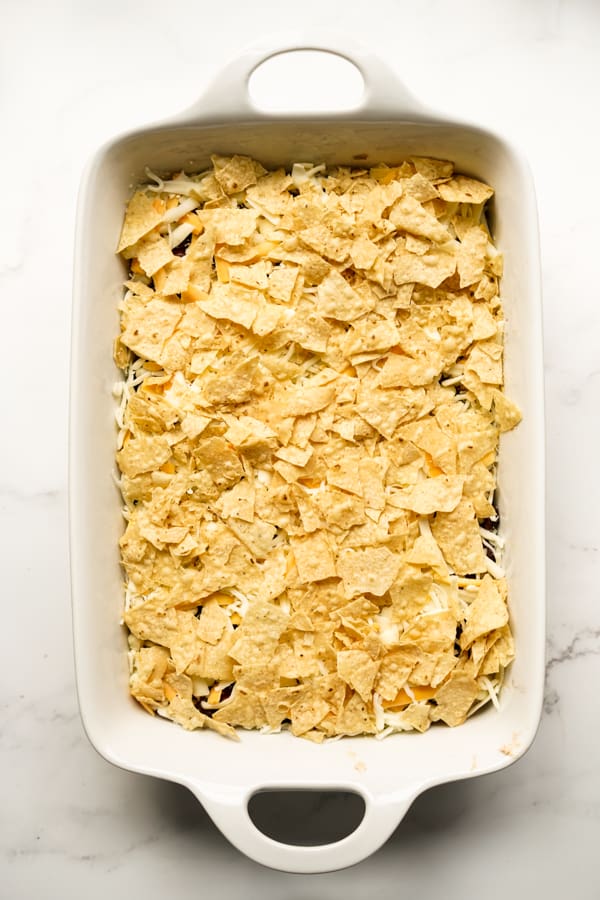 Step 3: Bake
Once it is all layered up, simply send it into the oven and bake that Mexican Chicken Casserole!
Since the chicken is already cooked, we are simply baking to melt the cheese and merge the layers of ingredients together.
And it takes only 15 minutes at 375℉ to get that done. Super quick and easy!
When it is ready, dig in, and you'll find creamy chicken flavored with delicious Mexican spices, combined with corn, black beans, tomatoes, and crunchy tortilla chips.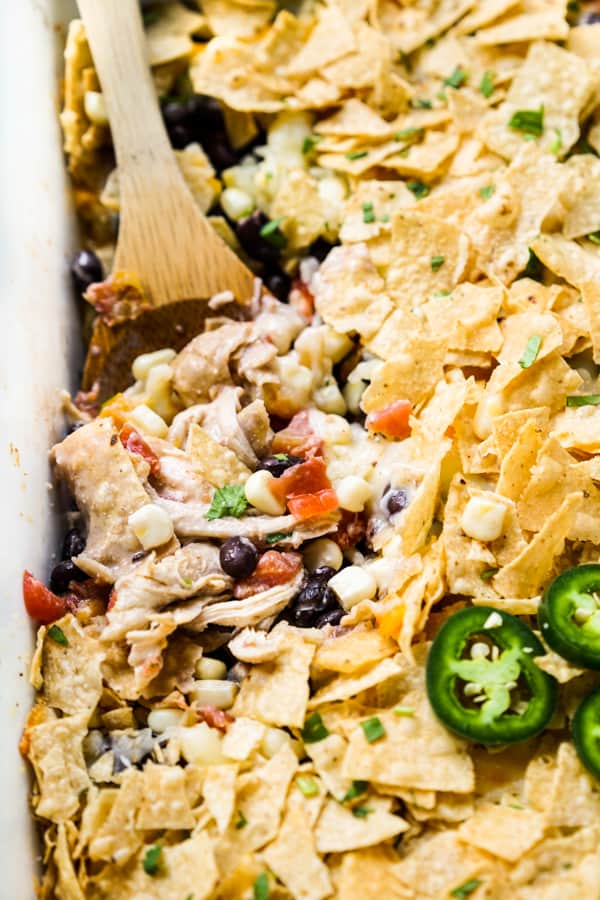 I absolutely love the gorgeous combination of flavors and textures in every single bite.
We make this a lot on cold winter days.
Turn on that oven to cook the casserole…all while warming up the house. And enjoy a hearty, comforting meal that is easy to make and cooks in one pan.
And then leftovers for many days to come! (And THAT is my secret mission behind all this)
What to serve with Chicken Mexican Casserole
Okay, I LOVE my garnishes.
It brings more yummy flavors and textures to complete each serving of Chicken Mexican Casserole. And just makes the dish more exciting as a whole.
So, yes yes and yes. I highly recommend all or some of the garnishes below to jazz up this dish:
avocado slices
cilantro
jalapeño
salsa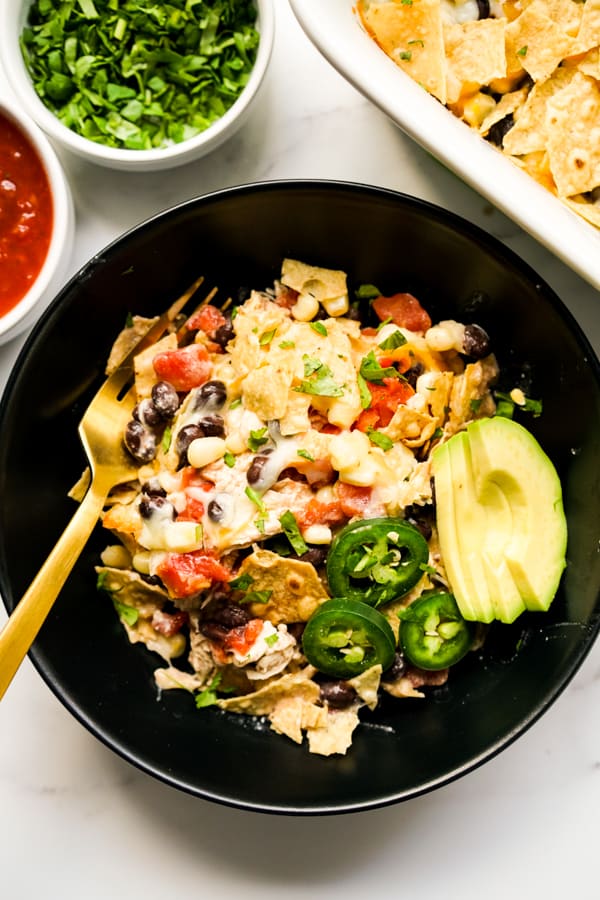 And if you want even more excitement and make a bigger meal of out it, these go beautifully with Mexican Chicken Casserole as side dishes:
When I have the time and energy, I'll make one of these sides to go with it. But if I just want something quick and easy, the Mexican Chicken Casserole itself is plenty to feed hungry bellies (and make them very happy).
Lastly, I've learned from experience that you can't never go wrong serving Mexican chicken casserole with a glass of margarita! 🙂 Here's a homemade margarita recipe that is simple and delicious!
Frequently Asked Questions
Can I use rotisserie chicken instead of cooking the chicken?
Absolutely! Use 4 cups of shredded rotisserie chicken and skip the step where you boil the chicken and shred it. Or shred up any leftover chicken you have at hand. This is a great way to use leftover chicken.
Can I use doritos instead of tortilla chips?
Absolutely! Doritos can be pretty salty so adjust the salt in the chicken down slightly if serving with Doritos.
What is the best way to reheat this?
Reheat covered in the oven so that tortilla chips will be crunchy. If reheat in the microwave, tortilla chips will be no longer crunchy.
Can I make ahead?
Yes! Make ahead, store covered in refrigerator (not freezer), and reheat covered in the oven so that tortilla chips will be crunchy.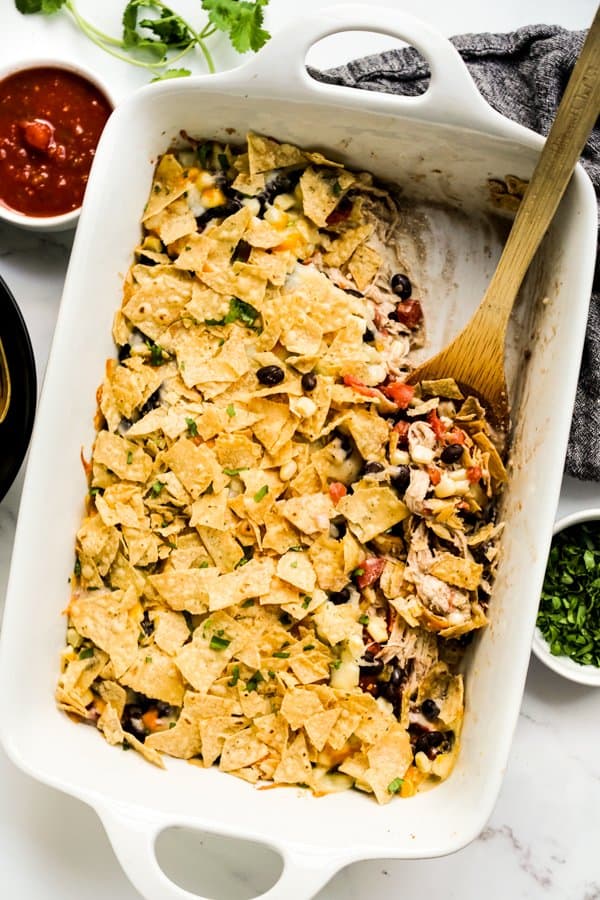 DID YOU ENJOY THIS RECIPE? Please comment below and give us a 5-star rating! This will help others find this recipe on Google and Pinterest. We very much appreciate your help! 🤍
More Casserole Recipes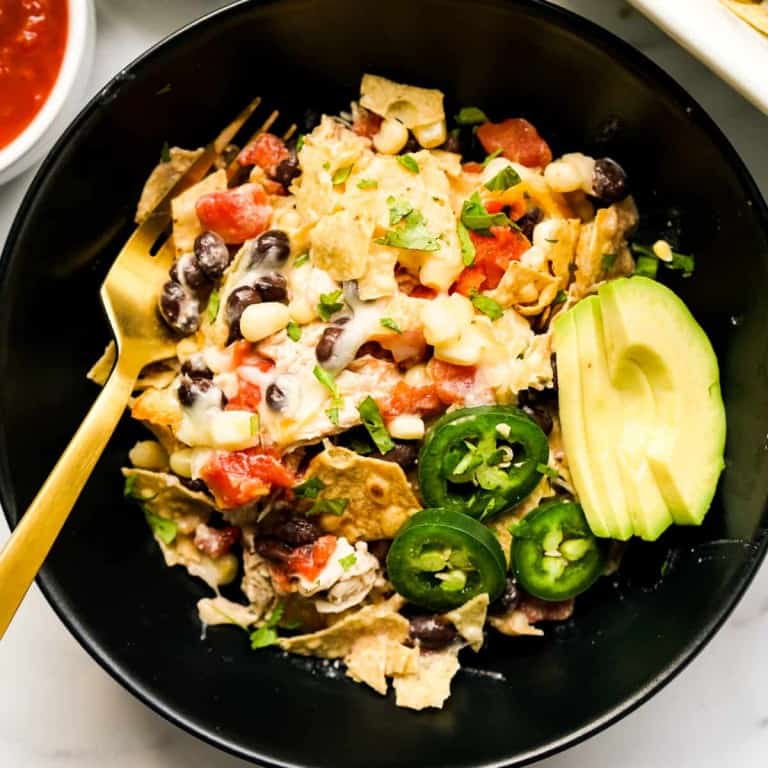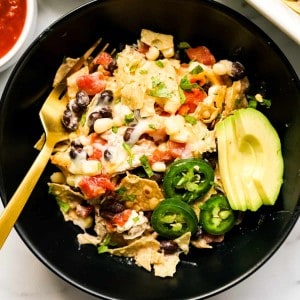 Mexican Chicken Casserole
Easy and delicious Mexican inspired chicken casserole recipe! Layers of cream chicken, black beans, corn, tomatoes, cheese and tortilla chips oven baked in a casserole dish.
Print
Pin
Ingredients
2

large chicken breast

boneless, skinless

1

cup

sour cream

1 1/2

tsp

salt

1

tsp

garlic powder

1

tsp

ground cumin

1

tsp

paprika

1

tsp

onion powder

10

oz

canned Rotel (tomatoes and green chilies)

drained

15

oz

black beans

drained

1

cup

frozen corn

2

cups

cheese (mozzarella, Colby jack, Monterey Jack)

shredded

1

cup

tortilla chips

crushed
Garnish
2

tbsp

cilantro

chopped

1

avocado

sliced

1/2

cup

salsa

1

jelapeno

sliced
Instructions
Bring water to boil in a pot. Add chicken breast. Cook for 15 minutes, or until chicken is fully cooked. Remove and shred chicken. Set aside. (See note 1)

In a bowl combine sour cream, salt, garlic powder, ground cumin, paprika and onion powder. (Note 2)

Add mixture to shredded chicken. Mix to combine.

Grease a rectangular 9'x13' dish. Spread shredded chicken evenly to the bottom of the dish.

Layer with rotel, black beans (drained), corn, and cheese. Top the final layer with tortilla chips.

Serve and garnish with cilantro, avocados, jalapeño and salsa. Enjoy!
Notes
Note 1: Alternatively, skip step 1 and use store bought rotisserie chicken instead. Shred until you get 4 cups of rotisserie chicken.
Note 2: Tip: work on Step 3 while chicken is cooking to save time!
Nutrition
Calories:
441
kcal
|
Carbohydrates:
33
g
|
Protein:
27
g
|
Fat:
23
g
|
Saturated Fat:
10
g
|
Polyunsaturated Fat:
3
g
|
Monounsaturated Fat:
8
g
|
Trans Fat:
1
g
|
Cholesterol:
76
mg
|
Sodium:
859
mg
|
Potassium:
805
mg
|
Fiber:
8
g
|
Sugar:
3
g
|
Vitamin A:
622
IU
|
Vitamin C:
12
mg
|
Calcium:
308
mg
|
Iron:
3
mg