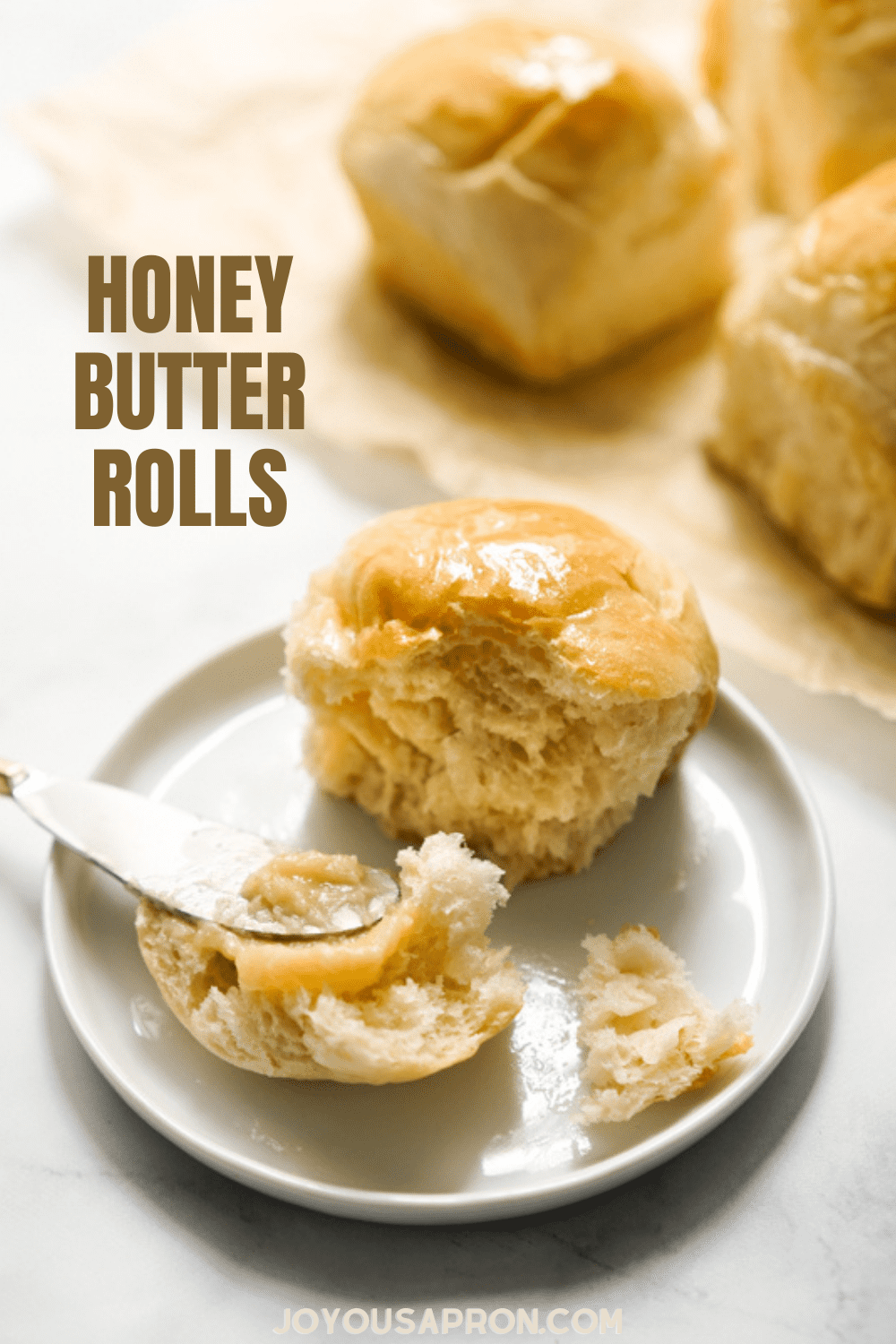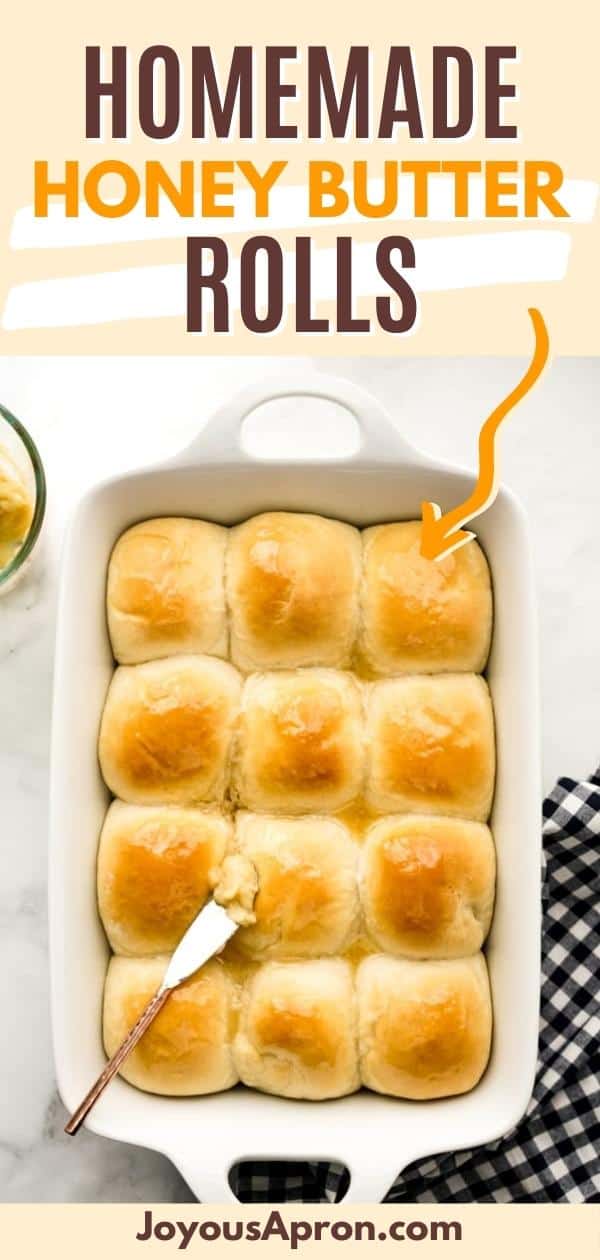 These Honey Butter Rolls are soft and fluffy, fresh and warm, topped with a sticky sweet and savory honey butter compound mixture. Redefining what dinner yeast rolls actually mean.
Be still my heart.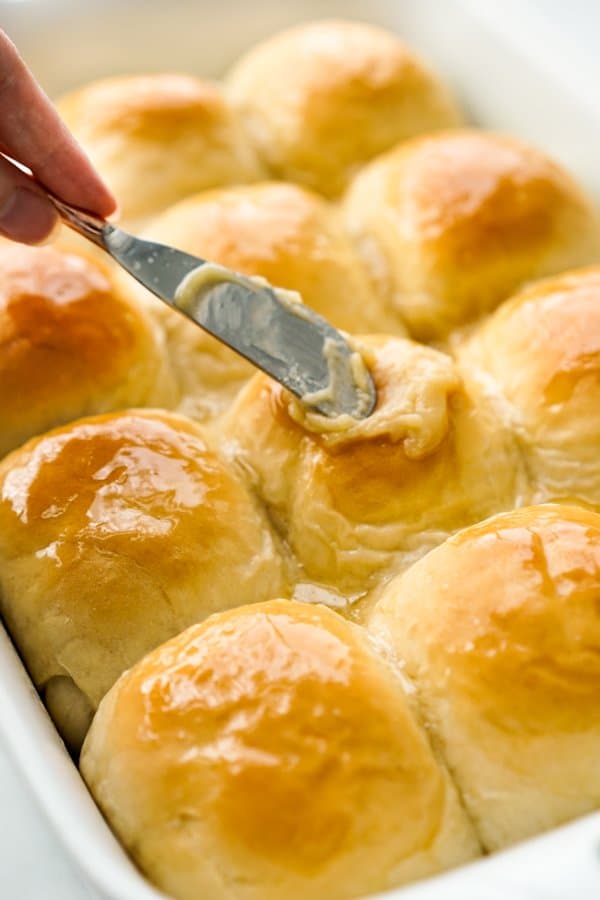 The Best Honey Butter Rolls
Caution: it's dangerous to be left alone with these Honey Butter Rolls.
Just like my Cheesy Garlic Rolls, I could eat a dozen honey butter rolls in one setting because it's ridiculously hard to stop eating at one.
That soft yeast bread with a golden brown, slightly crusty top paired with honey butter is a dream and terribly addicting. For all my fellow carb lovers out there, I know you get it deeply.
We make honey butter rolls for the holidays and they are gone in a flash. Nothing is quite like made-from-scratch homemade dinner rolls.
Once you start it's super hard to go back to store-bought.
And yes, honey butter rolls are perfect for your Thanksgiving and Christmas holiday dinners. But who said you can't indulge in these dinner rolls smothered in honey butter goodness for regular dinners.
In fact, I highly recommend eating these honey rolls for lunch, breakfast, snack, when you are having a bad day.
They work especially well as food therapy! 😉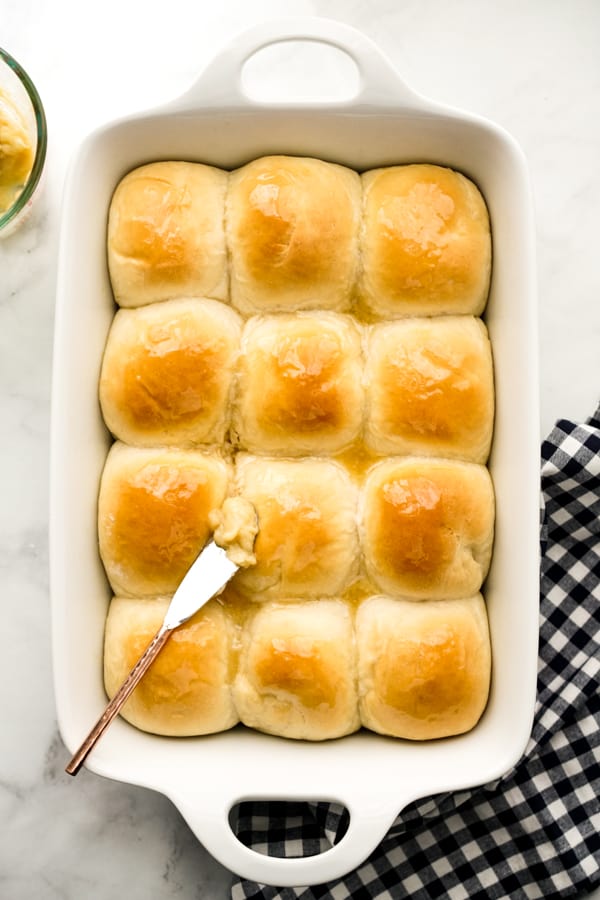 Baking with Yeast
Baking with yeast sounds intimidating, but it definitely sounds a lot more intimidating than it really is.
My goal here is to arm you with everything you need to confidently make these Honey Butter Yeast Rolls. YES, YOU GOT THIS.
Here's a quick high level summary of the key steps to make these honey dinner rolls:
Make and knead dough – using a stand mixer will make this process super easy. If you don't have one, you can knead this by hand and dinner rolls will still come out great
Let dough rise – this takes an hour
Shape dough into rolls
Let rolls rise – this also takes an hour
Bake rolls
Make compound honey butter – DO NOT SKIP THIS STEP!
Spread rolls with honey butter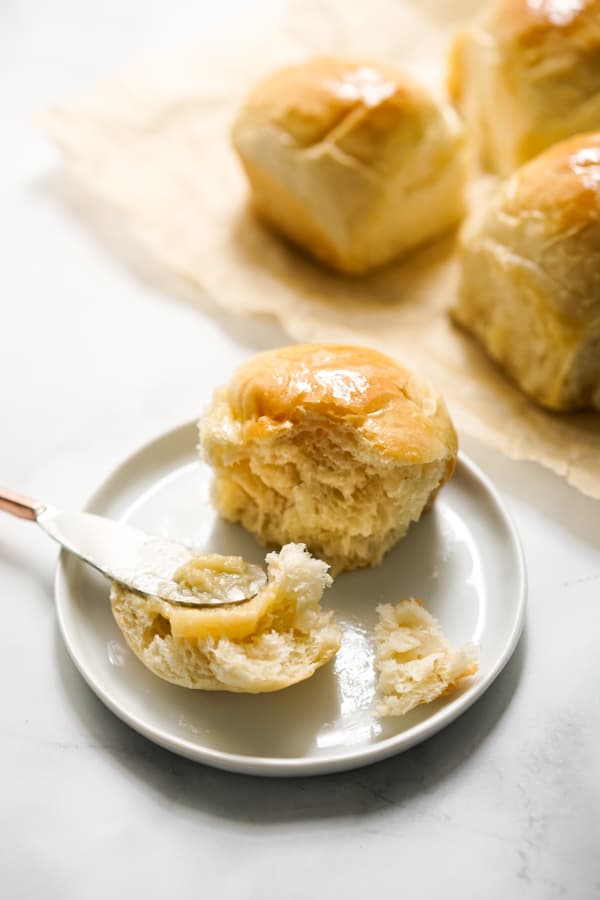 How to Make It
When making yeast bread, definitely give yourself some time to knead and wait for the dough to rise. It is not something you can do in a hurry.
It's not hard, but it does take some time. Because yeast takes time to rise.
That being said, here are the short list of ingredients you will need for this honey butter rolls recipe:
2% milk – can use whole milk or 1% but avoid fat free. Needs to be 100-110 ℉ to activate the yeast
Instant yeast
Granulated sugar
Honey
Butter – unsalted and salted. Unsalted is for the dough, salted is for the honey butter compound.
Egg
Salt
Bread flour – in a pinch all purpose flour can be used.
To begin, mix together all the dough ingredients. Started with milk, unsalted butter, yeast, sugar, honey, egg and salt. Mix well, then add in the flour and start kneading, either with a stand mixer using a dough hook (see picture below), or with hands.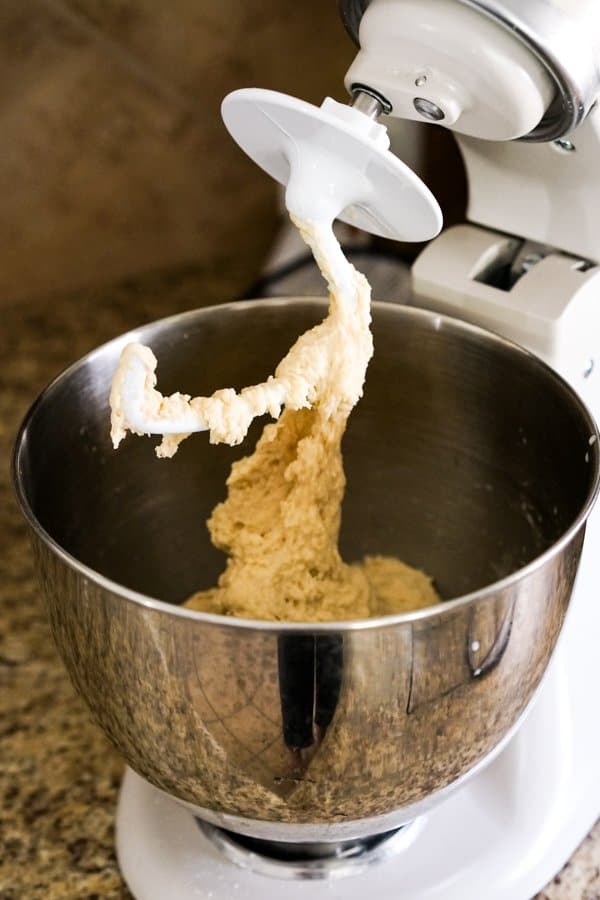 After kneading the dough, bring it to a large greased bowl and cover with a clean towel. Let it sit in a warm spot for one hour for the dough to rise.
Make sure to use a large bowl because dough will grow at least twice its size.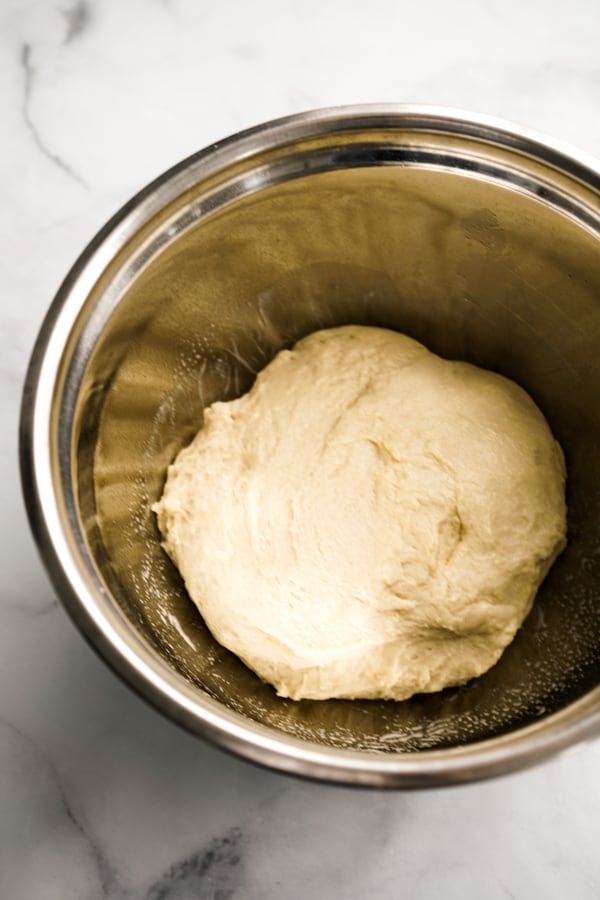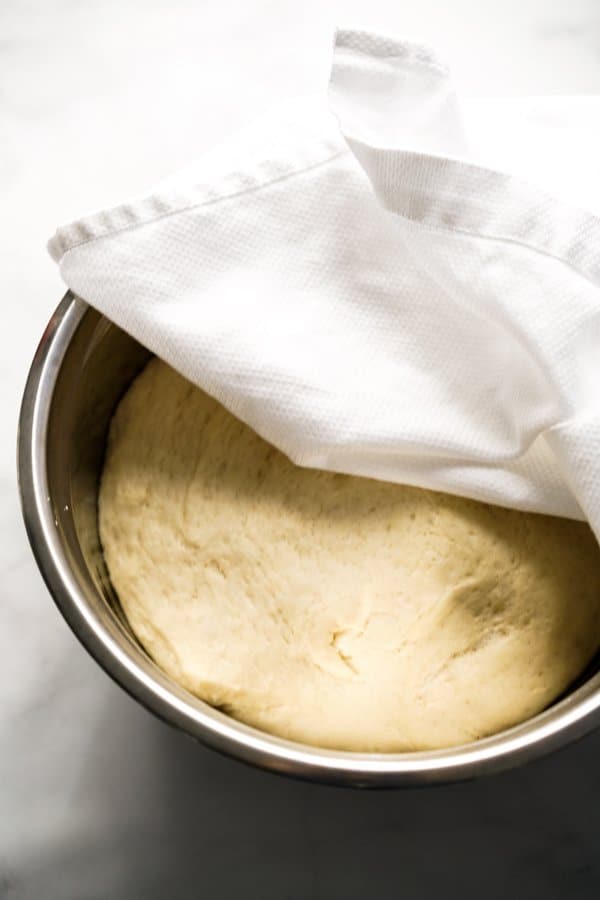 Remove dough from bowl and roll into a long tube. Then cut into 12 pieces.
I typically cut the long tube in half first, and then cut it into six pieces on each side. Try to keep each piece the same size as much as you can.
Knead each piece of dough and then shape it into a ball.
Place the rolls into a greased (for easy removal of the rolls after it is baked) 9'x13′ baking dish.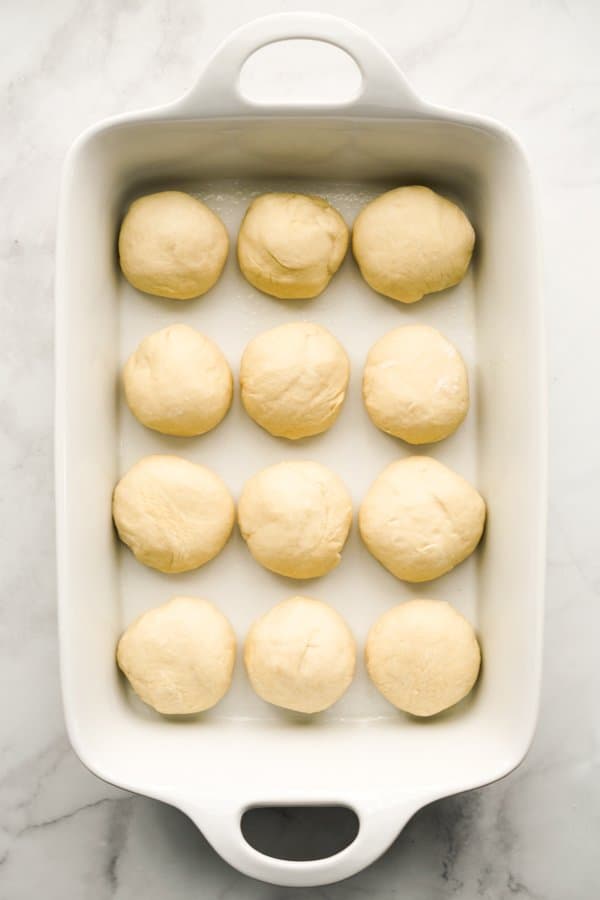 Cover and let it rise again!
Rolls should be much bigger and touching after an hour. Kinda like this!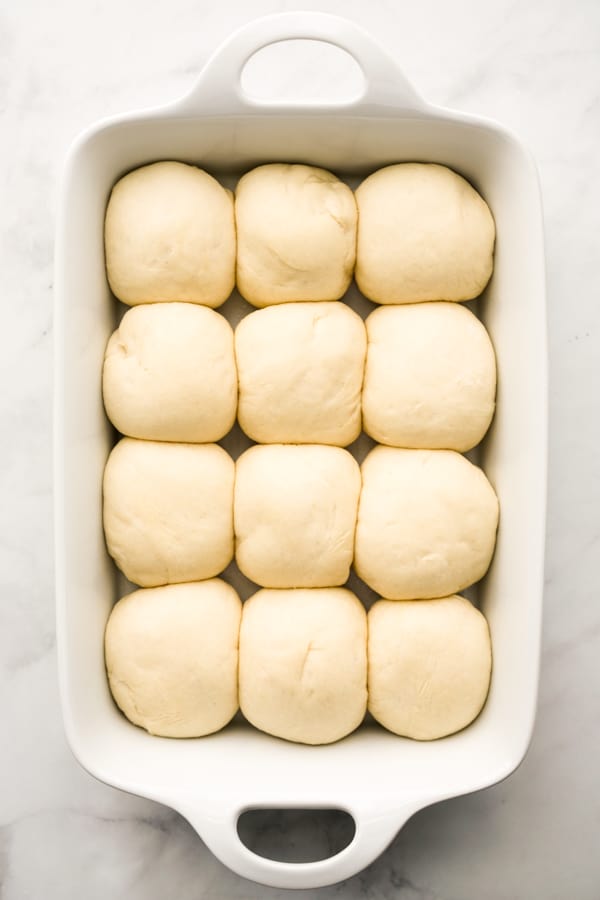 Bring rolls into the oven to bake for 20 minutes at 350℉.
While yeast rolls are baking in the oven, prepare the honey butter compound by mixing softened butter and honey together. If butter is not softened, microwave it at 50% power for a few minutes until it is soften. Be careful not to overboil the butter.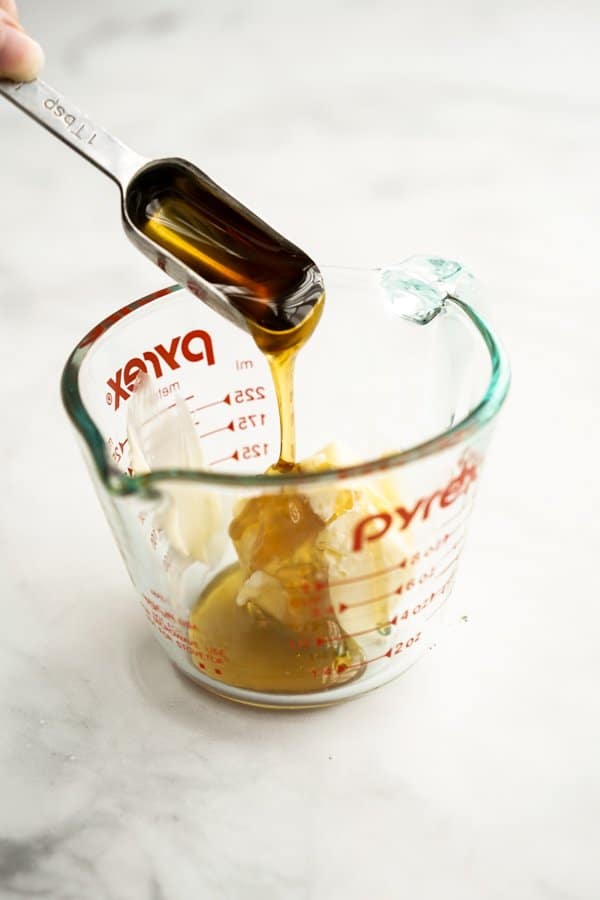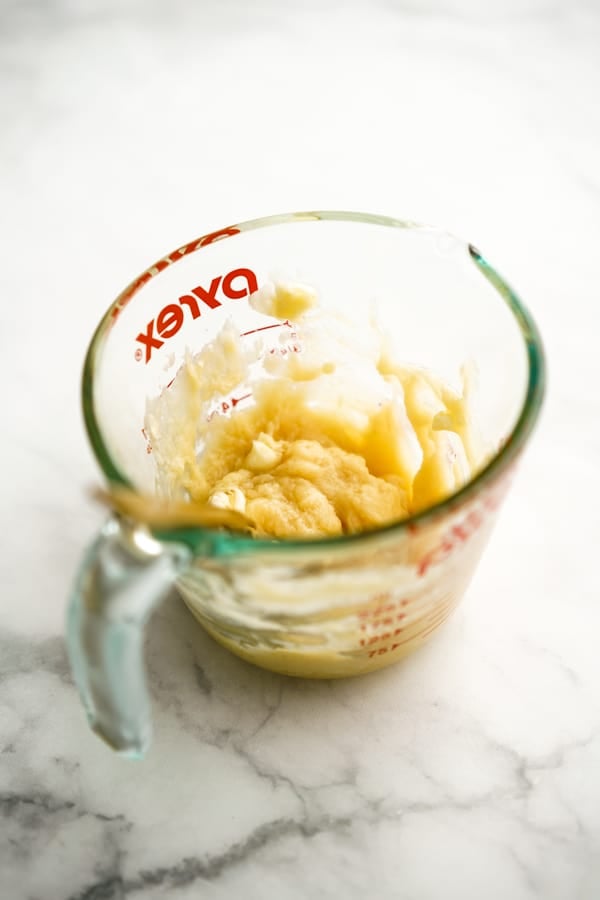 When dinner rolls are done, it should be golden brown and slightly crusty on top, yet soft inside and easily pulled apart.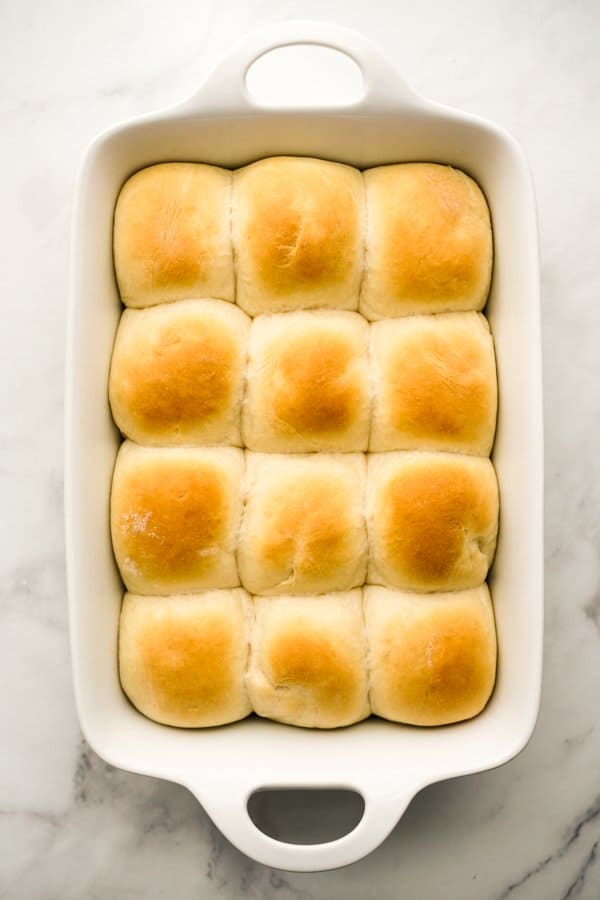 Then spread that honey butter onto the top of the rolls and serve the rest of the honey butter on the side so that you can spread it onto the rolls as you consume them.
Pro tip: if you are a honey butter lover, simply make more! Because when it comes to these Honey Butter Rolls, the more honey butter, the tastier!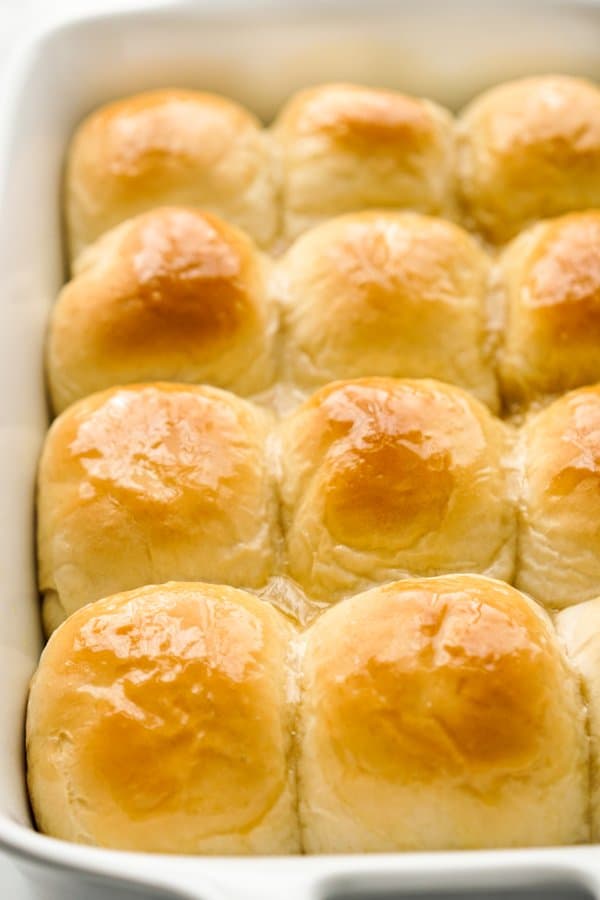 These Honey Butter Rolls take a little bit of time to perfect, but it's on the whole actually pretty straightforward. If you want a yeast roll recipe that is even more straight forward using my favorite frozen dough, check out these Cheesy Garlic Rolls.
Frequently Asked Question
How do I make the dough ahead?
To make ahead, make and knead the dough, let it rise, cut and roll into 12 roll balls, then freeze in an airtight bag or container. Make sure they do not touch each other when you freeze them so that they are not stuck together frozen. When ready to bake, place frozen rolls on greased baking dish, cover, and let it rise for ~4 hours until they are bigger and touching each other, then bake!
Can I use active dry yeast instead of instant yeast?
Yes! Use the same amount as you would for instant yeast. However, let active dry yeast activate in warm milk and melted butter (100-110℉) along with sugar for 10 minutes, and then add the rest of the ingredients (except flour), mix well, and then add in flour and knead the dough using a stand mixer or hands. Active yeast requires some activating time in warm liquid while instant yeast do not.
How to store these rolls?
Keep rolls in a sealed container or zip lock bag (to prevent from drying out). It can be stored in room temperature for 2-3 days or in the fridge for up to a week.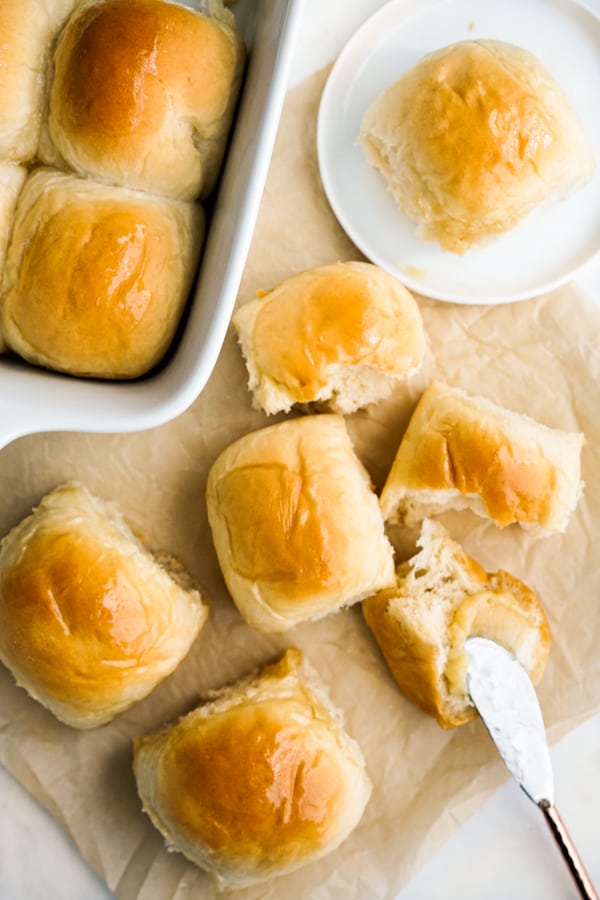 Other Holiday Favorites
These honey rolls are perfect for holiday dinners. Serve them with some of our other holiday favorites!
Your life will no longer be the same with these Honey Butter Rolls. So proceed with caution! 😉
DID YOU ENJOY THIS RECIPE? Please comment below and give us a 5-star rating! This will help others find this recipe on Google and Pinterest. We very much appreciate your help! 🤍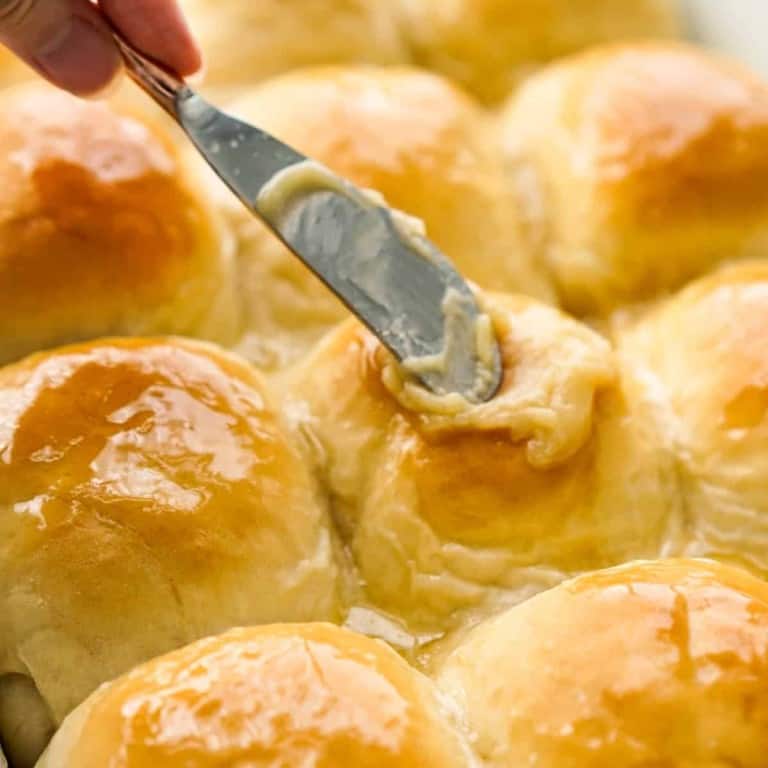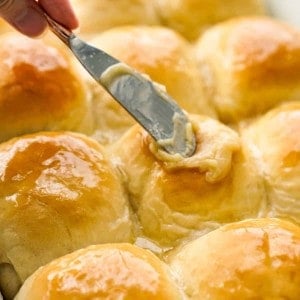 Honey Butter Rolls
Soft and fluffy yeast rolls smothered with honey butter topping. These dinner rolls makes the perfect side dish to your Thanksgiving and Christmas holiday dinners, or dinner any day!
Print
Pin
Ingredients
1

cup

2% milk

3

tbsp

unsalted butter

2 1/4

tsp

instant yeast

1

tbsp

granulated sugar

2

tbsp

honey

1

large egg

1/2

tsp

salt

3 1/8

cup

bread flour

more if needed
Honey Butter Compound
3

tbsp

honey

3

tbsp

salted butter

softened or melted
Instructions
Warm milk and unsalted butter to ~100-110℉ in the microwave. (temperature suggested to effectively activate yeast).

Combine warm milk and butter mixture, yeast, sugar, honey, egg and salt in a large mixing bowl (or stand mixer bowl). Whisk to combine.

Add bread flour. Using a stand mixer with the dough hook on, or your hands, knead dough until bread flour is folded into the dough. When done, dough should be slightly sticky but a big clump shouldn't stick to your fingers when you touch the dough with dry fingers. If dough is too wet, add more bread flour 1 tbsp at a time. (See Note 1)

Transfer dough to a greased large mixing bowl. Cover with a towel and let it rise in a warm spot for 1 hour.

After dough has risen, it should be at least twice its original size. Punch dough to remove air bubbles, then transfer dough to a floured surface. Roll dough into a long tube, then cut tube into 12 pieces – try to keep them about the same size (First, cut tube into half, then cut into quarters, and then divide each quarter into three pieces). Lightly knead each piece of dough and shape it into a ball.

Place each ball onto a 9' x 13' baking dish. See picture on how to place them. Cover with towel and let it rise in a warm spot for another hour.

Pre heat oven to 350℉. Bake for 20 minutes.

While rolls are baking, combine softened salted butter and honey in a bowl.

Remove rolls and spread the top of the rolls with honey butter. Serve remaining honey butter on the side. Enjoy!
Notes
Note 1: Different temperature in the house and weather can affect how wet or dry the dough is. Because of that, the amount of bread flour needed will vary. Getting a feel for the wetness of the dough is key to evaluate how much bread flour is needed.
Nutrition
Calories:
221
kcal
|
Carbohydrates:
34
g
|
Protein:
6
g
|
Fat:
7
g
|
Saturated Fat:
4
g
|
Polyunsaturated Fat:
1
g
|
Monounsaturated Fat:
2
g
|
Trans Fat:
1
g
|
Cholesterol:
30
mg
|
Sodium:
139
mg
|
Potassium:
93
mg
|
Fiber:
1
g
|
Sugar:
9
g
|
Vitamin A:
215
IU
|
Vitamin C:
1
mg
|
Calcium:
33
mg
|
Iron:
1
mg