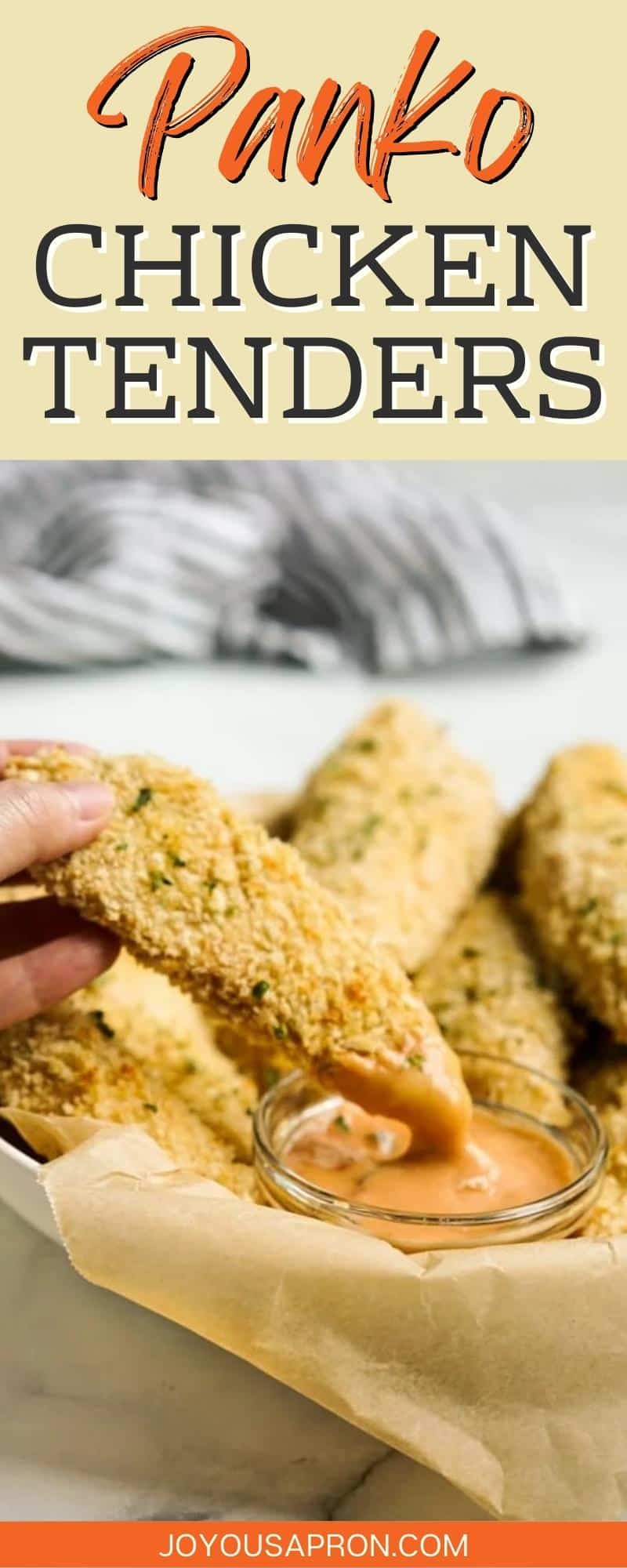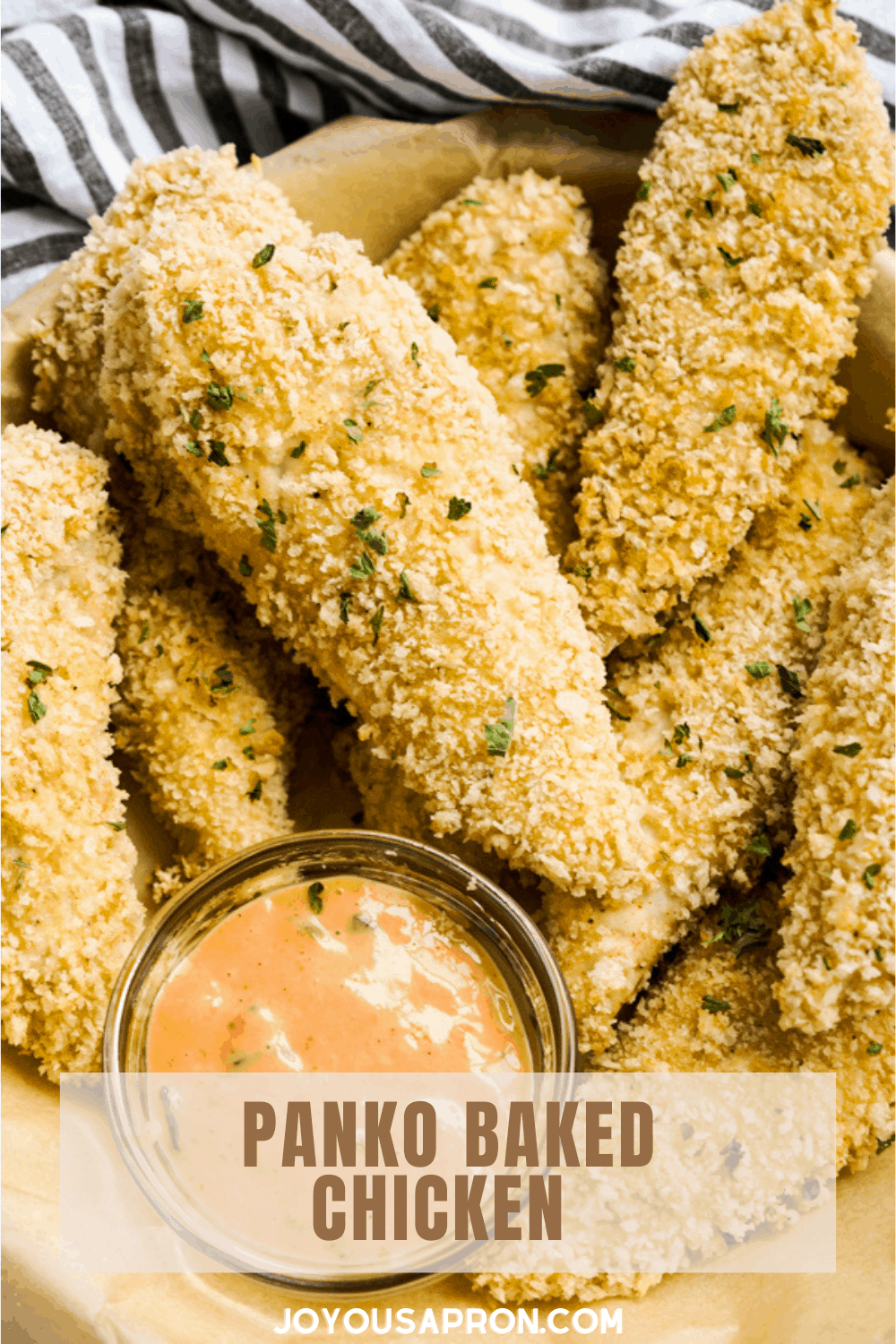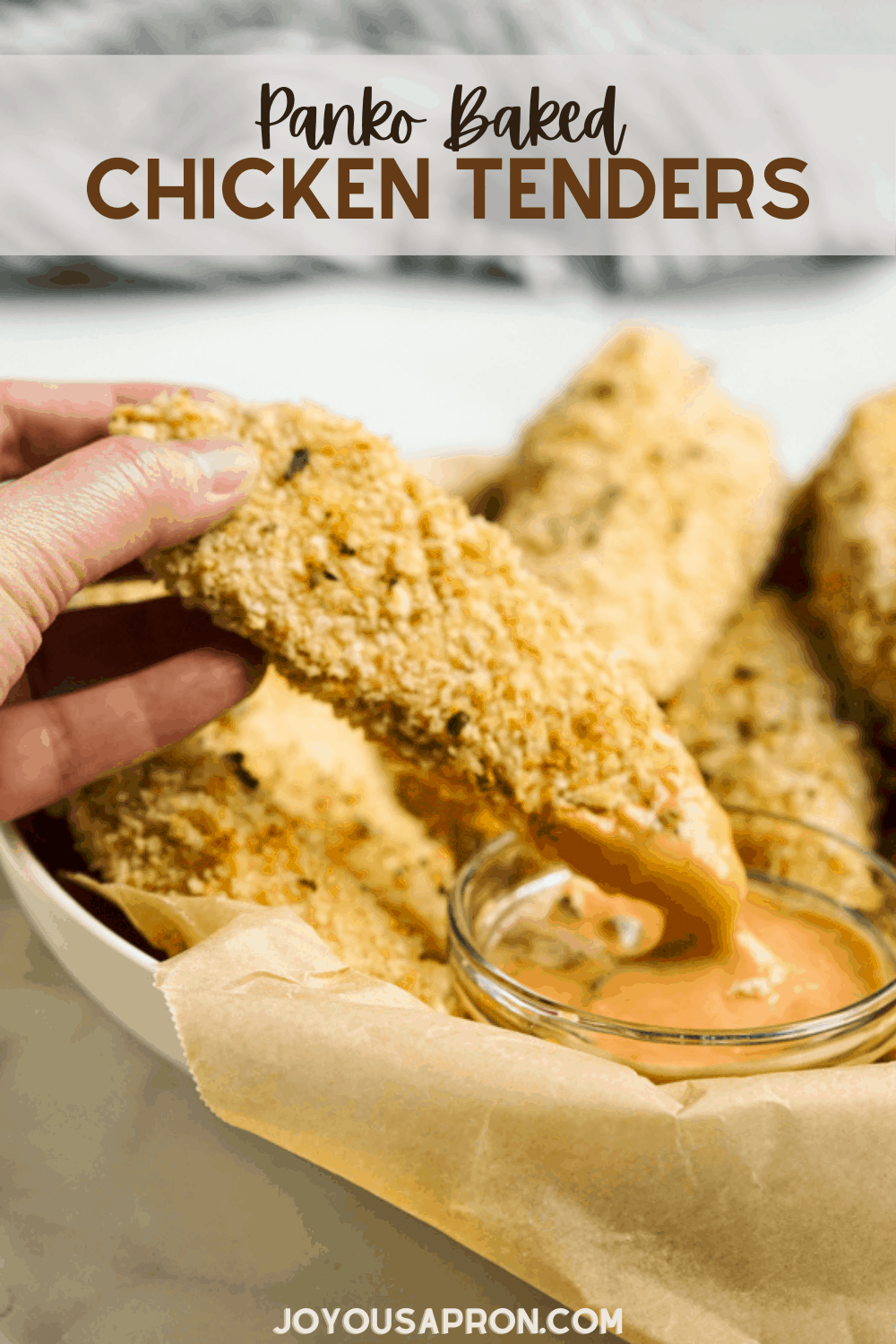 Crispy and yummy Panko Baked Chicken Tenders is the comfort food chicken dinner you need after a long busy weekday!
These strips of chicken tenders breaded with crunchy Panko are baked in the oven, full of great flavors…yet still healthy.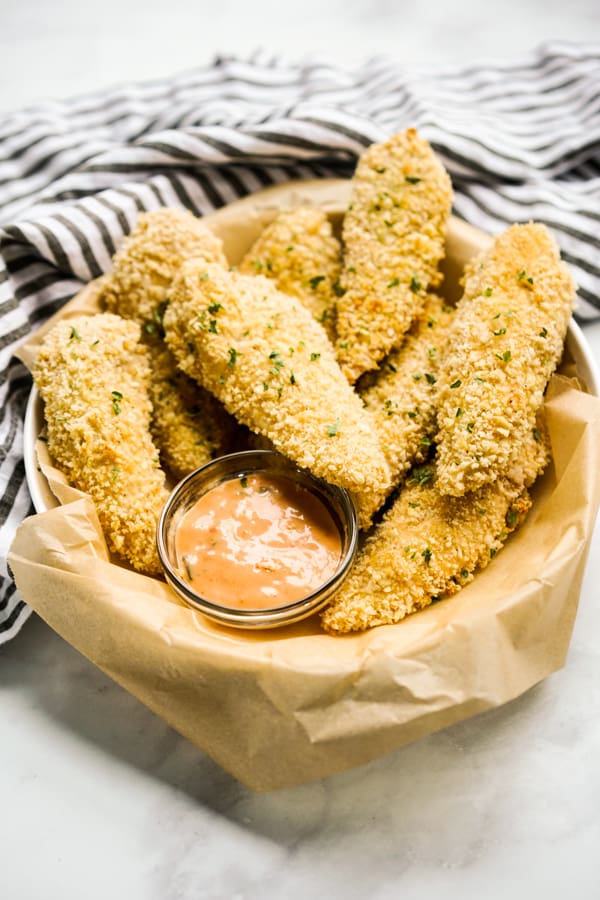 I used to have a bad habit of running to my favorite fast food drive-thru whenever I crave chicken tenders – which happens way more often than I care to admit…
After discovering how easy and quick these Panko Baked Chicken come together, and not to mention, these chicken tenders are much healthier, I started breading my own chicken strips and bake it in the oven.
Guilt-free, non-fried chicken strip is totally the way to go!
Still not convinced?
This isn't some plain, bland, non-tasty kind of chicken Panko Baked Chicken Tenders. No no no no no. What you are about to witness is a piece of juicy chicken that is crunchy on the outside, breaded with a breading that is actually flavorful.
Want more chicken tender recipes? Check out Spicy Baked Chicken Tenders or Hawaiian Chicken!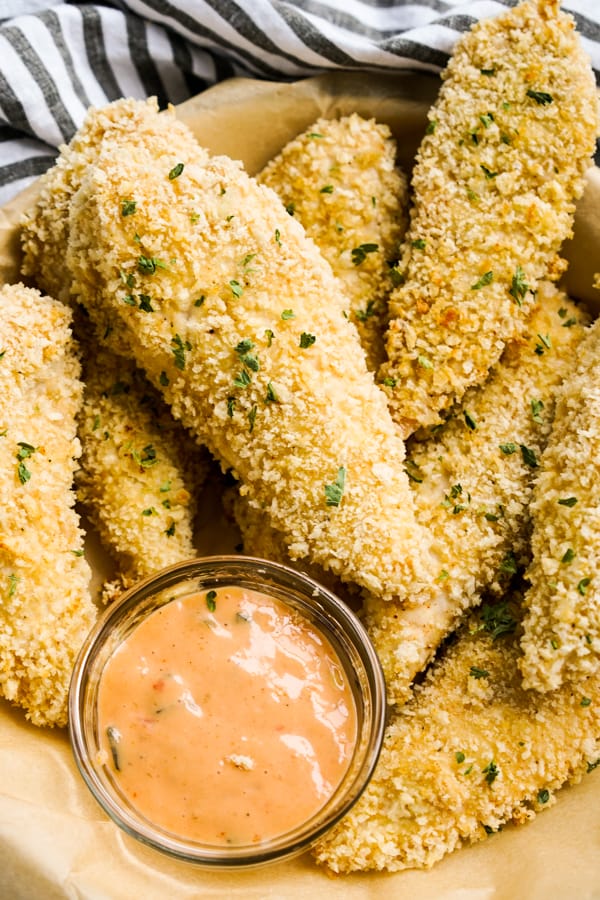 Here's what goes into the breading for this Oven Baked Panko Chicken Tenders:
Panko bread crumbs – I find that they are crispier and has more of a crunch than regular bread crumbs
Smoked paprika – smoky flavor with a hint of sweetness – love how much flavor this spice brings to the breading of this Panko Baked Chicken!
Garlic powder – another flavor powerhouse!
Salt and black pepper
Flour
Eggs – use to glue panko breading to the chicken tenders
Every ingredient serves an important purposes whether it is bring yummy flavors or textures to the Panko Breaded Chicken Tenders. So avoid skipping any of them!
How to Make Panko Baked Chicken Tenders
Step 1: Prepare breading
These Oven Baked Panko Chicken Tenders are crispy and flavorful, all thanks to this simple yet delicious breading that chicken tenders are breaded with.
To prepare the breading, you will need to prepare three separate mixtures:
Flour mixture, along with seasonings (smoked paprika, garlic powder, salt, and black pepper)
Egg mixture
Panko breadcrumb mixture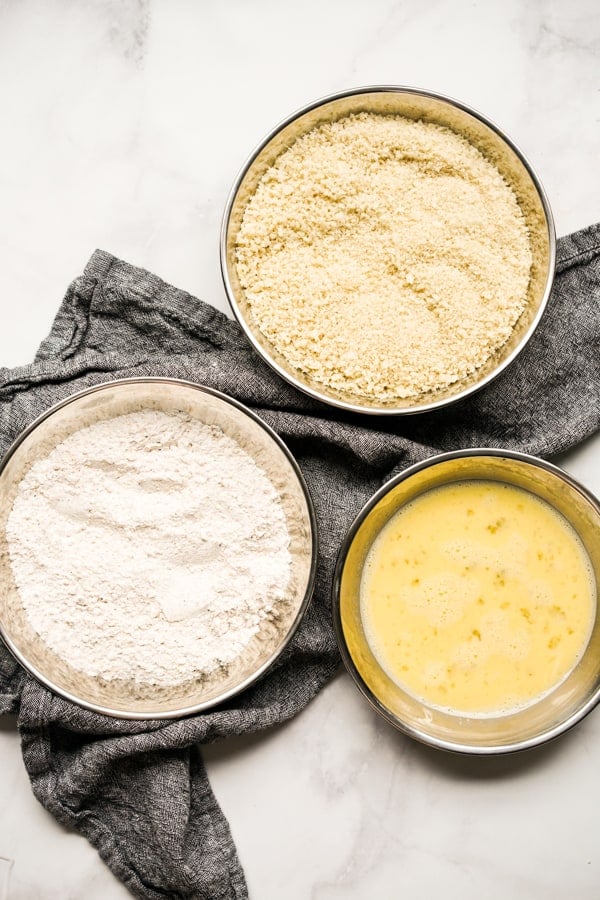 Step 2: Bread chicken tenders
Before breading the chicken tenders, make sure they are completely defrosted and pat dry. We want to remove all access moisture.
Then bread with flour mixture, egg mixture, and then the panko breadcrumb mixture.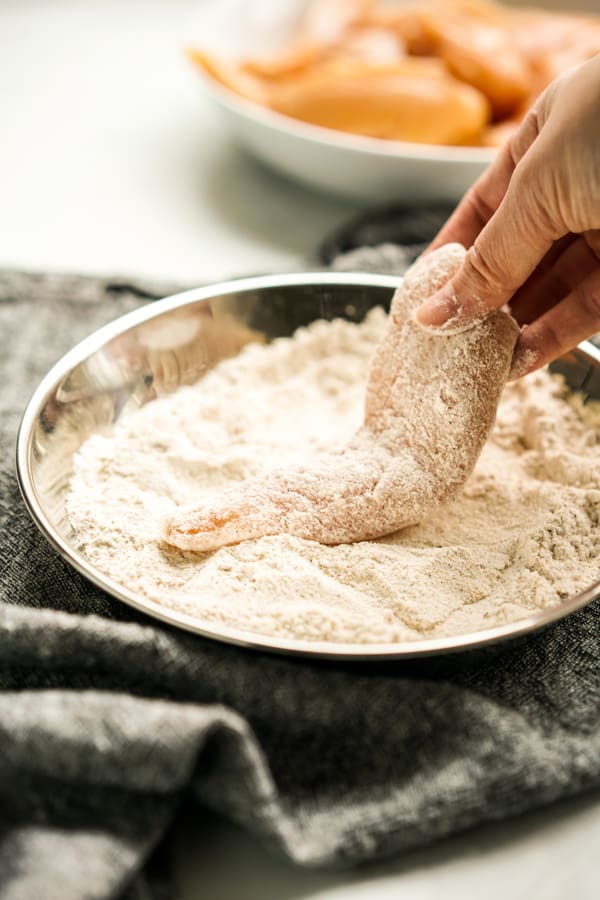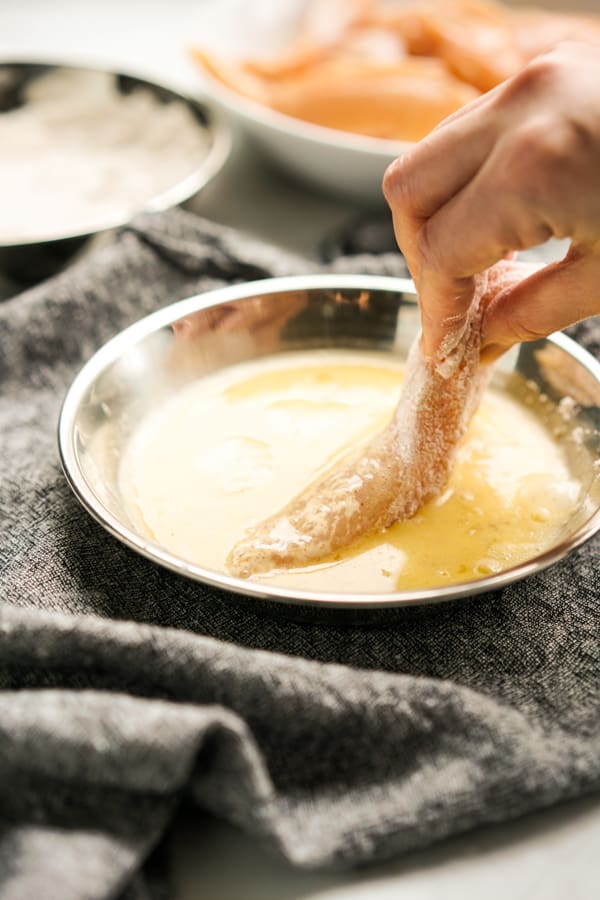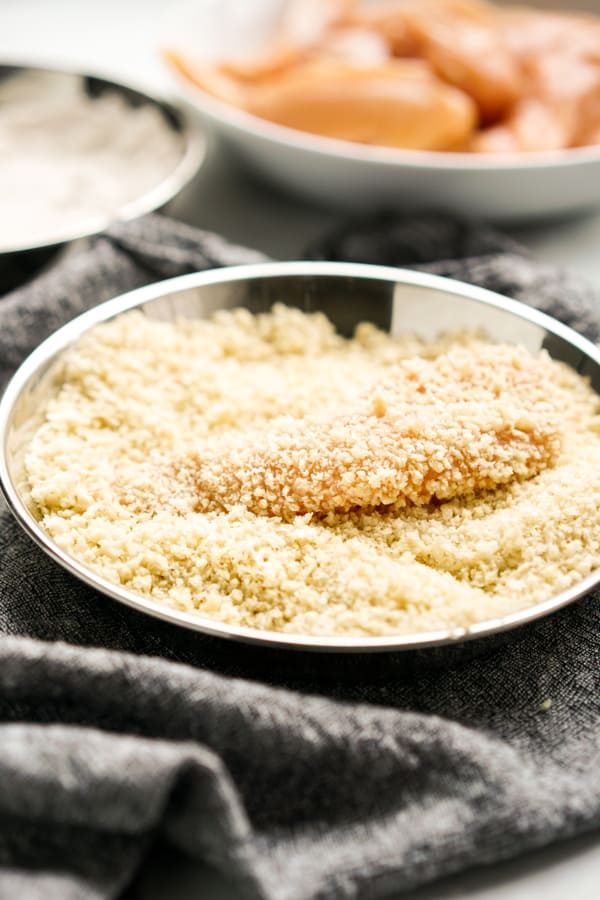 Make sure chicken tenders are coated in each layer completely and evenly.
Then place chicken tenders on a baking sheet or baking dish lined with aluminum foil and greased with vegetable oil. Use a vegetable oil spray for this.
Place all the Panko Breaded Chicken Tenders are on the baking dish, and set them at least an inch apart from each other. Then spray more cooking oil to the tops of the chicken tenders.
Step 3: Bake
Next, send them into the oven to bake!
400℉ for 15 minutes on one side, then flip and bake for another 10 minutes on the other side.
You can bake for longer if chicken is not crispy to your liking. But do keep in mind that if it is baked for too long, chicken will be dry and no longer juicy.
At the end, Panko Baked Chicken Tenders should be crispy on the outside and juicy on the inside.
Breading should be flavorful as well as it is tossed in yummy spices.
It's a great chicken recipe, well loved by adults and kids!
Tips and Tricks
A few things to note when you are making these Panko Baked Chicken Tenders: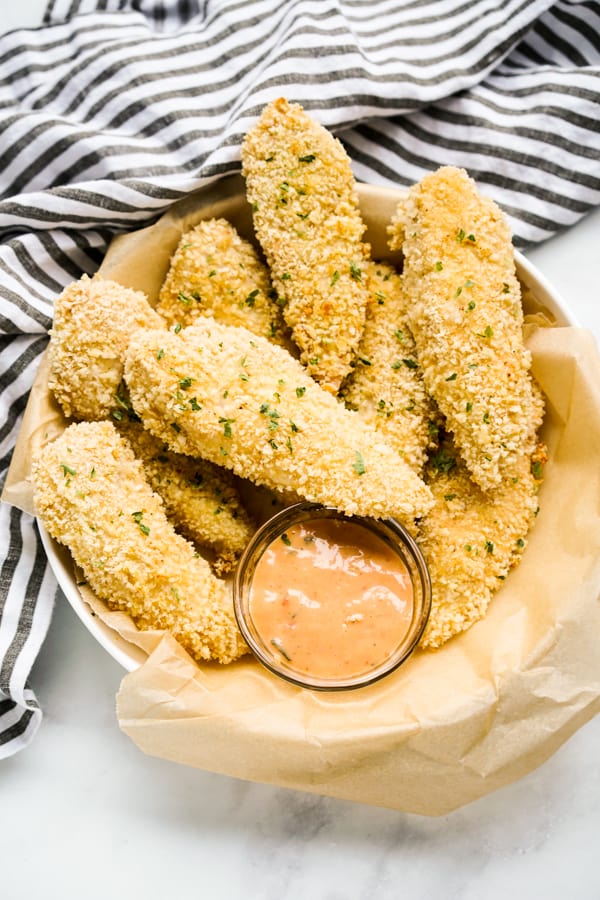 Make sure chicken tenders are completely defrosted and pat dry before breading them so that it will bake well in the oven. If not, you will find the chicken tenders soggy and you will not get a crispy breading. I typically bring frozen chicken tenders to the fridge the night before so that it is defrosted overnight and ready to be used when I am making dinner the next day.
Line aluminum foil on the baking sheet when baking for easy cleanup
Greasing the top of the chicken tenders will help crispy up the breading even more.
Internal temperature for cooked chicken should be at least 165℉. Check the temperature with a meat thermometer to make sure chicken is not undercooked. If it is still not cooked, bring it back to the oven to bake for longer until temperature reaches 165℉.
Storing and Reheating
One of my favorite things about these Panko Breaded Chicken is that it is a good meal prep option. Leftovers can be stored in an airtight container in the refrigerator for up to 4 days.
When reheating, I like to heat it in the oven or toaster oven so that the breading will crisp up. You can use a microwave too, but it will just not be as crispy after being heated in the microwave.
Ways to Serve It
I highly recommend a dipping sauce of some sort – ketchup, mustard, bbq sauce, honey, buffalo sauce. Any sort of dipping sauce makes these Baked Panko Chicken even better!
To dip or not to dip. That is the question…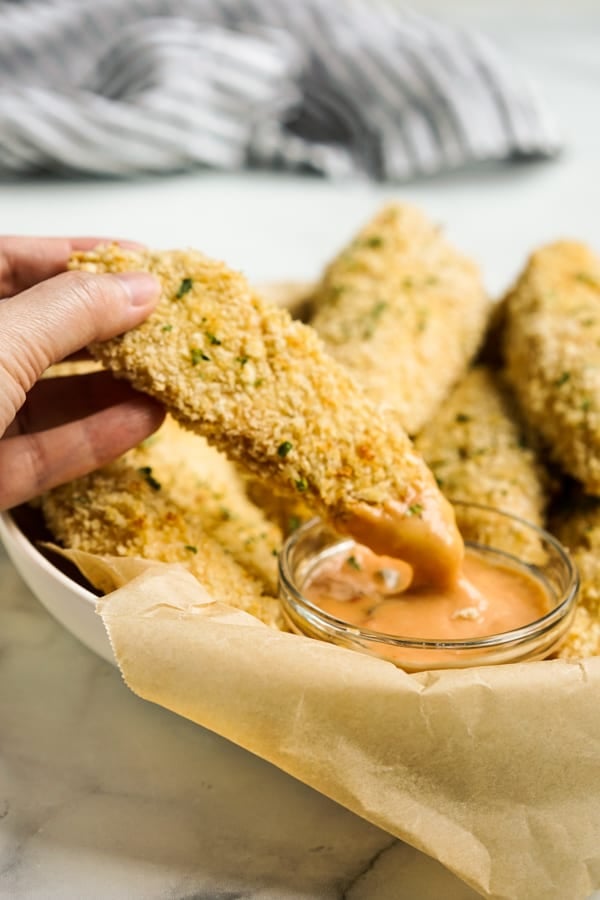 And my answer is always: DIP DIP DIP!
Besides serving Panko Breaded Chicken Tebnders as a main dish, I love how versatile these are! Save leftovers and use it for some or all of the options below:
Add it to salads
Over pasta and sauce
Make a sandwich out of it, add lettuce, tomatoes, your favorite dressing
Turn it into a taco! Seriously, anything in tortillas with some sauce and crunchy veggies is pretty awesome and makes a quick tasty meal
Frequently Asked Questions
My Panko Baked Chicken Tenders are kinda soggy after baking, what should I do differently?
Try greasing skillet generously. Another option is to bump up the oven temperature by 25℉. Sometimes oven temperature can be inaccurate, and bringing temperature up will help crisp up the chicken
If I don't have Panko breadcrumbs, can I use regular breadcrumbs?
Yes that would be just fine!
DID YOU ENJOY THIS RECIPE? Please comment below and give us a 5-star rating! This will help others find this recipe on Google and Pinterest. We very much appreciate your help! 🤍
Other Chicken Recipes
If you like this Panko Breaded Chicken Tenders recipe, check out these other easy, tasty chicken recipes you need to try!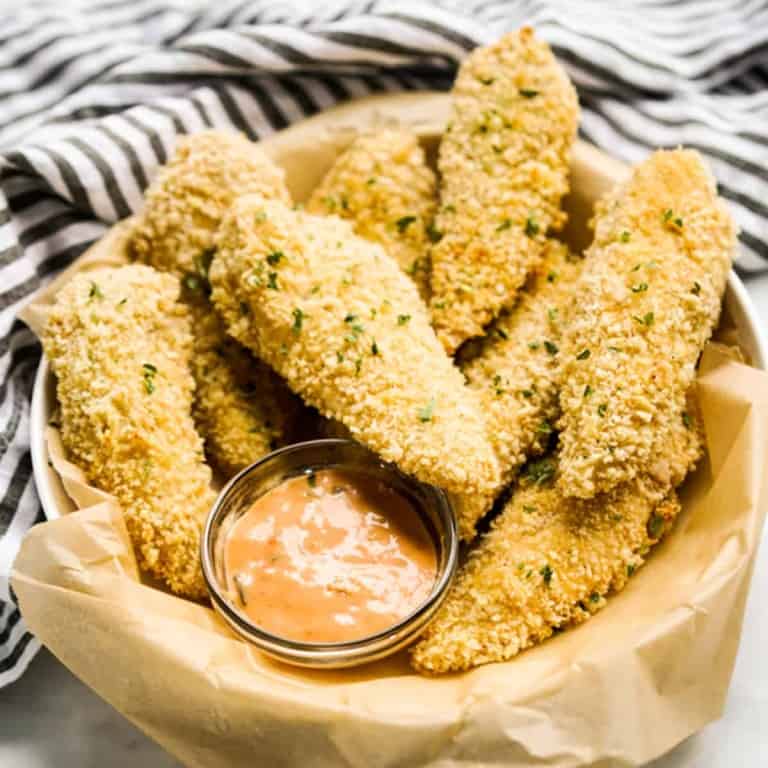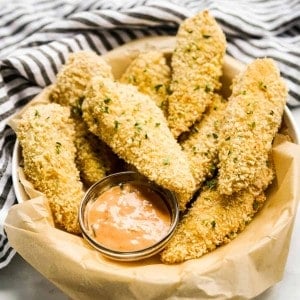 Panko Baked Chicken
Crispy panko breaded chicken tenders that is flavorful, easy to make and much healthier than fried! A quick and delicious option for busy weeknights!
Print
Pin
Ingredients
2

lbs

chicken tenderloins

1/2

cup

flour

2

large eggs

1/2

tsp

smoked paprika

1

tsp

garlic powder

1

tsp

salt

1/2

tsp

black pepper

1 1/2

cup

Panko breadcrumbs

cooking oil spray
Instructions
Prepare three separate mixture in three separate shallow bowl: 1) bring flour, smoked paprika, garlic powder, salt and black pepper to a bowl, stir to combine, 2) whisk eggs in another bowl, 3) bring panko breadcrumbs to the last bowl

Make sure chicken tenderloins are defrosted and pat dry. Coat chicken tenderloins, one piece at a time, with flour mixture, followed by egg mixture, and lastly panko breadcrumbs. Make sure each layer is coated evenly all over the chicken.

Place chicken pieces 1-inch apart from each other on baking sheet lined with greased aluminum foil. Spray the top of the chicken pieces with more cooking oil.

Bake for 15 minutes on one side, flip, and bake the other side for another 10 minutes.

Remove from oven. Cooked chicken should have an internal temperature of at least 165℉

Serve (highly recommend with sauce of some sort) and enjoy!
Nutrition
Calories:
449
kcal
|
Carbohydrates:
29
g
|
Protein:
56
g
|
Fat:
10
g
|
Saturated Fat:
2
g
|
Trans Fat:
1
g
|
Cholesterol:
227
mg
|
Sodium:
1042
mg
|
Potassium:
948
mg
|
Fiber:
2
g
|
Sugar:
2
g
|
Vitamin A:
311
IU
|
Vitamin C:
3
mg
|
Calcium:
70
mg
|
Iron:
3
mg