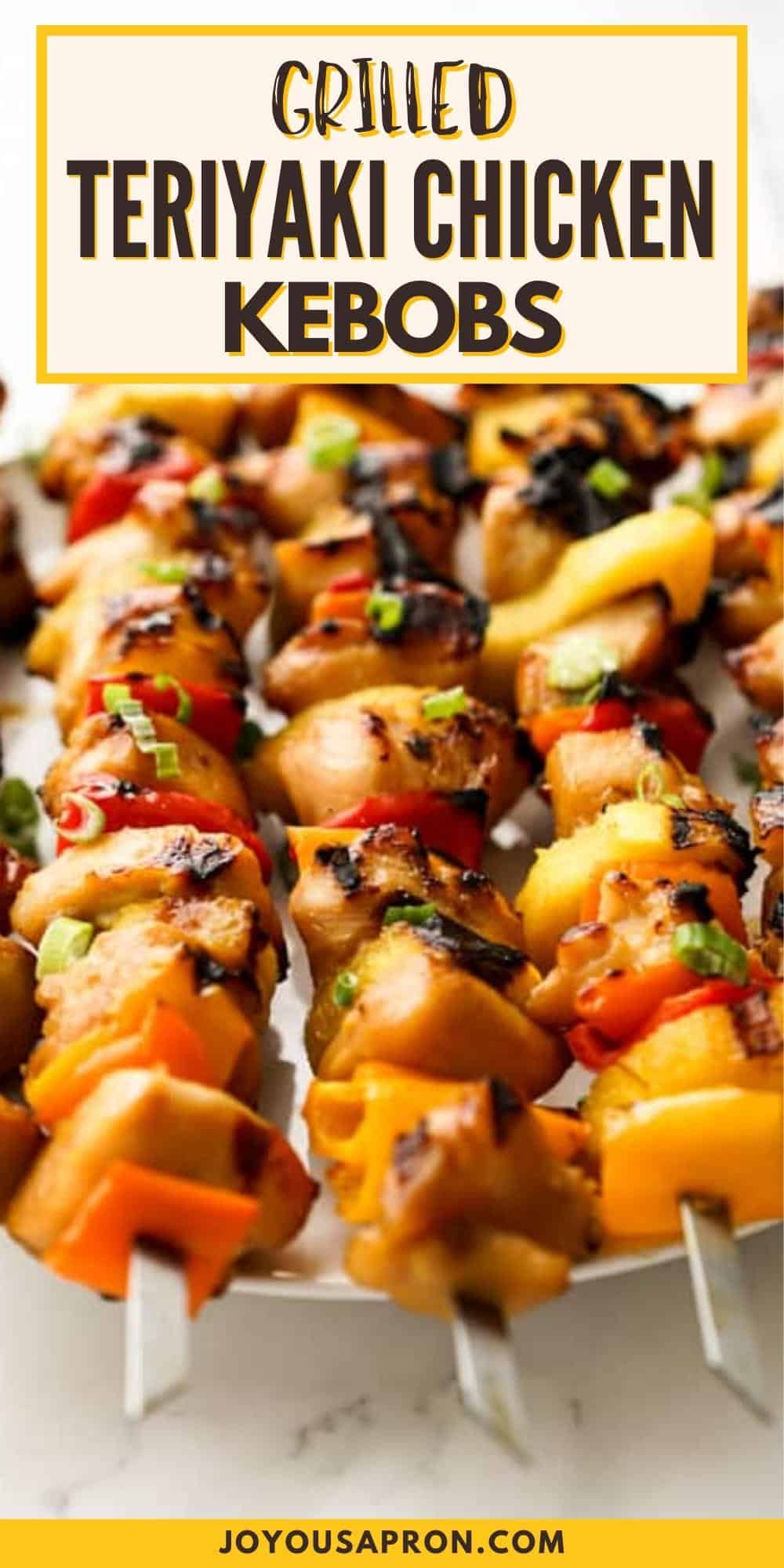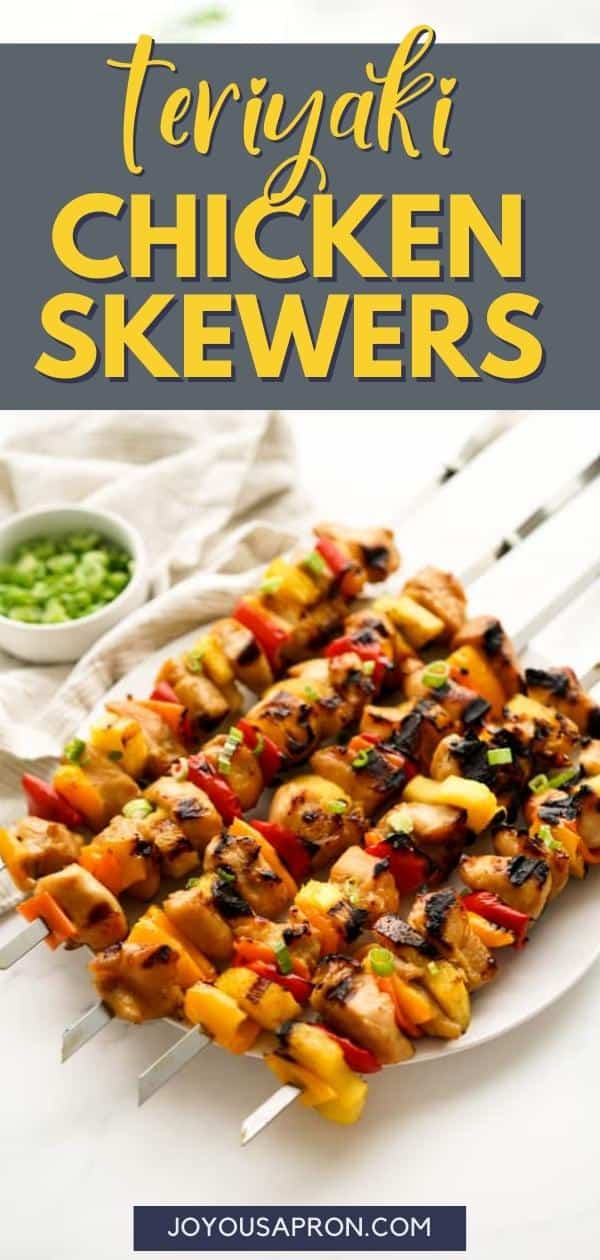 Fire up that grill and make these delicious Teriyaki Chicken Skewers today! Juicy chicken pieces marinated in a savory sweet tangy Teriyaki marinade, threaded onto a skewer along with pineapples and bell peppers, then grilled to perfection!
Packed with yummy Asian-inspired seasoning and spices, you are going to fall in love with these Teriyaki Chicken Kebobs!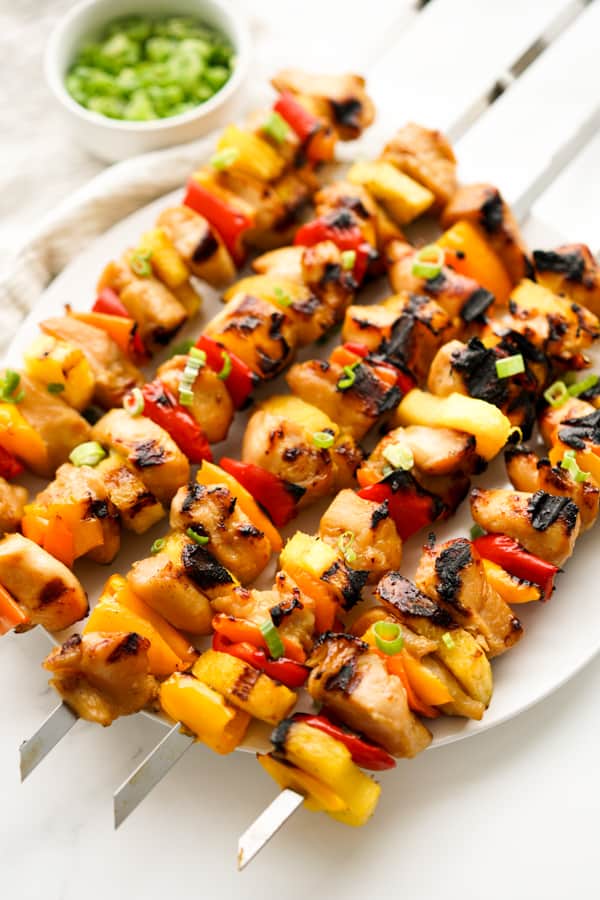 Teriyaki is a popular flavor in Asian and Japanese cooking. I love its savory sweet notes that make pretty much anything tastes amazing! Don't forget to also check out some of my other teriyaki recipes on the blog: Teriyaki Glazed Salmon and Teriyaki Chicken Stir Fry.
Today, we are making Teriyaki Chicken Skewers, which are basically chicken kebobs marinated in our homemade teriyaki sauce, and grilled alongside chunks of pineapples and bell peppers!
Being smack in the middle of summer, I want to share this delicious Grilled Teriyaki Chicken Skewer recipe so you can make something different on the grill for cookouts and bbq's if you choose to!
I mean, cheeseburgers are great. But sometimes, I'm ready for a switch up!
What I love about Teriyaki Chicken Skewers is that the chicken is truly flavorful. Because we have a bomb marinade, and a bomb marinating technique (more on that later), the teriyaki flavors actually penetrate the chicken, and not just float on the surface.
In addition, the pairing of teriyaki chicken with the sweetness, crunch and juiciness from the pineapple and bell pepper is simply perfection.
Throw these bad boys on the grill and you have the perfect summer dinner!
Tools You Will Need
To make Teriyaki Chicken Skewers, you will definitely need…skewers! (I know, duh)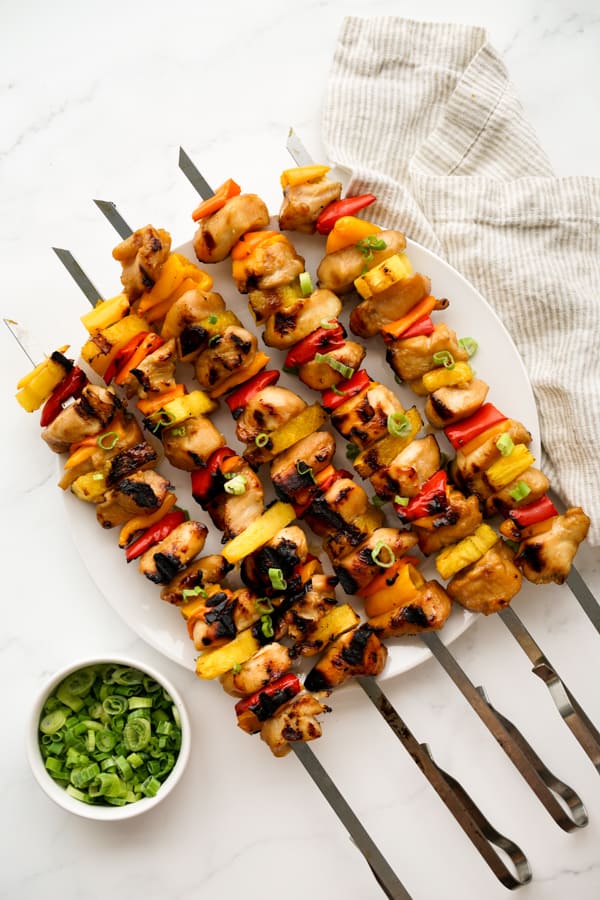 Types of skewers to use:
Metals skewers, just like the ones I use in the photographs. They are sturdier and you can reuse them over and over again. If kebob/ skewer grilling is in your future, I highly recommend investing in some of these – they are fairly inexpensive and it's much easier to thread meat and veggies onto them.
Disposable skewers. They are thinner and look like sticks, often made with bamboo or wood. Some of them are flimsier and sometimes items will fall off the sticks, so try doubling up the sticks if you need to to make the items stay put. They also have a tendency to burn so remember to soak them in water before using them.
Ingredients
To make Teriyaki Chicken Skewers, simply gather up these ingredients:
chicken – I like using chicken tenderloins because they tend to be more tender, but feel free to use chicken breast or thighs
pineapple – I am using fresh but canned works as well, especially when pineapples are not in season
bell peppers – use any color – red, orange yellow, green etc, or a mixture of colors!
For the Teriyaki marinade, here are the ingredients you will need:
rice vinegar – if you cannot find it, white vinegar works as well
mirin – Japanese sweet rice wine. Try not to skip this – brings about that umami flavor we all know in teriyaki sauces and Japanese cooking.
brown sugar – granulated sugar works as well.
sesame oil – brings a nutty flavor to the marinade
garlic cloves – mince them finely. Avoid using garlic powder – it's just not the same!
corn starch
Teriyaki Chicken Kebob Marinade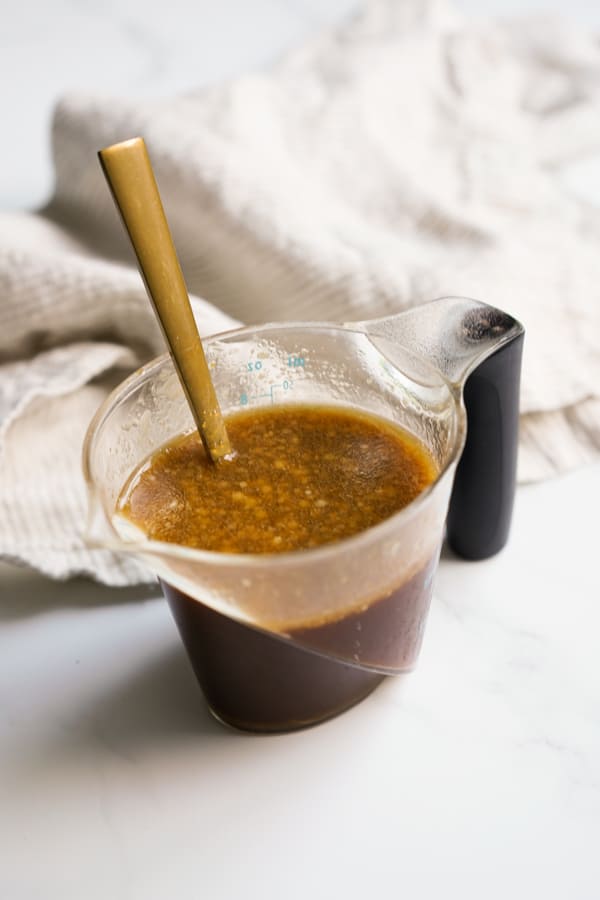 Let's talk about the fantastic marinade, which is responsible for the incredible flavors in this Teriyaki Chicken Skewers recipe.
To make sure chicken is fully immersed in flavor, make sure to marinade chicken for at least 4 hours, or even better, up to 24 hours. If you can get it to marinade at least overnight, that's the best.
In short: the longer you marinade, the more flavorful the chicken will be.
This is a savory sweet marinade with lots of complex umami flavors.
Think of this as a slight twist to traditional teriyaki dishes. It has notes of flavors we know and love in Teriyaki, combined with smoky flavor from the grill.
It truly is amazing.
How to make Teriyaki Chicken Skewers
Besides the chicken, we will be preparing the pineapples and bell peppers.
Slice them into bite size pieces, but make sure they are –
substantial pieces and not so small that it is hard to thread them onto the skewer. Keep them around 2 inches.
all around the same size so they cook evenly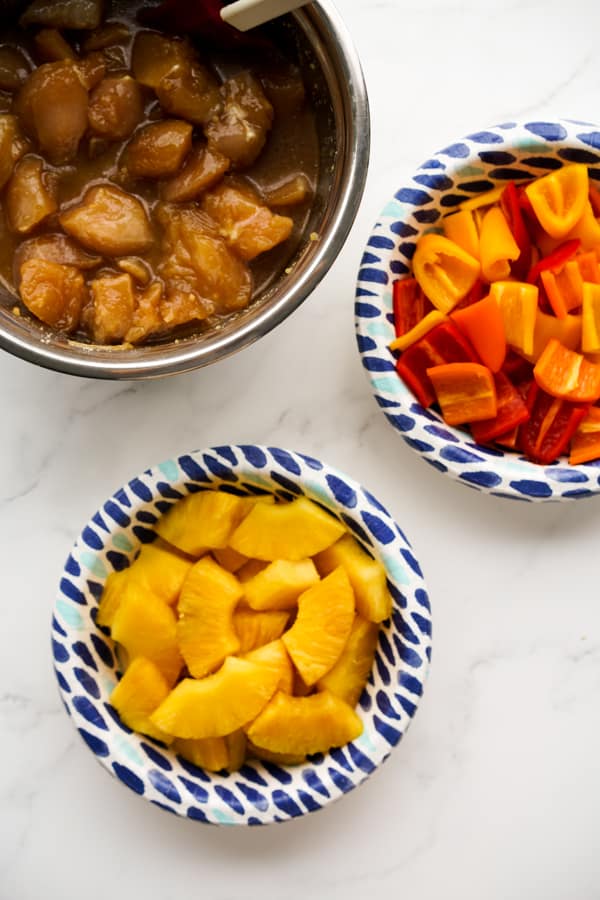 In each Teriyaki Chicken Skewer, alternate between chicken and veggies (pineapple or bell peppers). If you prefer more of one item versus the other, feel free to add more of your favorites.
If you are using wooden skewers, be sure to soak them in water first for ~30 minutes before threading chicken and veggies onto skewers. This is to prevent skewers from burning when exposed to fire.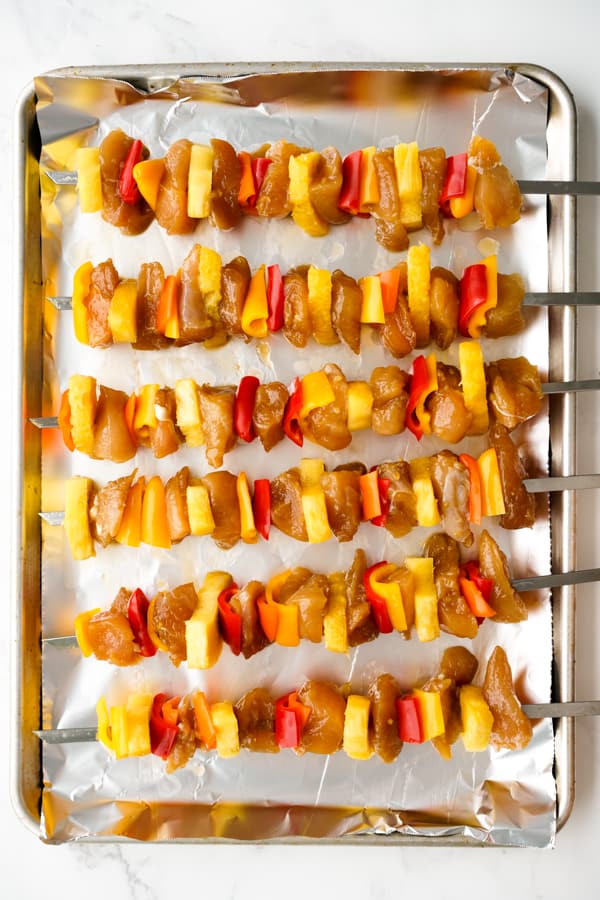 Grilling the Skewers + Tips & Tricks
When grilling these Teriyaki Chicken Skewers, make sure to generously grease the grill grids with cooking oil before placing kebob sticks onto it. Without greasing the grill, chicken and veggies will stick to it pretty easily.
Also note that because there is sugar in the marinade, chicken will burn slightly.
The good news is, Teriyaki Chicken Kebobs doesn't take long to cook, but do still watch out and flip or move them over to be cooked under indirect heat if needed.
I typically cook these kebobs for a few minutes on one side, flip, and cook the other side until chicken is fully cooked. Cook time will vary depending on many factors.
Cooked chicken should have at least an internal temperature of 165℉. Use a meat thermometer to check the internal temperature.
When Teriyaki Chicken Kebobs are done, remove from heat promptly once chicken hit 165℉ to avoid overcooking the meat. Overcooked meat is though and rubber-y and doesn't taste very good.
Slight charring on the teriyaki chicken is completely normal, in fact, I prefer it! It gives it that added smoky flavor.
Serving Suggestions
To top it off, I like to garnish these kebobs with some chopped green onions. You can also garnish it with sesame seeds or chopped cilantro if you'd like.
Garnishes are completely optional. It enhances the dish but doesn't make or break it.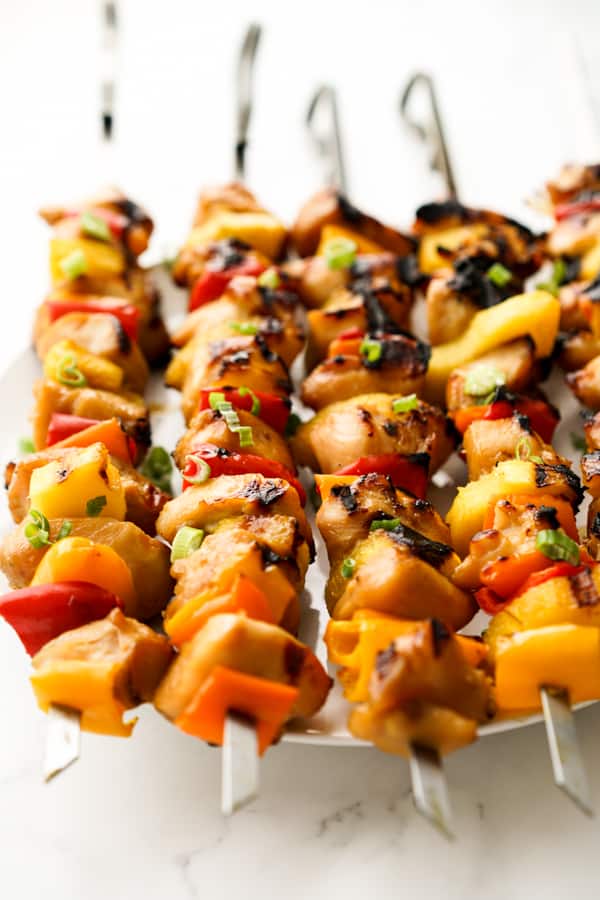 There are so many yummy ways to serve Teriyaki Chicken Kebobs. In fact, I often time serve leftovers in different ways to keep our dinners interesting.
Here are some of my favorite ways to serve this:
Serve over white or brown rice. These Teriyaki Chicken Skewers go incredibly well with plain rice as rice will soak up the incredible sauces. You can also serve it with a simple fried rice.
With your favorite noodle dish! These will be yummy with it: Simple Thai Noodle Bowl, Garlic Noodles, Ramen Noodle Stir Fry.
Wrap it in lettuce – making it a lettuce wrap. This is a low carb option that is lighter and healthier. Use butter lettuce, romaine or green leaf lettuce.
Spicy dipping sauce on the side, such as sriracha or chili garlic paste.
Serve with a veggie side such as bok choy. Learn how to cook bok choy here.
By itself! So good it stands on its own just as well!
Substitution and variation
Here are other ingredients you can use to make Teriyaki Chicken Skewers:
Besides cubed chicken tenderloins, feel free to use cubed chicken breast or chicken thighs.
In addition or instead of bell peppers and pineapple, here are other yummy veggies you can use: red onions, carrots, mushrooms, zucchini, and squash. Make sure to keep them about the same size as the bell peppers and pineapples.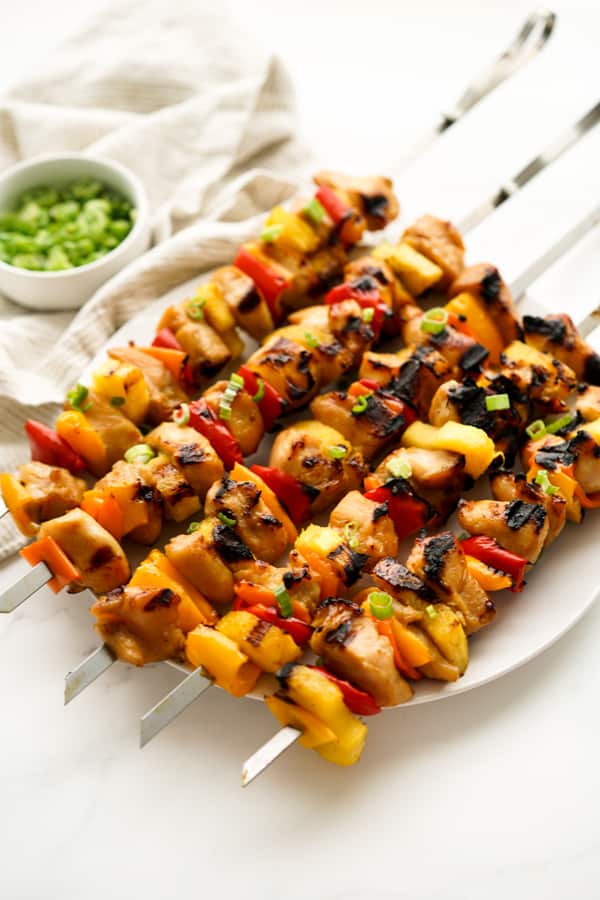 Frequently Asked Questions
How to prevent items from falling off the skewers?
Make sure chicken, pineapples and bell peppers are substantial in size and not cut into overly small pieces. If you've tried everything and things are not staying put, double skewer the items, especially if you are using thin wooden skewers. Place skewers parallel to each other and thread the items through both skewers at the same time.
How do you eat chicken on a skewer?
Use a fork and push chicken, bell peppers and pineapples off the skewer onto the plate when ready to eat. I find that that's the easiest way to eat it!
How do I store and reheat Chicken Teriyaki Skewers?
I push all the items off the skewer and store in a container. There's no need to keep it on the skewer when storing. The skewer is there to group the items together for grilling purposes. To reheat, I simply microwave the chicken pieces, pineapple and bell peppers.
DID YOU ENJOY THIS RECIPE? Please comment below and give us a 5-star rating! This will help others find this recipe on Google and Pinterest. We very much appreciate your help! 🤍
More Grilling Recipes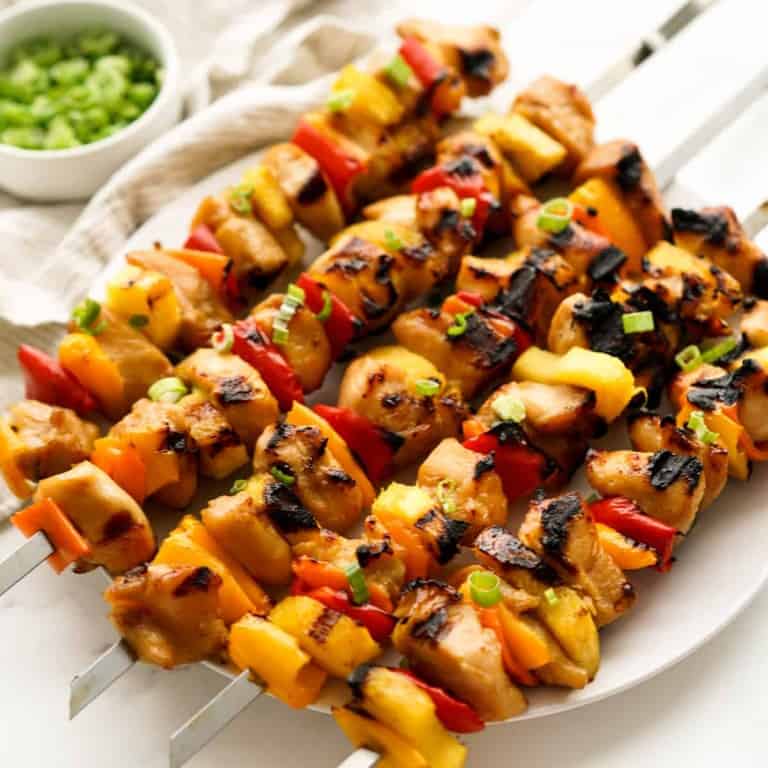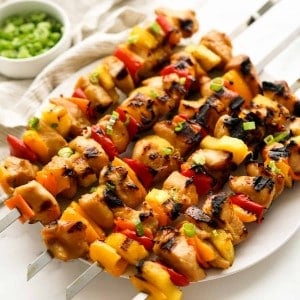 Teriyaki Chicken Skewers
These grilled chicken kebobs are made with teriyaki marinated chicken, along with pineapple and red bell peppers. An Asian inspired chicken skewer recipe that is flavorful, healthy and easy to make!
Print
Pin
Ingredients
1.5

lbs

chicken tenderloins

2-inch cubed

1/4

cup

soy sauce

2

tbsp

brown sugar

1

tbsp

Mirin

1

tbsp

rice vinegar

1

tsp

sesame oil

4

cloves

garlic

minced

1

tsp

corn starch

2

cups

pineapple

sliced, 2 inches

1

large

bell pepper

sliced, 2inches

1-2

tbsp

cooking oil

1

tbsp

green onions

chopped
Instructions
In a small bowl, bring together marinade ingredients: soy sauce, brown sugar, Mirin, rice vinegar, sesame oil, minced garlic and corn starch. Whisk to combine.

Marinade chicken tenderloin cubes in marinade for t least 4 hours and up to 24 hours. The longer it is marinade, the more flavorful the chicken will be!

Thread marinated cubed chicken, pineapple pieces and bell peppers onto skewers. Alternate between chicken and veggies, but feel free to use more of the items you like!

Fire up grill to medium high heat, then generously grease grill grids with cooking oil.

Place skewers onto grill grids, grill for 3-5 minutes on each side, or until chicken is fully cooked. If chicken starts to burn excessively, move it so that it is cooked under indirect heat. Chicken should have an internal temperature of 165℉ when fully cooked. Avoid undercooking or overcooking. Some slightly charring on the chicken is expected, even encouraged!

Remove from heat, garnish with green onions.
Notes
If using wooden skewers, make sure to soak them in water for 30 minutes before threading chicken, pineapple and bell peppers onto skewers.
slice chicken, pineapple and bell pepper into ~2 inches (not too small) so that it is easier to secure them onto skewer.
If using wooden skewers (thin sticks), consider skewering chicken and veggies into two sticks parallel to each other so secure them more firmly.
Grilling temperature varies, so make sure to cook until chicken is fully cooked. Time provided is just an estimate.
Nutrition
Calories:
200
kcal
|
Carbohydrates:
16
g
|
Protein:
26
g
|
Fat:
4
g
|
Saturated Fat:
1
g
|
Polyunsaturated Fat:
1
g
|
Monounsaturated Fat:
1
g
|
Trans Fat:
0.01
g
|
Cholesterol:
73
mg
|
Sodium:
697
mg
|
Potassium:
574
mg
|
Fiber:
1
g
|
Sugar:
11
g
|
Vitamin A:
932
IU
|
Vitamin C:
63
mg
|
Calcium:
24
mg
|
Iron:
1
mg