Teriyaki Chicken Stir Fry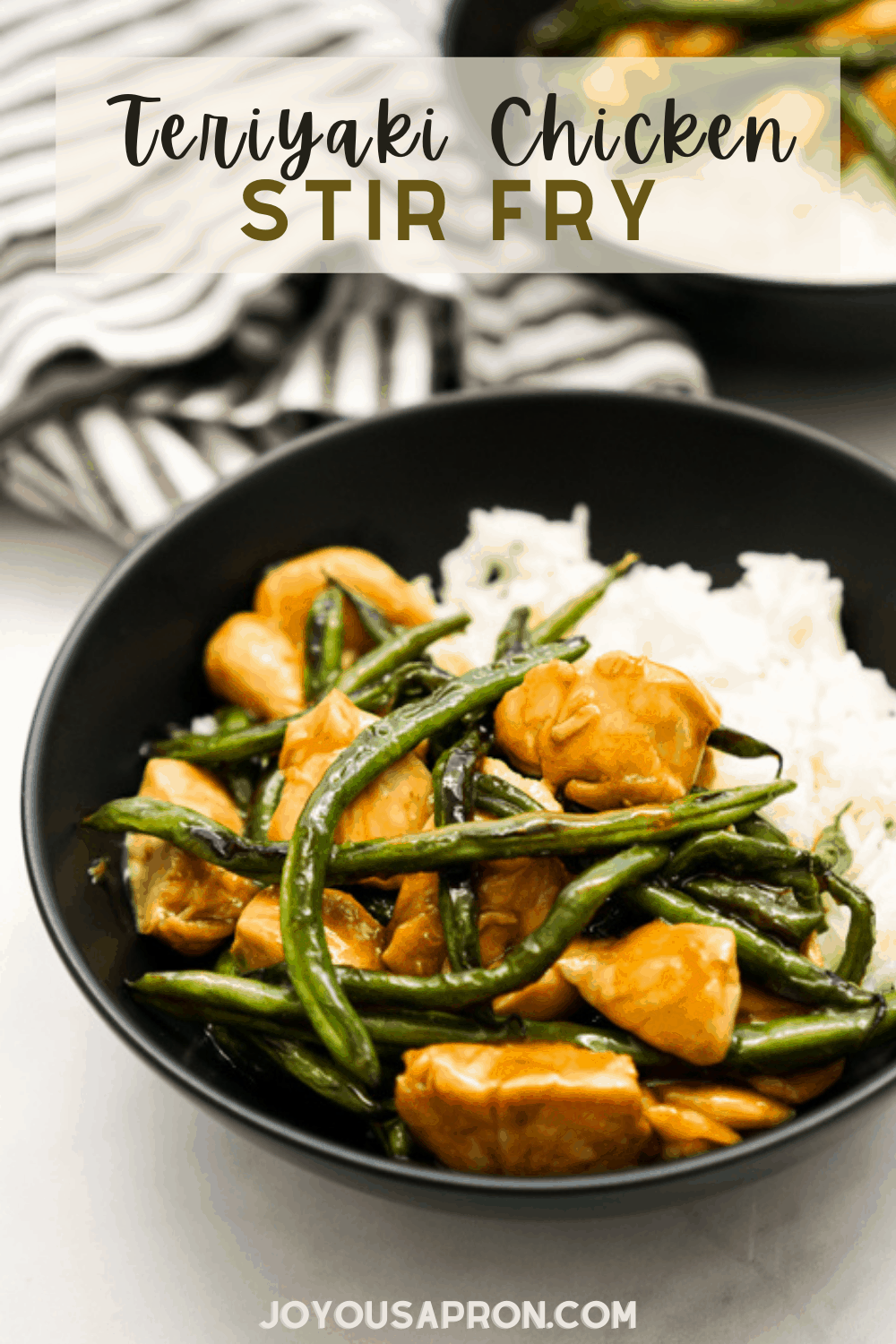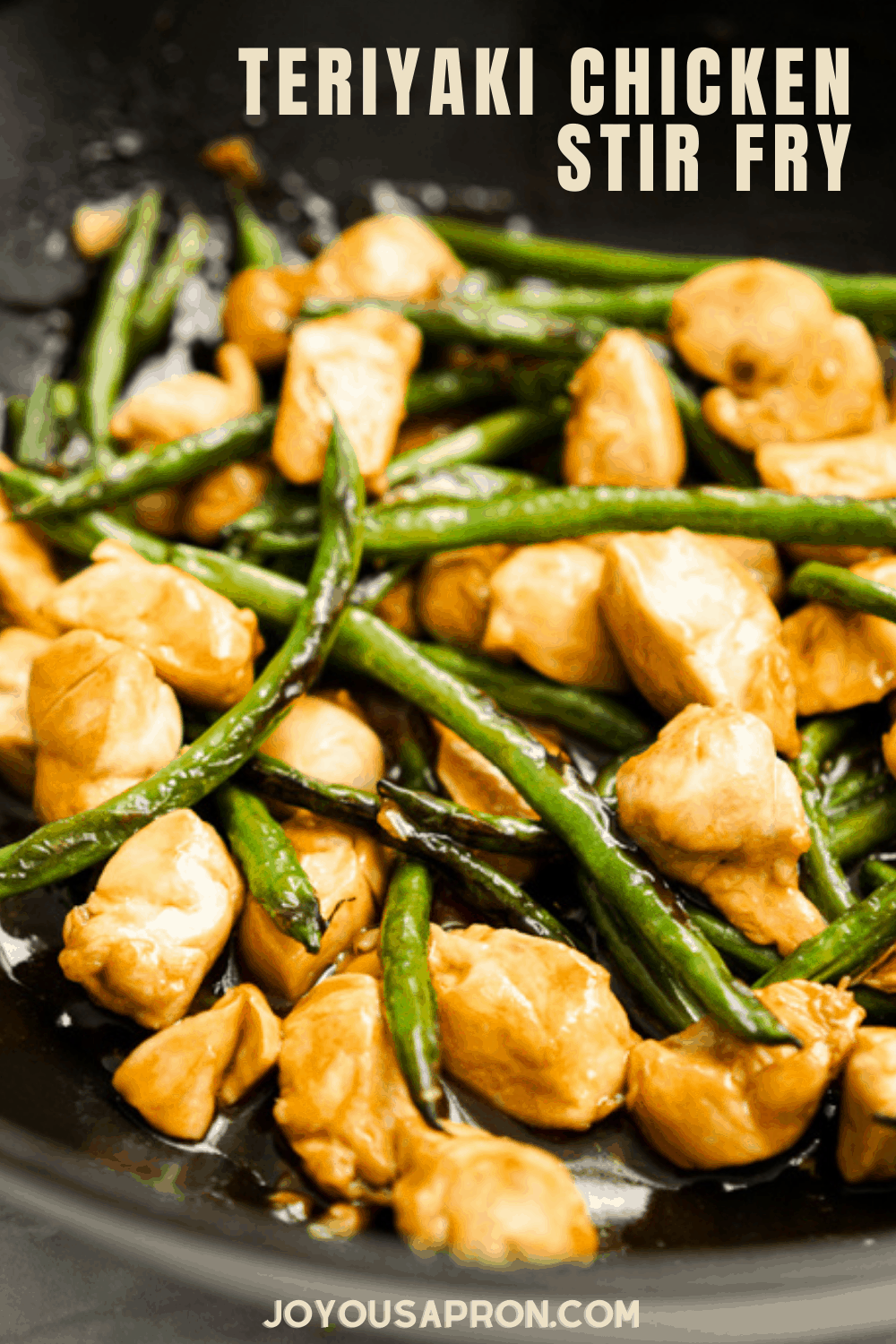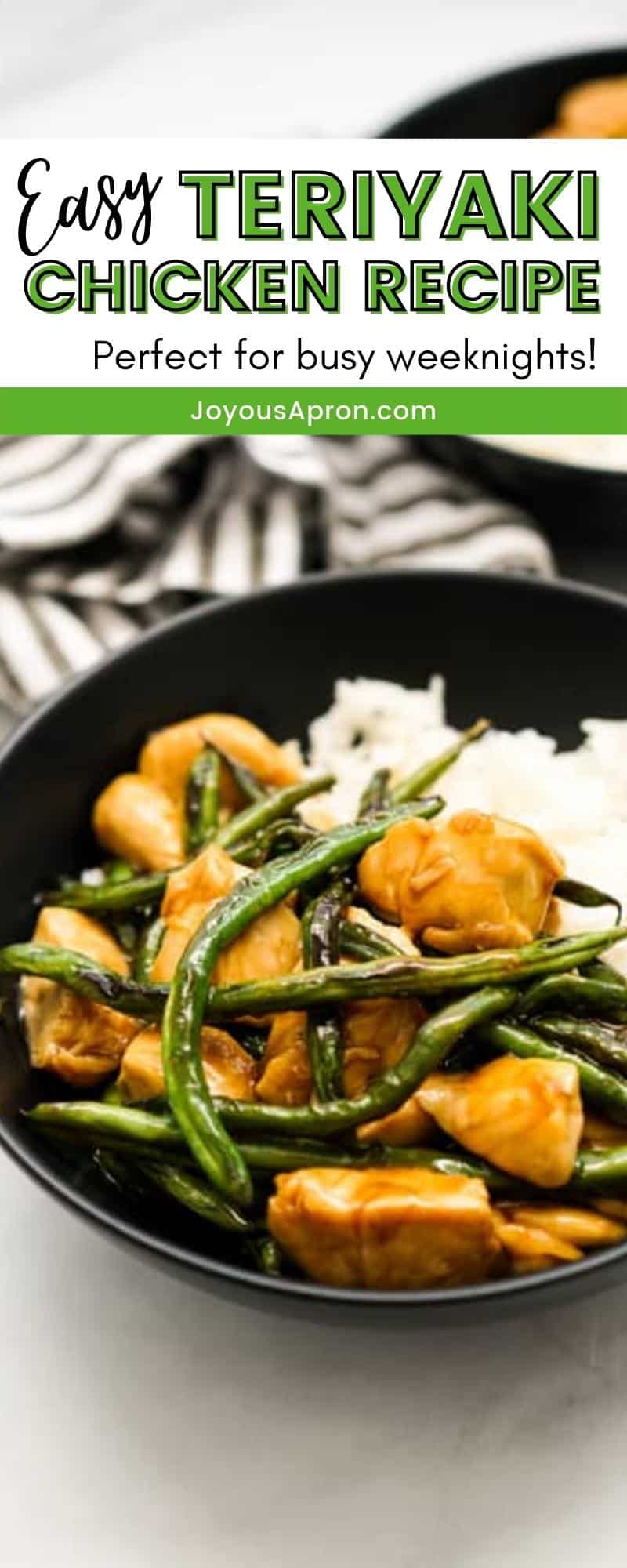 This Teriyaki Chicken Stir Fry is an easy dinner recipe that you need in your life!
Ready under 30 minutes, we are combining pieces of chicken tenderloins along with charred green beans (PSA: best kind of green beans) along with our delicious homemade teriyaki sauce…and BAM, you have your Teriyaki Chicken Stir Fry!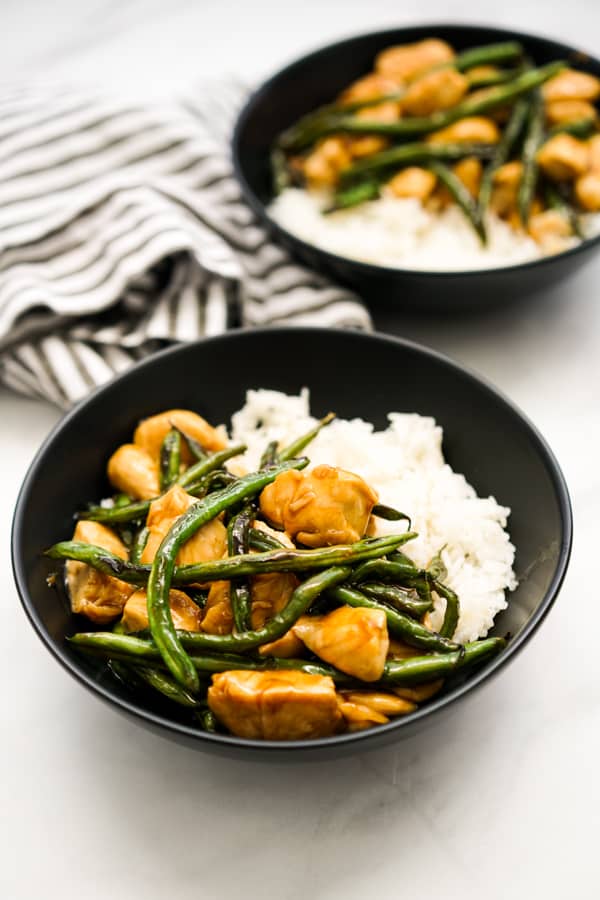 Love Teriyaki flavors? I think you'll love these recipes as well – Teriyaki Glazed Salmon and Teriyaki Chicken Skewers!
Easy and Yummy Teriyaki Chicken Stir Fry
The best way to serve Teriyaki Chicken Stir Fry is definitely over white or brown rice because rice will soak up that sticky, crazy flavorful Teriyaki sauce. Soft fragrant rice pairs amazingly well with the juicy chicken and crunchy veggies.
It's so good you may be licking your bowl clean at the end of it!
Teriyaki Chicken Stir Fry has quickly become one of our favorite easy weeknight dinner meals. And the secret is truly in the sauce.
Never settle for store-bought, pre-made teriyaki sauce, because they are just not the same! Especially when this homemade Teriyaki Sauce is made with simple, easy-to-find ingredients. Before you know it, homemade Chicken Teriyaki Stir Fry is a real thing in your life!
Teriyaki is a popular sauce in Japanese cuisine and can be found all over the world today!
This Teriyaki Chicken Stir Fry recipe is not the most authentic teriyaki chicken recipe (check out RecipeTin Japan's very authentic take on this here) but instead it retains a lot of the authentic teriyaki flavors while using pantry-friendly ingredients – making this recipe super accessible and easy!
I also wanted to create a Chicken Teriyaki Stir Fry recipe that we can quickly incorporate veggies and turn it into a wholesome one-bowl dinner, lunch or meal prep. In other words, an easy everyday meal for busy people!
And that's how this Chicken Teriyaki Stir Fry came about!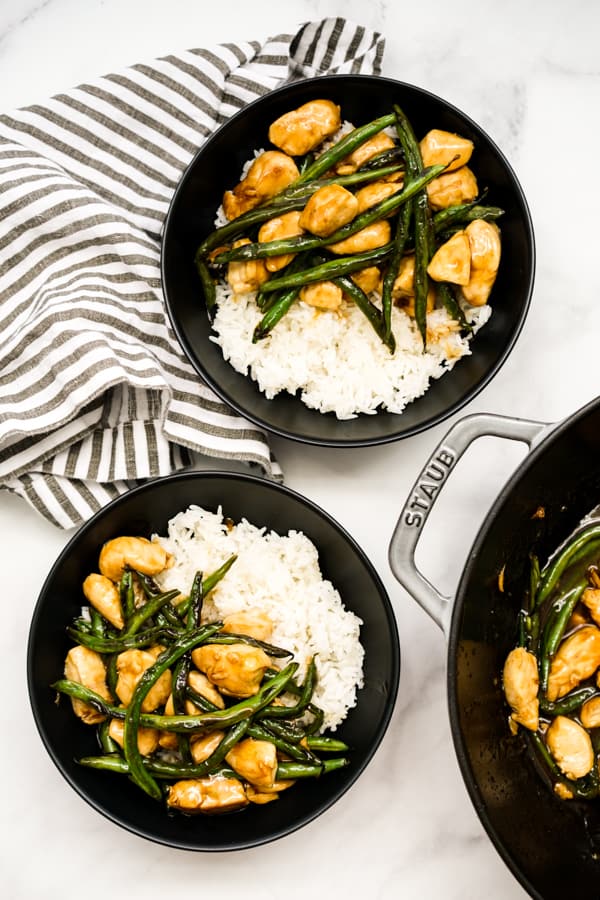 Ingredients
Let's talk Chicken Teriyaki Stir Fry ingredients! First, let's dive into the ingredients that makes up the delicious teriyaki sauce. This is my tried and true way of making my homemade teriyaki sauce. It is simple, easy and has that umami flavor thanks to a special ingredient we incorporated:
Mirin – that's really the secret to the umami flavors in the sauce. Do not skip this! It can often be found in most mainstream grocery store in the Asian aisle. If not, most Asian grocery stores carry them. Lots of Japanese dishes have Mirin in them! If you want to cook more Japanese food, you'll be using this a lot.
Brown sugar – White sugar is okay to use if you don't have brown sugar.
Sesame oil – a nutty oil used a lot in Asian dishes. Bring about a distinct taste and flavor
Rice vinegar – bring about a slight tangy flavor to the sauce. We are only using a little bit of this because we don't want the sauce overly sour. you can substitute with white vinegar if in a pinch.
Corn starch – used to thicken the sauce
Water – we need a little water to dilute the Teriyaki Sauce so that it is not overly salty.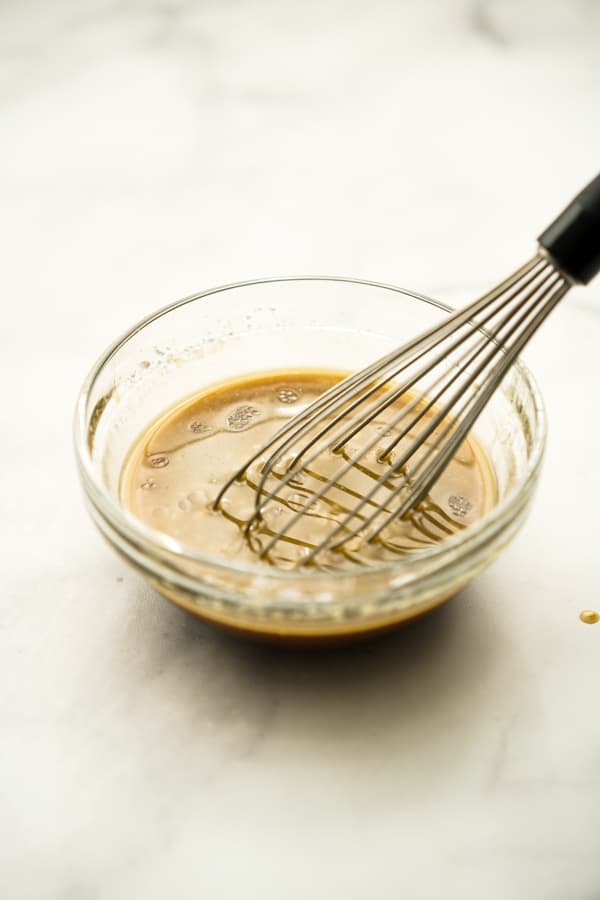 In addition to ingredients for teriyaki sauce, we will also need:
Chicken tenderloins – cut into cubes. I like using tenderloins more than breast because I find them juicier and more tender. If you only have chicken breast, that is okay to use as well.
Green beans – you can use any veggies for this but I love the slightly charred green beans coated in sticky Teriyaki Sauce. It will convert green bean haters into green bean lovers (e.g. my husband!)
Garlic – it's hard to cook Asian food without garlic! Use fresh and avoid substituting with garlic powder.
How to Make Teriyaki Chicken Stir Fry
Now that we have laid out all the necessary ingredients, let's make some Teriyaki Chicken Stir Fry!
The very first thing to do is to combine teriyaki sauce ingredients in a small bowl and use a whisk to whisk the sauce until it is nice and smooth, i.e. no more lumps from corn starch.
Then add vegetable oil to non-stick skillet or wok, and heat under high heat.
Once oil is hot, bring green beans to skillet/wok and cook until it is soft on the inside and charred on the outside. Stir continuously so all sides of the green beans are charred and not one side gets over-burned.
At any point when making Teriyaki Chicken Stir Fry, lower heat slightly if wok or skillet is getting too hot and is burning the green beans too quickly before the insides is soft.
Always be prepare to adjust the heat when stir frying so you do not overcook your food.
We are cooking the green beans first because it takes a lot longer to cook them compared to the chicken.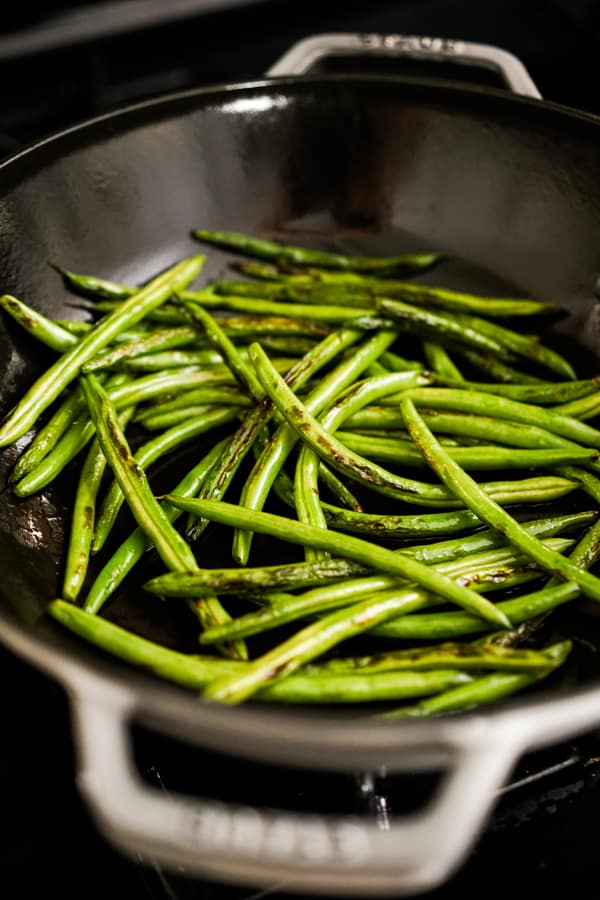 Once green beans are slightly charred on the outside and soft on the inside, remove and set aside.
Then add more vegetable oil to skillet and let skillet heat under high heat again. Then add cubed chicken tenderloins (make sure to pat dry it prior to this!)
Sear chicken and stir so that all sides are cooked properly.
Then bring green beans back into the skillet, add minced garlic, then add teriyaki sauce!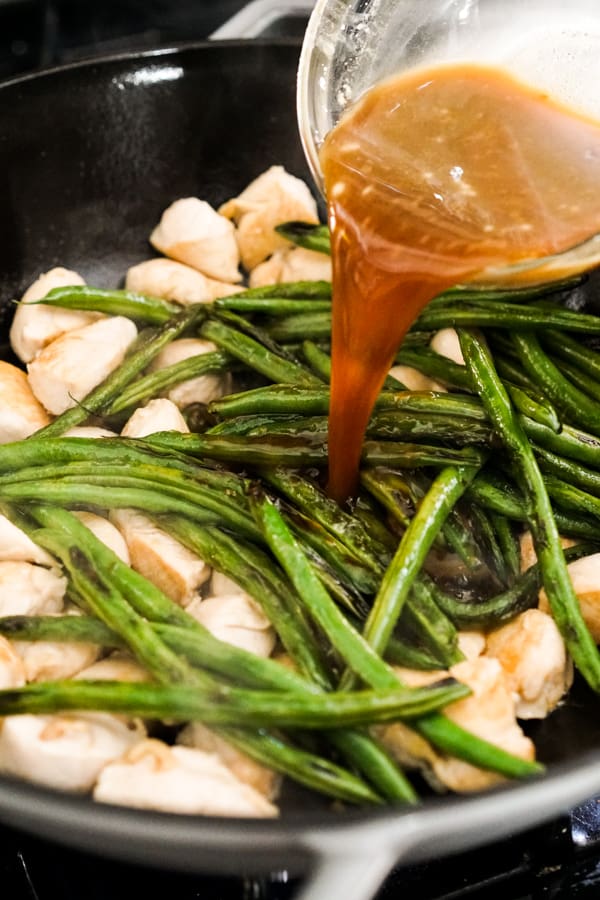 Stir continuously to combine everything so green beans and chicken are evenly coated in that yummy Teriyaki Sauce.
As your Teriyaki Chicken Stir Fry cooks, you will find that the sauce will thicken slowly.
Once sauce is thickened and chicken and green beans are coated in Teriyaki Sauce, you are done!
Serve that delicious Chicken Teriyaki Stir Fry over rice, and prepare to feast your heart out!
This dish proves once and for all that simple CAN be delicious!
Stir Fry Tips
A few tips and tricks that will help bring success to your Teriyaki Chicken Stir Fry!
The stir fry process goes quickly so prepare everything ahead of time and set it in arm's reach next to the stove before you start cooking.
Cook under high heat if possible! Use a skillet or wok that can withstand high heat. Wait until oil is hot before adding ingredients so they get a nice sear.
Make sure to pat dry ingredients before adding them to the wok, especially chicken. If ingredients are wet, it will create a pool of water at the bottom of the skillet and ingredients will not be seared well in hot oil.
Do not overcrowd your skillet or wok – if doubling the recipe, cook in two batches.
Stir continuously so that all the ingredients are cooked evenly.
For more stir fry tips, check out 8 Tips to a Great Stir Fry.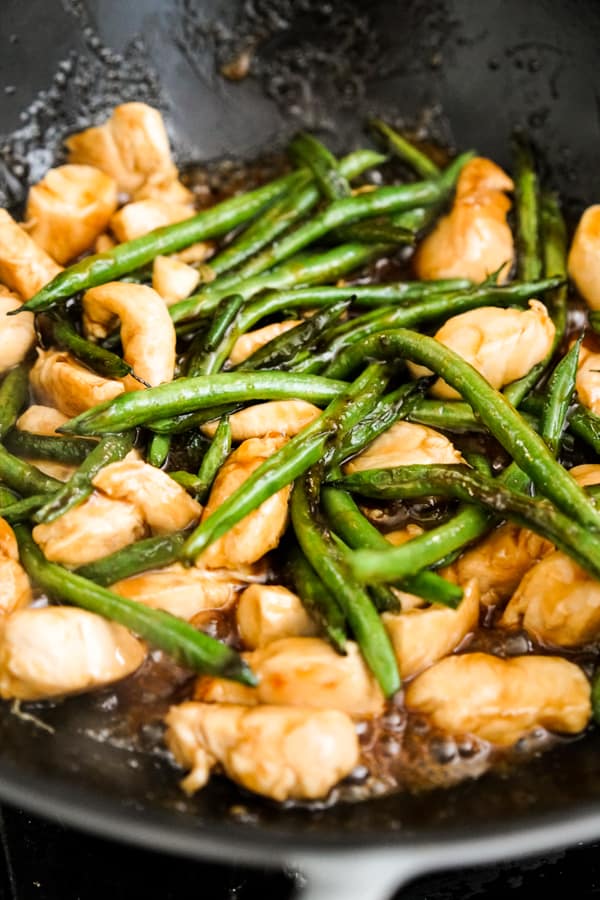 Frequently Asked Questions

Does Teriyaki Chicken Stir Fry keep well?
Absolutely! In fact, this is one of my favorite thing to make for meal prep! Store in an airtight container in the refrigerator for up to 5 days. When ready to eat, heat in microwave. It heats very well too.
What goes well with chicken teriyaki?
White rice, brown rice, or even fried rice goes very well with it. In addition, any veggies such as green beans, broccoli, bell peppers, carrots, baby corn, white onions will also go with it.
What's the difference between teriyaki sauce and soy sauce?
Teriyaki sauce is made with soy sauce in addition to other sauces and seasoning. So think of Teriyaki Sauce as a more complex sauce compared to soy sauce. It has more dimension of flavors (sweet, savory, slightly tangy etc).
More Asian Stir Fry Recipes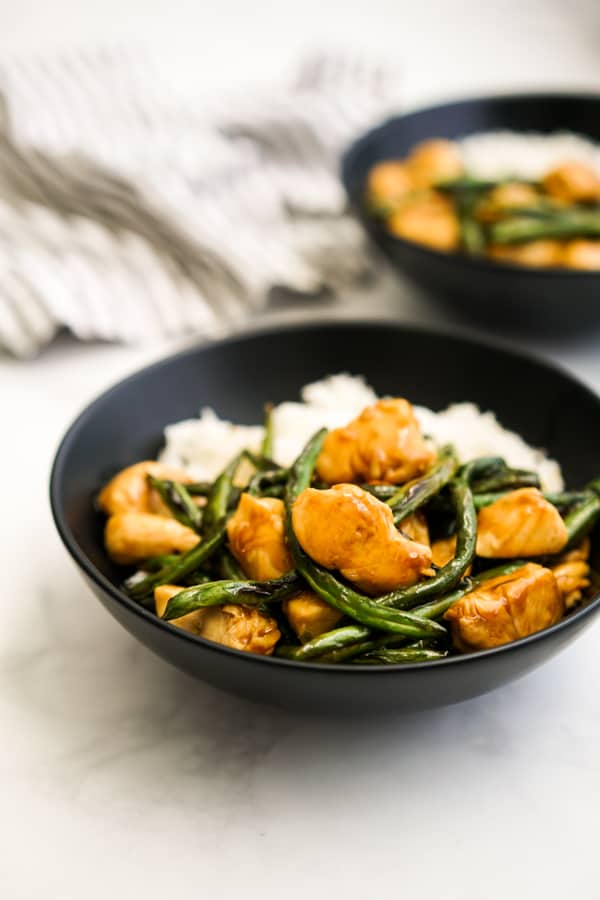 DID YOU ENJOY THIS RECIPE? Please comment below and give us a 5-star rating! This will help others find this recipe on Google and Pinterest. We very much appreciate your help! 🤍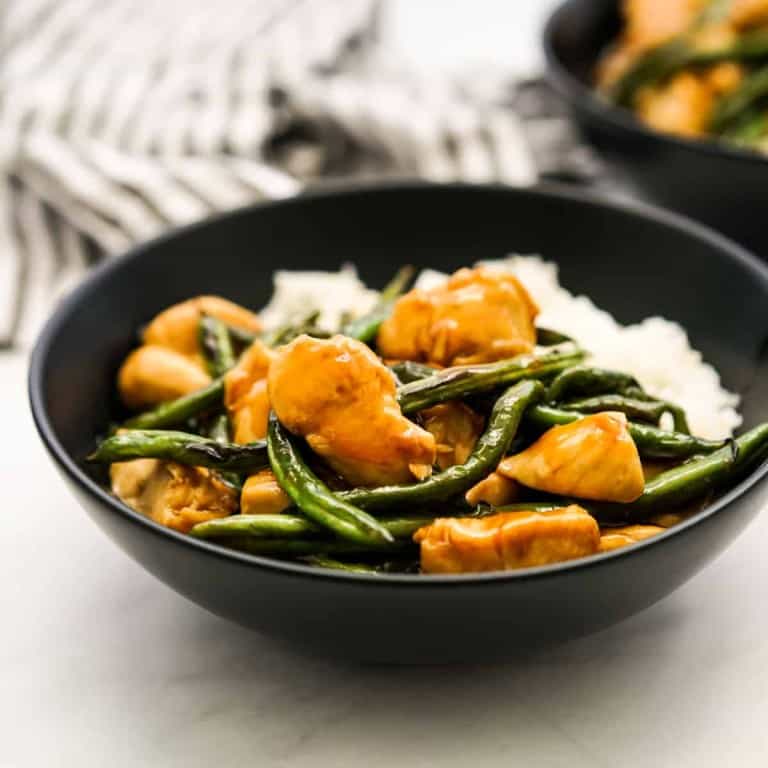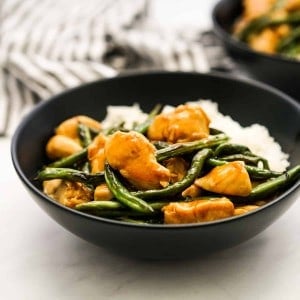 Teriyaki Chicken Stir Fry
An easy homemade Japanese inspired teriyaki chicken stir fry recipe! Juicy chicken and green beans coated in homemade Teriyaki Sauce makes for a quick and delicious dinner ready under 30 minutes!
Print
Pin
Ingredients
8

oz

green beans

1

lbs

chicken tenderloins

cubed

1

tbsp

vegetable oil

or more as needed

3

cloves

garlic

minced
Homemade Teriyaki Sauce
1/4

cup

soy sauce

2

tbsp

Mirin

2

tbsp

brown sugar

1

tsp

sesame oil

1

tsp

rice vinegar

2

tsp

corn starch

2

tbsp

water
Instructions
Bring all the Teriyaki Sauce ingredients into a small bowl. Whisk to combine. Set aside.

Heat skillet or wok with vegetable oil under high heat. Once oil is hot, add green beans (make sure it is pat dry if it is wet) and stir continuously until green beans are slightly charred on the outside and soft on the inside. This will take at least 3 minutes and most likely more. If green beans are burned but the insides are still not cooked, lower heat slightly.

Remove green beans and set aside.

Add more vegetable oil to skillet if needed and heat under high heat, then add chicken pieces. Stir and sear chicken until it is fully cooked. This should only take a couple of minutes – avoid overcooking chicken.

Add green beans back into the skillet, add garlic, then add Teriyaki Sauce.

Stir to combine chicken and green beans in Teriyaki Sauce. Once it is combined, remove from heat promptly.

Serve (highly recommend with rice) and enjoy!
Nutrition
Calories:
316
kcal
|
Carbohydrates:
21
g
|
Protein:
36
g
|
Fat:
10
g
|
Saturated Fat:
5
g
|
Polyunsaturated Fat:
1
g
|
Monounsaturated Fat:
2
g
|
Trans Fat:
1
g
|
Cholesterol:
97
mg
|
Sodium:
1350
mg
|
Potassium:
783
mg
|
Fiber:
2
g
|
Sugar:
13
g
|
Vitamin A:
567
IU
|
Vitamin C:
12
mg
|
Calcium:
52
mg
|
Iron:
2
mg