Cheesy Tomato Chicken Spaghetti
Hello Cheesy Tomato Chicken Spaghetti, a.k.a. new favorite comfort food, best kept spaghetti secret, and one cheesy beauty!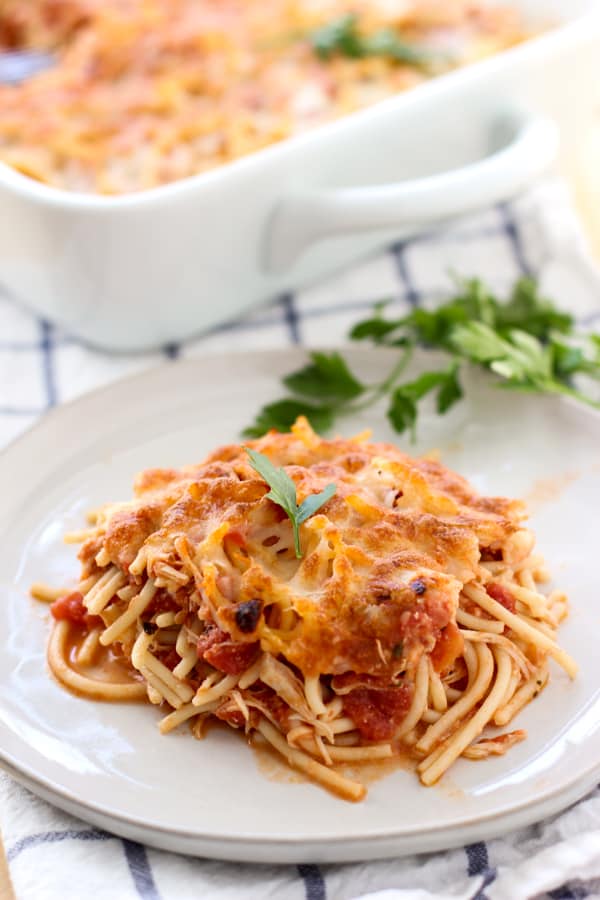 The secret in this dish lies in the gorgeous sauce. The tomato-based sauce is infused with Italian spices, mascarpone cheese, and mozzarella cheese.
It is also combined with the savory goodness of chicken bone broth, bringing a hint of chicken flavor in the tomato sauce, which by the way is a gorgeous combination.
More mozzarella cheese is then sprinkled on top of the spaghetti and broiled in the oven to delivery this crusty, slightly charred top. Once you put your fork in it, the melted cheese inside just oozes out.
The month of February had me constantly wanting to curl up under my blanket and just watch winter pass by. It was all about comfort food, comfortable clothes, mellow music, watching too much Winter Olympics and spending a lot of time on the I-know-it-too-well spot on my comfy couch.
If there is one comfort food that I will use to describe my February it is THIS. I spent a good part of February perfecting this dish.
John and I had many dinners critiquing, savoring and devouring Cheese Tomato Chicken Spaghetti.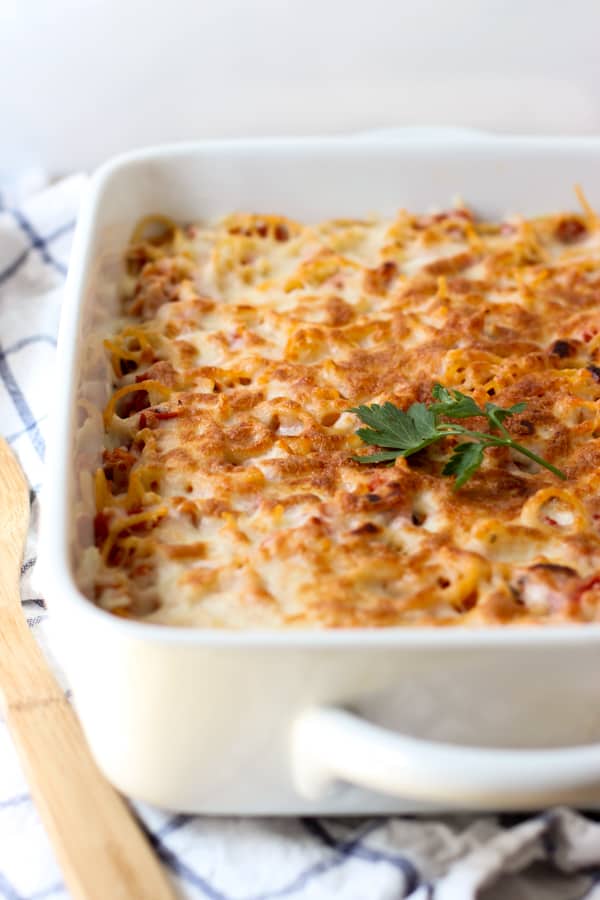 So many trial and errors, but at the same time, so much LOVE for the gorgeously delicious end product. This will be a keeper recipe in our household.
Cheesy Tomato Chicken Spaghetti. I hereby dedicate February 2018 to you.
You know I don't do crazy complicated recipes around here. We strive to create recipes for the average person who is trying to make delicious food for yourself, your family and your friends.
So I will tell you what I always tell you in most of my recipe posts. This is pretty simple to make. 🙂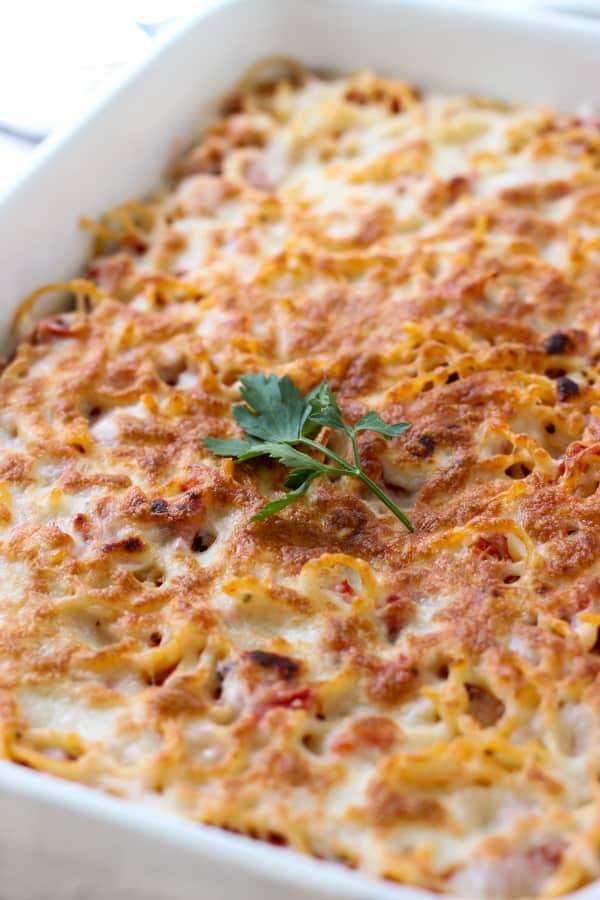 Let's Make It!
The first thing to do is to cook two pieces of defrosted chicken breast in chicken broth in a crock pot for a few hours.
Once it is cooked, bring chicken out, shred and put it back into the broth and cook on low for another 30 minutes.
I slow cooked instead of boiling or steaming the chicken for two reasons:
I want to infused the chicken with the bone broth so the chicken is packed with flavor.
When I tried boiling the chicken in water, it came out tougher. Slow cooking enables the chicken to stay moist.
Then boil the spaghetti a minute or two below the recommended time to boil on the package. Drip some olive oil into the boiling water to prevent pasta from sticking together. Drain when done and set aside.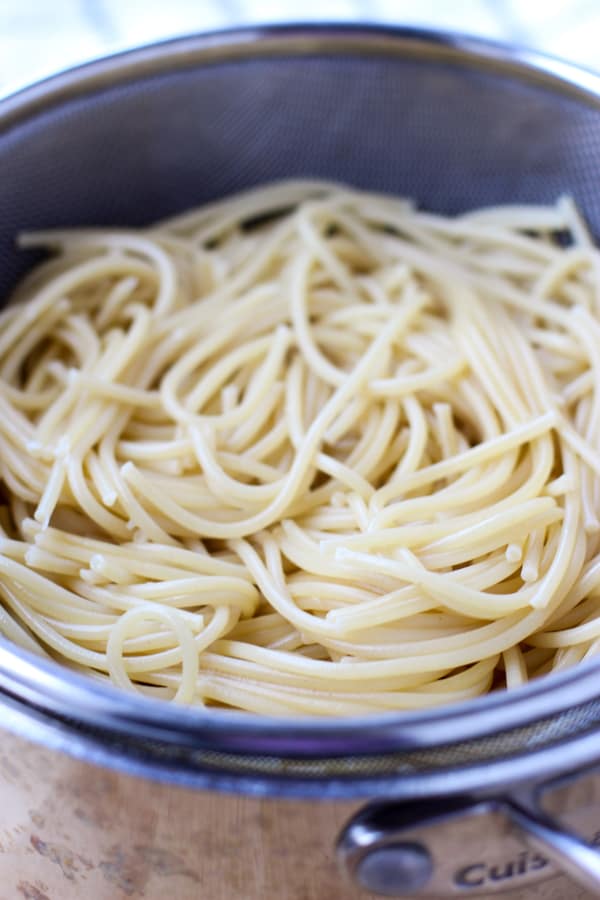 To make the sauce, sauté garlic in olive oil briefly, then add diced tomatoes, mascarpone cheese, 3/4 cup of chicken broth from cooking the chicken.
Bring to boil, and cook for 10-15 minutes on medium low heat. I typically wait till the end to add the mozzarella cheese, and I add more mozzarella cheese if I want the sauce to be thicker. The sauce will be slightly runny and will continue to thicken up.
Add the shredded chicken (drained) into the pot.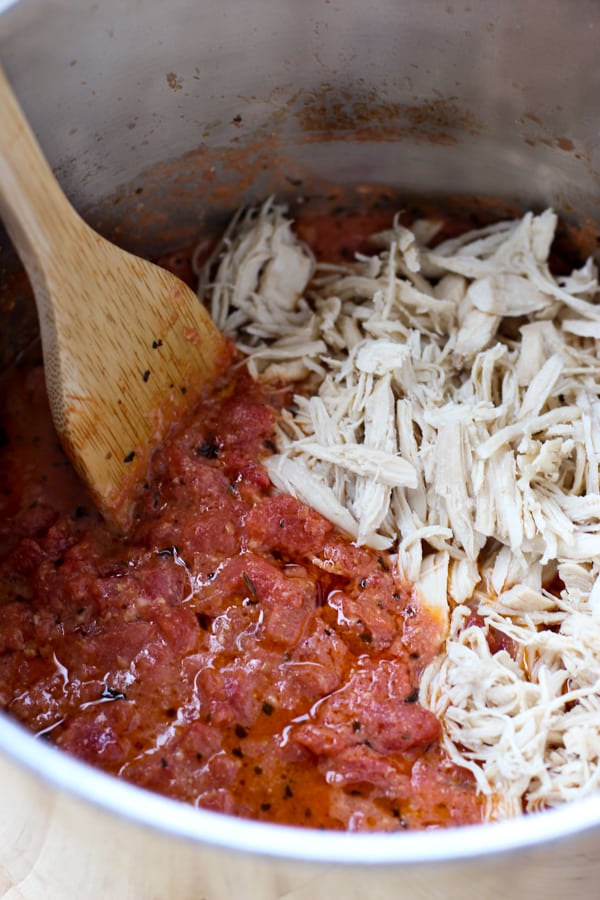 Then last but not least, add the cooked spaghetti.
The sauce should thicken up slightly after adding chicken and spaghetti. I did notice that different brands of diced tomatoes will yield different "thickness" of sauce.
To thicken the sauce further, add more mozzarella cheese. I actually like this particular sauce slightly runny. Add salt to taste.
Transfer ingredients to a 9″ x 13″ casserole dish. Sprinkle with shredded mozzarella cheese and broil in the oven for 3-4 minutes, or until the top of the is slightly brown.
And here it is.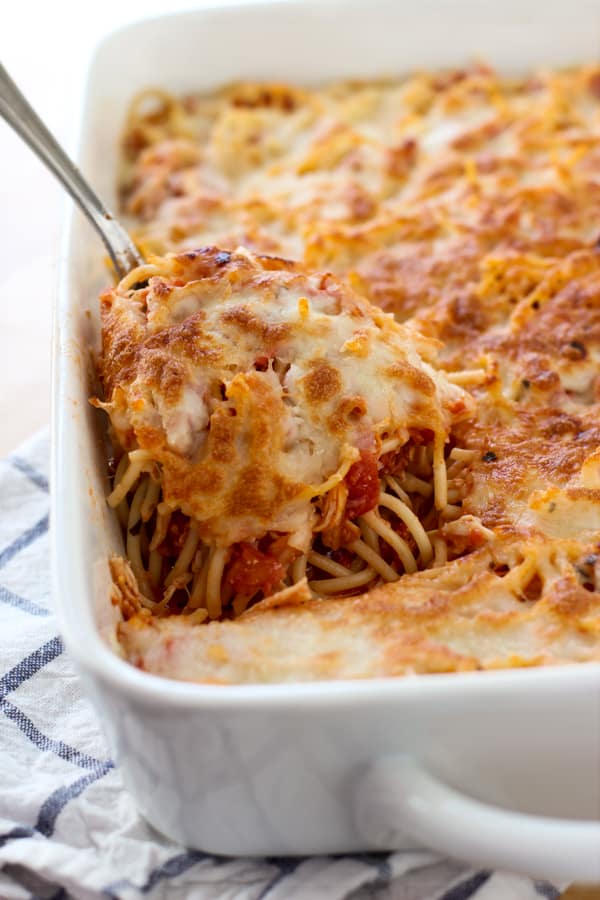 Yummy spaghetti baked in tomato, cheese and chicken based sauce, combined with lots of shredded chicken, and then lots of cheesy goodness to top it off.
Let the casserole sit for 5-10 minutes to cool to let all the ingredients "settle" a bit before serving. It also keeps very well as leftovers.
It's almost dinner time as I am typing this and let me tell you, it is getting hard to focus because this plate of Cheesy Tomato Chicken Spaghetti is CALLING MY NAME.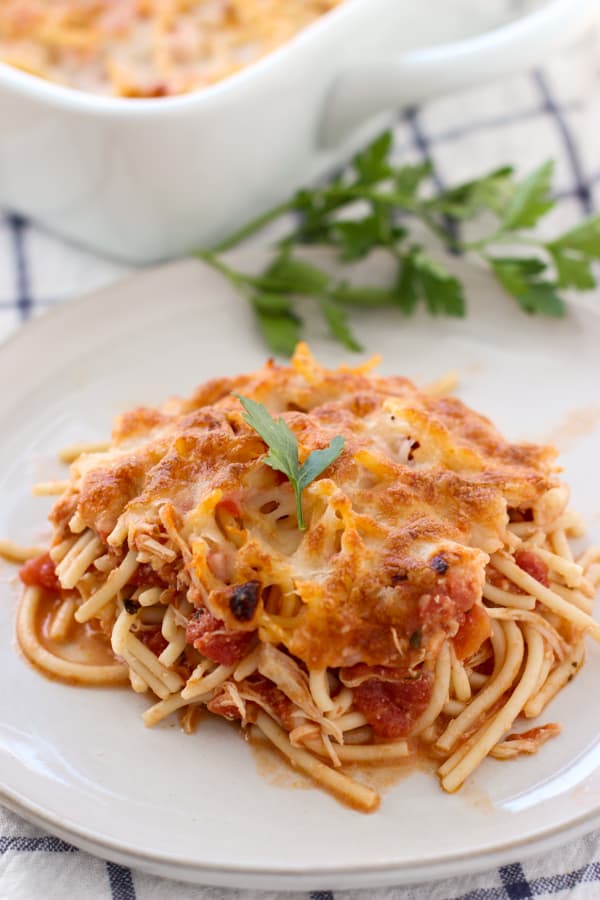 Look at THAT CHEESE. I am a sucker for crusty cheesy.
Alright friends, it's been fun, but I am a hungry woman right now. Excuse me while I go stuff my face with some of this yummy spaghetti. 🙂
More Pasta Recipes
Check out these yummies! Because we love pasta!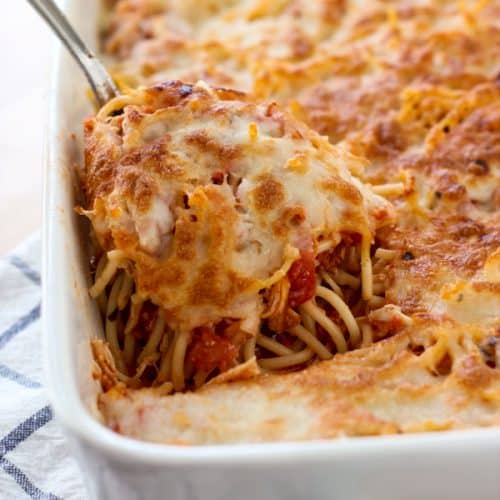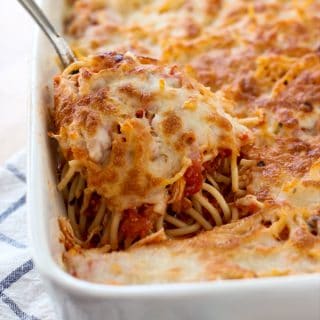 Cheesy Tomato Chicken Spaghetti
Spaghetti cooked in tomato-based sauce infused with cheese, chicken flavor and lots of Italian herbs, combined with shredded chicken, then topped with crusty mozzarella cheese. Easy and delicious dinner! Save well as leftovers.
Print
Pin
Ingredients
10

oz

spaghetti pasta

2

chicken breasts

~1-1.5 lbs

40

oz

diced tomatoes

canned

2

cups

chicken broth

6

oz

mascarpone cheese

2

cups

mozzarella

shredded

1 1/2

tsp

basil

1

tsp

oregano

1/2

tsp

marjoram

1-2

tsp

olive oil

1

tbsp

garlic

minced

salt

to taste
Instructions
Using a crockpot, cook chicken and chicken broth on high for 3 hours. Add enough chicken broth to cover over half of the chicken (no need to completely submerse chicken).

Remove chicken breasts and shred them using a fork, then bring it back to cook on low in crockpot for 30 minutes.

Cook spaghetti pasta in a pot for 8-9 minutes, or two minutes less than package recommendation. Drain and set aside.

In a pot, sauté minced garlic in olive oil for 30 seconds. Do not over-brown or burn garlic.

Add diced tomatoes, mascarpone cheese, 3/4 cup of cooked chicken broth from the crockpot (without the chicken), basil, oregano, and marjoram.

Bring to boil, then cook on medium low heat for 10-15 minutes. Add 1/3 cup (packed) of shredded mozzarella cheese. Liquid should thicken slightly. If you like the liquid thicker, add another 1/4 cup (or more) of shredded mozzarella cheese. Keep in mind that liquid will thicken more after adding the more items. Add salt to taste.

Remove from heat and add shredded chicken (drained) and cooked spaghetti into the sauce. Mix well. Then pour everything into a 9″x13″ casserole dish.

Sprinkle the rest of the shredded mozzarella onto the top of the casserole dish.

Broil casserole dish in oven for 3-4 minutes until the cheese on the top of the casserole is browned.

Remove from oven and cool for 10 minutes. Serve and enjoy!
Nutrition
Calories:
409
kcal
|
Carbohydrates:
34
g
|
Protein:
26
g
|
Fat:
19
g
|
Saturated Fat:
10
g
|
Polyunsaturated Fat:
1
g
|
Monounsaturated Fat:
3
g
|
Trans Fat:
1
g
|
Cholesterol:
80
mg
|
Sodium:
489
mg
|
Potassium:
630
mg
|
Fiber:
3
g
|
Sugar:
5
g
|
Vitamin A:
677
IU
|
Vitamin C:
18
mg
|
Calcium:
235
mg
|
Iron:
2
mg