Cheesy Bacon Potato Casserole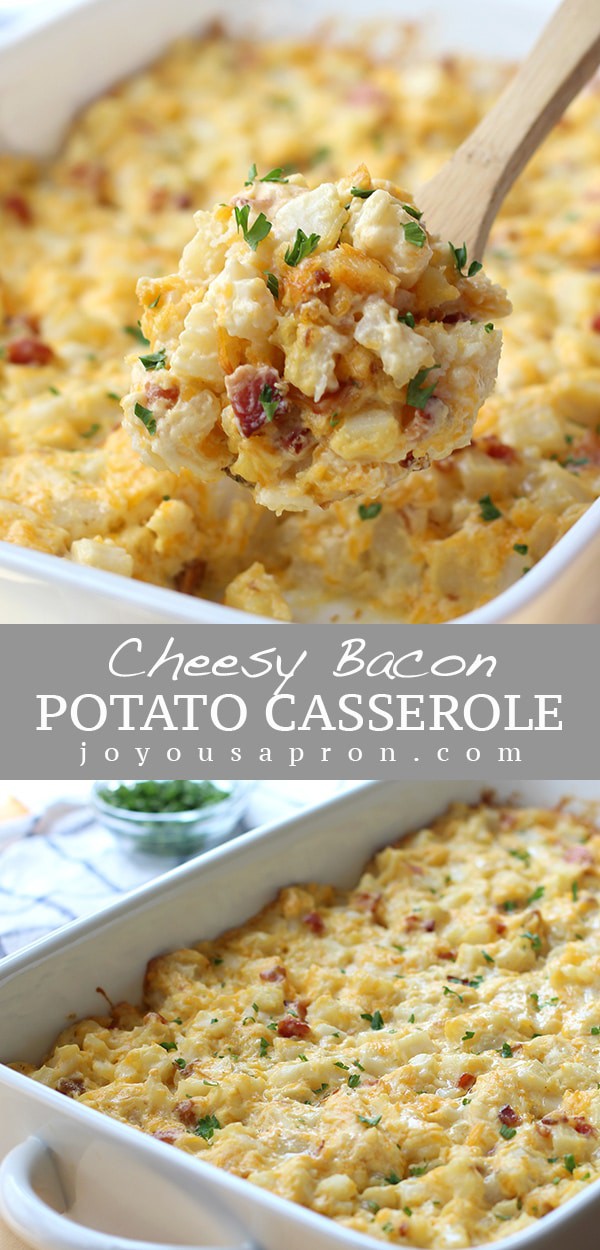 Cheesy Bacon Potato Casserole is a rich and creamy oven baked potato casserole loaded with bacon, cheese, sour cream and cream of chicken soup. It is an easy and delicious potato side dish for the holidays, potlucks, or just any day!
Word of caution – this thing feeds a crowd. So if you don't have a crowd, well… be prepared for lots of yummy Potato Bacon Casserole leftovers for a while!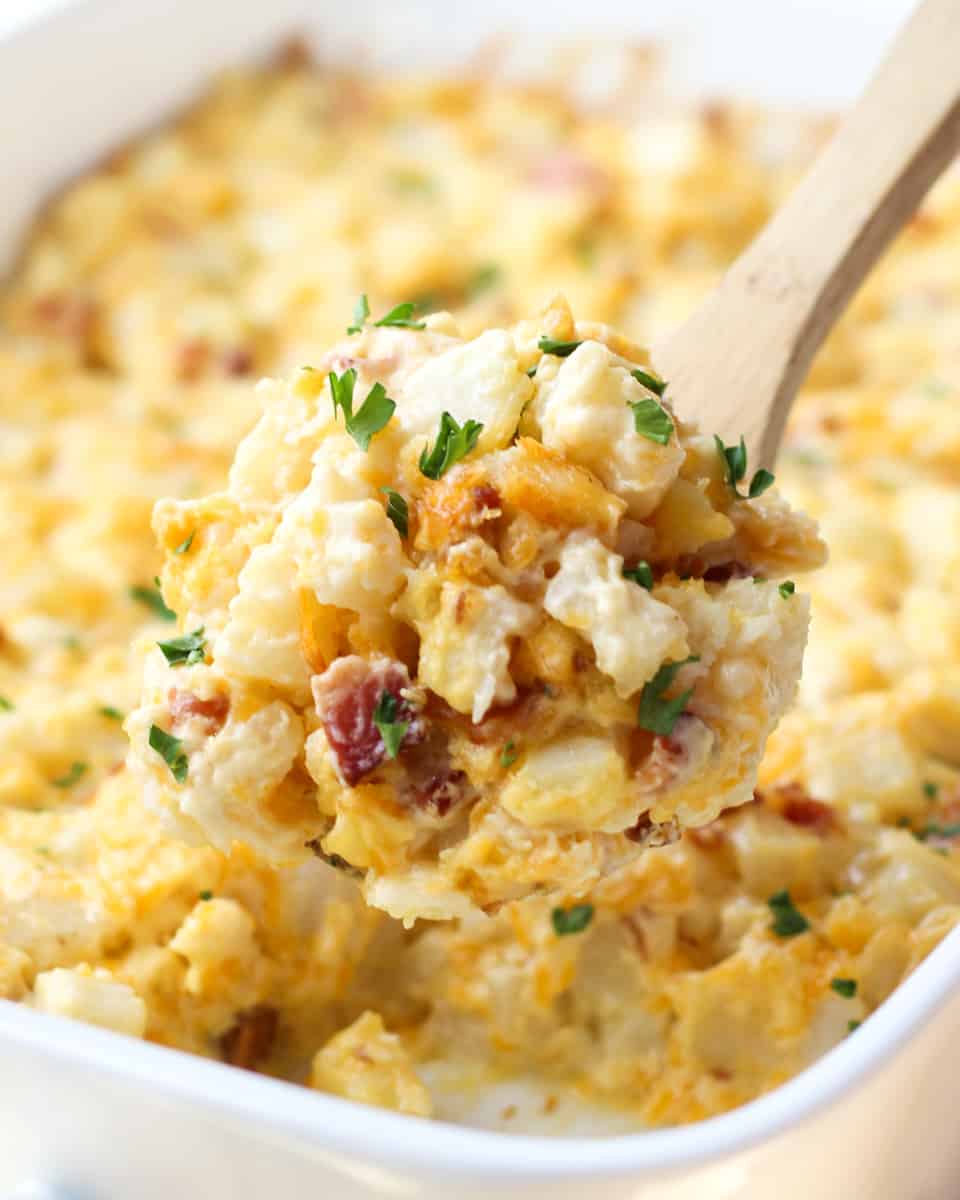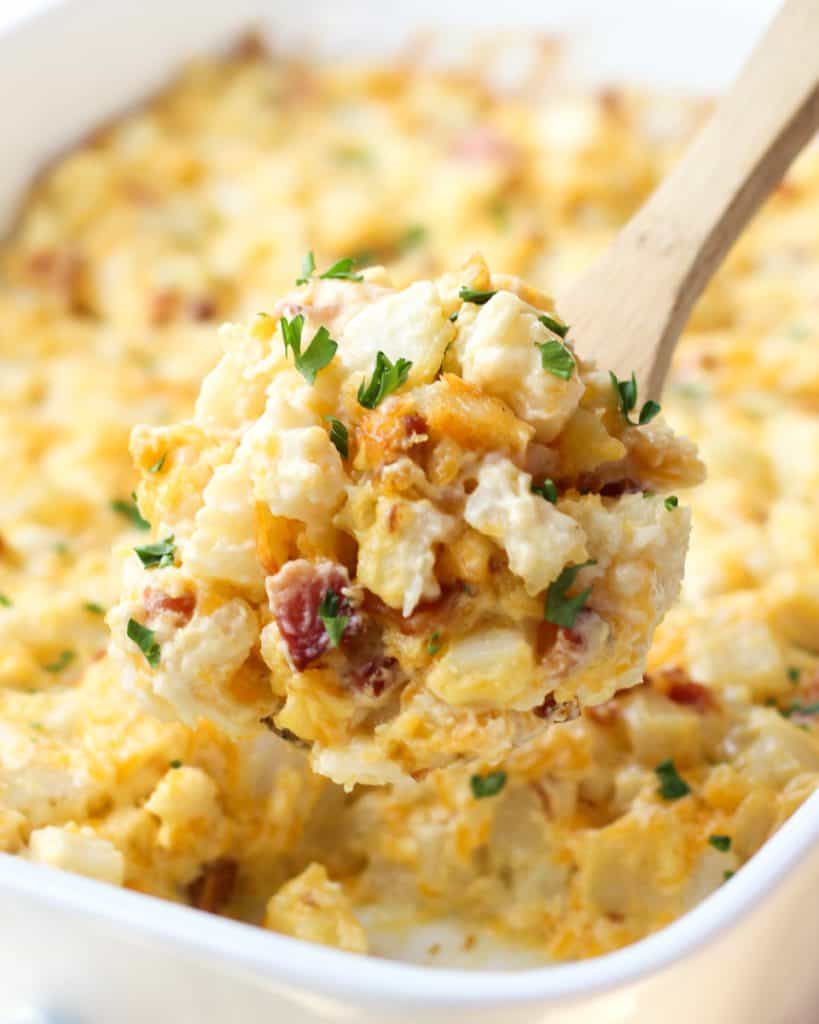 Love potatoes? Also check out Roasted Baby Potatoes, Loaded Baked Potato Salad and Creamy Potato Bacon Soup for more potato yummies!
Potato Bacon Casserole
I love this Bacon Potato Casserole with my whole dang heart.
It's lusciously creamy. It's comfort food for the stomach and the soul. It melts in your mouth.
It's also super easy to make with just a 10 minute prep time, and then the oven does all the hard work!
Because Potato Bacon Casserole calls for frozen diced hash brown potatoes, it means you don't even have to peel and slice those potatoes!
Just mix everything up in a large bowl, spread it out on the casserole, and oven bake it until it is done. THAT'S IT!
Cheesy Bacon Potato Casserole is one of my go-to dishes that I make a lot, and has proven to feed AND wow a crowd. It'll make you look like a rock star, even though you are putting in rookie efforts.
Because this thing feeds at least twelve, it's great for a big crowd. I love making Potato Bacon Casserole as a side dish for the holidays, parties, for potlucks, large gatherings, and more.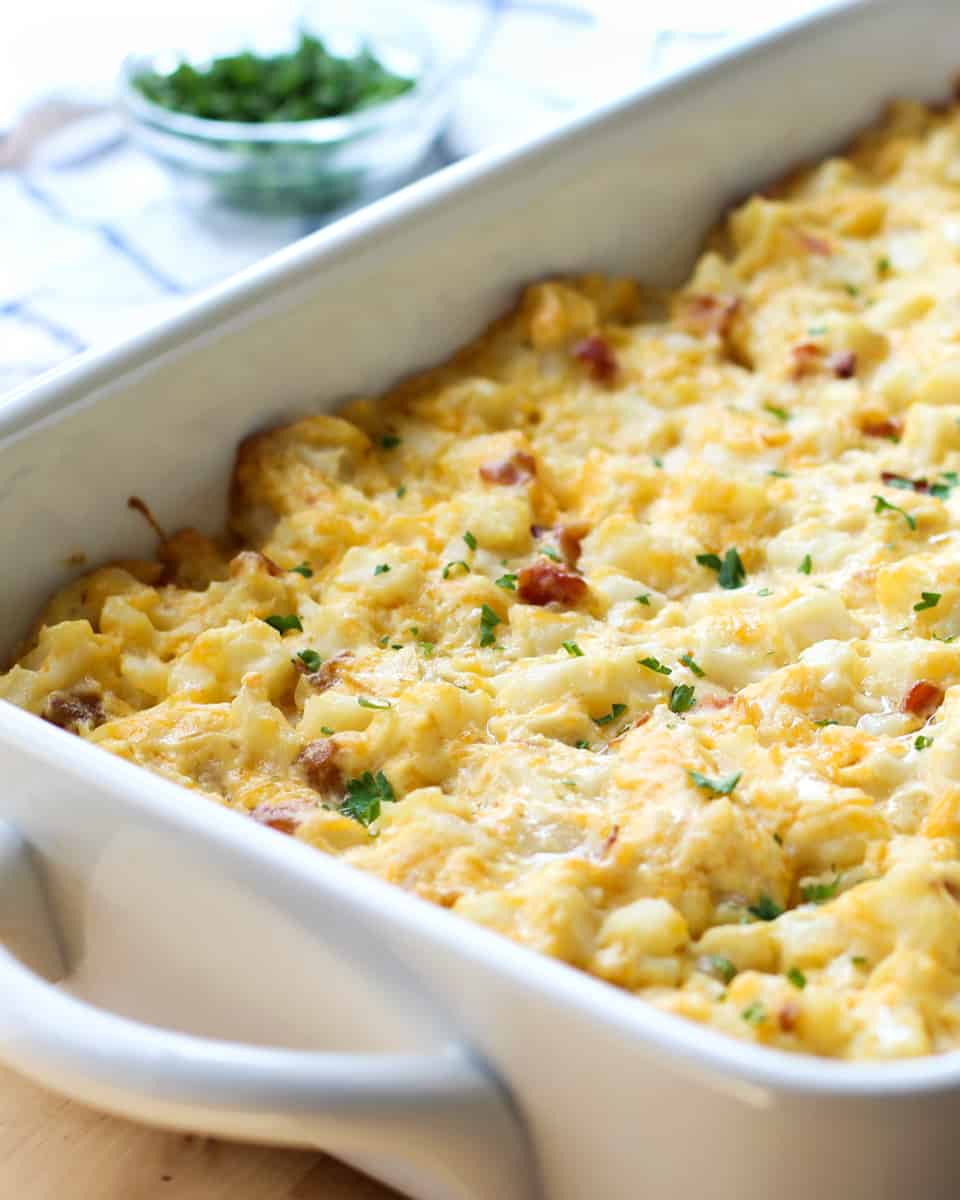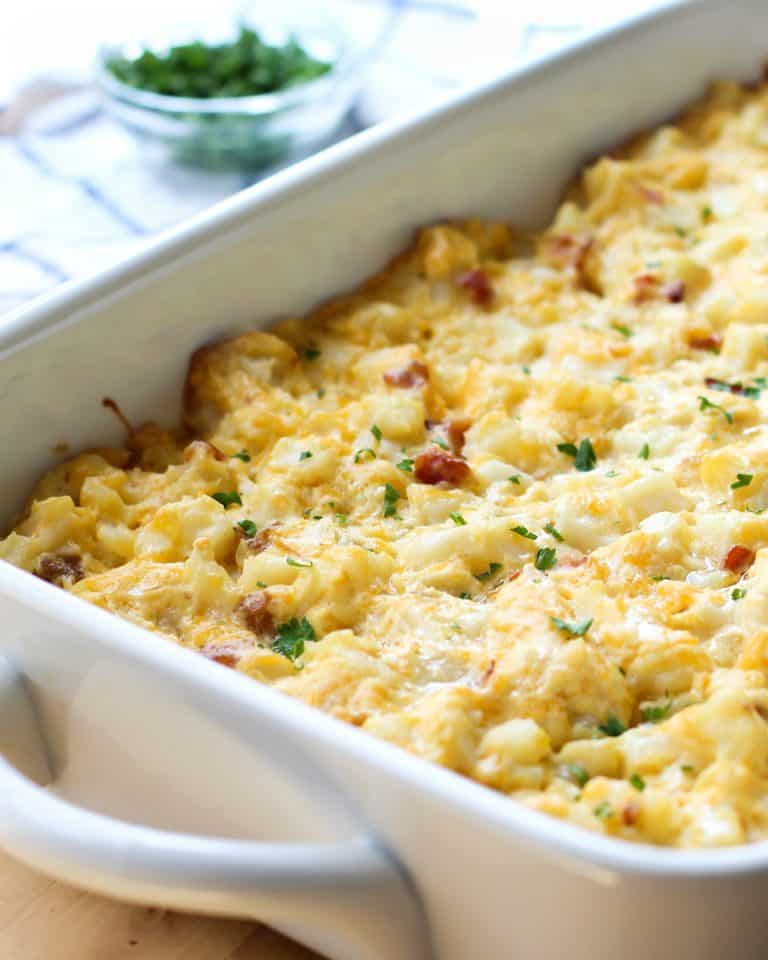 Ingredient Notes
Potato Bacon Casserole calls for minimal, pantry-friendly ingredients. The list is short, but every ingredients play an important role!
hash brown potatoes – these are the tiny diced potatoes that comes in a big bag in the frozen aisle. They are peeled and cut, so it's ready to use! I love using them because it saves me so much time!
bacon – I mean, it takes a potato casserole from good to great like nobody else can…
condensed cream of chicken soup – this is the canned soup that is an important, delicious ingredient that gives Potato Bacon Casserole that thick creamy texture and also lots of yummy flavors. This also brings the saltiness to the dish – no additional salt needed.
sharp cheddar – the shredded kind. I like to use sharp but mild or medium works as well!
sour cream – this brings a nice creamy texture (like the condensed chicken soup), and has a fairly neutral flavor.
garlic powder – seasoning for the potatoes
onion powder – seasoning for the potatoes
butter
fresh parsley – as garnish (optional)
How to make Cheesy Bacon Potato Casserole
As I mentioned earlier, Potato Bacon Casserole is so easy to make!
Minimal preparation, simple steps, and the oven does most of the hard work!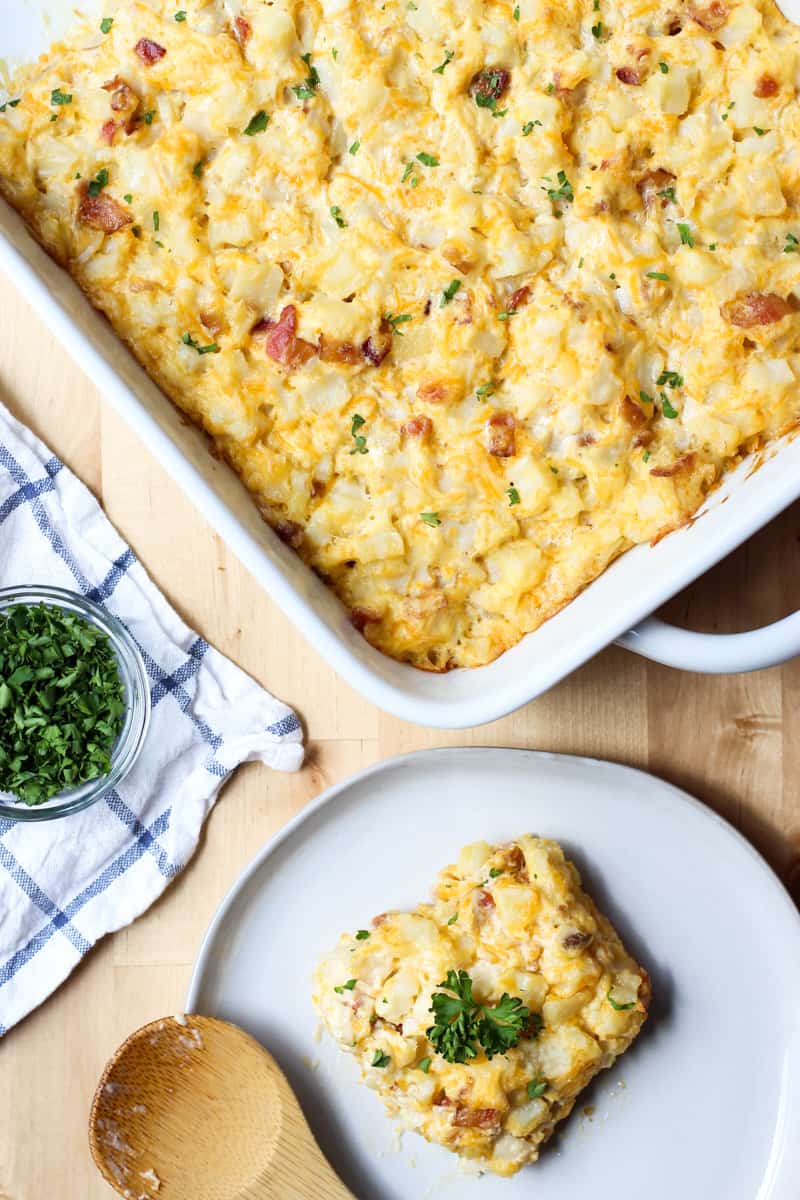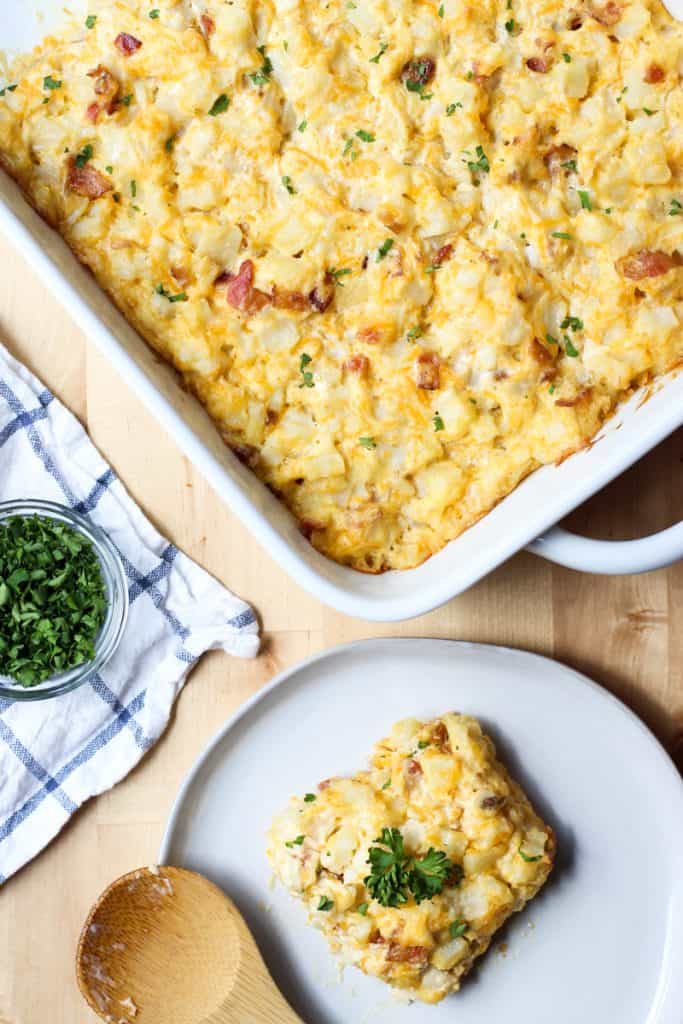 Step 1: Cook Bacon
First, we gotta cook that delicious crispy bacon.
You can pan fry it on the skillet, or cook it in the oven.
If cooking in the oven, lay bacon strips next to each other on a baking sheet lined with aluminum foil for easy cleanup.
Bake for 425℉ for 14-18 minutes, or until bacon reaches desired crispiness. Time can vary depending on thickness and leanness of the bacon.
I like to cook the bacon in strips and then cut it up into smaller pieces once it is cooked.
If you want to skip this step and make this even easier, use bacon bits instead!
Step 2: Mix ingredients
Next, combine all your Cheesy Bacon Potato Casserole ingredients into a large bowl.
Mix together frozen diced hashbrown, condensed chicken soup, shredded extra sharp cheddar cheese, sour cream, garlic powder, onion powder, and the secret ingredient that should be illegal because it makes everything taste better, BACON.
Give it a good stir to so that everything is mixed up evenly.
Who can say no to a potato dish that does not require the actual peeling and dicing of potatoes?
Frozen diced hash browns potatoes – you are my hero.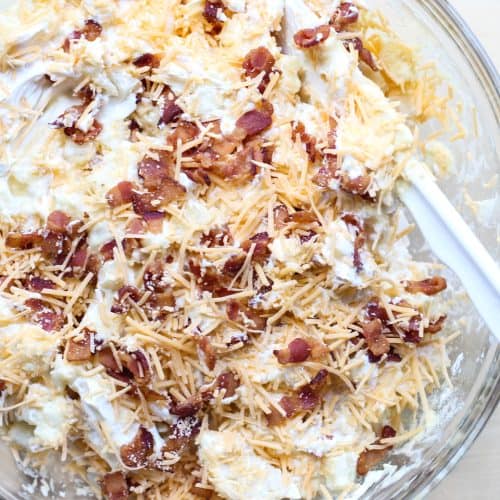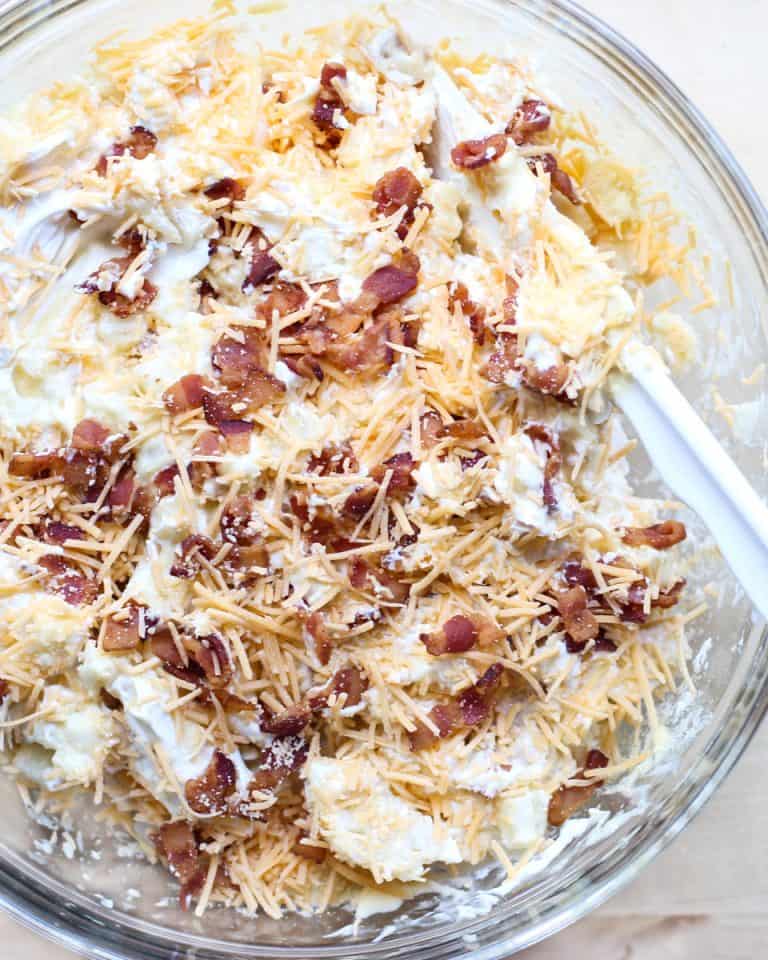 Step 3: Bake!
Transfer potato bacon mixture into a 9″x13″ rectangular casserole dish, and perform another illegal task – pour melted butter onto it.
Spread it evenly all over the top.
It's okay – it's almost Thanksgiving. Butter it up, baby!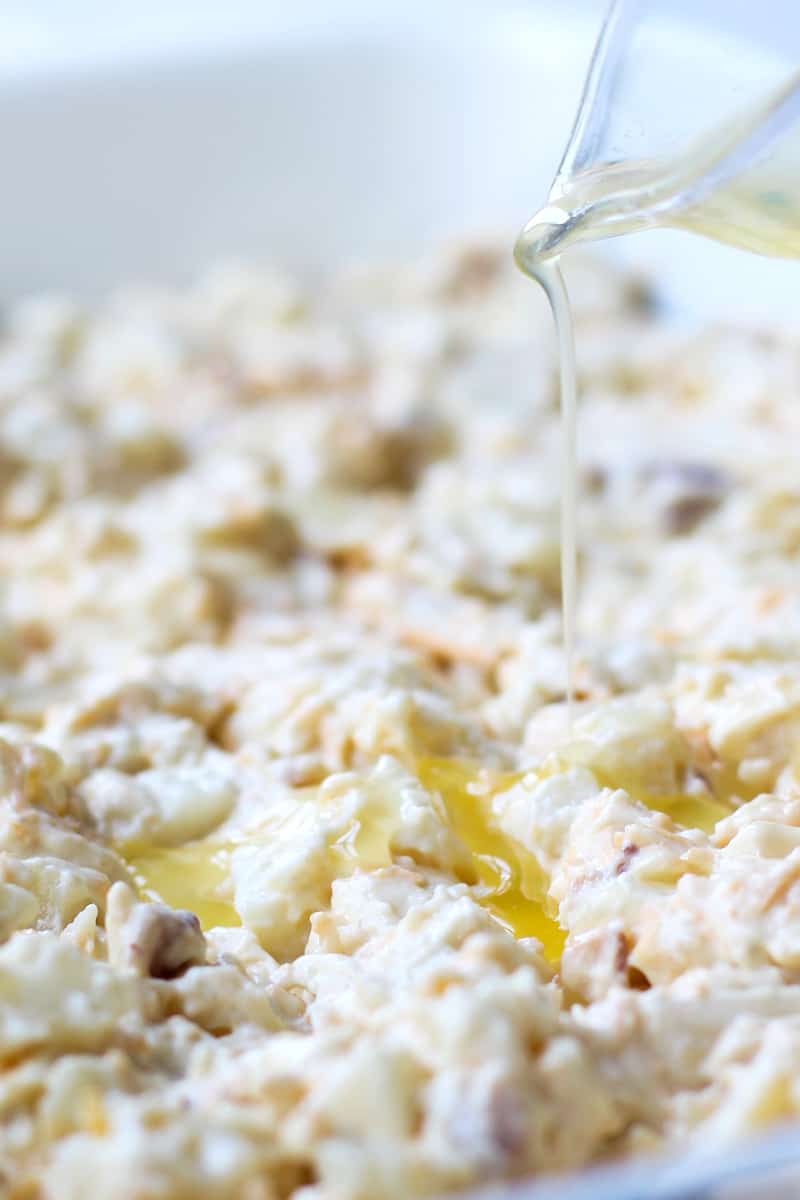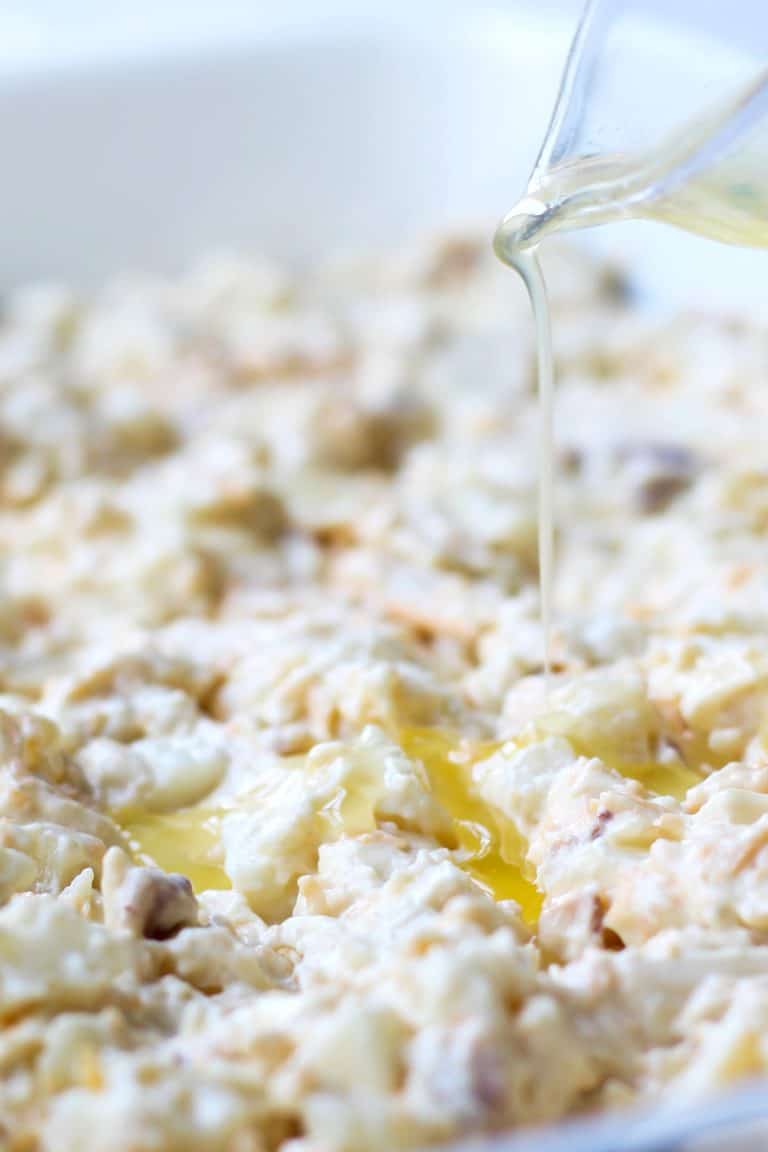 If it's not Thanksgiving… still butter it up! 😉
Bake Potato and Bacon Casserole at 350℉ in the oven for one whole hour.
We are cooking the casserole nice and slow in the oven so that the potatoes are softened, and the flavors come together to create a rich, creamy and delicious magic!
Once it's done, remove the casserole from oven, and let Potato Bacon Casserole cool for 15 minutes.
And that's it. At this point, you should be coming face-to-face with the bubbly, sinfully good, high satisfying, the one, the only, Cheesy Bacon Potato Casserole.
Watch that cheesy goodness cling onto the potatoes. I MEAN…Who can resist?!?
Melt in your mouth, ooey-gooey, cheesy potatoes with a bit of a bacon teaser throughout.
It pairs perfectly with turkey, ham, steak, pork. Just about any meat dish you can think of, and more. It's also a good option for a breakfast/brunch potato dish.
Put on some comfy pants, and enjoy this Bacon Potato Casserole dish to its fullest.
Make Ahead and Storage
Here are a few ways you can make ahead/store/reheat:
Bring everything into the casserole dish and store casserole dish covered in refrigerator until ready to bake. When baking, bake at 350℉ for 45 minutes since potatoes are no longer frozen. You can store potatoes in refrigerator for up to 3 days.
Bake Cheesy Bacon Potato Casserole, bring it to cool completely, cover and store in refrigerator for up to 3 days. To reheat, bake at 350℉ for 30-40 minutes, or until potatoes are warmed. Check at the 20 minute mark and cover potatoes if needed (if it looks like it is browning significantly).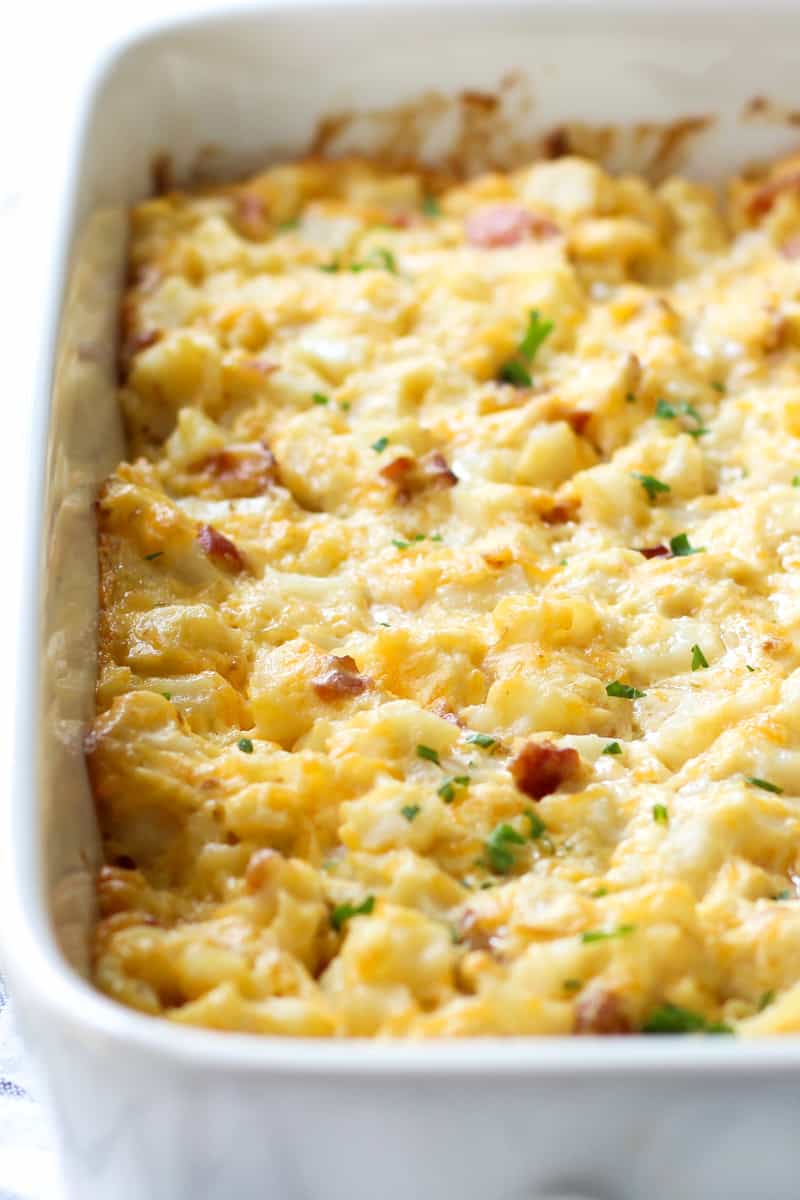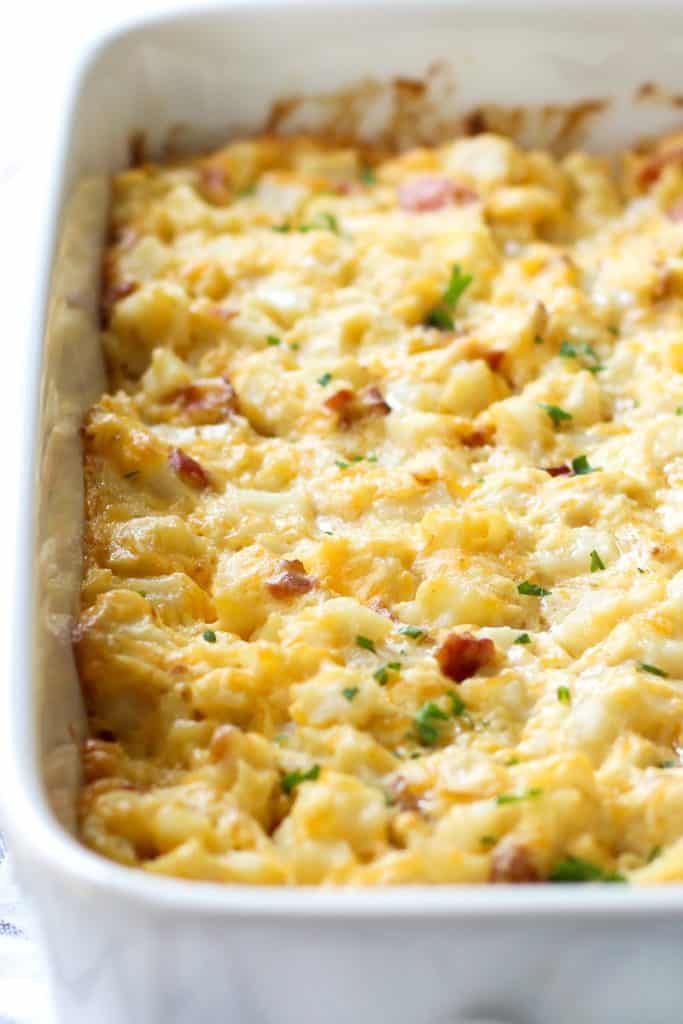 What to serve it with?
What I love about this dish is that it can be served as a side for brunch, lunch and dinner!
For brunch, it goes great with some eggs, bacon, sausages, or your favorite breakfast protein or casserole. Here are some of my favorite brunch recipes that I love to make alongside this potato dish: Ham and Cheese Croissant Casserole, Berry French Toast Casserole, Texas Sausage Kolache, Sausage Tater Tot Breakfast Casserole, Easy Frittata Recipe
For lunch/dinner, I love pairing it with ham, chicken, steak, or any of your favorite meats. Here are some of my favorite recipes to pair with Bacon Potato Casserole: Pineapple Baked Ham, Pork Tenderloin with Gravy, Marinated Flank Steak with Avocado Corn Topping, Spinach Artichoke Stuffed Chicken.
And of course, it is highly acceptable to just grab and spoon and just dig into this Cheesy Potato Bacon Casserole.
In fact, I kinda recommend it!
DID YOU ENJOY THIS RECIPE? Please comment below and give us a 5-star rating! This will help others find this recipe on Google and Pinterest. We very much appreciate your help! 🤍
More potato recipes!
Here are other equally yummy and cheesy potato recipes!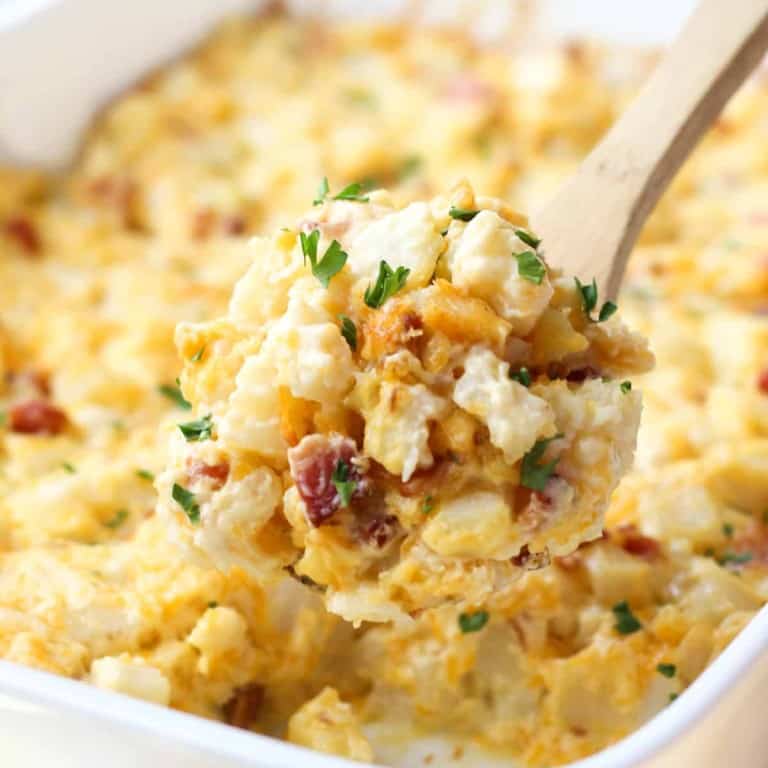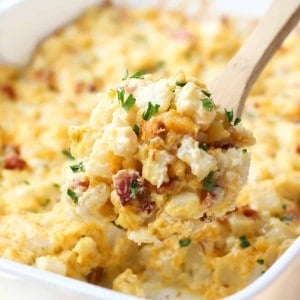 Cheesy Bacon Potato Casserole
A rich and creamy easy potato side dish perfect for holidays and potlucks, brunch or dinner! Delicious, melt-in-your-mouth hash brown potatoes are baked with bacon and lots of cheese in a casserole.
Print
Pin
Ingredients
2

lbs

Frozen diced hash brown potatoes

6-10

oz

Bacon

26

oz

Condensed cream of chicken soup

2

cups

sharp cheddar

shredded

1

cup

sour cream

2

tsp

garlic powder

1

tsp

onion powder

4

tbsp

butter

melted

fresh parsley

minced, optional as garnish
Instructions
Cut bacon into 1-inch slices and cook bacon. Drain bacon grease

In a large mixing bowl, combine potatoes, bacon, condensed cream of chicken soup, cheddar, sour cream, garlic powder and onion powder. Mix well.

Pour into a 9×13 rectangular casserole dish. Drizzle melted butter onto dish

Remove and cool for 15 minutes. Garnish with fresh parsley (optional).
Nutrition
Calories:
265
kcal
|
Carbohydrates:
6
g
|
Protein:
8
g
|
Fat:
23
g
|
Saturated Fat:
11
g
|
Polyunsaturated Fat:
2
g
|
Monounsaturated Fat:
7
g
|
Trans Fat:
0.2
g
|
Cholesterol:
54
mg
|
Sodium:
685
mg
|
Potassium:
105
mg
|
Fiber:
0.1
g
|
Sugar:
1
g
|
Vitamin A:
542
IU
|
Vitamin C:
0.3
mg
|
Calcium:
164
mg
|
Iron:
1
mg