Spicy Baked Chicken Tenders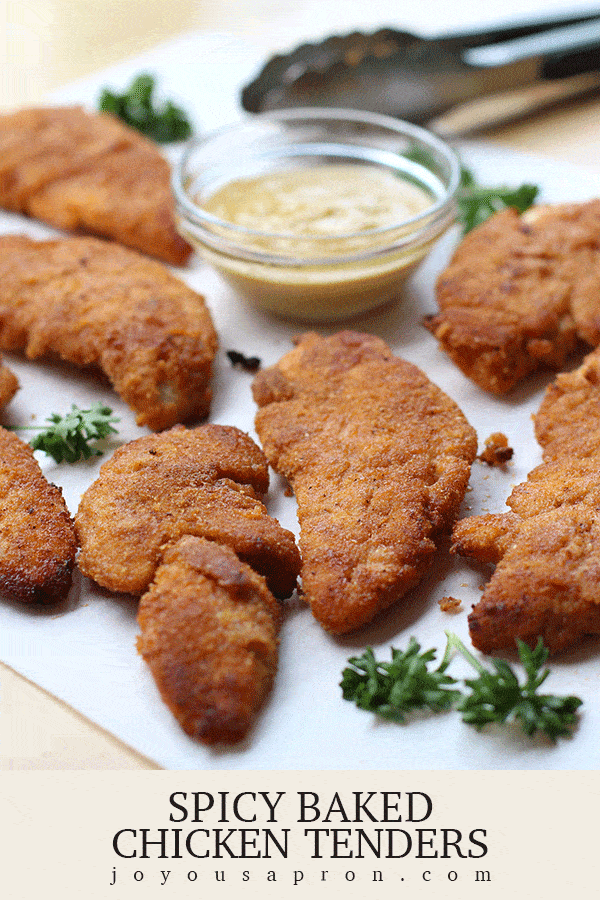 These Spicy Baked Chicken Tenders are juicy, moist chicken strips breaded in a crispy seasoned breading. I especially love that it is oven baked and not fried!
When life is busy, and I don't want to order fast food or pizza for the third night in a week, I make my homemade Spicy Chicken Tenders. It's a 15-minute prep/let-the-oven-do-the-rest-of-the-work kinda dish, and it tastes like the best spicy chicken strips your mind can imagine.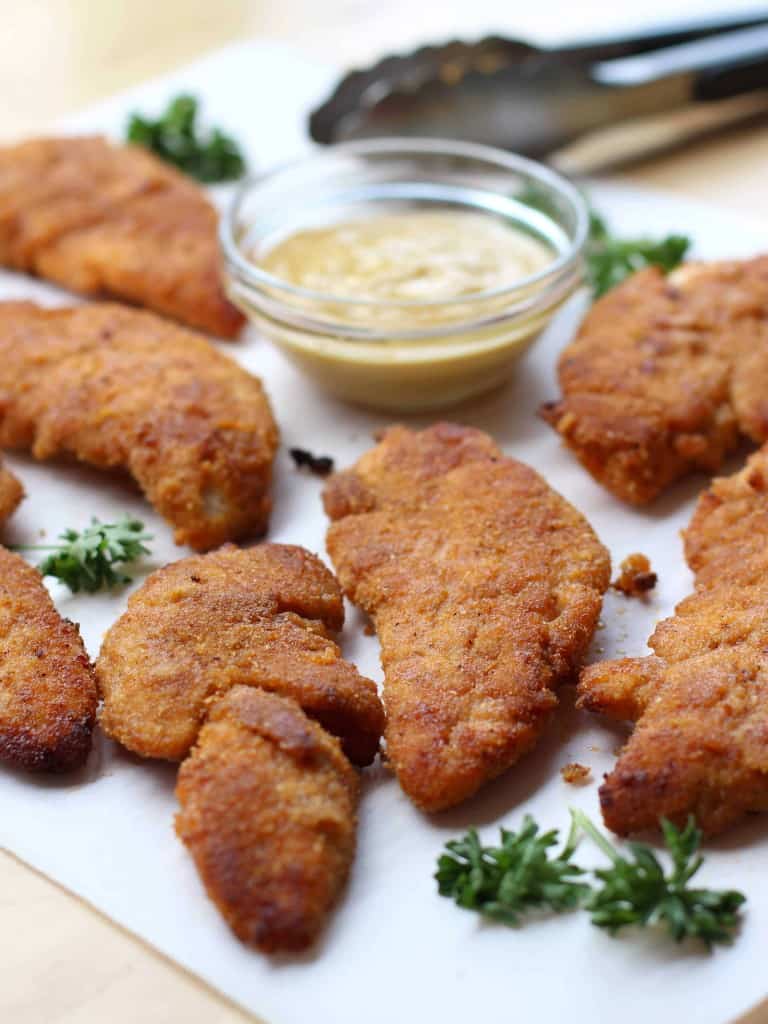 Don't love the spicy? This recipe is mild-medium in its spice level. Take out one ingredient (cayenne powder) and turn it into a good ole regular Baked Chicken Tenders. Or check out a very similar baked chicken tenders recipe on the blog – Panko Baked Chicken.
Easy Spicy Chicken Strips
This Homemade Spicy Chicken Tenders recipe is seriously YUM and easy, like walk-in-the-park, close-my-eyes-and-cook kinda easy.
Well, maybe not literally close your eyes, because while that sounds like a tempting challenge, most of us aren't superheroes. But you know what I mean.
I have loved chicken tenders and chicken strips since I was a kid. I have bad cravings for them as an adult every three weeks or so.
When that happens, I fix it by getting myself to a Chick-Fil-A, but these days I just make these Spicy Chicken Tenders.
Ingredients
To make these delicious Spicy Baked Chicken Tenders, here are the ingredients you will need! You probably have most of them in your pantry already!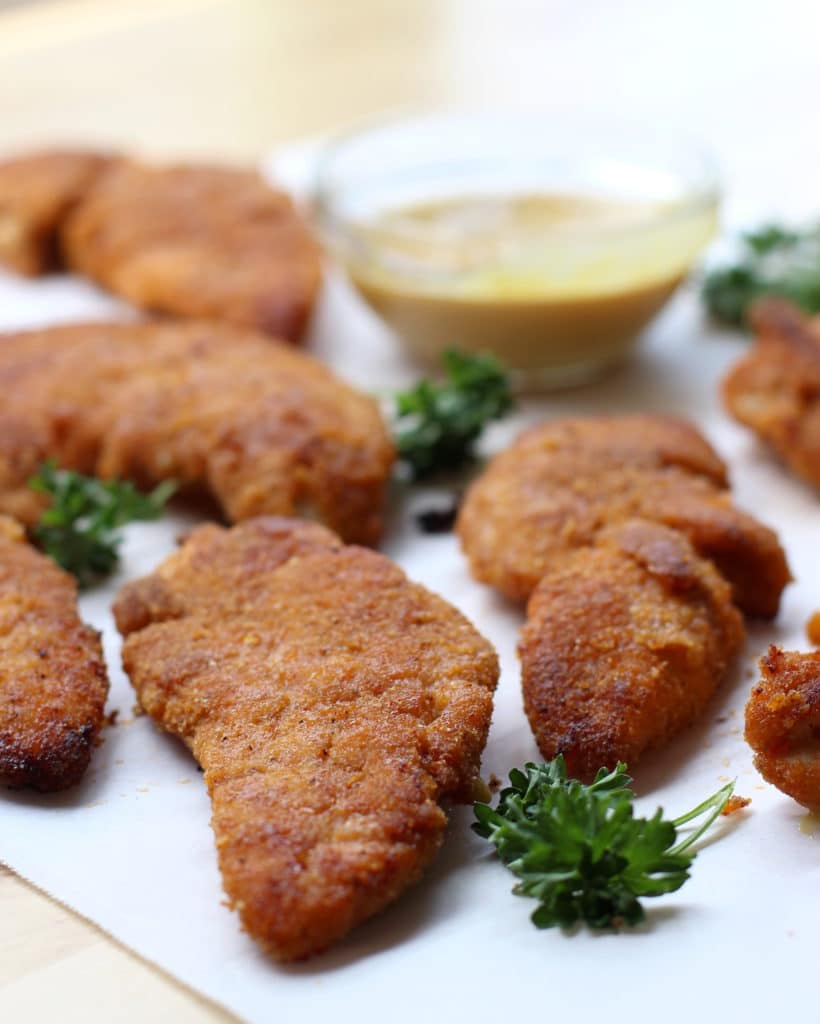 chicken tenderloins
breadcrumbs
smoked paprika
cayenne powder – the one ingredient that makes it spicy. If you don't want your chicken strips spicy, simply omit this
garlic powder
salt
black pepper
How to make Spicy Baked Chicken Tenders
There are so many reasons why these Spicy Baked Chicken Tenders ROCK. One of them is that we coat these chicken tenders with extra virgin olive oil, which is a good, healthier oil to use.
I usually throw the chicken strips (make sure it is completely defrosted and pat dry) into a zip lock bag and coat it with lots of olive oil.
A side note: remember to completely defrost the chicken and pat it dry before coating it with oil. This is important as access moisture will make the breading soggy (way less ideal in chicken tender land).
To make breading, combine breadcrumbs, smoked paprika, cayenne powder, garlic powder, salt, and black pepper, in a plate, or low bowl with a large flat surface. Omit the cayenne powder if you want this non-spicy.
Bread each piece of chicken tenders with the breading, then place on a baking sheet (I typically line with aluminum foil for easy cleanup) greased with olive oil.
Bake the spicy chicken strips at 350 degrees on one side for 15 minutes.
Remove from oven, flip breaded chicken strips over, add additional olive oil to the baking sheet if they look like they will stick to the pan, and bake for another 15 minutes.
Use a meat thermometer to check for doneness – Spicy Chicken Tenders should be at least 165 degrees F in the thickest part of the meat when done.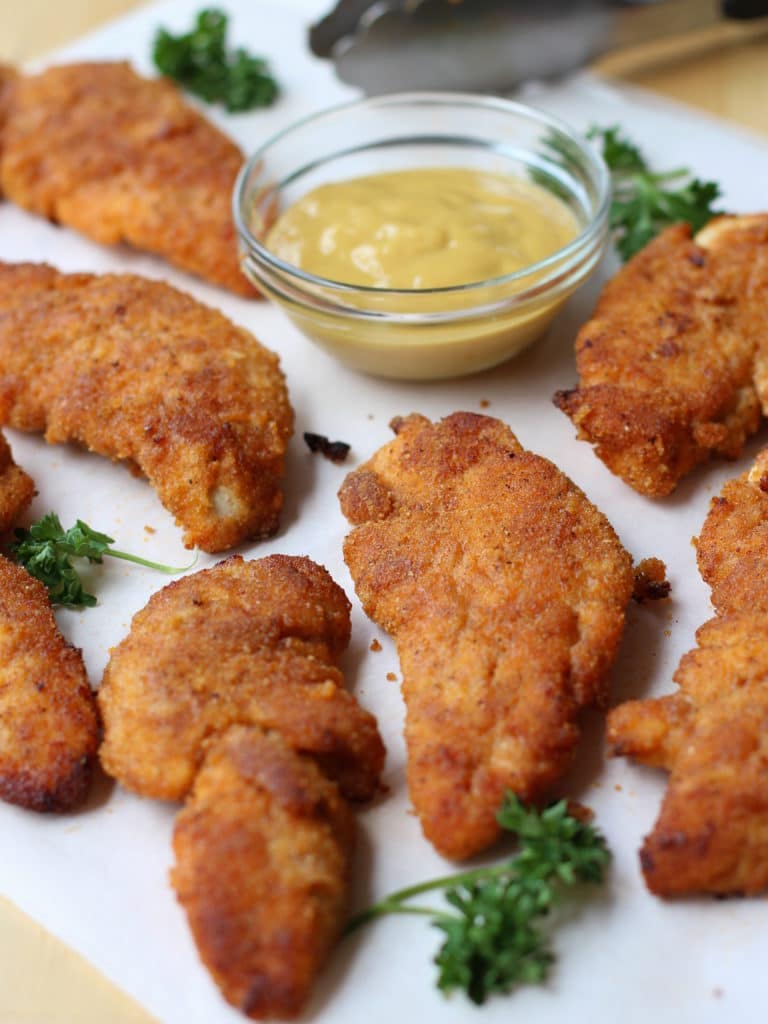 And that's all there is to it! Juicy chicken tenders coated with spicy crispy breading mixed with flavorful spices.
Spicy Chicken Strips in all its glory.
How to serve it
Dipping sauce is the cherry on top of the ice cream for these Spicy Baked Chicken Tenders Honey mustard, ketchup, barbecue sauce, ranch…whatever sauce your heart desires.
If you are a purist, or a sauce-hater (which my sauce-loving heart finds difficult to understand, but I do still want to be friends…), I am sure your indulgence in the lovely Spicy Chicken Strips will be just as satisfying as it is for some of us sauce-lovers.
Because, with all that great flavor and moistness in the protein, these Spicy Baked Chicken Tenders can hold itself up, sauce or no sauce, like nobody's business.
In addition to sauces, I also love serving these spicy chicken tenders with these sides: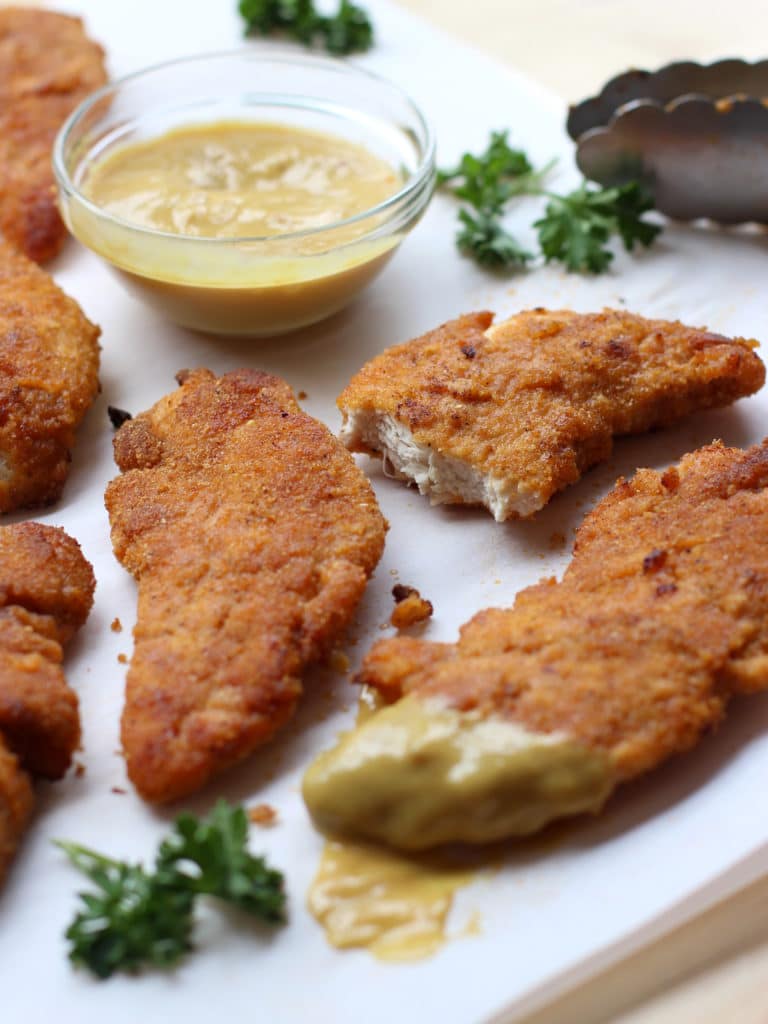 Frequently Asked Questions
How do I make my chicken tenders more crispy?
Spray more vegetable oil onto baking sheet so that the breading will be cooked more in hot oil and become crispy.
What is the best way to reheat if I make this ahead?
The best way to reheat is in the oven so that Spicy Chicken Tenders will be crispy. They will no longer be crispy if reheated in the microwave.
What other seasonings and spices can I add to the breading?
Italian seasoning, parsley, thyme, and/or onion powder would be very yummy in the breading as well!
So, my foodie friends, I am ending this post with a sense of accomplishment, because the recipe to an amazing BAKED spicy chicken tenders is shared, and deliciousness, along with joy, is spread.
My job here is done. Till our next food adventure, keep on creating…🧡
DID YOU ENJOY THIS RECIPE? Please comment below and give us a 5-star rating! This will help others find this recipe on Google and Pinterest. We very much appreciate your help! 🤍
Other Chicken Recipes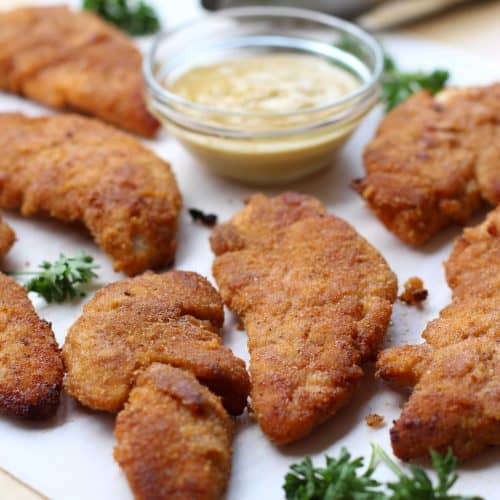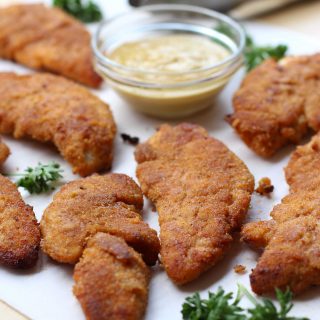 Spicy Baked Chicken Tenders
Juicy, moist chicken tenders coated with crispy breading mixed with delicious spices. Omit ONE ingredient to make it non-spicy! Baked, not fried! And dangerously tasty!
Print
Pin
Ingredients
8-10

pieces

chicken tenderloins

1

cup

breadcrumbs

1

tsp

smoked paprika

1/2

tsp

cayenne powder

1

tsp

garlic powder

1

tsp

salt

1/2

tsp

black pepper

1-2

tbsp

extra virgin olive oil

more for drizzling onto aluminum foil
Instructions
Pre-heat oven at 350 degrees F.

Pat dry and coat defrosted chicken tenderloins evenly on both sides with 1-2 tbsp olive oil.

Line baking sheet with aluminum foil and lightly drizzle olive oil all over foil.

Combine breadcrumbs, smoked paprika, cayenne powder, garlic powder, salt, and black pepper. Omit cayenne powder if you like this non-spicy. Coat chicken tenderloins on both sides in breadcrumb mixture.

Place chicken tenderloins on baking sheet. Do not touch or overlap chicken tenderloins.

Bake for 15 minutes, then remove from oven, and flip chicken tenders over. Bake for another 15 minutes.

Remove from oven and serve with your choice of dipping sauce(s). Enjoy!
Notes
To make chicken tenders even crisper, grease baking sheet with cooking oil.
Nutrition
Calories:
145
kcal
|
Carbohydrates:
21
g
|
Protein:
4
g
|
Fat:
5
g
|
Saturated Fat:
1
g
|
Polyunsaturated Fat:
1
g
|
Monounsaturated Fat:
3
g
|
Cholesterol:
1
mg
|
Sodium:
782
mg
|
Potassium:
89
mg
|
Fiber:
2
g
|
Sugar:
2
g
|
Vitamin A:
352
IU
|
Vitamin C:
1
mg
|
Calcium:
53
mg
|
Iron:
2
mg