Caramelized Onions Sautéed Green Beans
Please say hello to my new favorite way of making green beans! Caramelized Onions Sautéed Green Beans is everything you can ever hope for in green beans.
Slightly charred green beans with sweet and flavorful caramelized onions, along with fresh garlic, a little bit of butter and sea salt, and topped with shaved almonds.
I also call this green beans, the sophisticated way…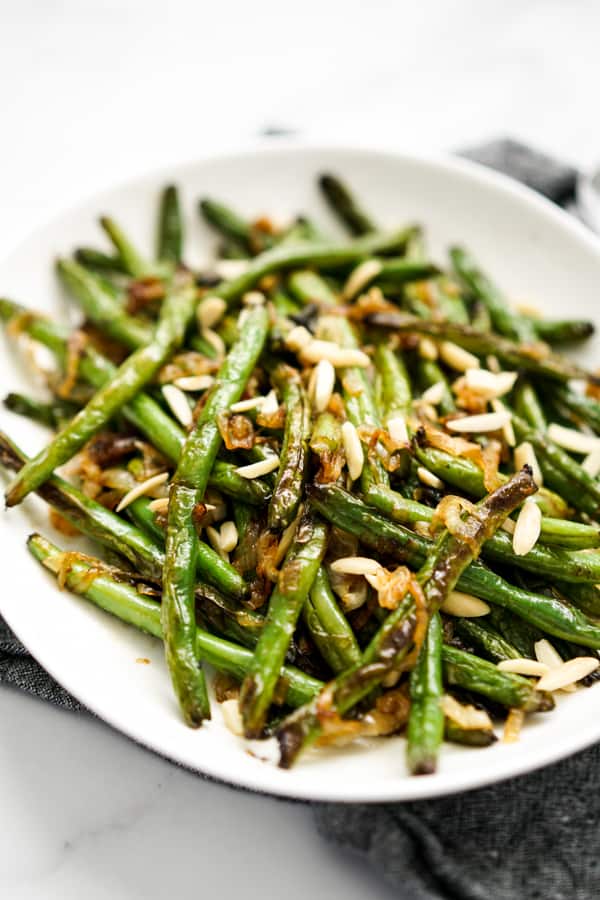 Because caramelized onions green beans has that classy look, and taste, to it. And yes I realized I am talking about green beans here.
Green Beans and Onions
Green beans, like a lot of veggies, are way underrated. It is often misunderstood. Never really a kid favorite. And quite frankly, isn't cooked very well most of the time.
But I believe in green beans. I also believe green beans don't have to be smothered in cream to be yummy.
Don't get me wrong, I do like them smothered in cream (and cheese, and condensed mushroom soup), so don't deprive me of creamy yummy green beans, please….
But what I'm saying is, green beans has so much more potential than that. Way more than a smothered-in-cream kinda veggie.
And here's my secret: green beans and onions. Or more specifically, caramelized onions where onions are sautéed in butter until it is soft and sweet, then we add a pinch of salt to it to open up the flavors.
If you haven't had green beans with caramelized onions, get ready to be blown away.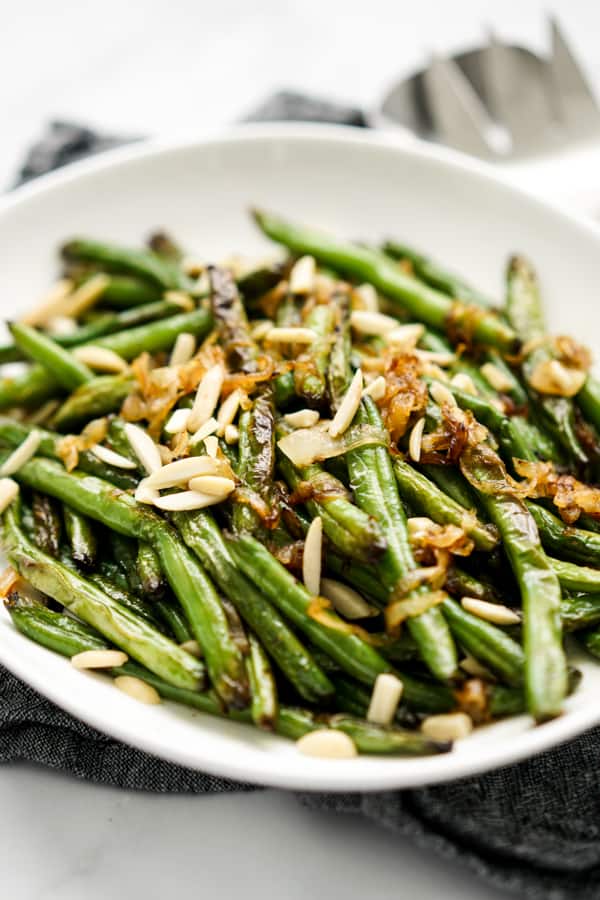 This caramelized onions green beans bring about a fresh new way to prepare green beans. When I finished photographing this, I stood on my kitchen counter munching away these green beans coated with caramelized onions, and I could not stop.
Could not STOP. Eating green beans. Oh, you better believe it.
That's how I know it's legit.
And if you want other equally legit vegetable recipes, also check out my Asian Style Green Beans and Honey Roasted Brussels Sprouts with Bacon…and prepare to look at vegetables a whole new way!
With the holiday season around the corner, caramelized onions green beans is the perfect side for your holiday dinner table. But it is not limited to the holidays.
We will also eat this any day, multiple times a day. It is a great side to serve with any protein main dish.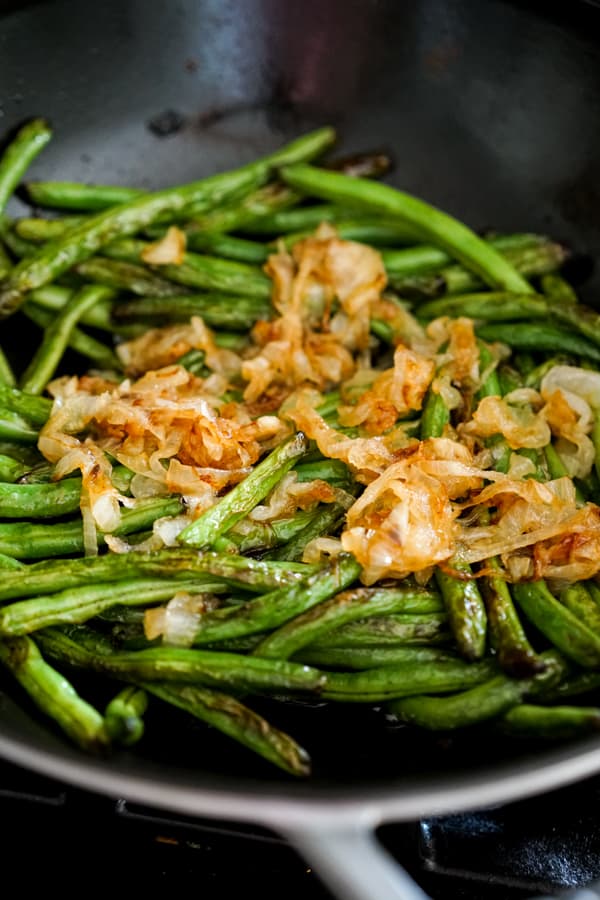 Caramelized Onions
This is truly the secret ingredient to this dish. One of my favorite things about onions is that when cooked, it transforms from being pungent and spicy to sweet and flavorful.
Also, have you sautéed onions and smell the lovely aroma of caramelized onions on a skillet?
Omg. I love the way my kitchen smells whenever I make caramelized onions. I live for my kitchen smelling like caramelized onions…
No words. No words to describe the gorgeous flavors and textures these caramelized onions bring to the green beans.
All you need to do is sauté the sliced onions in butter under medium to medium high heat. Once it turns soft and slightly brown, sprinkle some salt, and viola – caramelized onions!
Check out the before and after pics. Notice that after the onions are caramelized, it will turn brown, shrink, and become crazy delicious.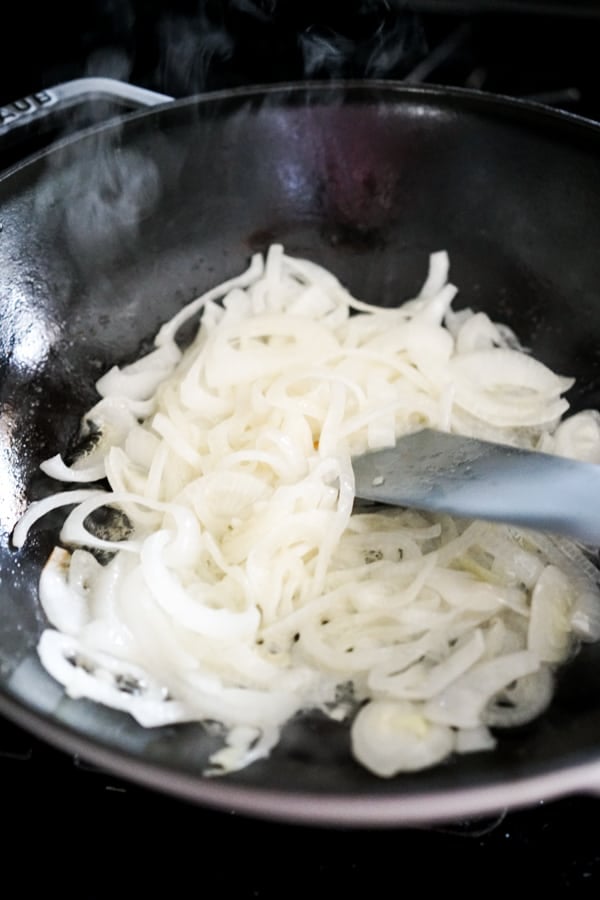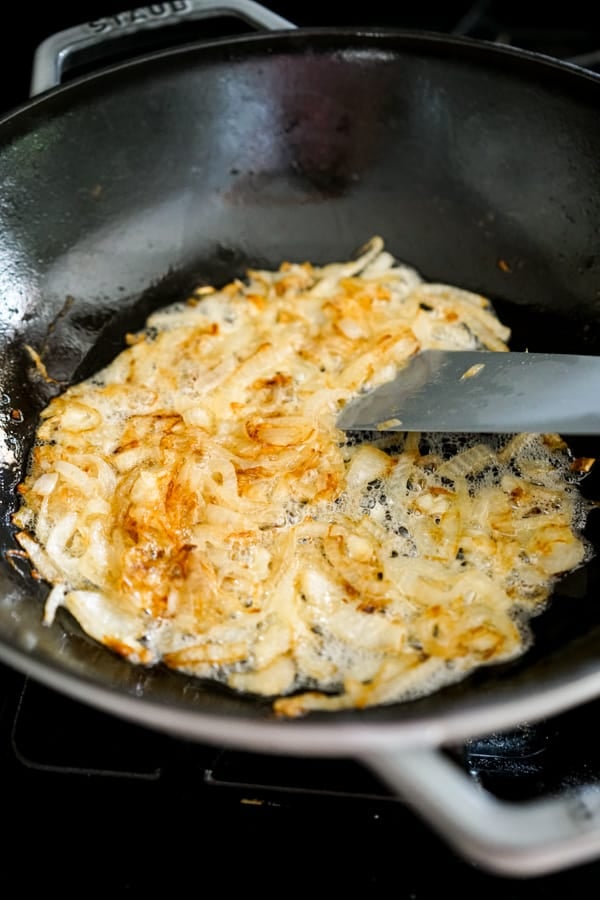 The process will take at least 5 minutes (or maybe more), so be patient!
It's worth it I promise.
Tips and Tricks
The truth is, It is such a simple recipe, but one that produces so much great flavors, and definitely not simplistic. Here are some tips!
Use a large skillet (the largest one you have!) that retains heat really well.
At the beginning, We are sautéing the onions and green beans separately because both cook at different rate and we want to make sure we cook them before bringing them together. This also prevents the skillet from being overcrowded and subsequently cooking the ingredients unevenly.
If you are feeding a lot of people and want to double or triple the recipe, make sure you are not crowding the skillet when you sauté the green beans. Sauté green beans in batches if necessary!
I like my green beans slightly charred (see pictures for the beautiful char-ness), but if you don't like the slight char, simply lower the heat, cook the green beans slower, and remove them promptly once they look done.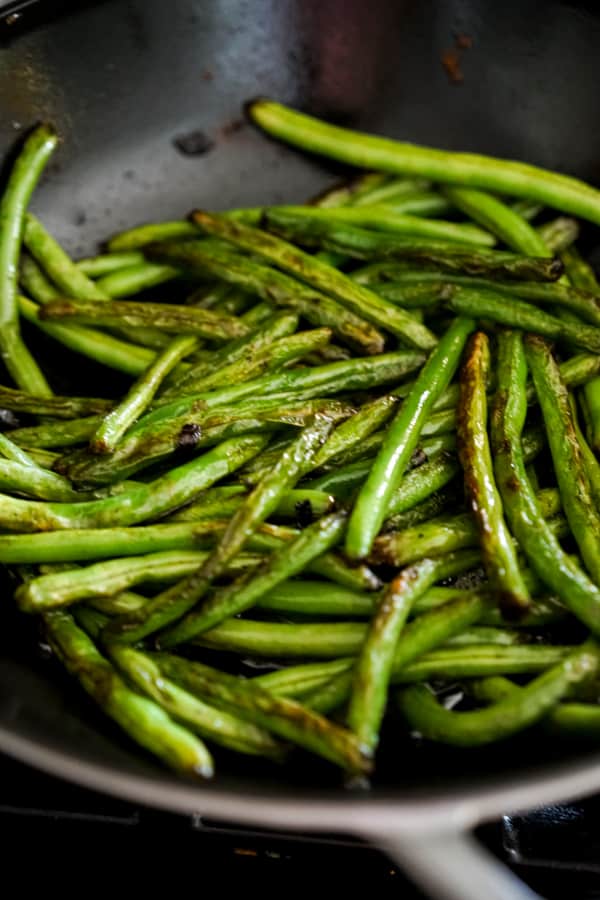 If eating veggies has been a chore for you, make eating veggies fun again (or for the first time) with these fabulous Green Beans with Caramelized Onions.
If there is any dish that can accomplish that, I suspect this is it…
DID YOU ENJOY THIS RECIPE? Please comment below and give us a 5-star rating! This will help others find this recipe on Google and Pinterest. We very much appreciate your help! 🤍
Other veggie dishes
Enjoy! Hope you are having fun prepping for the holidays!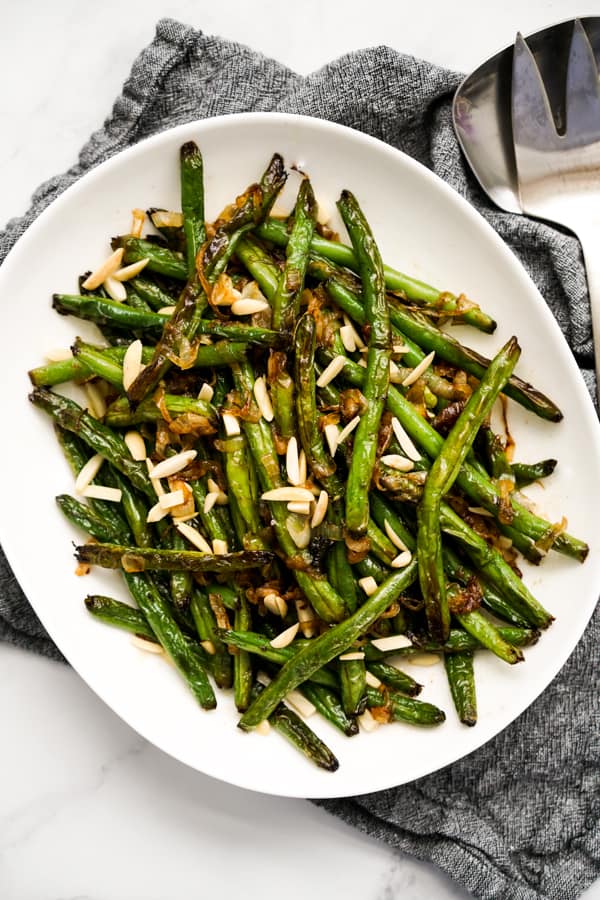 DID YOU ENJOY THIS RECIPE? Please comment below and give us a 5-star rating! This will help others find this recipe on Google and Pinterest. We very much appreciate your help! 🤍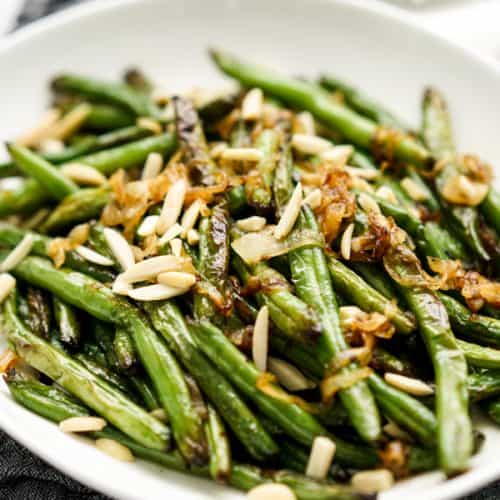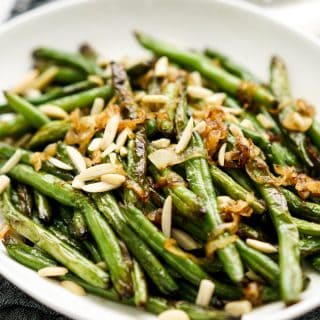 Caramelized Onions Sautéed Green Beans
A delicious veggie side! Sweet caramelized onions sautéed with crunchy green beans, toss with garlic, butter, sea salt, then topped with shaved almonds.
Print
Pin
Ingredients
1

white onion

or yellow onion

2

tbsp

salted butter

1

tsp

salt

2

tsp

vegetable oil

or more

16

oz

fresh green beans

1-2

cloves

garlic

minced

1/8

cup

almonds
Instructions
Slice onions into thin slices and chop garlic. Wash green beans and if desire, remove ends.

Heat 2 tbsp of salted butter in a large skillet under medium heat. Once skillet is heated and butter is melted (not browned or burned), add sliced onions

Cook onions under medium heat for a few minutes (it takes a while!) or until it is soft and slightly brown on the edges. Stir continuously. Add 1/2 tsp salt, stir for a few seconds to mix well, then remove onions and set aside.

Add vegetable oil to skillet. Once oil is heated, add green beans. Saute under medium high heat for a few minutes until green beans are cooked and turn darker green. If you want to char your green beans, cook under high heat and add more vegetable oil. Add more butter or other forms of oil if needed at any point to fully cook the green beans. Cover if necessary.

Add garlic and caramelized onions to skillet, and stir to combine. Add the other 1/2 tsp of salt (or more to taste). Mix well.

Remove from heat once green beans is fully cooked. Garnish with almonds.
Nutrition
Calories:
126
kcal
|
Carbohydrates:
6
g
|
Protein:
2
g
|
Fat:
11
g
|
Saturated Fat:
6
g
|
Cholesterol:
23
mg
|
Sodium:
371
mg
|
Potassium:
171
mg
|
Fiber:
2
g
|
Sugar:
3
g
|
Vitamin A:
657
IU
|
Vitamin C:
8
mg
|
Calcium:
38
mg
|
Iron:
1
mg