This post may contain Amazon or other affiliate links. As an Amazon Associate I earn from qualifying purchases at no additional cost to you.
Ah…September. Ah…Fall. The perfect time of the year to cozy up under a fluffy blanket with a bowl of delicious, comforting Creamy Chicken Noodle Soup in my hands.
There's something incredibly warm and delightful about this bowl of thick and creamy chicken soup packed with shredded chicken, veggies, red Idaho® potatoes, and egg noddles. And thanks to the Instant Pot, it is easy to make yet packs the most incredible mind-blowing flavors.
This is a sponsored post written by me on behalf of Idaho® Potato Commission. All opinions and texts are mine.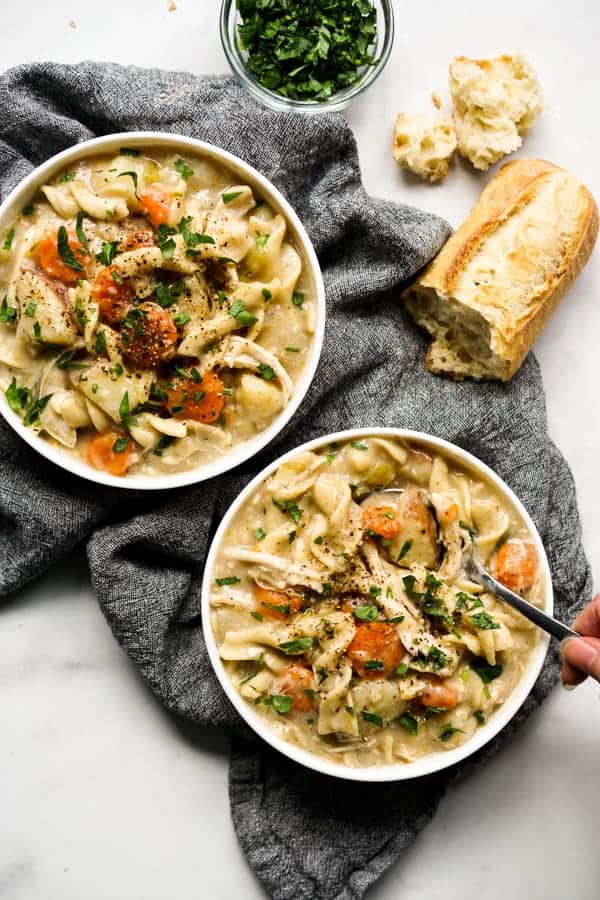 Why cook this in the Instant Pot
If you have hung around here for a little while, you know I love the Instant Pot.
Evidence of said obsession: Instant Pot Chicken Tortilla Soup, Instant Pot Chicken Ramen, Instant Pot Garlic Mashed Potatoes…
Here's a little confession though: I didn't exactly warmed up to the Instant Pot instantaneously. It wasn't love at first sight. Or even first (or second) use. I didn't think I needed that extra kitchen equipment. I was so skeptical.
Ha. And I was so wrong.
I grew to love it not only because it makes preparing food super simple (because lots of kitchen equipment does that). I love it because it makes preparing truly flavorful food super simple.
See, I'm all about the flavors. I absolutely love the fact that I can make food that would typically take 10+ hours to cook properly done in 30 minutes.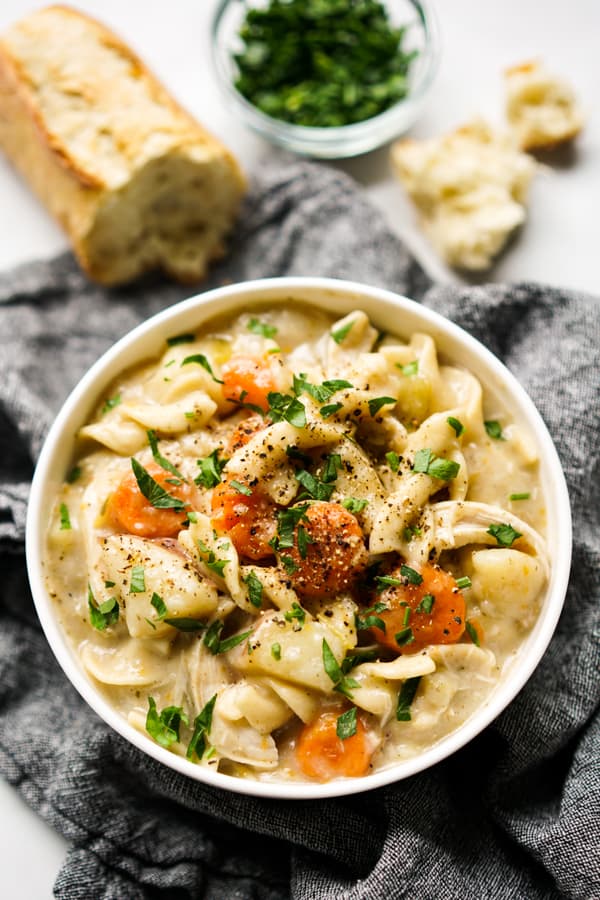 I'm talking broths, soups, and meats that take half a day to cook in order to fully release its flavors, or to fully breakdown its fiber. This magical equipment does it in so much less time and makes it much better tasting than many other cooking methods.
And that is also why this Instant Pot Creamy Chicken Noodle Soup has the most incredible flavors that you will not be able to find done any other way in the amount of time outside pressure cooking.
Warm, cozy, comforting. It really is the best version of this classic comfort food. And it can now happen right in your kitchen…in record time.
Let's make it!
There are three parts to this recipe, all done in the Instant Pot:
Saute garlic and onions
Pressure cook soup
Thicken soup and cook pasta
After cooking garlic and onions in butter directly in the Instant Pot using the "Saute" setting, bring all of the below into the Instant Pot to pressure cook:
Chicken broth
Carrots
Celery
Red Idaho® potatoes
Skin-on, bone-in chicken breast (using skin-on and bone-in for maximum flavors)
Dried herbs (thyme, sage, marjoram…or your favorite!)
Salt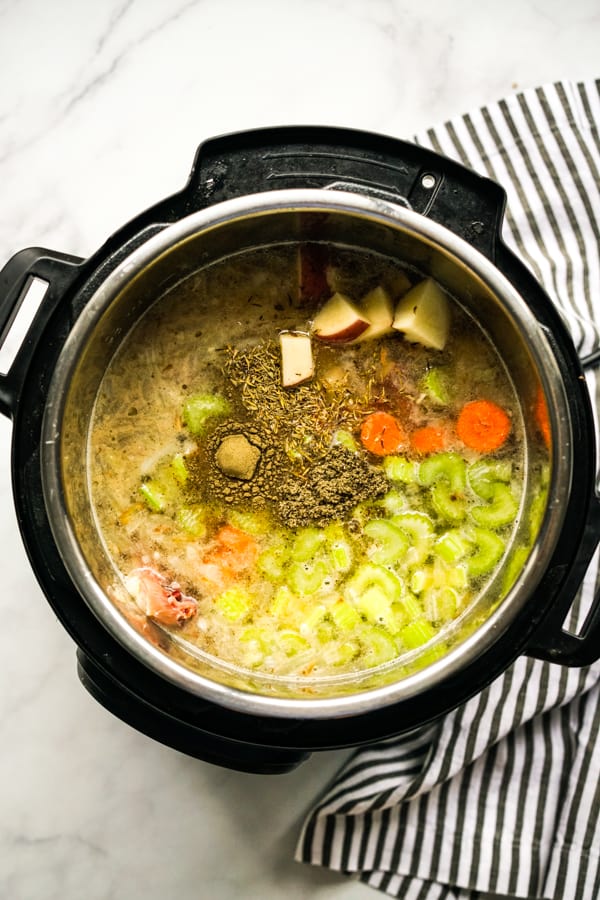 Just dump it all in there and pressure cook!
When it is done, thicken the soup with milk and flour mixture and cook pasta.
And that is it!
What I love about this is that you cook everything in the Instant Pot. Which also means, you will only have that one big pot to clean! That's a winner in my books.
Oh, if you are a bread person like I am, I highly recommend serving this with some warm crusty bread of some sort.
Serve it on the side with butter, or dip bread into that thick, creamy soup… crusty bread and this Creamy Chicken Noodle Soup is one gorgeous combination. One that I might be a tad bit obsessed with.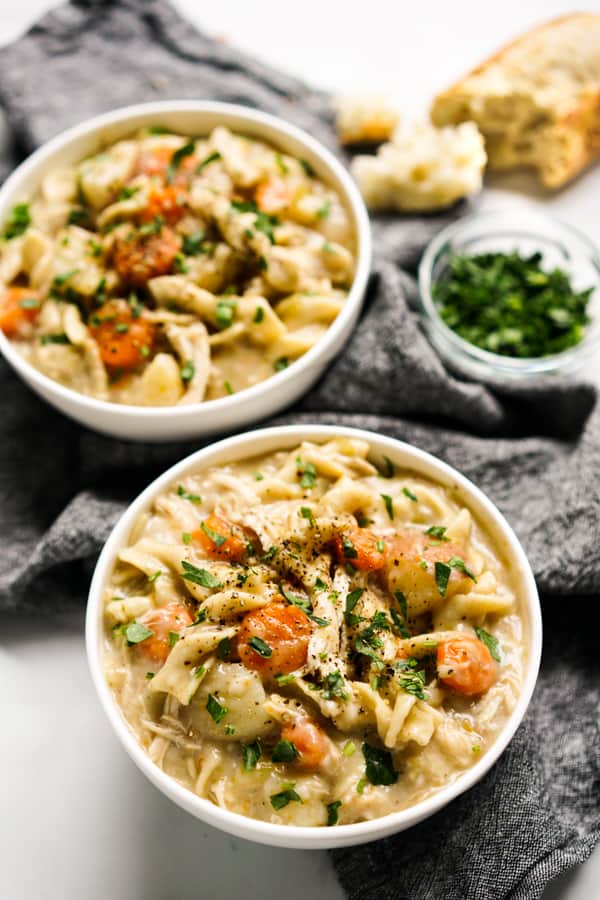 Tips and Tricks
Instant Pot will take some time to build and release pressure manually. Build in time for that!
Be sure to whisk (not just stir) flour and milk mixture until it is smooth before pouring it into the hot soup.
If needed to thin out soup at the end, add more water or chicken broth.
At the end, taste soup and if it is not as flavorful as you'd like, add salt. Salt is used here to open up the flavors, not just to make the soup more salty. You'll be surprise what a little pinch of salt can do to up flavors.
Meal prep and how to store leftovers
Whenever I make this, I look forward to yummy leftovers. Because, hello, this totally screams meal prep!
Store Creamy Chicken Noodle Soup in an air tight container and keep it in the refrigerator or freezer.
If storing in the freezer, the liquid will clump up a bit because of the dairy content. Defrost soup completely (I usually refrigerate it for a day prior to eating) and then add a few tablespoons of water before microwaving the soup.
Stir every now and then throughout microwaving until soup is smooth and warm.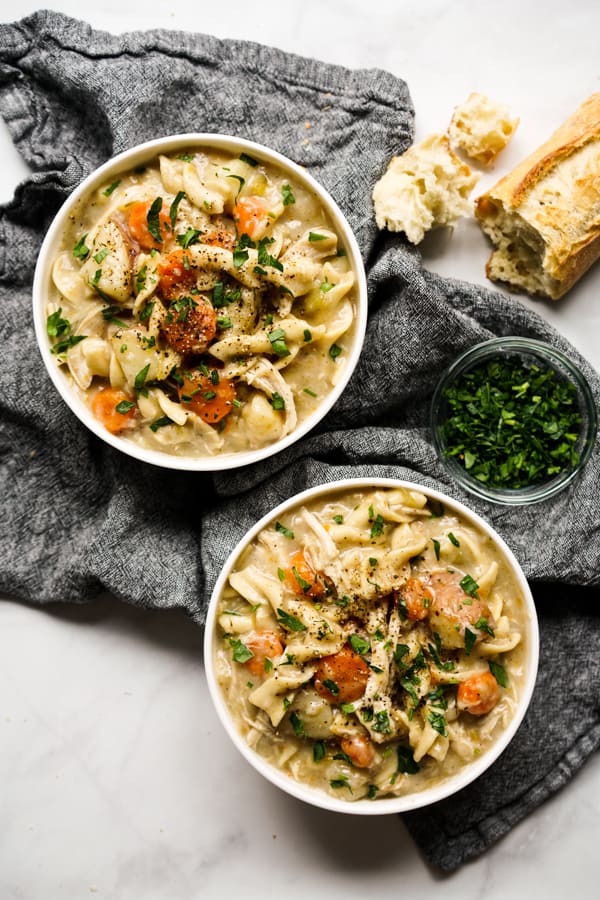 So cozy, so flavorful, so comforting, so perfect. This gives me all the warm fuzzies.
Fall. I AM READY FOR YOU.
If you make this recipe, comment below and let me know what you think! Also, don't forget to take a picture and tag me on Instagram, because I WANNA SEE!!
Other Instant Pot Recipes
Other Soup Recipes