Mint Chocolate Brownies with Andes Mint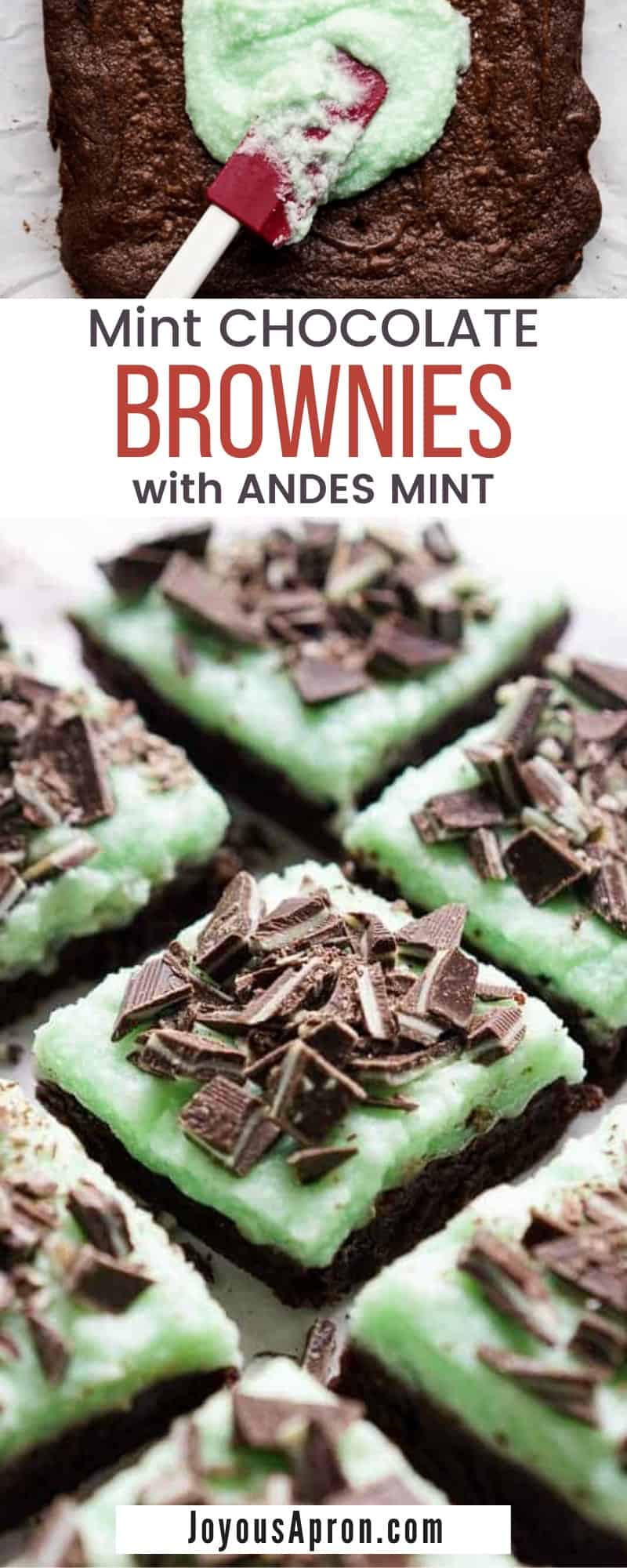 Let's face it. It's hard to say no to brownies. Fudgy, gooey, rich, chocolaty brownies. And it gets even better when you top it with a layer of mint icing and lots of Andes Mint pieces.
These Mint Chocolate Brownies are about to blow your mind!!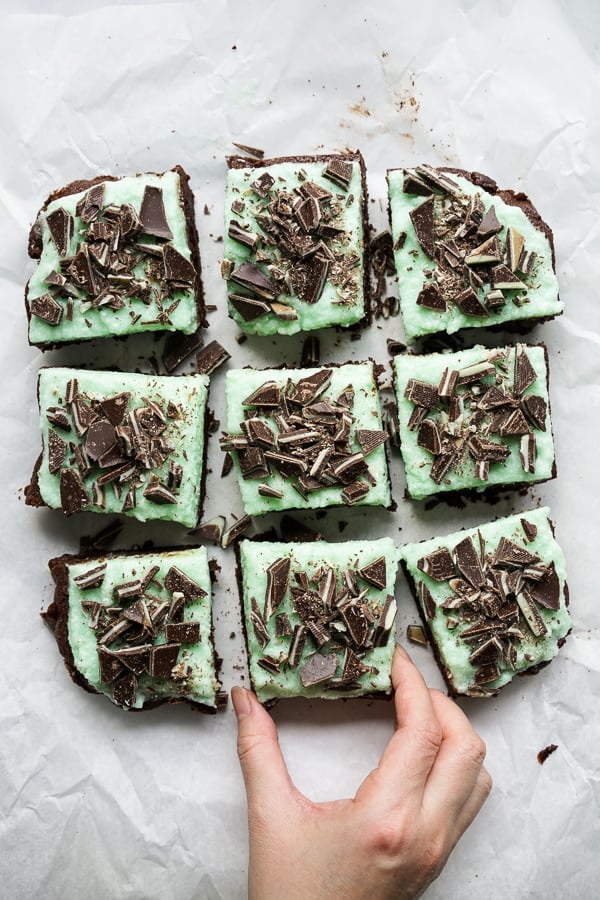 Ahh Mint Chocolate Brownies!
Andes Mint is probably one of my favorite American candy.
So don't leave me alone with a bag of Andes Mint if you want some for yourself.
I was making brownies one day, saw that I have leftover mint extract and a bag of Andes mint sitting in the pantry.
One thing led to another and this delicious brownie recipe is birthed.
Trust me when I say brownies has never been quite the same.
Three key components that make these Mint Chocolate Brownies absolutely magical:
Gooey and rich chocolate brownie
Cool and fresh mint icing
Delicious Andes Mint pieces.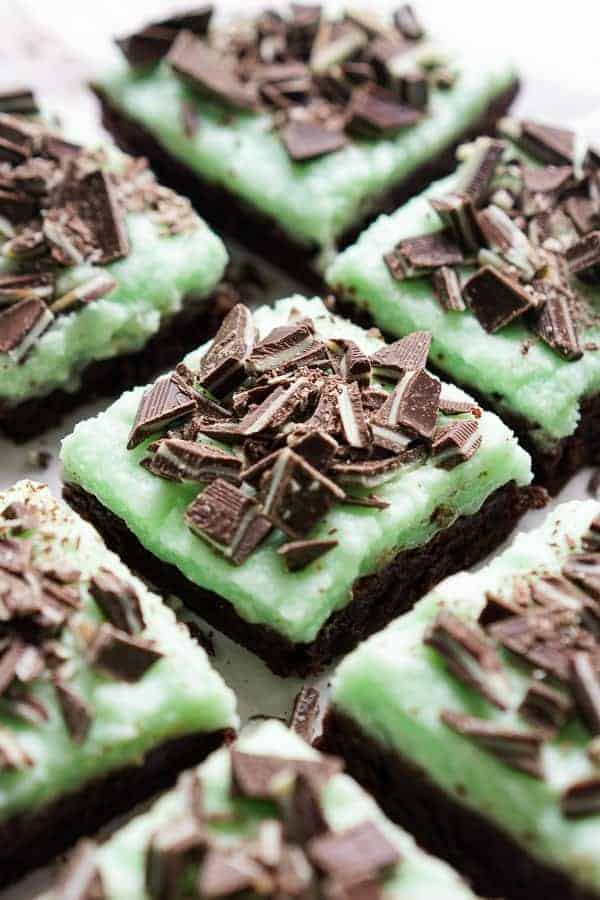 Merge them all together in one satisfying bite. Oo-lala.
Let's make Andes Mint Chocolate Brownies!
Here is another reason why I love this recipe – it is so easy to make!
It is basically broken out into three parts:
Step 1: Bake Brownies, let it cool.
Step 2: Make icing, add icing to brownie, let it cool some more.
Step 3: Top with Andes Mint and serve!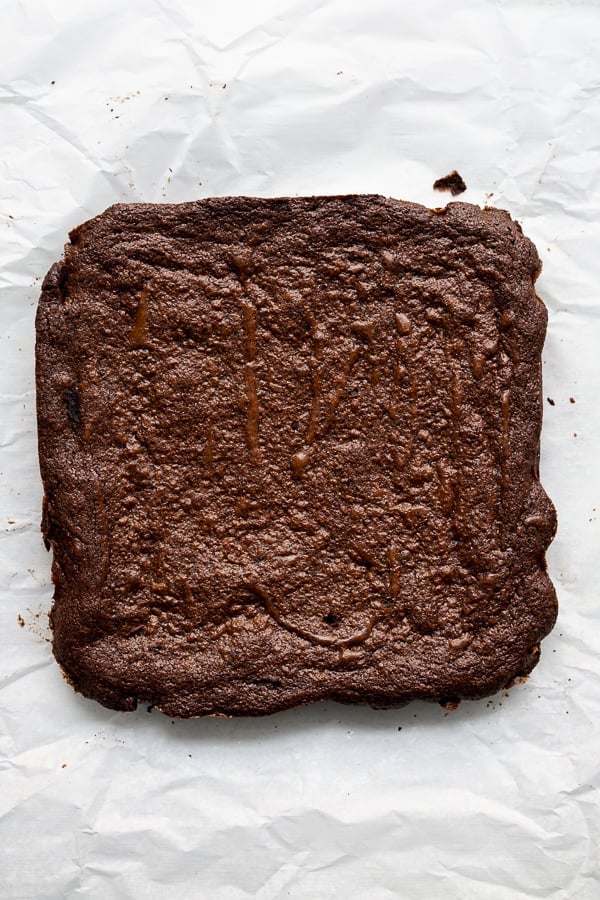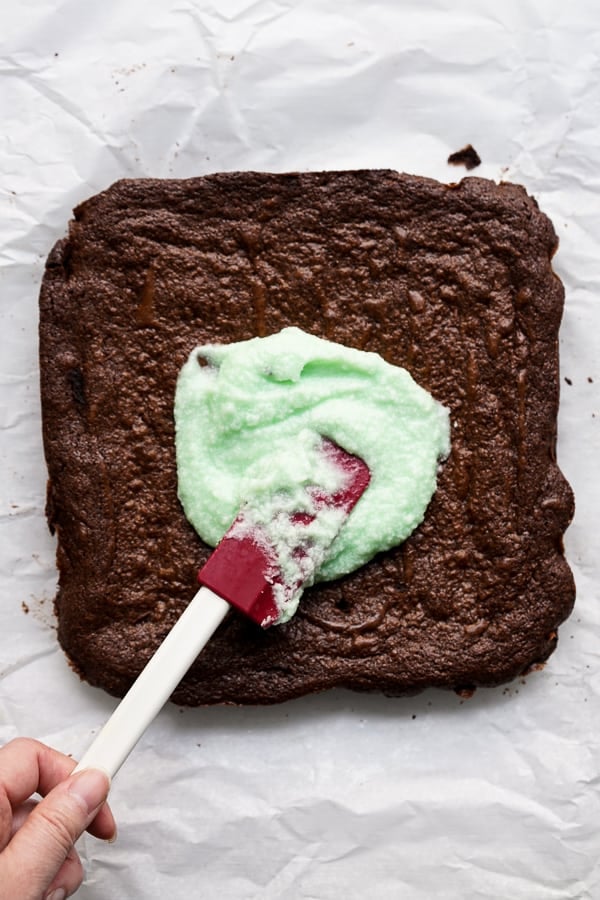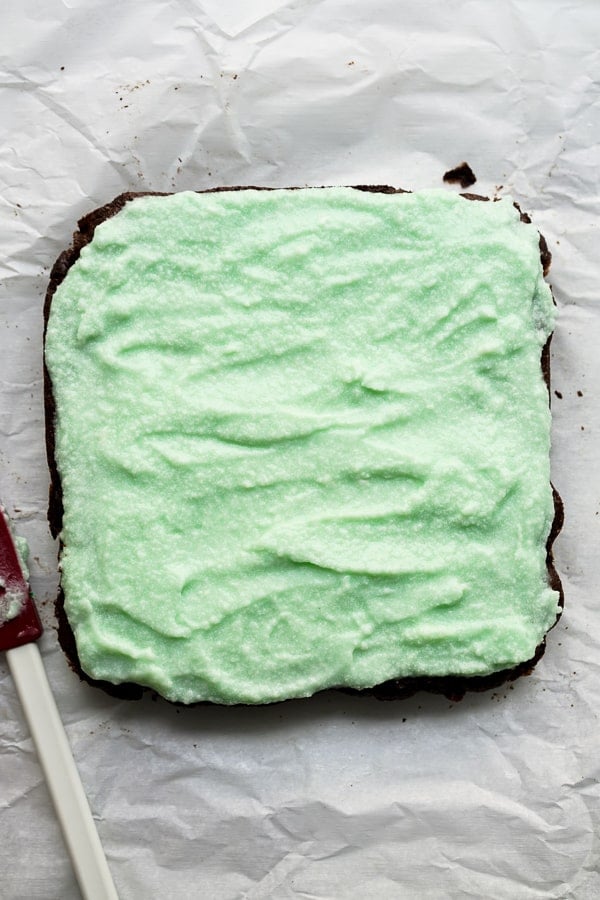 What you will need
Besides the ingredients, these are the other items you need to make this delicious brownie recipe:
Parchment paper

To make lifting brownie out from the pan a lot easier
And make cleanup a breeze!
Tips and Tricks:
A few tips and tricks to make the best brownie ever!
Make sure brownies are cool before adding icing, if not icing would melt and become watery.
To speed up cooling process, cool brownies in the refrigerator.
Make sure icing is set before cutting brownies into pieces. If not it gets a bit messy.
To make the icing/cutting process easier, lift parchment paper and brownie out from the dish and lay it on a flat surface before adding icing and cutting it into smaller pieces.
Lift brownies from the square dish after a few minutes or as soon as you can so that it would not overcook
Test for doneness by inserting a toothpick into brownie. If it comes out clean brownie is done cooking and should be remove from the oven promptly!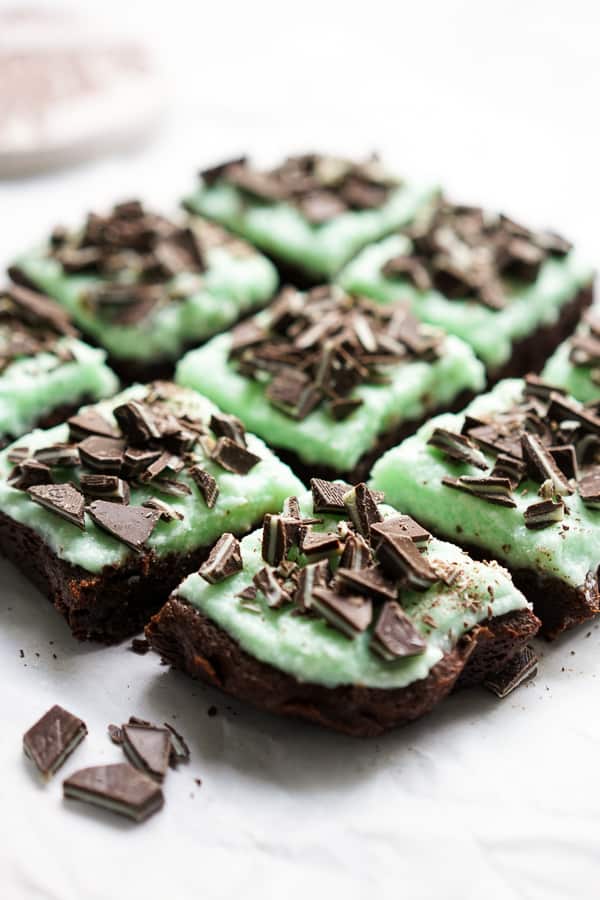 Don't they look dreamy?
Not only do they taste sinfully good, they are just so pretty to look at.
I love bringing them to parties because they are simply lovely. And quite frankly, people will think you put in way more work into it than you actually did. 😉
Make it any day, but it's also perfect for special occasions such as:
Christmas
Holiday season in general
St. Patrick Days
Showers
Birthdays
It's a fun treat that everyone would enjoy!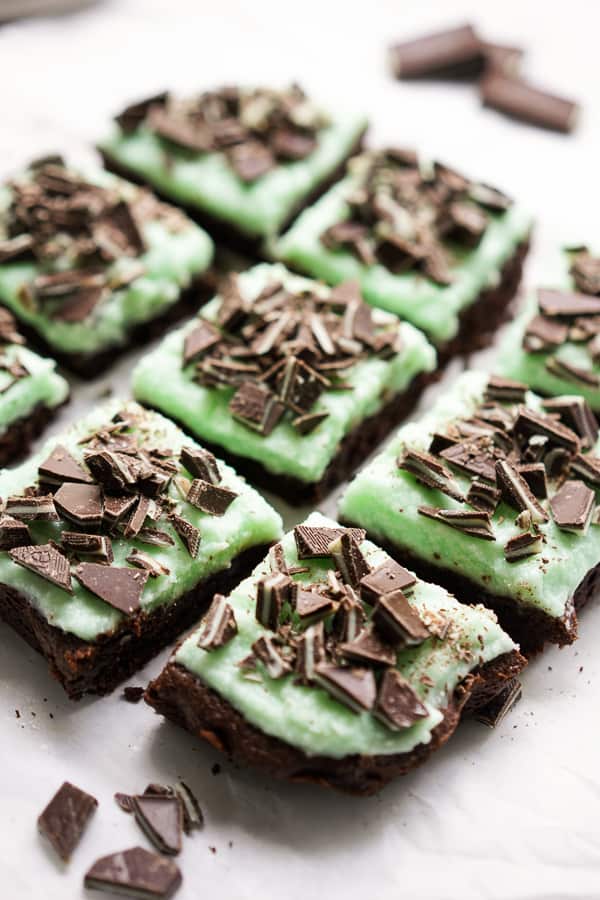 Have fun with this one, friends!
DID YOU ENJOY THIS RECIPE? Please comment below and give us a 5-star rating! This will help others find this recipe on Google and Pinterest. We very much appreciate your help! 🤍
Other delicious Dessert Recipes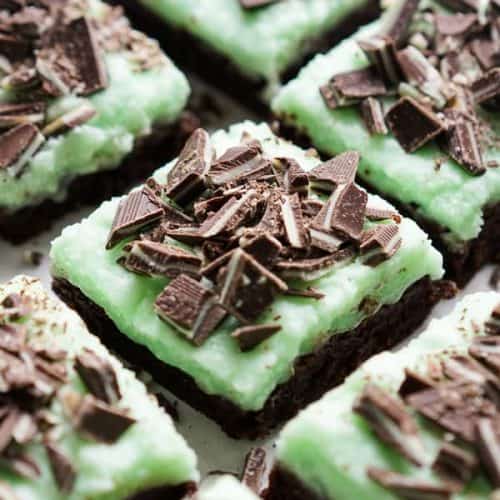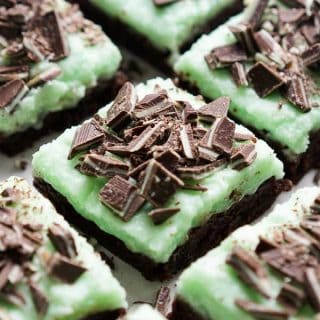 Mint Chocolate Brownies with Andes Mint
Rich, decandent, gooey chocolate brownies topped with fresh and light mint icing and Andes Mint candies. A fun and delicious dessert!
Print
Pin
Ingredients
Chocolate Brownies
5

oz

45-60% dark chocolate

1/2

cup

unsalted butter

melted

1/2

cup

granulated sugar

1/2

cup

brown sugar

2

large eggs

1

tsp

vanilla extract

1/2

tsp

salt

1/2

cup

all purpose flour

1/4

cup

cocoa powder
Mint Icing
1/2

cup

unsalted butter

melted

1 1/2

cup

powdered sugar

2

tbsp

2% milk

1

tsp

mint extract

1

drop

green food coloring

optional
Instructions
Preheat oven to 350 degrees F
Chocolate Brownies
Cut dark chocolate into smaller pieces and melt dark chocolate pieces and unsalted butter in microwave on 50% power in 20 seconds increment until chocolate is completely melted. Stir every 20 seconds.

Bring melted chocolate and unsalted butter to a medium bowl, then add granulated sugar, brown sugar, vanilla extract and eggs. Mix well to combine.

Add salt, all purpose flour and cocoa powder to bowl. Mix well to combine.

Pour brownie batter into a 9"x9" square dish lined with parchment paper. Highly recommend using parchment paper because it will make it easier to lift the brownie out of the dish later.

Bring brownie to oven and bake for 40 minutes. At the 40 minute mark, remove and slide a toothpick into the center of the brownie to check for doenness. If toothpick comes out clean, brownie is done. If it does not come out clean, bring brownie back to the oven and bake for another minute to two until toothpick comes out clean.

Remove brownie from oven, and let it cool for 5 minutes. Lift parchement apper and brownie out of the dish and let brownie cool on a cooling rack for about an hour. You can speed up the cooling process by bringing brownie to the fridge (but do not cover because condensation will happen).
Mint Icing
While waiting for brownies to cook, combine all the incredients under "Mint Icing". Whisk using electrical whisk for a smoother icing.
Combine it all together!
Once brownie is cool (no longer warm to the touch), spread mint icing evenly onto the top of brownie. Bring brownie to the refridgerator to cool for 20-30 minutes, or until the mint icing hardens (so it is easier to slice the brownie).

Slice brownie into nine (or more if you would like!) square pieces.

Chop Andes Mint candies into small pieces, and sprinkle andes mint pieces onto the top of the brownies.
Nutrition
Calories:
492
kcal
|
Carbohydrates:
59
g
|
Protein:
4
g
|
Fat:
29
g
|
Saturated Fat:
18
g
|
Polyunsaturated Fat:
1
g
|
Monounsaturated Fat:
8
g
|
Trans Fat:
1
g
|
Cholesterol:
91
mg
|
Sodium:
154
mg
|
Potassium:
86
mg
|
Fiber:
3
g
|
Sugar:
49
g
|
Vitamin A:
687
IU
|
Vitamin C:
1
mg
|
Calcium:
30
mg
|
Iron:
1
mg