This post may contain Amazon or other affiliate links. As an Amazon Associate I earn from qualifying purchases at no additional cost to you.
A simple, delicious meal that takes no more than 25 minutes to put together. Fresh, healthy and so flavorful, these Fish Tacos with Mango Peach Salsa is absolutely divine, with a capital D.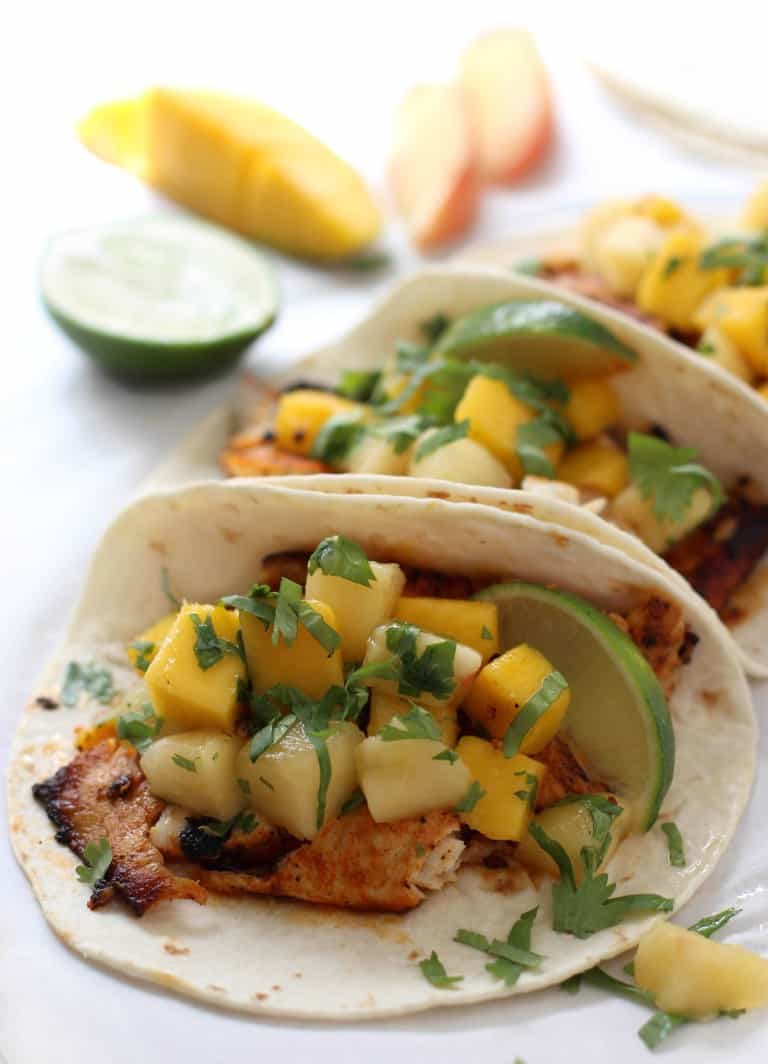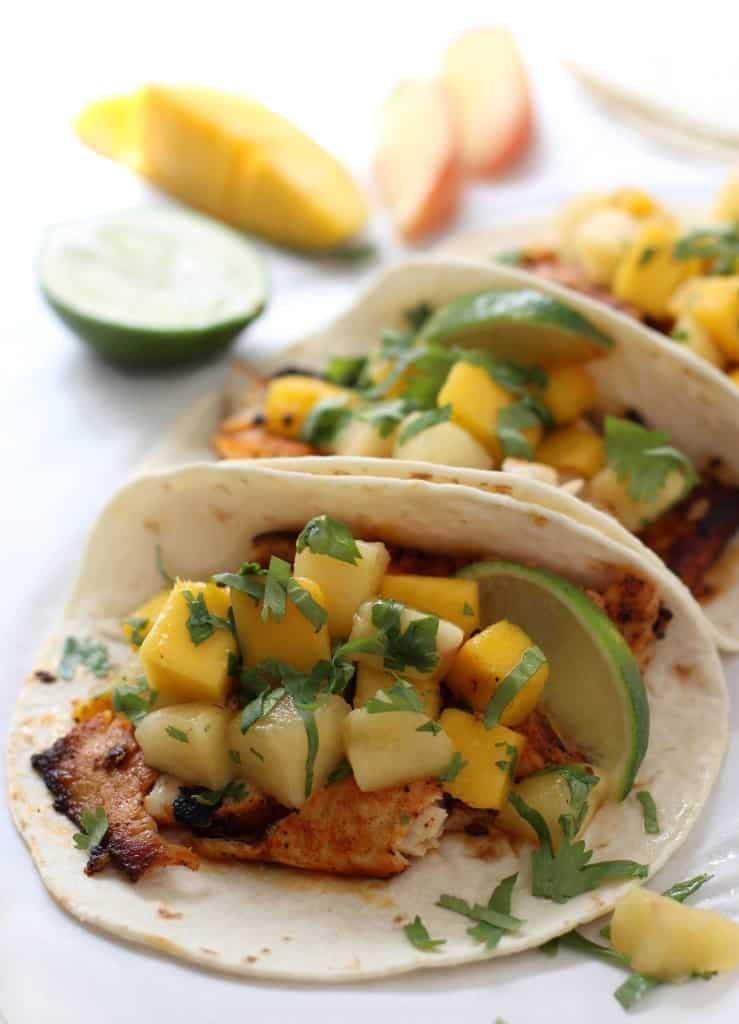 Grilled fish coated with yummy spices, filled into a soft flour tortilla, topped with mangoes AND peaches? Errr hello. YES, PLEASE!
I have a thing for mangoes. When I was young, my parents planted a mango tree in our backyard. Along with a coconut tree, a guava tree, and a banana tree. They like fruit trees. A lot. But mango was my favorite, and has been ever since.
There is nothing quite like the sweetness and juiciness of mango. Some people cook with sour, less ripe mango, but I like it sweet, very sweet.
You typically have to be very patient and let it ripen. Sometimes I wait for over a week or two before it ripens. A ripe mango will be yellow/orange in color, and it smells sweet and mango-y, kinda like heaven. If it is still mostly green it has not ripened.
When we moved to Austin, I was surprised by the quality of the mangoes at our regular HEB grocery stores. I have since bought more mangos than our household needs almost every single week.
Obsessive much? It's the first time since my childhood days in Penang that I am encountering mangoes that taste as sweet and juicy as the ones from our backyard. And yes, it is bringing me much, much joy.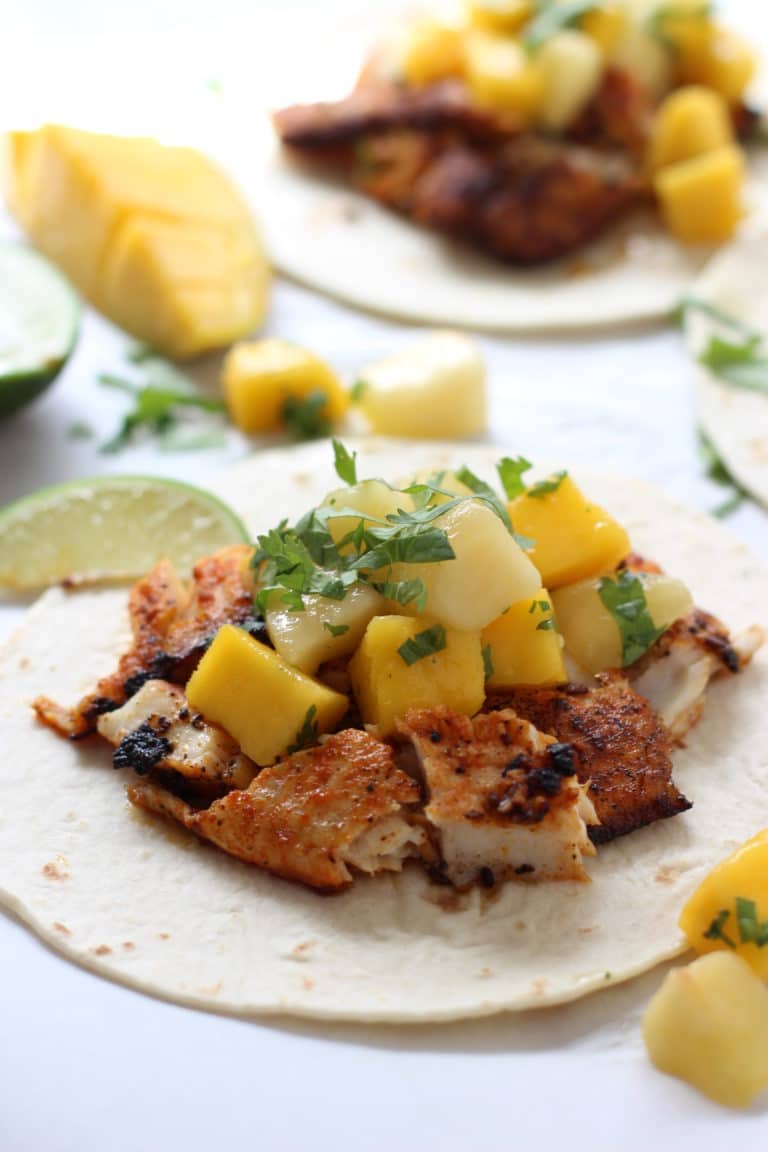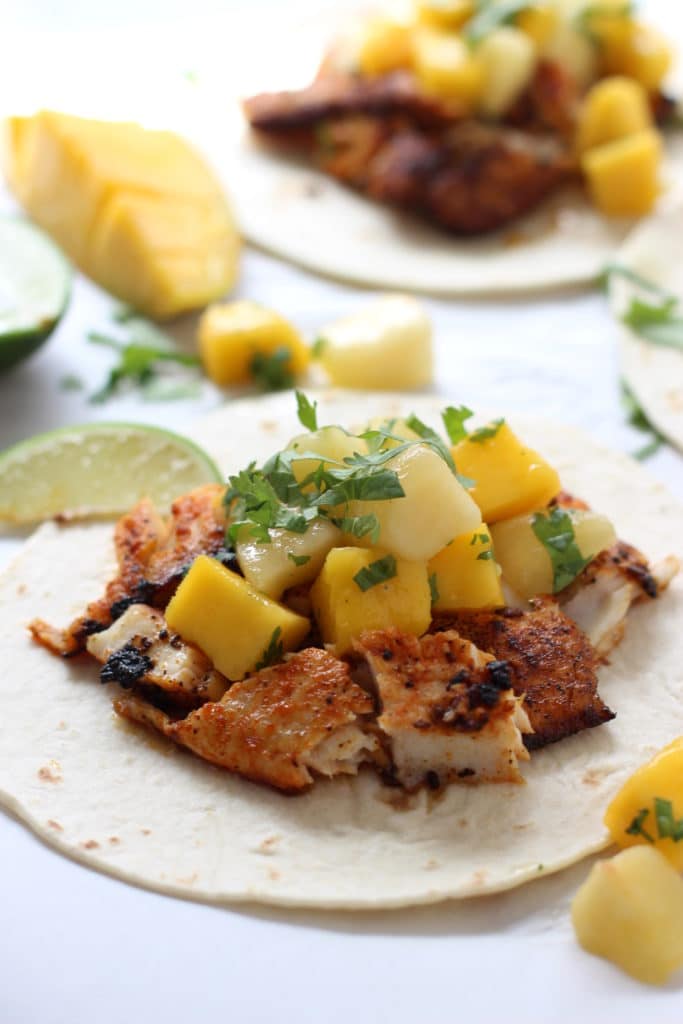 Fish tacos are light, easy dinner that you can prepare for yourself or the family. Mango and peach bring sweetness to the crispy, savory pan-fried tilapia. I love white-flesh peaches, but yellow peaches will be just as yummy.
I'm making a very simple salsa. The truth is, there is so much flavor in the fruits (especially when they are in season..like now 🙂 ), you don't need to add much to it. Cut up a ripe mango and peach, add cilantro, then enhance it by sprinkling lime juice and adding a pinch of salt to taste. Since the mango and peach are ripened and sweet, they will drive the flavor of the salsa.
If your mango and peach are not at the level of sweetness you like, add a teaspoon or two of sugar to the salsa.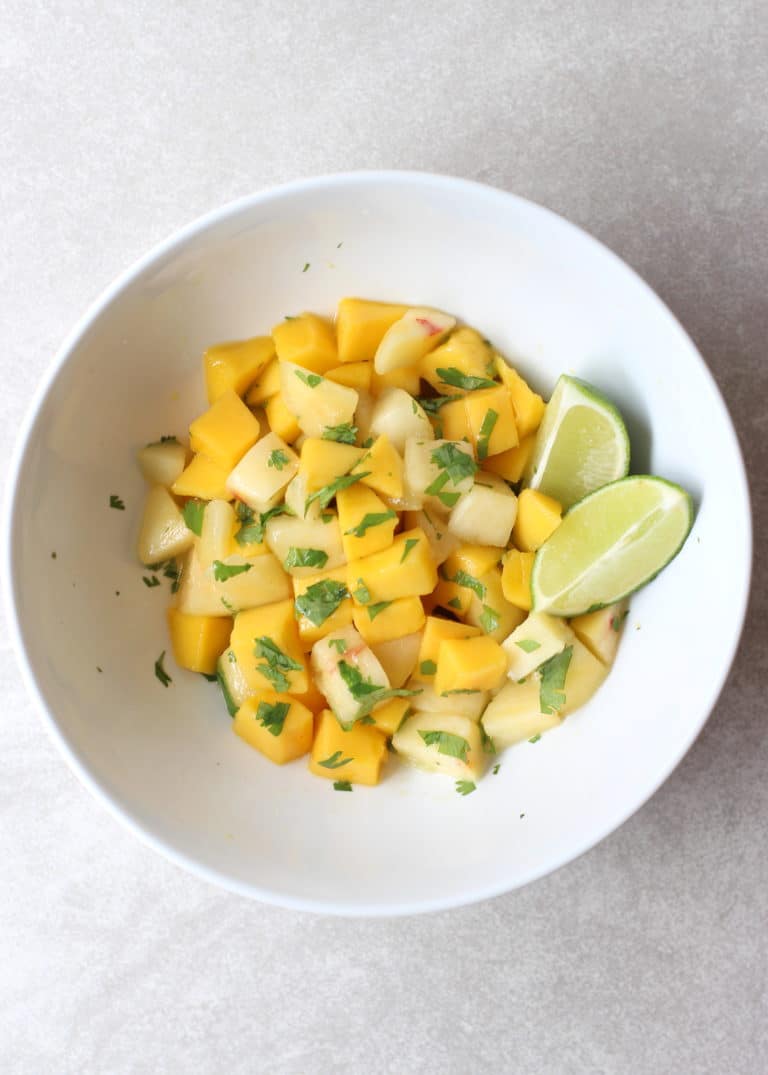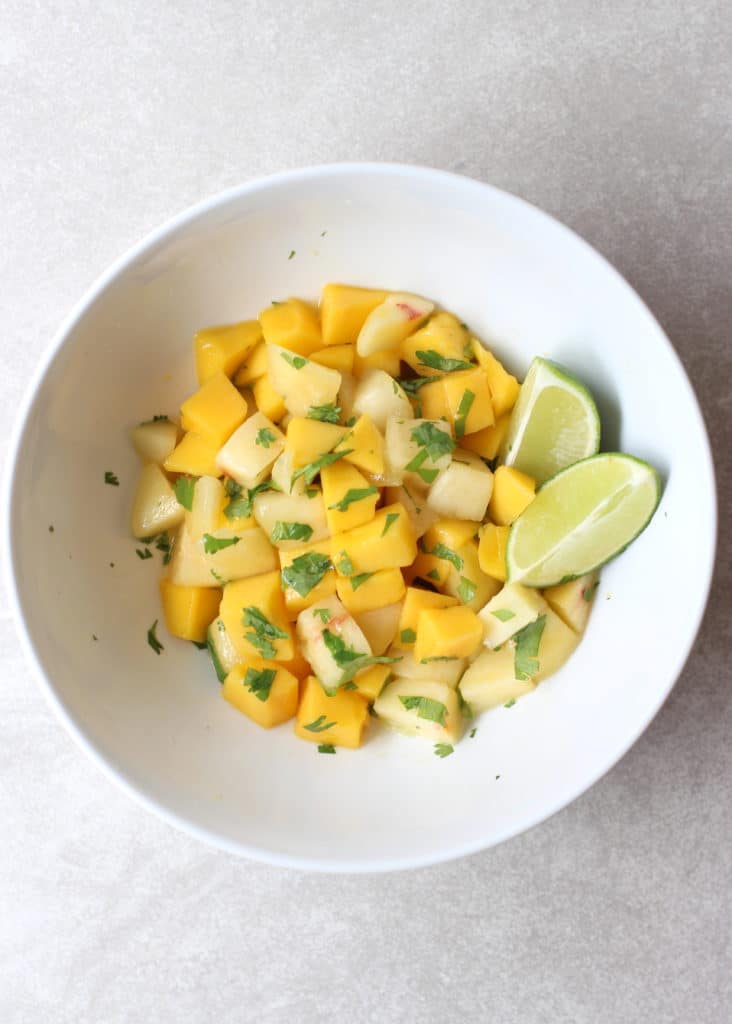 You are highly encourage to devour the rest of the mango that wasn't used for the recipe. However, should you have leftover mangoes, try my super amazing Thai Mango Sweet Stick Rice recipe. It tastes like heaven on earth.
To prepare the the fish for frying, make sure tilapia fillets are completely defrosted and pat dry. Then sprinkle with paprika, salt and fresh minced garlic on both side of the tilapia.
What I typically do is prepare the fish first, and let the flavors sit while I put together the Mango Peach Salsa.
Add some vegetable oil on the pan and sear the fish 3 minutes on each side. Try not to turn or move the fish too much prior to the 3 minute mark. We want to create a slight char on each side, and a bit of crispness on the edge. Then sprinkle some lime onto the tilapia.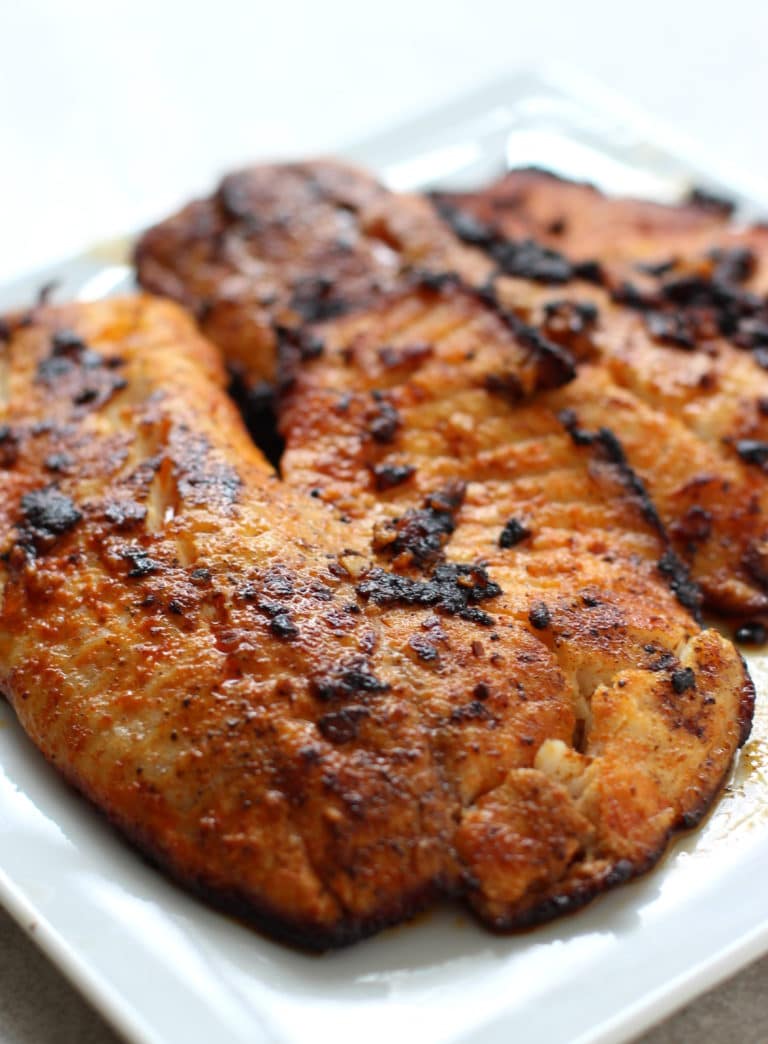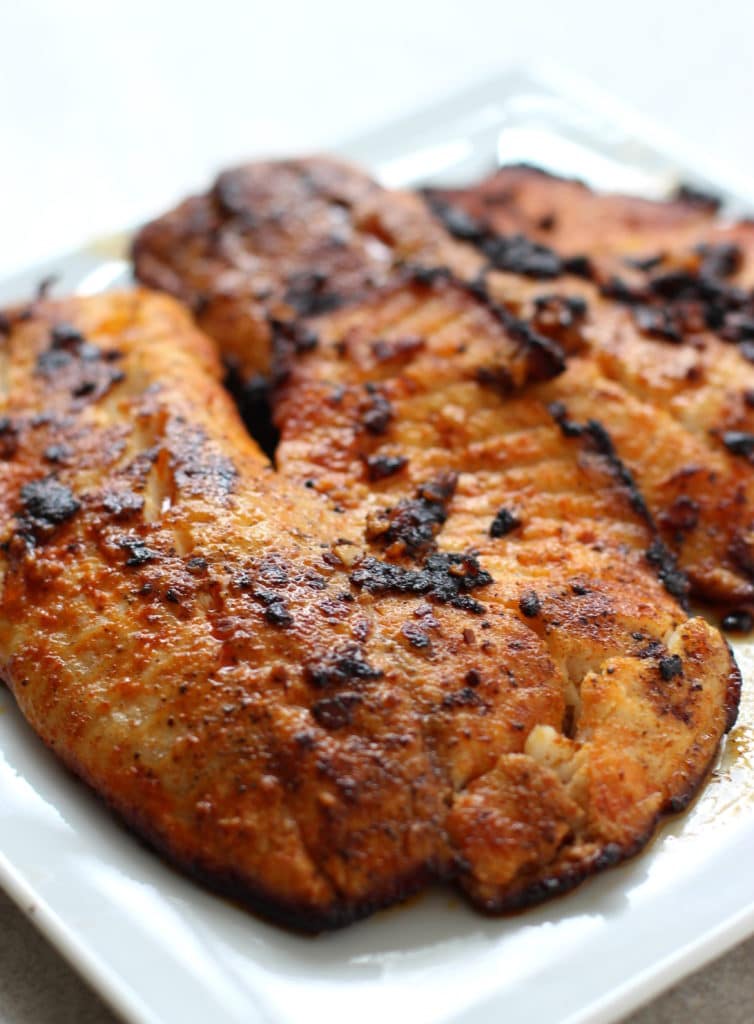 I like to use the microwave to warm the tortillas. 20-30 seconds for a couple of tortillas is all you need. Or you can heat up a skillet and warm the tortillas (very briefly) on both sides using the skillet.
Then use a fork to cut up the fish into smaller pieces and fill tortillas first with the fish, then with Mango Peach Salsa, and then garnish with cilantro. That's it!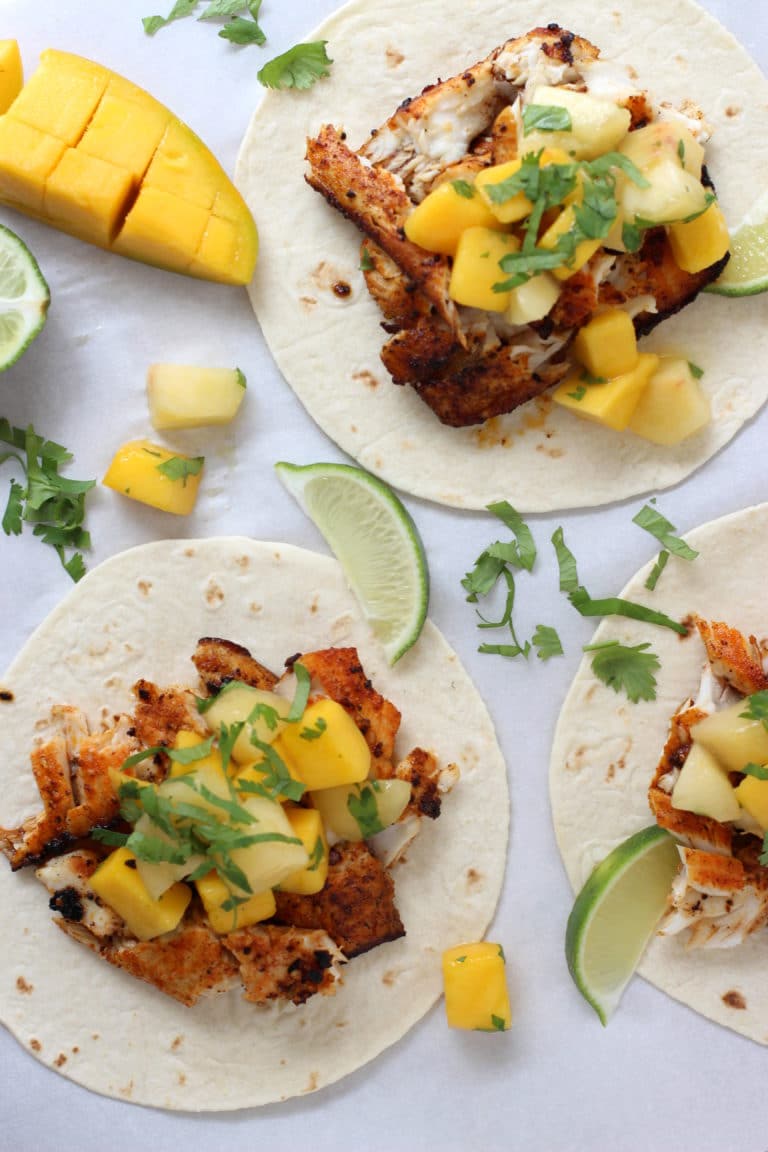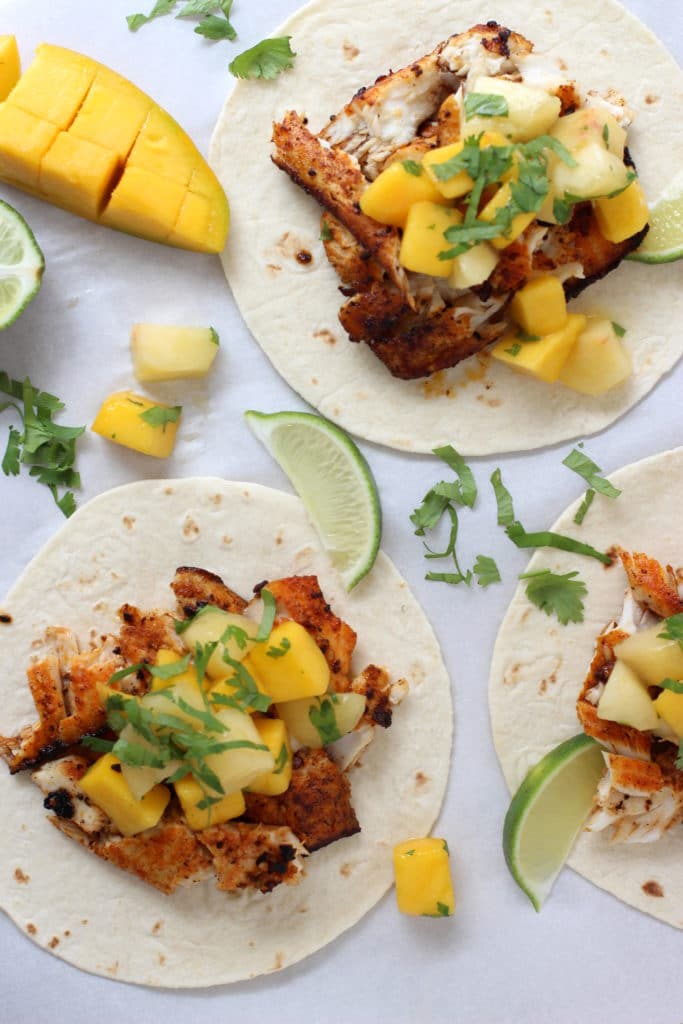 Trust me when I tell you it is every bit as good as it looks. I wish you could taste it through your screen! (How's that for a futuristic device?)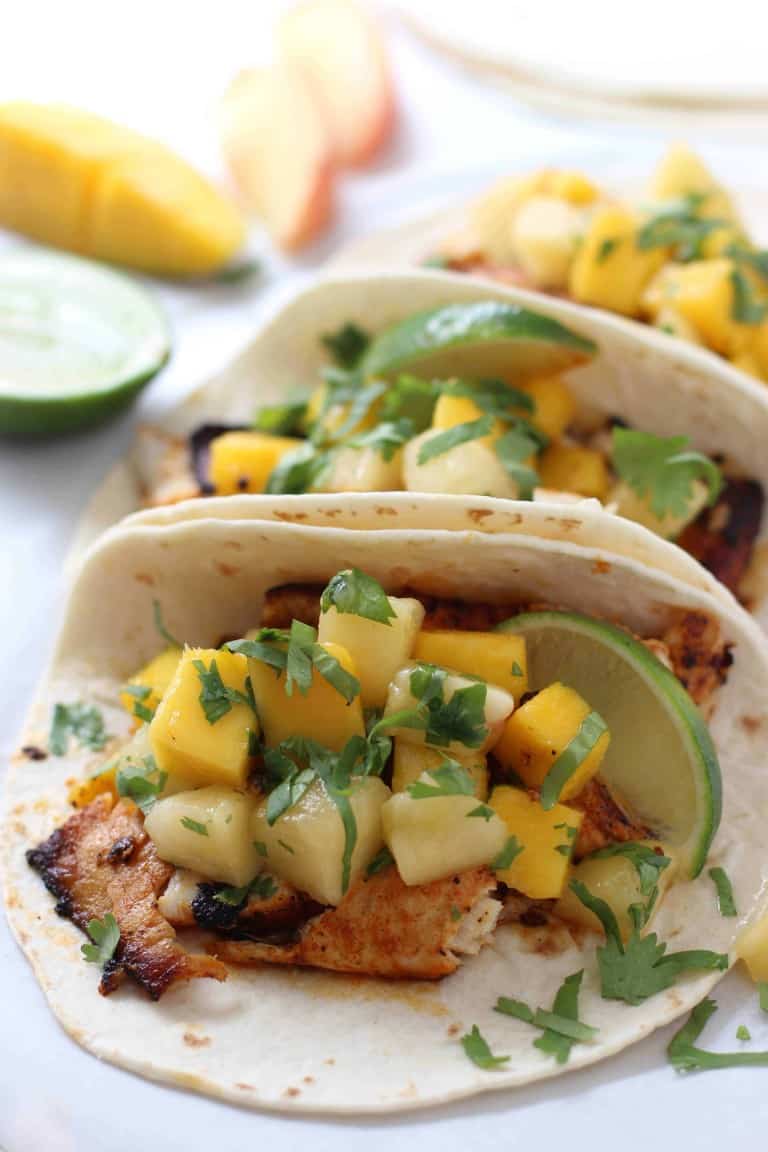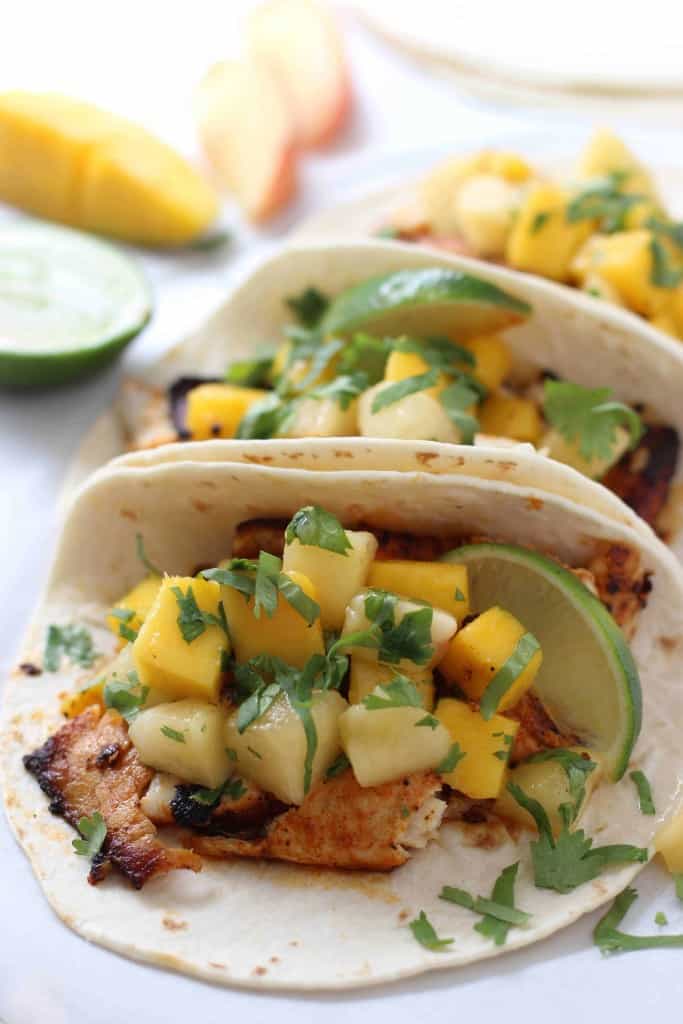 The best part is, it is simple, healthy and looks more complicated than it really is. Try it, and tell me what you think in the comments below!
OTHER FISH RECIPES
DID YOU ENJOY THIS RECIPE? Please comment below and give us a 5-star rating! This will help others find this recipe on Google and Pinterest. We very much appreciate your help! 🤍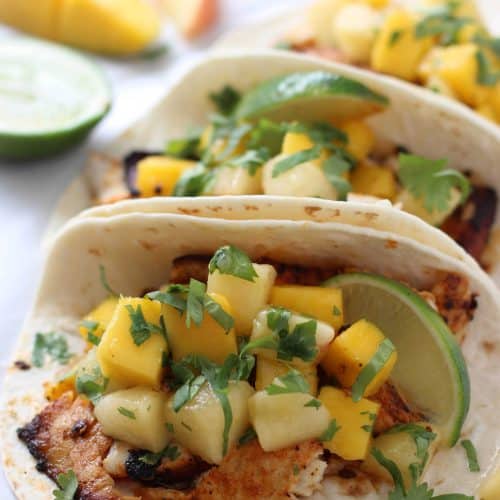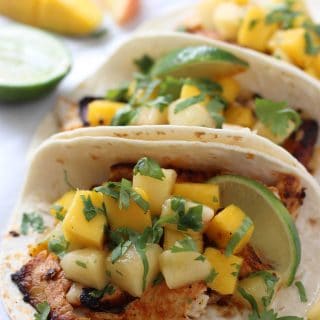 Fish Tacos with Mango-Peach Salsa
Crispy and flavorful pan-fried tilapia wrapped in warm flour tortilla garnished with fresh, sweet mango and peach salsa.
Print
Pin
Ingredients
~1

lbs

tilapia fillets

1

large lime

6-8

cloves

garlic

minced

1

tbsp

paprika

salt

to taste

1

cup

ripe mangoes

cubed

1

cup

ripe peaches

cubed

2

tbsp

fresh cilantro

packed

1 – 1 1/2

tbsp

vegetable/canola oil

4-5

small flour tortillas
Instructions
Completely defrost tilapia fillets (see Note 1) and pat dry.

Coat both sides of the tilapia filets with paprika, minced garlic and salt (to taste).

Cut mango and peach into small cubes. Also cut up cilantro.

Cut lime into half. Using a small mixing bowl, mix 1 cup of mango, 1 cup of peach, and 1 tbsp of cilantro. Squeeze lime juice from 1/2 of the lime into mixture. Add salt to taste. Mix well and set aside. Set aside the other tbsp of cilantro for later. Set aside the other 1/2 of the lime for step 5.

Add 1 tbsp of vegetable oil to pan (see Note 2). Heat skillet using medium heat. Once the skillet is hot and oil is bubbly, bring tilapia fillets to pan. Fry for 3 minutes, turn tilapia and fry for another 3 minutes on the other side, or until tilapia is done. Tilapia should be brown on the outside, slightly crispy on the edges, and white (not translucent) on the inside when done. Squeeze lime juice from the other 1/2 of the lime onto tilapia.

When the fish is done, use fork to cut fish into smaller pieces. Fish should fall apart very easily (if not it might not be fully cooked).

Heat up tortillas in the microwave for 20-30 seconds. You can also heat tortillas very quickly on both sides using a skillet.

Fill warm tortillas with fish and Mango Peach Salsa. Garnish with the rest of the cilantro.
Notes
Note 1: Best way to defrost frozen fish is to set it out earlier in the day. Defrosting using microwave can be tricky as fish are often slightly cooked in the microwave while defrosting.
Note 2: Adjust the mount of oil used accordingly. I use a non-stick pan so if you are not using a non-stick pan, you might need to add more oil as the fish will be more likely to stick to the pan.
Nutrition
Calories:
503
kcal
|
Carbohydrates:
57
g
|
Protein:
53
g
|
Fat:
9
g
|
Saturated Fat:
2
g
|
Polyunsaturated Fat:
2
g
|
Monounsaturated Fat:
3
g
|
Cholesterol:
113
mg
|
Sodium:
552
mg
|
Potassium:
1144
mg
|
Fiber:
5
g
|
Sugar:
21
g
|
Vitamin A:
1334
IU
|
Vitamin C:
54
mg
|
Calcium:
128
mg
|
Iron:
4
mg