Chicken Enchilada Casserole
Calling ALL Mexican Food Lovers! You need this made east enchilada…Chicken Enchilada Casserole!
Did I tell you how much I love Mexican food? When I first had Mexican food, I was twenty (I think), and it definitely wasn't love at first try. It was very different from what I had growing up, and I had to slowly acquire the taste for it.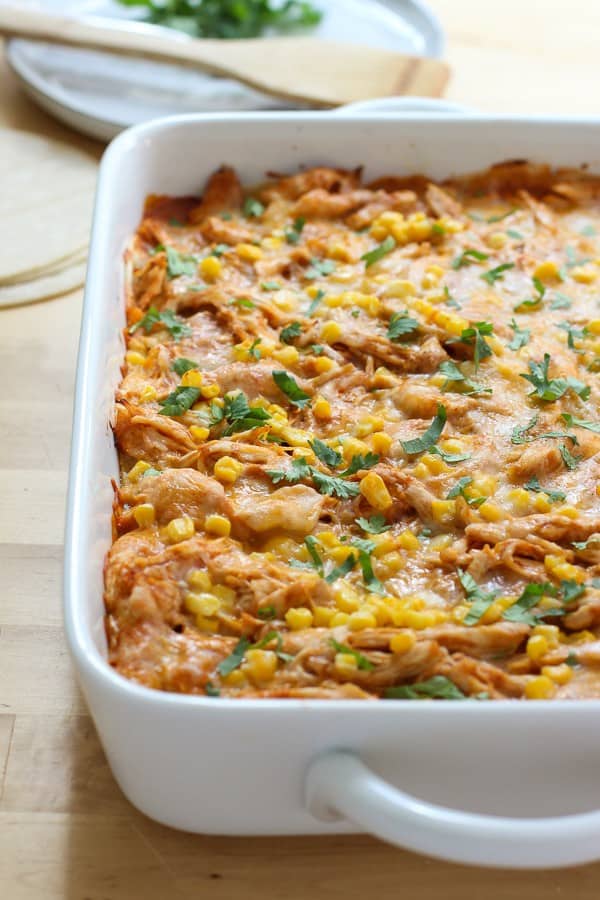 Now, fast forward more than a decade later (Yes. MORE THAN A DECADE. Wowza), we have Mexican food all the time and LOVE it.
Helps that we live in food hub of Tex-Mex/Mexican cuisine, Austin, Texas, where we can get all the yummy Mexican food we want, anytime, ALL THE TIME.
Tacos, quesadilla, enchiladas, tostadas, toquitos, burritos – GIVE THEM TO ME!
This Chicken Enchilada Casserole recipe is a twist to the classic Enchilada. It is, however, still THE REAL DEAL.
Every now and then I would attempt to make Enchiladas the traditional way, where I would dip each corn tortilla in enchilada sauce, fill it with meat and roll it up, and repeat for about a dozen tortillas.
It's out-of-this-world delicious, but it's also a lot of work, messy, and time-consuming. There are many nights when that is just not doable.
I wish it wasn't the case, but WE ARE BUSY PEOPLE. And sometimes food calls for short cuts. Without sacrificing taste, of course.
That's when I started making Chicken Enchilada Casserole. It calls for ingredients similar to a classic Enchilada, only it is so much easier to put together.
It is cooked in a crock pot (you can WALK AWAY while it cooks, for hours) and casserole dish (you can WALK AWAY. AGAIN) – ensuring lots of good flavors combining and permeating into the dish.
Excuse my obsession with CAPS today. Over-excitement? Extreme enchilada enthusiasm? The need to shout at the top of my lungs? Your guess is as good as mine.
How to make Chicken Enchilada Casserole
Start hours before dinner time. And start with a crock pot.
Add defrosted chicken breast, red enchilada sauce, and diced onion into crock pot. Different enchilada sauce will taste different.
Just like everything, some will be better than others. Taste the enchilada sauce before you throw it in. I use this Old El Paso Red Enchilada Sauce.
Some enchilada sauce can be a bit bland. If that is the case, here are some spices you can throw into the crock pot to enhance the flavor – cumin, chili powder, coriander, garlic (fresh or powdered form), salt & pepper.
Use cayenne powder if you want to make the sauce spicier.
Pro tip: ALWAYS taste your food (unless, of course, it cannot be eaten raw. Then err…DON'T taste your food. You get the gist) before you put them in if you are unfamiliar with it.
This way we we won't be rudely surprised by the taste of it at the very end when we cannot tweak it anymore.
Let chicken cook in crock pot on high for 4 hours. Remove chicken breast from crockpot. Then, using a fork, shred chicken and continue cooking for another 30 minutes.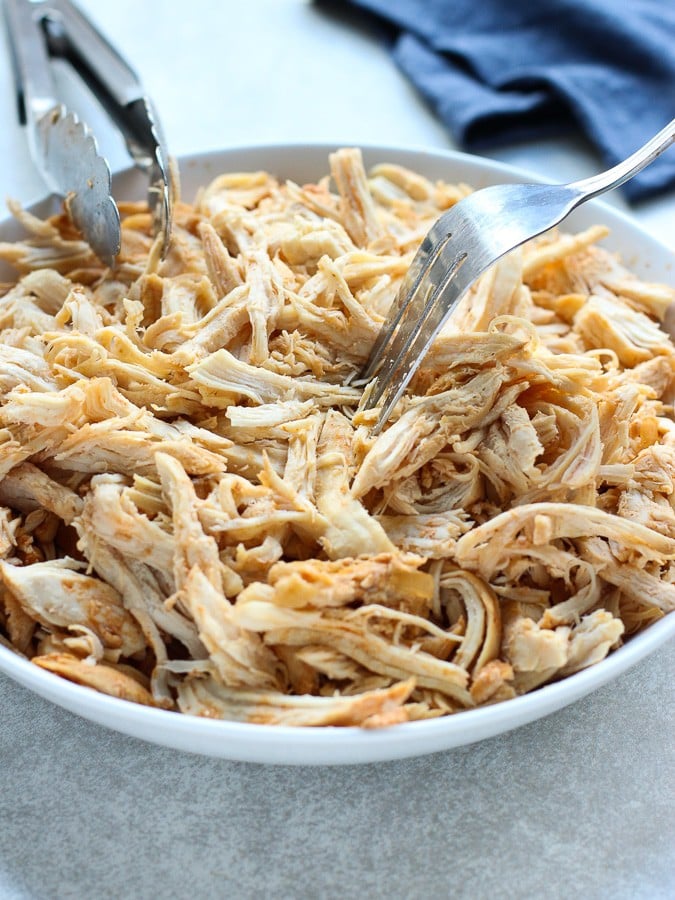 Next: It's layering time.
Spoon liquid from the crockpot (no chicken) to the bottom of a 9″x13″ casserole dish
Then layer corn tortillas, chicken (with some juice), corn, and shredded cheese.
Repeat Step 2 two more times. There should be a total of three layers.
To keep the recipe simple, I did not add these, but here are some other items to "layer" into the casserole, if you choose to:
Jalapeno peppers – Such a classic in Mexican cuisine. It has a kick and a sour tint to it. So be warned if you have spicy food limitation
Fresh tomatoes – Chop it up and spread it all over. It will be delicious!
Sour cream – Good way to neutralize the acidity in this dish
Salsa – LOVE me some salsa!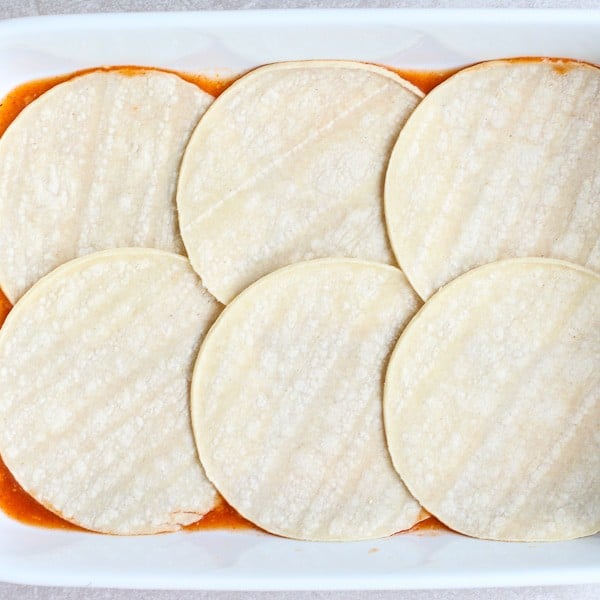 Then send casserole into the oven. Bake for 20-25 minutes at 375 Degrees. Remove and garnish with fresh cilantro.
YUMMMMERS. Whether that is a word or not, it does not matter.
This really is what I would call a dump and cook recipe. Low touch. Not a lot of time in the kitchen. DELICIOUS. And it feeds many.
With this massive casserole dish, with only two of us to feed, we had it for dinner for many days, lunch for many days. Then dinner again. Then lunch again.
Leftovers – you are a lifesaver!!
This Chicken Enchilada Casserole recipe is definitely a small budget meal with some great flavors!
My husband and I always say we eat like royalty around here, and with a relatively small budget. We love good food and we love to make good food.
YOU can too! I am such a believer that we can make so many types of YUMMY food, just like those from restaurants, right in our homes.
With just a little bit of creativity, practice, and prep work.
How to serve this
DID YOU ENJOY THIS RECIPE? Please comment below and give us a 5-star rating! This will help others find this recipe on Google and Pinterest. We very much appreciate your help! 🤍
Other Fun Casseroles!
More Mexican Recipes
Chicken Enchilada Casserole
Enchilada recipe made simple! Low-touch and yummy! Slow cook chicken in a crockpot, then layer and bake chicken, red enchilada sauce, cheese, corn tortilla layered and in a casserole. Feeds a crowd and tastes just like traditional enchiladas!
Print
Pin
Ingredients
3

lbs

chicken breast

18

corn tortillas

28

oz

red enchilada sauce

3

cups

shredded Mexican blend cheese

1/2

large sweet onion

diced

1 1/2

cup

frozen or canned corn

1/4

cup

cilantro

chopped
Instructions
Add defrosted chicken breast, enchilada sauce, diced sweet onion to crock pot. If desire, can also add one or more of these spices to enhance taste – cumin, chili powder, coriander, garlic (fresh or powdered form), salt, or pepper. Add cayenne powder for additional spiciness.

Cook on high for 4 hours. Remove chicken breasts from crockpot and use a fork shred chicken. Bring shredded chicken breast back to crockpot and continue cooking for another 30 minutes.

Pre-heat oven to 375 degrees F.

To assemble casserole, spoon a few spoonfuls of the juice from crock pot to the bottom of a 9″x13″ casserole dish.

Next, layer casserole with 6 corn tortillas.

Next, layer with 1/3 of the shredded chicken (with some sauce).

Then sprinkle with 1/2 cup of corn, spread evenly.

Then add 1 cup of cheese, spread evenly

Repeat step 5-8 for another two times. There should be a total of 3 layers. Note that there should be a lot of cooked sauce/juice not used – do not spoon all of the enchilada sauce into casserole.

Bake casserole for 20-25 minutes.

Garnish with chopped cilantro. Optional (but highly recommended!): Serve with chips, rice, queso, and/or guac, and enjoy!
Nutrition
Calories:
517
kcal
|
Carbohydrates:
45
g
|
Protein:
53
g
|
Fat:
14
g
|
Saturated Fat:
6
g
|
Polyunsaturated Fat:
2
g
|
Monounsaturated Fat:
4
g
|
Trans Fat:
1
g
|
Cholesterol:
135
mg
|
Sodium:
1413
mg
|
Potassium:
895
mg
|
Fiber:
6
g
|
Sugar:
8
g
|
Vitamin A:
995
IU
|
Vitamin C:
7
mg
|
Calcium:
543
mg
|
Iron:
2
mg