Kale and Brussels Sprouts Salad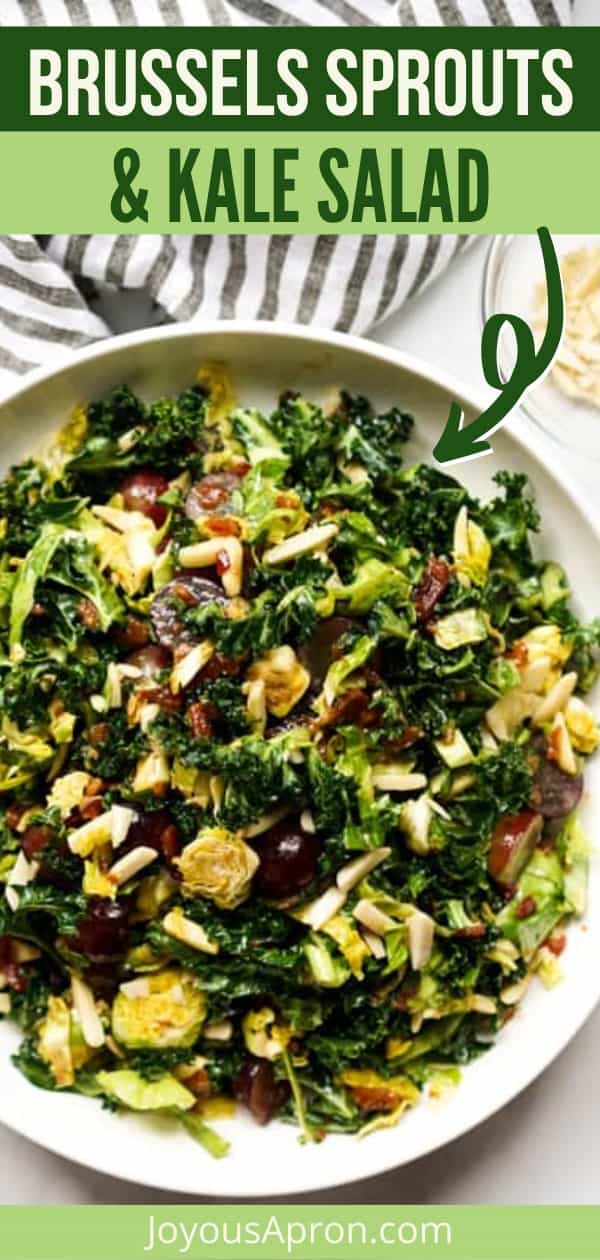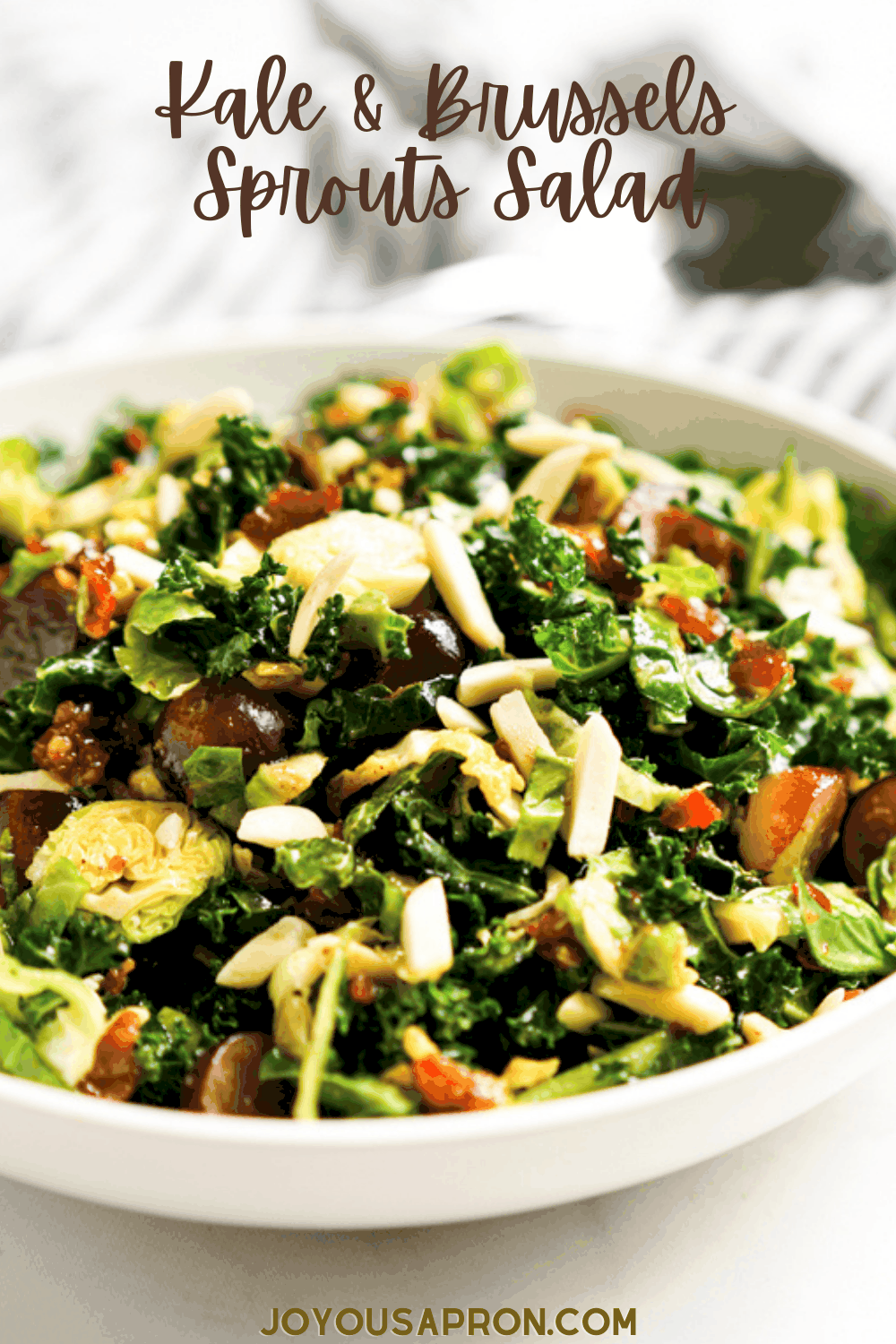 Crunchy and earthy massaged kale and Brussels sprouts? Drenched in savory sweet tangy bacon vinaigrette? Topped with lots of plump grapes and crispy almonds? THIS is the Kale and Brussels Sprouts Salad that I have been living for!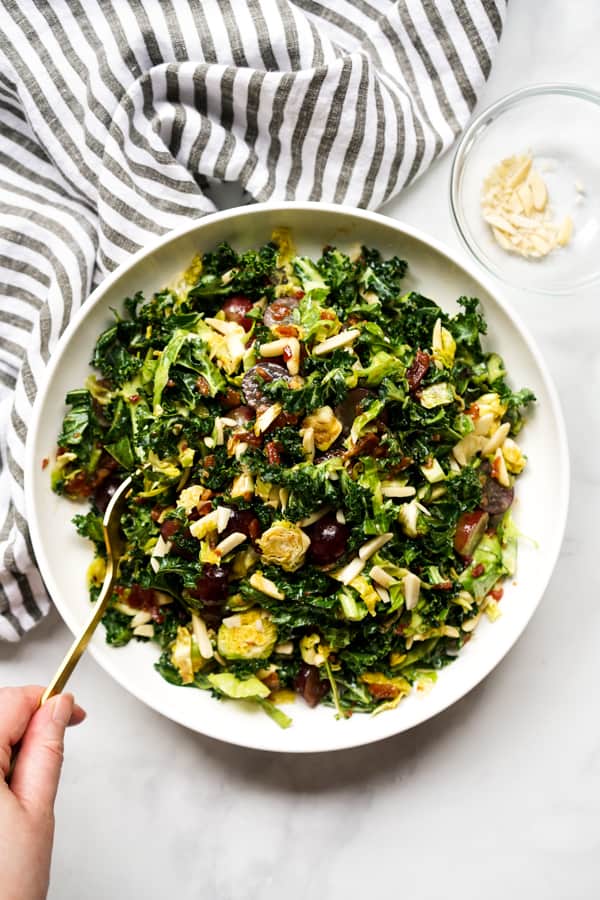 Ladies and gentlemen, boys and girls, anyone and everyone…and that includes those of you who do not care for Brussels sprouts and/or kale, here's what you need to know: I'm willing to bet that Kale and Brussels Sprouts Salad will impress you.
This Kale and Brussels Sprouts Salad will change your mind about Brussels sprouts, kale, or whatever preconceive notions you have about these vegetables, forever and ever.
Kale and Brussels Sprouts…a lovely combo
Let me tell you why I love this Kale and Brussels Sprouts loveliness…
And keep in mind, I am not the kind of person who eats kale for fun or force myself to do it because it is healthy.
There are some bad kale dishes out there (tons), but when cooked or prepared right, it truly brings the best out of kale.
So how this particular Shaved Brussels Sprouts and Kale Salad is as different from the rest?
Amazing flavors – not trying to brag, but that bacon vinaigrette is seriously some of the best things I've put into my mouth. Its sweet savory tangy complex flavors pair crazy well with the slightly bitter, heartier veggies. It is very similar to the bacon vinaigrette in my Grilled Fingerling Potatoes recipe. In addition, grapes also round out the salad and brings a lovely touch of sweetness.
So much great textures – there's the crunchy veggie, there's the crispy almonds, there's the juicy grapes. It's a party in the mouth!
Ready in 20 minutes – there is minimal cooking involved (basically heating up the vinaigrette so the flavors merge together. If you want to make things even easier, get ready shaved Brussels sprouts and ready to eat kale! Then you are looking at a 10-minute dish!
Great for holidays (Easter is around the corner!), parties, cookouts and much more – always a crowd pleaser and goes with so many dishes (from Pineapple Baked Ham to Cheese Stuffed Burger) , or by itself! Serve the vinaigrette on the side if it will not be consumed immediately.
Healthy-ish – I know there's bacon in there, but I like to think it is canceled out because you will also be eating a whole lots of kale and Brussels sprouts! 😉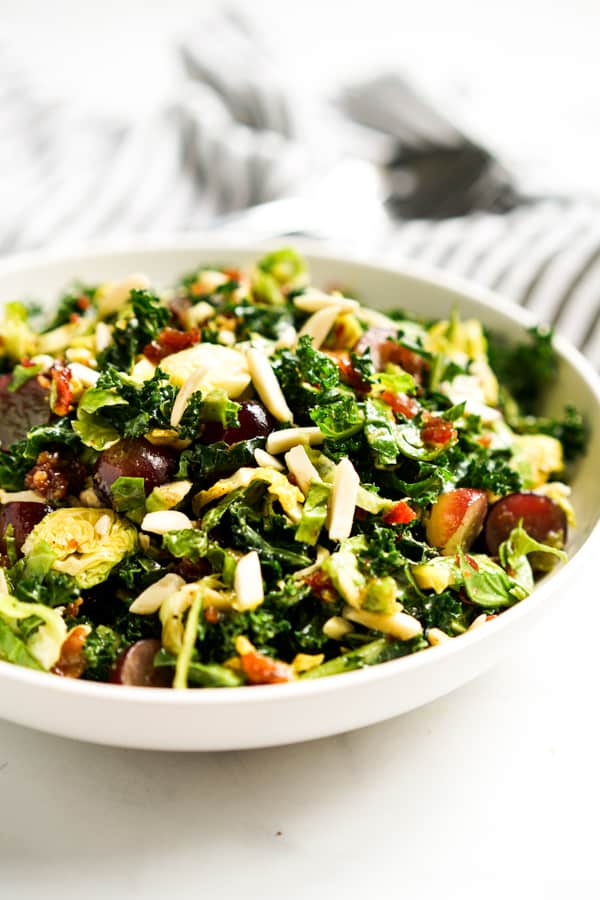 I was hooked the first time I took a bite of this Kale and Brussels Sprouts Salad. Both kale and Brussels sprouts are hearty, earthy vegetables. They are similar in a lot of ways so when we put them together their texture and taste come together beautifully, and they also pair really well with the other ingredients.
I'm so ready to eat this for lunch, dinner, as a side, bring it to cookouts and parties this summer, and make it for dinner parties.
All the while feeling semi-healthy because, hey, I am eating kale and Brussels sprouts!
It's a dish that combines all the bright, gorgeous flavors and textures your heart could ever desire.
The kale and Brussels sprouts combo is so good you will forget you are eating vegetables.
And it is way too good not to share!
Let's Make Kale and Brussels Sprouts Salad
Kale and Brussels Sprouts Salad is so simple and made of only four ingredients, but each of them serve a very important purpose: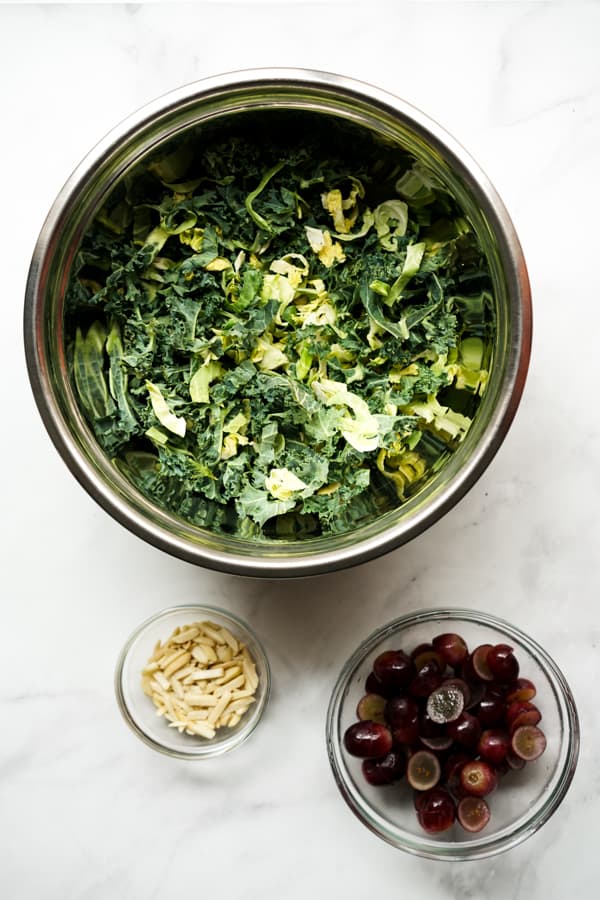 Kale – use baby kale or massage the kale so that it will break down the fibers and make it softer and better tasting! Chopped into fine strips.
Shaved Brussels sprouts – to shave it, use a food processor to pulse the Brussels sprouts. Or get ready-shaved Brussels sprouts.
Grapes – brings about sweet and juicy flavors. A must!
Slivered almonds – love the crunch of these almonds in the salad.
Because it uses so many shredded ingredients, I guess you call it Kale and Brussels Sprouts Slaw as well. Make sure to get the vegetables fine shredded for the best texture.
Bacon Vinaigrette
And as I've teased you about it earlier…Bacon Vinaigrette.
Hands down: best salad dressing ever.
I wish I could splatter it on all the things, use it as a dip, keep it in a small bottom in my pocket for whenever I need to jazz up my foods, drink it (maybe not, maybe)….
We are incorporating chunky bits of bacon and a little bit of that glorious bacon grease into the vinaigrette dressing…. and it tastes as heavenly as it sounds.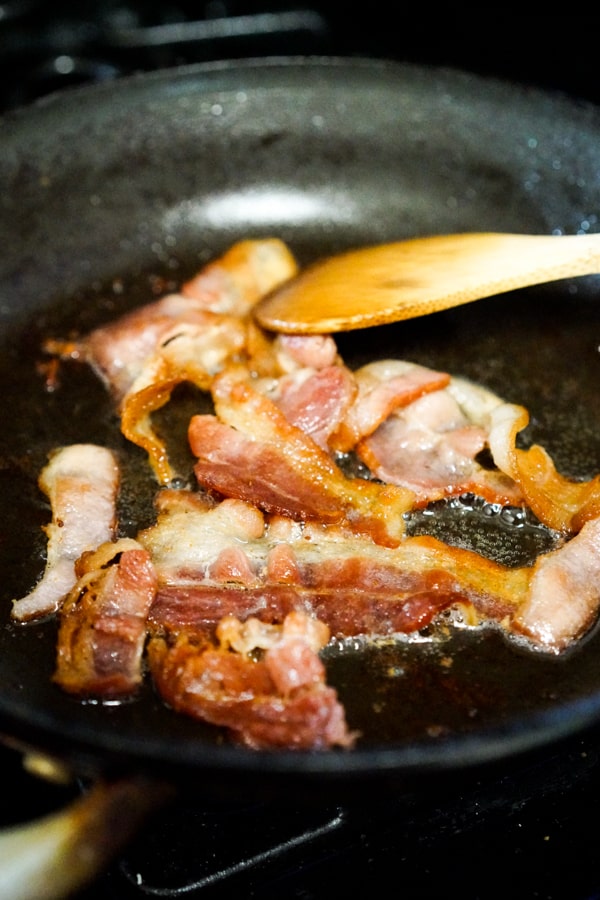 First cook the bacon on a frying pan, then chop it up, and bring everything to a boil on a saucepan:
Bacon pieces
Bacon grease
Olive oil
Apple cider vinegar
Dijon mustard
Maple syrup
Minced garlic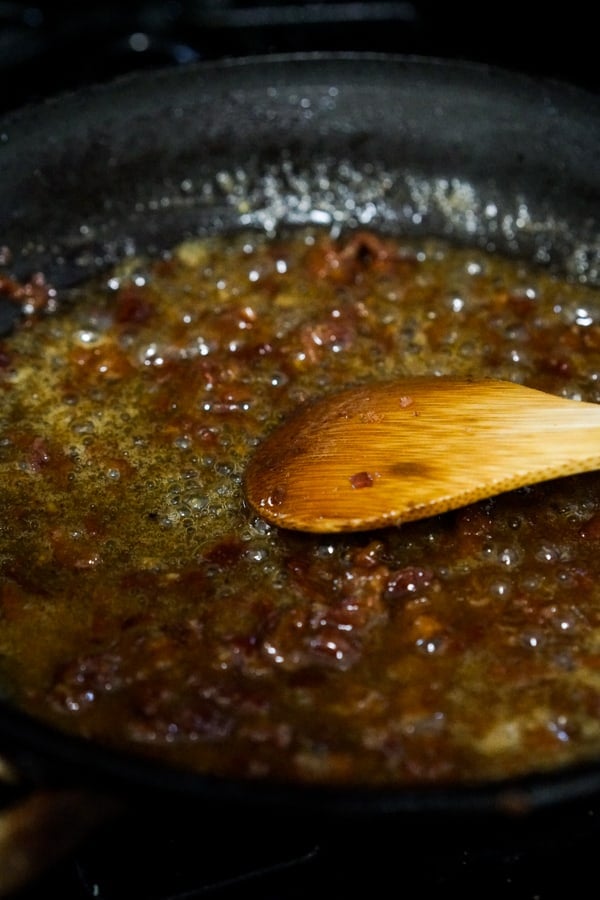 Vinaigrette should be thick, has an intense flavor, and a little bit of it goes a very long way.
When you are ready to serve it, bring salad ingredients together toss them in bacon vinaigrette.
Throw it into a big bowl so that there is plenty of room to move the ingredients around, and use a pair of tongs to toss!
Toss them evenly so that Brussels sprouts, kale, grapes and almonds are perfectly coated in that bacon vinaigrette goodness…ensuring that every bite you take will have at least one or two bites of bacon pieces in it.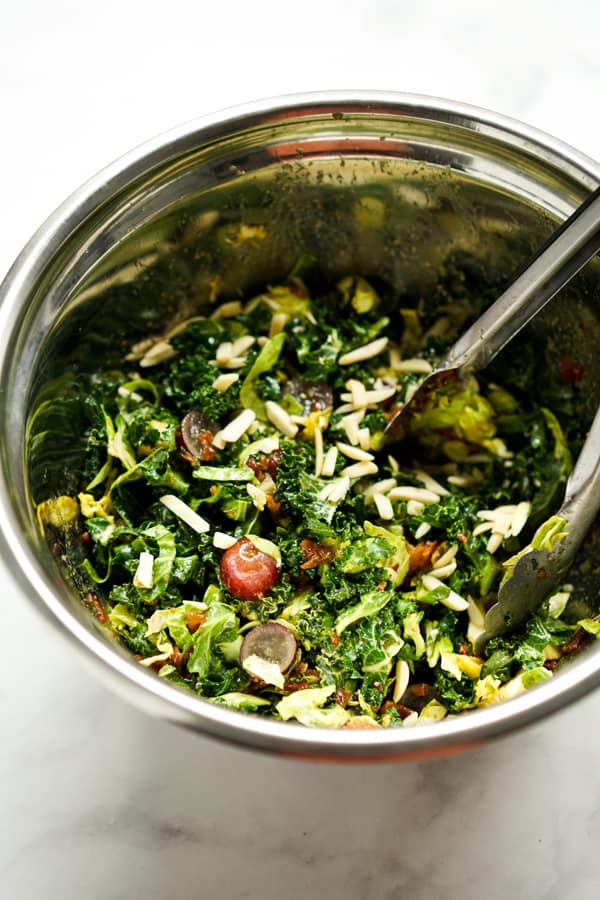 Tips and Tricks
A few more tips and tricks and you are all set! 🙂
Use a food processor to pulse Brussels sprouts into small strips. Do not over pulse!
Massage kale with bare hands for 3-4 minutes before using it to break down the fiber.
If chopping/shredding Brussels sprouts and kale, make sure to slice thin finely.
If you are making ahead, only toss Kale and Brussels Sprouts Salad in the dressing when you are ready to eat it.
When storing this salad, store dressing and veggies separately if possible. If it's already tossed in dressing, consume it within 24 hours.
Additional Salad Toppings
If you want to fancy it up even more, here are other yummy ingredients that will go well with this salad:
Shredded broccoli
Carrots
Cheese such as parmesan or feta
Dried Cranberries or raisins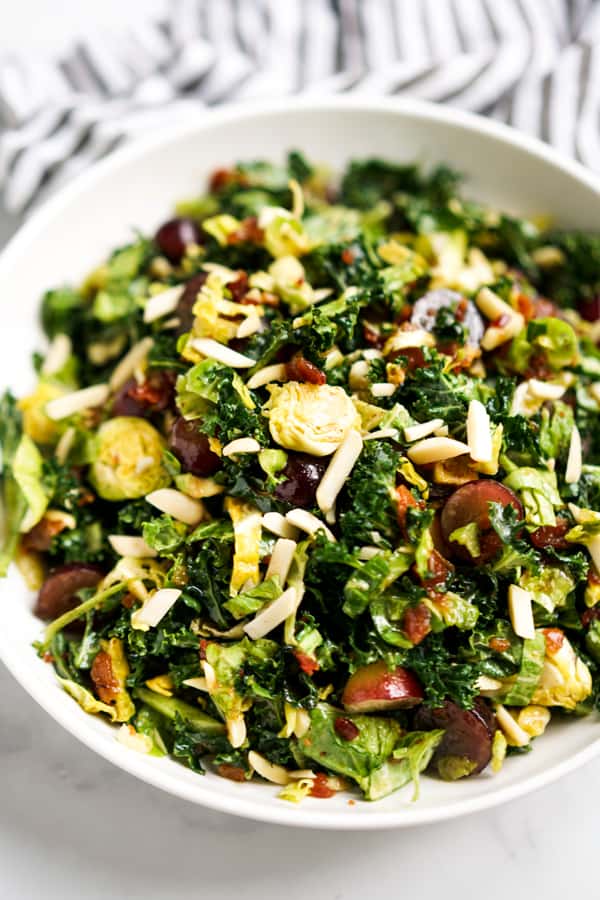 Are you ready for the ultimate Brussels Sprouts and Kale Salad experience? 💚
More Salad and Slaw Recipes
Here are a few other delicious salads and slaw recipe!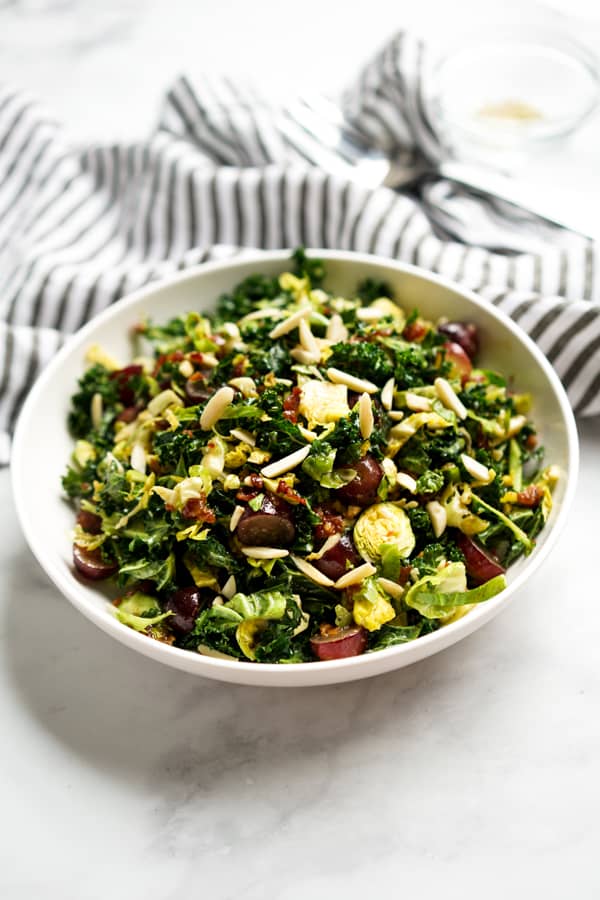 DID YOU ENJOY THIS RECIPE? Please comment below and give us a 5-star rating! This will help others find this recipe on Google and Pinterest. We very much appreciate your help! 🤍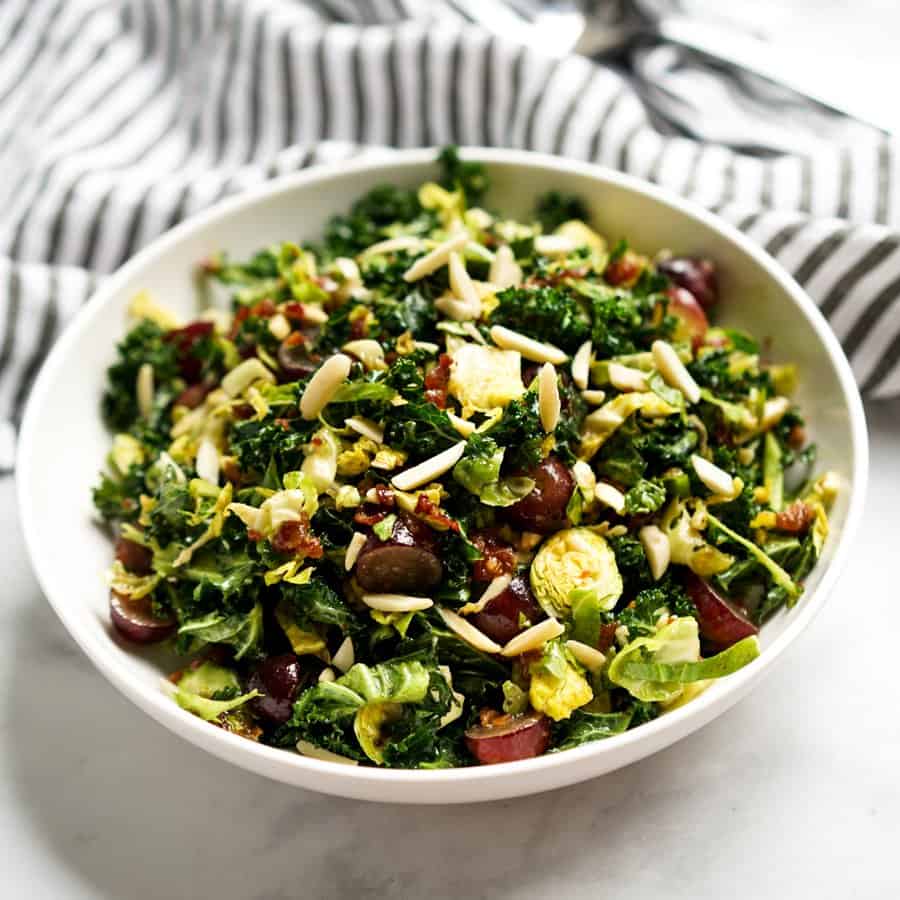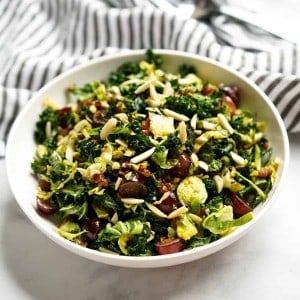 Kale and Brussels Sprouts Salad
Crunchy Brussels sprouts and kale combined with grapes and slivered almonds tossed in a savory, sweet and tangy homemade Bacon Vinaigrette. A flavor-bursting, crowd-pleasing salad recipe!
Print
Pin
Ingredients
3

oz

kale

massaged and chopped

3

oz

Brussels sprouts

shaved

1

cup

red seedless grapes

halved

1/4

cup

slivered almonds
Bacon Vinaigrette
4-5

strips

bacon

1

tbsp

bacon grease

1

tbsp

olive oil

2

tbsp

apple cider vinegar

3

tbsp

maple syrup

1

tbsp

dijon mustard

1

clove

garlic

minced
Instructions
Prepare all ingredients – massage and chop kale, use food processor to shave Brussels sprouts (or chop into thin strips), and wash and half the grapes.

Heat skillet on medium heat, then add strips of bacon. Sear bacon on both sides until cooked and slightly crispy. This will take at least a few minutes.

Remove bacon from heat and chop into small pieces.

Discard almost all the bacon grease and leave about 1 tablespoon behind on the skillet.

Add the rest of the 'bacon vinaigrette' ingredients to skillet, including chopped bacon.

Bring to a boil, and then lower to medium low heat and let vinaigrette simmer for a minute or until slightly thickened. Remove from heat.

Bring Brussels sprouts, kale, grapes and almonds to a big bowl, then add bacon vinaigrette. Toss to combine.
Nutrition
Calories:
189
kcal
|
Carbohydrates:
15
g
|
Protein:
4
g
|
Fat:
13
g
|
Saturated Fat:
3
g
|
Trans Fat:
1
g
|
Cholesterol:
12
mg
|
Sodium:
140
mg
|
Potassium:
265
mg
|
Fiber:
1
g
|
Sugar:
10
g
|
Vitamin A:
1547
IU
|
Vitamin C:
30
mg
|
Calcium:
56
mg
|
Iron:
1
mg