This post may contain Amazon or other affiliate links. As an Amazon Associate I earn from qualifying purchases at no additional cost to you.
Lemon Balsamic Grilled Chicken is an absolutely delicious easy chicken recipe for a quick and yummy dinner! Everyone needs an easy chicken recipe in their hip pockets…and this is it!!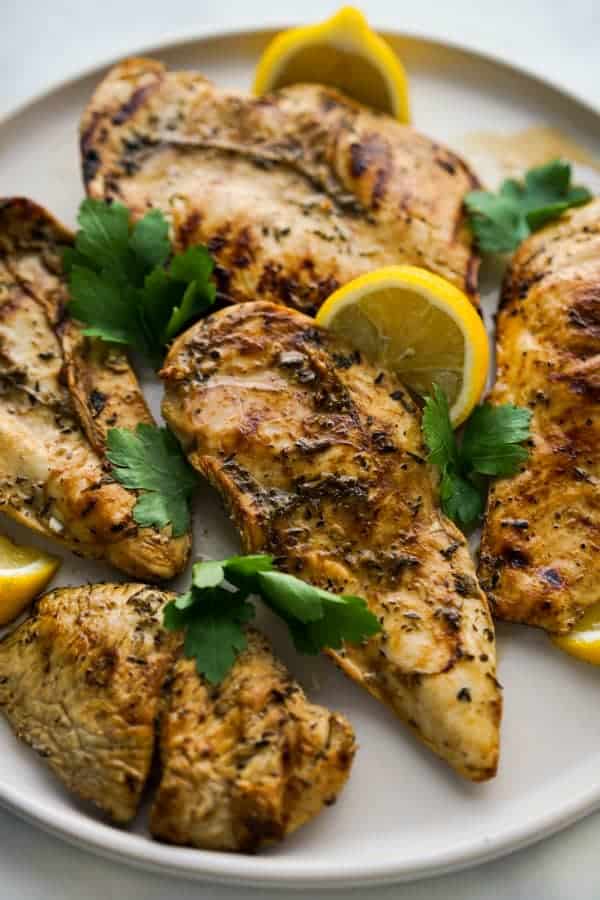 As the weather gets warmer, we start putting a lot of our food on the grill. Or rather, I start creating all kinds of marinate for different meats and seafood, and my sweet husband puts them on the grill. 🙂
Not only is there minimal work in the kitchen, I can sit next to the grill and enjoy the smell of smoky flavors coming out of it. Burning charcoal and marinate meat are a match made in heaven, and just scream spring and summer for me.
Lemon Balsamic Grilled Chicken. This is one of our go-to, basic chicken recipes.
While it is delicious on a charcoal or electric grill, it can be cooked inside as well. If you are still stuck in snowy cold weather, or don't have a grill. Or hey, sometimes we just don't want to mess with a grill – it is okay!!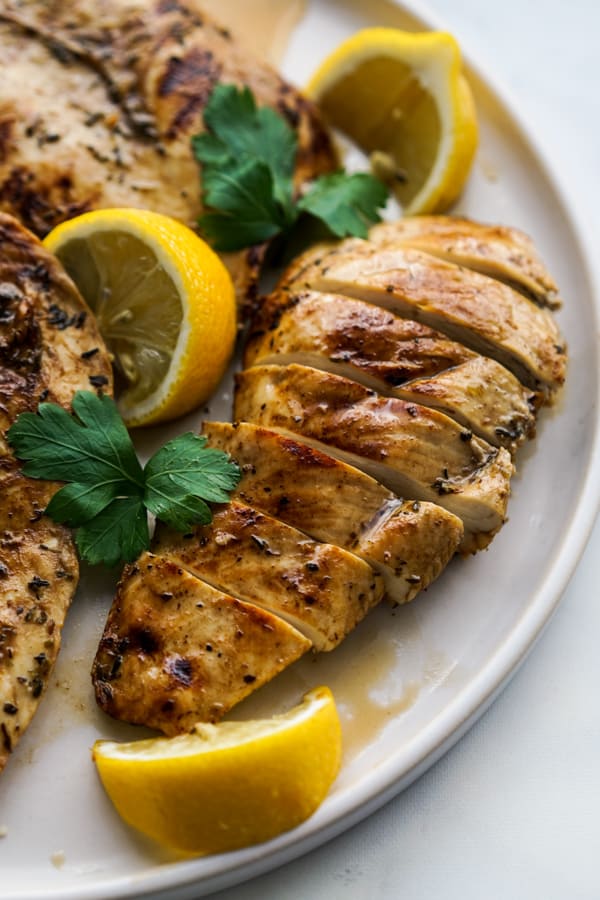 This chicken recipe is just as delicious cooked on a grill pan or a good-ole skillet, because that tasty marinate takes it ALL THE WAY. I tried all the methods (outside grill, inside grill, pan fried) on this chicken recipe and can vouch for every one of them.
I want to share this recipe because having a basic grilled chicken recipe in your hip pocket makes everyday cooking so much easier. It is also such a versatile recipe as it can be transformed into so many different dishes. More on that later.
Let's make Lemon Balsamic Grilled (or Pan Fried) Chicken!
Balsamic Lemon marinade for chicken
First, let's put the marinade together.
I like to add all the ingredients into a food processor or blender and let it do the hard work. Really, the real "hard work" is mincing the fresh garlic, and I don't like to mince garlic if I don't have to. In addition, the blender/food processor does combine everything really well and create a nice paste.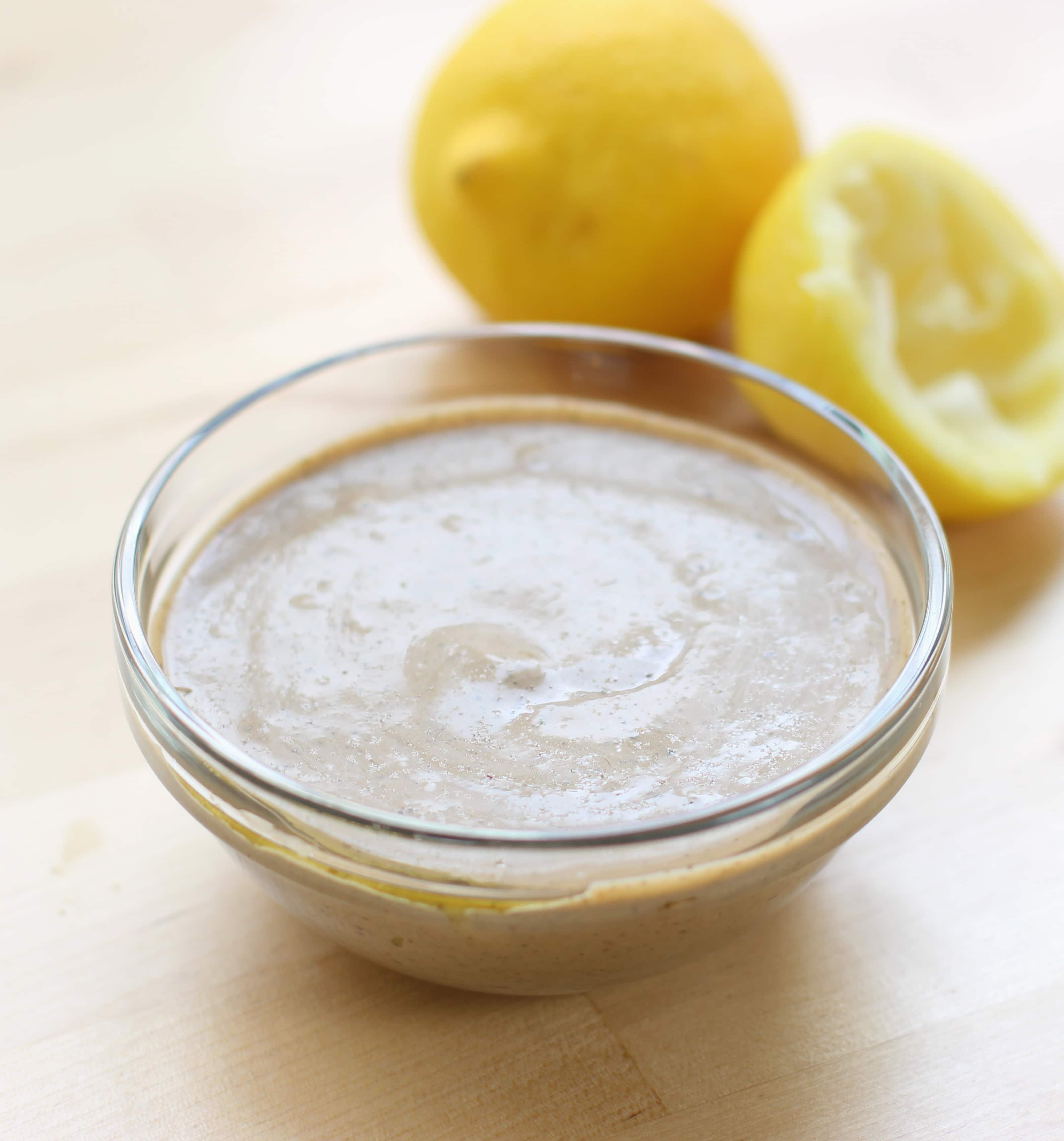 If you do not have a blender or food processor, you can just add all the ingredients together and mix it up really well. You can still be rocking' and rollin' the Lemon Balsamic Chicken without all that blending work. OH YES YOU CAN.
Marinate the chicken for at least 3 hours to get all the yummy flavors into the chicken breast. I like to use thinly sliced chicken breast, ~1/2 inch thick, to make the cooking process easier. Or you can pound the chicken breast to make it thinner, or slice it thinner.
Grill or pan fry!
When it is ready, GRILL away, PAN FRY away, whatever suits your fancy.
When cooking the chicken, place chicken on skillet or grill, let it stay for a few minutes (time needed will depend on thickness of chicken and how warm your appliances get) before flipping it over.
Doing this will also get you the pretty grill marks if you are using a grill. Flip chicken over and cook until internal temperature reaches 165 degrees F.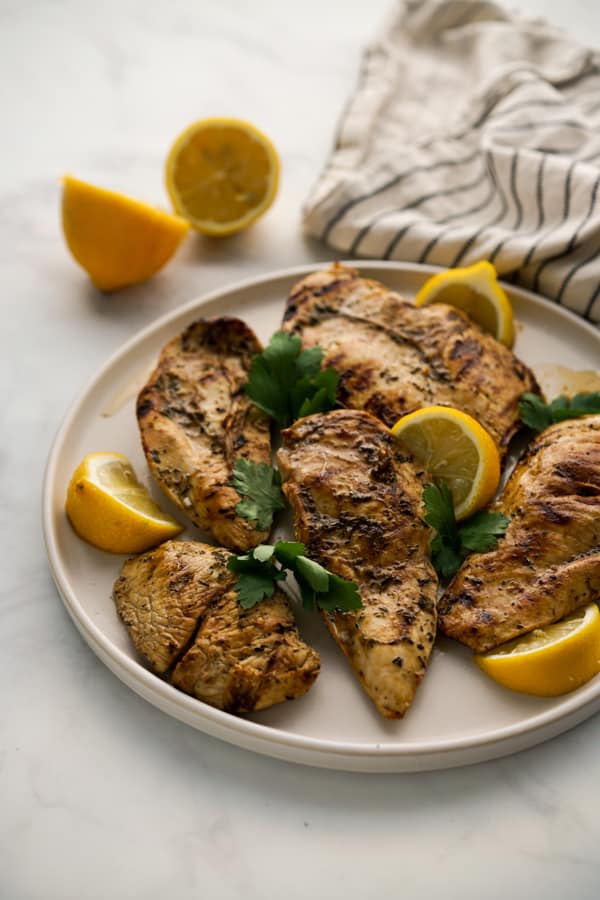 The key to a moist piece of meat is to not overcook it. Monitor it constantly and once it reaches 165 degrees F (remember to check multiple spots using a meat thermometer), remove chicken from the heat.
That is why having a meat thermometer can be handy for those of us who have a tendency to undercook or overcook meat (hello me!!).
Lemon Balsamic Chicken. Healthy, light, flavorful, citrusy, moist. Yum yum yum! It's so good, you guys!
The truth is, somedays, especially those where we run out of ideas of what to eat (anybody else been there?), we just need to grill or pan fry some chicken breast for dinner. And while we do that, we might as well make it tasty, right? As they say, life is too short to drink bad wine. And eat bad chicken.
What to pair with Lemon Balsamic Chicken?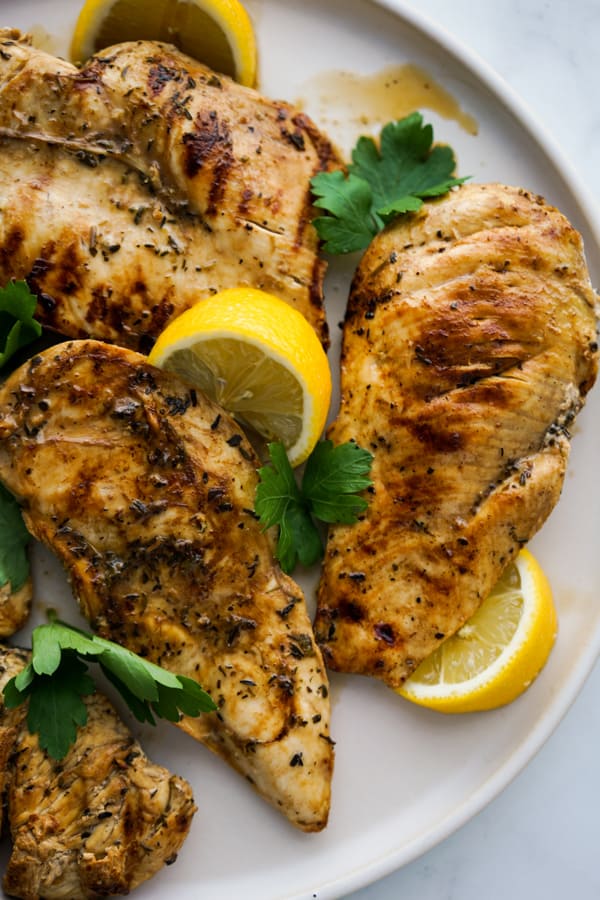 Looking for side ideas to go with this? Check out some of our readers' favorite sides on the blog!
Other Creative Ways to use up Lemon Balsamic Chicken
Have leftovers but don't want to have grilled chicken with sides every. single. night. I hear ya. I FEEL YA. Here are a few other ways I use up leftover chicken:
If you make this recipe, comment below and let me know what you think! Also, don't forget to take a picture and tag me on Instagram, because I WANNA SEE!!