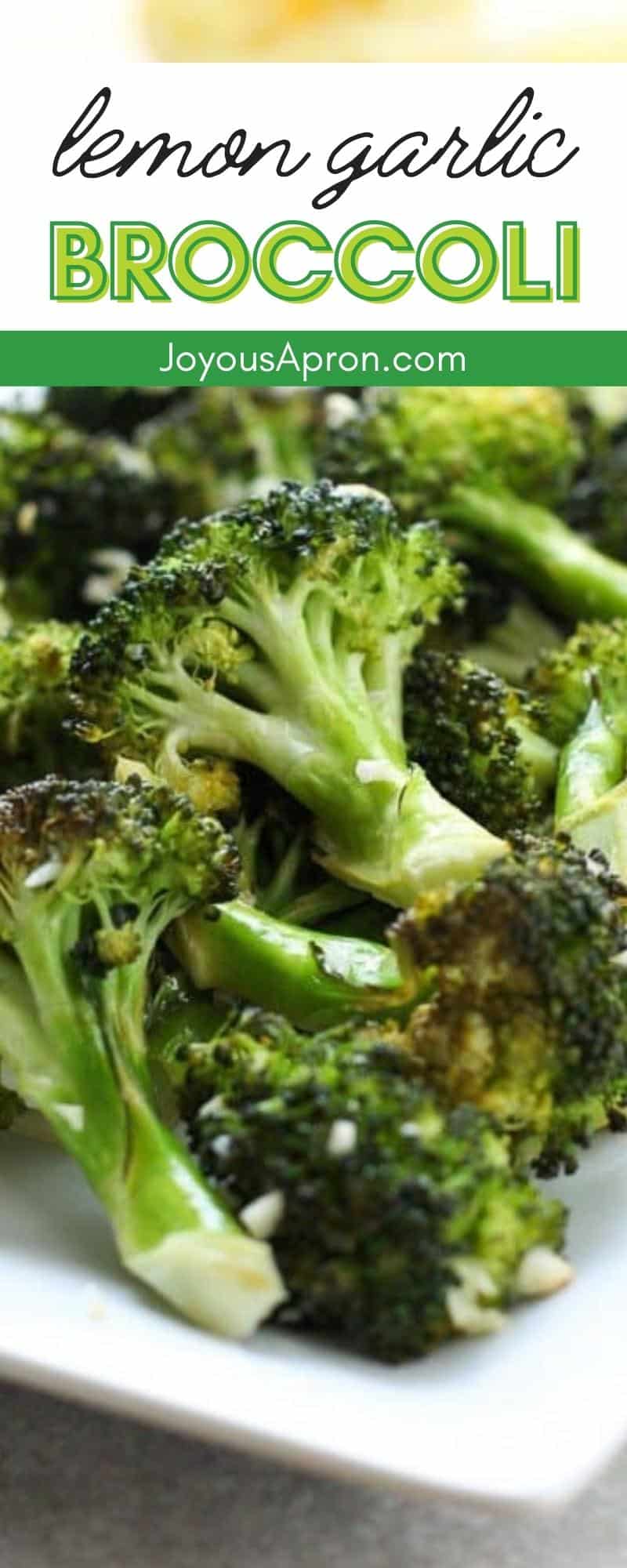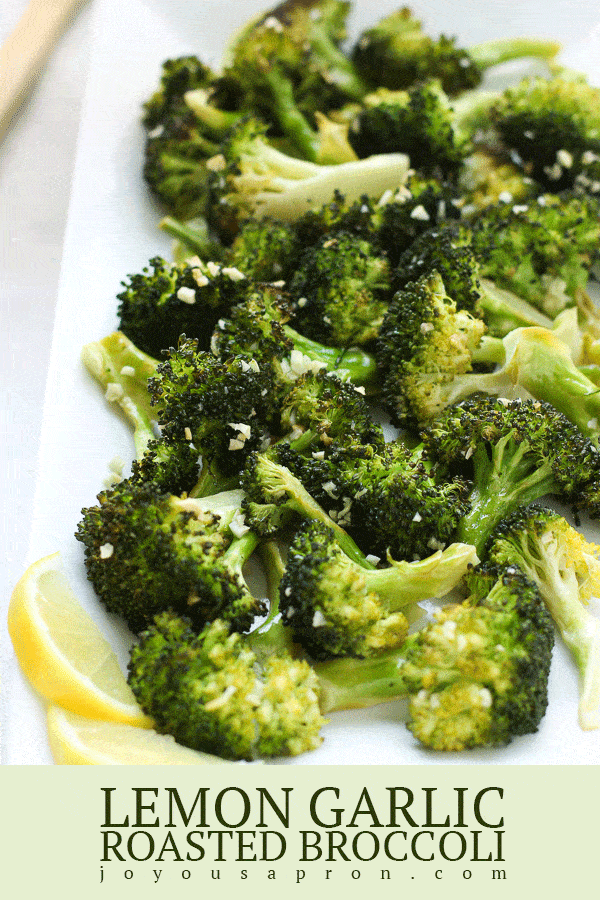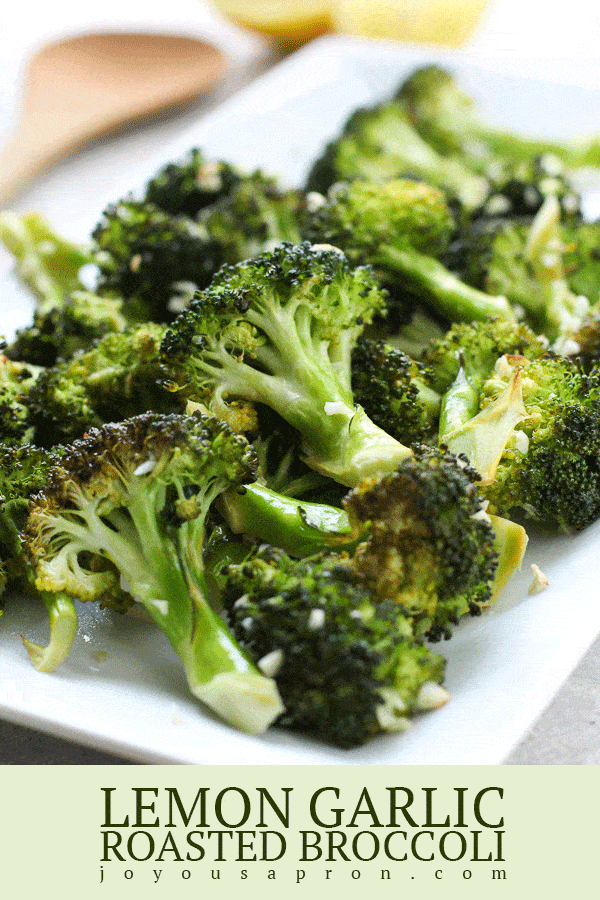 This post may contain Amazon or other affiliate links. As an Amazon Associate I earn from qualifying purchases at no additional cost to you.
Whatever your relationship status is with broccoli – best buds, kinda meh, it's complicated, you will love this Roasted Lemon Garlic Broccoli.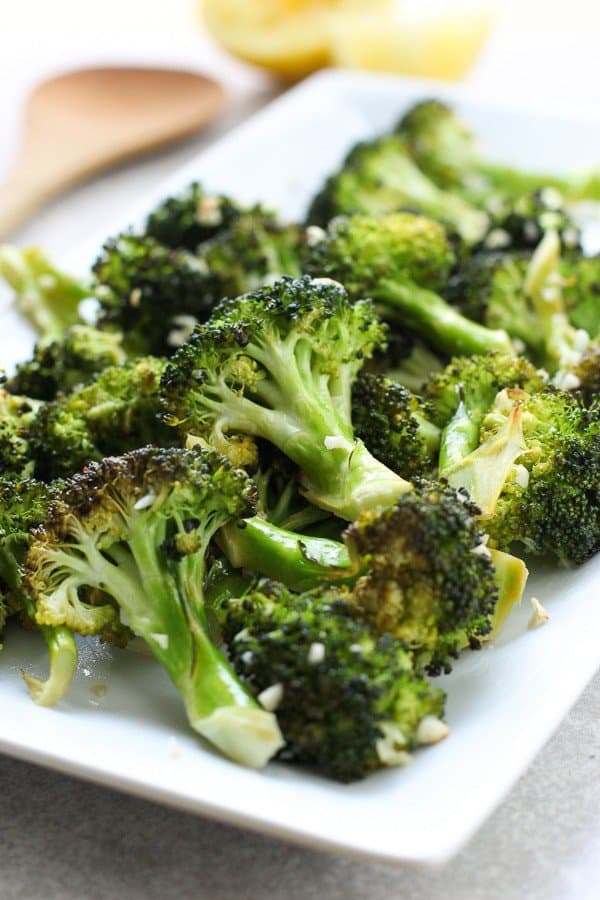 Take my husband for example. Historically not a broccoli fan, he devoured this broccoli dish. And yes, he was pretty surprised by how much he liked it.
Full of bursting flavors and a slight crunch, Roasted Lemon Garlic Broccoli is how you convinced those non-veggie eaters to eat more veggies!
As for me – broccoli and I were in the "kinda meh" category. Never hated it; never loved it; never my first choice.
But now that this yum thing has made its way into my life somewhat unexpectedly – oh my gosh I ABSOLUTELY ADORE this dish.
Couldn't stop eating it. Couldn't believe I couldn't stop eating broccoli. Ah, the surprises in life.
Totally went from meh to best buds. All thanks to this incredible recipe.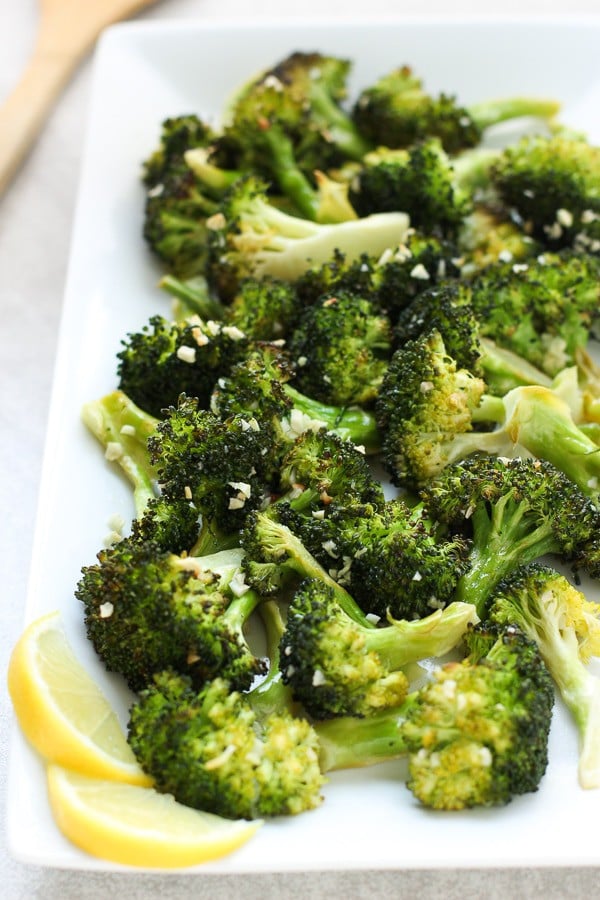 The inspiration for this dish came from a local restaurant. When my sister was in town a few weeks ago, we tried out a new place and ordered this lemony slightly charred broccoli side that I fell in love with it. After that, I was determined to recreate the dish at home.
After a handful of trial and error, I got it exactly the way I liked it.
I also decided to leave out the charring of the broccoli because I actually like it roasted better.
And so it happened – Roasted Lemon Garlic Broccoli.
How to Make Roasted Lemon Garlic Broccoli
When I created this recipe, I wanted to keep it simple. No fancy ingredients, straight-forward cooking, and minimal active time in the kitchen (less than 10 minutes active time!).
To make this delicious broccoli side, start by cutting up broccoli into small to medium sized florets, and then bring them to a large mixing bowl.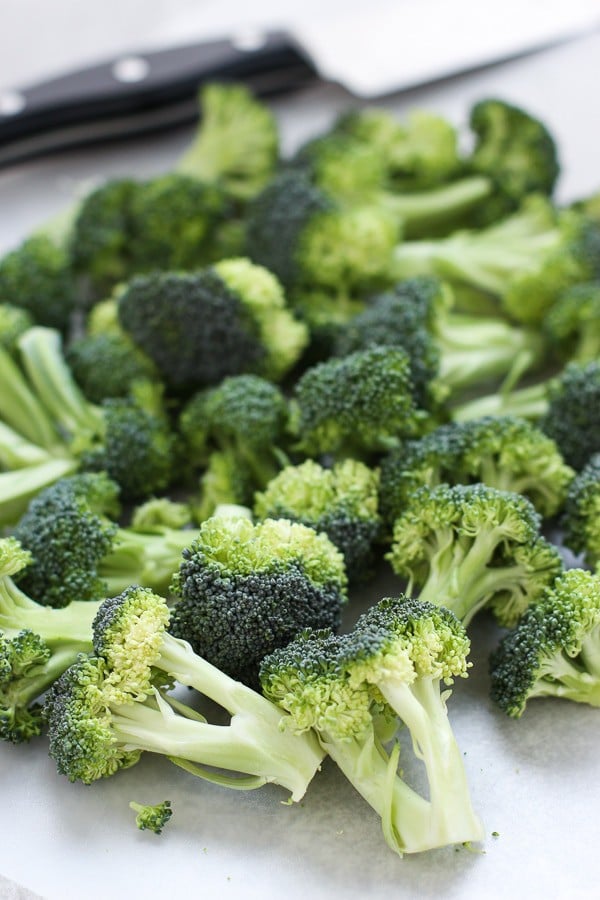 In a small ramekin, melt butter and add minced garlic to melted butter. Then drizzled the mixture to broccoli. Toss well.
After that, add 1 1/2 tablespoons of freshly squeeze lemon juice. One medium size lemon should be able to yield that. If you like it super lemony, feel free to add more lemon juice. Drizzle lemon juice all over broccoli, and toss again.
Next, add some salt to the broccoli, and toss some more.
Spread broccoli onto a baking sheet. Do not overlap or overcrowd the baking sheet.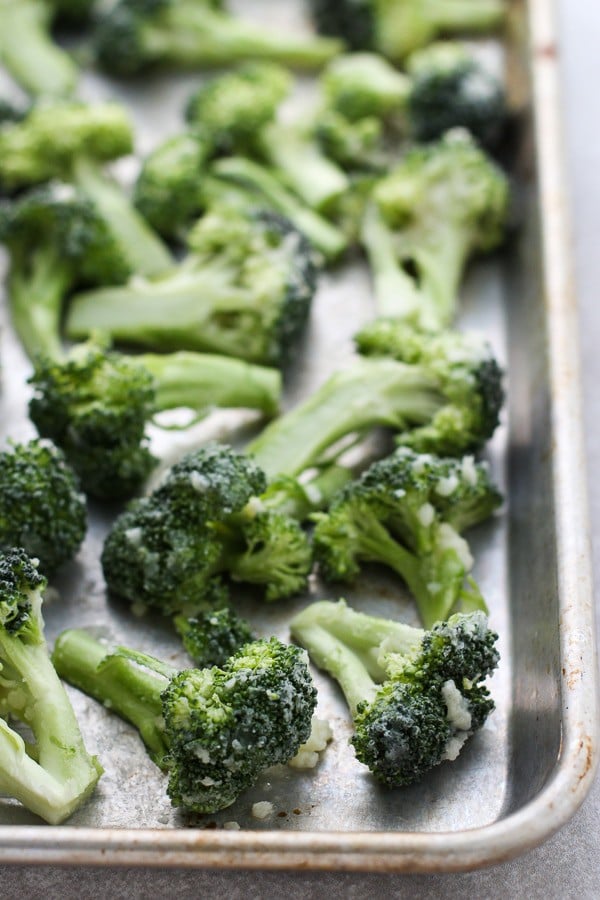 Next, bake these broccoli in the oven! 425 degrees for 17-20 minutes. No flipping required – easy easy easy.
I can go on and on about how much I love this new favorite veggie of mine. And bored you to tears along the way.
But I spare you of that, because you just need to try it to believe me! 😉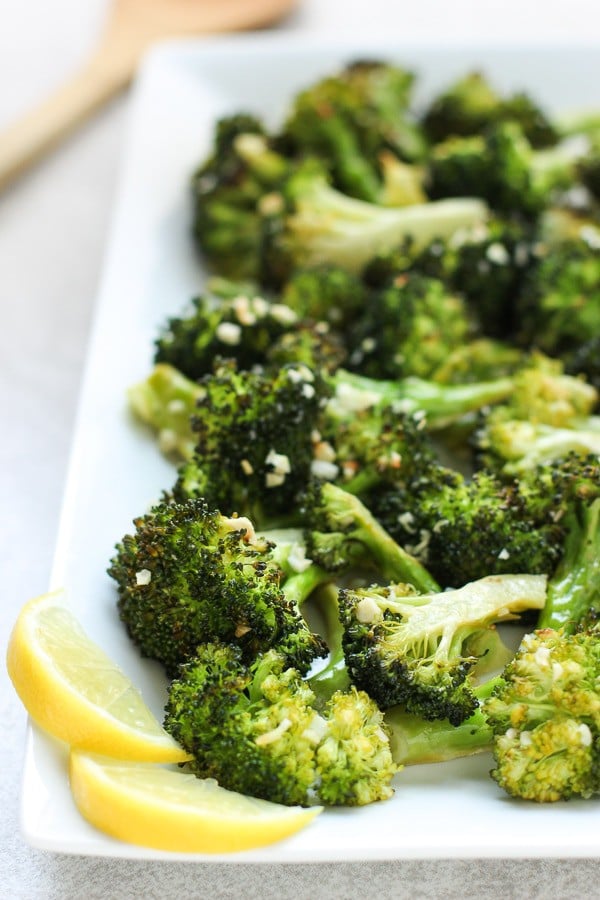 Lemon + garlic + buttery = the combo that makes these broccoli come alive. If you there's only one thing you take away from this post, it is that. Take that with you, and see broccoli in a whole new light!
DID YOU ENJOY THIS RECIPE? Please comment below and give us a 5-star rating! This will help others find this recipe on Google and Pinterest! We very much appreciate your help! 🤍
Other Yummy Veggie Dishes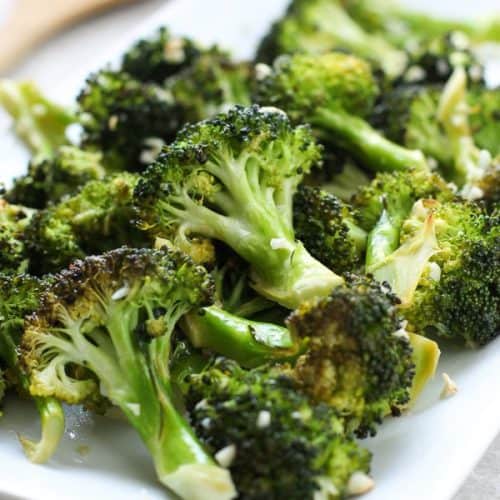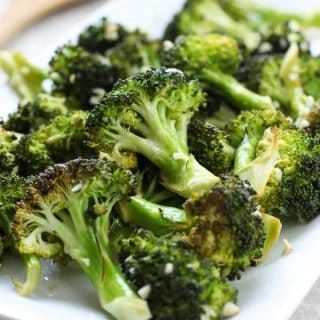 Roasted Lemon Garlic Broccoli
Roasted Lemon Garlic Broccoli is a yummy vegetable side recipe! Flavored with lemon, garlic and butter, it is so yummy, easy to make (<10 minutes of active time), even non-broccoli eaters will love it!
Print
Pin
Ingredients
1

head

broccoli

12-14 oz

1 1/2

tbsp

freshly squeezed lemon juice

~1 lemon

3-4

cloves

garlic

2-3

tbsp

salted butter

1/2

tsp

salt
Instructions
Pre-heat oven to 425 degrees F.

Cut broccoli into medium sized-florets (see picture), and bring them into a large bowl. Minced garlic. Squeeze lemon juice from lemon.

Melt butter in microwave. Mix minced garlic into melted butter. Pour mixture into the bowl of broccoli. Toss to coat evenly.

Sprinkle broccoli with salt and lemon juice.

Spread broccoli onto a baking sheet. Do not overlap or overcrowd the baking sheet.

Bake in the oven for 17-20 minutes. Bake for closer to 17 minutes if you like your broccoli crunchier and closer to 20 minutes if you like them softer. Time needed will depend on the size of your broccoli florets as well.
Nutrition
Calories:
143
kcal
|
Carbohydrates:
15
g
|
Protein:
6
g
|
Fat:
8
g
|
Saturated Fat:
5
g
|
Cholesterol:
20
mg
|
Sodium:
523
mg
|
Potassium:
652
mg
|
Fiber:
5
g
|
Sugar:
4
g
|
Vitamin A:
1499
IU
|
Vitamin C:
185
mg
|
Calcium:
101
mg
|
Iron:
1
mg