Macaroni and cheese is the all-American food that I have fully and completely embraced. Without hesitation, and with much pride. Just like ketchup and chocolate chess pie and all things Oreos, I heart my mac and cheese. I order it at steak restaurants, barbecue joints, burger places…anywhere really. And then I started making it at home, and let me tell you – it's so easy (not to mention cheaper), and so worth it!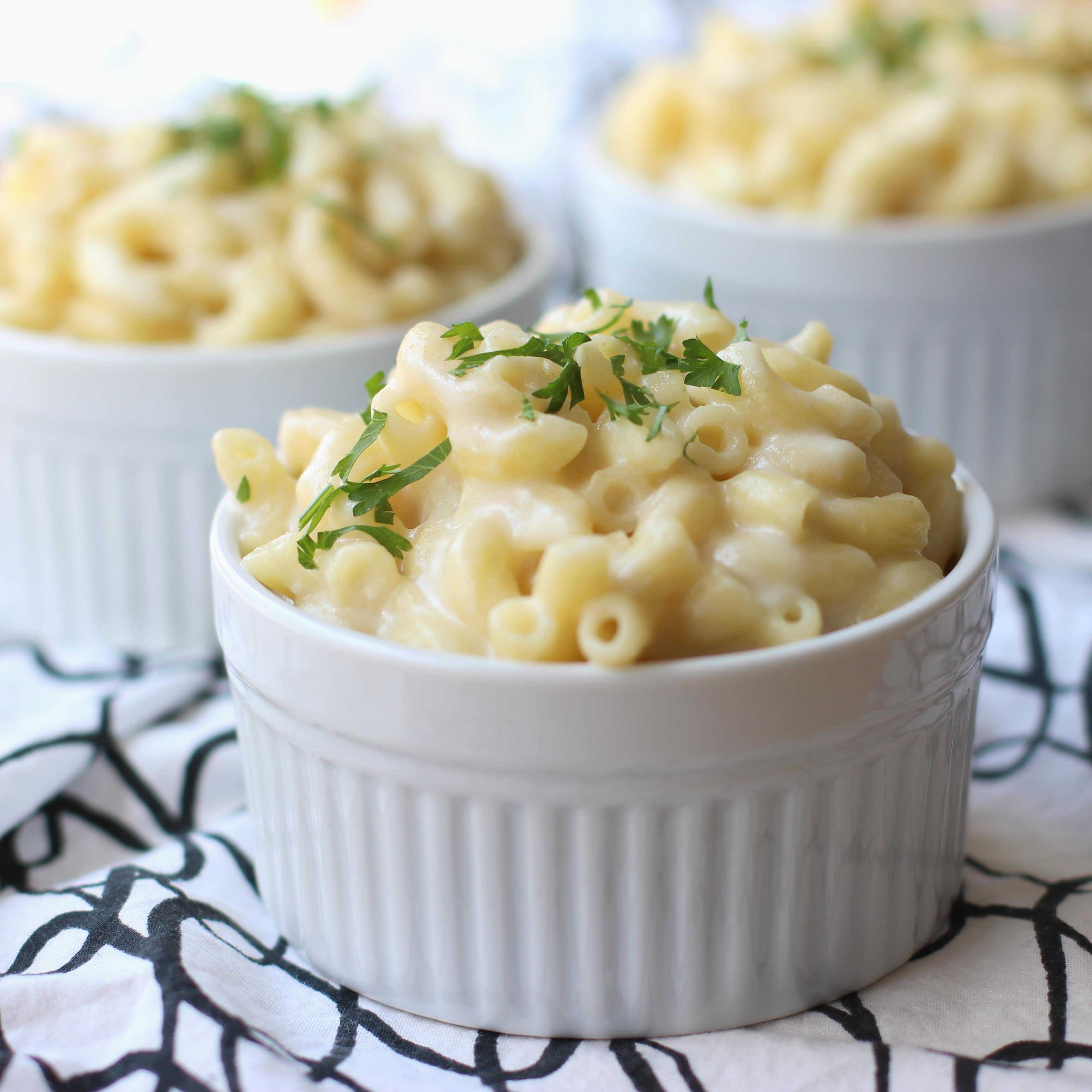 My macaroni-and-cheese-making story is this. I started with the box ones, then I moved to the "good-quality" box ones, then I made my own with Velveeta, and now I am all-about making it with gourmet cheeses. *sigh* Oh, the progression. Somehow life was a bit simpler when I was excited about boxed mac and cheese. Simpler, but let's face it, way less yummier.
We are calling this the Adult Macaroni and Cheese because it is elegant, (slightly) healthier, lighter, not orange/yellow in color, and a "graduated-from-boxed-mac-and-cheese" version of mac and cheese. You can use any good quality cheese, but I use white cheddar cheese for this Adult Macaroni and Cheese recipe because 1) I love white cheddar cheese, and 2) white cheese is just classy classy.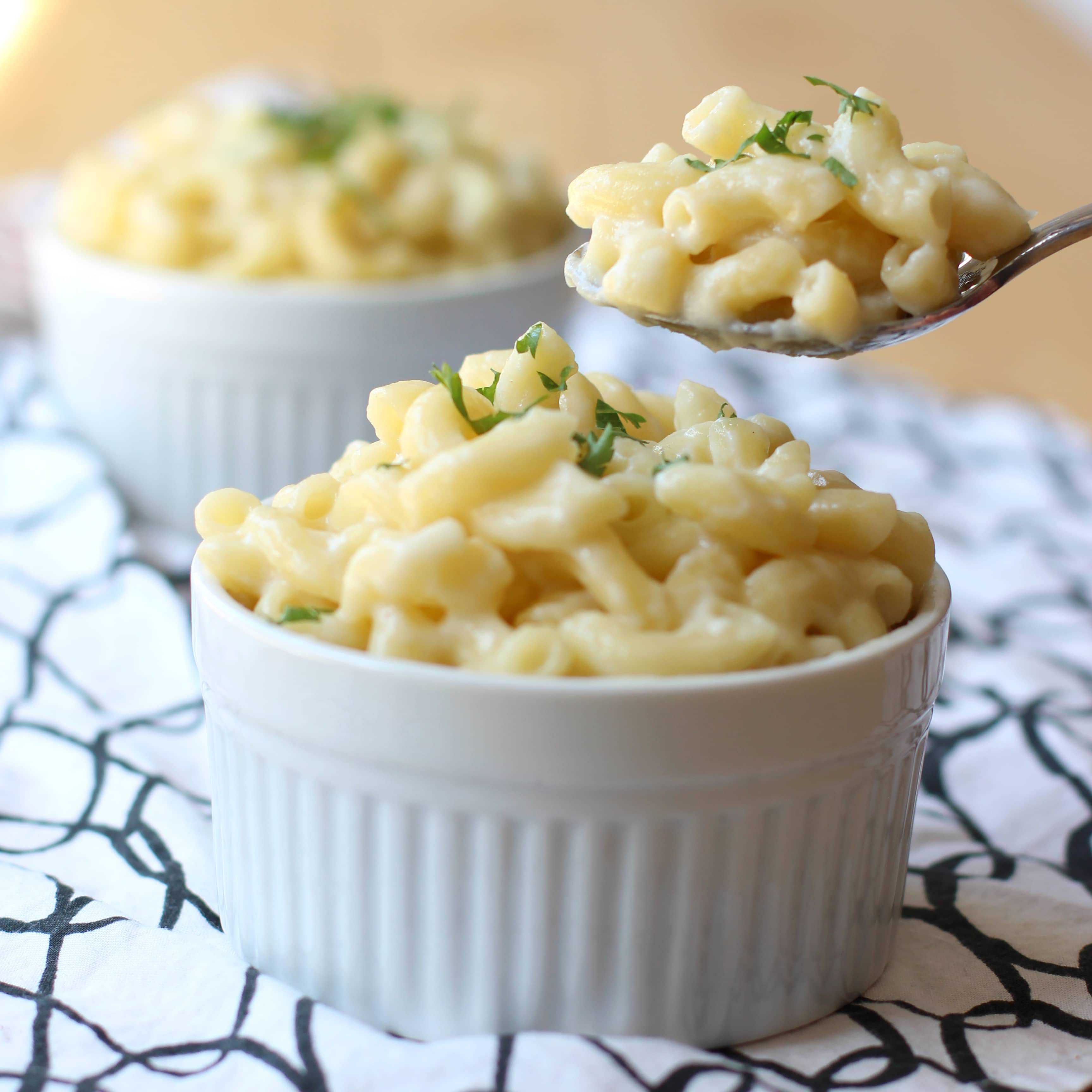 When I started cooking more frequently as an adult, I hear people say this a lot – using good quality ingredients makes a big difference in the end product. I have learned that this is so true when it comes to making a good, solid macaroni and cheese dish. The quality of the cheese is in direct proportion to the quality of the mac and cheese. It shouldn't be surprising, right? So when making this recipe, buy a good quality block of white cheddar. Not the shredded kind (they are less fresh, and some have additives in them and can be harder to melt), but get the block ones from the gourmet cheese section in the grocery store and shred it yourself.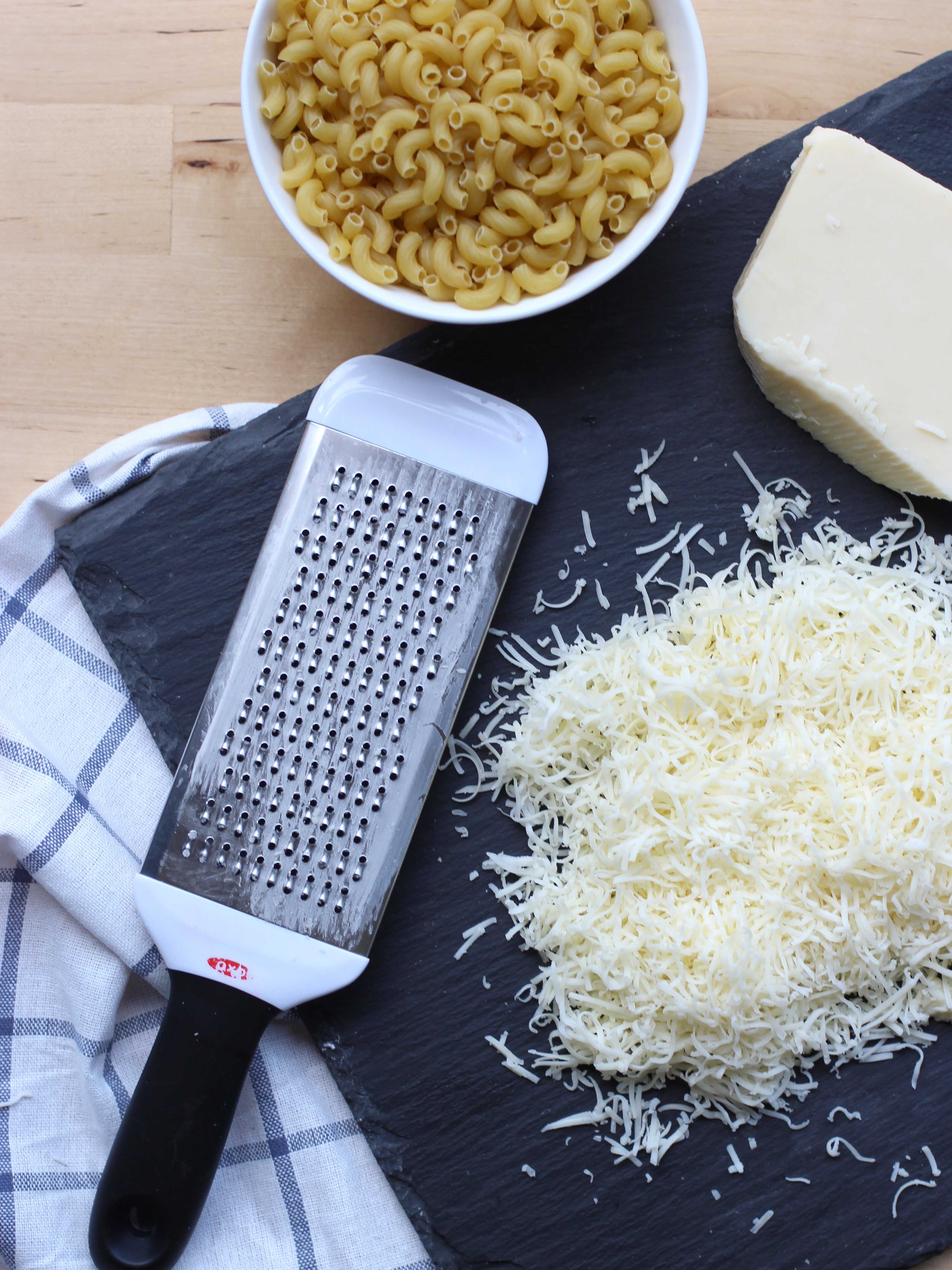 This is a super simple recipe. Takes only a few minutes to make, and so much better than the boxed versions. Start by boiling elbow macaroni in water, adding a pinch of salt and a few drops of olive oil. Once boiled, drain water from pasta.
While waiting for pasta to cook, heat a separate pot, add butter and flour, creating a roux. Keep stirring for 1-2 minutes, or until butter and flour are combined. Doing this will help thicken the sauce later. Then add 2% milk (avoid using 1% or fat free as they will make this more watery), garlic powder, onion powder, salt into the pot. Cook it under medium heat, continue to stir, and let it come to a boil. Once it boils, liquid should thicken slightly. Keep stirring for another minute or two, then switch the heat off.
Add shredded white cheddar into the sauce, and stir until the sauce is smooth.
Viola! The sauce is done, my friend! So easy!
I don't like my mac and cheese sauce super thick. So if you want it super creamy, feel free to add more cheese to make the sauce heavier.
Add cooked pasta into the sauce, toss well, and serve!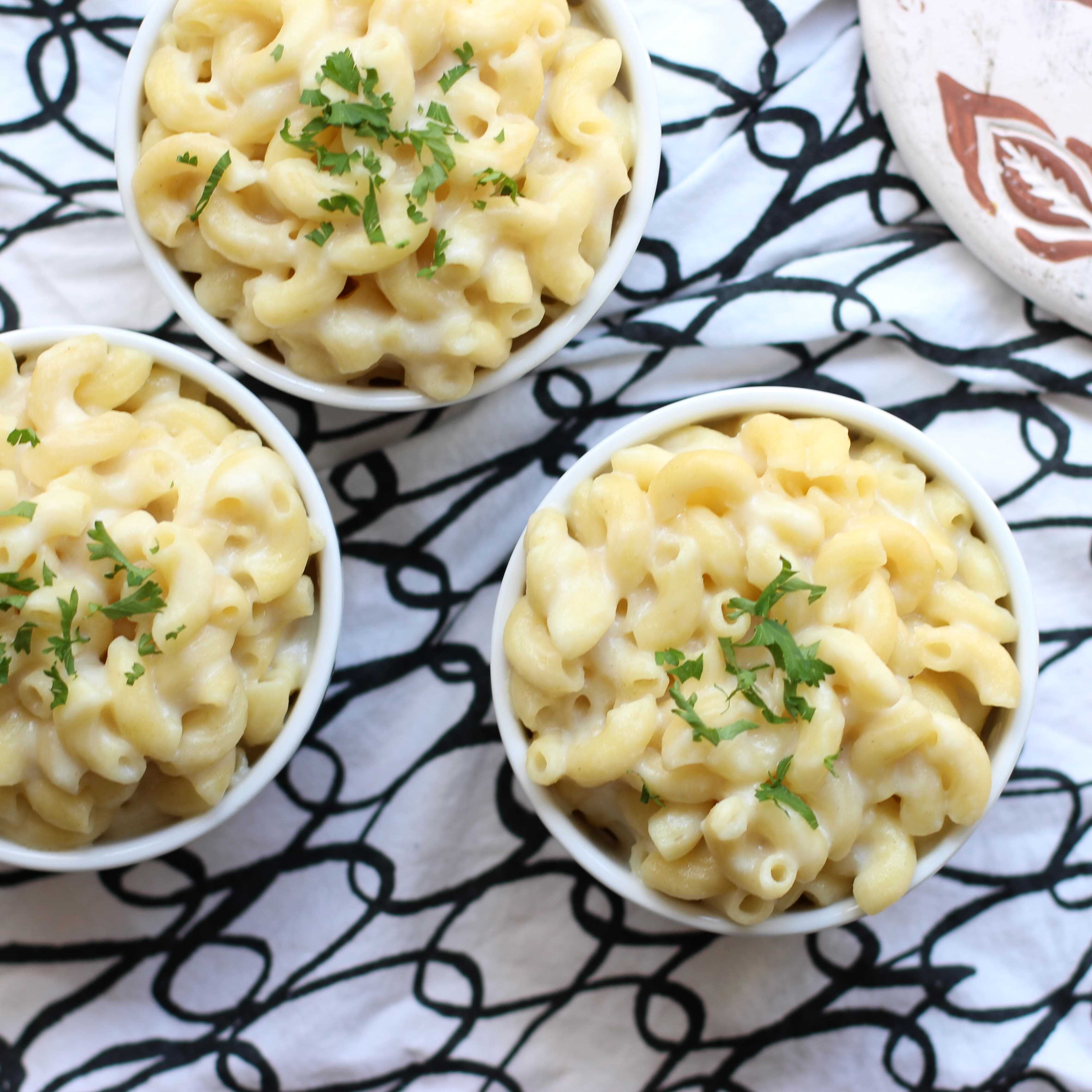 These things are cheesy, yummy goodness. And yet, not overly heavy.
I garnished them with fresh parsley because a hint of green makes it come alive, and it makes good pictures. Also, you can add some freshly ground black pepper for an extra layer of flavor.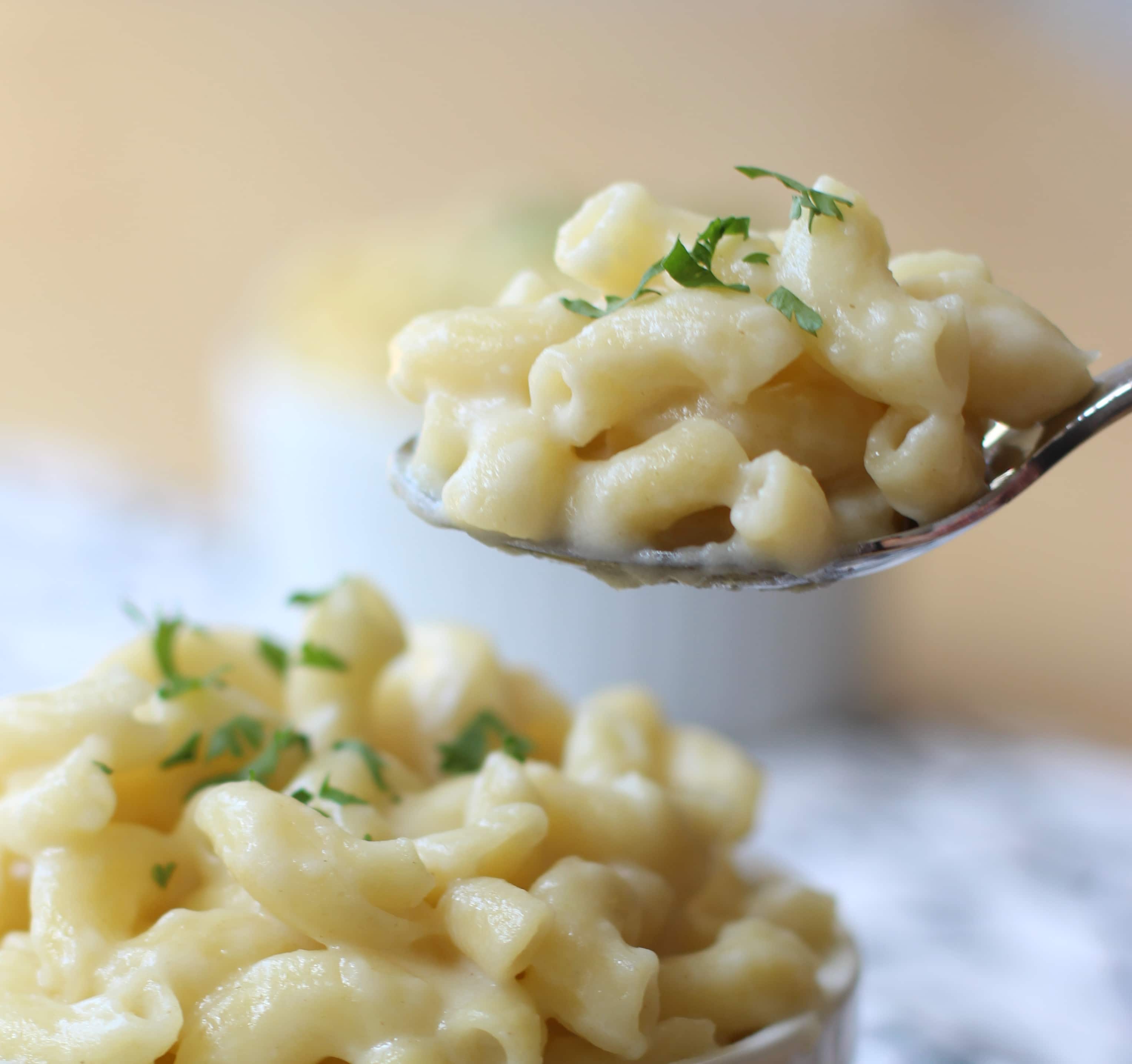 It is the perfect side to your many meals – burgers, sandwiches, meats, seafood. Or try it with one of these from my blog!
Skip the box kind and try this at home! It is not that much more difficult, and you can say goodbye to artificial coloring and high salt content. If you try it please let us know what you think in the comment box below!
Enjoy!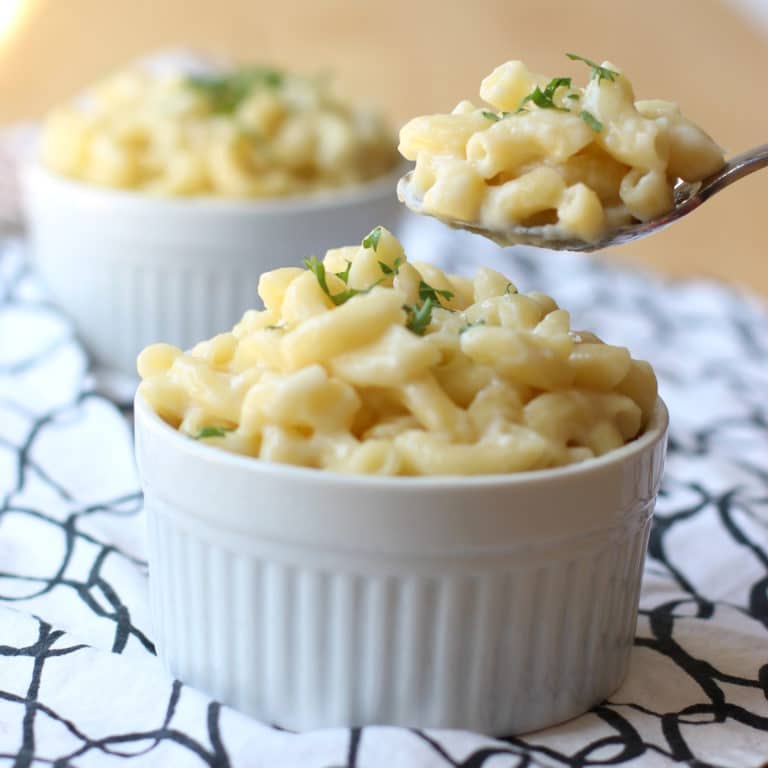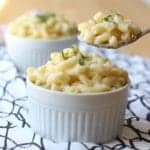 Adult Macaroni and Cheese
Say goodbye to the boxed version! This is a simple, basic and yummy macaroni and cheese recipe that adults would love! Cheesy and full of great flavor!
Ingredients
8

oz

elbow macaroni

1/4-1/3

lbs

mild white cheddar block

2

tbsp

butter

2

tbsp

flour

2

cups

2% milk

1/2

tsp

salt

1/4

tsp

garlic powder

1/4

tsp

onion powder

ground black pepper

optional

fresh parsley

optional
Instructions
Shred the block of white cheddar cheese.

In a pot, bring water to boil and add elbow macaroni, a dash of salt and a few drops of olive oil. Cook for 7 minutes or according to package instructions.

While waiting for pasta to cook, heat up a separate pot. Add butter and flour to pot, and stir to combine for 1-2 minutes, or until mixture it mixed well.

Add milk, salt, garlic powder, and onion powder to the pot. Bring to boil while stirring constantly under medium heat. Once mixture reached boiling point, continue stirring and let it boil for 1-2 minutes. Remove from heat and add shredded white cheddar (See Note 1). Stir until cheese is melted and the sauce is smooth.

Add pasta to the cheese mixture and toss to coat evenly.

Sprinkle ground back pepper and garnish with fresh parsley if desire. Serve and enjoy!
Recipe Notes
Note 1: Use more shredded white cheddar cheese if you would like your sauce thicker, heavier and creamier.