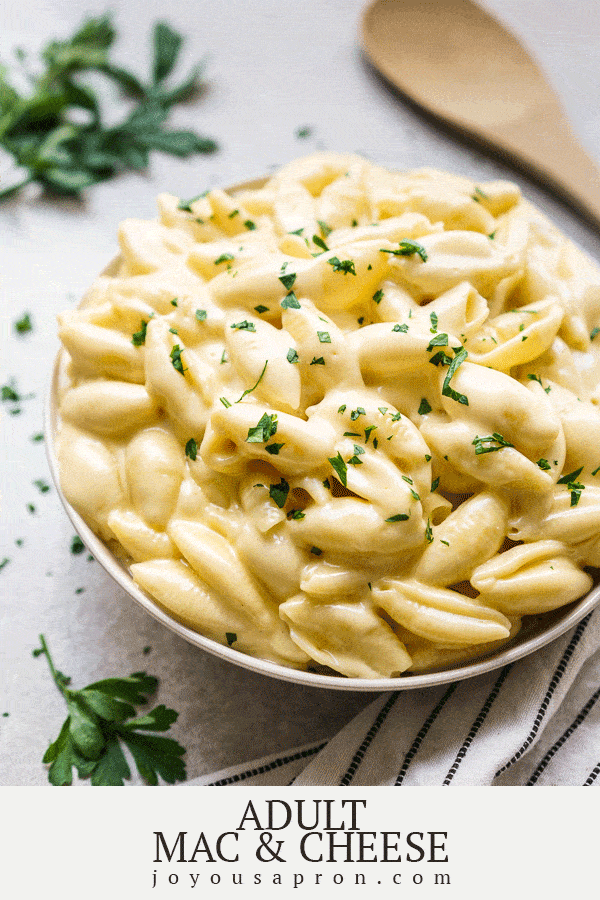 This post may contain Amazon or other affiliate links. As an Amazon Associate I earn from qualifying purchases at no additional cost to you.
This gourmet Adult Macaroni and Cheese is the perfect mac and cheese for grown ups. Pasta is coated in a creamy, cheesy, velvety cheese sauce made with Deluxe American cheese and white cheddar. And it is perfect in every way…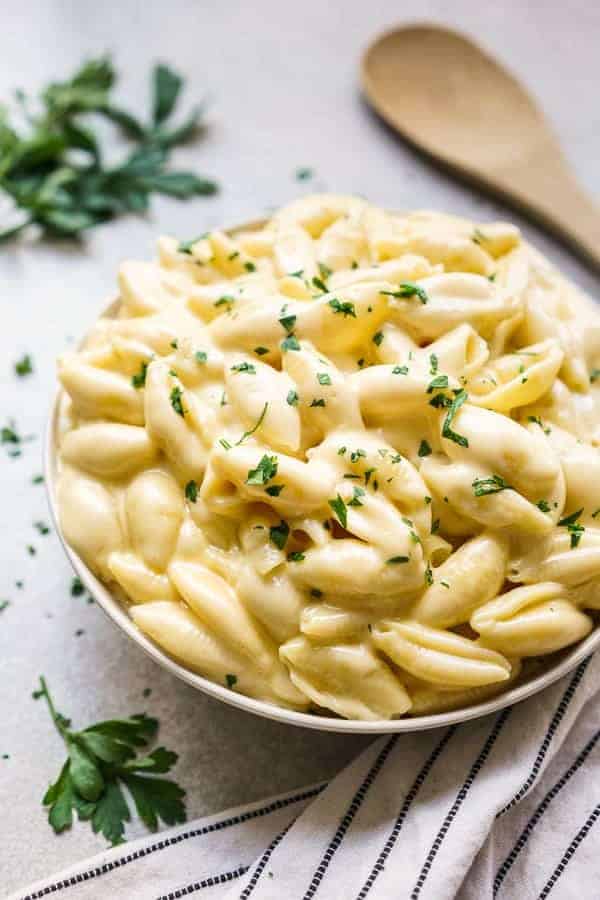 Mac and cheese is always my side dish of choice. I order it at steak restaurants, barbecue joints, burger places…anywhere really.
And then I started making it at home, and it's the best kind of mac and cheese yet.
I am kinda obsessed with my gourmet Adult, Grown up mac and cheese.
Prepare to carb your heart out and never look at mac and cheese the same way again.
P/S: Also check out another Adult Macaroni and Cheese – my Smoked Gouda Mac and Cheese recipe. OMG – it is pretty darn amazing as well.
Mac and Cheese with American Cheese and Cheddar
My macaroni and cheese progression is typical. I started with the box ones, then I moved to the "good-quality" box ones, then I made my own with Velveeta, and now I am all-about making it with gourmet cheeses, like this Adult Macaroni and Cheese
Somehow life was a bit simpler when I was excited about boxed mac and cheese. Simpler, but let's face it, way less yummier.
We call this the Adult Macaroni and Cheese because it is elegant, not bright orange in color, uses good quality cheese…and is simply the grown-up version of mac and cheese.
This recipe calls for two types of cheese – slices of American cheese and white cheddar.
When I started cooking more frequently as an adult, I hear people say this a lot – using good quality ingredients makes a big difference in the quality of the dish as a whole.
This is so true when it comes to making a gourmet adult version macaroni and cheese dish. The quality of the cheese is in direct proportion to the quality of the mac and cheese.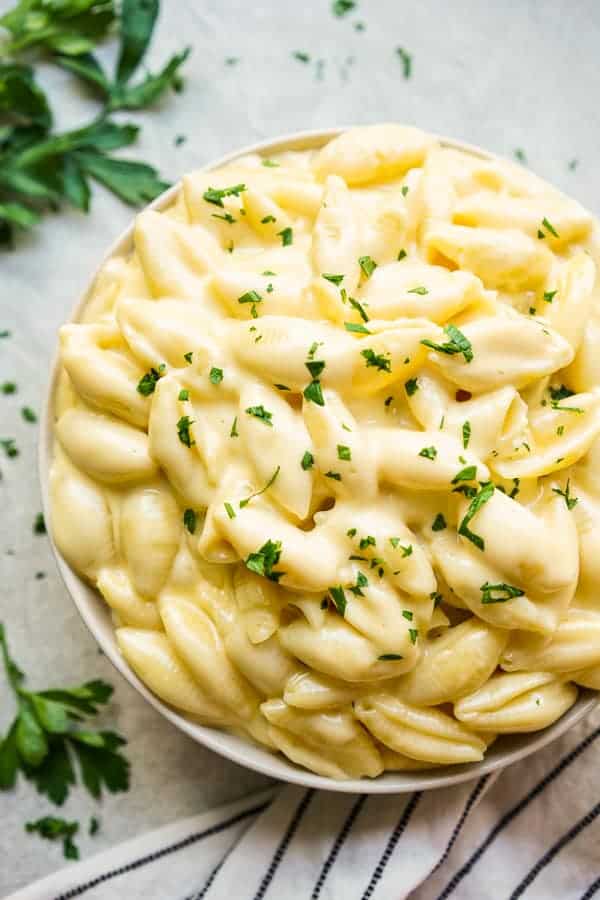 So when making this recipe, buy a good quality block of white cheddar and get the deluxe American cheese.
I am using American cheese because it melts beautifully in the sauce. I also love the flavor of Deluxe American Cheese (not the regular kind). They taste better and works beautifully in this Adult Macaroni and Cheese recipe.
For the white cheddar, avoid the shredded kind. They are less fresh, and some have additives in them and can be harder to melt. Get the high quality block ones and shred it yourself.
It really does make a difference when making this Adult Macaroni and Cheese.
Let's make Gourmet Adult Macaroni and Cheese!
My husband and I are pretty obsessed with this grown up mac and cheese recipe. I don't know if we will be able to eat other mac and cheese and be quite as satisfied again.
The best part is, you can totally make this too. The process is straight forward and you'll be surprised how easy to make this adult version of mac and cheese happen in your own kitchen.
Start by boiling water in a pot and adding medium shells to it once it is boiled. Feel free to use elbow macaroni instead of shells if you prefer.
While waiting for pasta to cook, heat a separate pot, add butter and flour, creating a roux. Whisk and stir until butter and flour are combined. Next add heavy cream, garlic powder, salt into the pot. Continue to whisk.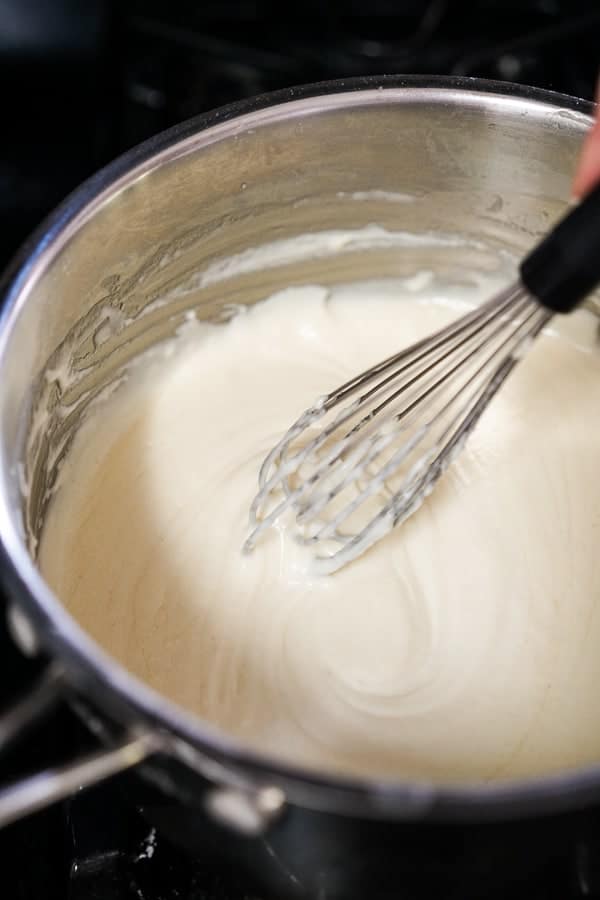 Cook it under medium heat, continue to stir, and let it come to a boil. Once it boils, liquid should thicken slightly. Keep stirring for another minute or two, then bring to medium low heat.
Add shredded white cheddar and slices of American cheese into the sauce, and stir until the sauce is smooth.
And viola! The sauce is done. Creamy, thick, velvety cheese sauce.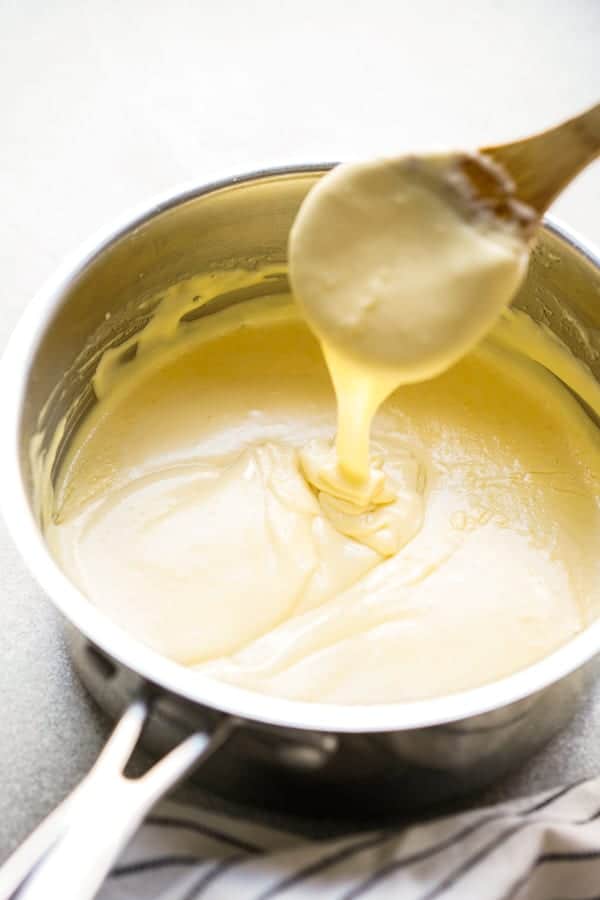 Next, add cooked pasta into the sauce, and toss well.
I also like to garnish mac and cheese with fresh parsley because a hint of green makes the dish come alive, but it is not necessary and will not add much to the taste of the dish.
Behold the creamy goodness that is this mac and cheese for grown ups.
I love how the cheese sauce very subtly cling on to the shells, giving you a nice combo of pasta and sauce in every single bite.
Tips and Tricks
After many recipe testing attempts, I learned these tips and tricks that has helped me take my Adult Macaroni and Cheese from good to incredible. So I'm here to share with you…so you can make the most of your mac and cheese.
Because sharing is caring, and also because amazing mac and cheese is a life-changer. 😉
Use a whisk to whisk cheese mixture to help dissolve flour and avoid a grainy texture in the cheese sauce. I struggled with a grainy texture in my cheese sauce until I started using a whisk!
Keep stirring sauce to prevent burning at the bottom of the pot.
Do not add olive oil when boiling pasta. When oil is added to pasta/pasta water, it prevents cheese sauce from clinging to and coating the pasta.
Add some milk at the end to thin out cheese sauce if needed. If you want to thicken cheese sauce, cook it on low heat longer.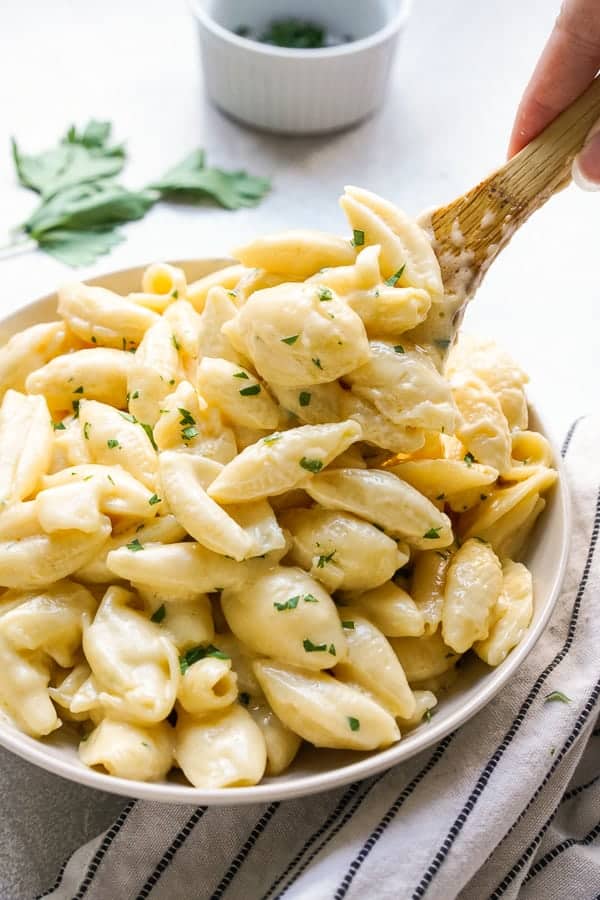 So please please do me and yourself a favor…
Skip the box kind and try this gourmet Adult Macaroni and Cheese at home! It is not that much more difficult, and you can say goodbye to artificial coloring and high salt content. But most importantly, you get to experience mac and cheese to the fullest. 🙂
Enjoy!
What to serve with Macaroni and Cheese
Here are some of my favorite recipes that goes great with this fabulous mac and cheese:
DID YOU ENJOY THIS RECIPE? Please comment below and give us a 5-star rating! This will help others find this recipe on Google and Pinterest! We very much your help! 🤍
Other yummy cheesy sides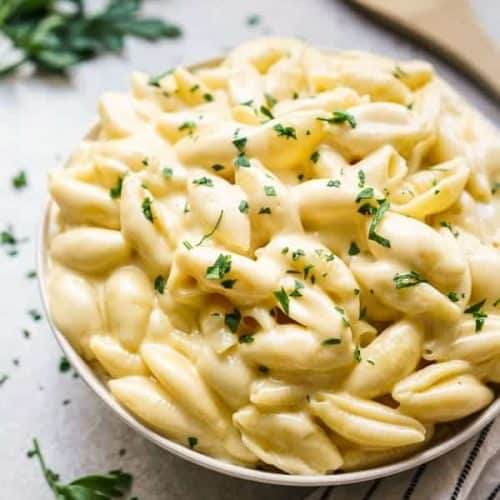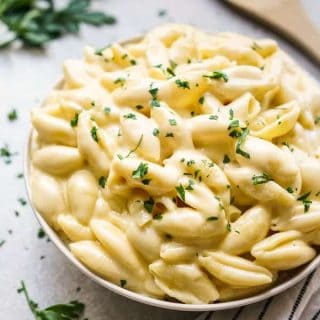 Adult Macaroni and Cheese
This is a simple, basic and yummy macaroni and cheese side recipe that adults would love! Cheesy, creamy and full of great flavor!
Print
Pin
Ingredients
8

oz

pasta shells

medium

4

tbsp

butter

2

tbsp

all purpose flour

1 1/2

cups

heavy cream

1/2

tsp

garlic powder

1

tsp

salt

1/4

lbs

sharp white cheddar cheese

6

slices

deluxe America Cheese

fresh parsley

optional

milk

optional
Instructions
Shred white cheddar cheese or cut it into small pieces.

In a pot, bring water to boil and add shells. Cook according to package instructions. Once pasta is cooked, drain water and set aside.

Heat a separate pot. Add butter, and once butter is melted (do not brown butter) add flour. Use a whisk to combine butter and flour.

Add heavy cream, garlic powder, and salt to the pot. Bring to boil while whisking and stirring constantly (See Note 1). Once mixture reaches boiling point, continue stirring using whisk and let it boil for another 1-2 minutes or until mixture is smooth.

Lower heat to medium low and add shredded white cheddar and slices of American cheese. Stir until cheese is melted and the sauce is smooth. Remove from heat.

Add pasta to the cheese mixture and toss to coat evenly.

Optional: If sauce is too thick, add a tbsp of milk, heat it on low heat and stir. Repeat until you get it to the consistency you desire. If sauce is too thin, heat on low heat and continue to stir and cook until sauce thickens to your desired consistency.

Sprinkle with fresh parsley if desire. Serve and enjoy!
Notes
Note 1: Whisk is used to dissolve flour in the mixture
Nutrition
Calories:
576
kcal
|
Carbohydrates:
33
g
|
Protein:
15
g
|
Fat:
43
g
|
Saturated Fat:
26
g
|
Polyunsaturated Fat:
2
g
|
Monounsaturated Fat:
12
g
|
Trans Fat:
1
g
|
Cholesterol:
142
mg
|
Sodium:
948
mg
|
Potassium:
183
mg
|
Fiber:
1
g
|
Sugar:
2
g
|
Vitamin A:
1496
IU
|
Vitamin C:
1
mg
|
Calcium:
405
mg
|
Iron:
1
mg