Eeeekkk! Blueberry Galette!! Also known as Blueberry Crostata, it's the inside-out-pie made for pie dreamers who want to eat a homemade pie but don't have all the time to make a pie.
If that is you, please raise your hand!
Then run to the store and get the eight ingredients this recipe calls for (although you probably have most of them!), and make this long lost cousin of our beloved pie – the galette.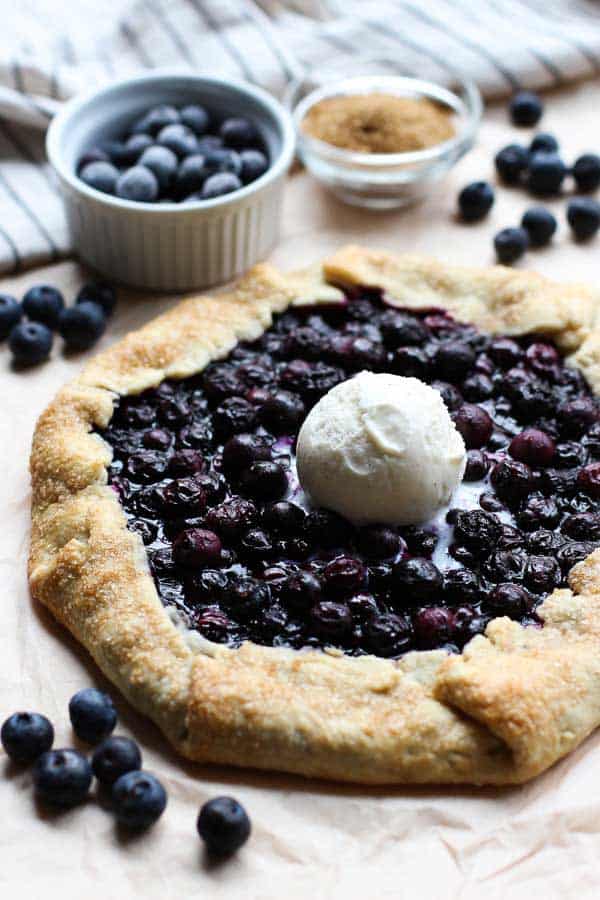 Easy Blueberry Galette
I have a strange affection for all galettes. Their rustic beauty captivates me. My dessert-loving heart bursts with joy whenever I take a bite into that crumbly, fruity goodness.
They are also so easy to make I will never have an excuse to not make a pie again.
There will be be no more trying to fit pie crusts into a pie pan, no more washing of pie pans (omg yes), no more making a lattice or crumble, no more digging that first slice of pie out of the pie pan. Because we all know how that typically goes.
And because we are simplifying things around here – no more rolling of the pie crust.
If you love to make homemade pie crusts, I respect you, I wish I was more like you, and I think you are FAB with a capital letter F, A, B.
For the rest of us, grab a good-quality, unbaked pie crust from the store. Let the pre-made crust take on its destined role of making our lives easier.
Today we celebrate beauty and deliciousness and EASY.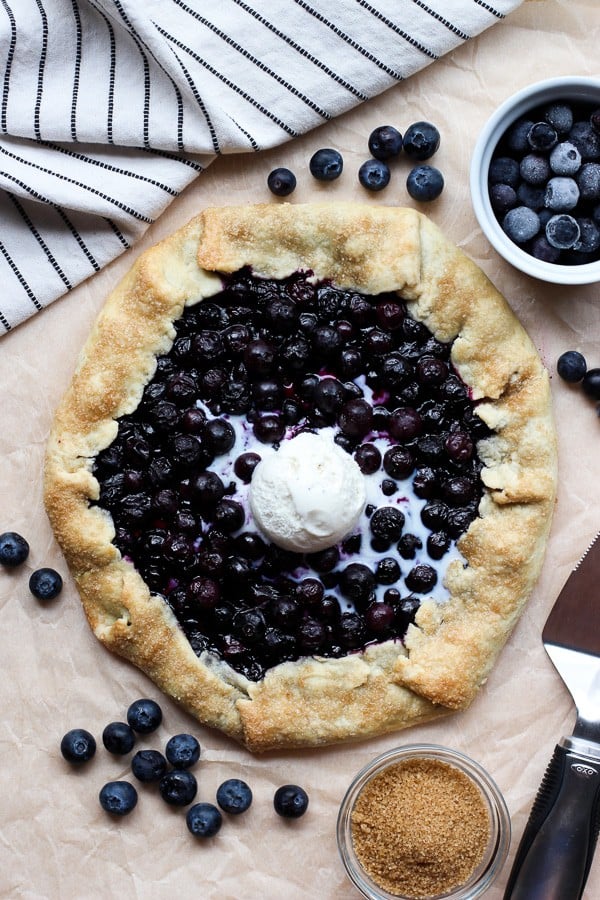 How to make Blueberry Galette
This Blueberry Galette is by inspired this Bon Appetit recipe. I made my first Blueberry Galette using this recipe after drooling over all the lovely galettes on my Instagram feed. I have made some slight modification to the recipe since then.
Ingredients
Here's what you need to make this rustic and lovely Blueberry Crostata!
Blueberries – fresh or frozen
Pie crust – pre-made works just fine! Check this recipe out if you want to make a pie crust from scratch.
Granulated sugar
Cornstarch
Lemon juice
Milk
Coarse sugar – this is used to top the pie crust
Vanilla ice cream
Step 1: Make Blueberry Mixture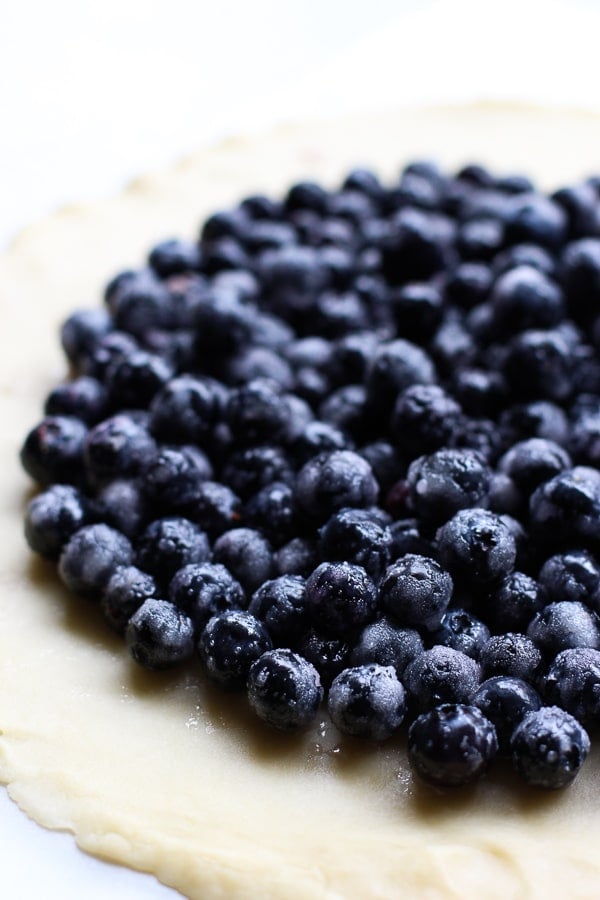 Combine all the blueberries in a big bowl and mix it with lemon juice, cornstarch, and sugar.
Give it a good stir, but avoid crushing the blueberries.
We are currently obsessed with those oh-so-sweet and juicy blueberries that summer brings. If blueberry overdose is a thing, I'm sure we would be diagnosed with it.
Step 2: Assemble Blueberry Galette
Roll out the pie crust and bring pie crust onto baking sheet lined with parchment paper.
Place the pie crust onto baking sheet lined with parchment paper before filing it with blueberry mixture because it will be very hard to move the galette once it is filled.
Using a parchment paper prevent the crust from sticking to the baking sheet. When you are done baking, throw away the parchment paper and most of the time (unless leakage happens) you wouldn't even need to wash the baking sheet!
Bring all the blueberries to the insides of the crust, leaving ~two inches on the edge without blueberries.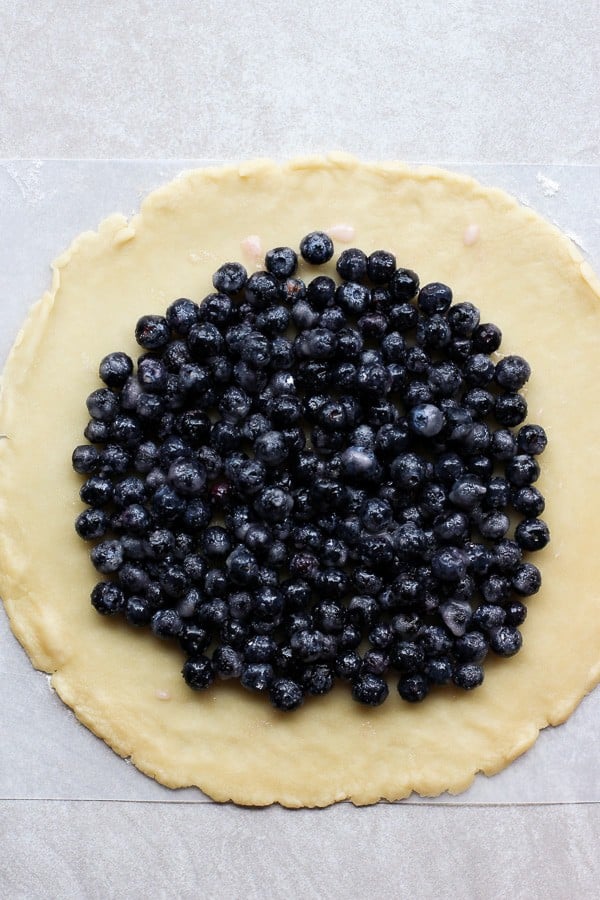 Then fold over the edges of the galette.
Brush the top of fold-over crust with milk, then sprinkle with coarse sugar for that extra crunch.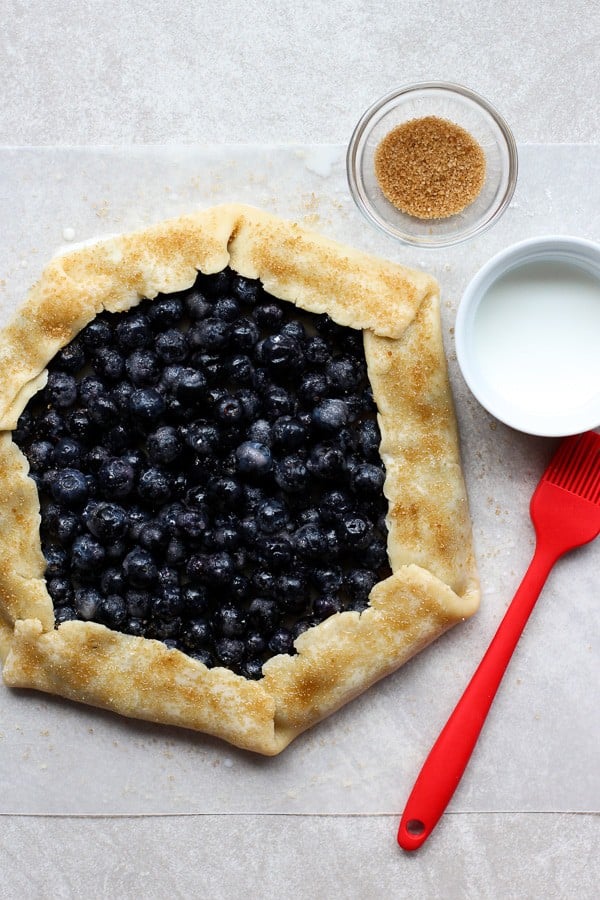 Step 3: Bake Blueberry Crostata
Bake Blueberry Galette in the oven for 45 minutes at 375℉.
When it is done, let it rest for 10 minutes for galette to cool down and for the blueberries to set.
Lastly (but definitely not the least), serve the galette with vanilla ice cream, because blueberry galette + vanilla ice cream is the foodie match made in heaven.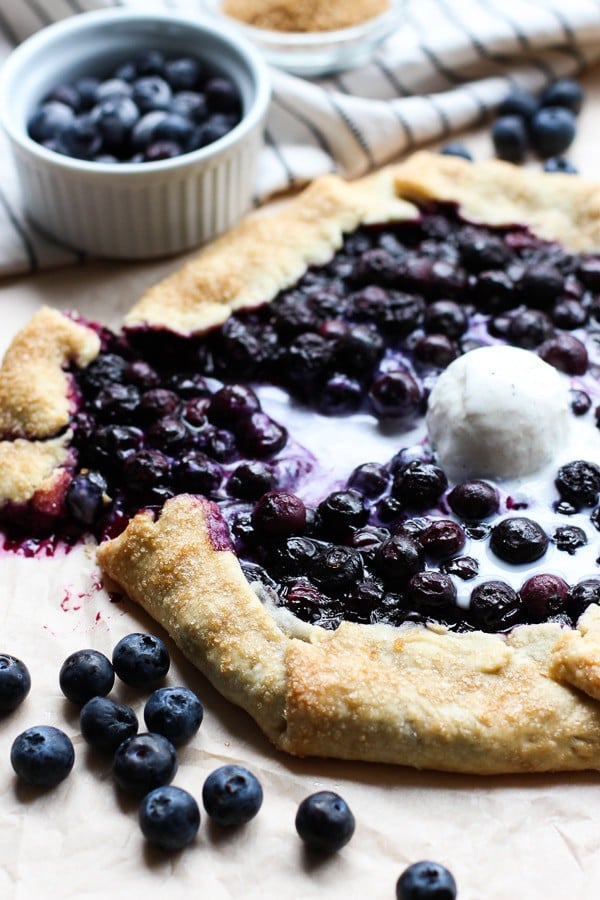 Tips for making Blueberry Galette (Crostata)
I should call this the "learn from my mistake" section 🙂
When combining the blueberry mixture, gently stir it to avoid crushing the blueberries. We want to keep them in tact as much as possible
When topping the unbaked pie crust with blueberries, make sure the pie crust is already on a baking sheet lined with parchment paper. This is because it is very difficult to transfer the unbaked blueberry galette to a baking sheet once it is filled. Let's just say I have taken on that challenge, and I rather not repeat it. 😉
Frequently Asked Questions
Can you use frozen blueberries to make the galette?
Yes! Absolutely. I always prefer fresh but if frozen is all you have, GO FOR IT. Make the galette dreams come true.
What else can I serve this with besides vanilla ice cream?
Serve this rustic Blueberry Galette along side whipped cream, cool whip, or even salted caramel ice cream.
Can I make this ahead of time?
Yes that should be fine! Store in refrigerator foe up to 2 days. When reheating, cover with aluminum foil and bake in the oven to warm it up. Serve with ice cream only when ready to eat.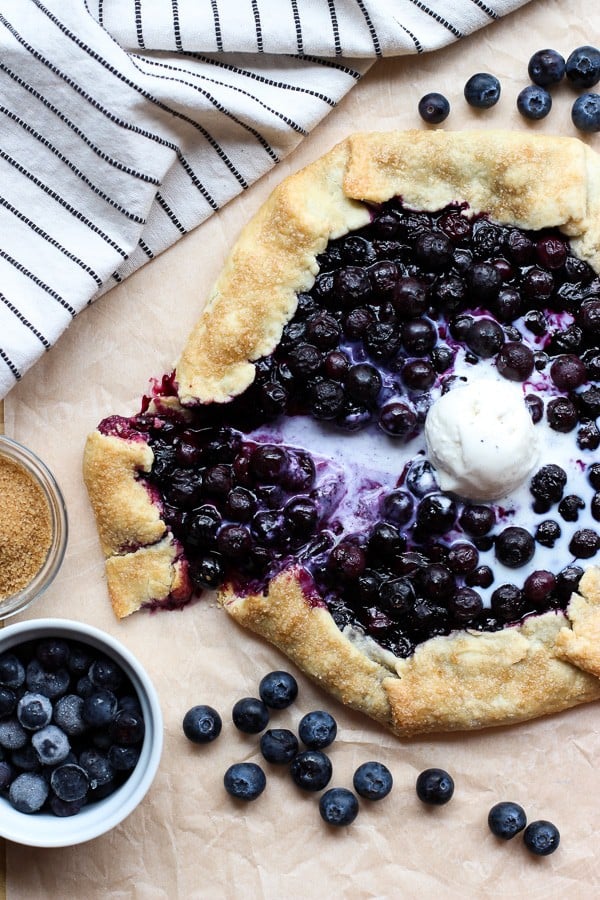 Other Fruity Desserts!
My husband calls me a lover of all fruits, and I especially love fruit desserts. Here are some other yummy (and easy) fruit desserts that you need to try!
DID YOU ENJOY THIS RECIPE? Please comment below and give us a 5-star rating! This will help others find this recipe on Google and Pinterest. We very much appreciate your help! 🤍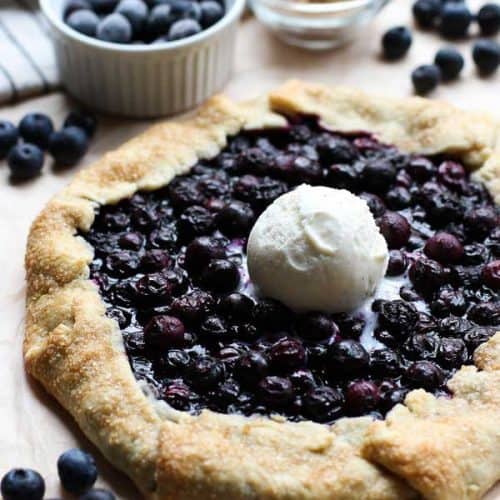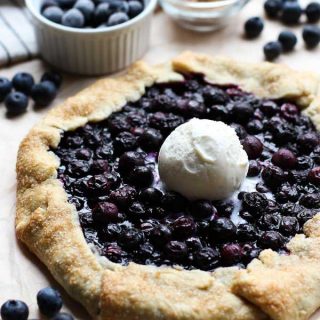 Rustic Blueberry Galette (Crostata)
Also known as Blueberry Crostata, this crumbly pie crusts combined with blueberry filling and topped with vanilla ice cream. A delicious and easy rustic dessert!
Print
Pin
Ingredients
1

Frozen (unbaked) pie crust

2 1/2

cups

Fresh blueberries

or frozen

1/4

cup

sugar

1

tbsp

cornstarch

2

tsp

lemon juice

1

tbsp

milk

1

tbsp

coarse sugar

or regular sugar

6

scoops

Vanilla ice cream
Instructions
Pre heat oven to 375 degrees F.

In a large bowl, combine bleuberries, lemon juice, cornstarch and sugar. Gently combine, avoid crushing the blueberries.

Roll out defrosted dough into a ~12 inch diameter circle. Place dough on a baking sheet lined with parchment paper. (See Note 1)

Add blueberry mixture to the dough, leaving ~2 inches on the edges without blueberries.

Fold the edges over. Brush with milk and sprinkle coarse sugar on the fold-over-egdes.

Bake for ~45 minutes. Remove and let it sit for 10 minutes so that the filling is set.

Serve with vanilla ice cream and enjoy!
Notes
Note 1: Place the unfilled pie crust on baking sheet lined with parchment paper because it is very hard to move to baking sheet once galette is filled
Nutrition
Calories:
348
kcal
|
Carbohydrates:
50
g
|
Protein:
5
g
|
Fat:
15
g
|
Saturated Fat:
7
g
|
Polyunsaturated Fat:
1
g
|
Monounsaturated Fat:
5
g
|
Cholesterol:
29
mg
|
Sodium:
171
mg
|
Potassium:
212
mg
|
Fiber:
3
g
|
Sugar:
31
g
|
Vitamin A:
316
IU
|
Vitamin C:
7
mg
|
Calcium:
97
mg
|
Iron:
1
mg