White Wine Tomato Skillet Chicken
When it comes to an easy chicken dinner recipe, this is my winner – White Wine Tomato Skillet Chicken. It is a 20-minute, taste-like-a-million-dollars kinda easy. Perfect for busy weeknights. And the secret ingredient? Wine. It's all about the wine.
Ah, wine. I get so much pleasure out of cooking with wine. Not only do I feel like a classy lady because let's be real, wine just makes me feel classy, wine is one ingredient that taste like ten ingredients combined when cooked. By itself it has the ability to produce such complex and gorgeous flavors…you do not need much else!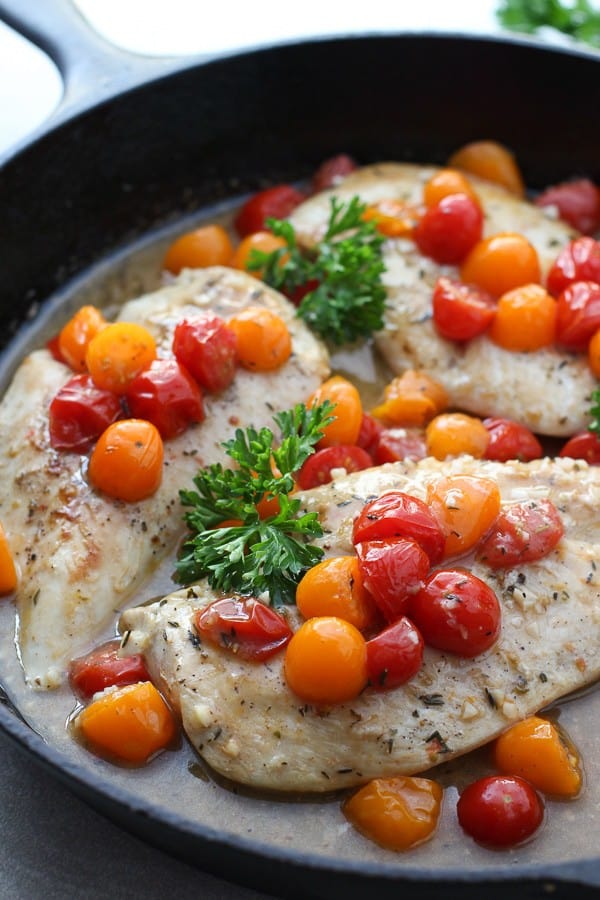 In this recipe, we lightly season a few pieces of chicken breast with salt and pepper, then sear and coat them with this amazing garlic white wine sauce infused with herbs such as thyme and oregano. Then we toss some cherry tomatoes to the skillet for some additional flavor and texture.
It's a simple dish cooked in one skillet. No marinating. No complicated ingredients. No time-consuming techniques. Today, I am all about bring a few ingredients together to make big-time yumminess happen, all in a very short time.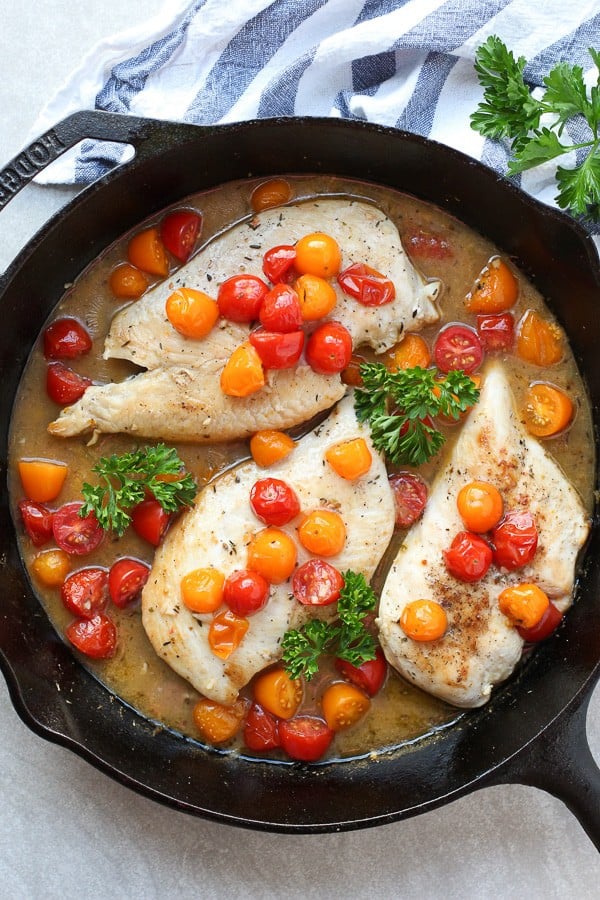 Appliances needed
I used a 12-inch cast iron skillet for this recipe, but any large skillet would do. Non-stick is preferred, but if you are not using non-stick, just make sure to grease the skillet with more olive oil to prevent chicken from sticking to the pan.
Although, side note: I do love my cast iron skillet, like a lot. It does a really good job giving the chicken a nice sear (crusty brown look on the outside) and cooking them evenly.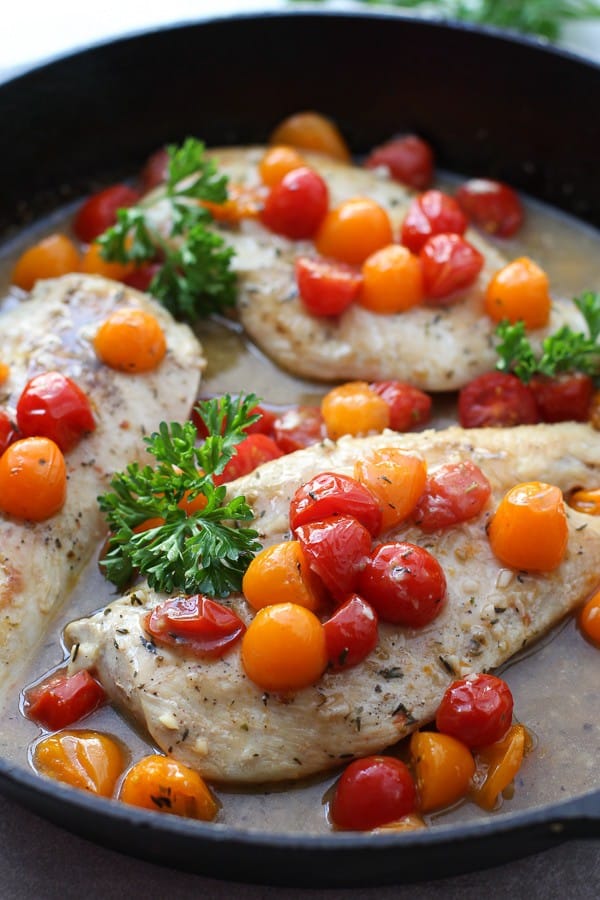 Cooking with wine
Let's talk wine for a minute 🙂 . I am not a wine expert, but this is what I've learned.
Typically you want to cook with crisp, higher acidity white wines, such as Pinot Grigio, Sauvignon Blanc, Pinot Gris, and Pinot Blanc. I had a bottle of Pino Grigio in the pantry so I used that for this recipe.
When I started cooking with wine, I would use old wine that had been sitting in the fridge for a while, thinking that I am cleaning out leftovers. Little did I know the wine rule is to not cook with any wine you don't want to drink.
See, cooking wine does not take away its bad quality. If the wine does not taste fresh and good anymore, the dish will end up tasting the same way.
The takeaway is cook with good wine, and that doesn't mean expensive wine. In fact, it's not necessary to spend too much money on wine you are cooking with.
Use wine that are not super expensive, but don't buy the cheapest either. I typically stock up my wines when I got to Trader Joe's and spend $5-8 on each bottle. They are good quality for the price I pay.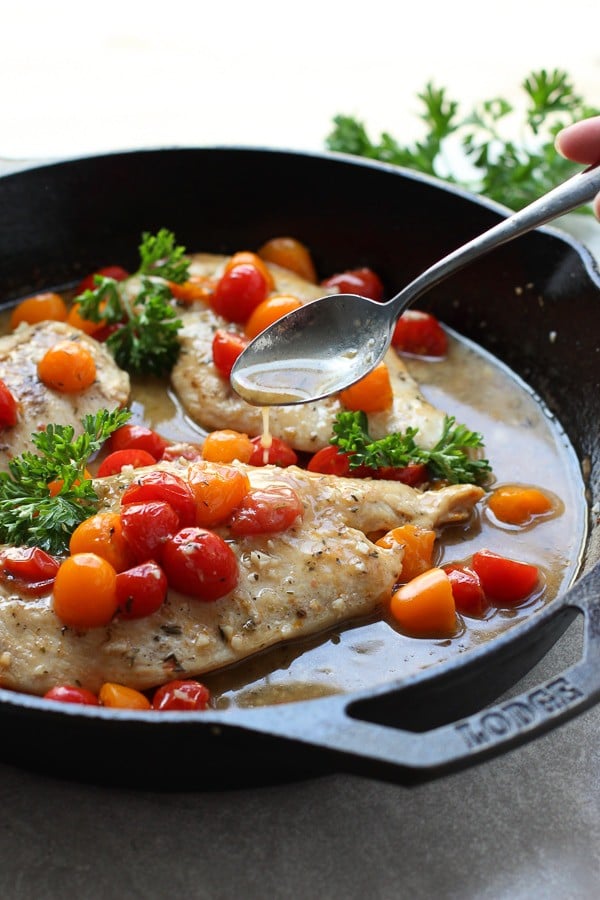 There are so many things I love about this dish.
First, I love me a good sauce, especially a complex one that doesn't take too much effort.
Second, let's take a minute and give those cherry tomatoes the salute they deserve because those crazy sweet little things brings on the flavor and texture like nobody's business, and brightens up this dish.
This is the perfect busy weeknight meal. However, if you want to turn this into a fancy date night in, the gorgeous flavors and textures will qualify it for that too too.
Pair the chicken dish with some Roasted Garlic Parmesan Potatoes or rice, kick it off with a Strawberry Bacon Spinach Salad, then finish off with a dessert. Maybe a little Easy Apple Crisp with vanilla ice cream. It is, after all, finally FALL!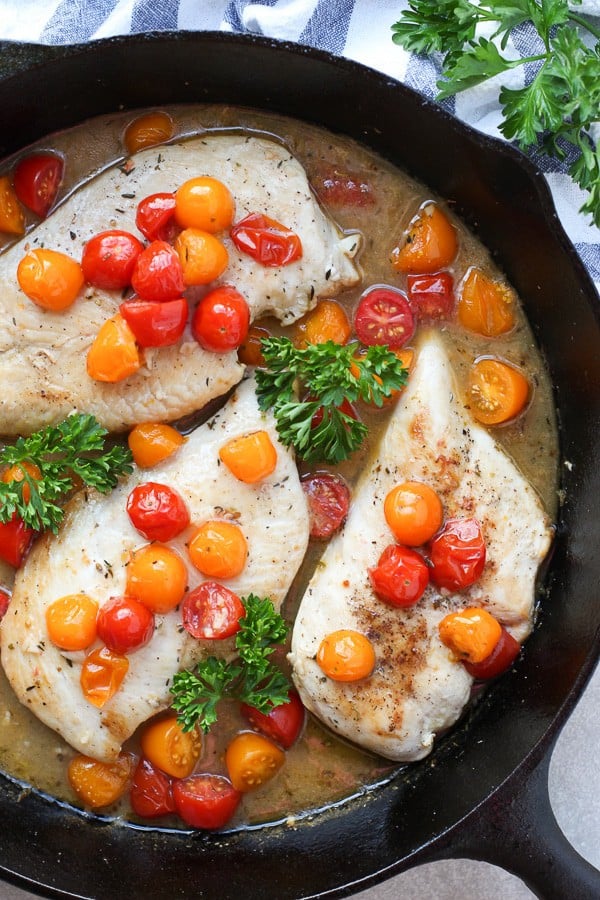 A quick and easy chicken dish that is for the keeps! Try this and let me know what you think!
DID YOU ENJOY THIS RECIPE? Please comment below and give us a 5-star rating! This will help others find this recipe on Google and Pinterest. We very much appreciate your help! 🤍
More Delicious Meat Dishes!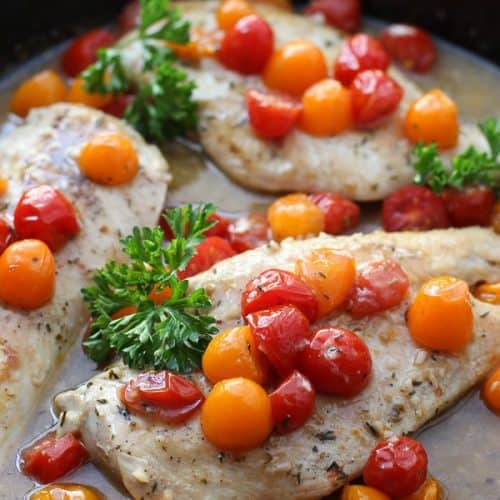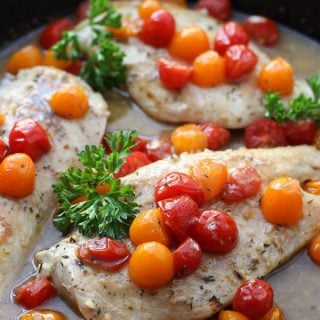 White Wine Tomato Skillet Chicken
An easy and delicious one-skillet meal, perfect for busy weeknights! Chicken breast seared and cooked in a garlic white wine sauce that is infused with herbs, then combined with cherry tomatoes.
Print
Pin
Ingredients
3

pieces

large chicken breast

~1.5 lbs

2

cups

cherry tomatoes

halved

3-5

cloves

garlic

minced

1

tsp

extra virgin olive oil

1/4

cup

crisp white wine

1/2

cup

water

1

tsp

cornstarch

1/2

tsp

thyme

1/2

tsp

oregano

salt

to taste

pepper

to taste
Instructions
Heat a large skillet and add olive oil to skillet. Use enough olive oil to thinly coat the entire surface.

Lightly season chicken breast with salt and pepper on both sides. Once oil is heated, add chicken breast to skillet and sear on both sides until almost cook (does not have to be completely cooked). Remove and set aside.

Bring garlic and halved cherry tomatoes to skillet, cook for 30-60 seconds.

Combine water and cornstarch in a small bowl, then add to skillet. Add white wine, thyme, and oregano. Bring to a boil, then bring chicken back to skillet.

Cook for at least 2-3 minutes under medium heat, or until chicken is done. Make sure chicken reaches an internal temperature of 165 degrees F.

Taste sauce and add additional salt and pepper to sauce to taste (if desire).
Nutrition
Calories:
312
kcal
|
Carbohydrates:
6
g
|
Protein:
49
g
|
Fat:
7
g
|
Saturated Fat:
1
g
|
Polyunsaturated Fat:
1
g
|
Monounsaturated Fat:
3
g
|
Trans Fat:
1
g
|
Cholesterol:
145
mg
|
Sodium:
290
mg
|
Potassium:
1086
mg
|
Fiber:
1
g
|
Sugar:
3
g
|
Vitamin A:
576
IU
|
Vitamin C:
27
mg
|
Calcium:
37
mg
|
Iron:
2
mg