Roasted Garlic Parmesan Potatoes
Roasted Garlic Parmesan Potatoes. Easy. Versatile. Delicious. 7 pantry-friendly ingredients and only 10 minutes of active time. Then you send them into the oven and before you know it you have these gorgeously roasted, crispy, and flavorful potatoes. Now who doesn't want THAT?
Potatoes are a staple, basic food to mankind, but boy, they have so much potential to taste REALLY good. I don't think I have met a potato I do not like. Fry it, mash it up, bake it, twice bake it. I am especially excited when cheese is involved.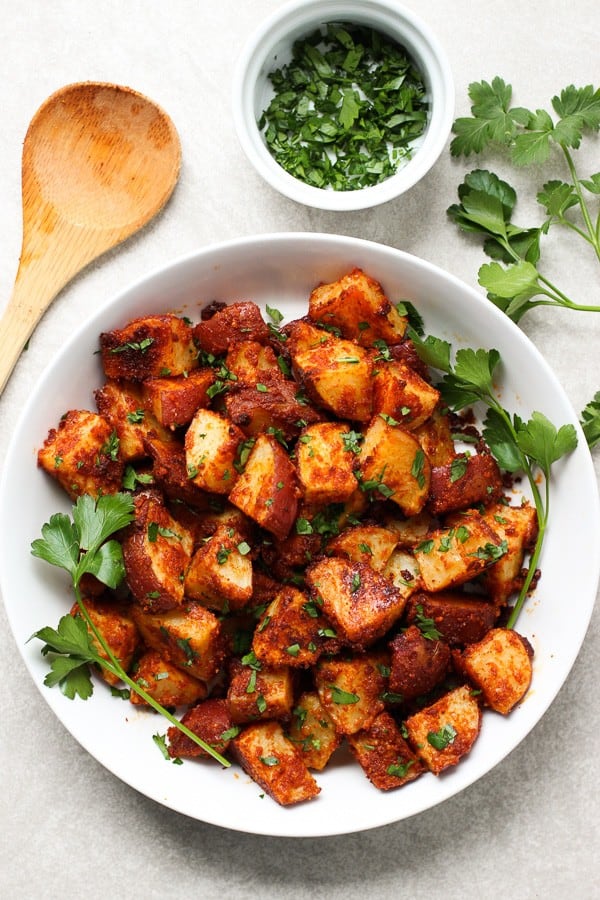 I have made this dish for years and we have enjoyed how simple, yet delicious, it is. It is perfect for busy weeknights, and a great side to any of your meat dishes, seafood dishes, burgers and hot dogs. It is one of the easiest way to make potatoes from scratch. Yes, like from an actual potato. None of that frozen stuff today. 🙂
Another favorite thing about this dish? No peeling of potatoes. No siree. That is the perfect easy-to-prep side for all you busy people out there. Just clean the red potatoes and dice it up to about 1-2 inches on each side.
How to make Roasted Garlic Parmesan Potatoes
The spice mix for this consists of garlic powder, smoked paprika and a pinch of salt. Keeping it simple. Without sacrificing taste, of course. A little bit of a smoky flavor from the paprika, that I absolutely love, combined with the lovely smell of garlic. YUM!
In a large bowl, fill it with diced potatoes, add olive oil, mix to evenly coat potatoes. Add the spice mix and grated parmesan cheese. Again, mix to evenly coat.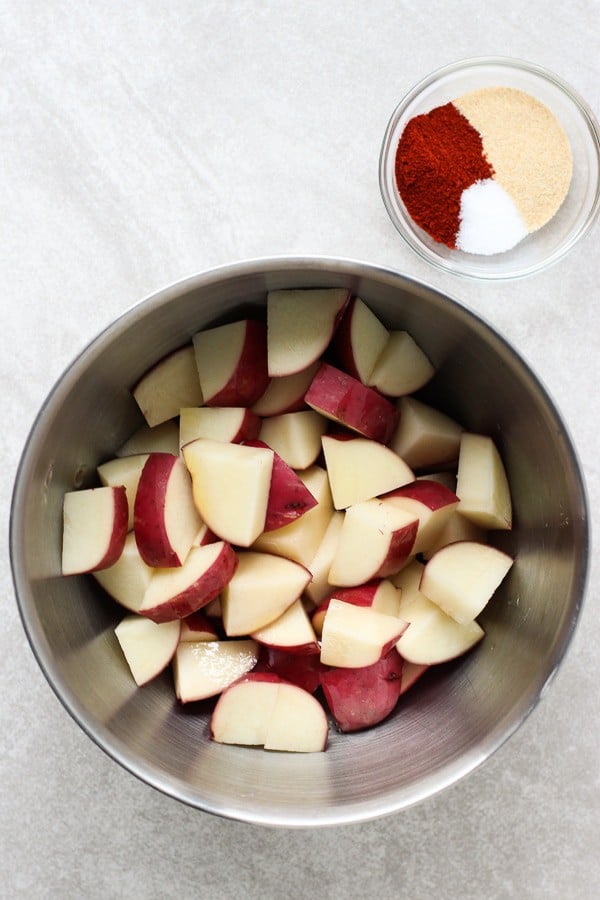 Parmesan cheese will bring a nutty and slightly salty flavor to the potatoes, in addition to giving potatoes the crispy texture after baking. I like to invest in a good quality parmesan cheese… it really makes a big difference to the end product.
On a cookie sheet, line parchment paper, and spread potatoes out. Make sure potatoes don't touch each other or overlap.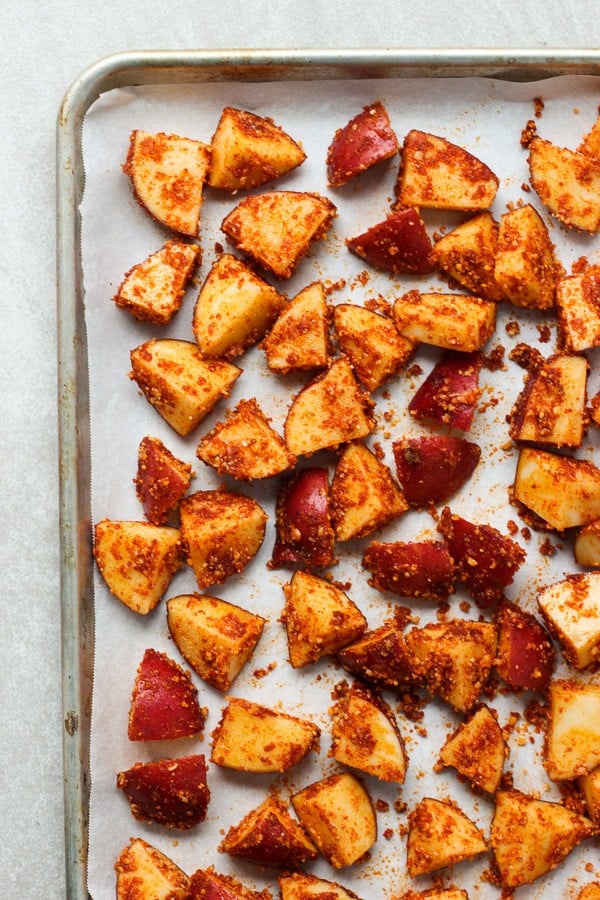 You guys. If you haven't discovered the amazingness that is parchment paper, well, you just must. It doesn't stick to food, makes cleanup a breeze, and is coincidentally, a gorgeous backing for food photography. Uh-huh. Watch my many food pictures, many times the food is placed not on a plate, but on a… (drumroll) parchment paper.
Needless to say, between the crazy amount of cooking, baking and food photography I have been doing, we go through a lot of parchment paper around here.
Me = believer in and lover of parchment paper. I own it.
Send the potatoes into the oven and it will be ready in 30 minutes.
Once done, sprinkle some chopped fresh parsley to enhance potatoes with a fresh earthy taste. Also, I must say, the pop of greens on the potatoes is also quite pleasing to the eye.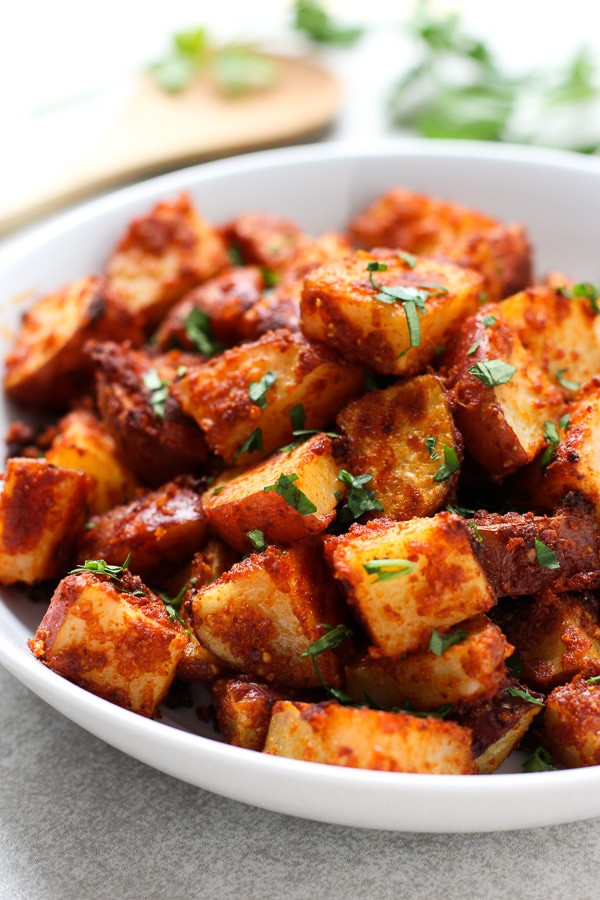 Oh come to me, yumminess!
Potatoes are soft and warm on the inside, and crispy, garlicky, and smoky on the outside. And delicious to the MAX.
I'm one of those people who love ketchup and put it on everything. I especially like to eat most of my potatoes with ketchup. But with this Roasted Garlic Parmesan Potatoes, they are so flavorful and cripsy, I don't need ketchup! THAT is how yummy this is.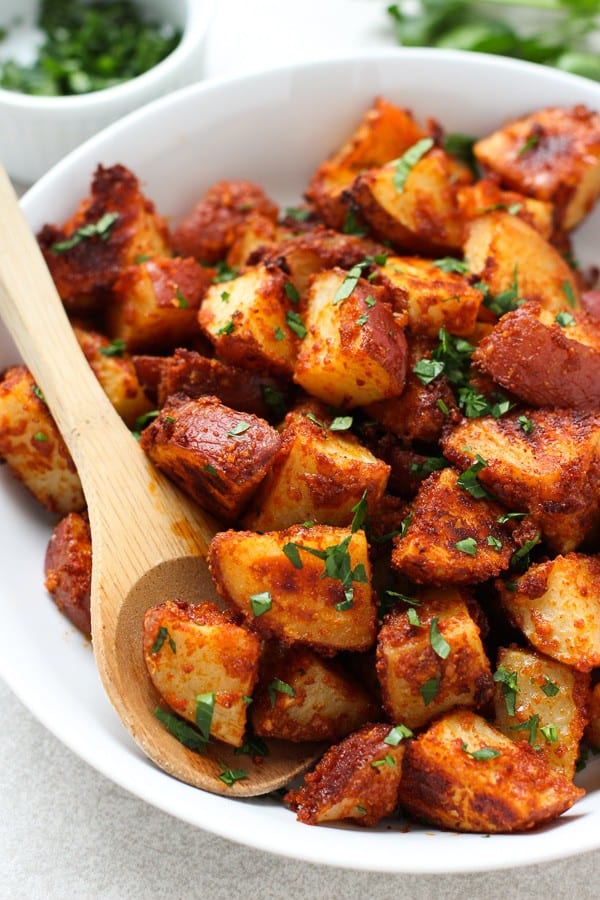 Does it keep well as leftovers?
It keeps well but I do recommend reheating in a toaster oven or oven to make it crispy again. Reheating them in the microwave does not give it the crisp but works as well.

Other Potato Dishes
What can I say. We do love our potatoes here.
Potato it up, people. It's worth it!!
DID YOU ENJOY THIS RECIPE? Please comment below and give us a 5-star rating! This will help others find this recipe on Google and Pinterest. We very much appreciate your help! 🤍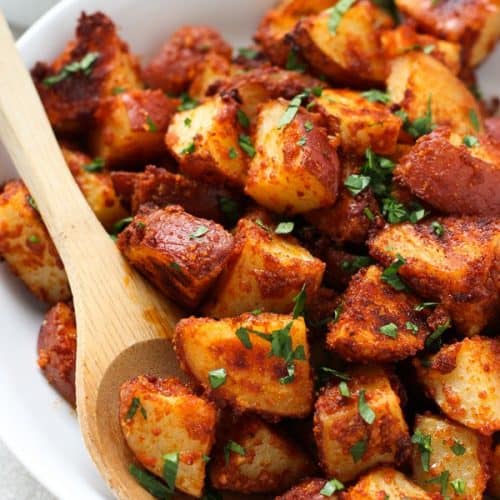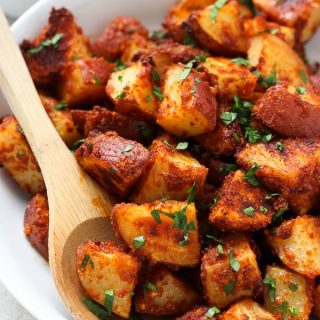 Roasted Garlic Parmesan Potatoes
These potatoes are crispy on the outside and soft on the inside, roasted with garlic and fresh parmesan. Super easy to make, only 7 ingredients and delicious to the max!
Print
Pin
Ingredients
1 1/2

lbs

red potatoes

5-7 potatoes

2

tbsp

olive oil

1 1/2

tbsp

garlic powder

1/4

cup

parmesan cheese

grated

1

tbsp

paprika

1/2

tsp

salt

1

tbsp

fresh parsley

chopped, optional
Instructions
Pre-heat oven to 425 degrees.

In a smalll bowl, mix garlic powder, paprika and salt.

Cut red potatoes into cubes, about 1-2 inches on each side. Bring potatoes to a large bowl.

Add olive oil to large bowl of potatoes and toss to coat evenly. Add spice mix and toss to coat evenly. Add grated parmesan cheese and toss to coat evenly.

Bring potatoes to a baking sheet lined with parchment paper. Spread potatoes out. Make sure potatoes do not overlap or touch each other.

Bake in the oven for 30-35 minutes, or until potatoes are tender when pierce with a fork.

Remove from oven, sprinkle potatoes with chopped fresh parley. Serve and enjoy!
Notes
This post was originally published on February 22, 2018 and updated on March 4, 2019.
Nutrition
Calories:
216
kcal
|
Carbohydrates:
30
g
|
Protein:
6
g
|
Fat:
9
g
|
Saturated Fat:
2
g
|
Polyunsaturated Fat:
1
g
|
Monounsaturated Fat:
6
g
|
Cholesterol:
4
mg
|
Sodium:
424
mg
|
Potassium:
826
mg
|
Fiber:
3
g
|
Sugar:
2
g
|
Vitamin A:
218
IU
|
Vitamin C:
19
mg
|
Calcium:
95
mg
|
Iron:
2
mg