OH HEY, Baked Ziti, HEY!
Comfort food, crowd pleaser, pasta-extraordinaire, my superhero during busy weeknights (a.k.a. MAJOR life-saver). How can one not LOVE with all their hearts.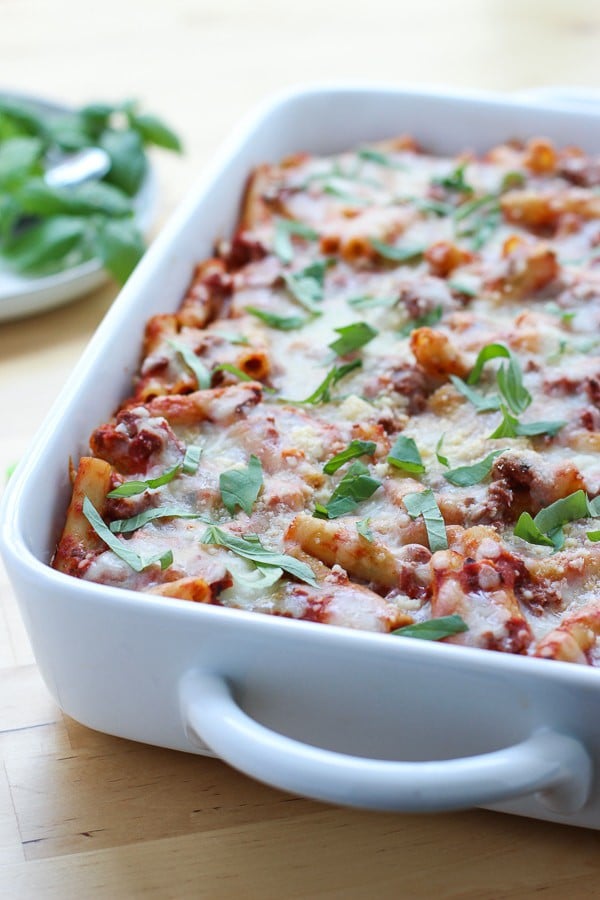 Love a good cozy pasta dish? Check out my Spinach Lasagna, Spicy Rigatoni and Creamy Italian Sausage Pasta recipe as well!
Baked Ziti
Recipe testing these ziti during a time when we are transitioning into a Fall schedule could not be more perfect. We are just busy bees these days but guess what? We have a TON of ziti lying around.
There is nothing like being able to nuke your dinner for multiple nights in a row, and be actually EXCITED about nuked dinner.
I MEAN…Nothing beats dreamy-looking cheesy goodness, classic red sauce with ground beef, and pasta pasta pasta.
Some days the basics are just THE BEST.
This is the perfect dish to whip together for a crowd because err…we make a small dent in it every time the two of us have it dinner.
I seriously think this recipe can feed up to 10-12 people, depending on how hungry your people are.
With football viewing parties, Fall gatherings, lots of kids to feed after long busy school days, this Baked Ziti recipe is perfect for all those occasions and more.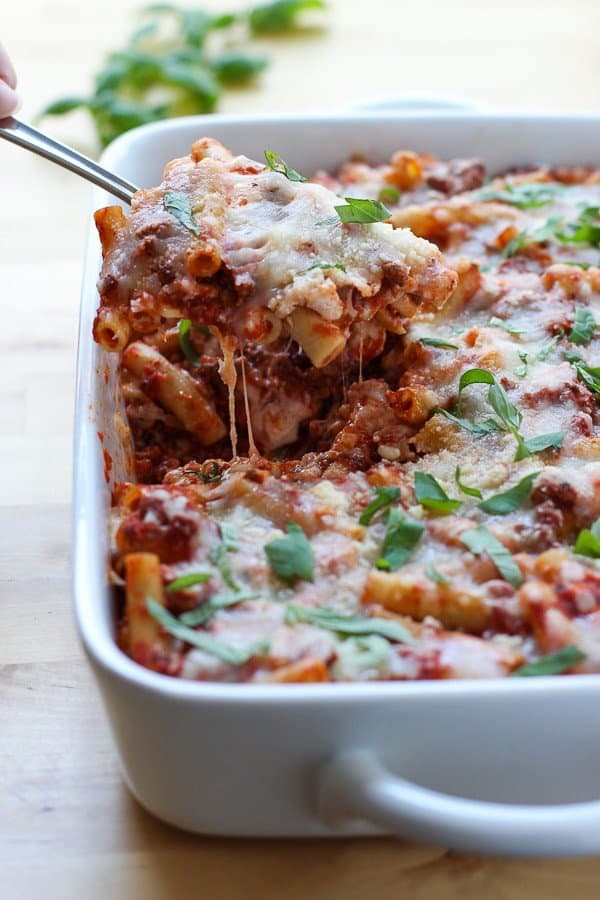 The best part is you can whip this dish together in about an hour, and this includes inactive bake time.
Unless you are like me and dumped cooked ziti into the drain when I was draining the water during Baked Ziti Trial Number 1.
Or me again spilling the whole box of uncooked ziti all over the flour and stove during Baked Ziti Trial Number 2. (If you follow me on Instagram, you probably got visuals of this catastrophe).
I seriously thought I was under a ziti bad spell after all that.
But the third time's a charm. Those ziti finally cooperated and all is well, and ended well.
That was a long winded way to say, if all processes were smoothly executed, Baked Ziti should take approximately an hour to prepare, with some inactive cook time where you put it in the oven and WALK AWAY.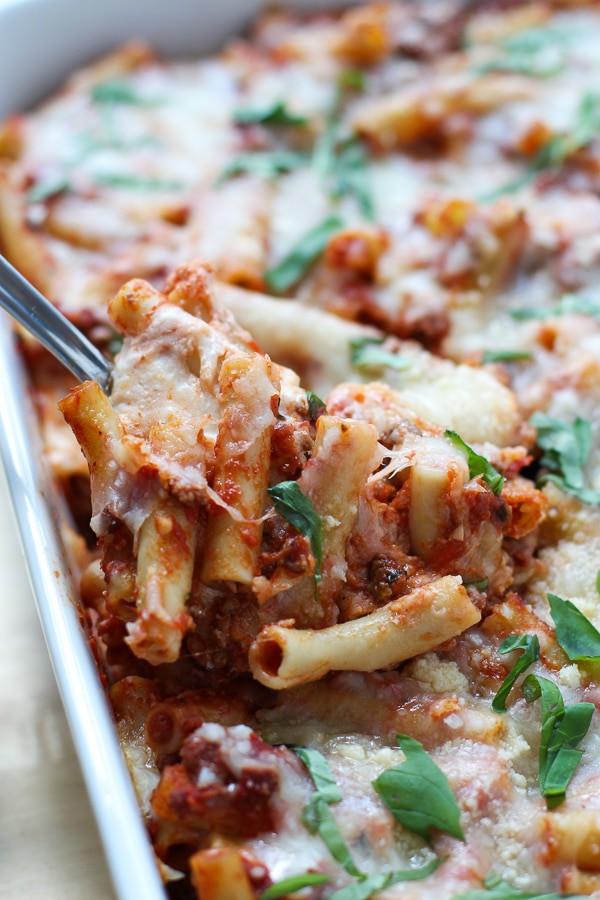 How to Make Baked Ziti
The-Baked-Ziti-making process is simple and totally worth your time if you want to make food for a lot of people, or want a lot of food for yourself for a little while. It's like a lasagna recipe with less work. It is also super budget-friendly.
I always start my Baked Ziti with making the red sauce because I like to let the sauce simmer and let those herbs marinate in the sauce while I make the rest of the items.
Remember to taste the sauce after it comes to a boil and add salt and pepper to taste. Salt is important here because it truly brings out the flavors of the tomatoes and herbs.
On a side note: writing this post while being hungry is a BAD idea. I will be rummaging our pantry for snacks in a second.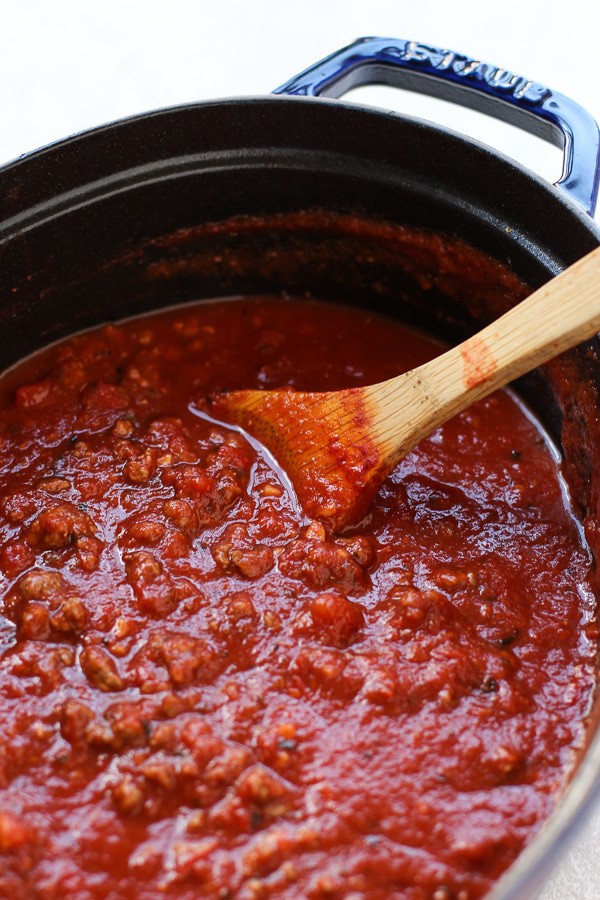 While the red sauce cooks, boil the ziti pasta and also make the cheese filling.
I notice some grocery stores don't carry ziti. If you cannot find ziti pasta, penne pasta is a very similar shape and works well too!
The cheese filling is a combination of Ricotta cheese, shredded mozzarella and parmesan cheese. Bring all the ingredients to a bowl and mix well.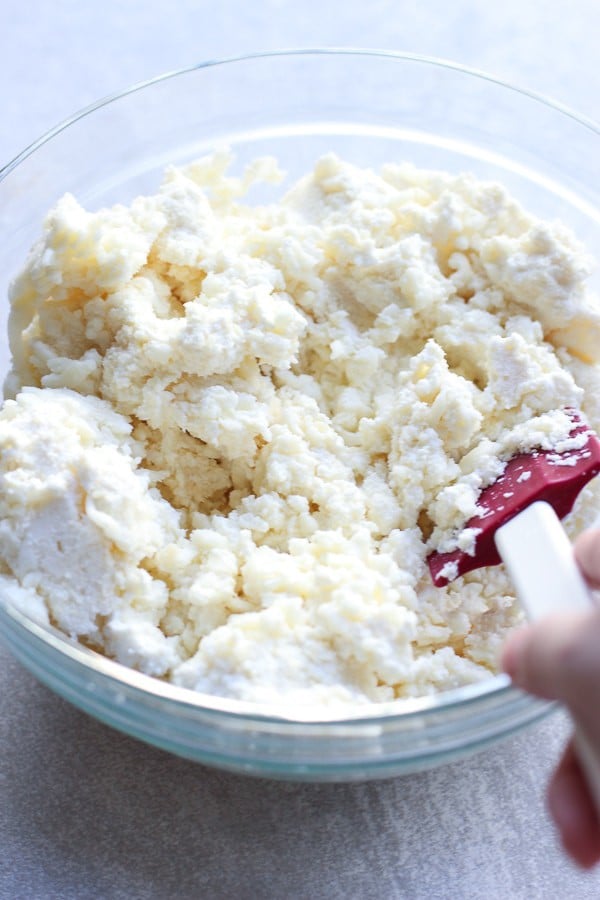 When the pasta is cooked, drain and toss them into the red meat sauce. Bring half of the pasta and sauce to a 9″ x 13″ casserole dish, then layer with cheese filling.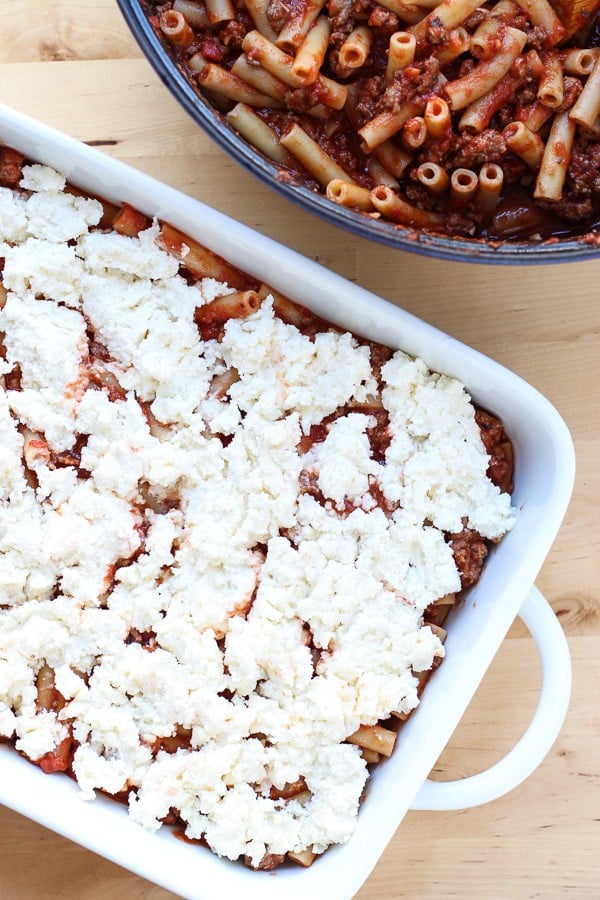 Next, top with the rest of the pasta and sauce, and sprinkle with mozzarella and parmesan cheese.
In summary:
Layer 1 (Bottom): Half of the pasta and sauce
Layer 2: Cheese filing
Layer 3: The other half of the pasta and sauce
Layer 4 (Top): Shredded mozzarella and parmesan
Bring to the oven and bake. Sit back, relax, do the other 105 things you have going on, and in 20 minutes behold this gorgeous pasta dish that will make dinners so much easier and pleasant.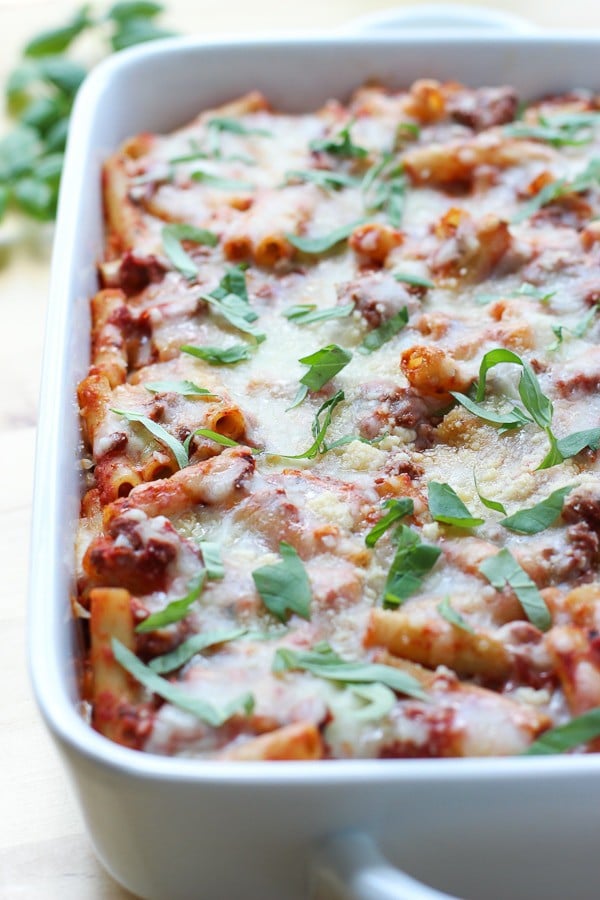 You can sprinkle fresh basil leaves on top for additional basil flavors and basic attractiveness of the dish, or use dried basil leaves since that is the ingredient that was called for in the recipe itself.
Or seriously, consider leaving it as is and sprinkle with nothing, because Baked Ziti needs no sprinkling of any sort to make it taste like the best pasta you put in your mouth.
Bring it to the dinner table, ask your people to dig in, and be prepared to be filled up with yumminess.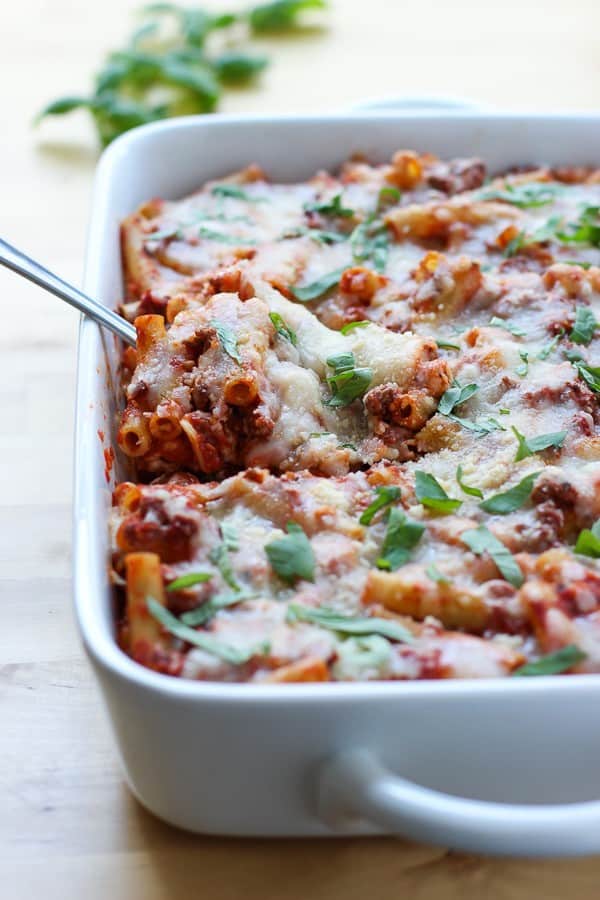 A solid baked pasta dish is comfort food for the stomach and the soul. Try this today!
DID YOU ENJOY THIS RECIPE? Please comment below and give us a 5-star rating! This will help others find this recipe on Google and Pinterest. We very much appreciate your help! 🤍
Other Pasta Recipes
Check out my other tomato-based pasta favorites on the blog!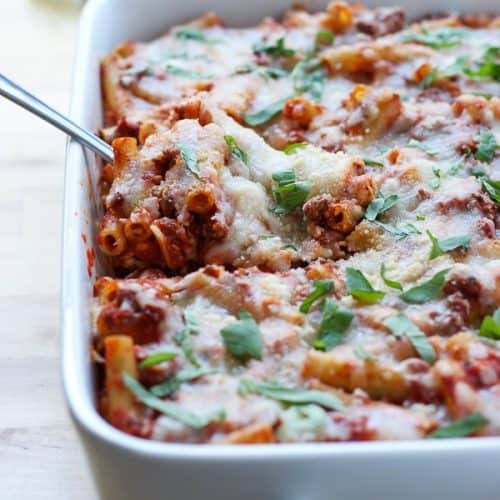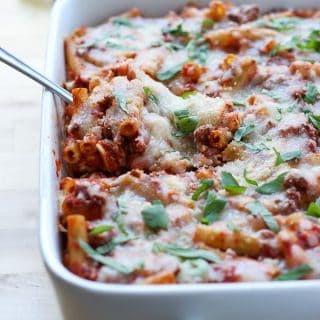 Baked Ziti
Ziti pasta baked with delicious red meat sauce and lots of cheesy goodness. The perfect meal for busy weeknights, potlucks, and parties! Save well as leftovers!
Print
Pin
Ingredients
Red sauce
1 1/2

tbsp

garlic

minced

1

tsp

olive oil

1.5

lbs

lean ground beef

28

oz

crushed tomatoes

15

oz

tomato sauce

2

tsp

dried basil

1

tsp

oregano

1/2

tsp

marjoram

1

tbsp

sugar

salt

to taste

pepper

to taste
Cheese filling/layer(s)
15

oz

ricotta cheese

1

lbs

mozzarella

shredded

1/2

cup

parmesan cheese

grated
Others
1

lbs

ziti pasta

or penne

basil

optional

salt and pepper

to taste
Instructions
Add olive oil to a large pot (See Note 1), heat up under medium heat, then add minced garlic to pot. Cook for 15 seconds or so, then add ground beef.

Cook ground beef until it is almost done, then add crushed tomatoes, tomato sauce, dried basil, oregano, marjoram, and sugar. Stir and bring to a boil, then add salt and pepper to taste. Bring heat to low, and cook for 15-20 minutes. Remove from heat.

While red sauce is cooking, fill a smaller pot with water, add a pinch of salt, and bring to boil, then add ziti pasta and cook a minute less than the instructed cook time (typically anywhere between 8-11 minutes). Drain water when done (See Note 2).

While pasta is cooking, bring ricotta cheese, 1/2 lbs of shredded mozzarella, 1/4 cup of parmesan cheese to a medium bowl and mix well. Set aside the remaining mozzarella and parmesan cheese for later.

Pre-heat oven to 350 degrees F.

When pasta and red sauce are done, bring drained pasta to sauce and toss to combine.

In a 9″ x 13″ casserole dish, add 1/2 of the pasta and red sauce to the bottom layer, then spread all the cheese filling to the next layer, then add the rest of the pasta and red sauce. Sprinkle the rest of the mozzarella and parmesan cheese (set side on step 4) to the top.

Bake in the oven for 20 minutes. Remove and let it cool for 10 minutes.
Notes
Note 1: Use a large pot because eventually we will be adding cooked pasta to this pot to combine the red sauce with the pasta.
Note 2: After draining the water, add some olive oil to pasta and toss around to prevent pasta from sticking to each other. Do this especially if pasta will sit for a while before being added to the red sauce.
Nutrition
Calories:
538
kcal
|
Carbohydrates:
46
g
|
Protein:
39
g
|
Fat:
22
g
|
Saturated Fat:
12
g
|
Polyunsaturated Fat:
1
g
|
Monounsaturated Fat:
7
g
|
Trans Fat:
1
g
|
Cholesterol:
103
mg
|
Sodium:
1012
mg
|
Potassium:
807
mg
|
Fiber:
4
g
|
Sugar:
8
g
|
Vitamin A:
895
IU
|
Vitamin C:
11
mg
|
Calcium:
435
mg
|
Iron:
4
mg