Sautéed Garlic Brussel Sprouts and Carrots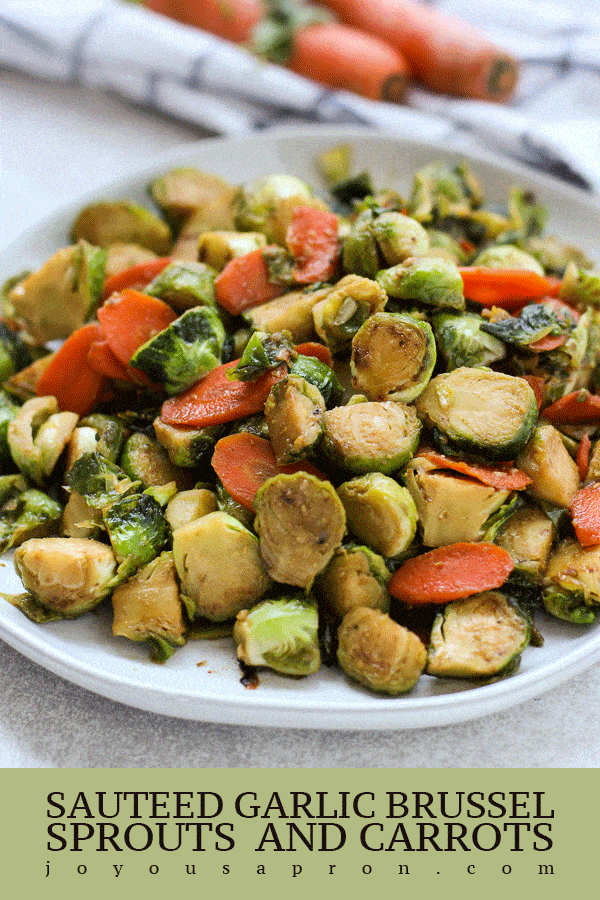 Sautéed Garlic Brussel Sprouts and Carrots is the perfect side dish to any meal. This cooking method retains the nutrients, vitamins and FLAVOR, and it pairs perfectly with just about any protein dishes.
I have to share this because I make this all the time, and have successfully converted non-brussel-sprouts eaters into brussel-sprouts-loving eaters, aka my husband. Proud wife/household chef moment there.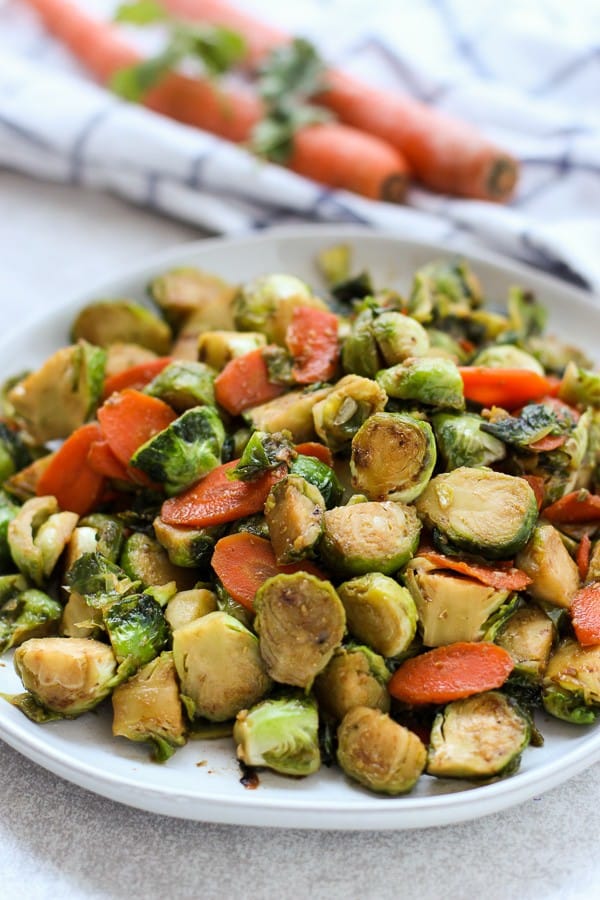 Brussel sprouts are such a misunderstood vegetable. Sure, it's slowly making a comeback, but it still has a bad reputation. I know so many who think it's gross, or at some point were bruised by the taste of it.
I am convinced that brussel sprouts do not have a bad flavor or taste… However, when cooked with certain techniques or ways, it is possible to bring out the worse in it.
Steamed brussel sprouts = yucky brussel sprouts
Boiled brussel sprouts also = yucky brussel sprouts
But with some creativity, brussel sprouts deserve so much more credit.
Yes, I am here to redeem the honor of the brussel sprouts species. Because they truly are SO GOOD!!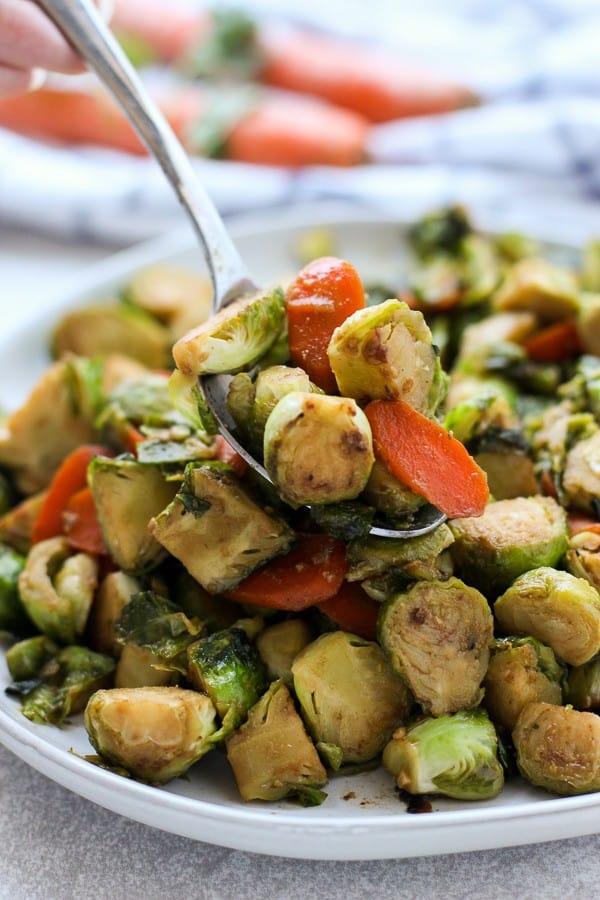 To bring the best out of this vegetable, we must retain its flavor and texture. One of the ways to do so is by not overcooking it, and cooking it very quickly under extremely high heat.
When sautéed quickly under very high heat, we are able to retain the nutty, aromatic flavor and the crispy, crunchy texture. In addition, the method of sautéing will give it a slight char (adding FLAVOR), and then we coat it with garlic and chicken bouillon (adding more FLAVOR).
How to make Sautéed Garlic Brussel Sprouts and Carrots
Preparing for this dish is so simple and quick – mince lots of garlic, and cut up carrots and brussel sprouts. Dissolve the chicken bouillon in 1 tbsp of water.
I cut the brussel sprouts into quarters. For smaller brussel sprouts, just cut it into half.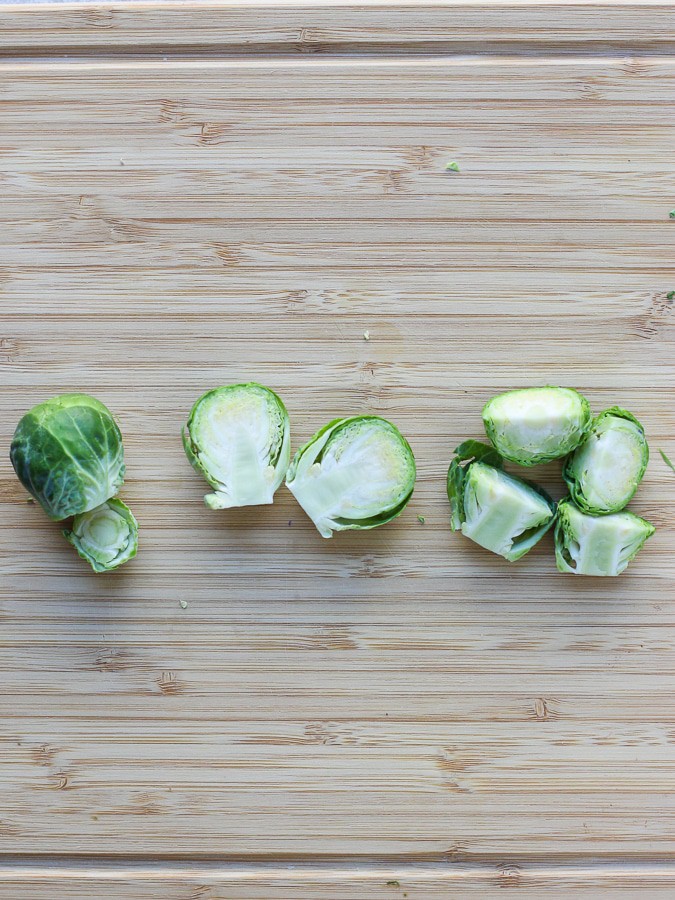 And now the fun part. Sauteeing. Or stir-frying. Whatever term suits your fancy.
Appliances to use
When sautéing/stir-frying, I use my magic wok. I absolutely love my wok. We got this as a wedding gift and it is my secret to a great sautéed/stir-fry dish.
You can also use a frying pan, but use a large one that retains heat well, and that the brussel sprouts and carrots can move freely in the pan. Being able to move the vegetables around will allow for more even cooking. Cook the recipe in two batches if your pan is too small.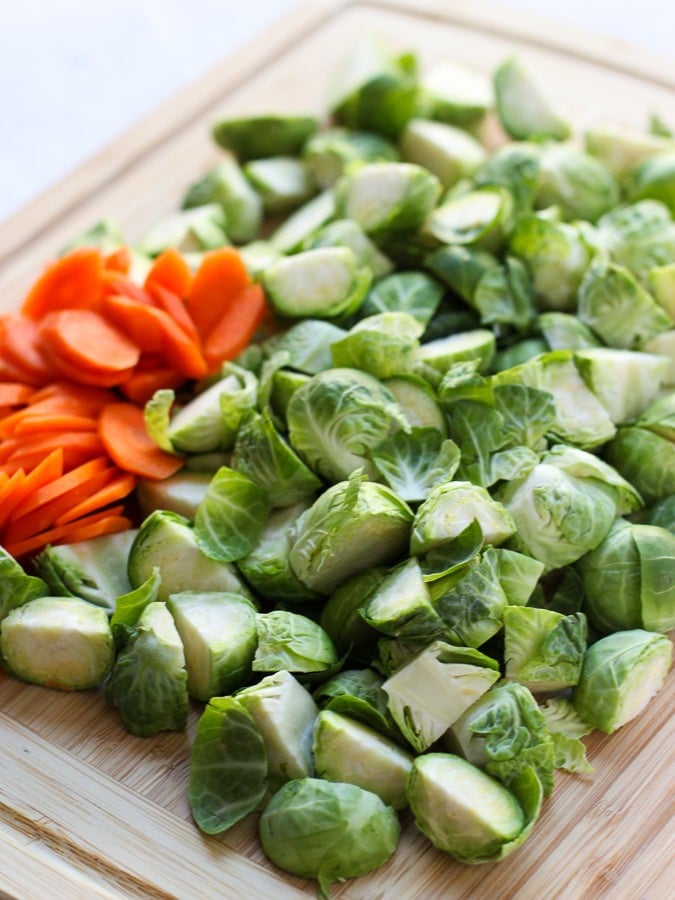 We are cooking this under high heat, so the cooking process should go pretty quickly. First, add vegetable oil to the wok, and let the wok heat up. Add garlic, and let the garlic cook for about 30 seconds in the hot oil until you smell the aroma of garlic, but try not to burn the garlic. Next you will add the chopped brussel sprouts and carrots.
Keep stirring the ingredients in the wok and cook for 3-4 minutes, or more if needed. Add chicken bouillon dissolved in water. If it feels too dry, add another ~1/2 tsp of water. Cook for another minute or so, or until vegetable is done. Always avoid over-cooking when sautéing vegetables!
Some chicken bouillon will be saltier than others, so adjust the amount used accordingly. I have used either a packet Trader Joe's savory broth concentrate (~2 tsp), or 2-3 tsp of Better than Bouillon, Chicken Base.
At the end, the vegetable should be a slightly darker green. It should also still be slightly crunchy – softer than it was but not soggy. Something like this…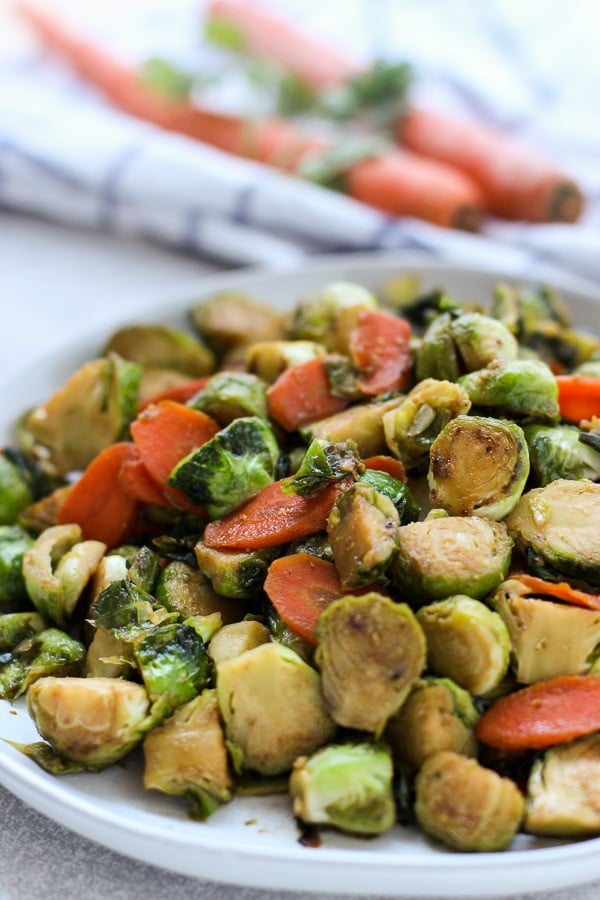 Cheers to no-guilt, healthy eating that is also deliciously TASTY.
I can't promise every post will be this healthy. Tasty – yes; healthy – yes and no…
Give it a try! This might just change your mind about brussel sprouts… 🙂
And if you like it, also try out my Honey Roasted Brussel Sprouts with Bacon recipe! Yes – I totally have a thing for Brussel sprouts. 😉
Tips and Tricks
Here are a few pro tips to take your sautéed brussel sprouts to the next level!
Make sure your wok/pan/skillet is hot before adding vegetables to wok
Use a wok/pan/skillet that retains heat well and is large enough to comfortably move the vegetables around when stir frying
Do not overcrowd wok/pan/skillet – cook in two batches if necessary.
Want to learn more about ALL the tips and tricks to making a GREAT stir fry? Check out my post 8 Tips to a Great Stir Fry! Learn everything you need to know about making stir fry right at your home!
What to Serve with this
DID YOU ENJOY THIS RECIPE? Please comment below and give us a 5-star rating! This will help others find this recipe on Google and Pinterest. We very much appreciate your help! 🤍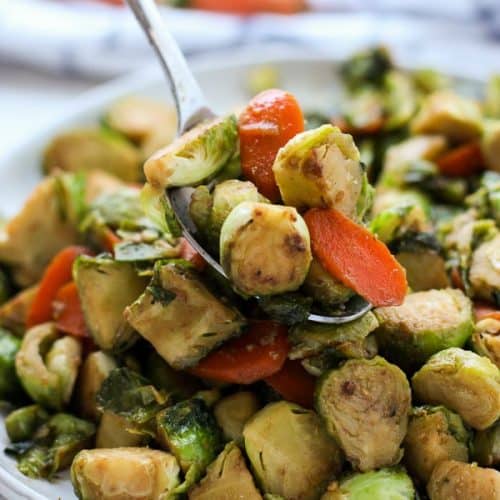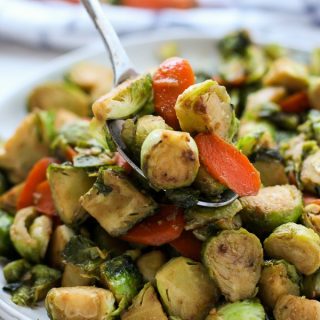 Sautéed Garlic Brussel Sprouts and Carrots
Easy veggie side recipe that is healthy and so flavorful! Brussel sprouts and carrots sautéed under high heat, coated with garlic and chicken flavored bouillon.
Print
Pin
Ingredients
1

lbs

brussel sprouts

2

stalks

carrots

1 – 2

tbsp

minced garlic

2-3

tsp

chicken bouillon/ chicken flavor concentrate

1/2 – 1

tbsp

vegetable oil
Instructions
Chop brussel sprouts in quarters, and slice carrots. Mince garlic.

Dissolve chicken bouillon/ chicken flavor concentrate (see Note 1) into 1 tbsp of water.

Add vegetable oil to wok and heat up wok under high heat.

Once wok is hot, add minced garlic. After 30 seconds, add Brussel sprouts and carrots to wok. After 3-4 minutes, or until Brussel sprouts and carrots are almost cooked, add chicken bouillon dissolved in water. If it feels too dry, add ~1/2 tsp of water.

Cook for another minute or so, or until vegetable is completely done. Remove promptly and serve. Avoid overcooking.
Notes
This recipe is written based on cooking with a very hot wok. Cook time may vary slightly depending on your wok/pan.
Note 1: For the chicken bouillon, I recommend using Trader Joe's Chicken Flavor Concentrate or Better Than Bouillon, Chicken Base. Note that different bullion has different salt level, so use according to taste.
Nutrition
Calories:
103
kcal
|
Carbohydrates:
12
g
|
Protein:
4
g
|
Fat:
5
g
|
Saturated Fat:
1
g
|
Polyunsaturated Fat:
3
g
|
Monounsaturated Fat:
1
g
|
Trans Fat:
1
g
|
Sodium:
40
mg
|
Potassium:
467
mg
|
Fiber:
4
g
|
Sugar:
3
g
|
Vitamin A:
939
IU
|
Vitamin C:
98
mg
|
Calcium:
59
mg
|
Iron:
2
mg