This post may contain Amazon or other affiliate links. As an Amazon Associate I earn from qualifying purchases at no additional cost to you.
Finally! A bowl attributed to the beauty of warm summer days. Filled with chargrilled herb-flavored chicken strips, grilled red potatoes, grilled corn on the cob, crunchy lettuce, and of course, zesty peach salsa…because summer just isn't complete without peaches.
Light and healthy eats; fresh summer fruits and vegetables; no indoor cooking that heats up the house…
Is that a summer bowl of dreams or what?
This is a sponsored post written by me on behalf of Idaho® Potato Commission and Litehouse® Foods. All opinions and texts are mine.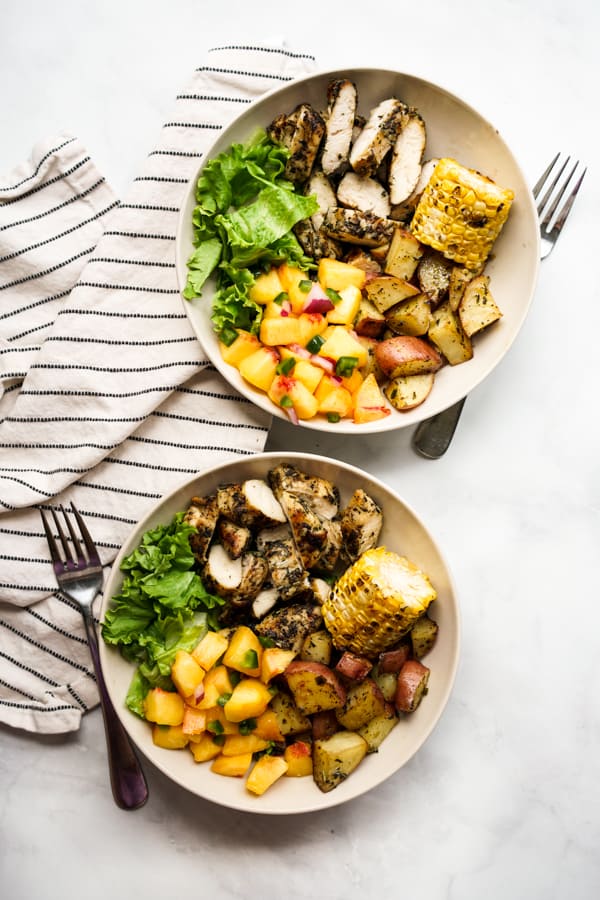 Summer and Grilling
Summer days in our household means lots of grilling.
It's the time of the year when it is totally acceptable (and even cool and hip) to throw everything on the grill.
Definitely one of my favorite ways to cook (and eat) my food because:
My husband does all the grilling, so that means less work for me in the kitchen. 😀
Food cooked on the grill, especially when there's smoke involve, tastes simple amazing.
The Ultimate Summer Bowl
As July come to a close and school starting back up in a couple of weeks for many, it just dawned on me that we are nearing the end of summer. Before summer is over, I want to share a dinner bowl that truly represents the loveliness that is summer in food form.
And it has to check everything on the summer checklist:
Cooked outside (no turning on the oven or stovetop!)
Filled with summer produce
Easy to eat so we can take it outside, sit in front of the TV with it etc.
Pairs well with cold beer or a fruity summer drink
Light, fun and of course, DELICIOUS!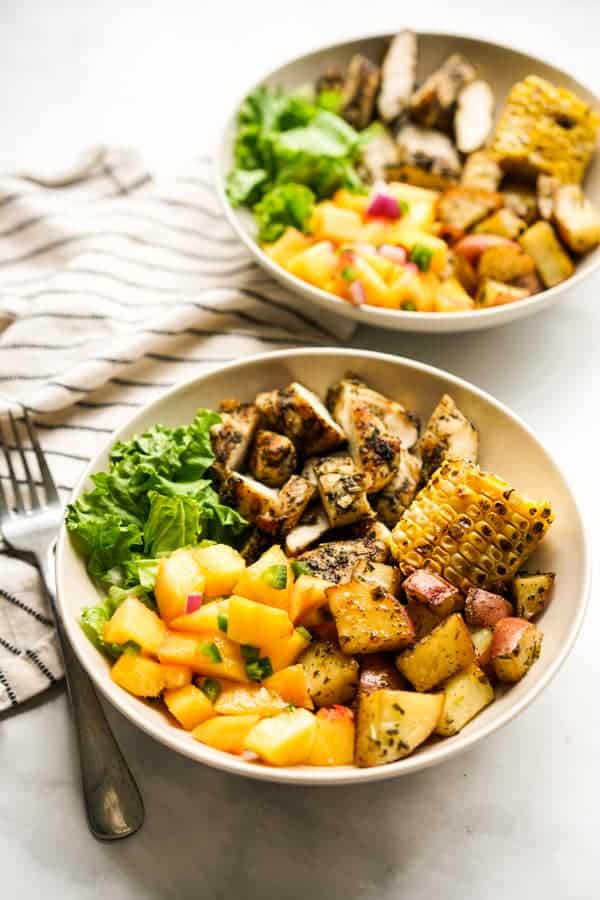 This is a simple yet incredibly flavorful meal that my husband and I have enjoyed on multiple warm summer days on our back porch with a nice cold drink. A delicious bowl made out of…
Grilled chicken marinated with Litehouse® Freeze Dried Poultry Herb Blend
Grilled red Idaho® potatoes tossed in Litehouse® Freeze Dried Poultry Herb Blend – we love it so much on the chicken we added it to the potatoes too!
Grilled corn on the cob
lettuce
peach salsa
Even though it is called Poultry Herb Blend, it is amazing on those red Idaho® potatoes. In fact, my husband has since proclaimed these potatoes to be some of the best potatoes he has ever had. And that sure is high praise coming from a potato lover like my husband.
It really is just a blend of herbs that go really well on chicken as well as many other ingredients.
Let's Make It!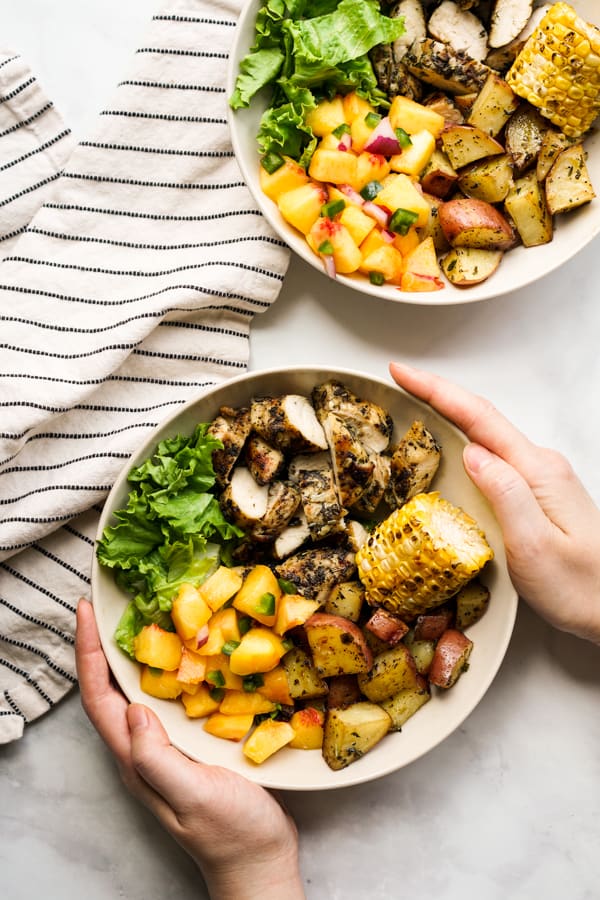 There are three main components to this dish:
Marinate chicken
Cook chicken, potatoes and corn on the grill
Prep the no-cook items: lettuce and peach salsa (i.e. chop and serve)
I recommend marinating the chicken for at least one hour or up to four hours. This is always the first thing I do before I start anything else.
The red Idaho® potatoes are then tossed in Litehouse® Freeze Dried Poultry Herb Blend and placed on a sheet of greased aluminum foil or greased pan that will go on the grill.
Corn is placed directly on the grill. I absolutely love that slightly charred flavor on my summer corn on the cob…yum!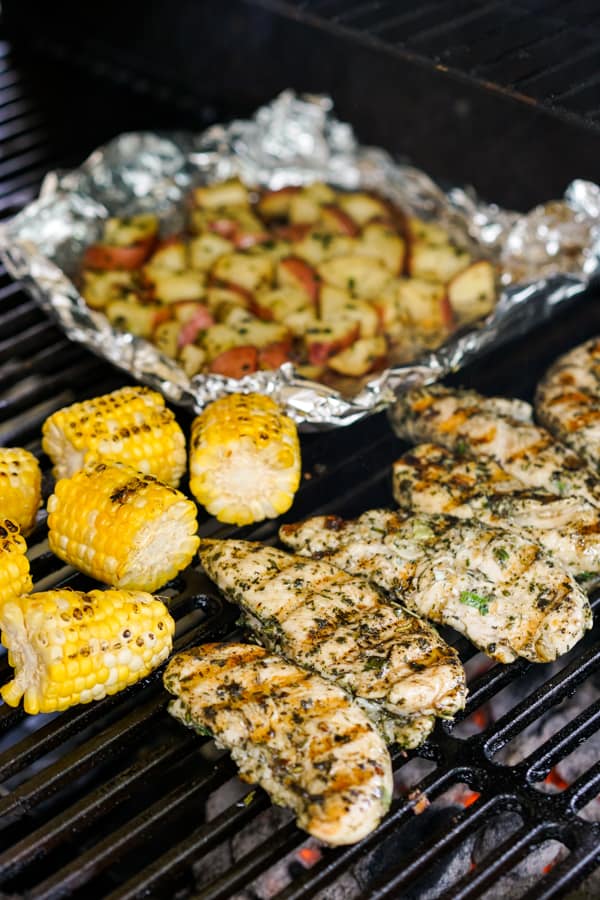 Grilling tips
Grilling is truly an art – you'll probably have to adjust and experiment as you go to perfect it, but here are a few tips for this recipe to help guide you!
(That is especially true if you are using a charcoal grill. An electric grill will be more straight forward and there are less variables.)
Start with potatoes and corn because those take longer to cook than the chicken tenderloins.
Because we are dealing with items of different sizes and different temperature (both grill and weather), the items will cook at different pace. Adjust cook time as needed.
Whenever an item is cooked, removed and place on plate covered with aluminum foil while waiting for the rest to cook.
If items are cooked on the outside but not on the inside, move them so they are under indirect heat so the outsides will not burned.
Use a meat thermometer on the chicken (or any other meats) to avoid overcooking or undercooking it.
Serve it up!
One of my favorite things about this meal is that you can make a whole lot (double or triple the recipe as you like) if you are entertaining or doing a cookout during the summer.
You'll only need the grill to make this happen – no indoor cooking necessary (and some chopping/prepping for the lettuce and peach mixture). It's always a hit because everyone can mix and match the items to their hearts' content.
Super easy, low maintenance, and so darn delicious! It always puts me in a happy summer mood.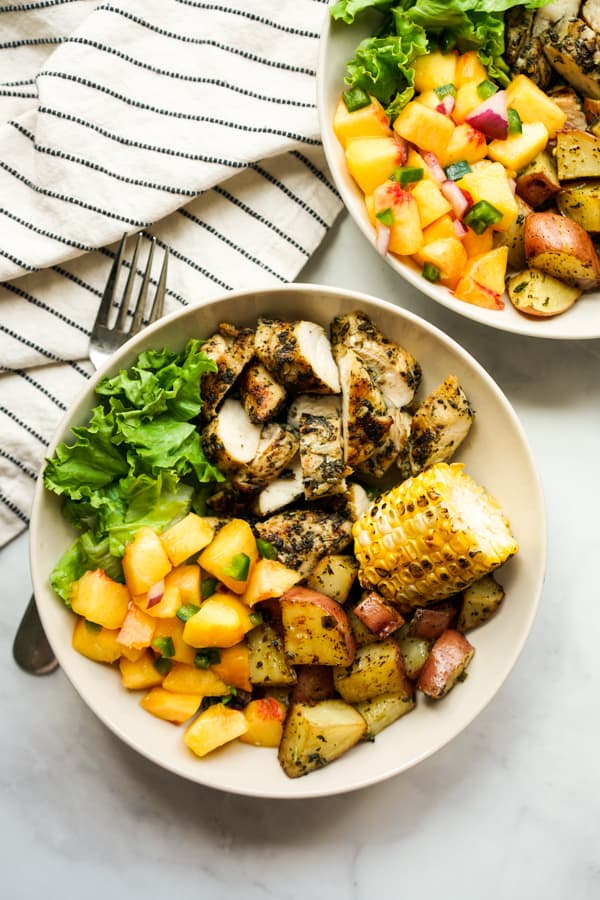 If you make this recipe, comment below and let me know what you think! Also, don't forget to take a picture and tag me on Instagram, because I WANNA SEE!!
Other Grilling Recipes