This post may contain Amazon or other affiliate links. As an Amazon Associate I earn from qualifying purchases at no additional cost to you.
What I am fan girl-ing over this summer: this Lemon Garlic Parmesan Pasta. When you toss spaghetti pasta with butter, lemon juice, fresh garlic and a loaded amount of parmesan cheese, you don't stand a chance.
You just signed yourself up for the can't-stop-eating, can't-get-enough, need-to-make-again feeling over and over again.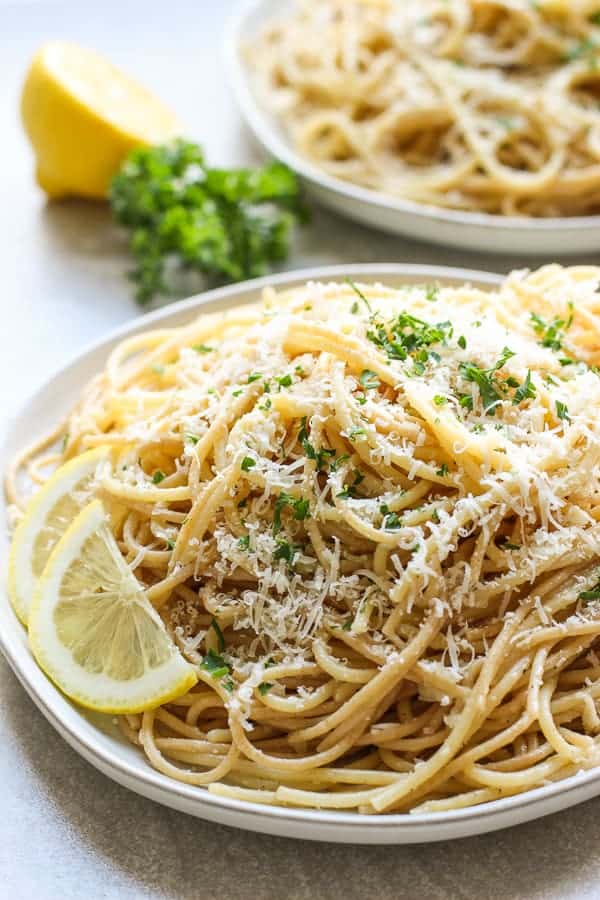 All the ways to serve it
Is it a side dish? Is it a main dish?
YES AND YES.
Besides being crazy tasty, I love the versatility of this dish. It is a great side dish to many different meats and protein, or it can also be a light lunch or dinner by itself.
Also, MEAL PREP ALERT! I like making a whole lot of it and then save the rest as leftovers. This pasta dish keeps really well and can last for up to 5 days in the refrigerator.
Trying to figure out how to serve this? NO PROBLEMO. Here are a few ideas:
Toss with shredded rotisserie chicken or grilled chicken
Heat and serve frozen meatballs with it
Toss with spinach or other veggies to make it a vegetarian meal
By itself for a quick meal!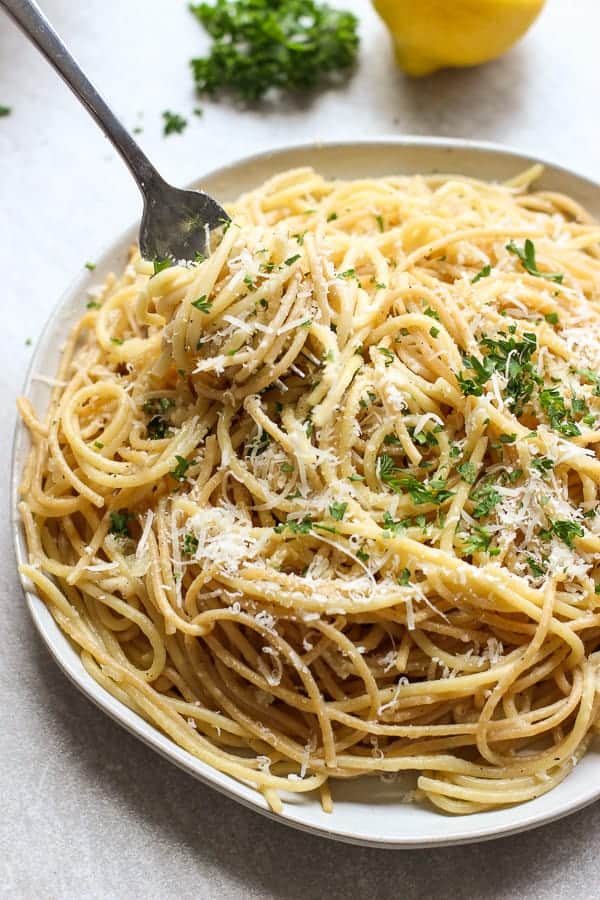 How to make Lemon Garlic Parmesan Pasta
When life is busy, this is the dish for you. Because it is so easy to make, and you will actually love your meal!
Boil the pasta, make the sauce, and toss pasta in sauce. Then sprinkle on more parmesan cheese and some fresh parsley. It should take about 20 minutes to do all that!
When making the sauce, use a skillet and melt butter in skillet and sauté fresh garlic in butter. Once you can smell the fragrance of the garlic, add salt, black pepper, some pasta water (from boiling the pasta) and lemon juice to the sauce. Parmesan will be sprinkled on later after tossing pasta in the sauce.
Something to note: When lemon juice and garlic interact, especially when using older garlic, garlic turns blue. I was a little freaked out at first when I made this and saw blue garlic pieces, but my pal Google told me it's a natural reaction. It is safe to eat and it doesn't change the taste.
So there are two things you can do if you see blue garlic when cooking the sauce – 1) remove all the blue garlic by straining it (what I did in this recipe), or 2) just leave it because blue garlic is totally edible.
Pro tip: use good parmesan cheese. Buy a block parmesan cheese and grate it yourself, because those are the best kind. The next best thing is to get the refrigerated shredded/grated parmesan cheese. I would avoid getting the non-refrigerated pre-grated kind. The quality of the parmesan cheese makes a BIG difference in the quality and taste of this dish!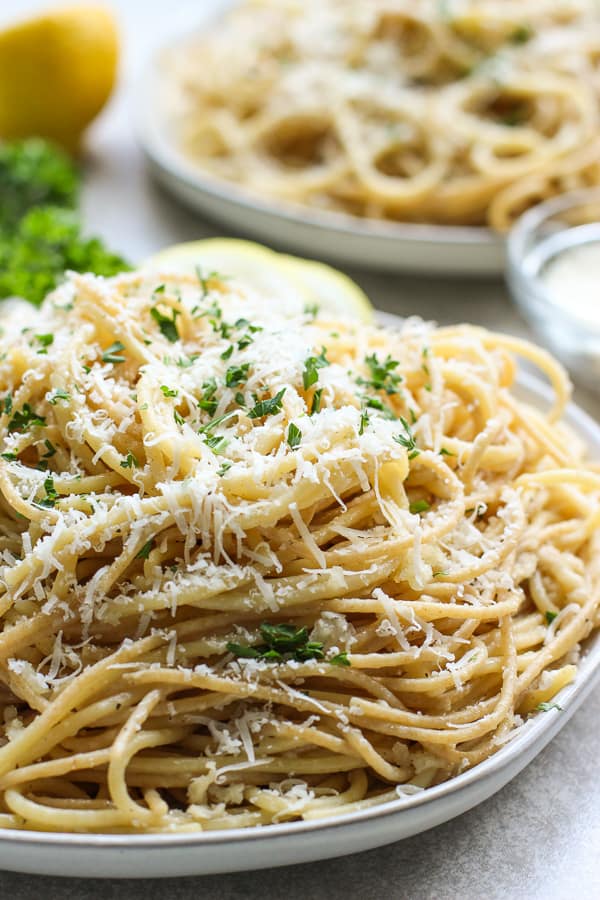 I love it when a simple dish yields so much flavor. This is exactly one of those dishes. If you want to make this slightly healthier, use whole wheat pasta, or do a mixture or whole wheat and regular pasta.
Nutty, savory, citrusy, garlicky. ALL THE FLAVORS and MORE.
I'm going to be eating this all summer long. And very likely into the Fall and Winter.
JOIN ME!!!!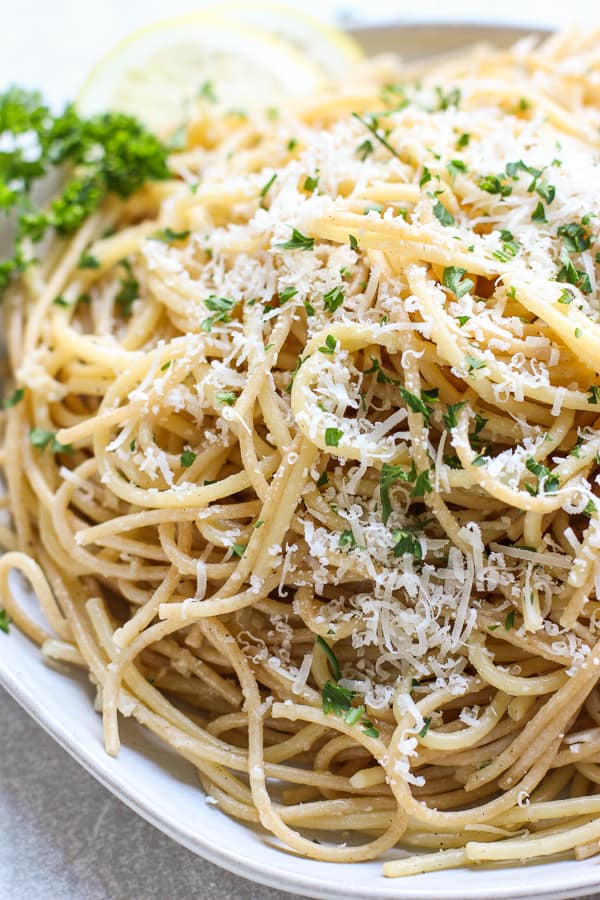 If you make this recipe, don't forget to comment below and let me know how it goes! Also, take a pic and tag me on instagram because I wanna see!!!
Calling all pasta lovers!
That's right! I have more pasta recipes just for you!