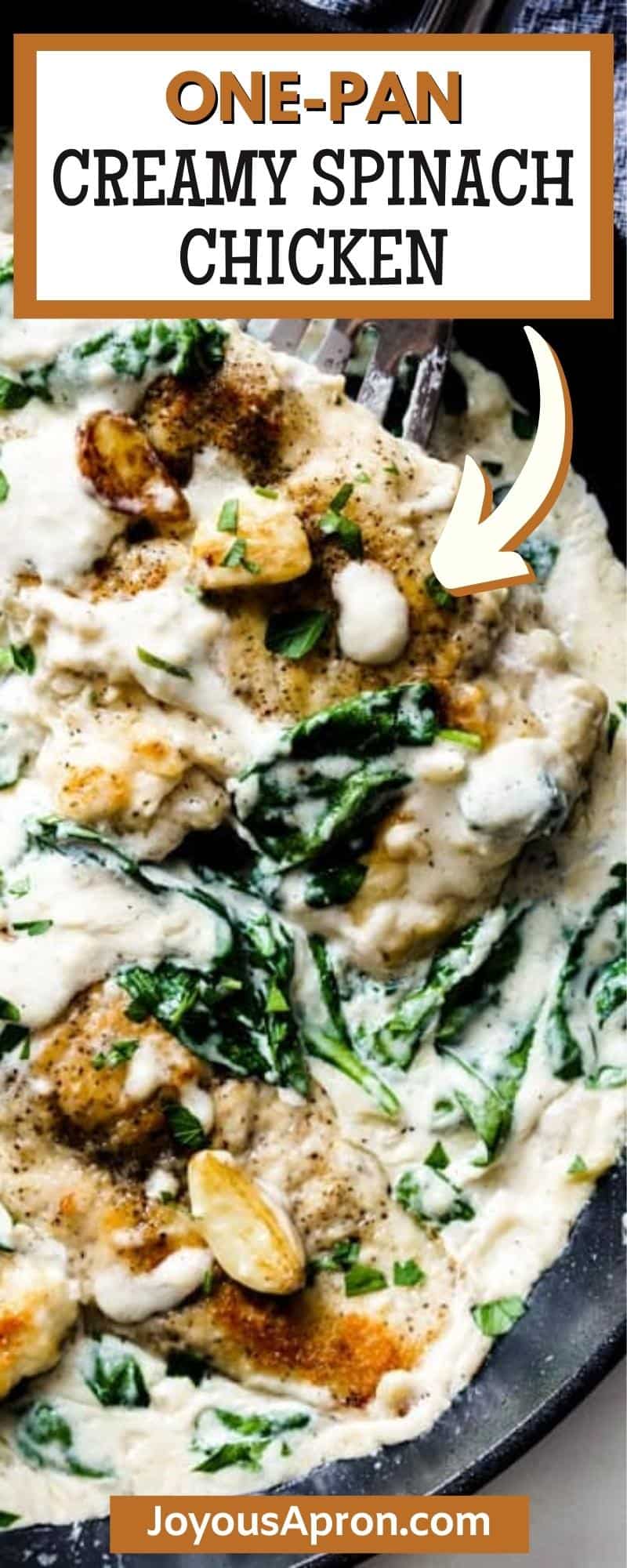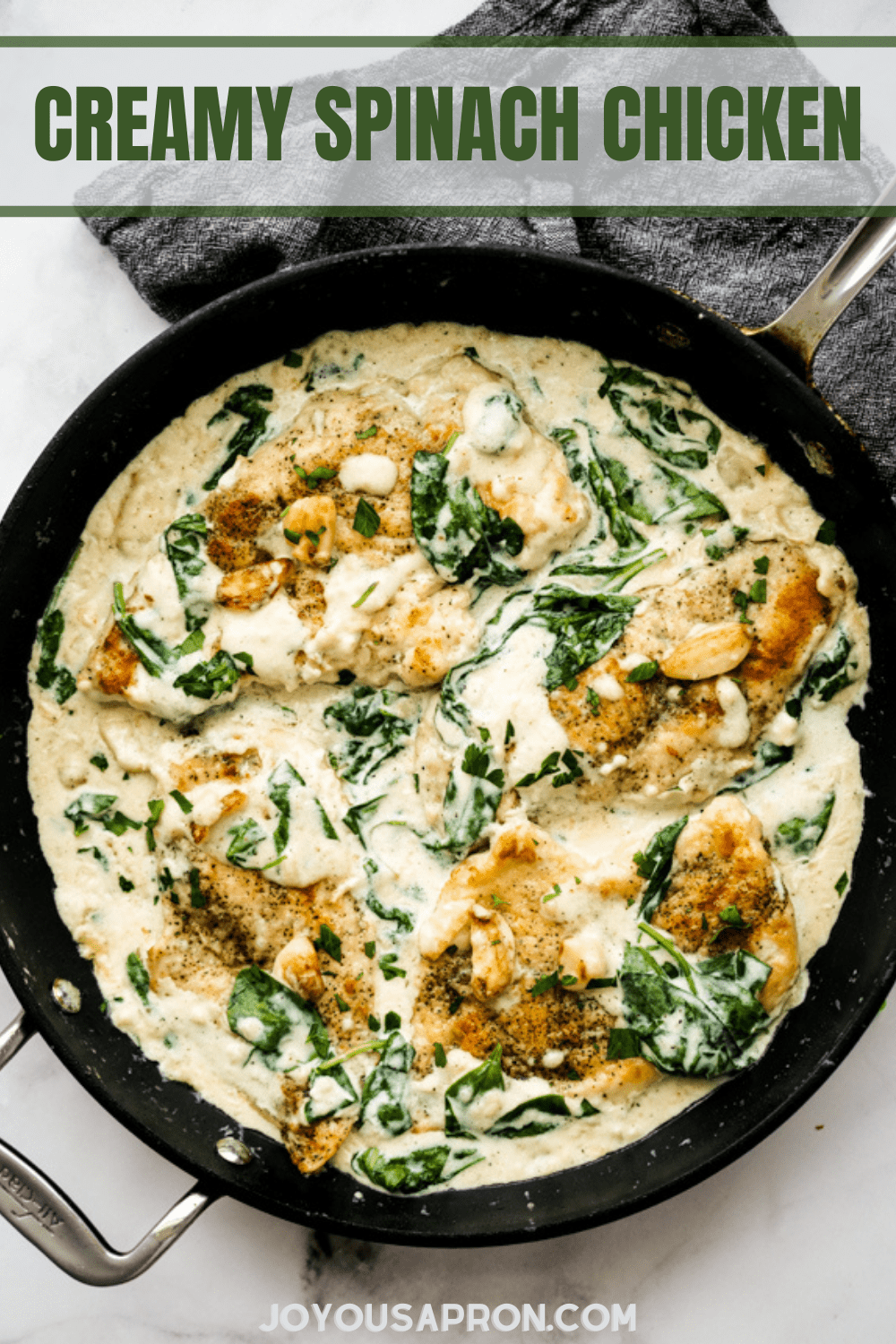 This one-pan Creamy Spinach Chicken is the recipe you pull out on that busy Fall week when life is crazy but you still desperately want a home cooked warm and cozy meal.
An easy chicken dinner with garlic spinach cream sauce that is flavorful, delicious and takes less than 30 minutes to prepare!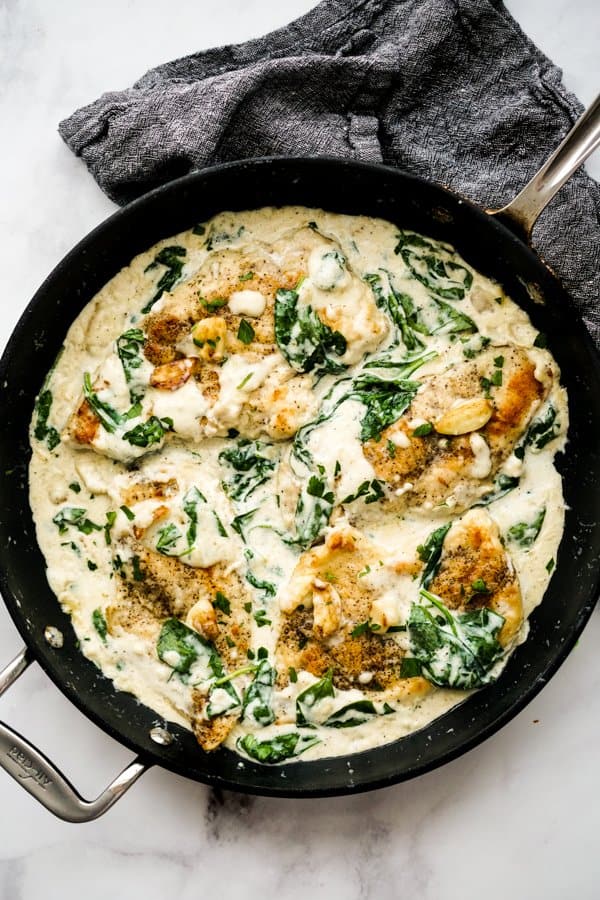 Chicken with Creamy Spinach Garlic Sauce
Here's what you can expect from this delicious creamy spinach chicken recipe: Lightly breaded seasoned chicken cutlet, crispy and flavorful, coated in a creamy garlic sauce packed with spinach.
Made with minimal, pantry-friendly ingredients…and you get your protein and vegetables all in one!
We love this creamy spinach chicken recipe because what is better than only having to deal with one single pan when you are cooking and only cleaning one pan.
The cleaning part is always makes me do the happy dance whenever I make this one-pan creamy chicken and spinach meal.
Other delicious/must-make one-pan/one-skillet goodness that you need in your life: Mexican Chicken Casserole, Spinach Artichoke Stuffed Chicken, Skillet Chicken Parmesan, White Wine Tomato Skillet Chicken, Easy Frittata.
What goes into Creamy Spinach Chicken
For the sake of perfecting this recipe for you all, there was a whole lot of creamy spinach chicken in our household for a few weeks. On repeat for lunch, dinner, lunch, and dinner over and over again.
The good news is both my husband and I loved it so much we didn't mind the repetition at all…which is a true testimony to how good this creamy spinach chicken dish really is!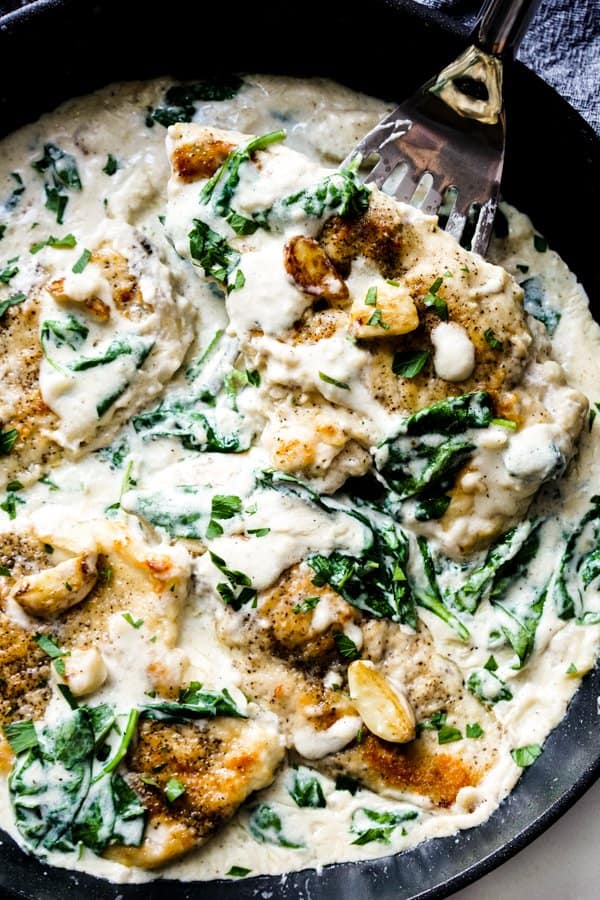 While this creamy spinach chicken dish tastes amazing, you won't believe how easy it is. This is not one of those fancy, written-for-professionals type of recipe.
It calls for simple, pantry-friendly ingredients that you may already have at hand:
Chicken cutlets – a.k.a. thinly sliced chicken breast. If you are using regular chicken breast, slice it lengthwise so it is thinner and easier to cook.
All purpose flour – used to bread the chicken
Butter
Garlic – use fresh! Avoid substituting with garlic powder
Half and half
Spinach
Salt and black pepper – important seasoning to ramp up the flavor profile in this dish
Besides the ingredients above, you will need a 12″ or 10″ skillet to cook the chicken cutlets in spinach and garlic sauce.
I like to use a non-stick skillet to make this creamy spinach chicken goodness because it makes pan frying the breaded chicken a lot easier. If you are using a stainless steel skillet, make sure to grease it really very so that the chicken cutlets will not stick to it.
How to Make It
Prepare chicken cutlets
When it comes to making this creamy spinach chicken, we want to season, bread and pan fry the chicken cutlets first so that chicken is well flavored and has a lightly crispy texture on the outside.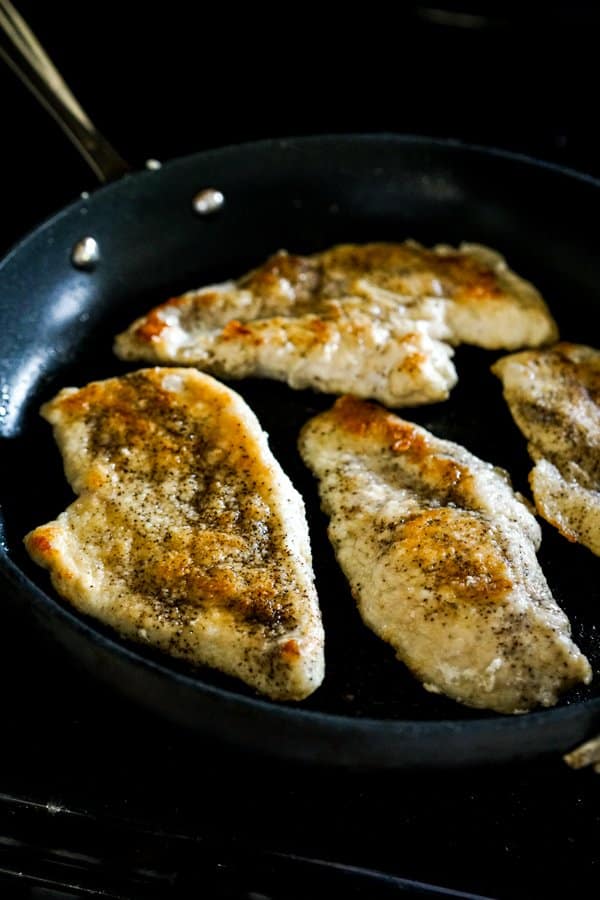 Prepare creamy spinach garlic sauce
Once the chicken is done, they will be removed from the skillet, and then we will use the same skillet to make the creamy spinach garlic sauce.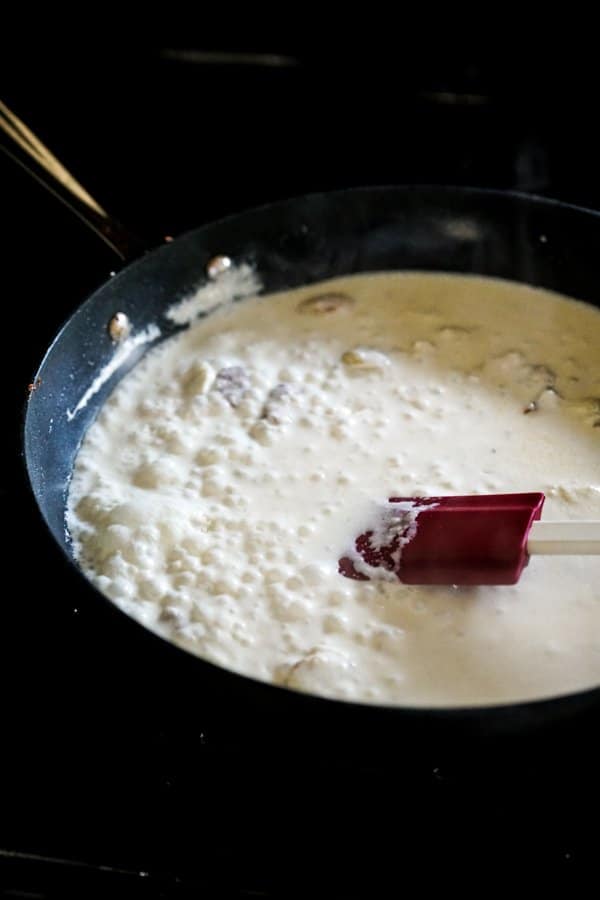 Once sauce thickens, add spinach.
It may look like there is a whole lot of spinach, but don't worry, it will cook down quite a bit!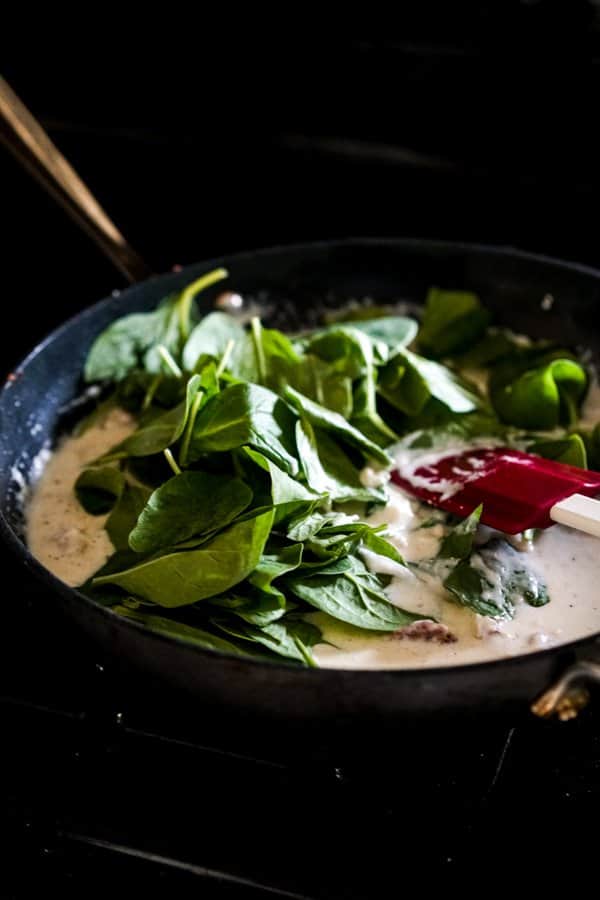 This is really a great way to pack in all the veggies for your non-veggie lovers.
Coat chicken in creamy sauce
Once spinach is folded into the sauce, bring the chicken cutlets back into the skillet and coat it with sauce.
And like I promised from the very beginning, only one pan/one skillet is needed to cook this entire dish!
When creamy spinach chicken is done, remove from heat promptly so that chicken doesn't overcooks and sauce doesn't over-thicken.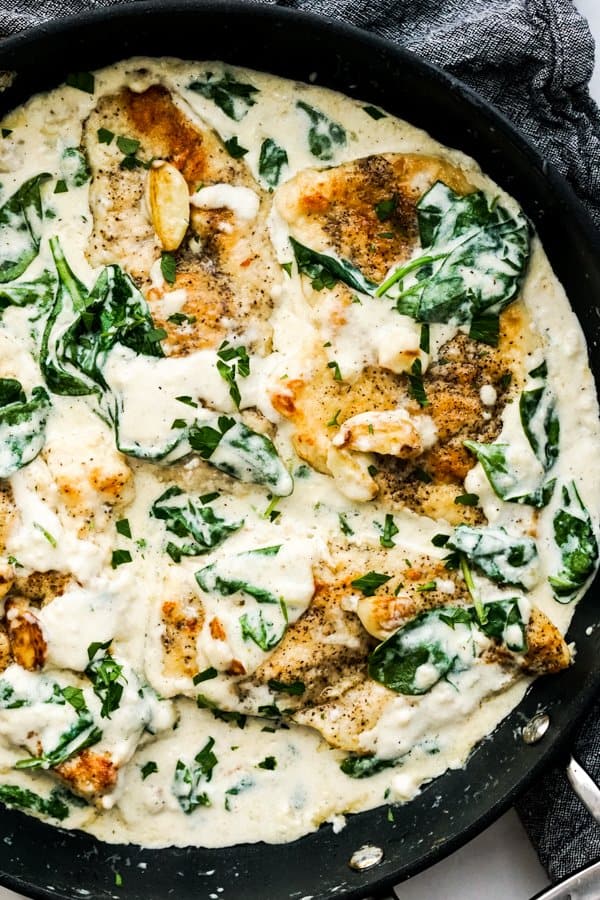 I seriously love this so dang much.
Chicken is juicy, perfectly seasoned with a light golden brown crust, coated in a rich and creamy spinach cream sauce infused with garlic.
I cannot tell you how many times we have whipped a pan of creamy spinach and chicken up on busy evenings. And it hits the spot every single time.
Tips and Tricks
Use a large skillet (10 or 12-inch non stick skillet) for this so that creamy spinach chicken is not over-crowded in the pan.
Use thinly sliced chicken, or chicken cutlets. Another option is to slice a regular chicken breast into half lengthwise to get a thinly sliced chicken.
Do not overcook chicken. Overcooked chicken is no longer juicy and has a rubbery texture. Using a meat temperature can help with that. Once internal temperature reaches 165℉, remove chicken from skillet promptly.
Substitutions and Variation
Here are some fun ways to bring some variety to this creamy spinach garlic chicken dish:
Instead of chicken broth, use white wine! Be sure to cook down the alcohol if you are using white wine. You shouldn't be able to taste alcohol in the sauce if it is completely cooked down.
Add other veggies in addition or in the place of spinach: red bell peppers, carrots, kale, green onions, broccoli etc. It's a great way to load up the vegetables!
I love making this with pork chops instead of chicken as well. Cooked internal temperature of pork is at least 160℉. Do not overcook pork as well!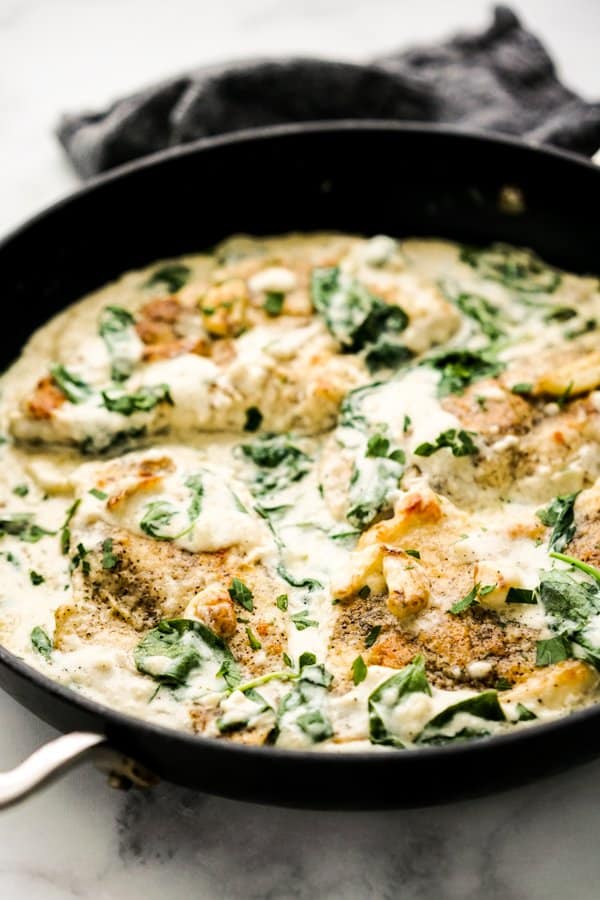 What to serve with Creamy Spinach Chicken
This is a super versatile chicken recipe and here are some of my favorite sides to serve it with!
One of our favorite go-to weeknight dishes because it is easy, fast and everyone loves it.
Winner winner Creamy Spinach Chicken dinner! ❤️
DID YOU ENJOY THIS RECIPE? Please comment below and give us a 5-star rating! This will help others find this recipe on Google and Pinterest. We very much appreciate your help! 🤍
Other Chicken Recipes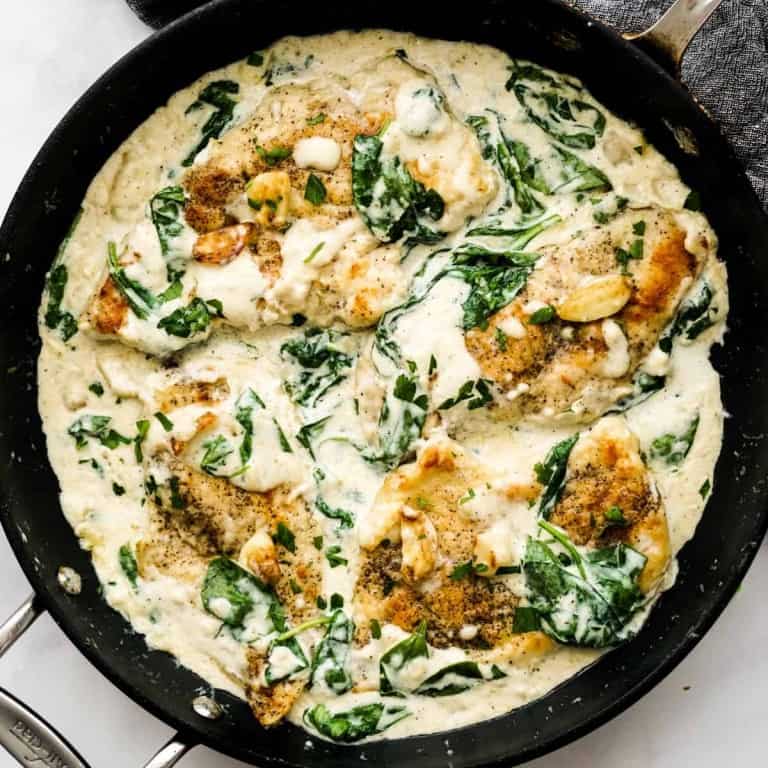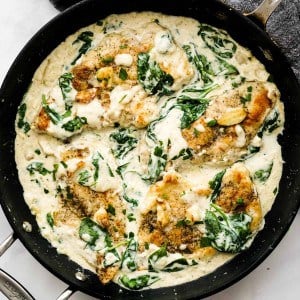 Creamy Spinach Chicken
Crispy seasoned chicken coated in creamy garlic spinach sauce. An easy one-pan chicken recipe for a quick dinner meal!
Print
Pin
Ingredients
4

pieces

chicken cutlets

thinly sliced

salt

to taste

black pepper

to taste

vegetable oil

2

tbsp

all purpose flour

2

tbsp

butter

4

cloves

garlic

smashed

1

cup

half and half

1/4

cup

chicken broth

1/2

tsp

salt

1/2

tsp

black pepper

2

cups

spinach
Instructions
Season chicken cutlets (see Note 1) with salt and pepper. A quick dash on each side. Then coat both sides with flour.

Heat large skillet with vegetable oil under medium high heat, then place chicken cutlets onto skillet. Do not overlap cutlets. Sear cutlets on one side until they brown slightly, flip, and then sear on the other side.

Once chicken reaches an internal temperature of 165℉, remove from skillet immediately. Do not overcook chicken.

Lower to medium heat, then add butter and smashed garlic.

Once garlic is fragrant, add flour, half and half and chicken broth. Stir continuously to dissolve flour, and bring sauce to a boil.

Once sauce thickens, add spinach and fold it into sauce.

Bring chicken cutlets back into the skillet and coat each piece of cutlet with sauce. Remove from heat once chicken is covered with sauce. Chicken shouldn't stay in the sauce for more than a minute.
Notes
Note 1: If you can't find chicken cutlet (thinly sliced chicken), slice chicken breast lengthwise into two thin pieces.
Update: Recipe was updated to 2 tbsp of flour instead of 1/2 cup based on feedback and retesting.
Nutrition
Calories:
281
kcal
|
Carbohydrates:
7
g
|
Protein:
27
g
|
Fat:
16
g
|
Saturated Fat:
9
g
|
Polyunsaturated Fat:
1
g
|
Monounsaturated Fat:
4
g
|
Trans Fat:
0.2
g
|
Cholesterol:
109
mg
|
Sodium:
571
mg
|
Potassium:
605
mg
|
Fiber:
1
g
|
Sugar:
3
g
|
Vitamin A:
1831
IU
|
Vitamin C:
7
mg
|
Calcium:
95
mg
|
Iron:
1
mg