Watermelon Strawberry Salad
Refreshing, bright and delicious, Watermelon Strawberry Salad is an easy, no-cook salad recipe for summer dinners, cookouts and bbq's.
Chunks of juicy watermelons are tossed along side strawberries, cucumbers, feta and mint leaves in a sweet and tangy homemade honey lime dressing. It is a beautiful and tasty salad recipe you need to make once the weather turns warm!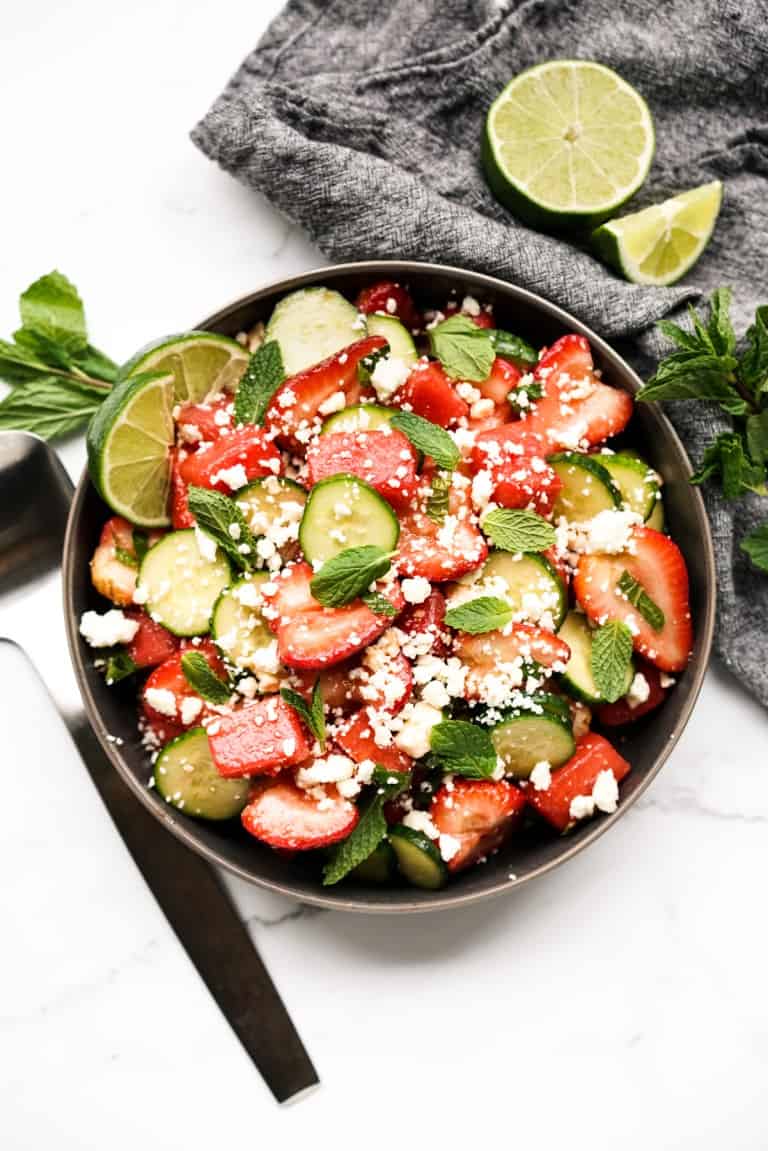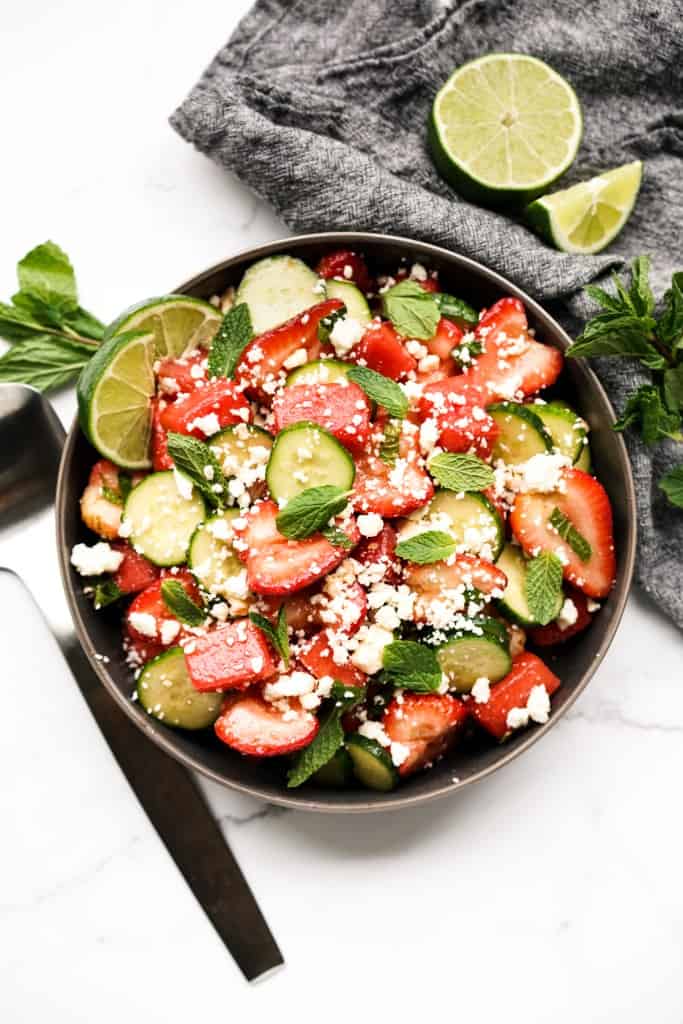 Watermelon Salad with Strawberries
This Watermelon Strawberry Salad recipe is a close relative to another reader favorite on the blog, Fruit Salad with Honey Lime Dressing.
Instead of bringing a variety of fruits together in our Fruit Salad, we are incorporating primarily watermelons and strawberries, two favorite summer fruits, and combining them with flavors of mint and feta.
Mint leaves bring a burst of freshness to each bite of watermelon strawberry salad, while feta brings out the intense sweetness and juiciness of the fruits.
Prepare to excite your tastebuds with the wonderful flavors and textures of this watermelon strawberry salad.
A few other reasons why we are loving watermelon strawberry salads:
no cooking required – how nice is it to bring together a delicious side dish without heating the kitchen during the summer months? This is my dream food in Texas summers.
quick and straight-forward – we are talking 15 minutes and a short-list of fresh and pantry-friendly ingredients. It doesn't get easier than this!
cookout/ entertaining worthy – watermelon strawberry salad makes the perfect dish for entertaining because it can be made ahead and serve well cold or in room temperature.
healthy – low in calorie and fat, and made only with natural sugars. And there's so much vitamin c in each serving!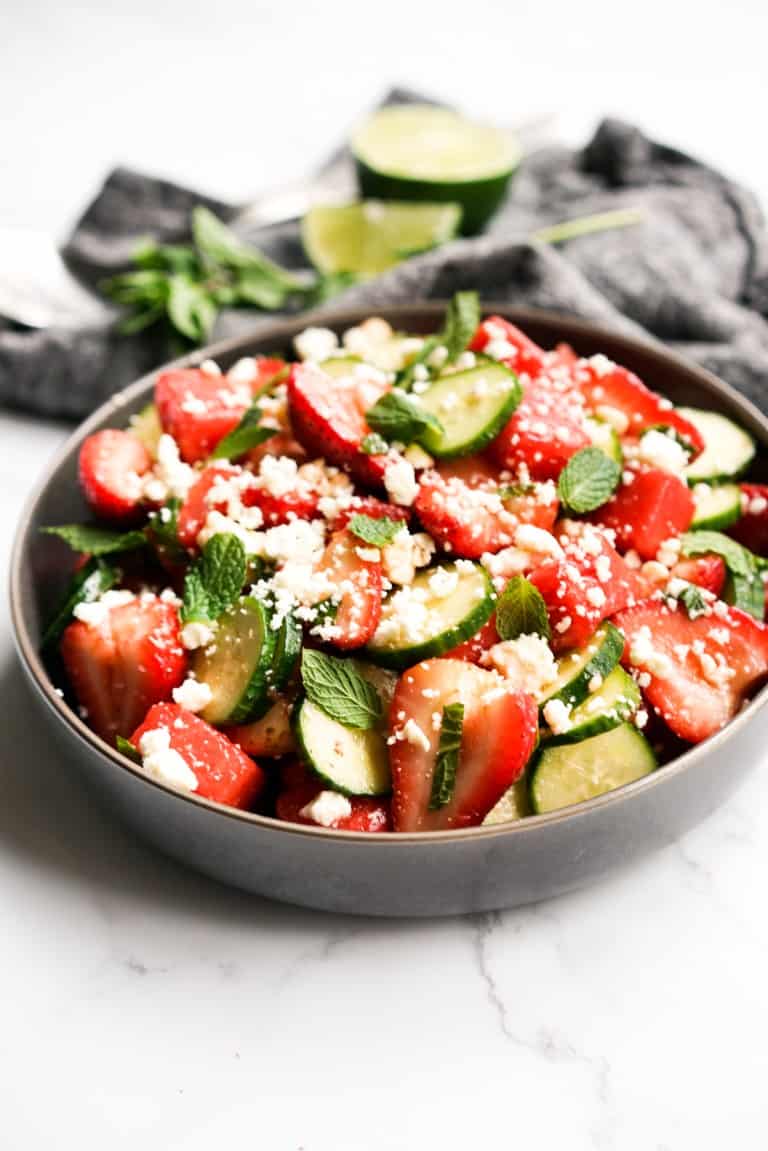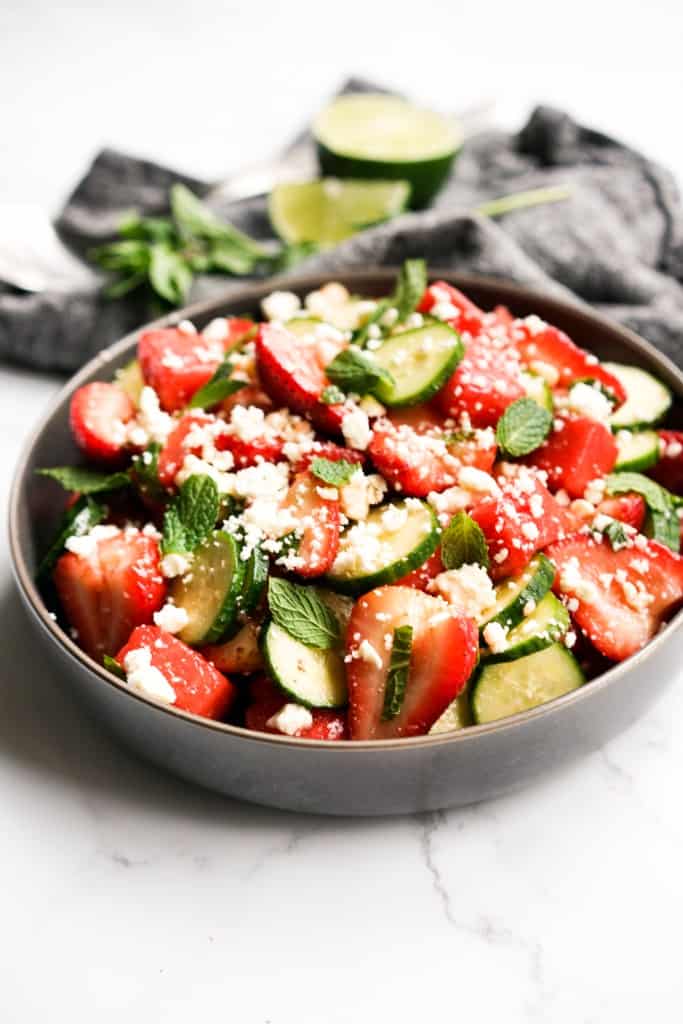 Ingredients
To make watermelon strawberry salad, here's what you will need:
watermelon – watermelons are at its peak between May and September in the U.S. They are usually super sweet and much cheaper in season than off season.
strawberries – strawberries are in season between April-July, depending on where you are at in the U.S. Use fresh strawberries for this watermelon strawberry salad for best taste!
cucumbers – I love using english/seedless cucumbers or Persian cucumbers for they have less/no seeds, and produce less moisture.
feta cheese – this Greek white cheese has a mild flavor and brings out the flavors of the watermelon, strawberries and dressing really well.
mint leaves – use fresh mint leaves – just the leaves, discard the stems
The dressing for our watermelon strawberry salad is made with four simple ingredients:
honey
lime juice – squeezed from fresh limes
olive oil
salt – a little pinch of it is used to really open up the flavors of the honey and lime
How to Make it
With no cooking involved, watermelon strawberry salad is so simple to make, and takes less than 15 minutes from start to finish.
Make the Dressing
I always start off by making the honey lime dressing for the watermelon strawberry salad.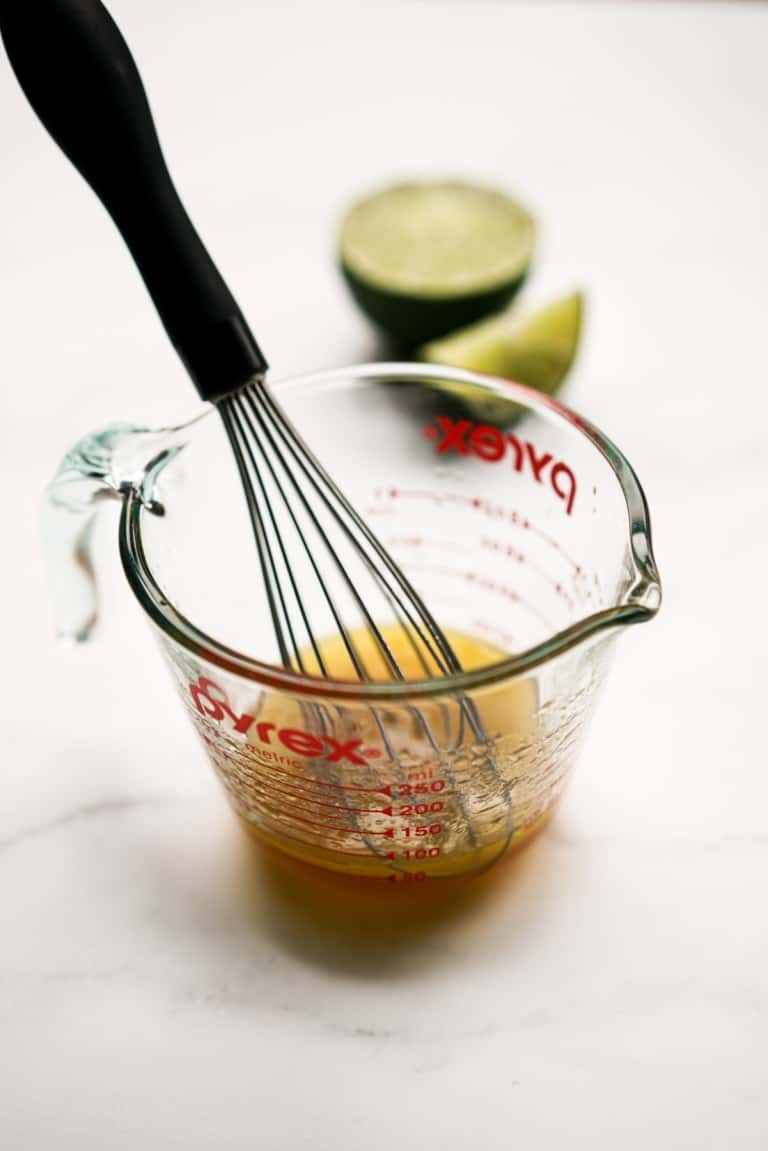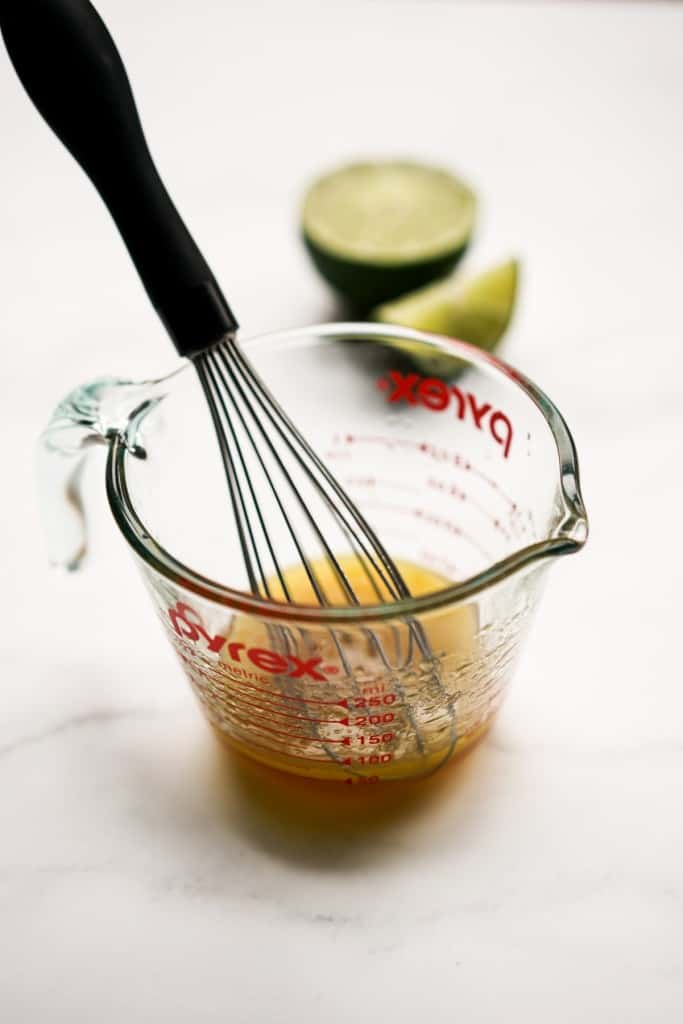 Simply combine all the dressing ingredients and whisk them together – honey, lime, olive oil, and salt.
Prepare Salad Ingredients
Next, cut up all the ingredients that will be going into the watermelon strawberry salad.
Start by slicing strawberries, watermelon and cucumbers in bite-size pieces (or buy pre-cut fruits for an even quicker process!) and bringing them into a large mixing bowl.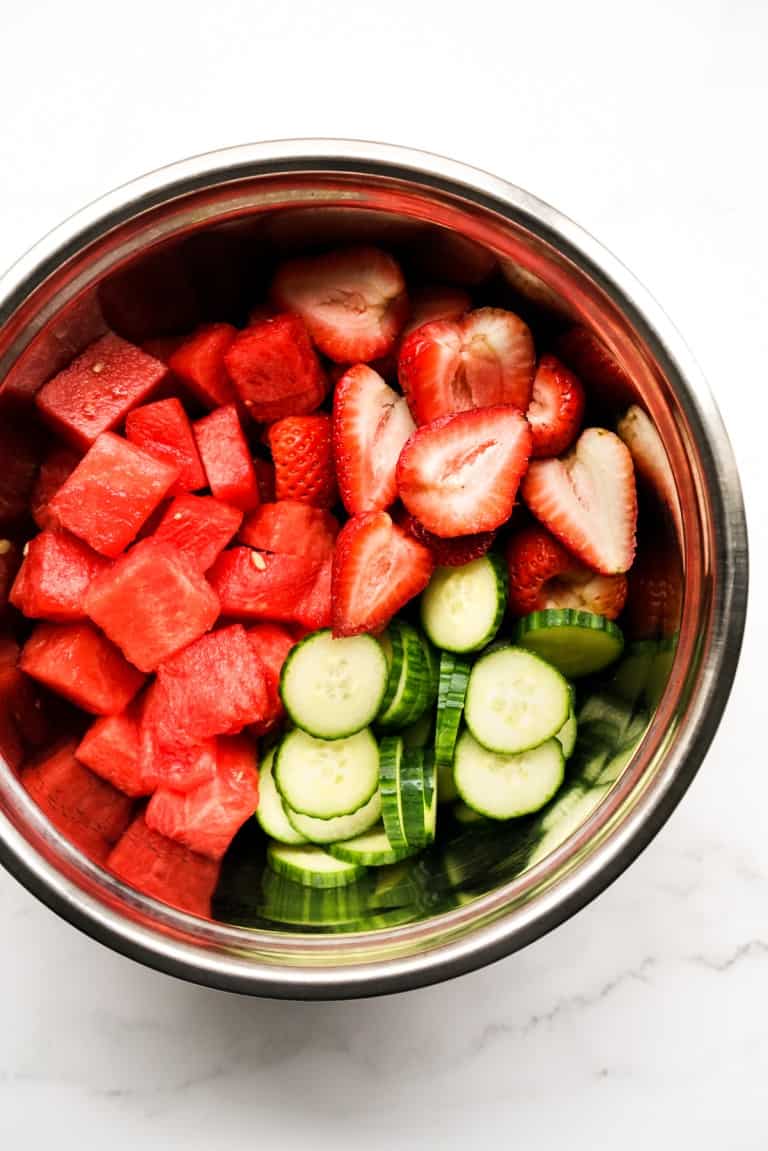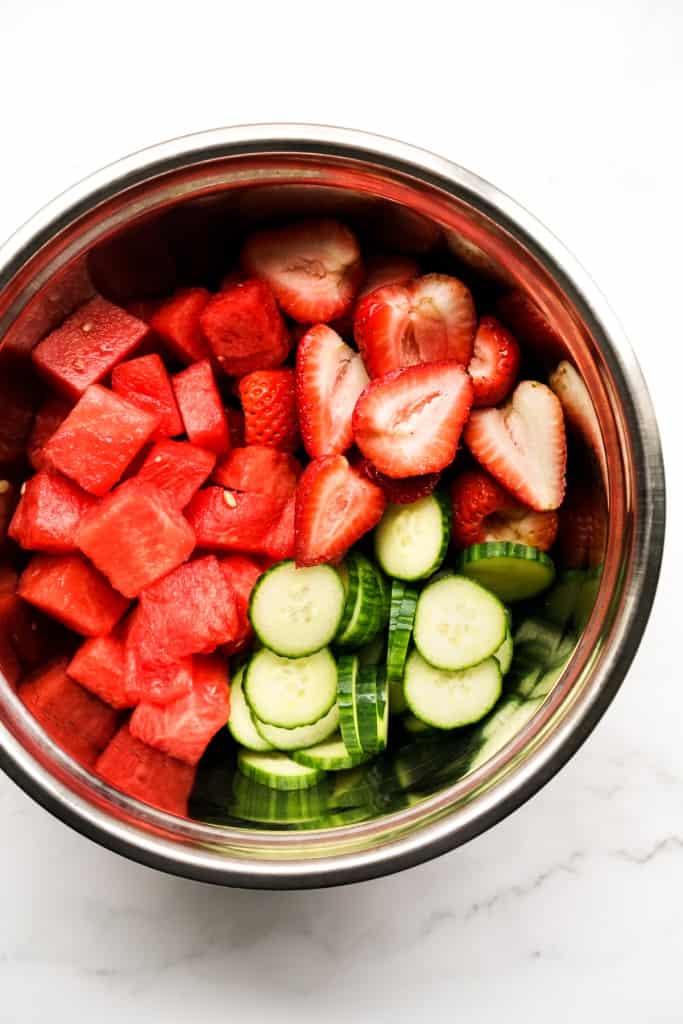 Drizzle with honey lime dressing.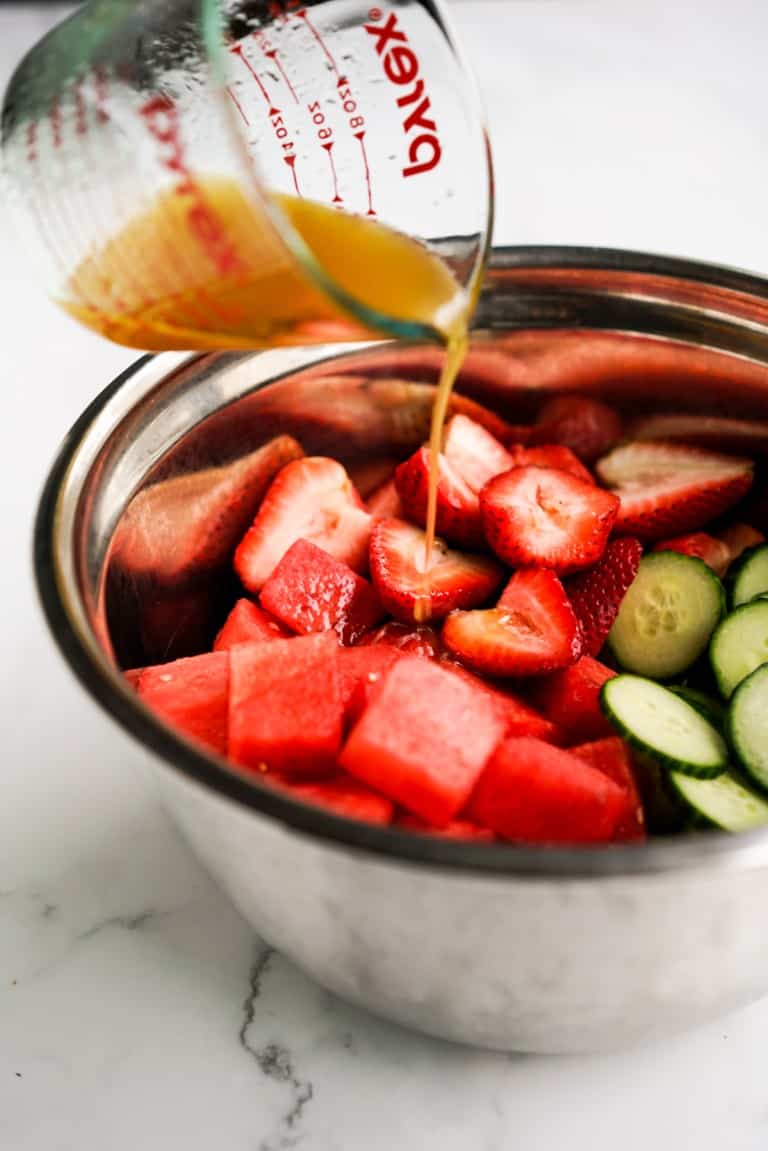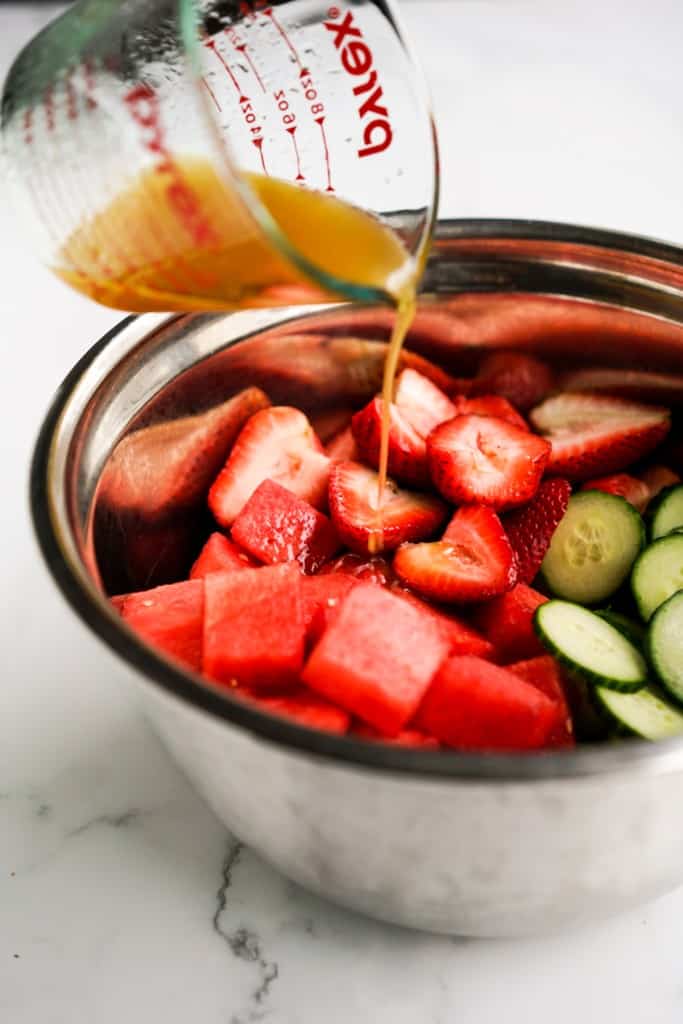 Toss watermelon, strawberries and mint leaves in dressing. Toss gently to avoid squishing the fruits.
Next, prepare mint leaves and feta crumbles, and add them into the large mixing bowl of fruits.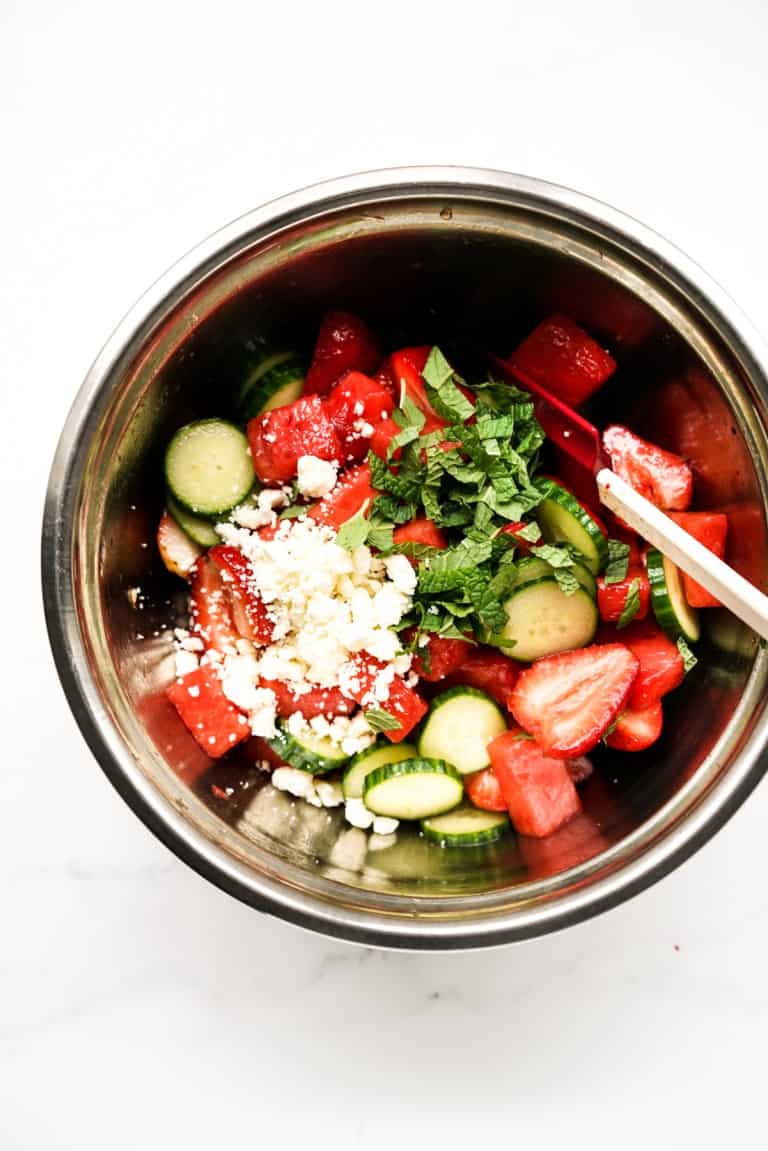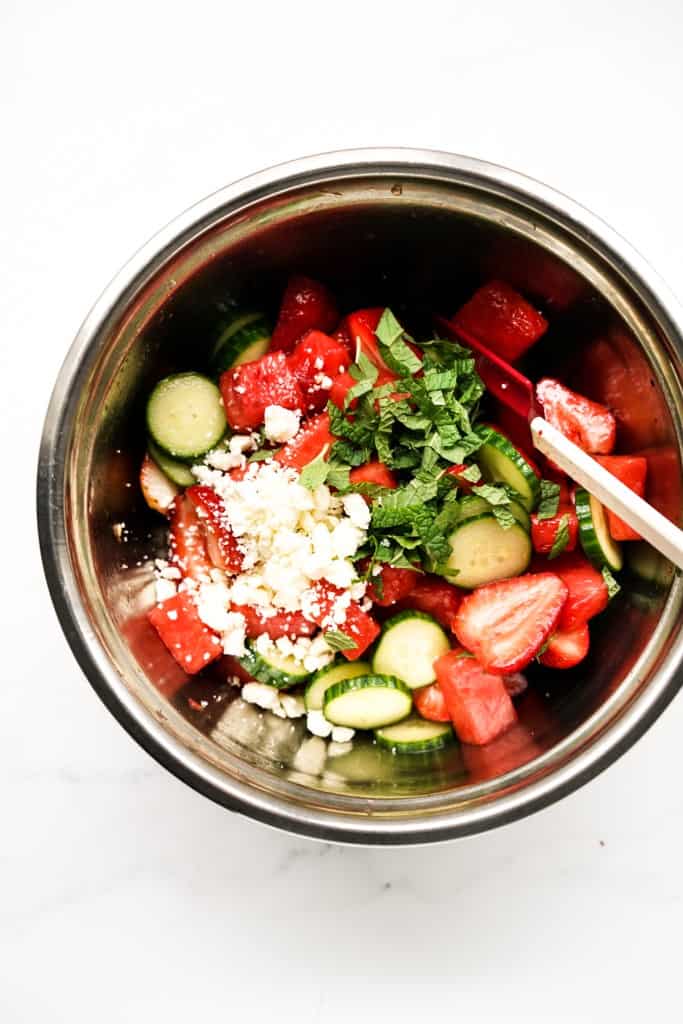 Gently toss everything together again.
Transfer watermelon strawberry salad to a serving bowl and serve immediately!
I love the vibrant and bright colors this simple dish brings.
Not only is it truly delicious and flavorful, it's gorgeous on the dinner or serving table.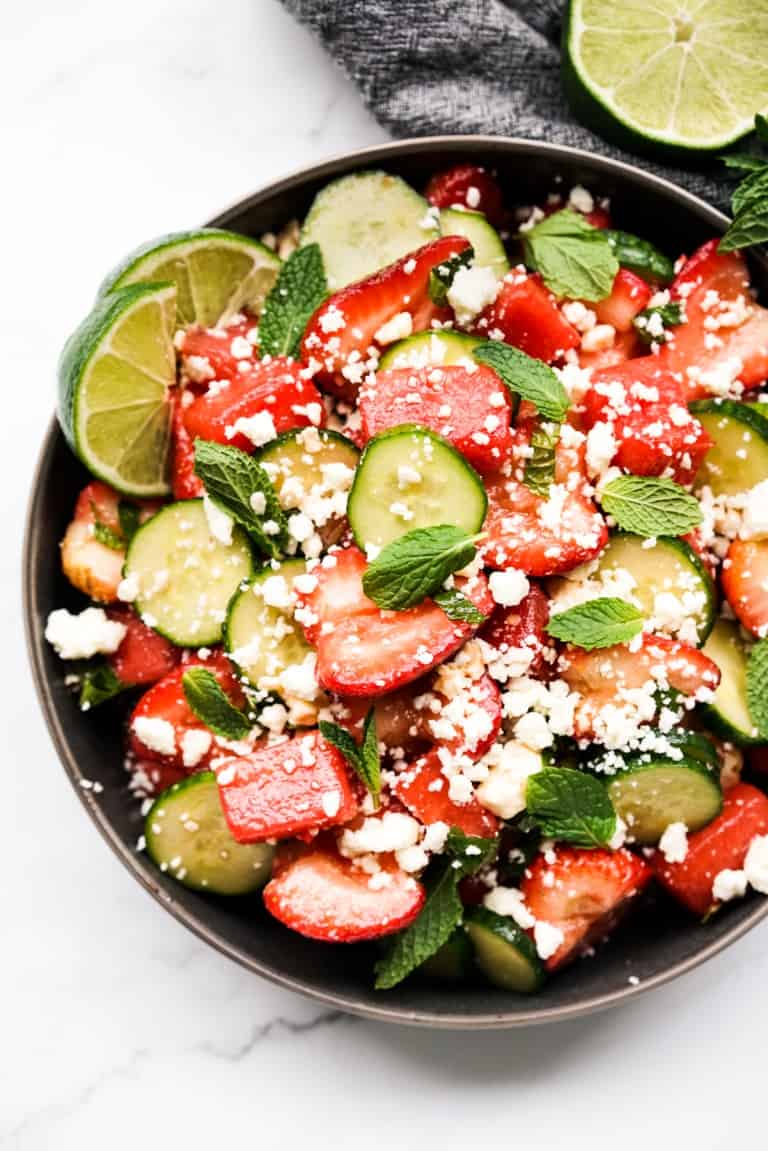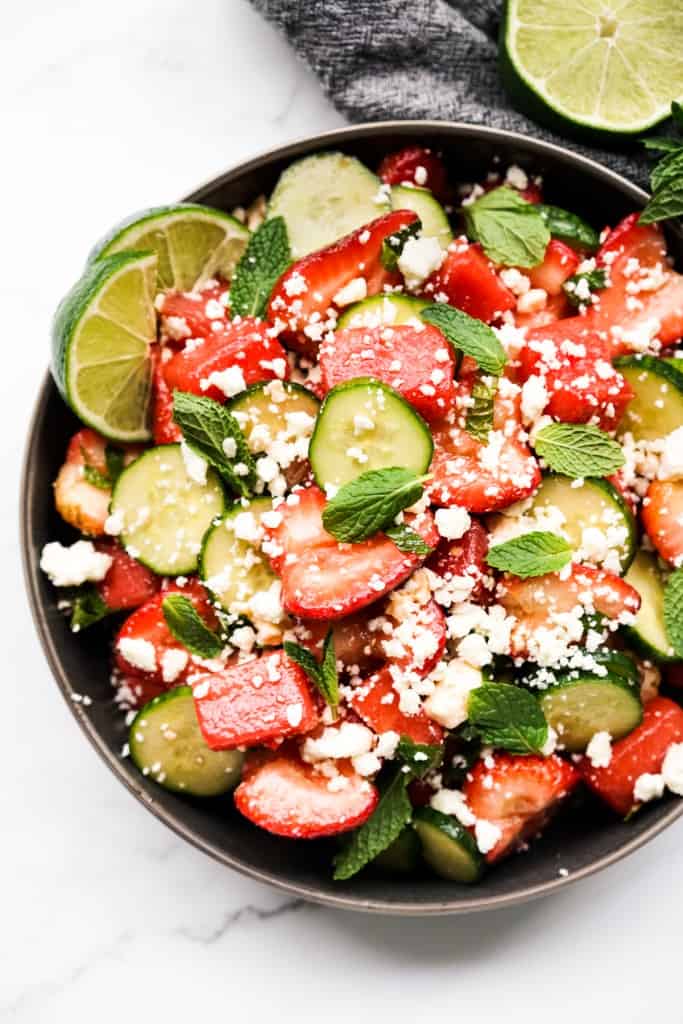 Making Ahead
If making ahead, I recommend cutting up all the components, tossing the watermelon strawberries and cucumbers together, and then storing the fruit mixture, honey lime dressing, feta and mint leaves separately.
Only toss watermelon strawberry salad in the dressing, mint leaves and feta when ready to serve.
This will help lessen the moisture that accumulates at the bottom of the watermelon strawberry salad.
Variations and Substitutions
Other ingredients that goes well with or in addition to the ingredients listed for this watermelon strawberry salad recipe:
fresh basil
tomatoes
cotija cheese
goat cheese
Balsamic vinegar – can be used as a dressing in place of honey lime vinaigrette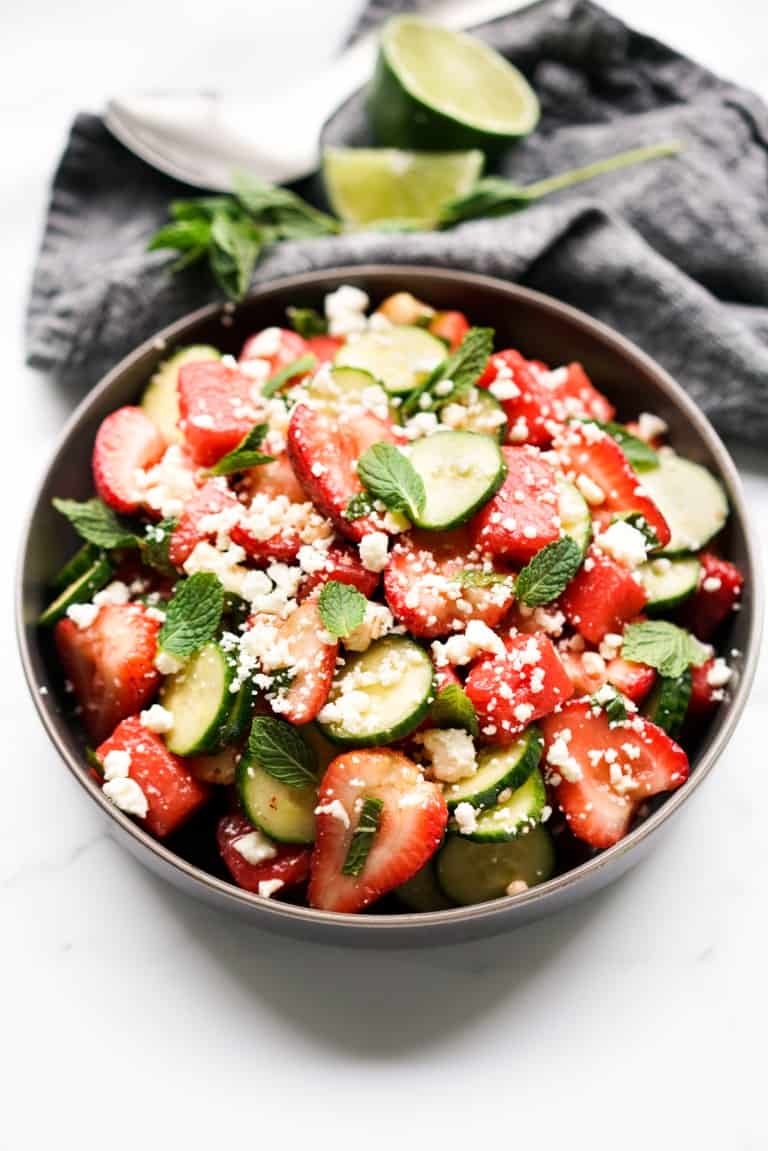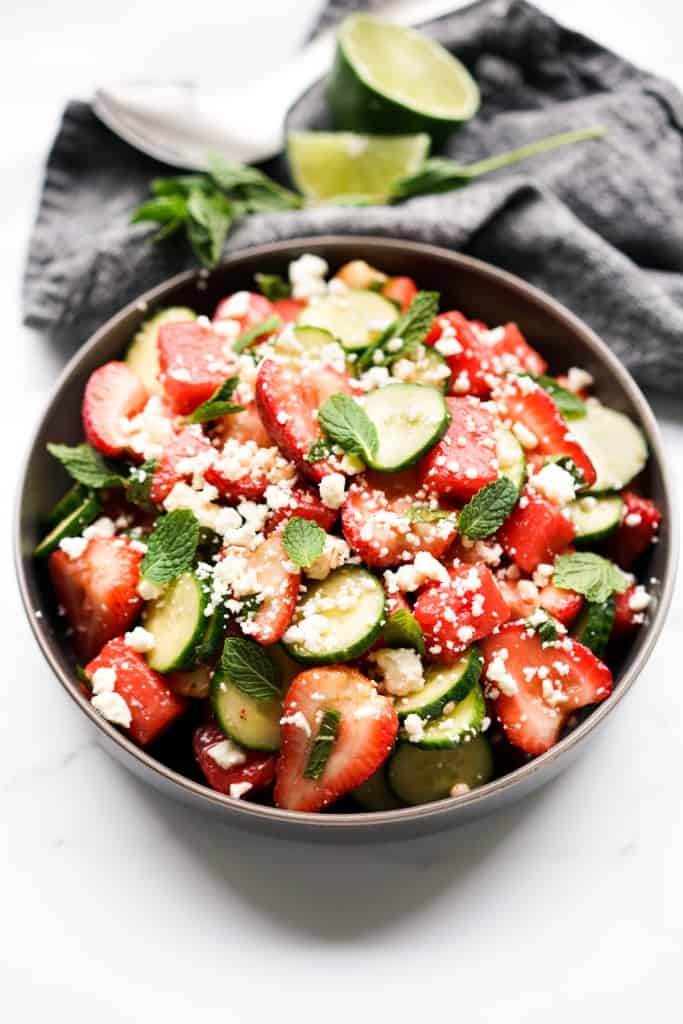 Frequently Asked Questions
How to tell if a watermelon is ripen/sweet?
A ripe watermelon should be heavy for its size, as there is a lot of juice/water in it, and should have a hollow sound when you thump the rind. Creamy yellow sun spots (large yellow spots amidst the green rind) are also good sign of a sweet watermelon as these occur if the watermelon ripen on the vine. If the sun spots are white, watermelons most likely are picked before it was ripen so it'll be less sweet.
How long can you store leftovers?
I would store leftovers in refrigerator for up to 2 days. The longer watermelon strawberry salad stays in the fridge the more moisture it produces. I would eat it as soon as you can! If dressing, feta and mint leaves are not tossed in the salad and store separately, you can store salad for longer.
DID YOU ENJOY THIS RECIPE? Please comment below and give us a 5-star rating! This will help others find this recipe on Google and Pinterest. We very much appreciate your help! 🤍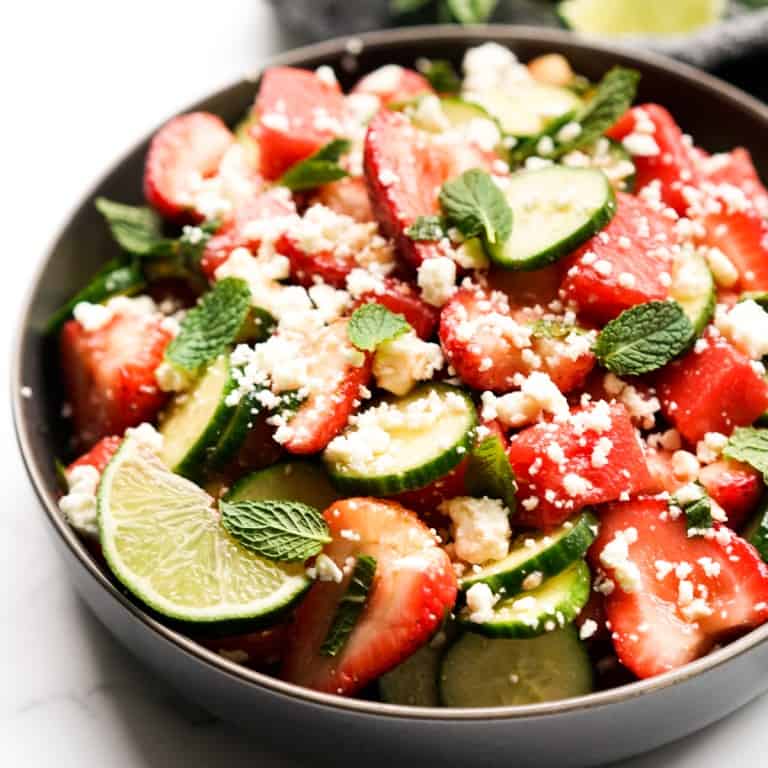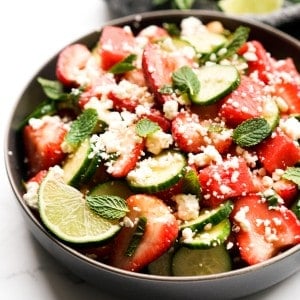 Watermelon Strawberry Salad
Refreshing, bright and flavorful Watermelon Strawberry Salad is tossed alongside cucumbers, feta cheese and fresh mint leaves. Coated in a sweet and tangy honey lime vinaigrette dressing. Yummy side dish for cookouts and bbq's.
Print
Pin
Ingredients
1

lbs

watermelon

cubed, ~4 cups

1

lbs

strawberries

sliced

2

cups

cucumber

sliced

1/2

cup

feta cheese

1/4

cup

mint leaves

packed
Dressing
2

tbsp

honey

3

tbsp

lime juice

1

tbsp

olive oil

1/2

tsp

salt
Instructions
Bring salad dressing ingredients to a small bowl/ cup, whisk to combine. Set aside.

Bring watermelon, strawberries and cucumber to a large mixing bowl. Toss to combine – avoid squishing fruits when tossing.

Add dressing to the bowl of fruits and cucumbers. Toss to coat everything in dressing.

Add feta and mint leaves. Toss again to combine.

Transfer to a serving bowl. Serve and enjoy!
Nutrition
Calories:
98
kcal
|
Carbohydrates:
15
g
|
Protein:
2
g
|
Fat:
4
g
|
Saturated Fat:
2
g
|
Polyunsaturated Fat:
0.4
g
|
Monounsaturated Fat:
2
g
|
Cholesterol:
8
mg
|
Sodium:
255
mg
|
Potassium:
219
mg
|
Fiber:
2
g
|
Sugar:
11
g
|
Vitamin A:
455
IU
|
Vitamin C:
41
mg
|
Calcium:
69
mg
|
Iron:
1
mg