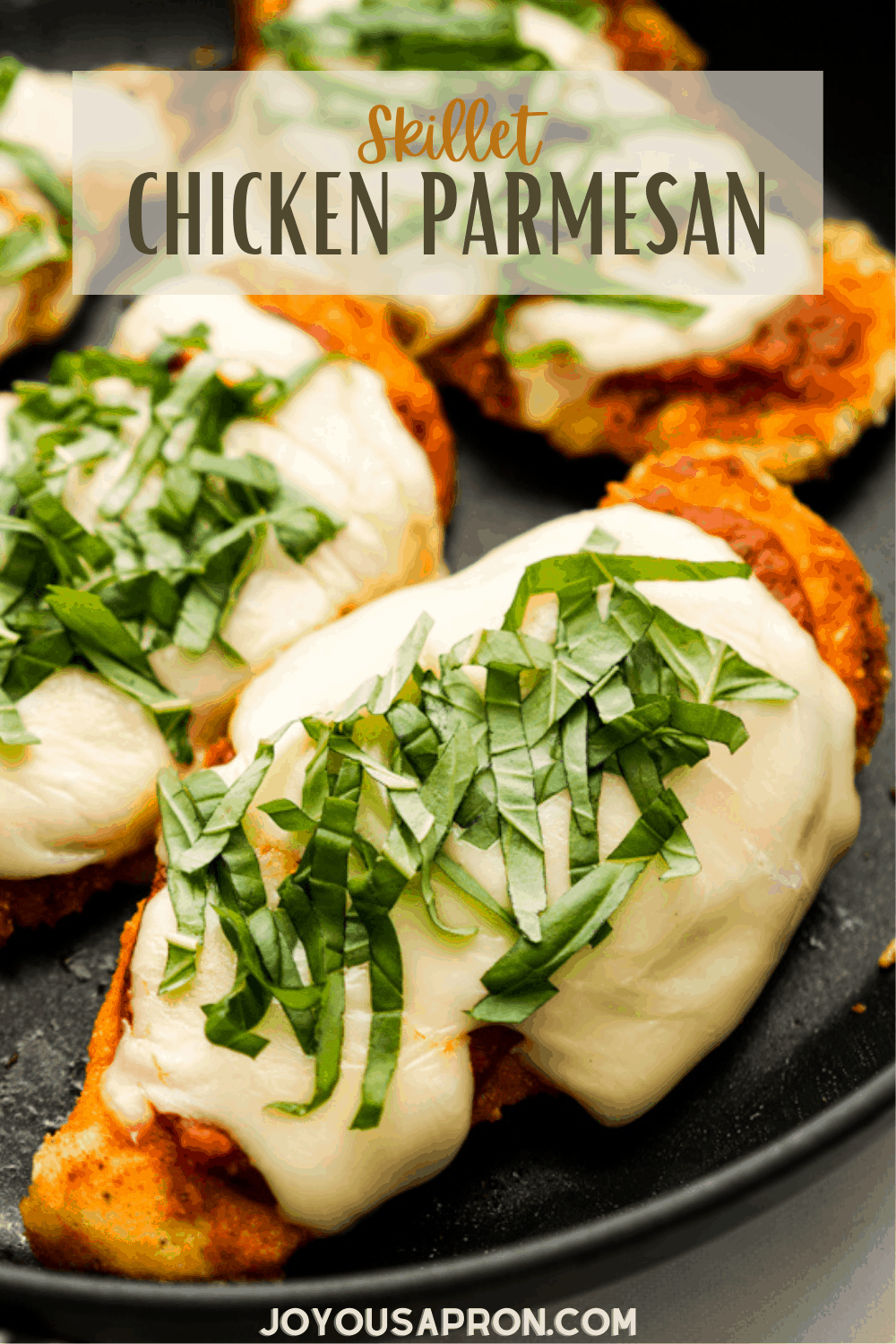 This post may contain Amazon or other affiliate links. As an Amazon Associate I earn from qualifying purchases at no additional cost to you.
It's Skillet Chicken Parmesan day, and I AM HERE FOR IT!
My heart just skipped a beat thinking about breaded crispy parmesan chicken, topped with marinara sauce, a layer of melted mozzarella cheese, and fresh basil leaves.
Juicy, crispy pan fried Chicken Parmesan, you have my whole heart.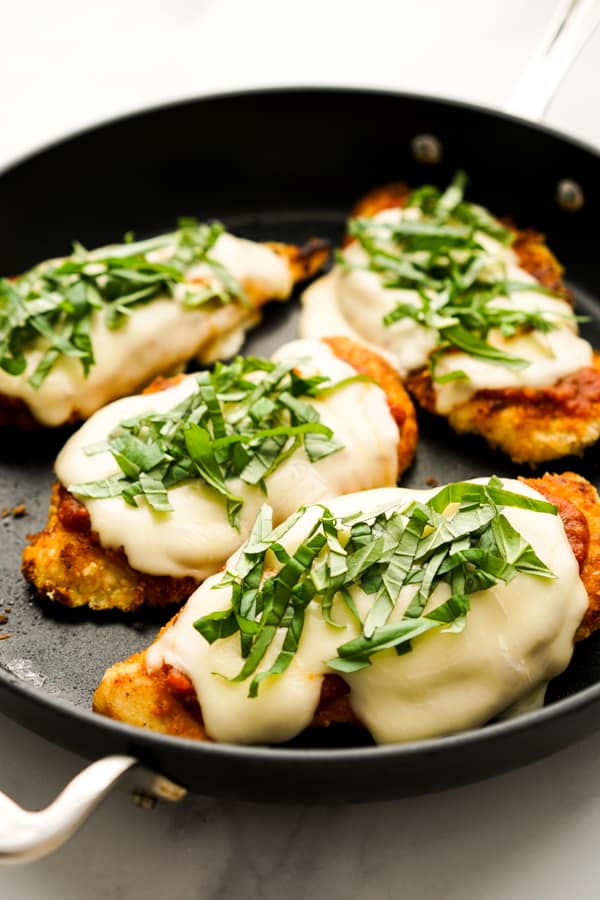 This is my tried and true Chicken Parmesan recipe. You know the kind that you make over and over again and is perfected over the years. Yep yep yep. This is it. Made on a skillet, on the stove top, and hear me now… ready in under 30 minutes!
In other words: don't let the fancy pants look of this dish fool you, you can totally make this magic happen in no time and minimal efforts.
If you like Italian recipes, don't forget to also check these other favorites: Classic Lasagna with Béchamel Sauce, Pork Milanese, Lemon Garlic Parmesan Pasta and Roasted Tomato Pasta with Basil and Parmesan.
About Chicken Parmesan
There are so many versions of Chicken Parmesan floating around the world wide web. I would consider this the classic Italian-American version that I've consumed (and thoroughly enjoyed) for most of my adult life.
You can find this at pretty much any Italian restaurant in the United States. Chicken is pan fried, there is tomato based sauce some sort of melted cheese involved.
Sometimes lovingly referred to as Chicken Parm. Other times it has also been known as Chicken Parmigiana.
Some will cook it in the oven, but I love making my Skillet Chicken Parmesan on the stovetop. By doing it this way, I can ensure that the breading on the chicken is nice and crispy, and it is a lot faster to cook it on the stove top than in the oven.
And one pan is all you need. No transferring from one dish to another. One pan (skillet) is all you need!
I'm all about getting things done quickly, efficiently, and yes, tastily.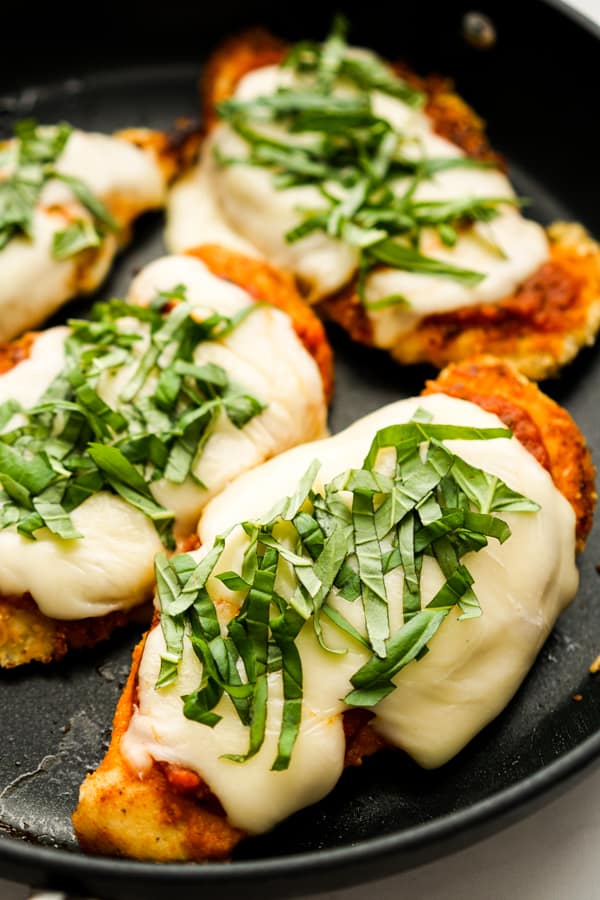 Ingredients
This recipe is made with pantry-friendly ingredients, and each of them play an important role contributing to the flavor and texture of the dish.
Let's start with the ingredients for the breading.
Each slice of chicken will be coated in an egg mixture that consists of:
Eggs – well duh
Garlic powder – seasoning to give it flavor
Salt and pepper – also a major flavor booster
And then breaded with this breading mixture:
Breadcrumbs
Grated parmesan cheese – use fresh, preferably from a block (grate it yourself). Fresh parmesan makes a big difference to the tastiness of your dish!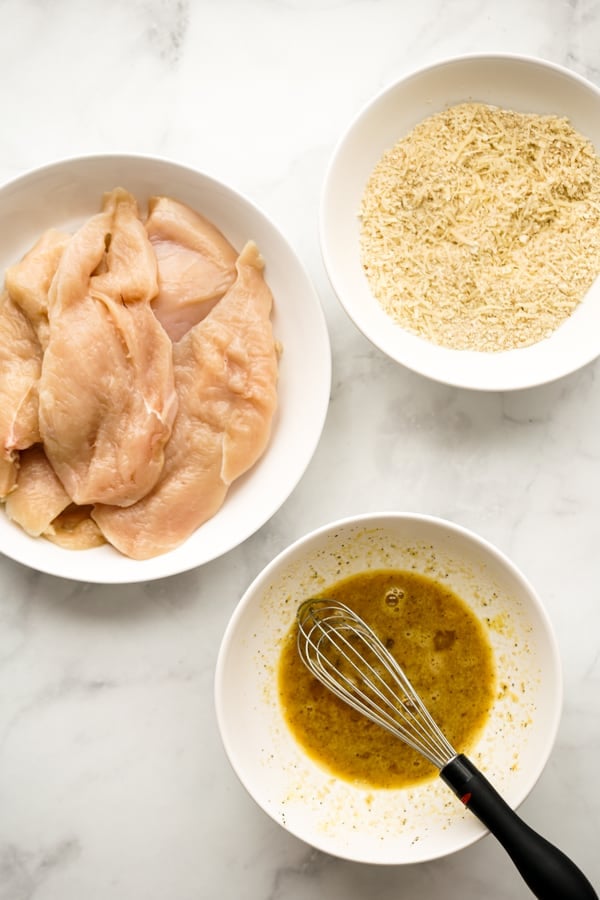 In addition to that, you will need:
Thinly sliced chicken breast – should be no more than 1/2 inch thick. I typically buy chicken breast that is already thinly sliced from the store, or you can buy regular chicken breast and half it horizontally.
Your favorite marinara/ tomato pasta sauce
Slices of fresh mozzarella – shredded mozzarella works too but fresh will taste better!
Fresh basil – for garnish. My opinion is the more the better, but you can omit this or just sprinkle with less of it if you are not into basil (and yes we can still be friends💚 )
Let's Get Cooking!
In addition to the ingredients, you will need a large skillet to make this. A non-stick skillet is preferred. If you don't have a choice and are using a stainless steel skillet, make sure to grease it heavily to avoid sticking.
Coat chicken in egg mixture and then in breadcrumb/parmesan mixture. Make sure to coat well and generously on both sides.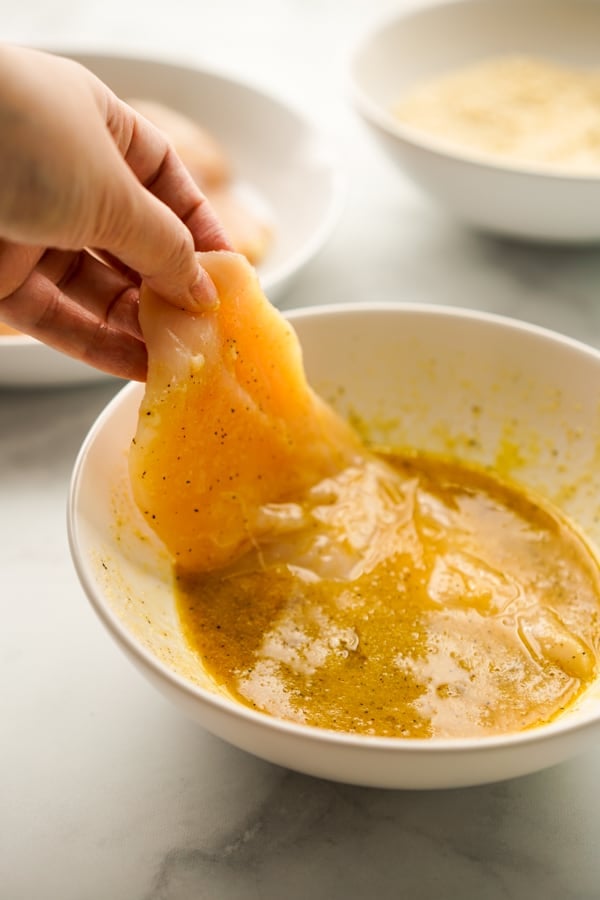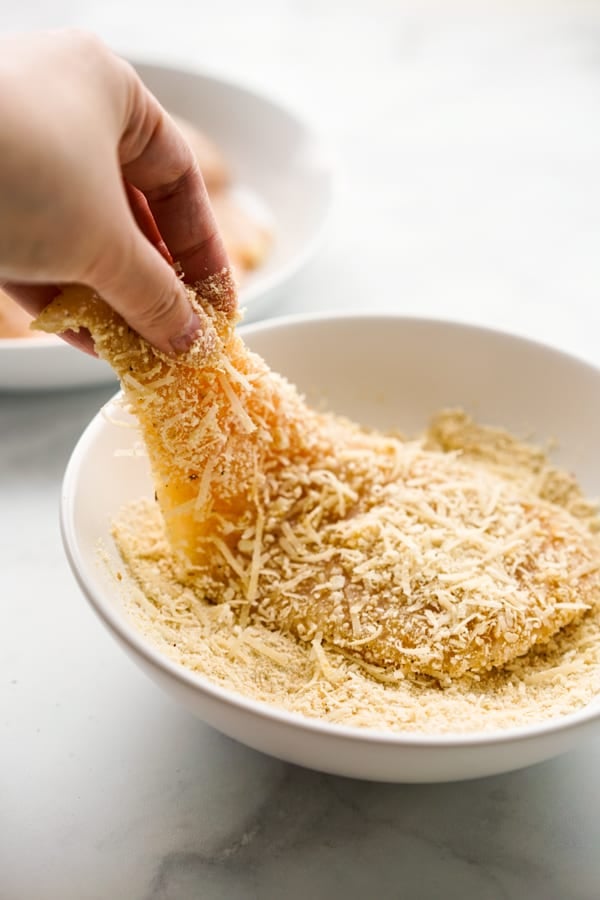 When done breading the chicken cutlets, heat skillet with oil. Once oil is heated, gently add chicken cutlets to skillet.
Chicken cutlets should not overlap. If skillet is too small to accommodate all the chicken pieces, cook in two batches.
Cook one side until golden brown, then flip and cook the other side until it too turns golden brown.
Chicken is ready when internal temperature reaches 165℉. Use a meat thermometer to check the internal temperature. If you don't already have one, it's such a good and inexpensive investment for the kitchen.
When chicken reaches 165℉ (avoid overcooking), turn off heat.
Immediately spread a thin layer of marinara sauce on top of each piece of chicken cutlet. Then top it with a slice (or two) or mozzarella cheese.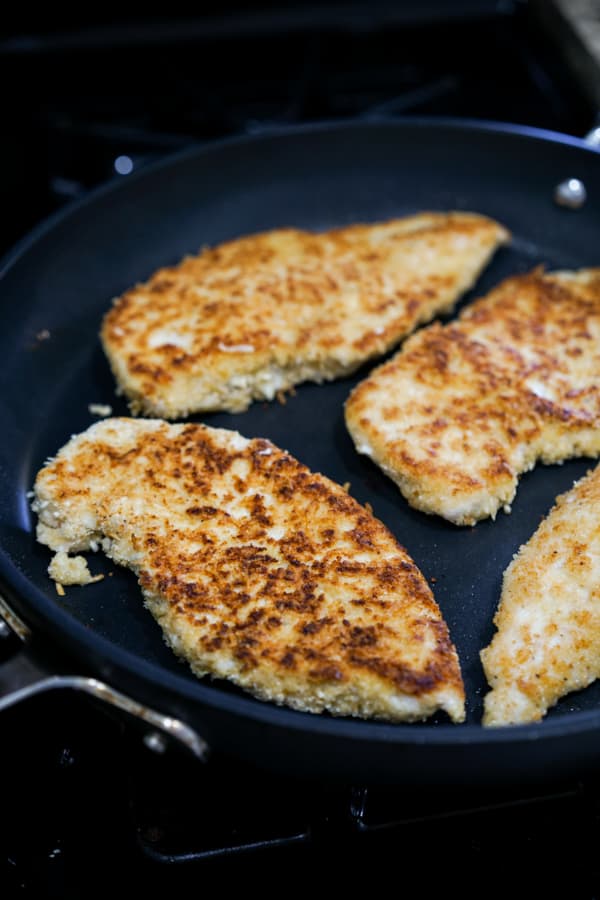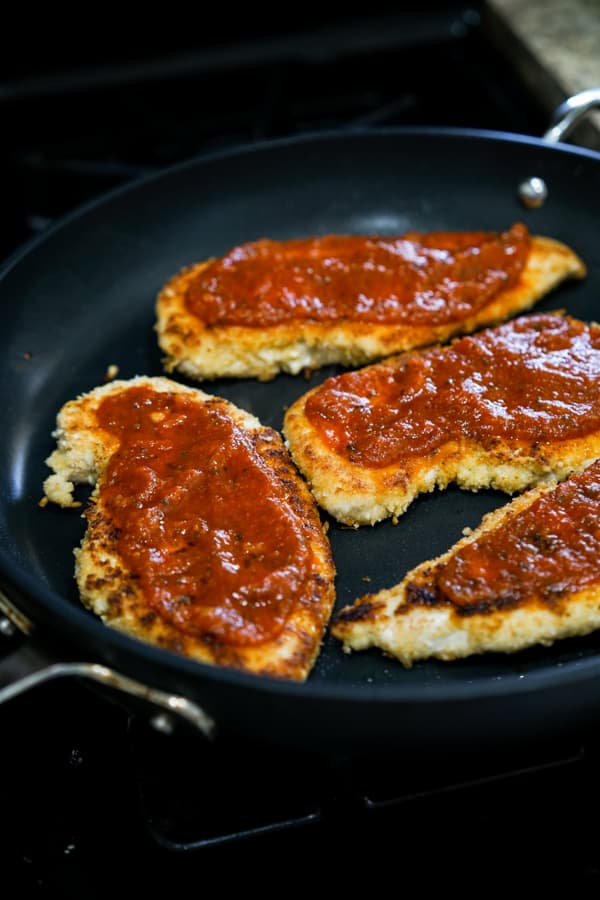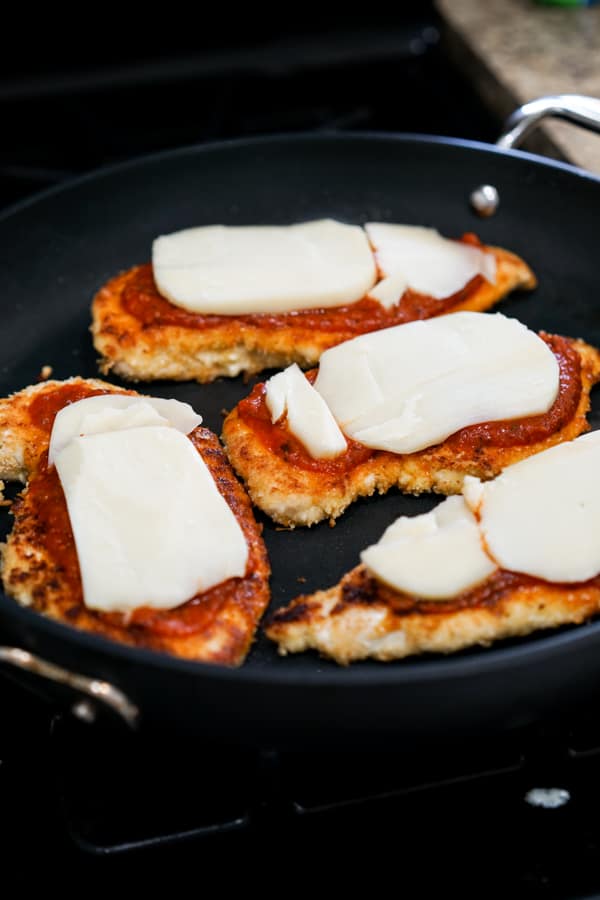 Your skillet should still be hot at this point, so cover it and let the cheese melt. It usually takes 3-5 minutes for the cheese to fully melted.
When it is melted, top with lots of fresh basil and BAM! There you have it.
Skillet Chicken Parmesan, baby!
It really does come together a lot faster than it looks!
Juicy chicken, crispy breading, melty cheese, tangy red sauce, bites of freshness from the basil.
Everything I love and more in each and every bite.
If you are all about amazing combination of flavors and textures, this is FOR YOU!
Tips and Tricks:
A few things to keep in mind when making Skillet Chicken Parmesan!
Make sure chicken is thinly sliced (less than 1/2 inch thick) if not it will be hard to cook the insides before the outside is cooked/burned.
Pat dry chicken cutlets before coating them in egg mixture or breadcrumb mixture.
Quality parmesan, quality mozzarella, and fresh basil makes a big difference to the tastiness of this dish!
Do no overlap or overcrowd chicken cutlets when pan frying them on the skillet. Cook in two batches if needed.
When chicken is done, immediately turn off heat and add sauce and cheese and cover so that cheese will melt. Don't wait too long if not chicken will be overcooked.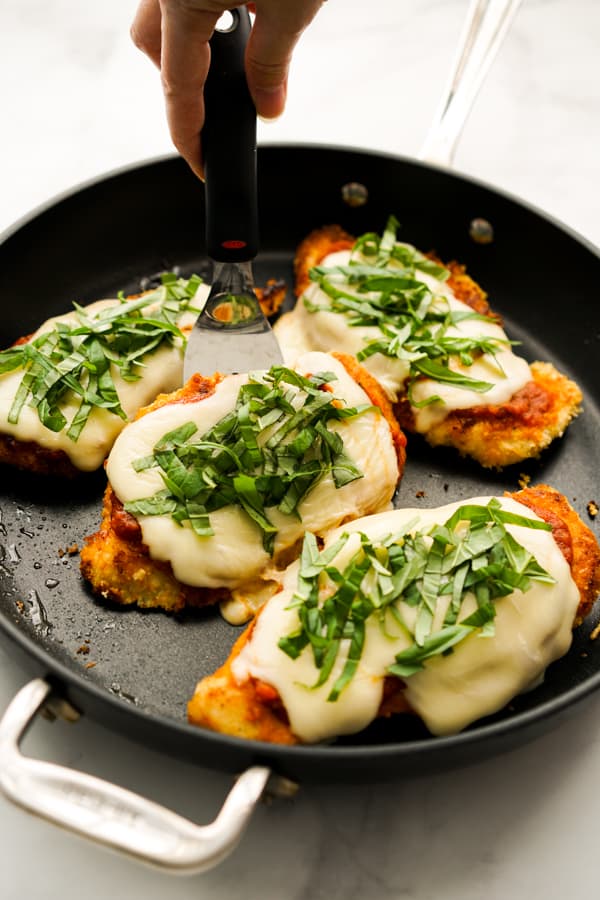 Frequently Asked Questions
Does this save well as leftovers?
Even though you can definitely have them as leftovers, there's nothing quite like fresh off the skillet Chicken Parmesan because it is hard to retain the crispy texture of the chicken when you reheat this dish. So yes you can save leftovers, but it won't taste the same!
Can I cook this in the oven?
Yes! Skillet is always my preference, but here are the oven instructions: Bake breaded chicken on greased baking dish at 350℉ for 15 minutes, then flip to cook the other side for 10 minutes or until chicken is fully cooked. Turn off oven (but it should still be warm), top chicken with marinara sauce and fresh mozzarella, and let it sit in warm oven for 3-5 minutes or until cheese is fully melted. Garnish with basil.
SUCH a great classic. It's also one of my favorite things to make for weekend dinners and when people come over for dinner.
It looks fancy without the 'fancy-work'. And taste like a million bucks!
Now ladies and gentlemen, that's my kinda meal. ❤️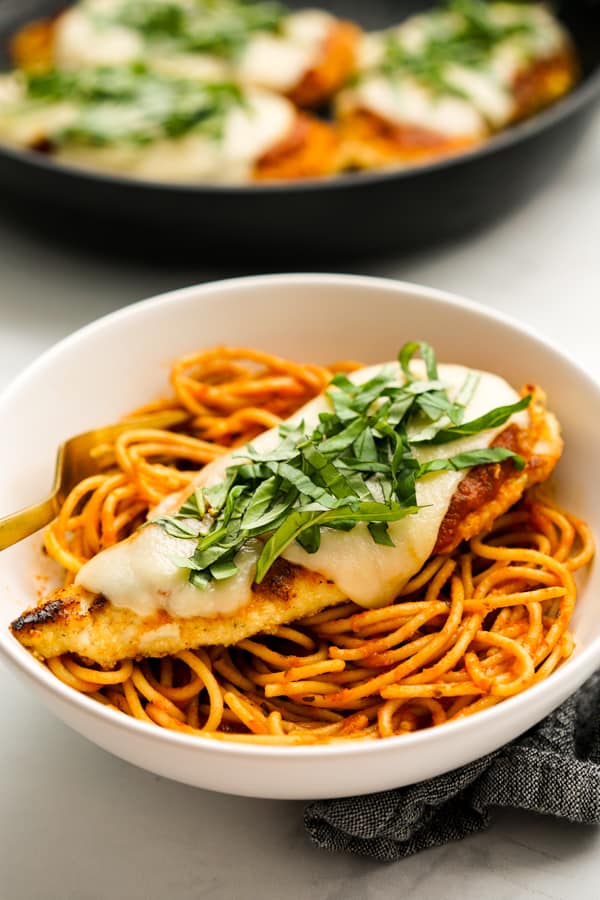 DID YOU ENJOY THIS RECIPE? Please comment below and give us a 5-star rating! This will help others find this recipe on Google and Pinterest. We very much appreciate your help! 🤍
More Chicken Recipes
More yummy chicken dishes!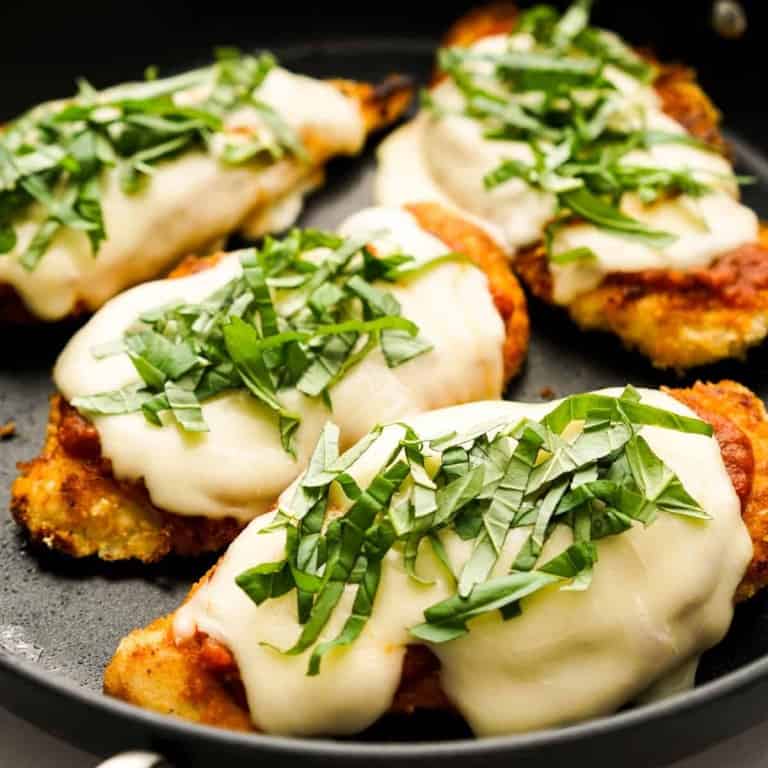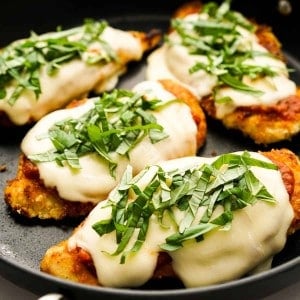 Skillet Chicken Parmesan
Crispy breaded parmesan chicken pan fried on a skillet, then topped with marinara sauce, fresh mozzarella cheese and fresh basil. A classic Italian American recipe
Print
Pin
Ingredients
4

pieces

chicken breast

thinly sliced (~1.5 lbs)

2

large eggs

1

tsp

garlic powder

1/2

tsp

salt

1/2

tsp

black pepper

1/2

cup

breadcrumbs

1/2

cup

parmesan

grated

2

tsp

vegetable oil

4

slices

fresh mozzarella

1/2

cup

marinara sauce

1/2

cup

fresh basil

chopped
Instructions
Pat dry chicken breast/chicken cutlets (See Note 1).

Prepare two bowls. In the first bowl, whisk together eggs, garlic powder, salt and pepper. In the second bowl, mix together breadcrumbs and grated parmesan cheese.

Dip chicken cutlet into egg mixture, coat generously and evenly, then coat it again in breadcrumb mixture. Repeat this step for all the remaining chicken cutlets.

Heat vegetable oil in skillet under medium high heat until it is sizzling hot. Place chicken cutlets onto skillet (avoid overlapping – pan fry in two batches if needed). Let one side of the chicken cutlet cook until it is golden brown, flip and cook the other side.

Once internal temperature of the chicken reaches 165℉, turn off heat.

Immediately (see Note 2) spread a thin layer of marinara sauce to the top of each piece of chicken cutlets, then top with a slice (or two) of mozzarella cheese.

Cover skillet until cheese is completely melted. Sprinkle with fresh basil.
Notes
Note 1: Slice chicken breast in half length wise so that it is about ~1/2 inch thick or get already thinly-sliced chicken breast (chicken cutlets) from the store.
Note 2: When chicken is done, immediately turn off heat and add sauce and cheese and cover so that cheese will melt. Don't wait too long if not chicken will be overcooked.
Nutrition
Calories:
441
kcal
|
Carbohydrates:
13
g
|
Protein:
52
g
|
Fat:
19
g
|
Saturated Fat:
9
g
|
Polyunsaturated Fat:
2
g
|
Monounsaturated Fat:
5
g
|
Trans Fat:
1
g
|
Cholesterol:
222
mg
|
Sodium:
1157
mg
|
Potassium:
841
mg
|
Fiber:
1
g
|
Sugar:
3
g
|
Vitamin A:
751
IU
|
Vitamin C:
5
mg
|
Calcium:
348
mg
|
Iron:
2
mg