Easy 6-Ingredient Cheesy Potato Wedges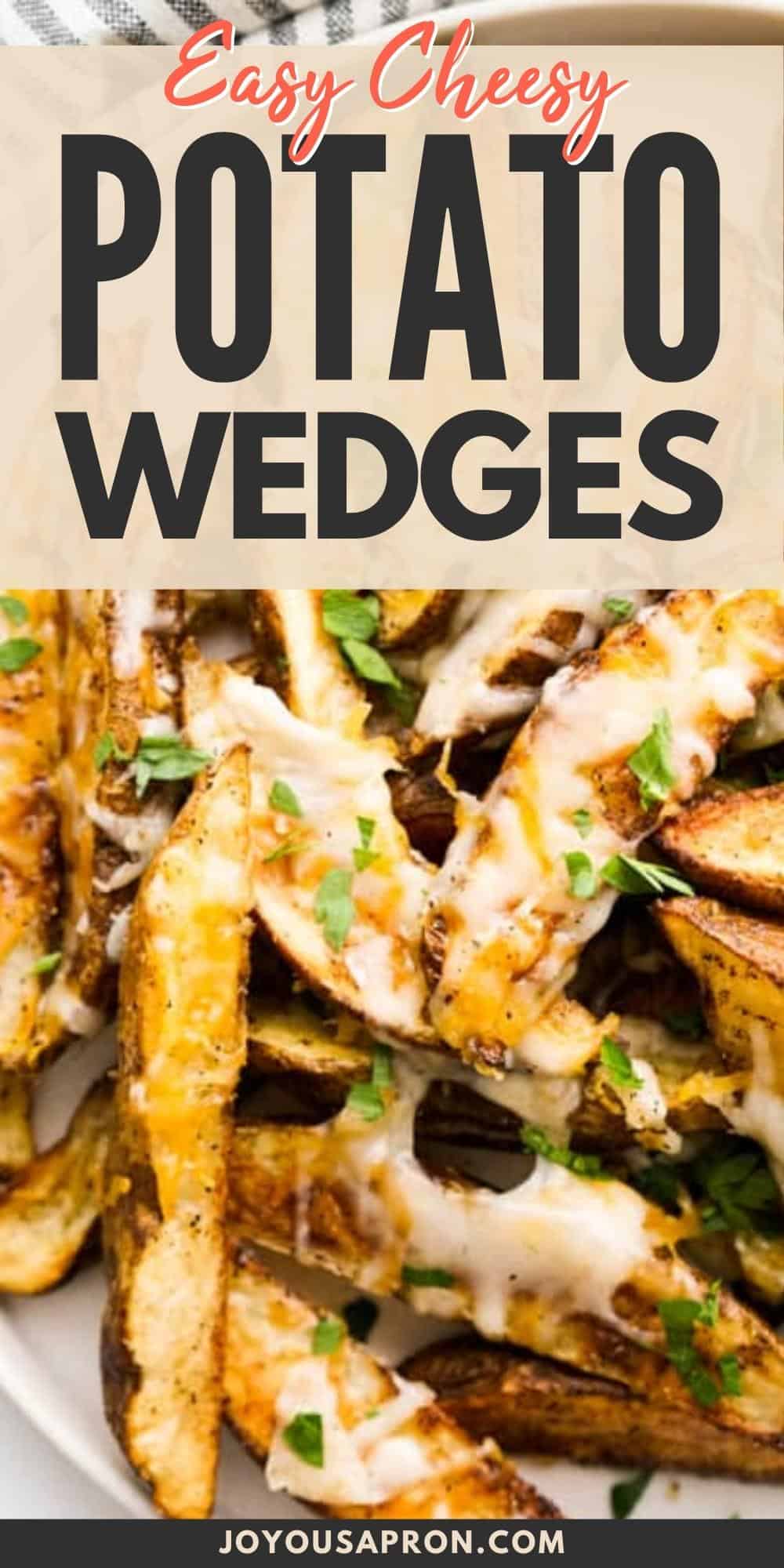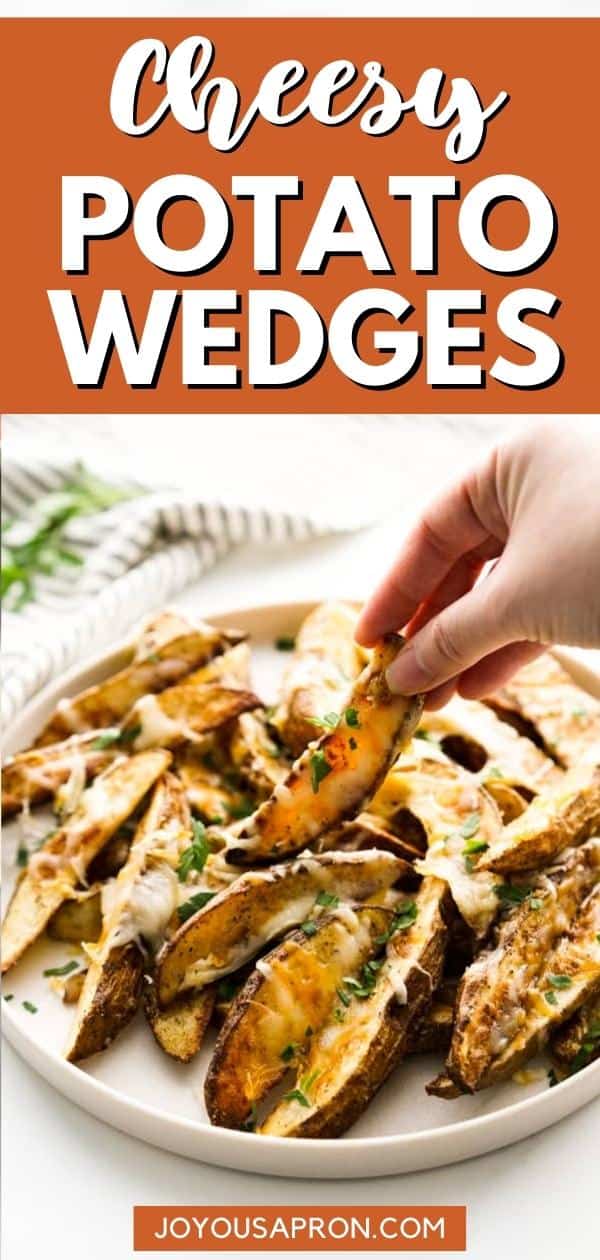 Ah…Easy Cheesy Potato Wedges. Crunchy on the outside and soft on the inside, these oven baked potatoes wedges loaded with melted cheese, and yes…calls for only 6 ingredients!
So yummy, so perfect…when it comes to these cheesy potato slices, it is hard to stop at one! Be still my cheese fries loving heart.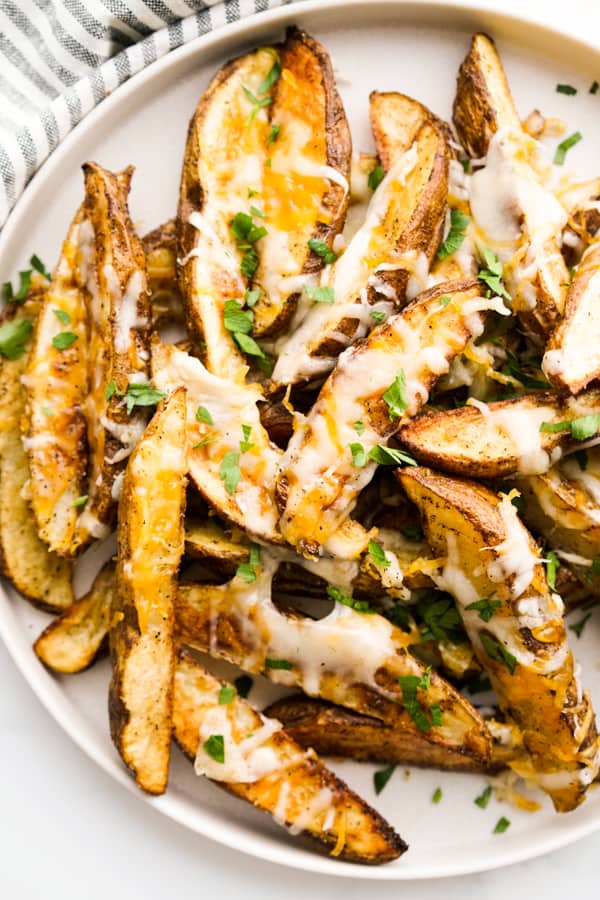 Looking for more appetizers and finger food? Check these favorites out as well: Cream Cheese Sausage Balls, Spinach Pinwheels, Everything Bagel Pigs in the Blanket, Shredded Chicken Nachos, and Easy Queso with chips.
Oven Baked Easy Cheesy Potato Wedges
One of my childhood memories is eating cheesy potato wedges at a Kentucky Fried Chicken restaurant.
During our last trip back to Malaysia, my sister and I scouted out the local KFC we used to frequent and ordered the cheesy potato wedges to relive the memories of gooey (semi-fake) cheese being loaded all over potato slices seasoned with the classic KFC secret-recipe seasoning.
We never outgrew our obsession with cheese fries and it was glorious. Although I suspect nostalgia played a big role in how good they tasted. 🙂
So there you go, that was Cheesy Potato Wedges from my childhood. But I'm about to show you something even better. I like to think of this as my Cheesy Potato Wedges, the "grown up" version.
This version of cheese fries uses real cheese and fresh potato slices, takes on a healthier method of cooking – oven-baked (not fried), uses pantry-friendly ingredients, is super simple to make (because grown-ups are busy), and is, of course, super duper yummy.
Cheesy Potato Fries that combine easy and delicious.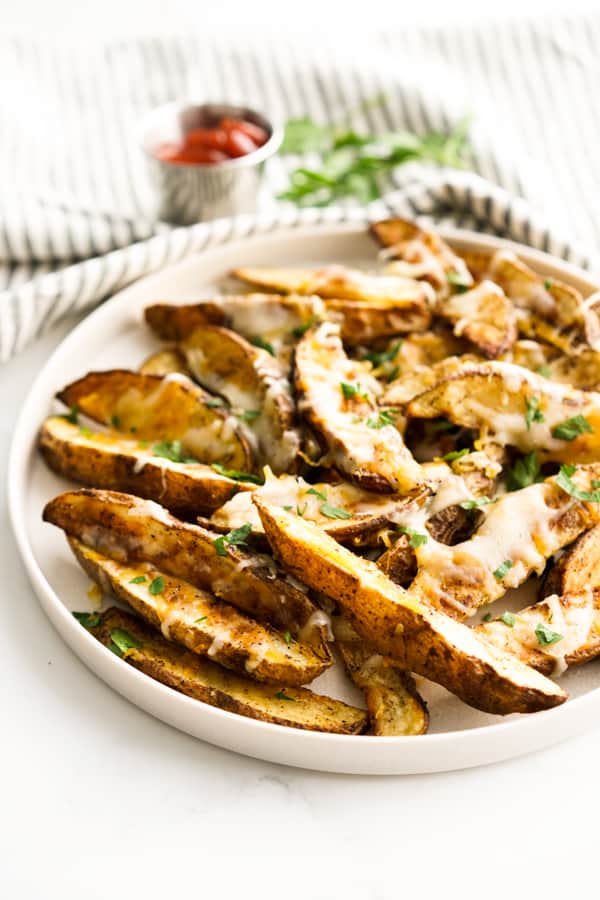 For the longest time, whenever I crave for cheese fries or potato wedges, I would buy frozen potatoes from the grocery store, add seasoning and bake them in the oven.
Then I realized it doesn't take much more time to use fresh potatoes, slice them up, season and bake them. It is also more budget-friendly.
And by not peeling the potato skin, not only does it add convenience, you'll get more nutrients eating the potatoes with skin on.
Before you know it, you'll be like me, making these homemade Oven Baked Cheesy Potato Wedges – they come together much more easily than you'd think!
Types of potatoes to use
I use russet potatoes for this recipe, because I like the grainy and starchy texture, and russet bakes very well. Red potatoes will also work well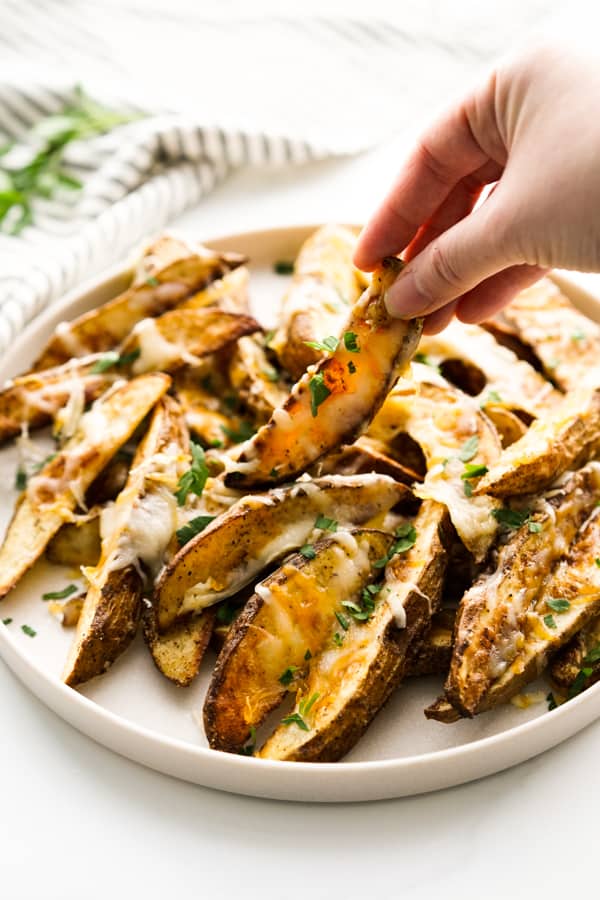 Other Ingredients
Question: What's better than potato wedges?
Answer: Potato wedges with cheese! LOTS OF CHEESE.
Besides potatoes, here's the short list of the other pantry-friendly ingredients we will be using:
Olive oil
Seasoned salt – I like to use seasoned because it brings about additional layers of flavors in addition to just adding saltiness to the potatoes. Regular salt works as well if that's all you have.
Black pepper
Cheese – I am using a blend of mozzarella and cheddar, feel free to also use Colby Jack, Monterey Jack, American, or any cheese that melts easily.
Parsley – use as garnish. You can use green onions as well
How to make Easy Cheesy Potato Wedges
Step 1: Prepare potatoes
To begin, using a brush or your hands, scrub each potato to remove dirt. Since we are not peeling the potato skin, cleaning the potatoes well is important.
Cut the potato in half (long ways) and then cut it into wedges.
Each half of the potato usually yield about 4 wedges.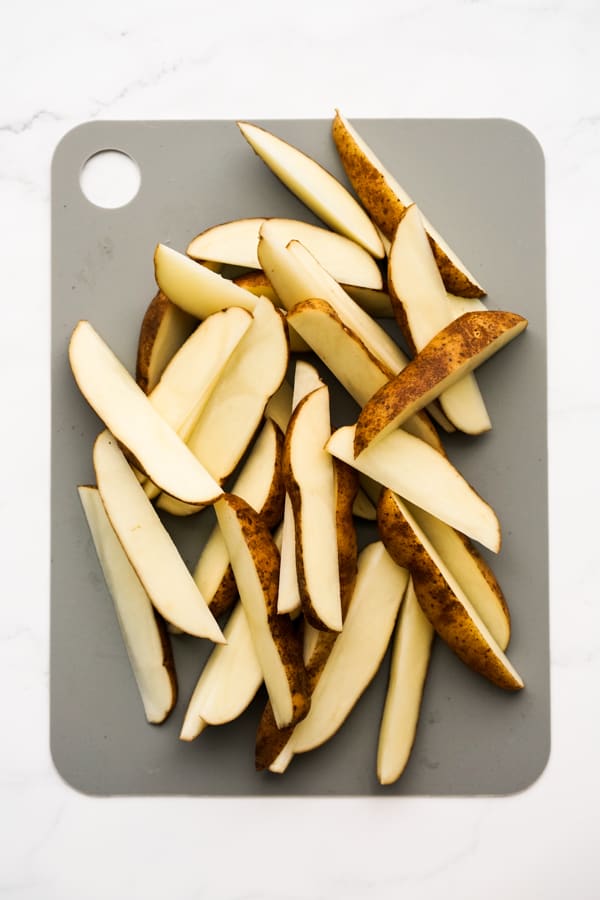 Bring potato wedges into an ice bath and let it soak for 30 minutes.
Doing this will help draw out the starch in the potato slices, making potatoes wedges crispier when baked.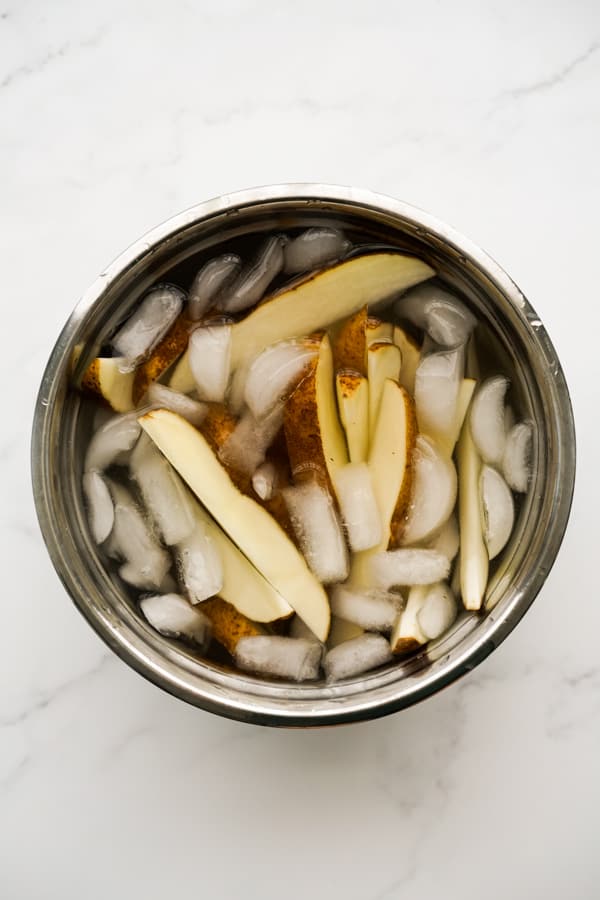 When potato slices are done soaking, drain water and pat them dry using paper towels.
It is important to remove access moisture so that these potato slices won't be soggy.
Step 2: Season potato wedges
Grab a large baking sheet. For easily clean up, line baking sheet with parchment paper or aluminum foil. Parchment paper and aluminum foil also help prevent potatoes from sticking to the baking sheet if using less cooking oil.
If you are not using parchment paper or aluminum foil, grease baking sheet.
Bring potato wedges onto baking sheet, then drizzle them with olive oil, seasoned salt and black pepper.
Using your hands, toss potato wedges so they are evenly seasoned.
Place potato wedges up faced down (see picture) on a baking sheet to prepare them for baking.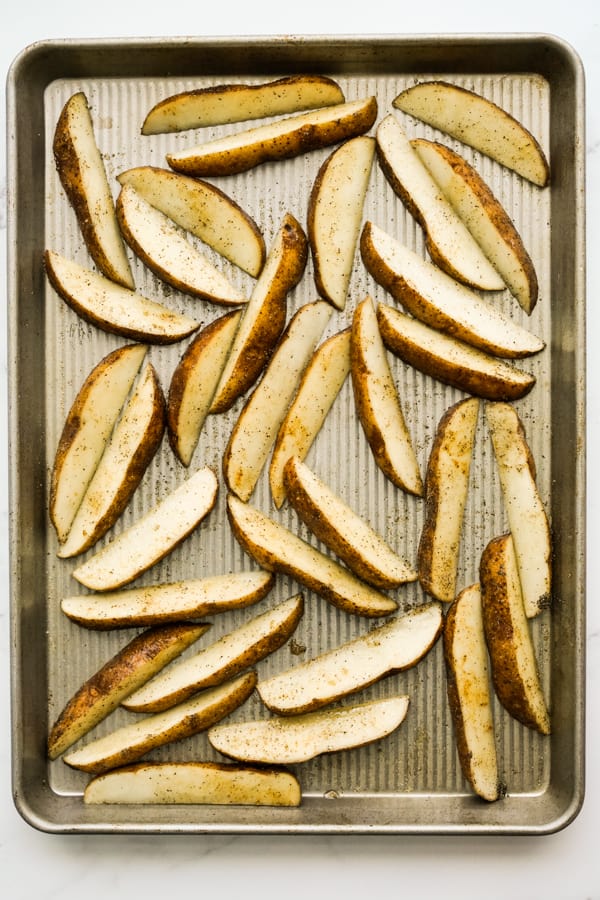 Make sure they are not overcrowded and overlapped to ensure they are nice and crispy.
If doubling the recipe, use two large baking sheet and avoid overcrowding them.
Step 3: Bake
Potato slices go into the oven to bake for 20 minutes at 400℉.
Then remove from oven, and flip each potato wedges so the other side of the wedges face down. The facing-down side will typically brown more.
Bring pan back to the oven and roast these potato wedges for another 20 minutes at the same temperature.
The thicker/larger the fries, the longer they will take to bake.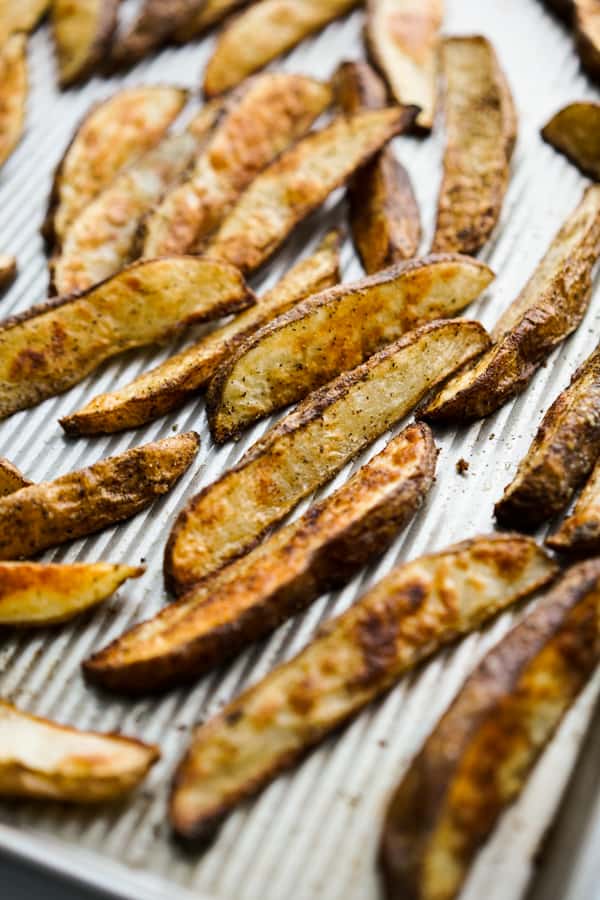 Crispy, well seasoned on the outside; soft and warm on the inside…that's the kind of oven baked potato fries that I love…
Step 4: Load it up!
It's a loaded potato wedges recipe…so let's load it up!
On the same pan, group potato wedges together (with some overlapped), then sprinkle shredded cheese onto the potato slices.
I use a combination of cheddar and mozzarella cheese (because that is what I had at hand), but feel free to use only one type, or three or four different cheeses.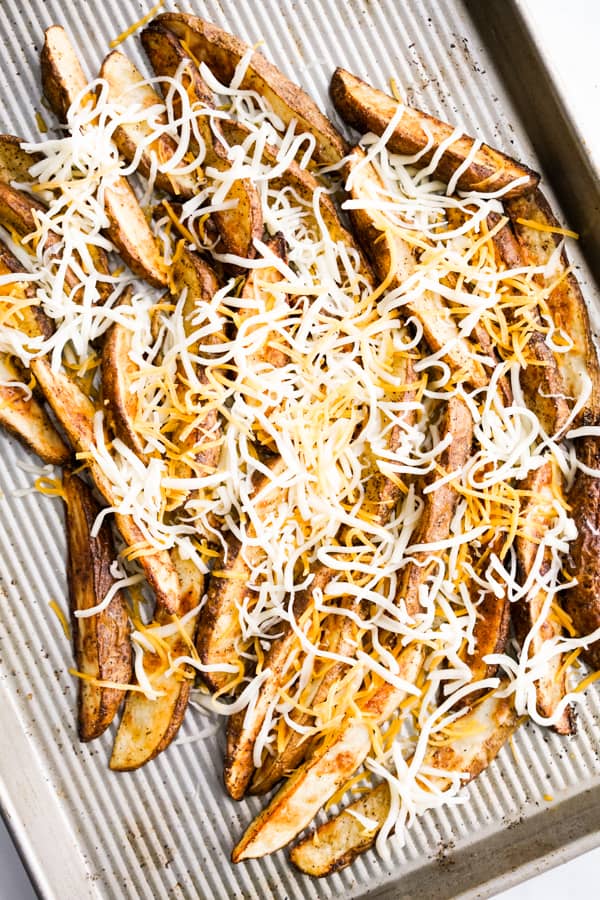 I typically bring pan into the oven that I have just turned off (from 400℉) but is still warm, and let the cheese melt for 5 minutes.
If your oven is cooled down by the time you get to this, melt cheese in a 350℉ temperature for 3-5 minutes.
And here you go – cheesy, ooey-gooey Oven Baked Potato Wedges. Don't forget to sprinkle them with some fresh chopped parsley.
I love it with parsley on top because it gives it a burst of freshness, and brings another level of flavor and texture to the dish.
YOU GUYS! This is so good, and SO EASY.
It's the perfect spring/summer side for burgers, hot dogs, grilled chicken, steaks and so much more. Also, appetizers for game day, or Super Bowl Sunday, or March Madness?
HECK YESS.
A tip to take this over the top: ADD BACON. Sprinkle some chopped, crispy bacon to the Cheesy Potato Wedges and take it to the next level.
YOU ARE WELCOME!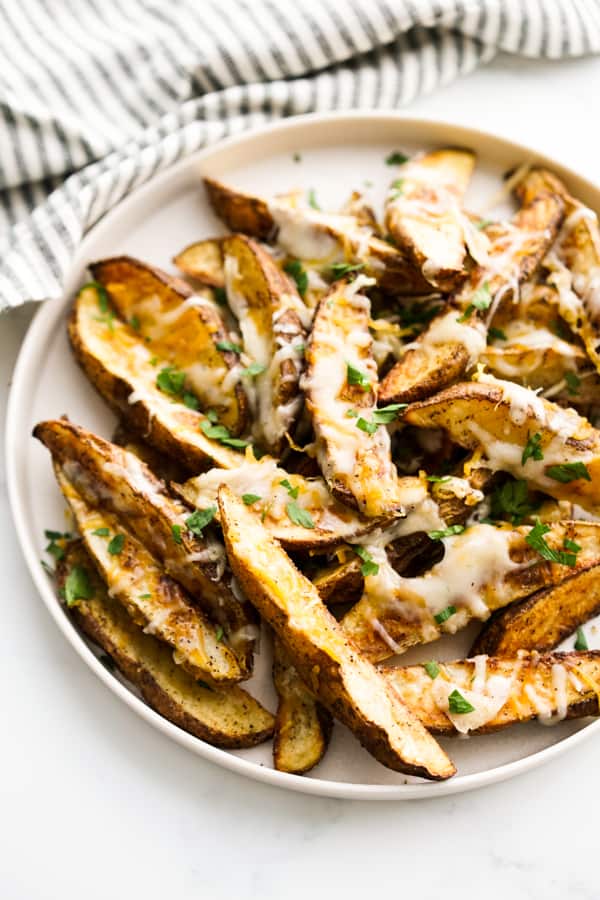 Cheesy Potato Wedges, anyone? ❤️
Tips and Tricks
Use fingers to thoroughly toss and coat those potato slices evenly with seasoning to avoid having some of them being excessively salty and others are not salty at all.
The thicker/larger the fries, the longer it takes to bake.
Line baking sheet with parchment paper or aluminum foil for easier cleanup.
Do not overcrowd or overlap fries when baking to keep them crispy. If doubling or tripling the recipe, cook in two batches/with two baking sheets.
Frequently Asked Questions
Can I skip the ice bath step?
Yes you can if you are short on time. The ice bath is an additional step to make the potato wedges even crispier, but they should still be fairly crispy without doing the ice bath. Ice bath is preferred, but not required!
What is the best way to reheat this?
I'll be honest, fresh is always the best when it comes to these Cheesy Potato Wedges. If you do have leftovers, I would sprinkle additional shredded cheese and reheat in the toast oven or oven so that it will be crispy. Microwaving will make the potato wedges soft and no longer crispy.
What are other spices and ingredients I can add to season the wedges?
Herbs such as Italian seasoning, oregano, thyme works great with potatoes. Toss potatoes in herbs along with seasoned salt and black pepper. You can also top potato wedges with bacon pieces along with parsley at the end for some very yummy flavors!
DID YOU ENJOY THIS RECIPE? Please comment below and give us a 5-star rating! This will help others find this recipe on Google and Pinterest. We very much appreciate your help! 🤍
Other Potato Recipes on the Blog!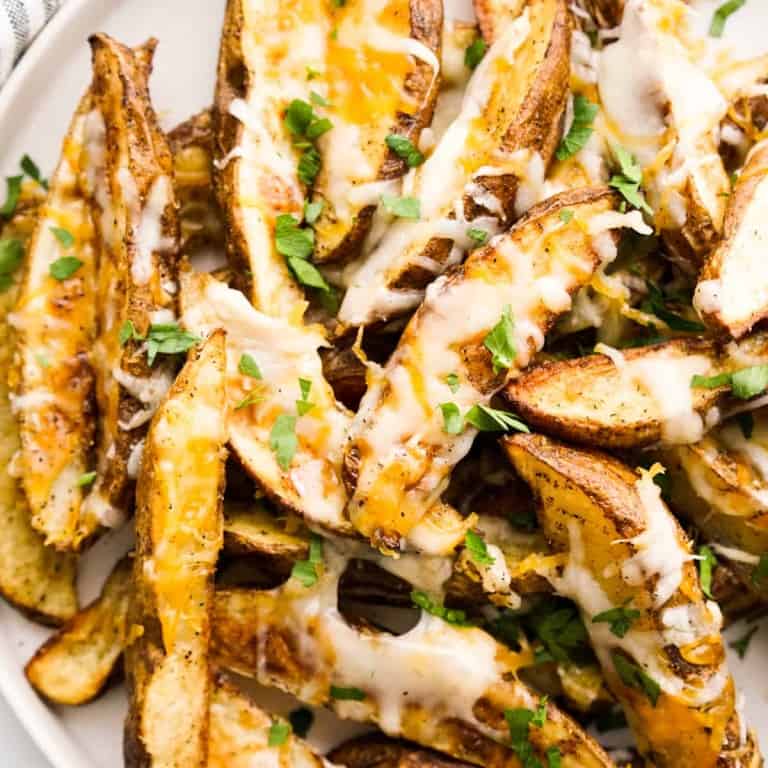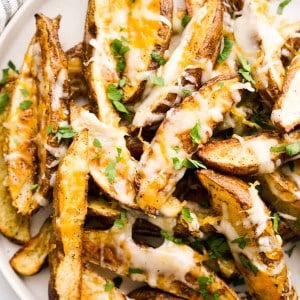 Easy Cheesy Potato Wedges
Crunchy on the outside and soft on the inside, these seasoned potato wedges are baked with gooey melted cheese. Yummy and easy potato fries side dish, perfect as appetizers as well!
Print
Pin
Ingredients
1.5

lbs

russet potatoes

~ 3-5 pieces

2

tbsp

extra virgin olive oil

or more

1/2

tbsp

seasoned salt

1

tsp

pepper

1

cup

cheddar and mozzarella cheese

shredded

1

tbsp

parsley

chopped
Instructions
Scrub and wash russet potatoes. With skin on, cut potatoes into half (long ways), then cut into wedges.

Soak potato wedges in an ice bath for 30 minutes, this will help crisp up the potatoes when baking. When done, drain water, and pat dry potato wedges with paper towels.

Bring potato wedges onto a baking sheet lined with parchment paper. If not using parchment paper, grease baking sheet first.

Lightly sprinkle olive oil onto potatoes, then sprinkle them with seasoned salt and pepper. Use hands to toss potatoes. Make sure potatoes are evenly coated with olive oil and seasonings. Then spread them out onto baking sheet, with one of the flat side down. Do not overlap potatoes. (see Note 1)

Bring baking sheet to oven and bake for 20 minutes.

Remove from oven. Flip over potato wedges so the other flat side is facing downwards.

Bring to oven and continue baking for another 20 minutes, or until potatoes are soft on the inside and crispy on the outside. Remove potatoes from oven.

On the same baking sheet, group cooked potato wedges together, with some overlapping, and top with shredded cheese.

With the oven still warm (but turned off), bring potato wedges and cheese into oven and melt cheese for 5 minutes. If oven is no longer warm, warm melted cheese at 350℉ for 2-4 minutes.

Garnish with parsley and serve. Enjoy!
Notes
Note 1: If doubling the recipe, make sure to bake potatoes in two separate baking sheet and not overcrowd the baking sheet.
Nutrition
Calories:
199
kcal
|
Carbohydrates:
21
g
|
Protein:
7
g
|
Fat:
10
g
|
Saturated Fat:
4
g
|
Polyunsaturated Fat:
1
g
|
Monounsaturated Fat:
5
g
|
Cholesterol:
18
mg
|
Sodium:
701
mg
|
Potassium:
497
mg
|
Fiber:
2
g
|
Sugar:
1
g
|
Vitamin A:
182
IU
|
Vitamin C:
7
mg
|
Calcium:
141
mg
|
Iron:
1
mg