Slow Cooker Chicken Burrito Bowl
Hey hey, Slow Cooker Chicken Burrito Bowl! Flavorful, Mexican-inspired shredded chicken cooked in a Crockpot combined with rice, beans, corn, avocado, and drizzled with a delicious cilantro lime dressing. It's a simple chicken burrito bowl dinner packed with so much yum!
This is a sponsored post written by me on behalf of BRIANNAS Fine Salad Dressings. All opinions and texts are mine.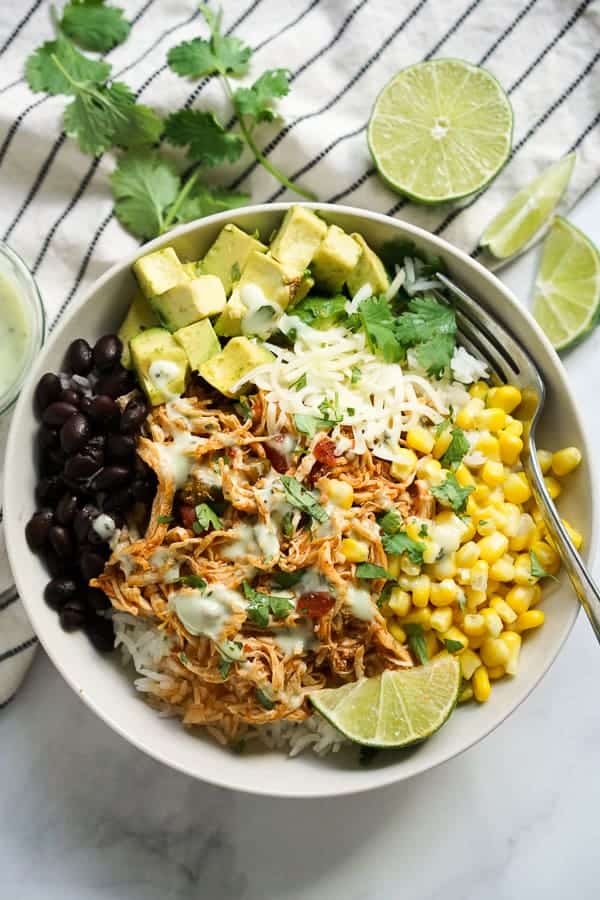 If you like Mexican inspired meals, be sure to also check out Mexican Chicken Casserole and Chipotle Chicken Tostadas! Two easy and delicious recipe that reminds me a lot of this Chicken Burrito Bowl.
Why you need this Slow Cooker (Crockpot) Chicken Burrito Bowl
Whether you are meal prepping, or you have busy evenings, or just want something seriously yummy and satisfying, this Chicken Burrito Bowl is for you.
With Fall and winter around the corner, the slow cooker is my new best friend. I mean, who doesn't love throwing everything into a pot that cooks itself? SIGN ME UP.
A solid slow cooker recipe is what all of us need in our hip pockets. Especially one that is as crazy tasty as this!
So why do you need this Slow Cooker Chicken Burrito Bowl? Let me count the ways…
Oh so easy! Let the slow cooker do ALL the hard work
Great flavors – chicken is cooked in tomatoes, jalapeño, cilantro, lime…not lacking in the flavor department over here!
Lots of textures – i.e. corn, beans, avocado, cilantro…
So versatile – mix and match to create the Chicken Burrito Bowl of your dreams
Leftovers! This recipe makes at least 6 servings (depending on how hungry you are) and will probably give you lunch and dinner for another day or two!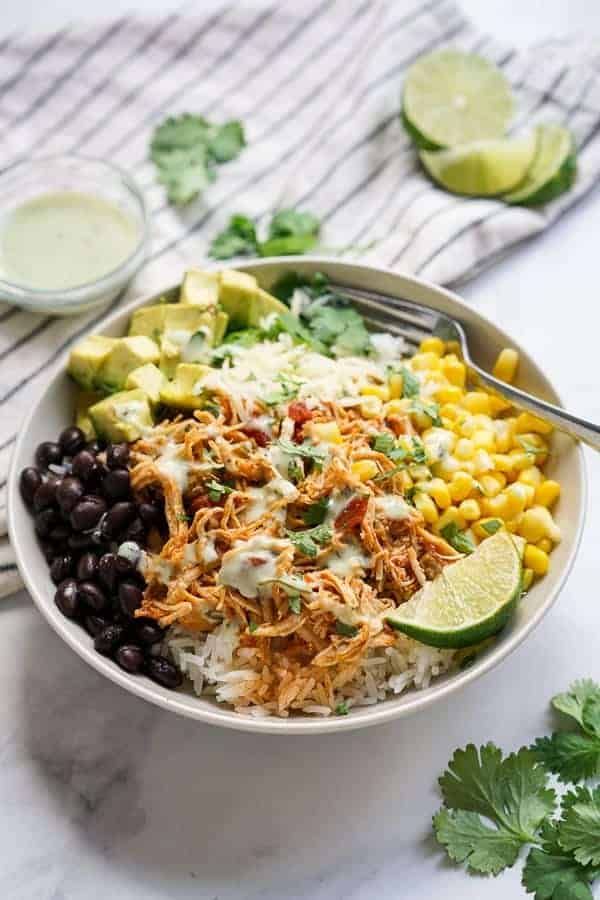 And yes, it tastes as dreamy as it looks….
Cooking chicken in slow cooker or crockpot
First, let's talk about how to make the chicken. Think of this as a slow cooker (or some call it crockpot) chicken recipe inspired by yummy Mexican flavors, so you will find all the good stuff such as jalapeños, cumin, chili powder, and cilantro involved.
The best part is, with a crockpot and all the delicious spices/sauces we are adding, making the chicken flavorful, tender and delicious requires almost zero efforts.
Well, maybe a little effort. 😉 As little as combining all the ingredients into the slow cooker.
These ingredients are:
chicken – I used chicken breast, but chicken thighs work as well
chicken broth
salsa (I like to use chunky salsa, but pick your favorite!)
smoked paprika
cumin
chili powder
BRIANNAS Creamy Cilantro Lime Dressing.
Just dump it all in the slow cooker, cover, and let it do its thing for 4 hours on high.
I do want to pause and take a moment to reflect on how much I'm loving BRIANNAS salad dressings. I recently discovered that they are not just amazing salad dressings, they actually have multiple super powers.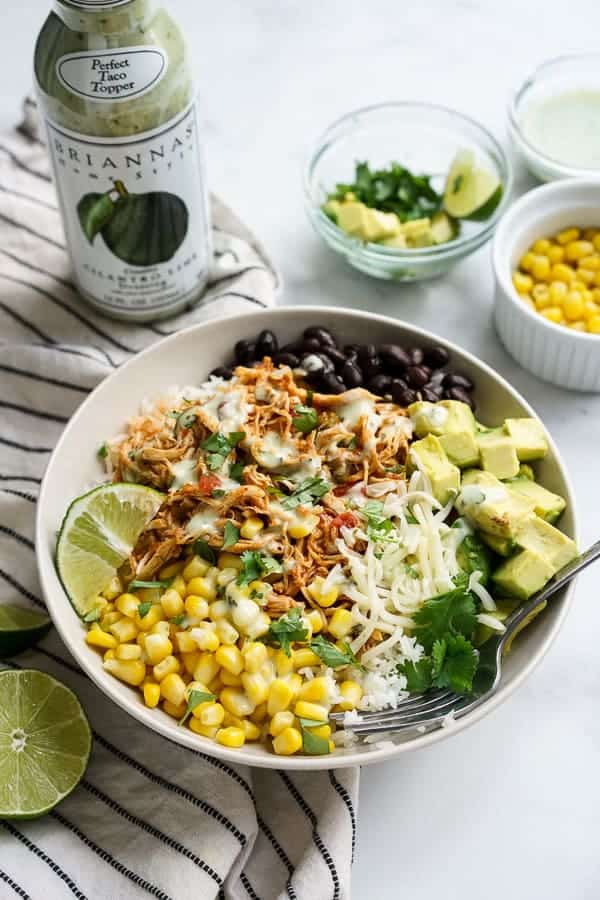 Super power #1: makes salads taste amazing. But we know that already.
Super power #2: it's an INCREDIBLE marinade. And works like magic in the crockpot!
That is right. Made out of quality ingredients, they make amazing marinades for your favorite protein. Like mind-blowing, over-the-fence, cannot-get-enough kind of incredible.
Here's the best part: you can search for BRIANNAS dressings near you HERE and join in the fun!
This Creamy Cilantro Lime Dressing has yummy flavors of jalapeño, cilantro and lime in it, and it takes the flavors of our slow cooker chicken to the next level. In addition (because why stop there?), it also gives the sauce a slightly thicker, creamier texture.
Translation: I love this dressing; I love this Slow Cooker Chicken Burrito Bowl. Lots of love going around.
Once the chicken is cooked on high for 4 hours, shred it. You will find that the chicken will easily fall apart.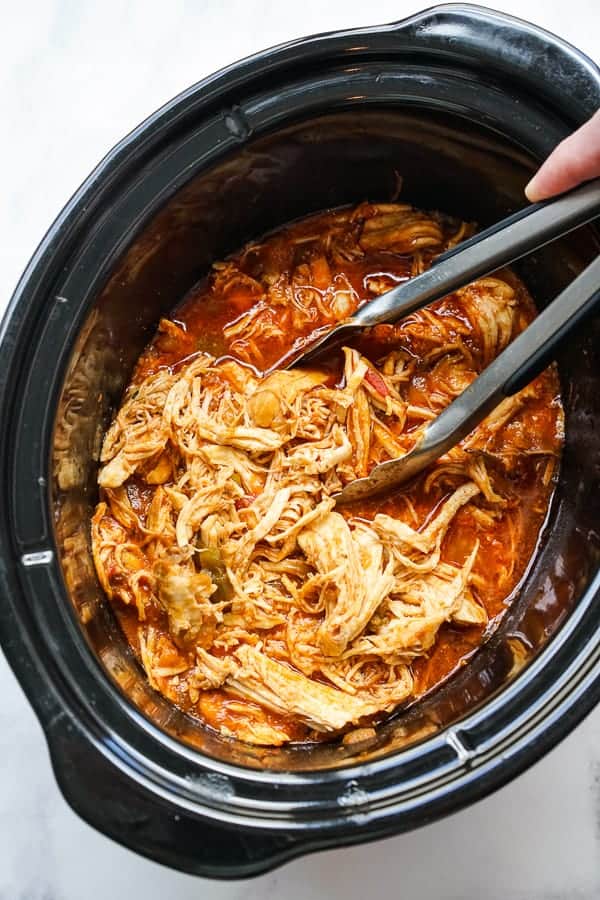 Next, let the shredded chicken sit for about 10 minutes so it soaks in the yummy juices. Yum yum yum.
All the ways to serve Chicken Burrito Bowl!
Something else I love – the versatility of Chicken Burrito Bowl.
Serve the chicken with some (or all) of these yummy ingredients. Mix and match to your heart's content. Make the Chicken Burrito Bowl of your dream.
Best of all, these ingredients take little to no time to prepare:
Rice – white or brown rice, or grab a box of Spanish rice or Mexican rice!
Beans
Corn
Avocado
Cheese
Tortilla Chips
Tomatoes
Pico de Gallo
Jalapeños, if you like it spicy!
Squeeze some lime juice onto the bowl, drizzle it with more BRIANNAS' Creamy Cilantro Lime Dressing.
DIG IN and enjoy that lovely Chicken Burrito Bowl that you just tailor made for yourself!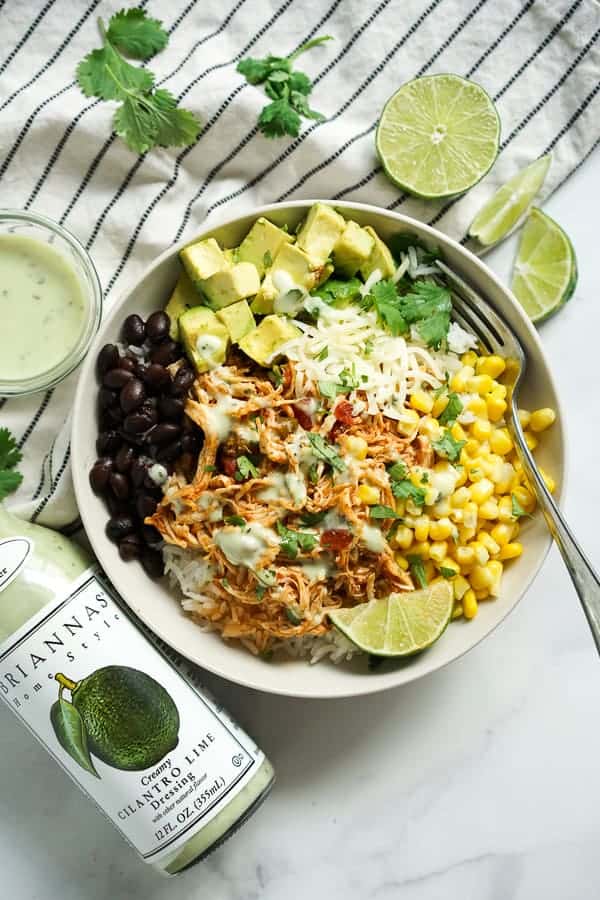 Flavorful, so much texture, pretty healthy, and so much going on in a simple bowl. I adore this delicious Chicken Burrito Bowl made in the slow cooker, and I have a suspicion that you would too!
Tips and Tricks
Here are some additional tips and tricks when making Chicken Burrito Bowl using the crockpot:
When shredding the chicken, use a pair of tongs and fork to shred it. It should come apart really easily!
Taste the chicken after you shred it, and if needed add salt to open up the flavors. I did not add salt, but whether salt is needed will depend on the chicken broth and/or salsa used.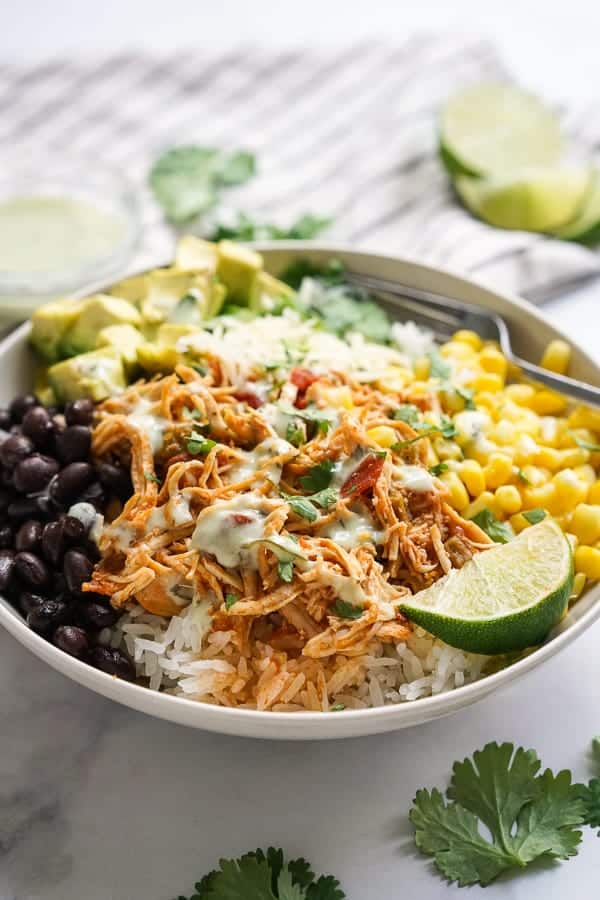 Frequently Asked Questions
Can you freeze Slow Cooker Chicken?
Absolutely! Store in an airtight container in either the refrigerator or freezer. If you are storing it in the refrigerator, consume within 5 days. They store really well and make great leftovers and meal prep! Store ingredients separately and tailor make your Chicken Burrito Bowl when ready to eat!
How do I make the chicken in the Instant pot?
Pressure cook on high for 15 minutes in the Instant Pot.
How do I make this low carb?
Use cauliflower rice instead of white or brown rice.
DID YOU ENJOY THIS RECIPE? Please comment below and give us a 5-star rating! This will help others find this recipe on Google and Pinterest. We very much appreciate your help! 🤍
Other Slow Cooker Recipes!
OTHER MEXICAN INSPIRED RECIPES
I hope you enjoy! Happy slow cooking! 🙂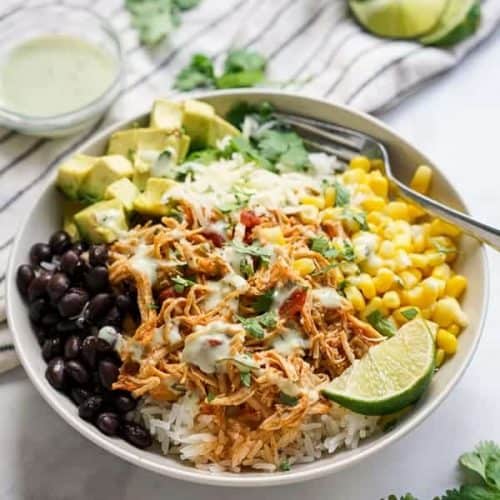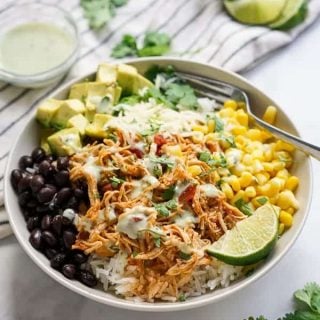 Slow Cooker Chicken Burrito Bowl
Mexican-inspired slow cooker chicken bowl combined with rice, black beans, corn, avocado, cilantro, cheese, and drizzled with a creamy and zesty Cilantro Lime Dressing. Easy and delicious crockpot meal and meal prep.
Print
Pin
Ingredients
Slow Cooker Mexican Chicken
2-2.5

lbs

skinless boneless chicken breast

16

oz

chunky salsa

1/3

cup

BRIANNAS Cilantro Lime Dressing

+ more as drizzle

1/2

cup

chicken broth

1/2

tsp

chili powder

1/2

tsp

cumin

1/2

tsp

smoked paprika
Other ingredients for the bowl
4

cups

cooked rice

2

cups

frozen sweet corn

1

16oz canned black beans, low sodium

3

small avocados

1/4

cup

chopped cilantro

1

lime
Instructions
Add all "Slow Cooker Mexican Chicken" ingredients to slow cooker. Set on high and cook for 4 hours.

Shred chicken (it should come apart really easily!) and let it cook/sit for 10 more minutes. Optional: Add salt to taste if needed (mine was just right without additional salt but this may vary!)

Prepare the other ingredients – cook rice, heat up frozen corn and black beans in the microwave, chop cilantro, dice avocados, cut lime into wedges. (See Note 1)

Assemble rice bowls by adding rice, chicken, corn, black beans, and diced avocados to each bowl. Garnish with cilantro and lime wedges. Drizzle with BRIANNAS Cilantro Lime Dressing.
Notes
Note 1: To save time, start this step while waiting for chicken to cook!
Nutrition
Calories:
645
kcal
|
Carbohydrates:
64
g
|
Protein:
56
g
|
Fat:
21
g
|
Saturated Fat:
3
g
|
Polyunsaturated Fat:
2
g
|
Monounsaturated Fat:
8
g
|
Cholesterol:
90
mg
|
Sodium:
409
mg
|
Potassium:
1077
mg
|
Fiber:
8
g
|
Sugar:
6
g