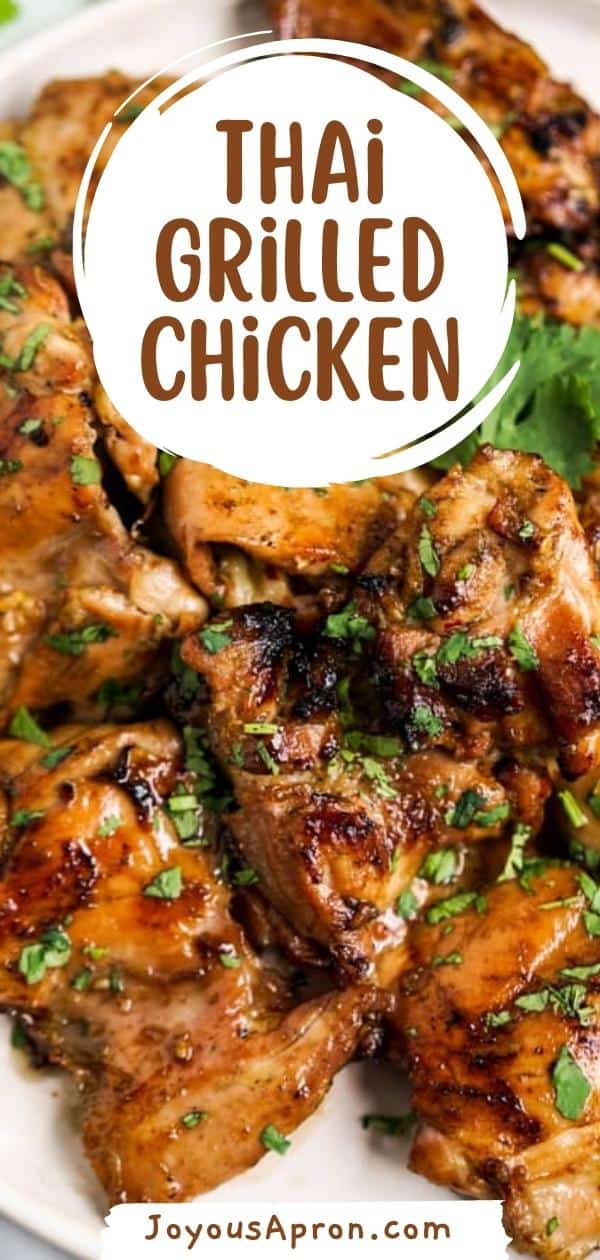 This post may contain Amazon or other affiliate links. As an Amazon Associate I earn from qualifying purchases at no additional cost to you.
I am not exaggerating when I say this is one of the tastiest chicken recipe I've ever sinked my teeth into! Easy to make, inspired by Thai flavors, this Thai Grilled Chicken dish can be made on the stovetop as well if you are not in the mood to fire up the grill!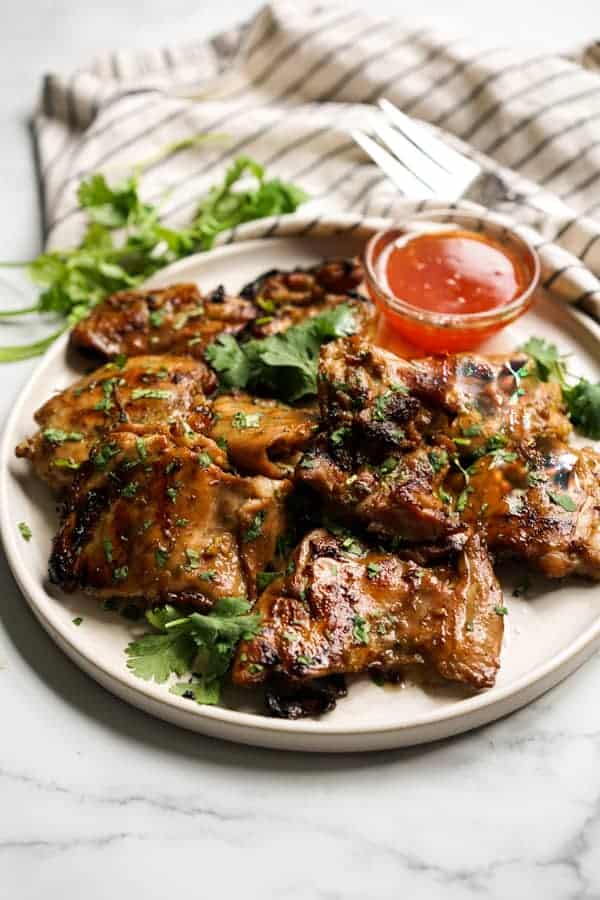 There's one thing you should know before you read any further: I am one Thai-flavor-obsessed human.
The evidence is loud and clear in this little food corner of mine on the internet. I cannot help it but make all the Thai food because Thai food is my love language. Simple Thai Noodle Bowl, Pad Thai, Thai Mango Sweet Sticky Rice, Pad See Ew…
If we were to list it all we would be here way too long, and you are really here to read about these delicious Thai Grilled Chicken Thighs.
But I need to express my deep, profound, undying love to all things Thai food.
The flavors. The textures. The freshness. The mind-blowing spices.
And you should know that this recipe is really a salute to all the beautiful Thai flavors and spices that we know and love by packaging them into this tasty chicken marinade.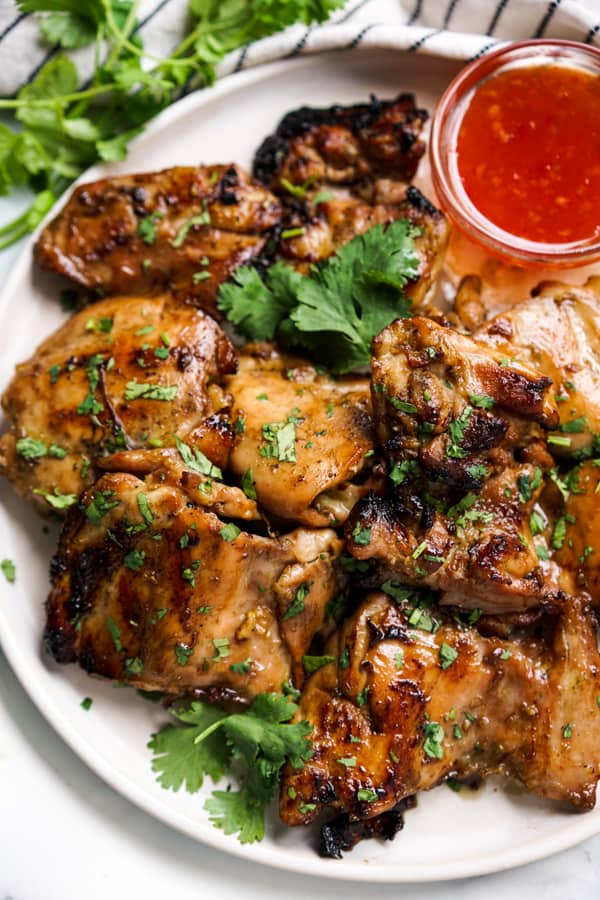 And then we let the chicken sit in the marinade for hours upon hours, soaking up all the yum things before we place the chicken on the grill where it inherits that smoky flavor, taking the flavor profile to a whole new (even more ridiculously good) level.
Just when you think it doesn't get any better. It does.
One bite of it and you will know what I mean. It's savory, it's sweet, it's smoky. It has layers, complexity…and that umami flavor that wakes up your senses.
Thai Chicken Marinade
The star. The hero. The highlight of the dish.
This recipe is really nothing without the marinade. Nada. Zero.
Here are the deets. Take notes, people:
Fish sauce – do not be intimidated by this. It is in the majority of Thai food. This is the secret behind that complex unique flavor of this dish. If you are not used to its smell, don't worry, it tastes completely different from the way it smells. You just have to trust me. And then thank me later. 😉
Soy sauce – you can get all fancy and use Thai soy sauce but just about any soy sauce would do!
Lime juice
Shallots
Fresh Garlic – avoid using garlic powder. Only the real thing for this recipe! 😉
Ginger root
Vegetable Oil
Throw everything into a blender or food processor and blend it all up because that's really the fastest, easiest way to get this going.
In other words, I am lazy and this is how I get it done with minimal effort in minimal time.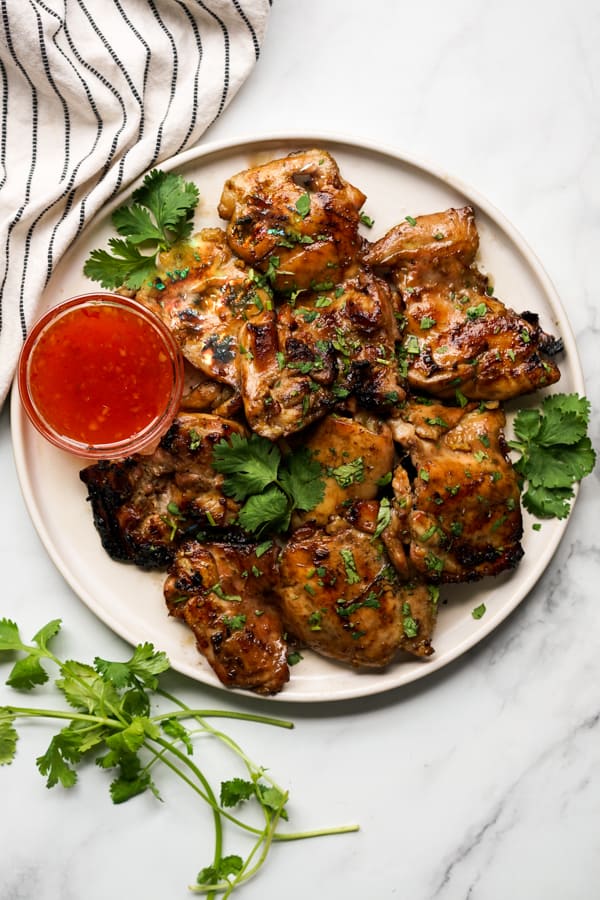 Then marinade the chicken thighs in it for at least four hours and up to overnight.
And here's the secret: the longer you marinate the tastier the chicken will be. The marinade will slowly penetrate into the chicken meat and you will taste the incredible flavor not just on the outside but in every molecule in the chicken.
I get it as close to the 24 hour (overnight) mark as I can whenever I marinate this because (again) I am a Thai-flavor junkie like that.
Can you use chicken breast?
Absolutely! With a marinade like this you can submerge the most boring thing in it and it will taste incredible!
If I am in a super picky, food-snob mood (which I can be in often…my husband will attest to that), I prefer chicken thighs to chicken breast because chicken thigh is simply more flavorful and superior when marrying with that fish sauce/soy sauce marinade.
However…you should not shy away from using chicken breast because that sauce is the bomb and it seriously will make oxygen tastes good.
But if you ask about my preference….yeah, chicken thighs all the way. 🙂
Grill or Stove Top!
Even though it's called Thai Grilled Chicken, you can pan fry chicken on the stove top as well. Cook it using a skillet or grill pan!
Now…if you are wondering if I have a preference? Then outdoor charcoal grill all the way!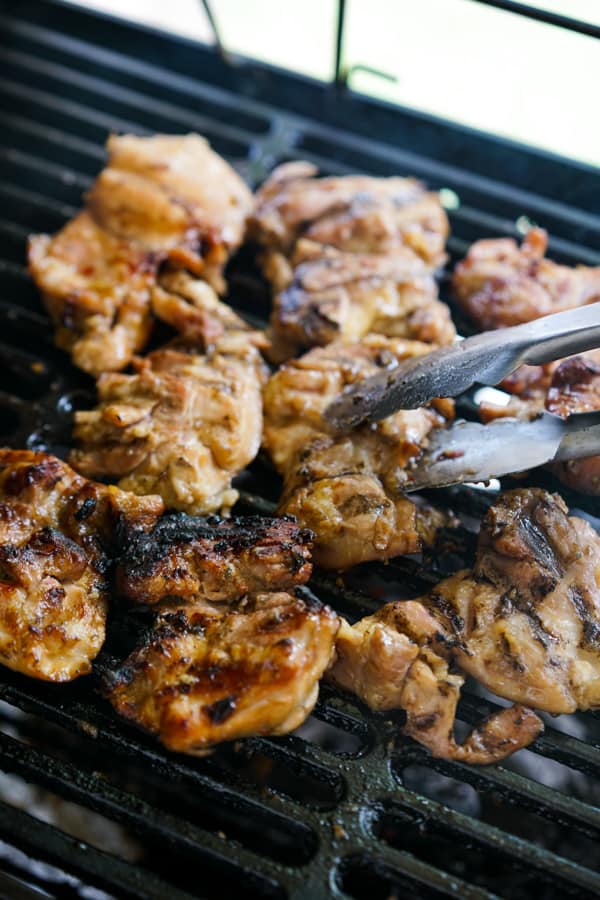 There's nothing like cooking this glorious piece of meat on the fire. Fire adds so much flavor.
But I also know not all of us have the luxury of cooking it over fire, and it is definitely a little bit more high maintenance to do so.
How to serve Thai Grilled Chicken
The chicken by itself is incredibly tasty and can be served by itself. If you want to extra a little extra enhancement, I like to garnish with cilantro (because I love the burst of freshness it brings) and serve with some Thai Sweet Chili Sauce on the side.
Thai Sweet Chili Sauce is really more of a sweet sauce than a spicy sauce. I always have a bottle in my fridge because it's so good! Check out my Thai Chicken and Brussels Sprouts Stir Fry and Baked Cream Cheese Wontons that call for it as well!
I like to pair this chicken dish with white or brown rice or noodles!
Other Tips and Tricks:
Defrost chicken completely and pat dry before marinating.
Because there is sugar in the marinade the chicken may burn quickly. A little burn is actually super yummy, but you will want to watch to make sure it doesn't over burn. Lowering the heat or covering will help cook the insides before the outsides burn!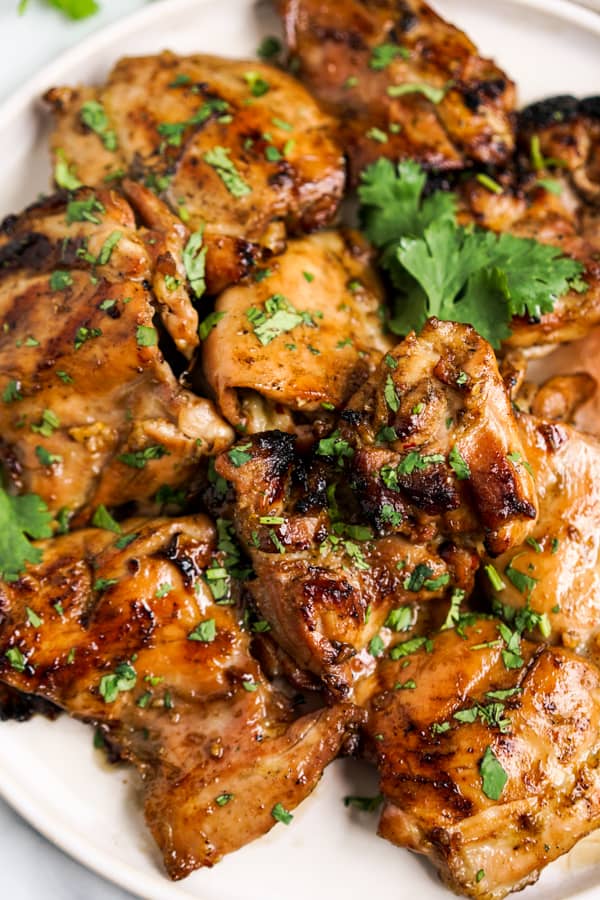 What to serve with Thai Grilled Chicken
I was telling my husband the other day that this dish reminds me of Southeast Asia. I may not be from Thailand, but when we were grilling this outside on the charcoal grill, the aroma took me back to the hawker stalls in Penang.
Ahh…there's nothing quite like incredible food that brings about nostalgia.
I have a feeling we will be making this over and over again….
DID YOU ENJOY THIS RECIPE? Please comment below and give us a 5-star rating! This will help others find this recipe on Google and Pinterest. We very much appreciate your help! 🤍
More Grilling Recipes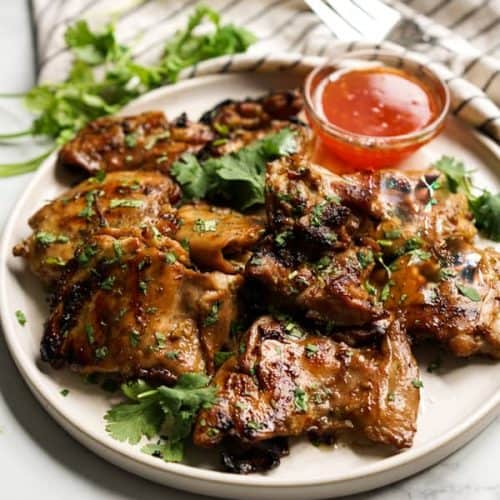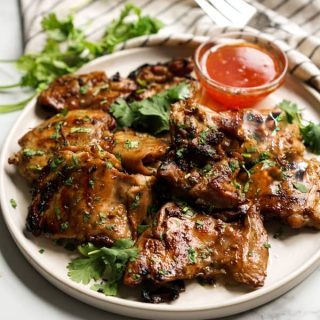 Thai Grilled Chicken
Delicious and flavorful chicken thighs marinated in Thai seasoning and spices, then grilled to perfection! Can be pan seared as well.
Print
Pin
Ingredients
2.5

lbs

chicken thighs

1

tbsp

cilantro

chopped

2

tbsp

Thai sweet chili sauce
Thai Chicken Marinade
1/4

cup

fish sauce

1

tbsp

soy sauce

3

tbsp

vegetable oil

3

tbsp

brown sugar

3

tbsp

lime juice

3-4

cloves

garlic

1

inch

ginger root

peeled

1/2

shallots

1/2

tsp

red pepper flakes

optional
Instructions
Blend the marinade ingredients in blender or food processor.

Marinade chicken thighs in marinade for at least 4 hours or up to 24 hours.

Heat up grill or skillet. Once heated, cook chicken on one side and then flip to cook the other side until internal temperature reaches 165ºF. (See Note 1)

Remove from heat and garnish with chopped cilantro.

Serve with Thai Sweet Chili Sauce and enjoy!
Notes
Note 1: If the outside of the chicken burns before the insides are cook, try covering or lowering heat (if using skillet), moving chicken so that it is not directly on the fire (if using charcoal grill).
Nutrition
Calories:
778
kcal
|
Carbohydrates:
17
g
|
Protein:
48
g
|
Fat:
57
g
|
Saturated Fat:
21
g
|
Cholesterol:
278
mg
|
Sodium:
1701
mg
|
Potassium:
677
mg
|
Fiber:
1
g
|
Sugar:
14
g
|
Vitamin A:
295
IU
|
Vitamin C:
4
mg
|
Calcium:
40
mg
|
Iron:
2
mg