Strawberry Thumbprint Cookies
Warning: these Strawberry Thumbprint Cookies are addictive!
Shortbread thumbprint cookies filled with strawberry jam and topped with sugar crystals for that extra crunch when you bite into it. If I can only use three words to describe these strawberry filled cookies, it's these: buttery, melt-in-your-mouth, heavenly.❤️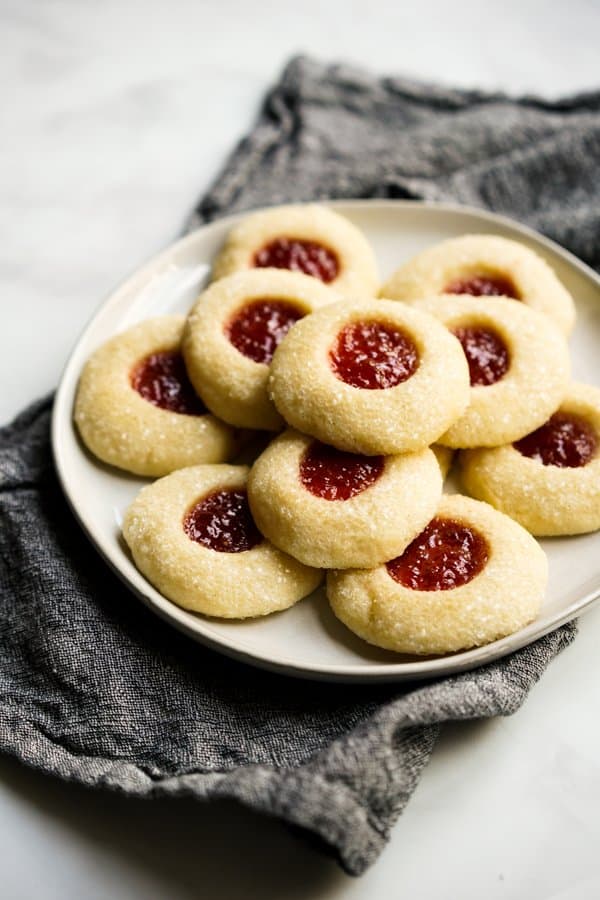 Cookies with Strawberry Filling
We always overeat our share of cookies whenever we make these Strawberry Thumbprint Cookies.
It's especially hard to resist these crumbly, buttery strawberry jam cookies when they are fresh out of the oven and your entire house smell like a a combination of vanilla and sugar.
The temptation is real (and so yummy)…
To portion control, we typically save half of the dough in the freezer and only bake the other half of the Strawberry Thumbprint Cookies so that 1) we do not overeat our fair share, 2) the next batch is fresh out of the oven when we want to eat them. Win-win!
This way when we are done with the first batch, there is no extra strawberry filled cookies sitting on the kitchen counter looking all tasty and irresistible. 😉
And yes, it is that good. The cookie dough will probably remind you of shortbread cookies. Crumbly, moist, and super buttery.
As for the strawberry filling portion, for convenience you can use store-bought strawberry preserves, jelly or jam, or make your own if you want to go all out.
It will be hard to compete with fresh homemade jam, but homemade is also a lot of work! So don't skip out on this just because you don't want to make the jam from scratch. This is still totally worth your time if you are using a jar of store-bought jam for the filling.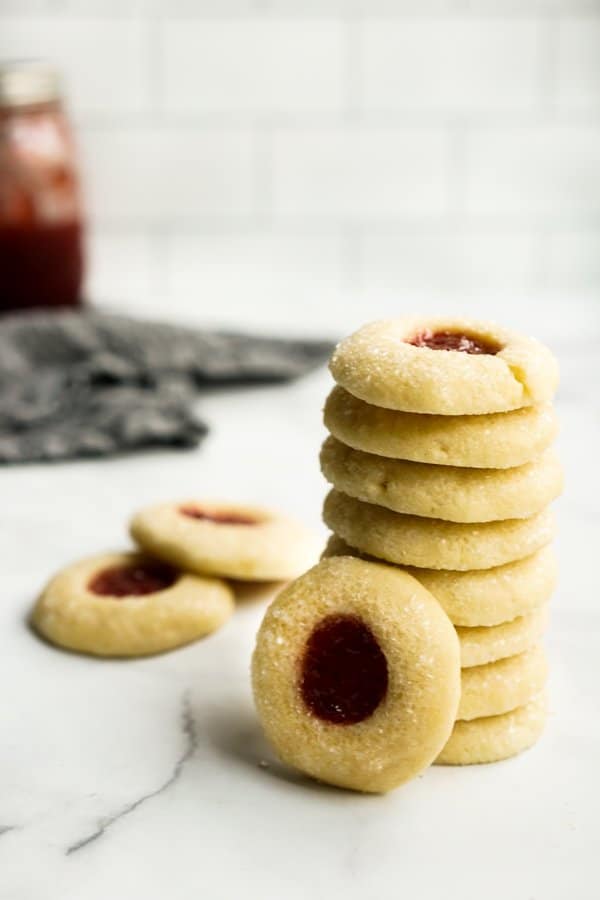 And if you are still trying to decide on what cookies you want to make, and can't quite make up your mind, be sure to check out my Caramel White Chocolate Chip Chocolate Cookies, or Chocolate Marshmallow Cookies, or White Chocolate Raspberry Cookies. They are equally fabulous.
Ingredients
Strawberry Thumbprint Cookies is a simple shortbread cookies recipe filled with strawberry jam or preserves.
Let's talk about the thumbprint cookie dough ingredients first. Here is what you need:
All purpose flour
Baking powder
Salt
Unsalted butter – leave it out to soften before use!
Granulated sugar
Egg
Vanilla extract
Made with pantry-friendly ingredients, you probably already have most if not all of the ingredients in your kitchen.
And that's what I love most about this Strawberry Thumbprint Cookie recipe. In fact, I whip this together on a whim a lot because I typically have all the ingredients at hand.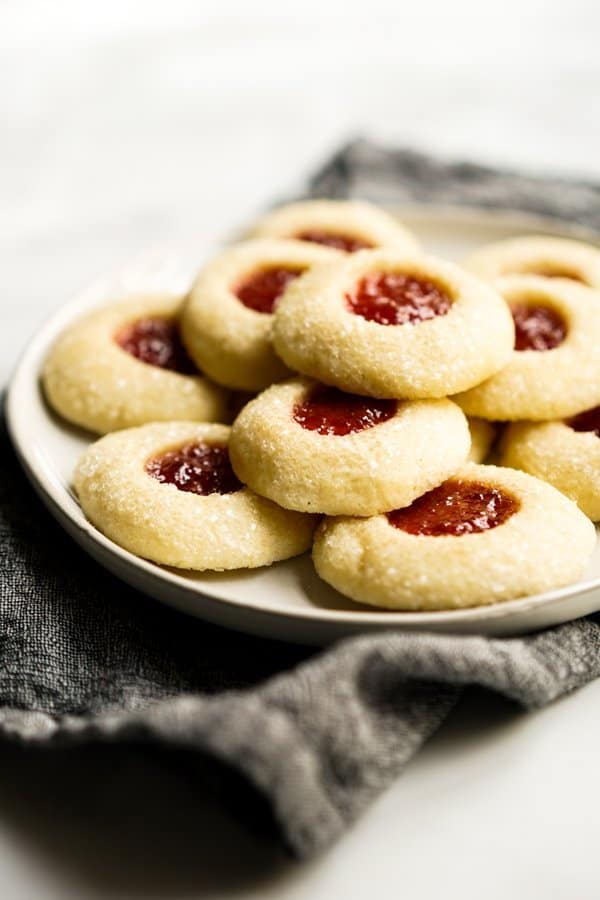 As for the strawberry filling, a good quality strawberry jam or preserves made with real strawberries are best suited for this. Avoid the 'jelly' or more artificial kind.
If you are looking to make it from scratch, Ina Garten's Strawberry Jam recipe is my go-to homemade jam recipe for many years. It is simple, flavorful, and not overly sweet. An absolute delight.
If I have all the time and energy in the world to make it all the time, I would exclusively eat her homemade strawberry jam.
How to make it
Making Strawberry Thumbprint Cookies from start to finish takes about 30 minutes.
You can refrigerate the cookie dough for 1-2 hours if you want your Strawberry Thumbprint Cookies puffier (like the photos). If they are not refrigerated before forming into individual cookies, then they will come out slightly flatter after baking.
Once dough is ready, roll into 1 1/2 inch balls.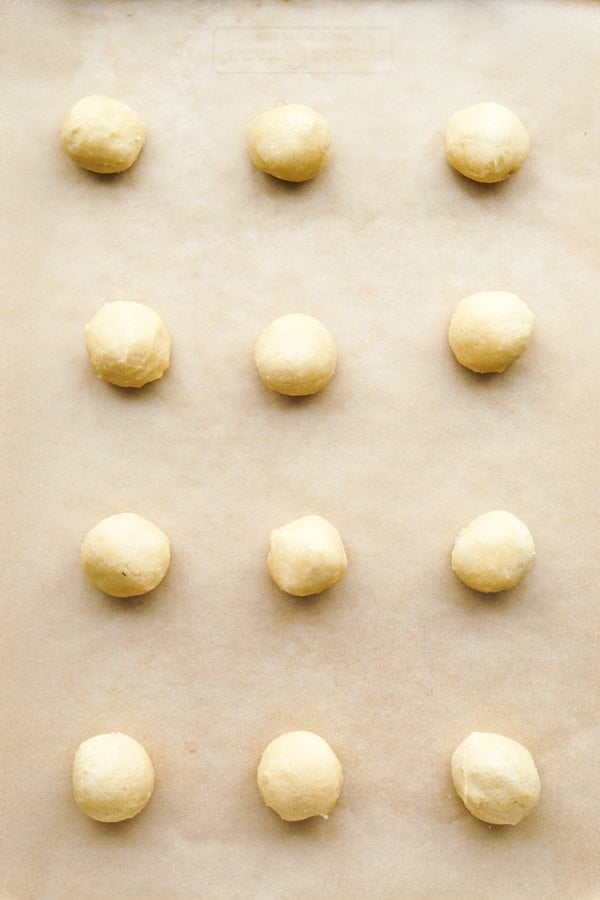 Then comes to fun part…let's make a thumbprint
Or kinda like a thumbprint…
You can make a dent in the middle of the dough ball with your thumb, or you can also use the end points of a rolling pin to make the indentation.
I like the rolling pin method better because it makes a cleaner indentation.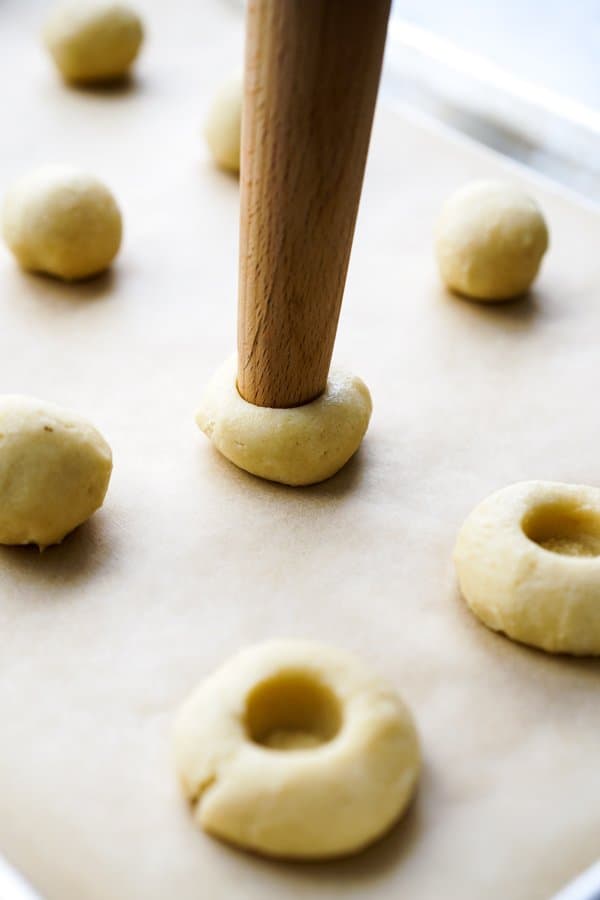 After that, prepare a small bowl of coarse sugar crystal.
Dip the top of each indented shortbread cookie dough onto sugar mixture. Use fingers to press sugar down onto the dough so that it sticks on it.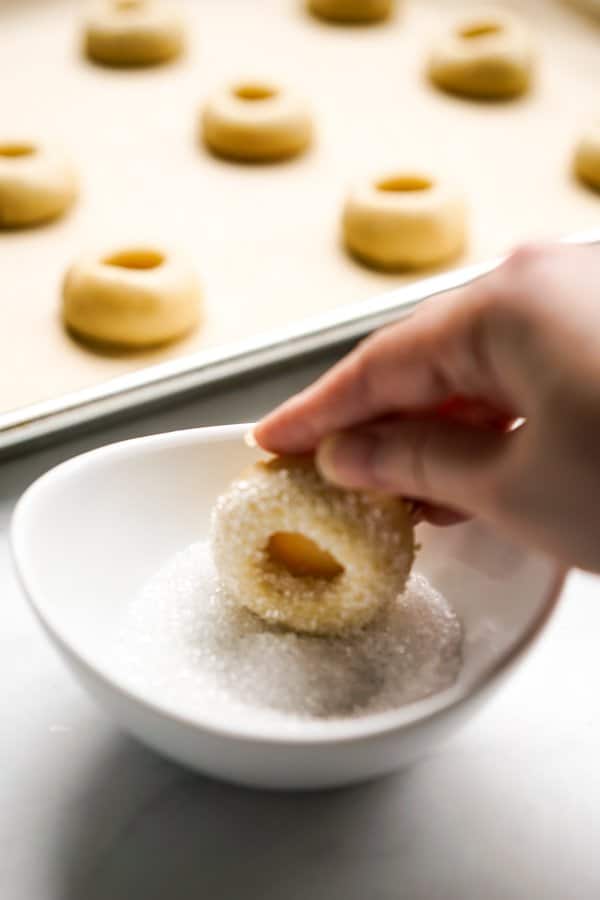 Next, fill each indentation with strawberry jam or preserves.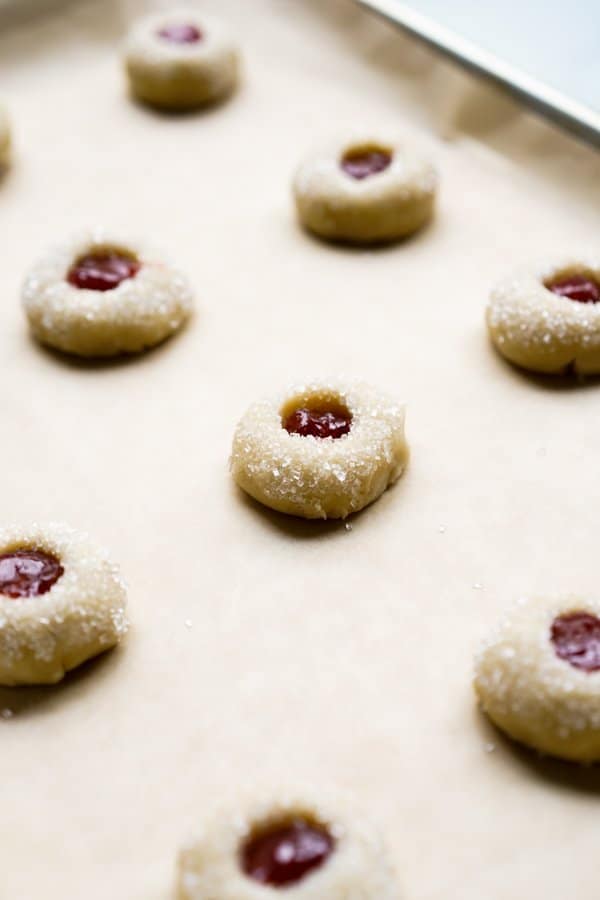 Bake Strawberry Thumbprint Cookies in the oven for 14-15 minutes at 350℉.
When it is done, remove from oven and let it sit for a few minutes on baking sheet.
Then remove Strawberry Jam Thumbprint Cookies from baking sheet and let it cool completely on a cooling rack.
Let me assure you: these strawberry filled cookies taste every bit as lovely as they look!
Serve them for dessert, snack, afternoon tea, or whenever you need a little cheer-me-up.
Highly recommend them when you are having a bad day. It has a magical effect and is food therapy at its finest. ❤️
Additional Notes / Tips and Tricks
Make sure to refrigerate dough before forming them into balls if you want them to turn out puffier and not flat. Using melted butter instead of softened, especially if you do not refrigerate the dough, will also flatten the cookies.
Use good quality strawberry jam or preserve! Preferably those made primarily with real strawberries.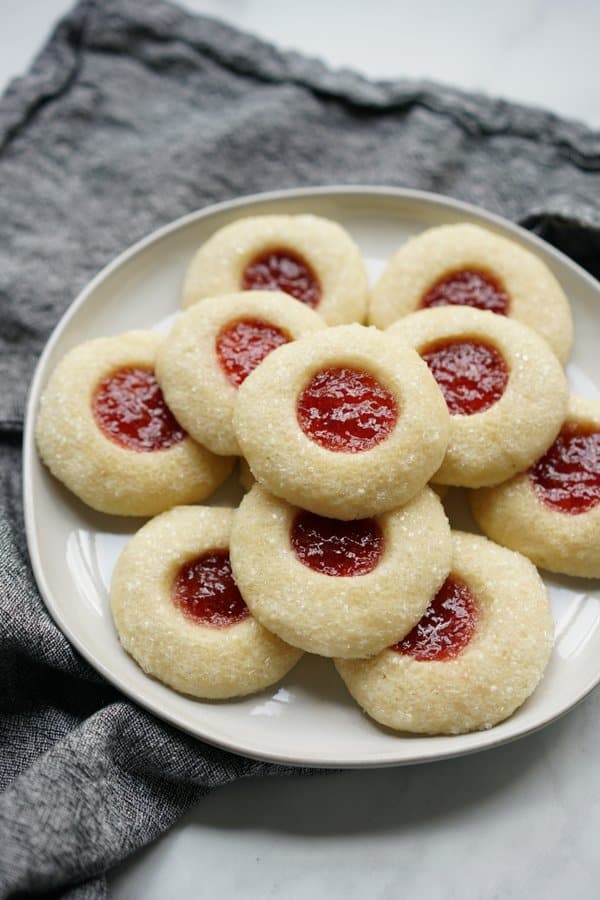 Storing Thumbprint Cookies
To store pre-baked cookie dough, keep them in an airtight bag or container in the refrigerator or freezer. Keep in refrigerator no more than 5 days, it can be kept in the freezer for up to 1 or 2 months.
To store baked Strawberry Thumbprint Cookies, keep them in airtight bag or container in room temperature for up to 3 days, or refrigerator for up to 6 days.
DID YOU ENJOY THIS RECIPE? Please comment below and give us a 5-star rating! This will help others find this recipe on Google and Pinterest. We very much appreciate your help! 🤍
More Sweets and Treats!
Because why not!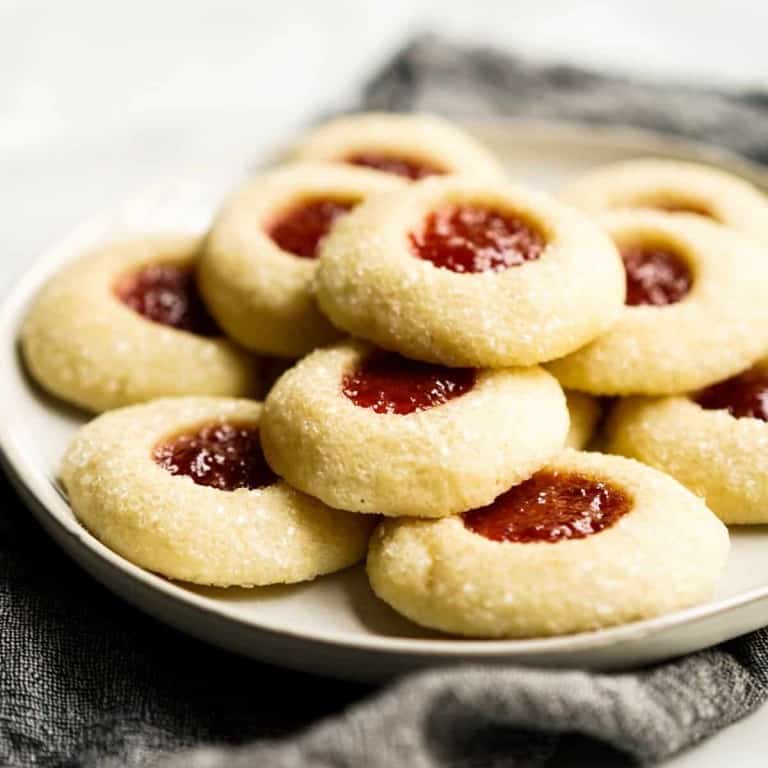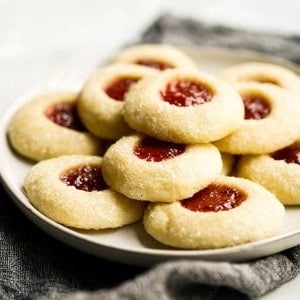 Strawberry Thumbprint Cookies
Buttery and moist shortbread thumbprint cookies topped with sugar crystals and filled with strawberry jam. A delicious sweet treat!
Print
Pin
Ingredients
3/4

cup

unsalted butter

softened

3/4

cup

granulated sugar

1

large egg

1

tsp

vanilla extract

1 3/4

cup

all purpose flour

1/2

tsp

baking powder

1/2

tsp

salt

1/2

cup

white sugar sprinkles

1/2

cup

strawberry jam
Instructions
In a large bowl, mix to combine wet mixture – unsalted butter, granulated sugar, egg and vanilla extract.

In a separate bowl, bring together dry mixture – all purpose flour, baking powder, and salt. Mix well.

Add dry mixture into wet mixture. Using a spatula to combine everything.

Optional: cover bowl and refrigerate dough for 1-2 hours.

Roll dough into small 1 1/2 inch balls. Then use the ends of a rolling pin or thumb to make an indentation at the middle of the dough ball. Press halfway down but not all the way.

Press tops of cookies face down onto a bowl of white sugar sprinkles, and place them ~2 inch apart on the baking sheet.

Fill each of the indentation with strawberry jam.

Remove from oven let it cool on the baking sheet for a few minutes, then place them on cooling rack until they are completely cool.
Nutrition
Calories:
147
kcal
|
Carbohydrates:
22
g
|
Protein:
1
g
|
Fat:
6
g
|
Saturated Fat:
4
g
|
Trans Fat:
1
g
|
Cholesterol:
22
mg
|
Sodium:
63
mg
|
Potassium:
20
mg
|
Fiber:
1
g
|
Sugar:
14
g
|
Vitamin A:
187
IU
|
Vitamin C:
1
mg
|
Calcium:
11
mg
|
Iron:
1
mg