Beef Bulgogi (Korean BBQ Beef)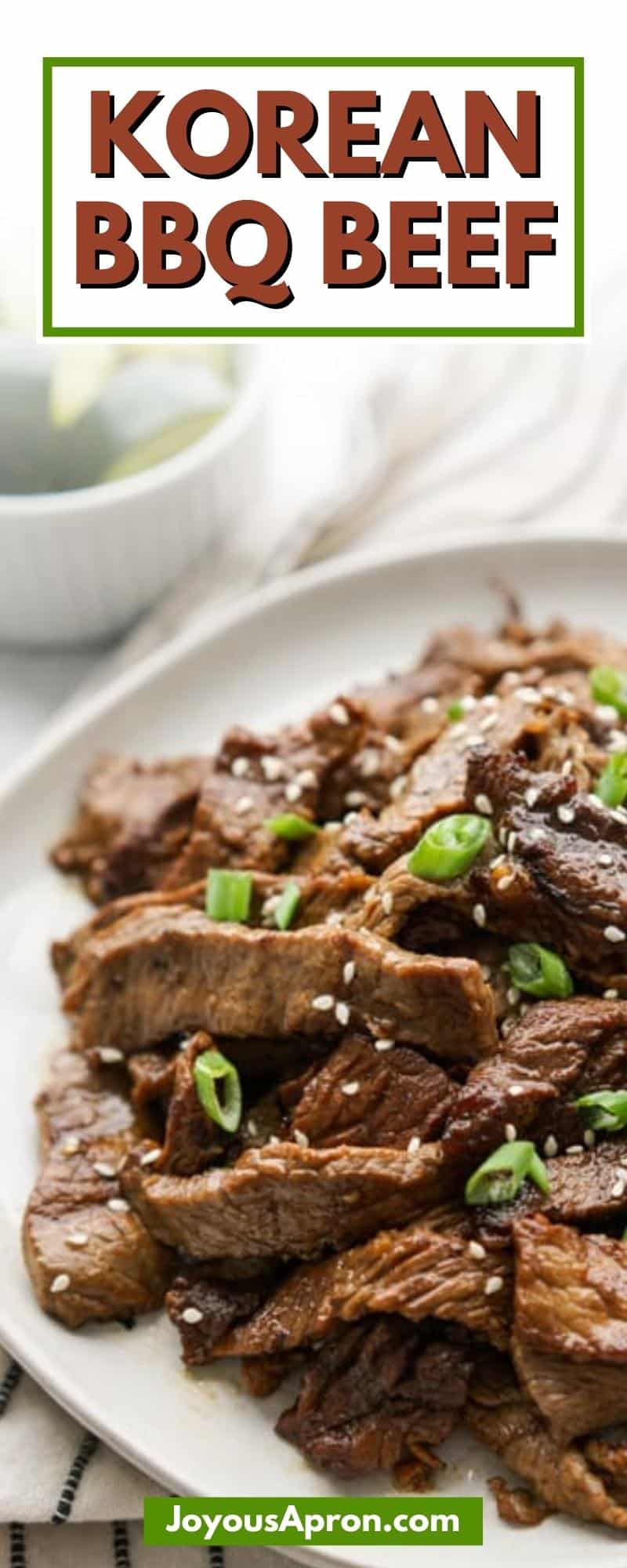 Beef Bulgogi, also known as Korean BBQ Beef, is a popular Korean dish with big flavors. Tender beef marinated in a savory sweet soy based sauce and then grilled or seared to perfection…simply irresistible and so easy to make!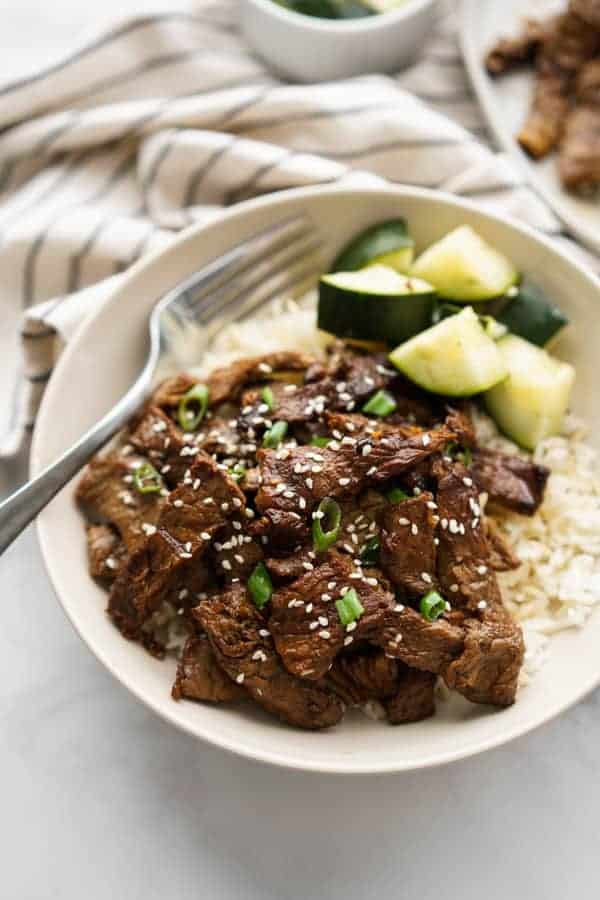 If you love to grill, don't forget to also check out these Asian inspired grilling recipes that I love! Teriyaki Chicken Skewers, Chinese Barbecue Pork (Char Siu), Thai Grilled Chicken, and Vietnamese Noodle Bowl with Grilled Pork.
What is Bulgogi or Korean BBQ Beef?
We love Korean food/ Korean BBQ…
I published this Spicy Baked Korean Chicken Wings a while back and this is another Korean dish that we make often at home.
We love those Korean BBQ restaurants where we sit around a grill placed on the center of our table and sear the delicious marinated meats ourselves. We patiently wait for meat to cook while breathing in the aroma of yummy food. When it is done, we immediately bring it to our plates and wolf it down our throats.
And then keep repeating the process until we are crazy full and completely satisfied.
Being at home so much during this season makes me crave Korean BBQ big time. Korean BBQ restaurants serve all kinds of meat, but today we will focus on one. Korean BBQ Beef, or commonly known as Bulgogi Beef, is a very popular item on the menu in Korean BBQ restaurants.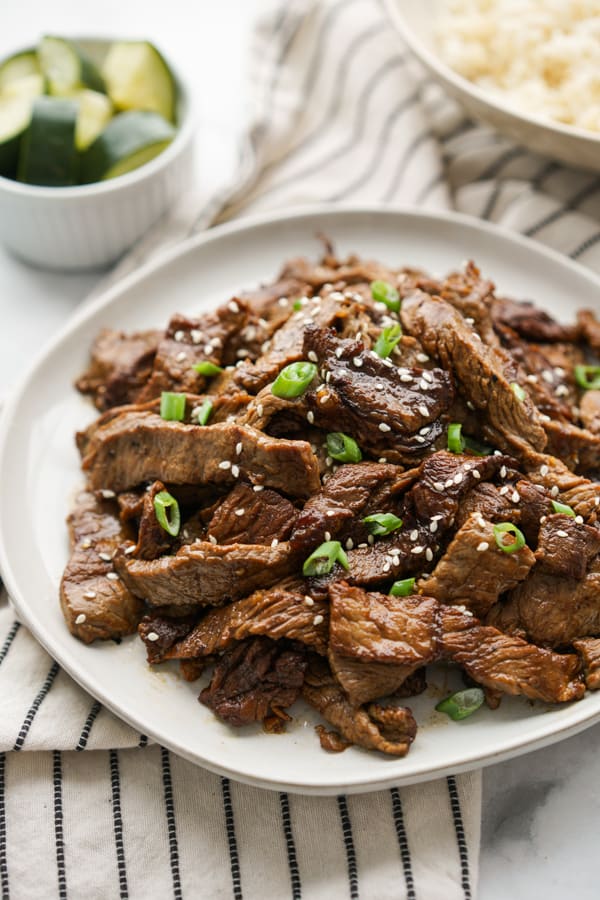 You can also find Bulgogi Beef outside a Korean BBQ setting. You can go to any regular Korean restaurants and it is typically served with rice, kimchi and other sides.
Bulgogi Beef (Korean BBQ Beef) is basically tenders slice of beef marinated in a beautiful yet fairly simple concoction of spices and sauces, then quickly grilled or pan fried until it is slightly charred on the outside and tender on the inside.
The marinating part in the process is important because that is the reason why the Korean BBQ Beef is so flavorful and delicious.
Simple to make, tender, delicious, and OH SO DANG GOOD.
For a shortcut, simpler version of Korean BBQ Beef, check out Korean Ground Beef Stir Fry, an easy dinner recipe inspired by this Bulgogi recipe that is ready under 20 minutes! It's perfect for when you are craving Korean flavors but don't have time to make it from scratch!
Korean BBQ Beef Marinade
The marinade is the heart and soul of this Korean BBQ Beef recipe. Here's what in the Beef Bulgogi marinade:
brown sugar
rice vinegar – white vinegar works as well if you cannot find rice vinegar
fresh garlic – do not substitute with garlic powder – it doesn't tastes the same!
ginger
pear – ingredient that makes this dish truly unique. Traditionally, fresh pear is blended into the Bulgogi Korean BBQ Beef marinade and produce a distinct, unique and beautiful flavor. If you cannot find pear, you can substitute with apple or apple juice.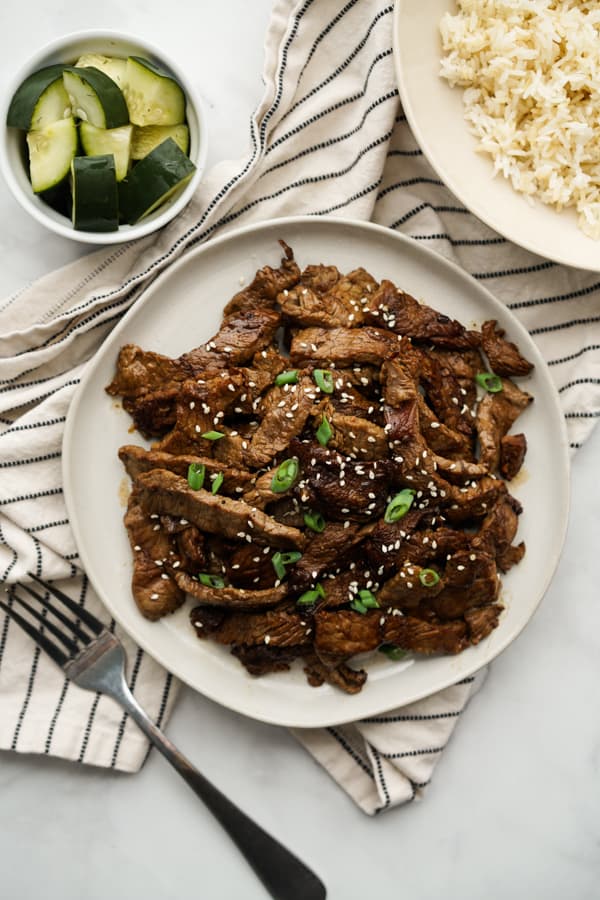 Everything comes together and the beef will be tender and juicy, with savory, sweet, slightly tangy (from the hint of vinegar and the fruit) flavors.
Types of beef to use
I highly recommend a fairly good cut of beef for Bulgogi. I like to use sirloin steak for this, but you can also use trip-tip, flank, strip steaks as well. Avoid tougher cuts such as beef chuck.
Another way to make sure Korean BBQ Beef is tender is to slice the beef cross grain and slice it fairly thinly.
Appliances to use
To make Beef Bulgogi or Korean BBQ Beef at home, you can use a cast iron skillet, cast iron grill, a regular skillet or grill pan.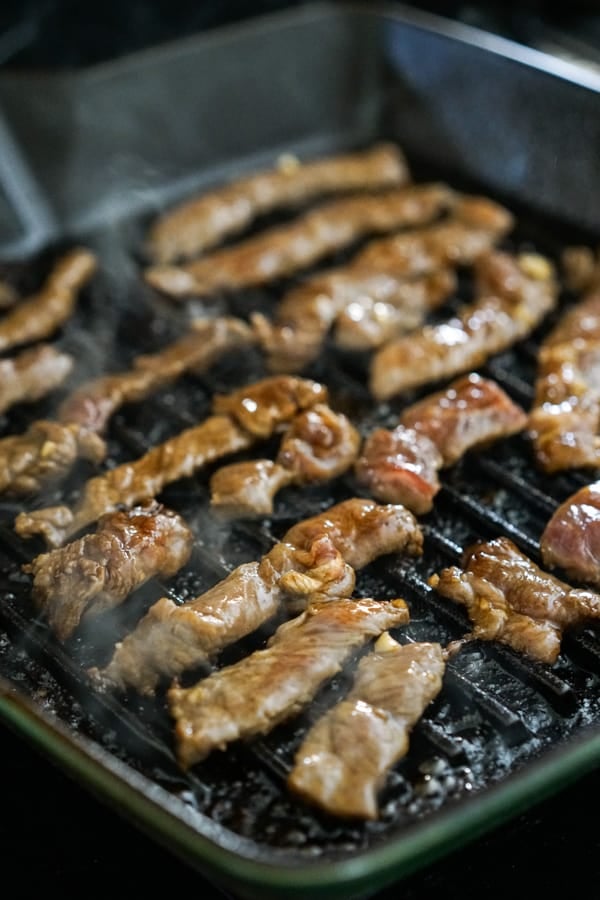 If you want to grill it using an outdoor grill, that would work great as well.
In fact, the smoke would add a lot of beautiful flavor to the meat. But firing up an outdoor grill is always a bit more work and cleanup. We typically do the indoor cooking method are always incredibly satisfied with the results.
There are special Korea BBQ grills you can buy to recreate the full Korean BBQ experience at home, but it is not necessary. I typically cook this using this cast iron grill that I love and use very often.
Substitutions
Korean BBQ Beef (Bulgogi) is one of those recipes where there are a few ways we can substitute some ingredients and it will still tastes pretty yummy and close to the real thing.
If you cannot find pears, you can use apples or even apple juice as a substitute. Use 1/2 apple or 1/4 cup of apple juice to substitute for the 1/2 pear the recipe calls for.
Similarly, if you cannot find rice vinegar, feel free to use white vinegar or even apple cider vinegar instead.
Ginger root can be substituted with ground ginger as well, but avoid substituting fresh garlic with garlic powder if at all possible!
Ground garlic just doesn't have the same depth of flavor fresh garlic has, and I think there is a slight aftertaste in garlic powder that changes the flavor in the marinade.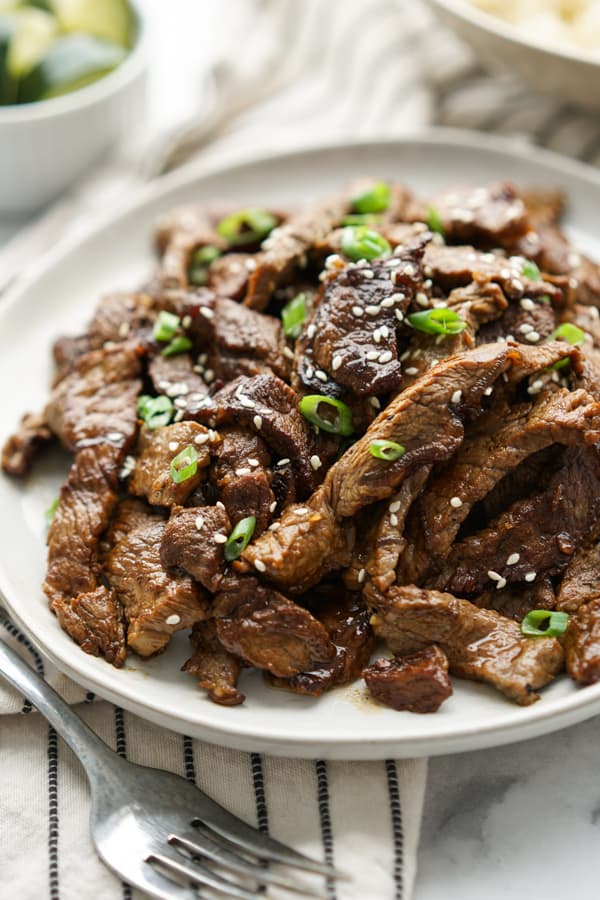 Tips and Tricks
A few more tips and tricks for making Korean BBQ Beef and you should be all set!
Slice beef cross grain and thinly.
Because beef is sliced thinly, it cooks fairly quickly. So prepare to bring to grill pan/skillet and remove quickly after that.
Marinade beef for at least an hour! This is important to get lots of yummy flavors into the meat. And there is no need to marinate for a super long time. The beef is sliced pretty thinly so they soak up the flavors pretty fast!
How to Serve Beef Bulgogi
I love serving Korean BBQ Beef over white or brown rice. Nothing too complicated or convoluted. 🙂
In addition to rice, I like to pair Beef Bulgogi with some veggies. Here are some good options: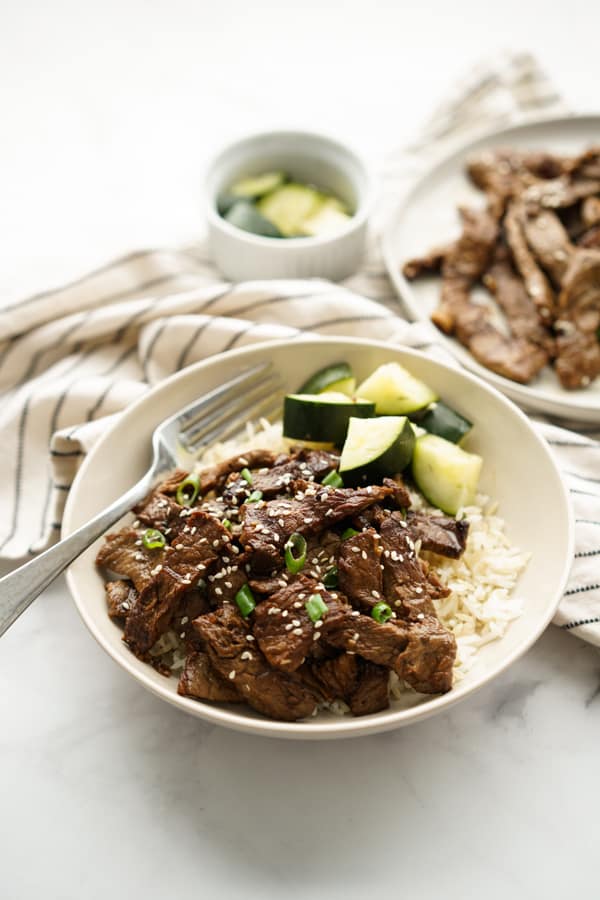 So there you go! A simple yet such a delicious rendition of Korean BBQ Beef right in the comforts of your own home.
If you are craving Korean BBQ, this Beef Bulgogi recipe should help scratch that itch a little bit! 🙂
Other Korean / Korean Inspired Recipe
Other Asian Recipes
DID YOU ENJOY THIS RECIPE? Please comment below and give us a 5-star rating! This will help others find this recipe on Google and Pinterest. We very much appreciate your help! 🤍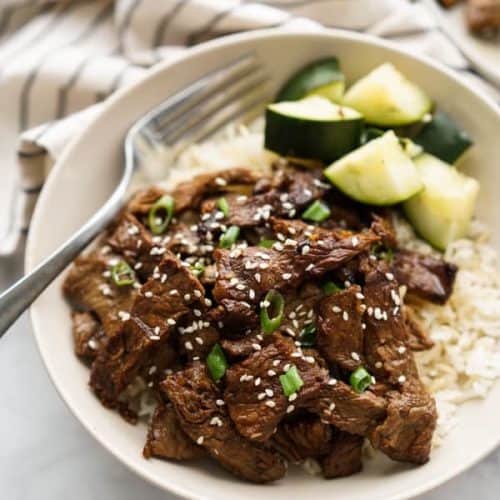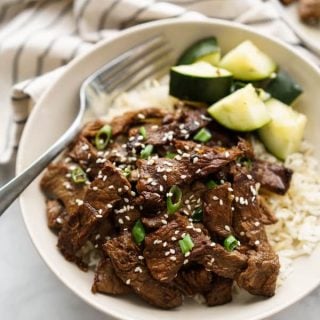 Bulgogi Beef (Korean BBQ Beef)
Beef marinated in a savory sweet sauce, then grilled or panfried to perfection. Tender and so flavorful! A delicious Korean dish that serves well with rice and veggies!
Print
Pin
Ingredients
1

lbs

sirloin steak

slice thinly

cooking oil spray
Korean BBQ Marinade
1/4

cup

soy sauce

2

tbsp

brown sugar

2

tbsp

sesame oil

1

tbsp

rice vinegar

or white vinegar

2-3

cloves

garlic

1

inch

ginger root

or 1/2 tsp ground ginger

1/2

pear

or 1/2 apple or 1/4 cup apple juice
Instructions
Thinly slice sirloin steak.

Add Korean BBQ marinade ingredients to blender or food processor. Blend until smooth.

Add marinade to steak. Make sure to steak is covered evenly with marinade. Marinade for at least 1 hour or up to a few hours.

Heat grill or skillet on medium high heat. Spray grill or skillet with cooking oil spray so that the surface is covered with a thin layer of oil.

Once grill or skillet is heated, place sliced steak on it and spread them apart. Do not overlap. Once the bottom side is cooked, flip onto the other side. Because they are thinly sliced, they cook quickly!

Remove steak promptly when it is cooked. Serve and enjoy!
Nutrition
Calories:
364
kcal
|
Carbohydrates:
15
g
|
Protein:
35
g
|
Fat:
18
g
|
Saturated Fat:
4
g
|
Cholesterol:
92
mg
|
Sodium:
1170
mg
|
Potassium:
592
mg
|
Fiber:
1
g
|
Sugar:
11
g
|
Vitamin C:
2
mg
|
Calcium:
56
mg
|
Iron:
3
mg