Stir Fry Beef with Ginger and Scallions
Stir Fry Beef with Ginger and Scallions is, and has always been, one of my all-time favorite authentic Chinese dishes.
That is saying something, because when it comes to food, I don't pick favorites. I like everything; I like food too much to have to pick favorites. However, this dish has been on top of the list for as long as I remember.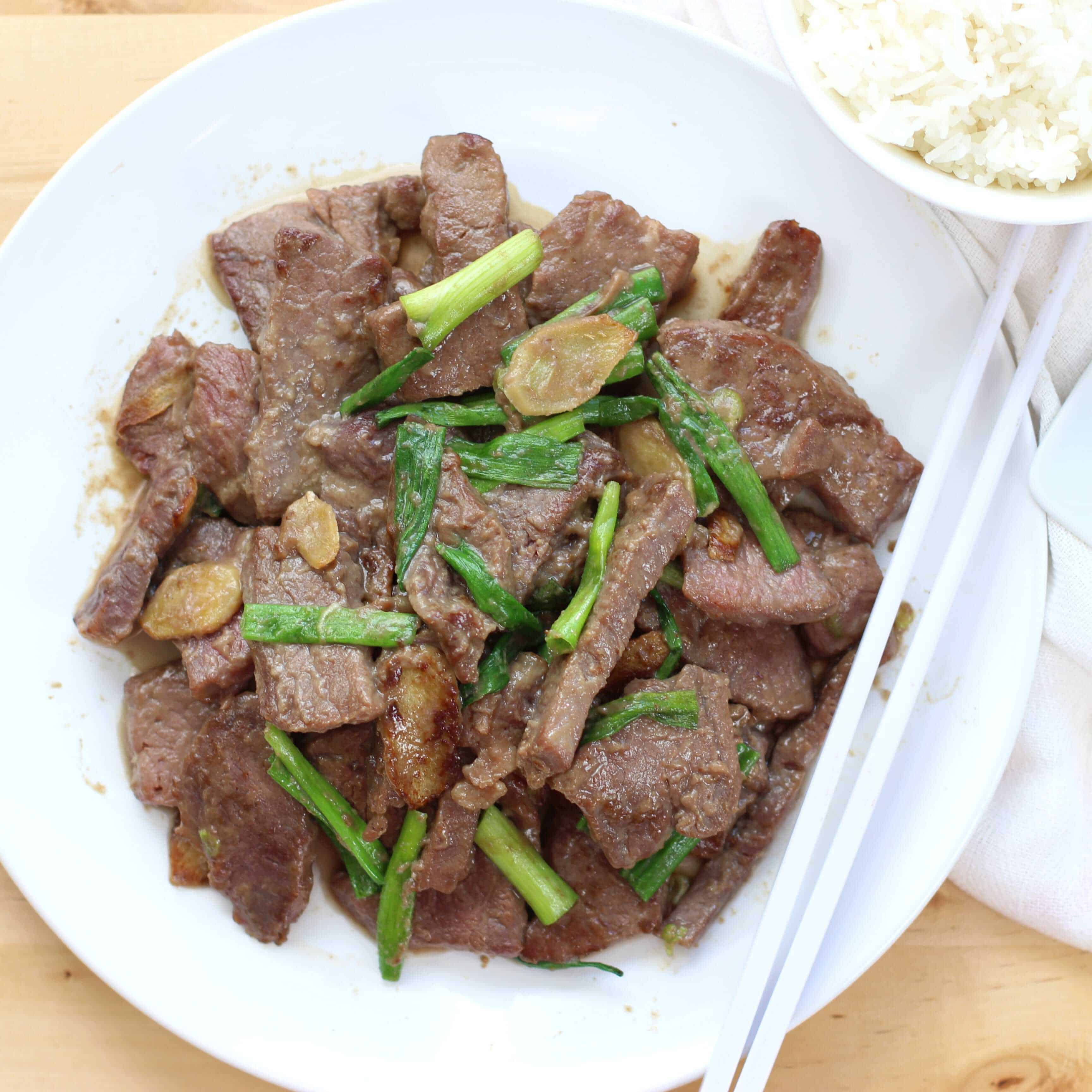 Growing up in Malaysia, where authentic Chinese restaurants are easy to find, my whole family loves this dish.
We always order this family-style, along with other dishes, and eat it with warm, fragrant jasmine rice.
Where I grew up, family-style is how most Chinese rice-dishes are served.
When I first came to the U.S. for college in the middle of Ohio, I would go out for dinner with friends, and we would order our own individual plates of food, which is how dining in most restaurants in the U.S. works.
No matter how much I enjoyed my dish, I remember staring longingly at other people's plates of food and thinking, I really, really want a taste of what they have.
But I was trying to make new friends and not be the 'foreign weirdo', so i refrained from reaching over and grabbing other people's food.
Before we get started, another quick preview of what is to come…. (cue dramatic music)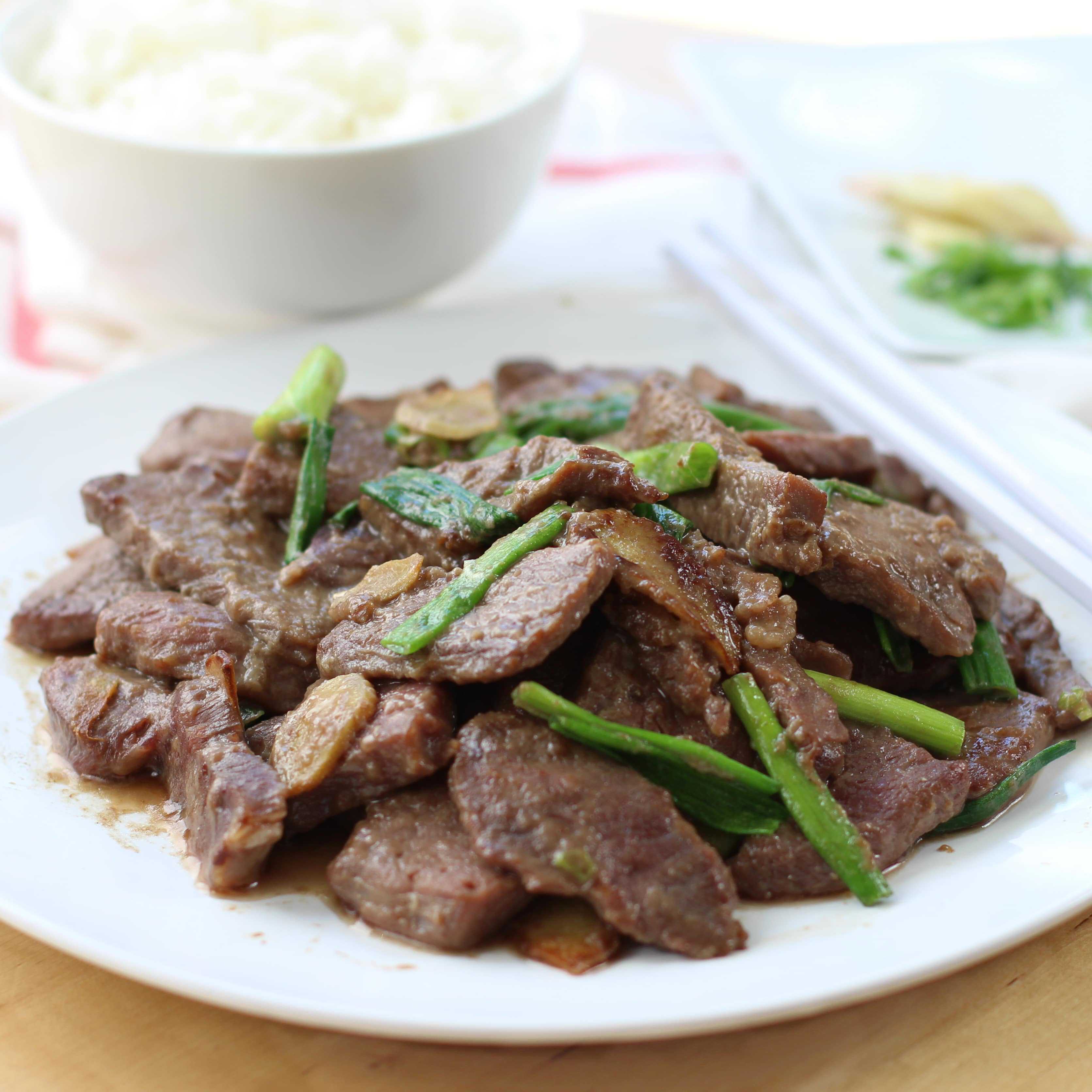 How to make Beef with Ginger and Scallions
I typically use beef sirloin for stir fry.
Cut the beef thinly AND cross grain. Cutting cross grain will break the muscle fibers, thus making the meat more tender.
Then I soak it in a mixture of water and baking soda for 30 minutes. You are probably thinking, what? huh?
This, my friend, is the magic trick to make the strips of beef come out silky smooth and tender, just like the ones served at Chinese restaurants.
To make the marinade, combine oyster flavored sauce (or oyster sauce), soy sauce, sesame oil, rice wine, white pepper (black pepper is fine too), sugar, corn flour.
If you are not familiar with these sauces, don't be intimidated by them. They are common ingredients to many dishes in mainstream Chinese restaurants in the U.S. (e.g. Pei Wei, Panda Express, P.F. Chang's).
In fact, you can find most, if not all of them, in regular grocery stores in the Asian aisle. If not, find them at your closest Asian grocery store, or get it online (affiliate links attached).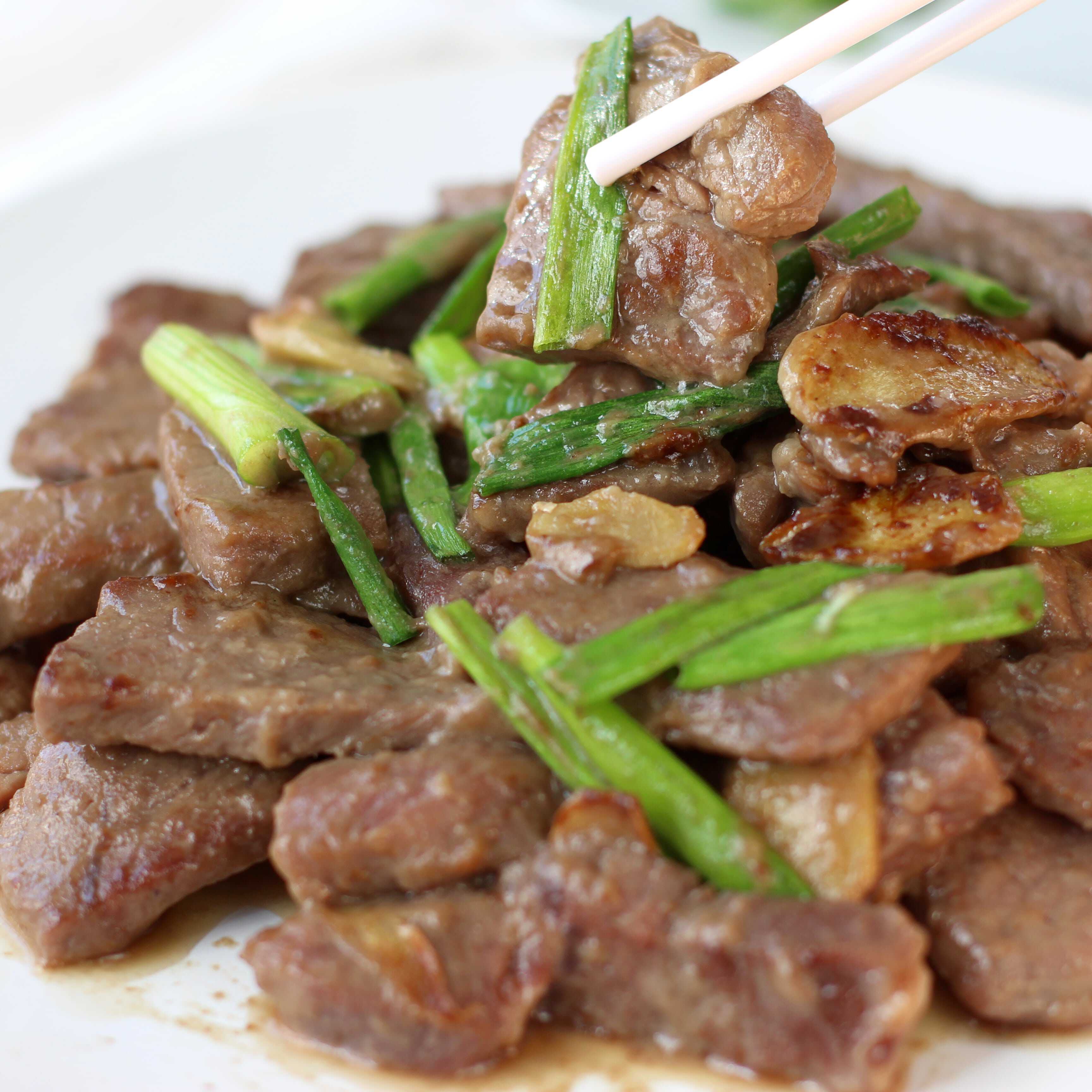 Let me say one quick thing about oyster flavored sauce. I do not like oysters – they are slimy things to me, and I know it's a delicacy and it's an acquired taste, but I haven't been able to acquire that taste. Sorry.
But I do love me some oyster sauce.
So if you don't like oysters, oyster flavored sauce is really not anything like oysters. It's a widely used ingredient in Chinese cooking and is a combination of sweet and savory. If you haven't cooked with it, give it a try!
Mix marinade well and pour onto the beef. Marinade beef for at least 1 hour.
Thinly slice ginger root and cut scallion into 2-inch sections.
Ginger and scallions have incredible flavors and scents, and together they compliment each other so very well.
Just like macaroni and cheese, peanut butter and jelly, pita bread and hummus, Romeo and Juliet, I am convinced they should be inseparable.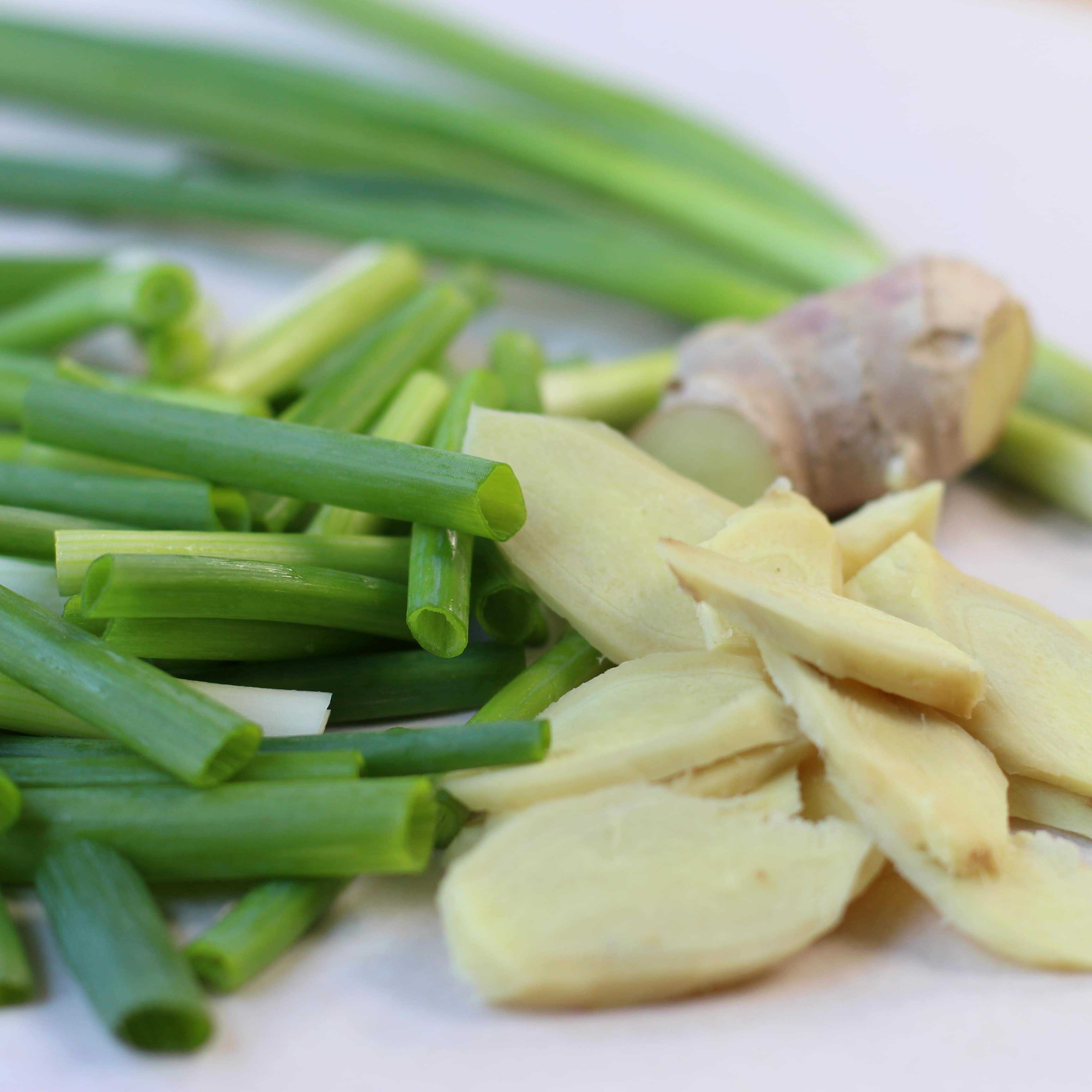 Stir fry is done with very high heat in a very short amount of time. Which also translates to dinner will be ready very soon.
A gas stove will produce higher heat than an electric stove, but I have also done many a successful and delicious stir fry on an electric stove.
Use a wok, or a large frying pan that heats up well and can maintain the heat.
Turn up the heat, add vegetable oil, wait until you feel heat coming out of the wok/pan.
Yes, literally. You want the wok/pan as hot as you can get it. That's one of the many secrets to a great stir fry.
Once the wok/pan is ready, add ginger and cook it for a minute, then add beef, cook it for 3-4 minutes, and finally add scallions, and cook for another minute.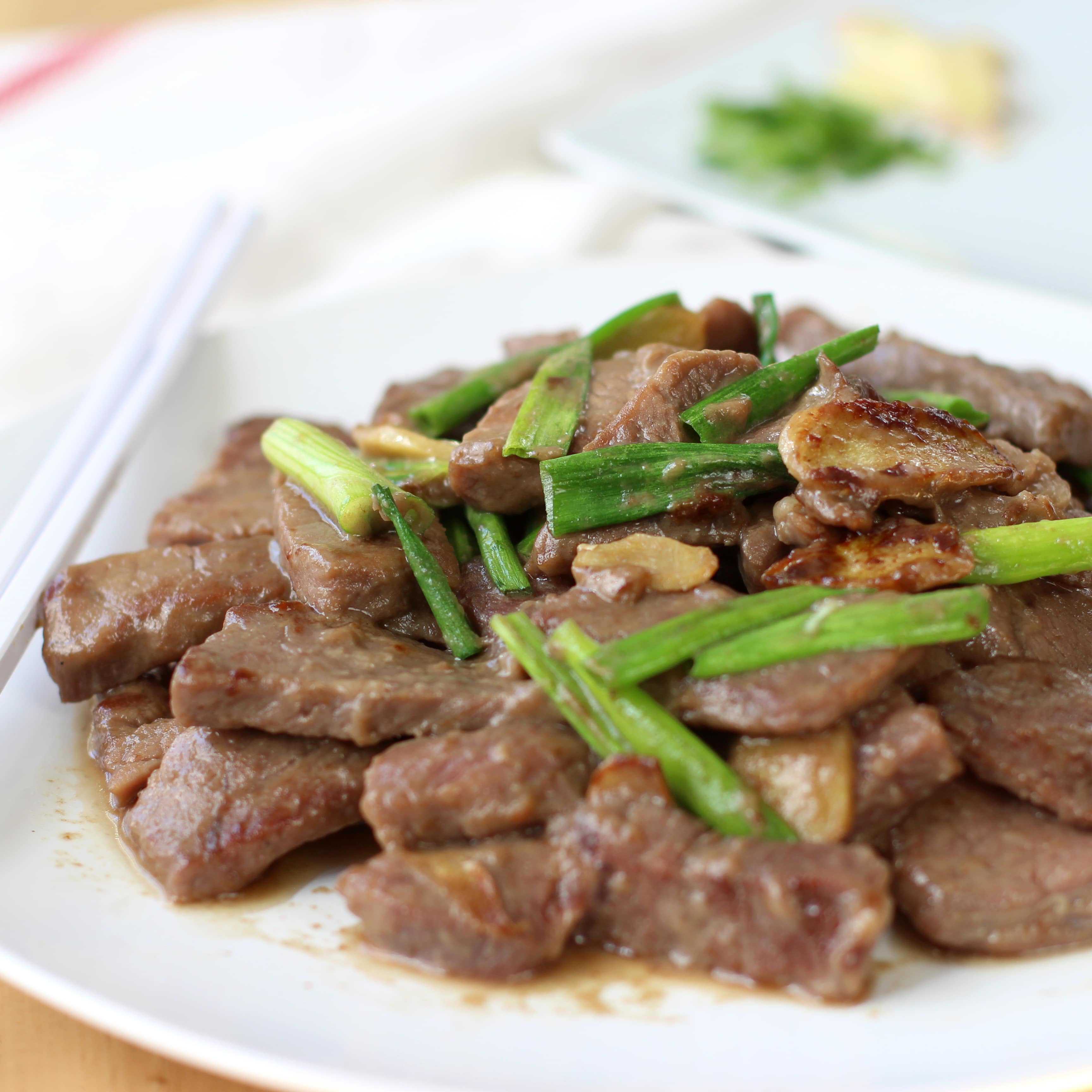 The actual stir frying is a super quick process. You want to throw everything in, stir, stir, stir, and take it out after a few minutes. High heat cooking maintains the flavor of each ingredients – no sogginess of the vegetables, no overcooking of the meat.
This is truly one of the those meals that is super easy yet absolutely yummy. I craved for it when I was 12, and I still crave for it today.
Beautiful to the eyes too. Look at the sauce clinging, just so slightly, to the meat.
Serve with warm, fragrant jasmine rice. Hmm..mmm. Excuse me now as I am going to stuff myself with some of this yummy food.
More stir fry?
Want to learn more about ALL the tips and tricks to making a GREAT stir fry? Check out my post 8 Tips to a Great Stir Fry! Learn everything you need to know about making stir fry right at your home!
Also check out these other stir fry favorites on Joyous Apron!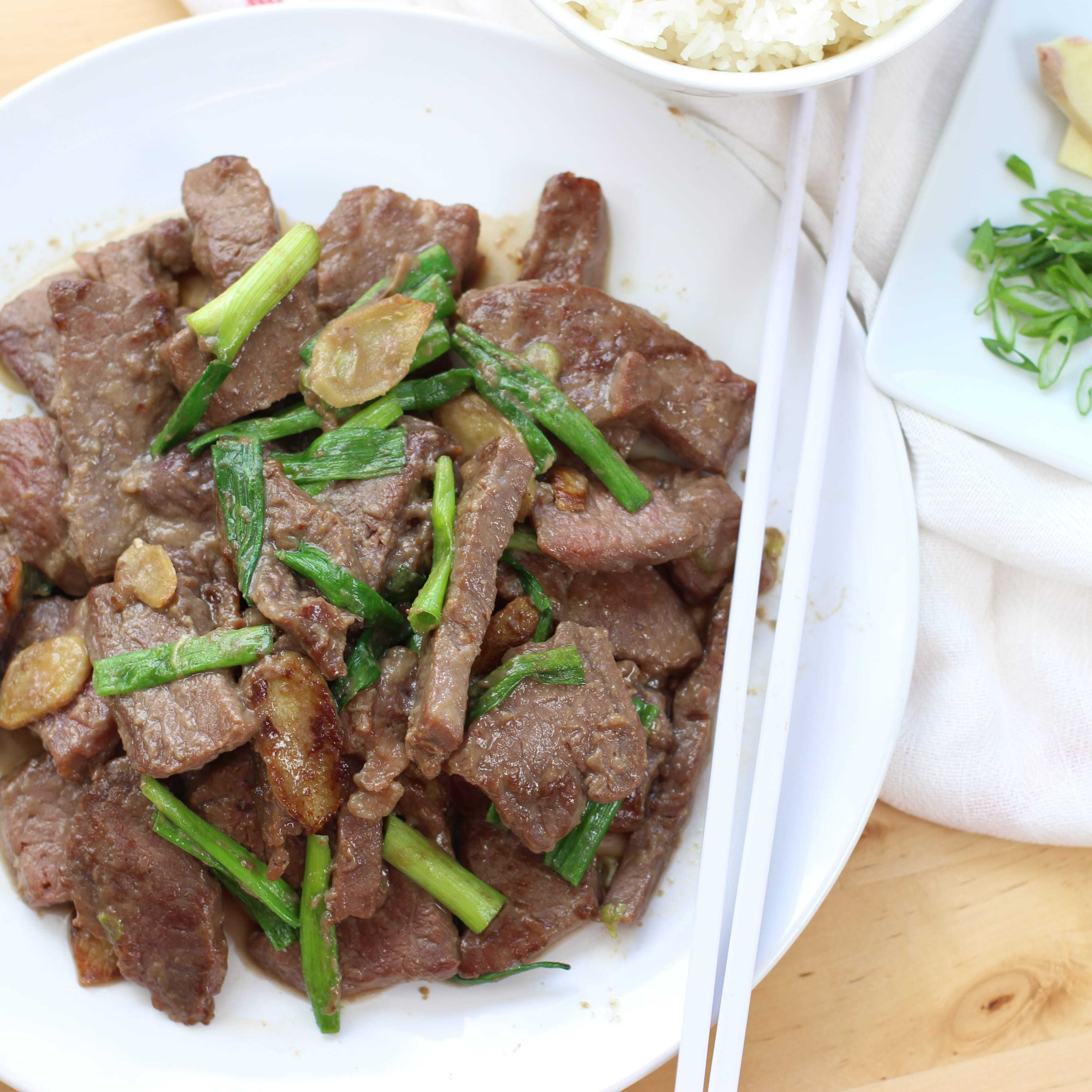 More Asian Recipes
DID YOU ENJOY THIS RECIPE? Please comment below and give us a 5-star rating! This will help others find this recipe on Google and Pinterest. We very much appreciate your help! 🤍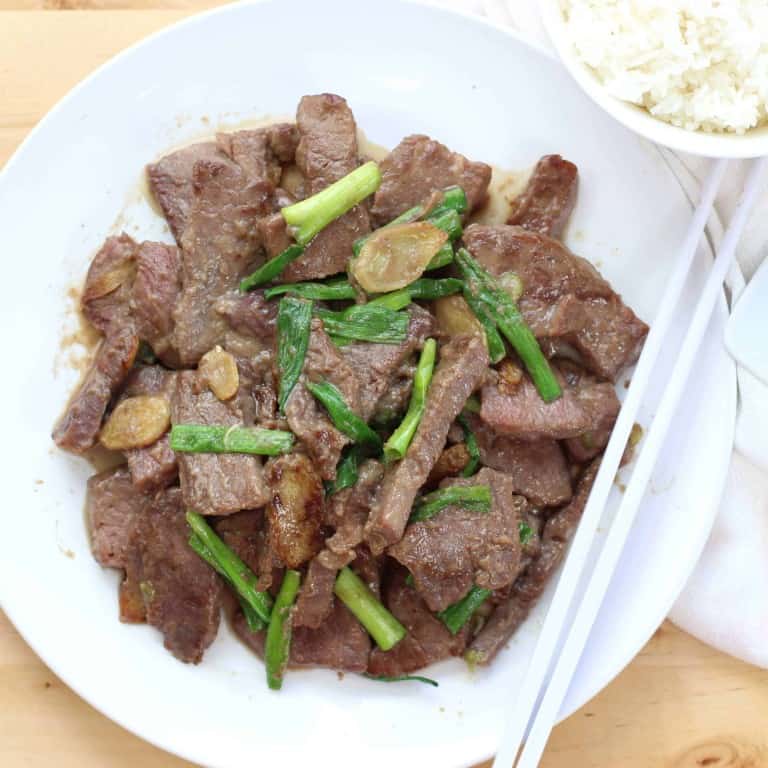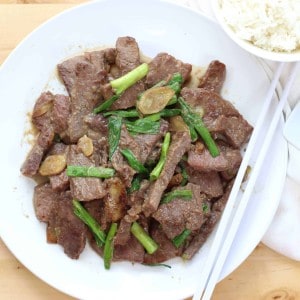 Stir Fry Beef with Ginger and Scallions
A delicious and easy beef stir fry! Tender strips of beef stir fried with ginger and scallions, wrapped in thick, sweet and savory soy-based sauce
Print
Pin
Ingredients
1

lbs

sirloin beef

slice cross grain

4

tbsp

water

1/2

tsp

baking soda

1

tbsp

vegetable oil

2 1/2

tbsp

oyster sauce

1/2

tsp

soy sauce

2

tbsp

rice wine

1

tbsp

sesame oil

1/2

tbsp

sugar

1/4

tsp

salt

1/4

tsp

white pepper

1

tbsp

cornstarch

3

stalks

scallions

ginger root

1-2 inches
Instructions
Cut sirloin beef cross grain into thin slices. Transfer beef into a zip lock bag

Mix water and baking soda together in a small bowl, then pour into zip lock bag. Let beef sit in the mixture for 30 minutes.

Mix oyster sauce, soy sauce, rice wine, sesame oil, sugar, salt, white pepper, corn starch into a bowl. Pour into zip lock bag with beef. Marinate for 1 hour.

Cut scallions into 2-inch sections. Remove skin from 2-inch ginger root, and thinly slice ginger root.

Add vegetable oil to wok. Heat wok on high heat.

When wok heats up (1-2 minutes), add ginger into wok and stir for 1 minute until fragrant

Add beef to wok, cook for 3-4 minutes. Keep stirring well to ensure beef is evenly cook.

Add scallions into wok just before beef is completely cook – beef should still be slightly pink-ish or red-ish. Keep stirring and cook for another 1 minute, or until beef is cooked.

Dish onto plate. Serve and enjoy!
Notes
This recipe is written based on using a non stick wok. If using non non-stick wok or pan, add more vegetable oil to prevent sticking. If using a non-stick frying pan, additional cook time may be needed as a pan might not heat up as much as a wok does.
Other good cuts of beef to us: tri-tip, top loin, rib-eye
Nutrition
Calories:
310
kcal
|
Carbohydrates:
8
g
|
Protein:
33
g
|
Fat:
14
g
|
Saturated Fat:
3
g
|
Polyunsaturated Fat:
5
g
|
Monounsaturated Fat:
5
g
|
Trans Fat:
1
g
|
Cholesterol:
83
mg
|
Sodium:
933
mg
|
Potassium:
559
mg
|
Fiber:
1
g
|
Sugar:
2
g
|
Vitamin A:
120
IU
|
Vitamin C:
2
mg
|
Calcium:
46
mg
|
Iron:
3
mg