Open-Face Tuna Salad and Egg Sandwich
Open-Face Tuna Salad and Egg Sandwich. Seriously YUM, healthy, and the funnest lunch or dinner to put together.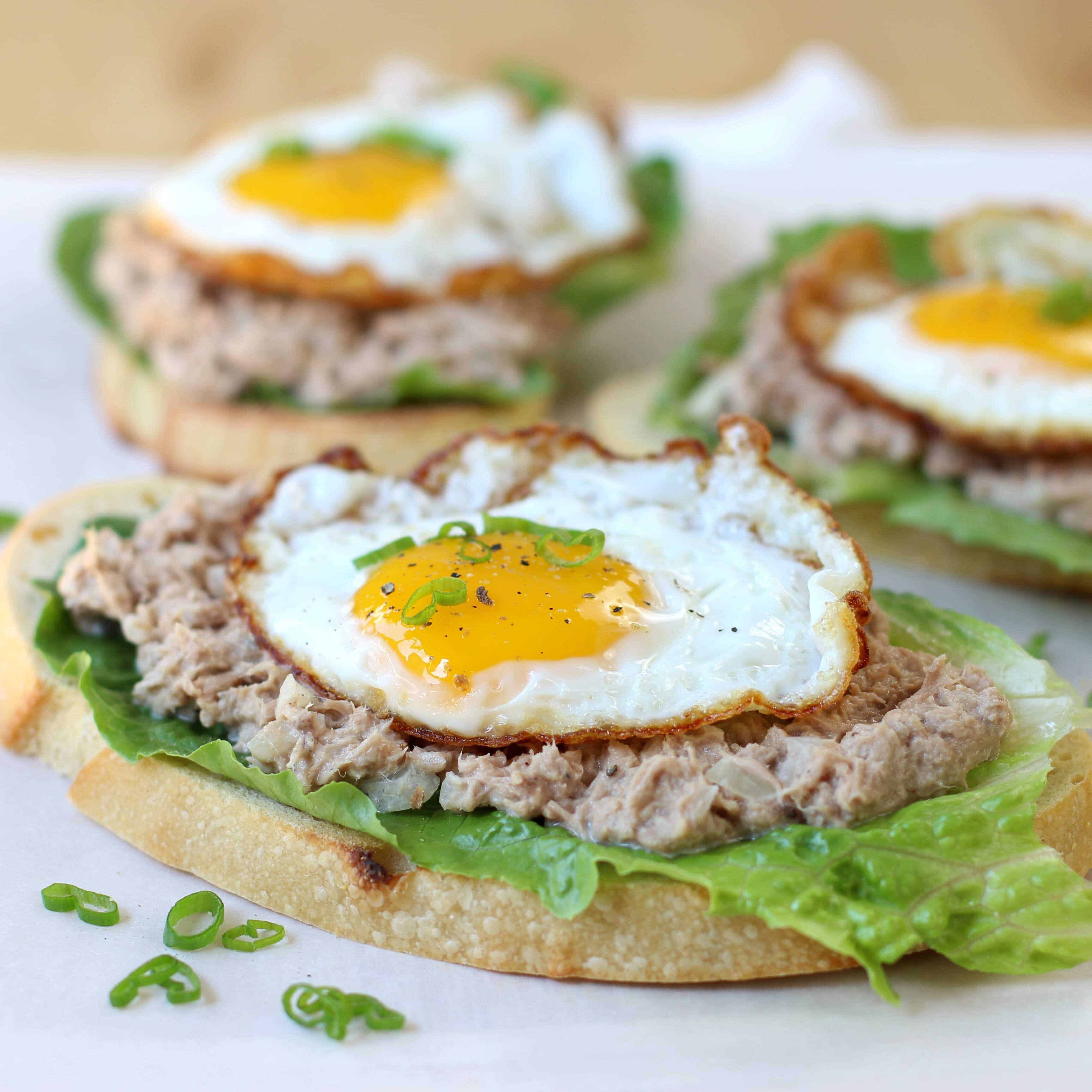 Also, let me just say, topping your sandwich with a fried egg is gold. Pure GOLD.
Yep, I just joined the "top everything with a fried egg" club, and I like to think this will bump my cool-factor up a couple of notches. 🙂
And about the whole "open-face" thing… I'm not sure it's a cool thing or not but I sure am pretty pumped about it too.
I used to think sandwiches are the most boring, plainest food item on planet Earth.
I remember dreading seeing another ham and cheese sandwich in my lunchbox as kid, and I did not like to eat it as an adult either. Sometimes convenience calls for it, so I did it. However it is never out of an outpouring of excitement.
I like to be excited about my food! (Foodie friends, I KNOW you relate) It took me a little while to learn, and I am a little late in the game, but sandwiches are so much more than just ham or turkey and cheese. SO MUCH MORE.
One of my favorite thing about this Open-Face Tuna Salad and Egg Sandwich is that not only is it oh-so-delish, and pretty to look at, there is so much protein and nutrients in this small little sandwich it will keep you full just as you would eating a larger meal.
I used to bring a ham and cheese sandwich to work and I would be hungry by 3 o'clock. Maybe I didn't add enough meat in them, but then I don't like a ton of meat, as it throws off the meat to bread ratio. See my dilemma with ham and cheese sandwiches?
But you didn't sign up to read about ham and cheese sandwiches.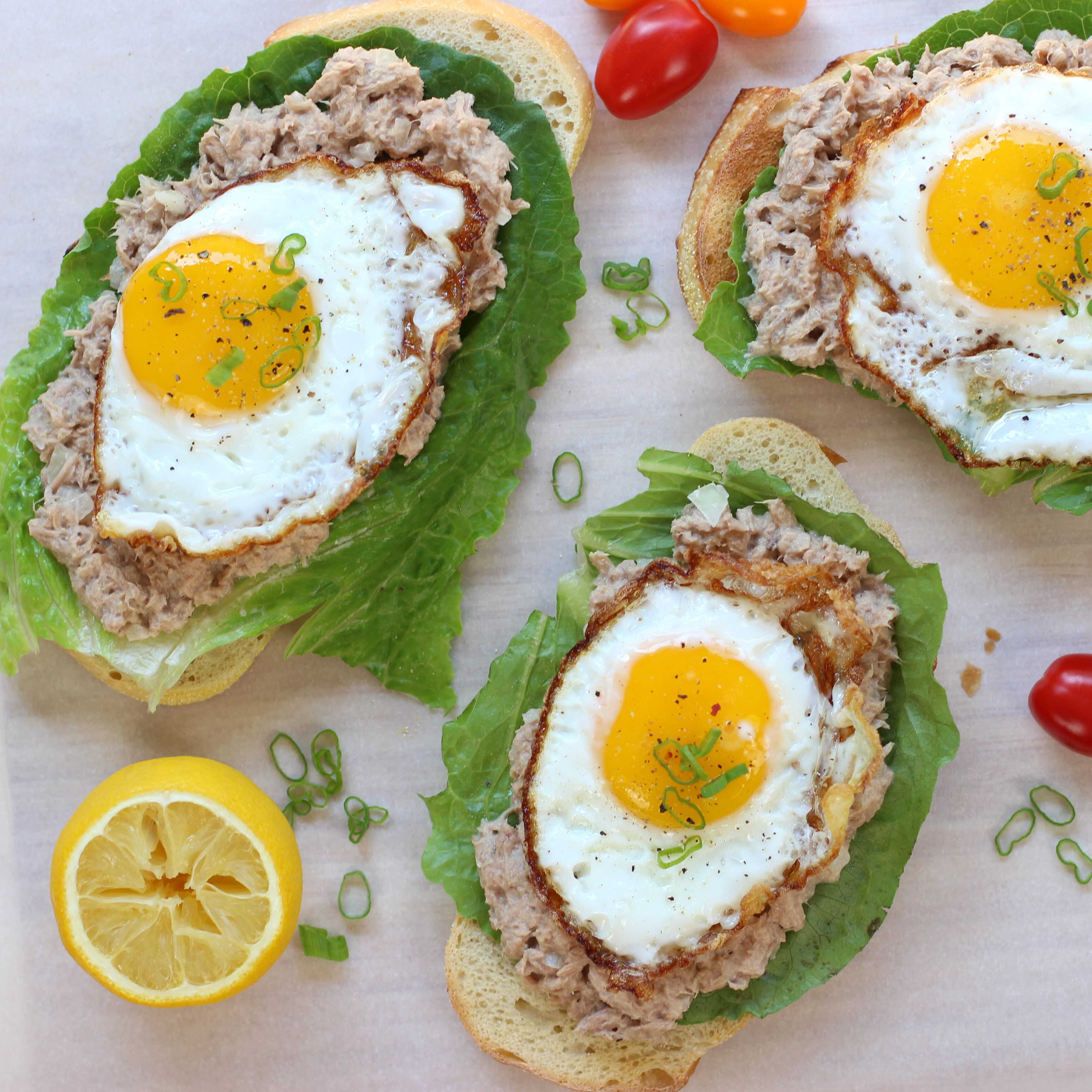 So back on Open-Face Tuna Salad and Egg Sandwich. Let me show you how easy it is to put this beauty together.
Making Tuna and Egg Sandwich
Step 1: Make Tuna Salad
Start by opening up a can of tuna. I like to buy tuna in water, instead of tuna in oil. It's a personal preference here, so either way will be just fine.
Drain water (or oil) and add mayo, minced sweet onion, salt and a squeeze of lemon juice (~ 1/2 tsp) onto the tuna. Mix well and set aside.
I personally like to keep my tuna salad simple, but feel free to add other items such as relish, pepper, garlic powder, onion powder to it if desire.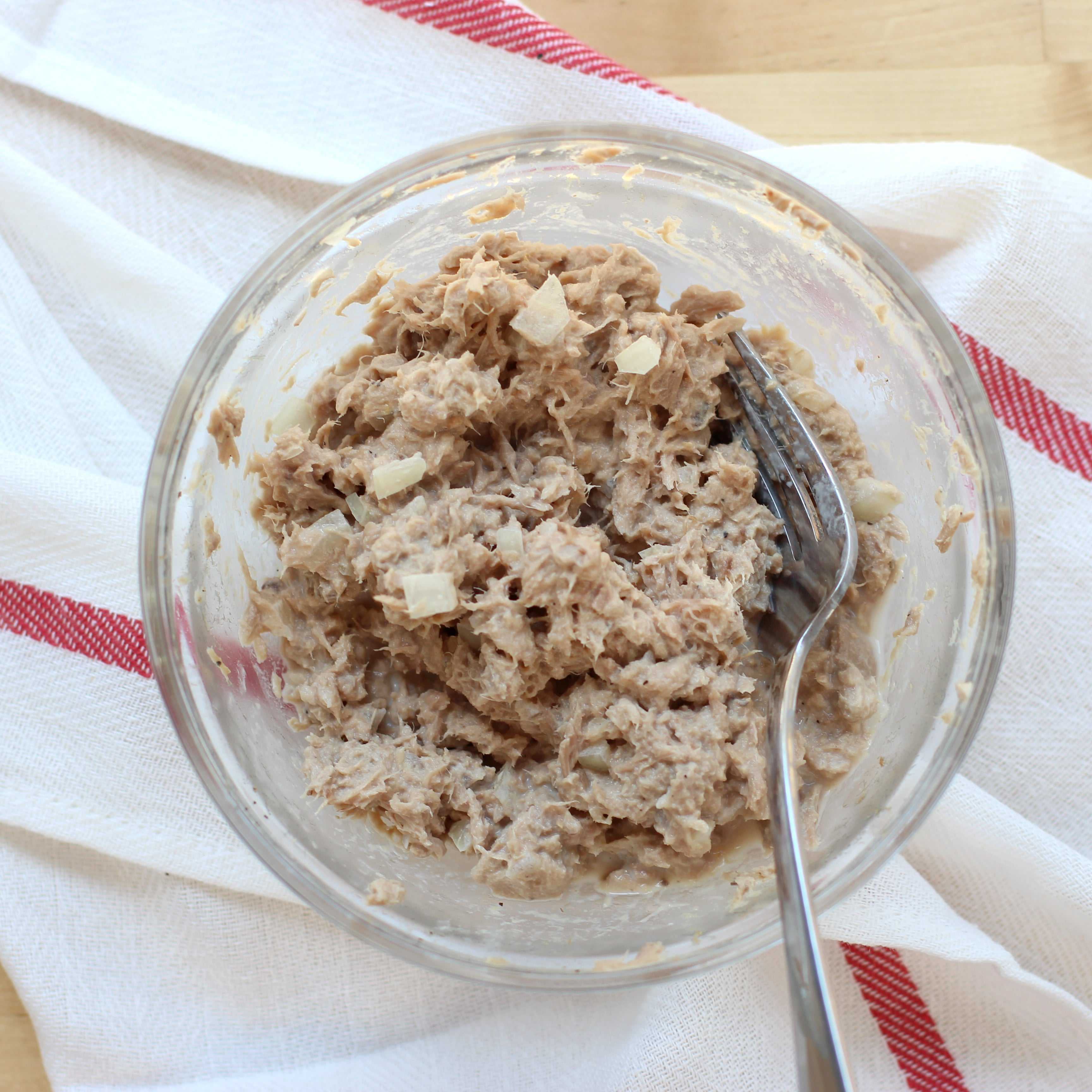 Step 2: Toast Bread
Then, sourdough bread. You guys, sourdough bread is LIFE. Goes fantastic with the tuna salad. Somehow that hint of sour from the bread blends really well with tuna salad and the hint of lemon in it.
Now this is not the fancy pants San Francisco famous sourdough bread, just ones I get from my humble grocer, and it is still so good.
So really, any simple sourdough you get from your favorite grocery store or bakery would suffice. Or use ciabatta, french bread, white/wheat bread, any bread you have lying around.
Then give the bread a nice toast in your toaster or toaster oven. Warm bread makes all my dreams come true.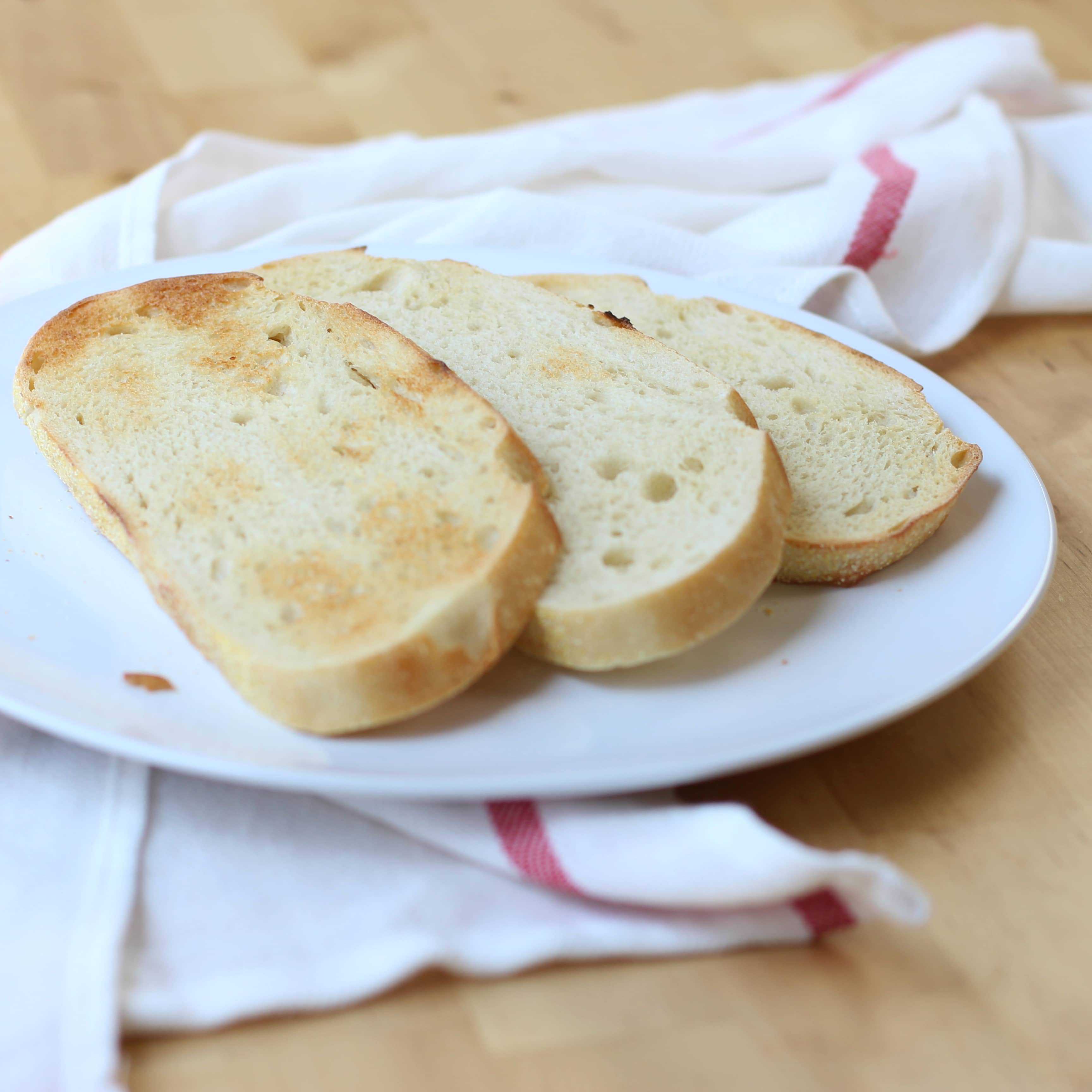 Step 3: Fry the egg
I seriously think I have an obsession with fried egg, and I like my eggs runny.
The runnier the better. I've liked it that way since I was a little kid, and because of that I have practiced and mastered the not breaking the yolk technique when pan-frying it a long time ago.
You know what else I like? Crusty sides, but just for sunny side up eggs. No crusty eggs for me when it is scrambled.
My husband will tell you crusty scramble egg is a pet peeve of mine. But crusty sides ALL THE WAY for sunny side up eggs.
Runny yoke is a personal preference. If you don't like yours runny, break the yolk while frying to get it cooked well done.
Observe the crusty sides that I just spent too much time talking about.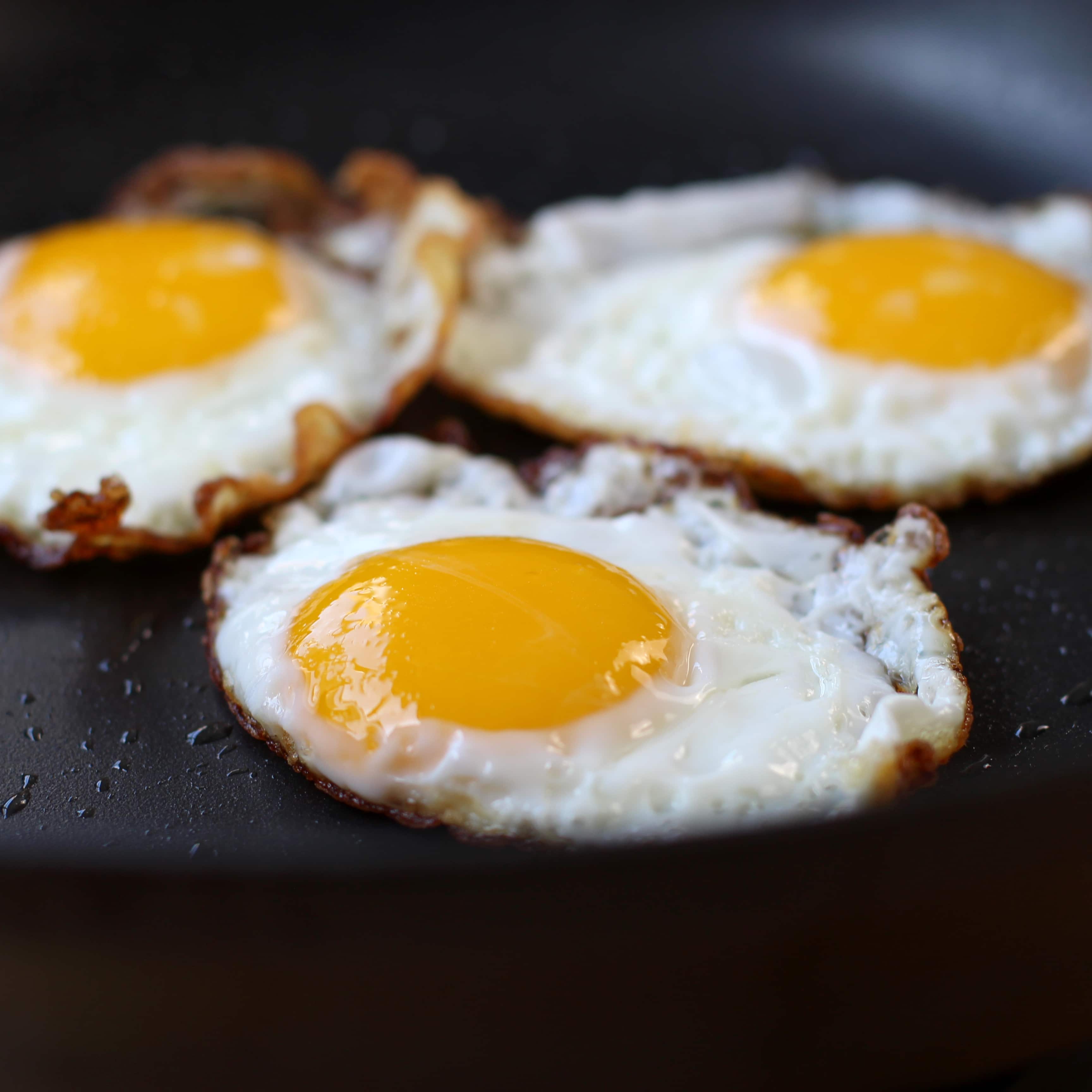 Step 4: Assemble
Now that you have got all your ingredients, it is assembly time.
Layer the bread with romaine lettuce, tuna salad and fried egg.
I like to garnish it with freshly ground black pepper and some thinly sliced scallions.
THAT'S IT.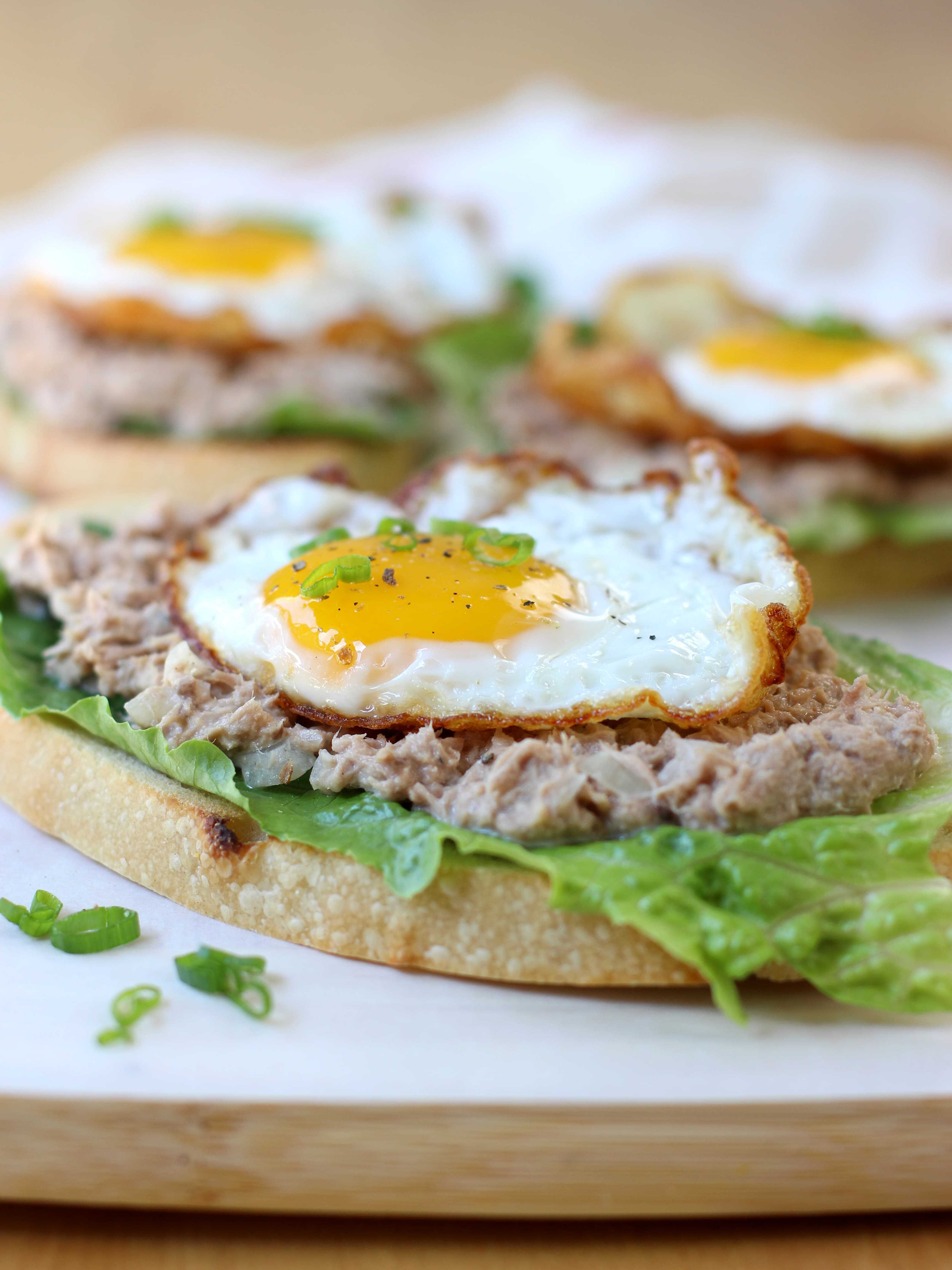 It's the perfect lunch, especially when you want something different.
We like to make "fancier" lunches during the weekends, so this is perfect for that.
Or if you have a busy weeknight, whip the tuna salad ahead of time and assemble the rest for dinner.
Serve it with potato chips. It's the perfect easy spring/summer dinner that will actually fill you up!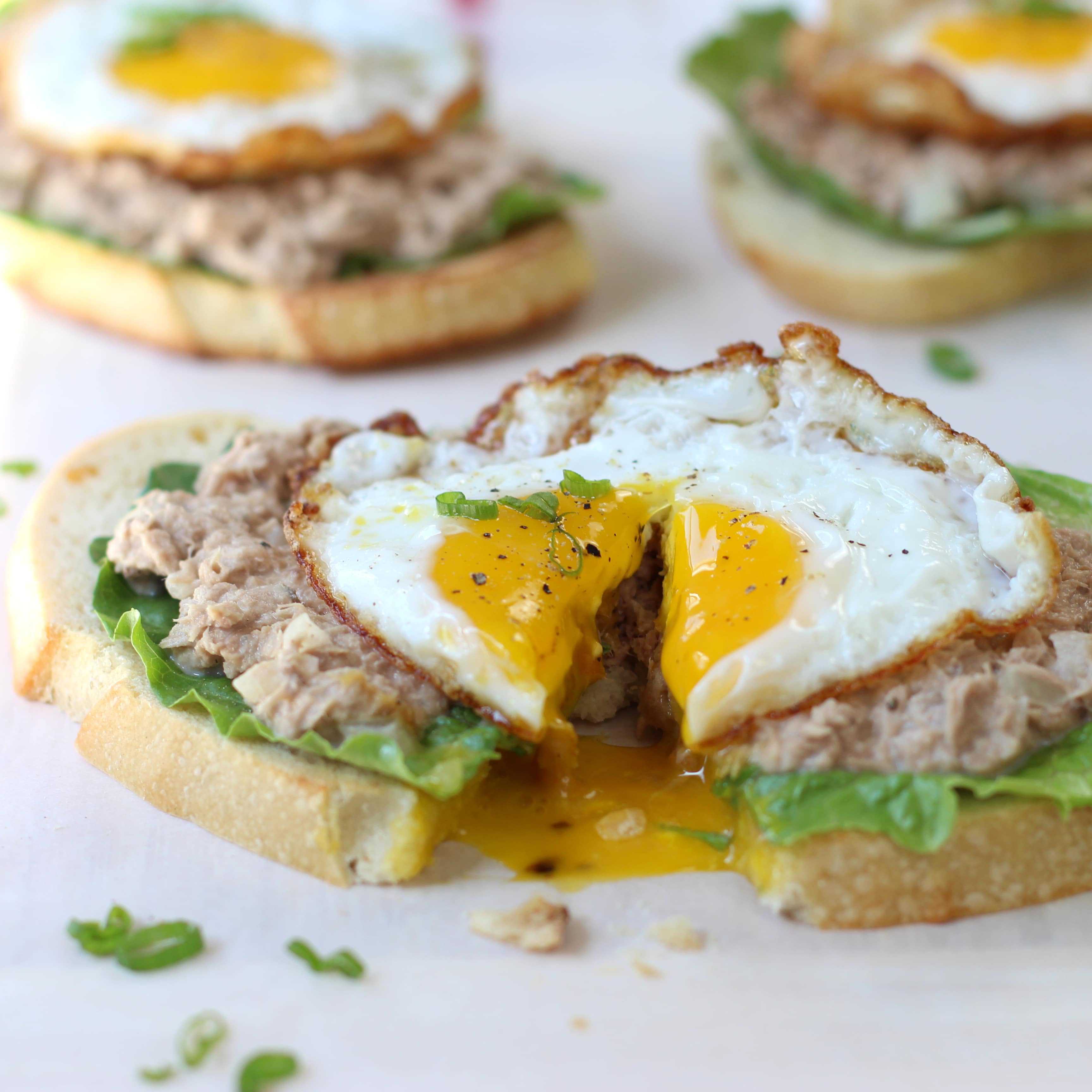 I'm all about runny yolks… I love it when it oozes out and acts like a dressing for the sandwich.
Boy, I sure have come a long way since my ham and cheese sandwiches days.
DID YOU ENJOY THIS RECIPE? Please comment below and give us a 5-star rating! This will help others find this recipe on Google and Pinterest. We very much appreciate your help! 🤍
More Sandwich Recipes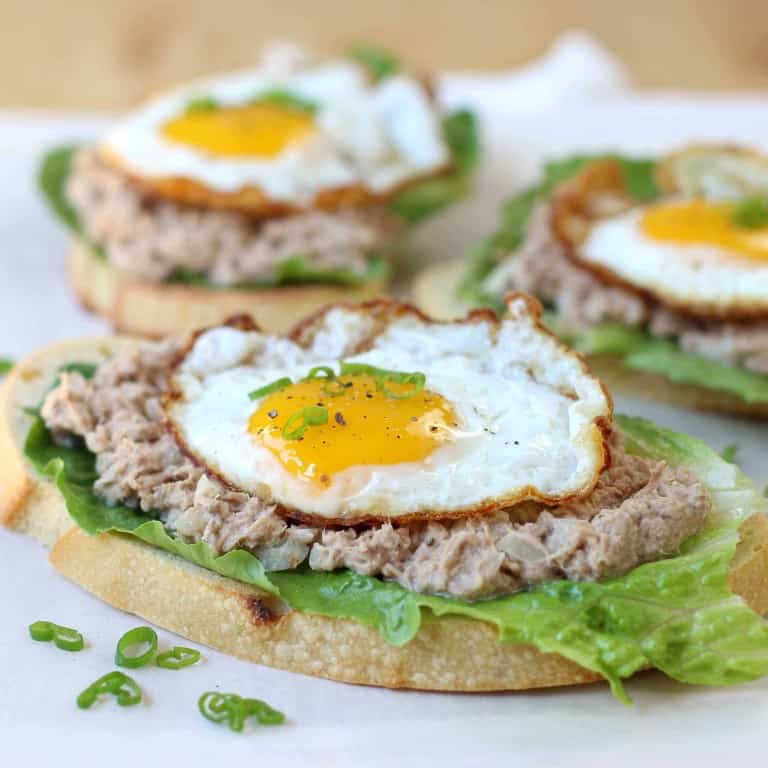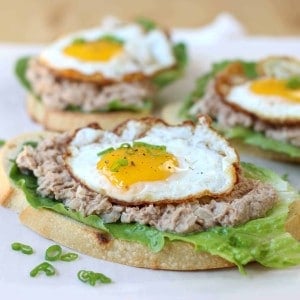 Open-Face Tuna Salad and Egg Sandwich
Toasted sourdough bread layered with lettuce, a lovely tuna salad and sunny side up egg. Perfect quick, easy and delicious lunch or dinner option!
Print
Pin
Ingredients
2

pieces

romaine lettuce

4

slices

sourdough bread

12

oz

tuna in water

(net wt) drained

1/8

cup

mayonnaise

2

tbsp

sweet onions

finely minced

1/2

tsp

lemon juice

a

pinch

salt

optional

2

eggs

a

pinch

black pepper

thinly sliced scallions

optional
Instructions
Combine drained tuna, mayonnaise, finely minced sweet onions and lemon juice into a small bowl. Mix well. Add a pinch of salt to taste if desire. Some tuna will be saltier than others and will not need the additional salt.

Toast sourdough bread and fry eggs.

Top bread with lettuce, tuna salad, and fried egg. Then top with black pepper and scallions (optional).
Nutrition
Calories:
678
kcal
|
Carbohydrates:
74
g
|
Protein:
54
g
|
Fat:
19
g
|
Saturated Fat:
4
g
|
Polyunsaturated Fat:
9
g
|
Monounsaturated Fat:
5
g
|
Trans Fat:
1
g
|
Cholesterol:
231
mg
|
Sodium:
1229
mg
|
Potassium:
547
mg
|
Fiber:
3
g
|
Sugar:
4
g
|
Vitamin A:
431
IU
|
Vitamin C:
1
mg
|
Calcium:
113
mg
|
Iron:
8
mg