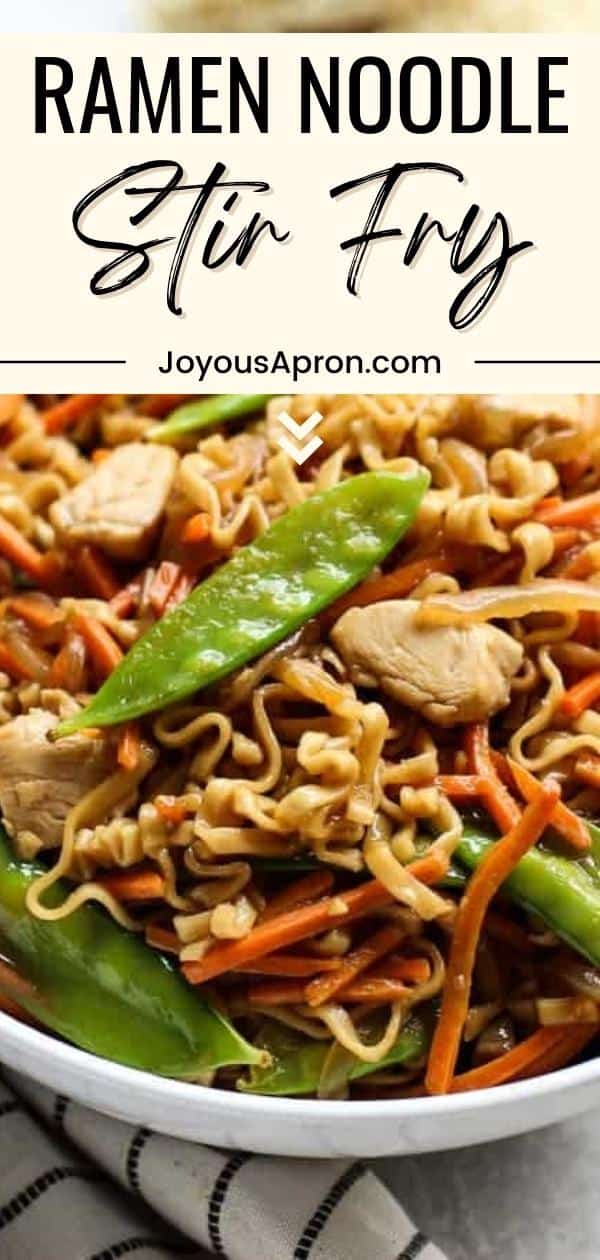 PSA: This easy Chicken Ramen Noodle Stir Fry is a saving grace for busy weeknights! 30 minutes only and all the yummy flavors and crunch your heart could hope for, all in one bowl.
This noodle dish makes me feel like a superhero who can concur dinner and all the things in life.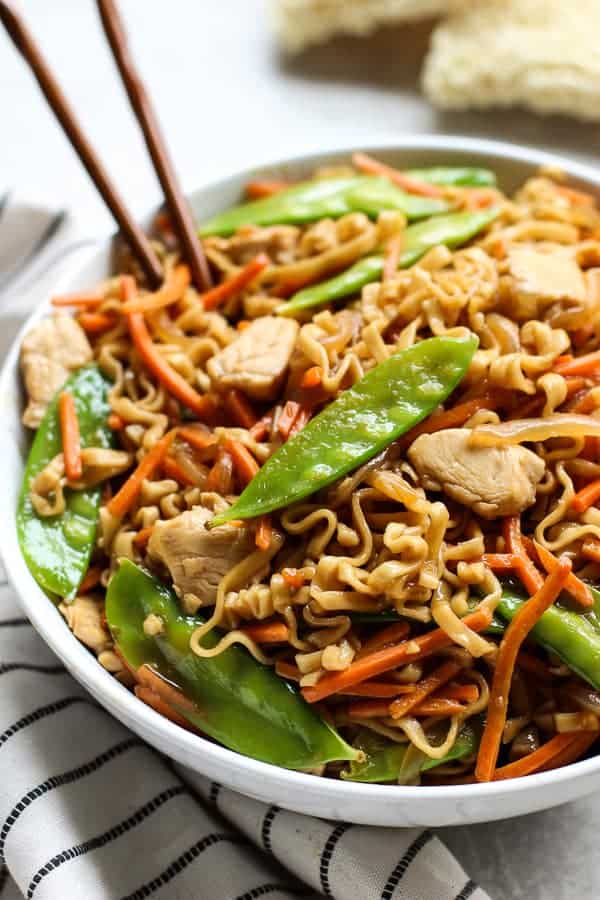 Love Asian food? Don't forget to also check out some of my other favorites: Beef Bulgogi (Korean BBQ Beef), Tom Yum Fried Noodles, General Tso Shrimp and Miso Noodle Soup.
Here's the situation: We are taking ramen noodles and combining them with chicken (feel free to substitute with shrimp, tofu, pork, or another protein), snow peas, and shredded carrots (or other veggies!), and toss everything in a delicious soy-based sauce. The sauce is the secret to the great flavor in this dish.
And you know how much I love a good sauce.
As far as I am concern, once we get passed Memorial Day, summer is here. And in our household, summertime meals for the most part fit one or more of these categories:
Minimal kitchen time! We love the kitchen but we also love summer
Light and tasty (reality: tasty part is required all year long)
All-in-one-bowl goodness
Our Ramen Noodle Stir Fry game is strong in this household, especially in the summer because it fits all of the above.
We would double the recipe and meal prep the rest for a few more lunches and dinners.
My husband loves bringing this to work with him because it's so easy to transport, heat up and eat on busy work days.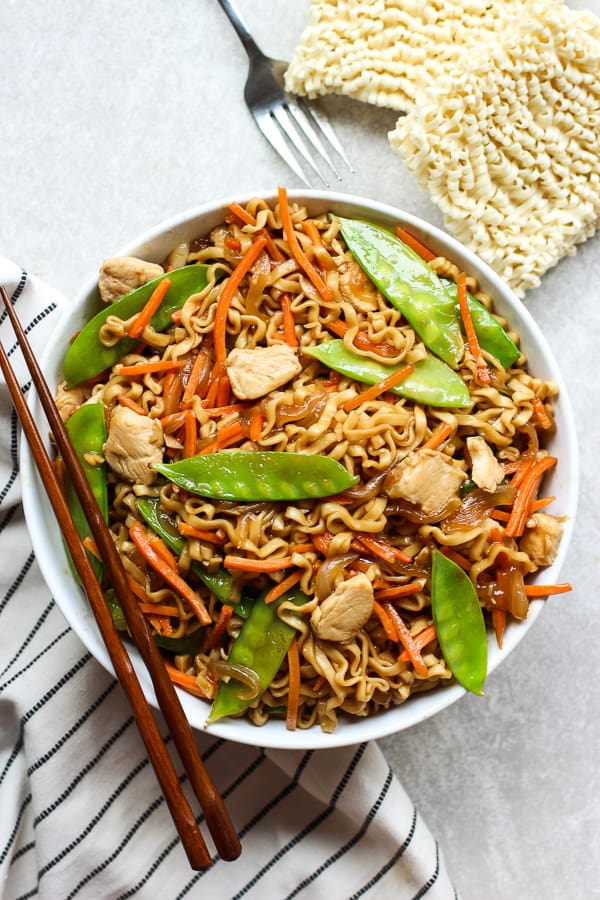 What type of noodles to use for Ramen Noodle Stir Fry?
You can use instant packages of ramen noodles, discarding the flavor packages. Those flavor packages contains MSG and a high level of salt content. Instead we will coat the noodles in a super delicious, better-quality sauce that we created!
Alternatively, you can buy large packages that contain multiple ramen noodle squares (without the flavor packages). I typically see this only in Asian grocery stores.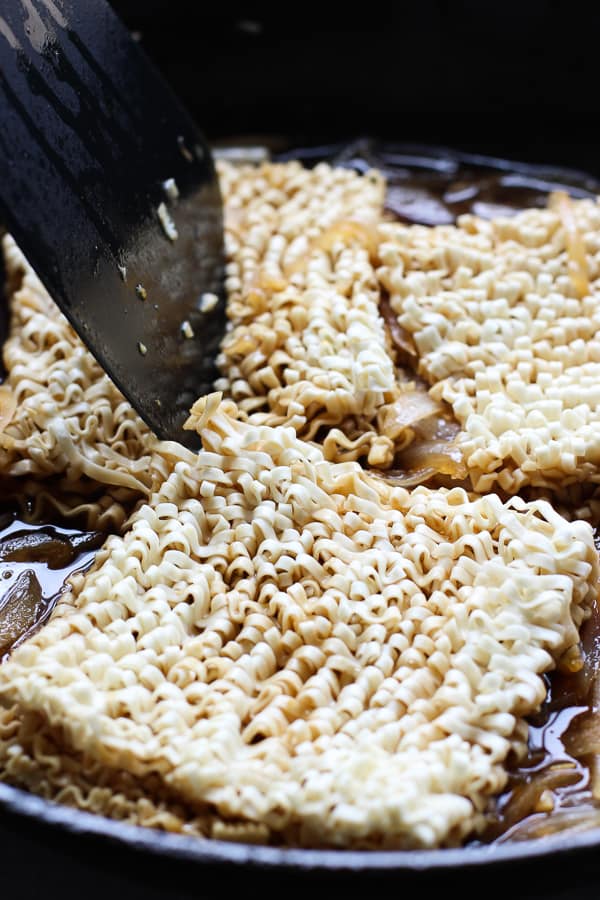 Ingredients for Ramen Noodle Stir Fry sauce
For many stir fry dishes, the secret to great flavors lie within the sauce. A good sauce can make or break a stir fry dish.
The sauce for this Chicken Ramen Noodle Stir Fry contains soy sauce, sweet soy sauce, oyster (flavored) sauce, sesame oil and white pepper. Do not skip any of the sauces! They are all important to bring together the savory, sweet, slightly nutty umami flavor to this dish. We will also add chicken broth to this.
Out of the Asian sauces, the one that might be trickier to find in most mainstream grocery store is sweet soy sauce.Ssweet soy sauce is a thicker, sweeter soy based sauce that is widely use in Southeast Asian cooking. This is a sauce I grew up eating, and we use it in stir frys very often! It is available in most Asian grocery store or online here (affiliate link).
If you haven't had oyster (flavored) sauce, don't be intimidated by it. Oysters are not my thing but I love oyster (flavored) sauce. It is a very flavorful sauce use widely in Chinese cooking. It has the ability to enhance the dish and gives it that umami flavor. If you had Chinese food, you most likely had oyster sauce and just didn't know it!
And of course, just like in many Asian dishes, don't forget fresh garlic and onions. They give a lot of flavor to the sauce and this dish as a whole, and you don't want to skip this or substitute it with garlic powder of onion powder. It is just not the same!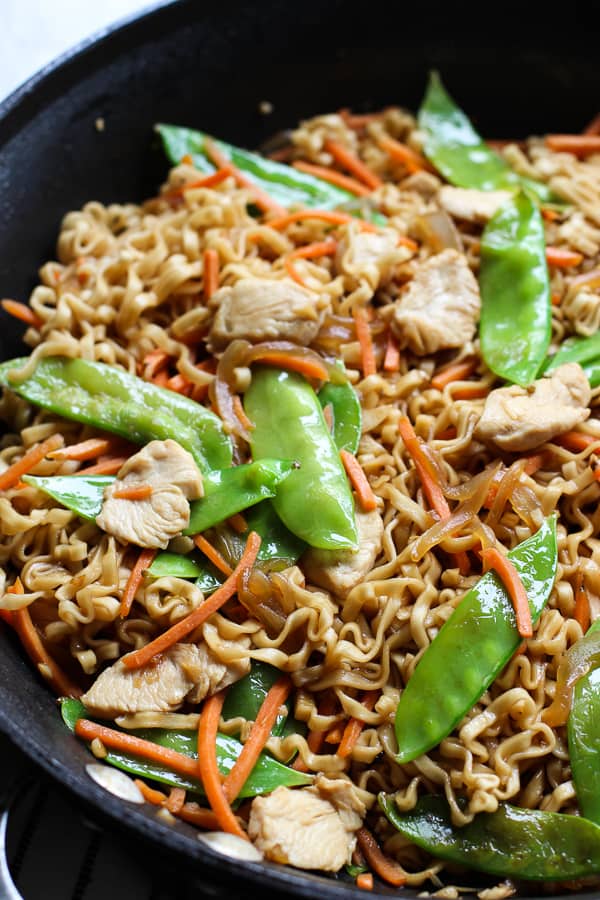 Get creative!
I highly encourage you to use this recipe as a guideline and get creative by incorporating the protein and veggie of your choice!
Now if you have a thing for chicken, carrots and snow peas like I do, please by all means, follow this recipe word for word. 😉
For the rest of you who are feeling rebellious, other fun veggie options include bell peppers, broccoli, green onions, leafy Chinese greens etc. Other protein options include pork, shrimp, tofu, beef etc.
When substituting with a different veggie or protein, remember to keep the amount about the same as the amount of veggie + meat I suggested. If you add more veggie or meat, remember to up the sauce slightly.
Grab a chopstick, or a fork, or whatever you have at hand, and dig into this bowl of yumminess!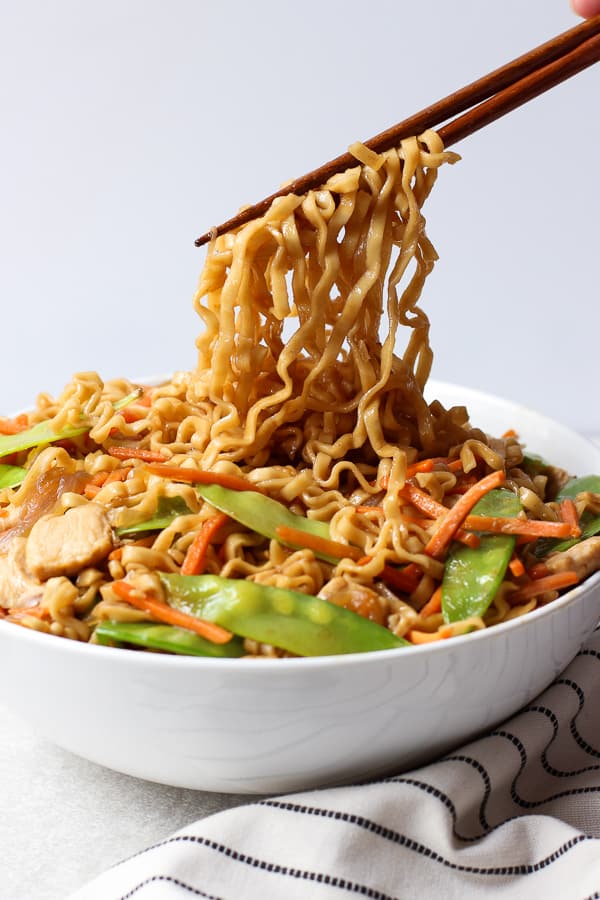 DID YOU ENJOY THIS RECIPE? Please comment below and give us a 5-star rating! This will help others find this recipe on Google and Pinterest. We very much appreciate your help! 🤍
Other Noodle Dishes!
More Asian Recipes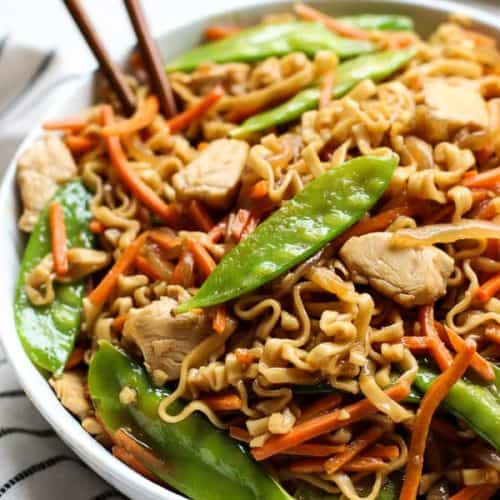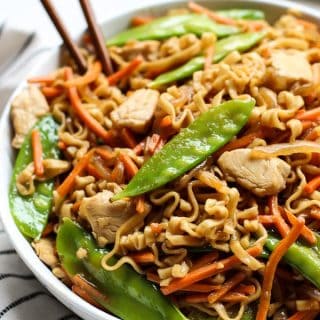 Ramen Noodle Stir Fry
Easy and flavorful Asian stir fry noodle dish tossed with chicken, snow peas, carrots and a delicious sauce! 30 minutes only and so delicious!
Print
Pin
Ingredients
3

ramen noodle packages

without flavor packages

2

strips

chicken tenderloins

4-5

cloves

garlic

minced

1/2

white onion

sliced

1

cup

snow peas

1

cup

carrots

shredded

1 1/2 – 2

cup

chicken broth

or more if needed

vegetable or canola oil
Sauce
1 1/2

tbsp

sweet soy sauce

1

tbsp

oyster sauce

1

tsp

sesame oil

1

tsp

soy sauce

A

dash

white or black pepper
Instructions
Prep ingredients – mince garlic, slice onions, slice chicken into thin strips.

In a small bowl combine all the sauce ingredients. Mix well.

Heat vegetable oil in a large skillet under high heat. Once skillet is heated, add snow peas and stir fry for a minute or so until slightly softened. Remove and set aside.

Add more vegetable oil to skillet if needed. Heat on high heat. Once skillet is heated, add sliced chicken. Once chicken is fully cooked, remove chicken and set aside. (See Note 1)

Add more vegetable oil to skillet if needed. Heat on high heat. Once skillet is heated, add minced garlic and sliced onions. Once they are fragrant (do not brown or burn), add sauce and 1 1/2-2 cups of chicken broth.

Bring to a boil then lower to medium high heat. Add three ramen noodle squares to skillet (they should be partially submerged in sauce). Ramen noodles will slowly soften. Use a spatula to gently press on noodle and submerge noodles into the sauce. Flip noodles over once they are slightly softened. Use spatula to separate them as soon as you are able to. Then coat all the noodles in sauce (I find that it is easier to do this using tongs).

Noodles should soften and absorb most of the liquid, and still be slightly saucy. Once noodles are softened, lower to medium heat and add cooked snow peas, cooked chicken and shredded carrots back into the skillet. Toss and combine everything in sauce (use tongs). Add more chicken broth if noodles are too dry.

Stir/cook for another minute or so. Remove from heat once everything is cooked.
Notes
Note 1: We are cooking snow peas and sliced chicken separately to ensure they are both perfectly cooked (not overcooked or undercooked). Shredded carrots will not be cooked until we combined everything at the end because it cooks very quickly and we don't want it to be soggy. If you are using a different vegetable, also cook them separately first unless they cook very quickly.
Nutrition
Calories:
482
kcal
|
Carbohydrates:
74
g
|
Protein:
12
g
|
Fat:
15
g
|
Saturated Fat:
7
g
|
Polyunsaturated Fat:
2
g
|
Monounsaturated Fat:
6
g
|
Cholesterol:
1
mg
|
Sodium:
3205
mg
|
Potassium:
626
mg
|
Fiber:
4
g
|
Sugar:
12
g
|
Vitamin A:
7500
IU
|
Vitamin C:
44
mg
|
Calcium:
83
mg
|
Iron:
5
mg