Gosh I love ribs. Tender, fall-off-the-bone, flavorful baby back ribs coated with a sticky Asian-inspired sauce.
If ribs are your thing, it doesn't get better than this yummy, flavorful, sticky, slightly messy goodness that is Slow Cooker or Crockpot Asian Ribs.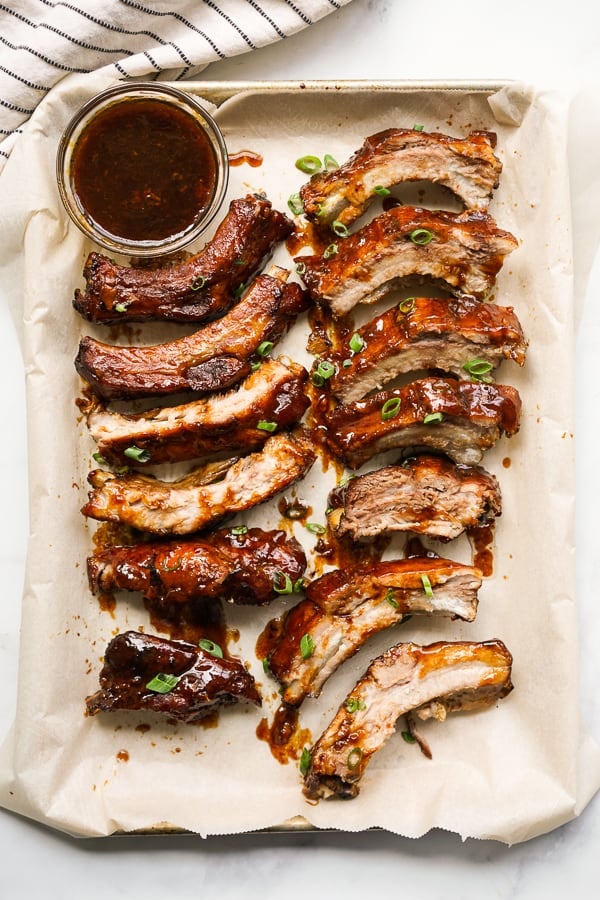 The concept of this dish is similar to my Slow Cooker Asian Shredded Pork and Asian Salmon Salad recipes. It uses Asian-inspired sauces and spices that are simple and fairly easy to find in regular grocery stores, yet still maintains the depth of flavors you typically find in more authentic Asian dishes.
It is a reminiscence of the more traditional Asian braised short ribs recipes but with a slight modern twist to it.
Why cook ribs in a crockpot
The best kind of ribs are the ones that just fall off the bone. Put those forks and knives away because you don't need it. Sink your teeth into the meat and it is soft, tender and juicy.
The trick to getting ribs (or any tough piece of meat) to become tender is to cook it low and slow.
Low and slow for an extended period of time.
That is why we are using the slow cooker, or sometimes commonly referred to as crock pot, to make this delicious Asian Ribs recipe.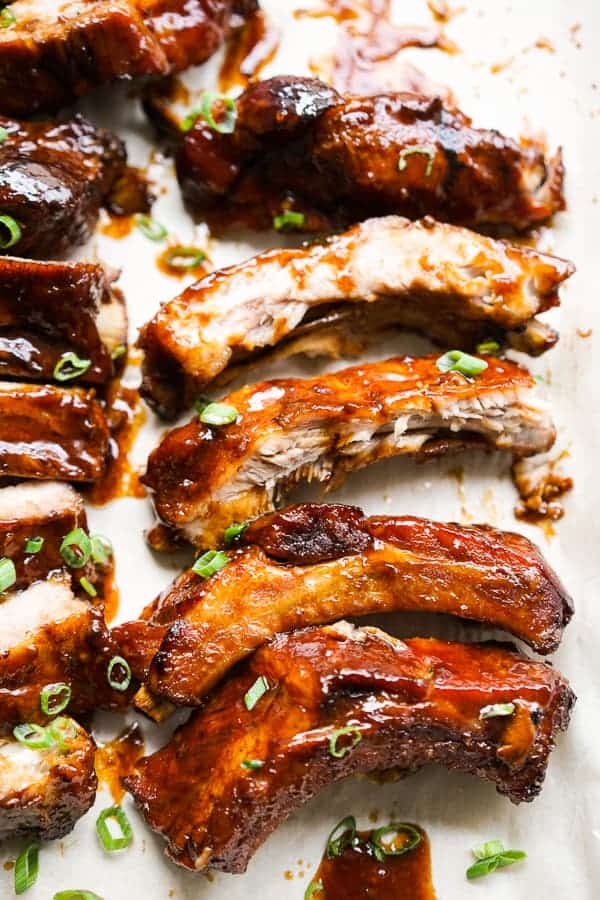 We are cooking it in the slow cooker for 4 hours on high. Let the crockpot slowly break down the fibers of the meat, and let the sauces penetrate and bring all kinds of amazing flavors into the meat.
All that with minimum efforts on your part.
I use to think ribs one of those things you eat when you are at restaurants or bbq joints. And boy I was wrong.
You can totally make this magic at home. Tastier and for a fraction of the price.
Let's Make Slow Cooker Asian Ribs
Here's how you do it:
Make sauce for ribs
Cook ribs in Slow Cooker
Reheat and thicken sauce
Bake ribs in oven with more sauce
Make Sauce for Ribs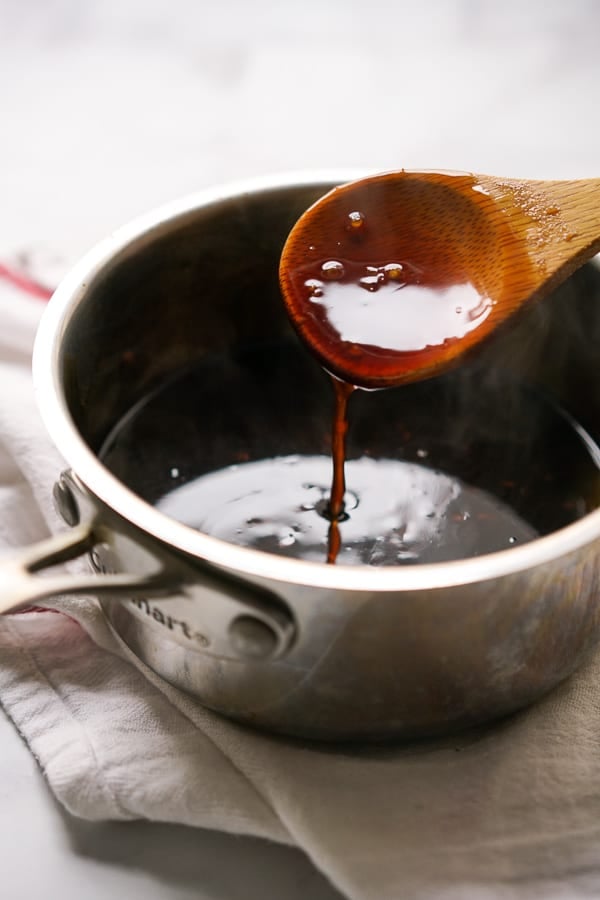 The flavor of these ribs are amazing because of this sticky, gooey, flavorful sauce. We will be making the sauce in a pot on a stove, coating ribs with sauce, and then pour the rest of the sauce into the slow cooker.
The sauce is primarily made out of soy sauce, rice wine, garlic, honey and brown, and thickened with corn starch. Simple and easy-to-find Asian sauces and spices that bring so much to this dish.
Slow cooking and then baking the ribs
Once the sauce is done, brush them generously all over ribs, wrapping the ribs with a nice thick layer of sauce and infusing it with great flavors.
Don't forget to add a thin layer of sauce to the bottom of the slow cooker before adding the ribs to the crockpot.
Bring ribs to slow cooker, then pour the remainder of the sauce into it.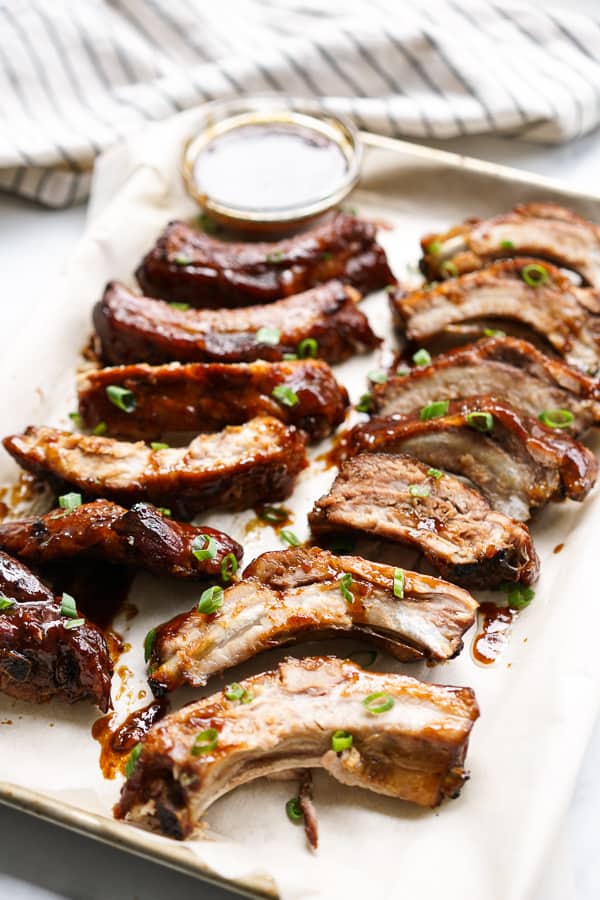 After a few hours of cooking, the sauce will accumulate at the bottom and ribs that are stacked on the top will not be as brown as the ones on the bottom because they are not soaked in the sauce.
Because of that, we will have to rearrange the ribs at least once (maybe twice or three time), so that they will have a chance to soak in the sauce and be infused with the flavors.
It's a little more work to do this, but very much worth every effort.
Once the ribs are done cooking in the slow cooker, remove ribs and place them on a baking sheet lined with aluminum foil (for easy cleanup), and cook the sauce on the stovetop again to thicken it using more cornstarch.
Once the sauce is thicken, brush them on the ribs and send ribs into the oven to bake briefly.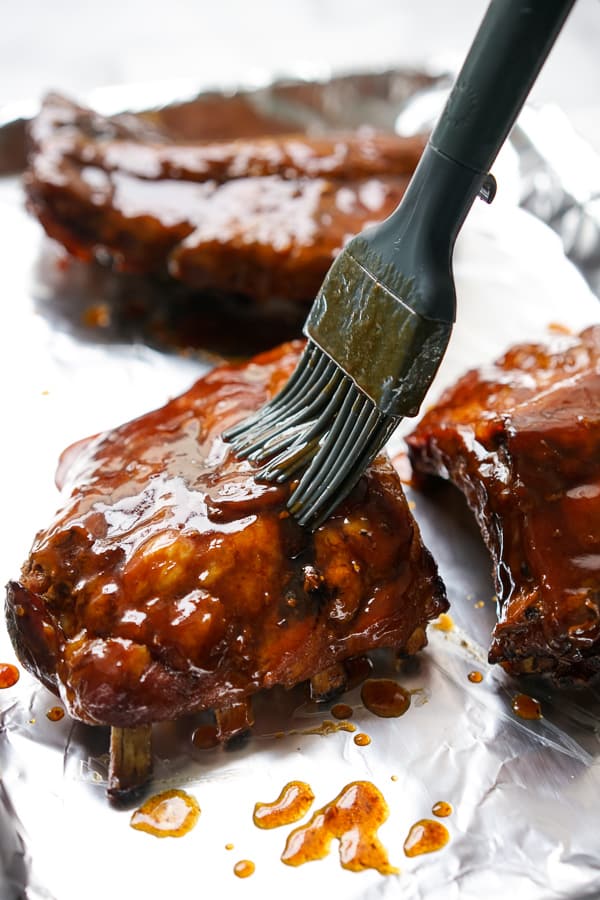 You can brush more sauce onto the ribs when it is done, and also serve the sauce on the side.
SAUCE IT UP!
Tip and tricks
A couple of tips and tricks to note!
Always line baking sheet with aluminum foil for easy cleanup
Make sure the sauce is nice and thick when brushing it onto the ribs so that it will stick to the ribs. Therefore when cooking the sauce, be patient and let it thicken.
The sauce will probably still slide off the ribs after a few hours in the slow cooker, that is why I highly recommend rearranging the ribs in the slow cooker at least once or twice to make sure the ribs will take turns being submerged in sauce. Remember, sauce = flavor! 😉
Be generous when brushing the sauce onto the ribs both times. You want lots of sticky sauce on it for the ultimate rib-eating experience!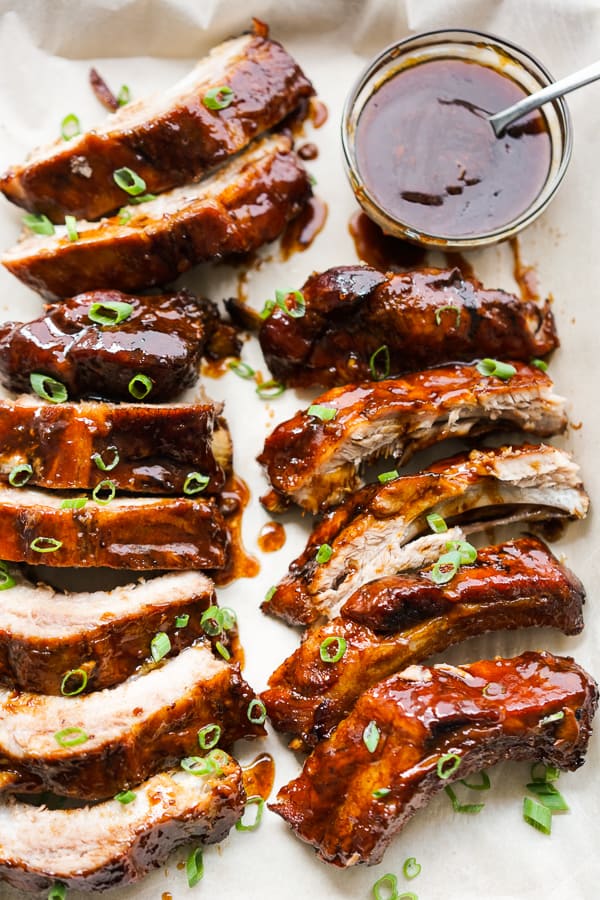 What type of ribs to use?
I like to use baby back pork ribs for this recipe because it has more meat and less fat and cartilage compared to a lot of other cut of ribs.
You can also use other types of ribs, for example, pork spareribs, short ribs etc, but from my experience these are less "meaty" cuts.
Fats in ribs actually gives the dish some flavor, but I like to have more meat in my ribs!
How to serve Slow Cooker Asian Ribs
Here are some ways we typically serve these delicious ribs!
I hope you give this a try! Grab that slow cooker and get cooking! 🙂
DID YOU ENJOY THIS RECIPE? Please comment below and give us a 5-star rating! This will help others find this recipe on Google and Pinterest. We very much appreciate your help! 🤍
Other Slow Cooker Recipes
More Asian Recipes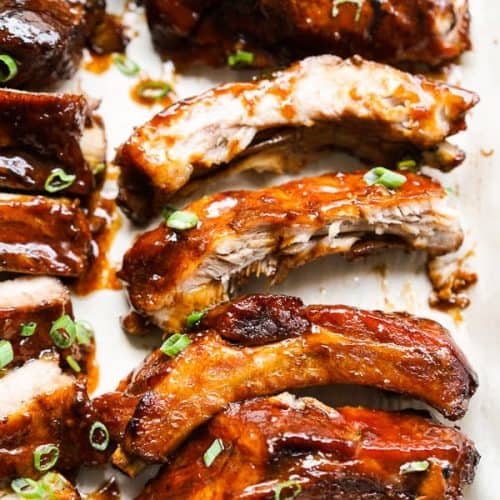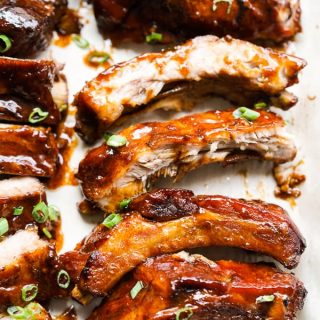 Slow Cooker Asian Ribs
Tender, fall-off-the-bone baby back ribs coated with sticky Asian inspired sauce. Cooked in a slow cooker and then baked to perfection! So flavorful and delicious!
Print
Pin
Ingredients
3

lbs

pork baby back ribs

vegetable oil spray

green onions

chopped
Sauce
1/2

cup

soy sauce

1/2

cup

brown sugar

4

cloves

garlic

2

tsp

rice wine

1/4

cup

honey

3/4

cup

water

5

tsp

cornstarch
Instructions
Making the sauce. Combine water and 3 tsp of cornstarch (note: save the other 2 tsp for later), then add to pot. Also, add soy sauce, brown sugar, garlic, rice wine, and honey. Bring to boil.

Stir continueously, and let it boiled for a few minutes until sauce thickens slightly. Then remove from heat.

Making the ribs. Cut the rack of ribs into two or three sections so that it will fit into slow cooker easily.

Spray slow cooker with vegetable oil. Brush sauce generously all over ribs, then add a few tablespoon of sauce to the bottom of the slow cooker so that there is a thin layer of liquid. Add ribs to slow cooker, then pour the rest of the sauce into slow cooker.

Cook on high for 4 hours. Halfway through cooking, rearrange ribs so that they are submerged in the sauce. This will ensure ribs are evenly infused with the yummy sauce. Note: You may need to rearrange a few times to make sure all the ribs take turns being submerged in sauce.

When ribs are done, pre-heat oven to 400 degrees F. Transfer ribs from slow cooker onto a baking pan lined with aluminium foil (for easy cleanup).

Pour the sauce in the slow cooker to a pot. Remove a few tablespoons of sauce form the pot to a small bowl and add 2 tsp of corn starch to the bowl. Mix well, then add sauce + cornstach back into the pot.

Bring sauce to a boil on stovetop, stir continuously, and keep cooking until sauce thickens. Remove pot from heat.

Brush sauce generously all over ribs. Then bake ribs for 7 minutes.

Cut ribs into smaller pieces and garnish with green onions. Serve with the remaining sauce. Enjoy!
Nutrition
Calories:
462
kcal
|
Carbohydrates:
33
g
|
Protein:
29
g
|
Fat:
24
g
|
Saturated Fat:
8
g
|
Polyunsaturated Fat:
4
g
|
Monounsaturated Fat:
10
g
|
Trans Fat:
1
g
|
Cholesterol:
99
mg
|
Sodium:
1212
mg
|
Potassium:
434
mg
|
Fiber:
1
g
|
Sugar:
30
g
|
Vitamin A:
32
IU
|
Vitamin C:
1
mg
|
Calcium:
69
mg
|
Iron:
2
mg